It's a little bit crazy to me that, up until 12 years ago, picture books weren't on my radar at ALL.
I've always been a huge reader, but all my reading was focused on longer books.
Then, as a grad student doing a master's degree in library science, I took a class about picture books from a professor who'd served on the Caldecott committee and I suddenly caught the vision.
And now, more than a decade later, hardly a day goes by that I don't read a stack of picture books. My library holds are bulging with picture book titles, we have bookshelves full of our own collection, and one of my favorite parts of the day is snuggling up on the couch or in a tiny toddler bed with a picture book.
And each year, I love putting together a list of 100 of the best children's picture books for you to read with your children.
Each year, the list contains new books and older titles, fiction and non-fiction (although, let's be honest, my lists are ALWAYS going to have more fiction), and funny reads and sweet reads.
Whatever kind of picture books you're looking for, I hope you'll find exactly the right books to delight you and your little readers this summer.
And if you'd like a printable list, it's available at the bottom of this post!
P.S. If you want even more recommendations, you can see all the previous lists of 100 picture books here!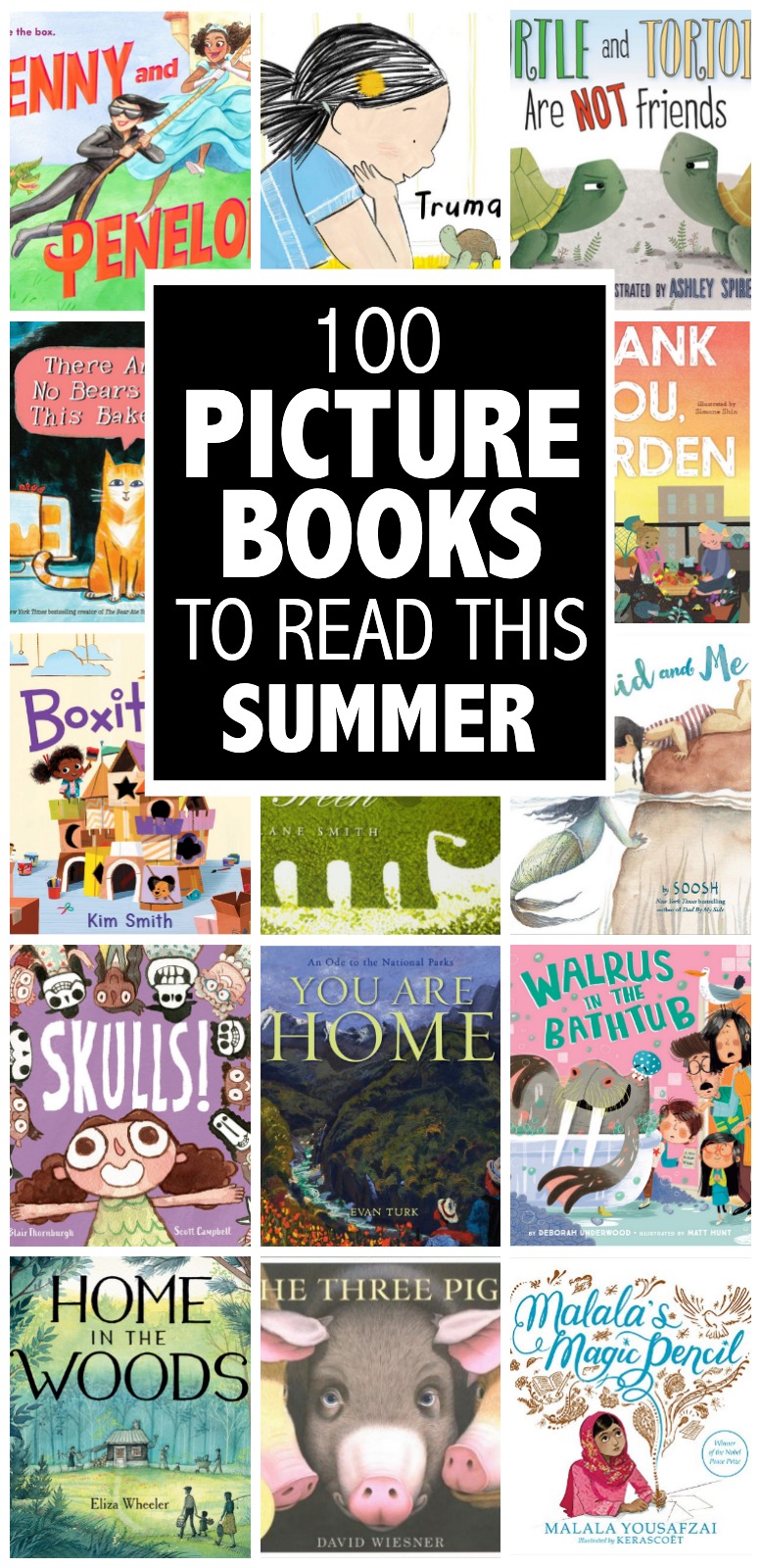 The 2020 List of 100 Picture Books
How to Knit a Monster

by Annemarie

van Haeringen.

Greta is a little goat who loves to knit. Which sounds like a harmless pastime until you stop paying close attention and suddenly find terrifying animals slipping off your knitting needles. 

Harold and Hog Pretend for Real by Dan Santat and Mo Willems. I love the books in this Elephant and Piggie spin-off series and this one is probably my favorite where Harold and Hog decide that they want to play Elephant and Piggie. After all, both sets of animals are best friends – what could be easier?
Hippopotamister by John Patrick Green. The zoo is a disaster and Hippo is lonely so he decides to join his red panda friend in getting a job in the human world. Hippo actually makes a great barber, construction worker and chef. . . but Red Panda? Not so much.
The Book Hog by Greg Pizzolli. The Book Hog LOVES books. He wants them all. Even though, secretly, he doesn't know how to read.
The Pig Parade by Michael Ian Black, illustrated by Kevin Hawkes. This book is laugh-out-loud funny about all the reasons that a pig parade, while sounding like a delightful idea, is actually a disaster waiting to happen.
When Sue Found Sue by

Toni Buzzeo

, illustrated by

Diana Sudyka. Sue Hendrickson loved finding things. And in 1990, she made her biggest find ever – a nearly complete T. Rex skeleton in the hills of South Dakota.  
The Elephant by Jenni Desmond. This book is packed with fascinating info about elephants but presented in a super readable way. I LOVED it (and so did my children).
Jasper & Ollie by Alex Willan. Jasper and Ollie are incredibly anxious to get to the pool. Well, Jasper is anxious and rushing. . . . while Ollie, the sloth, takes his own sweet time.
You Must Bring a Hat by Simon Philip, illustrated by Kate Hindley. Welcome to the party! But if you want to enter, you MUST bring a hat. And not just any hat. It turns out that entrance to the party is hard to come by with more and more rules being issued at the door.
The Little Green Girl

by

Lisa Anchin. 

The little green girl is a topiary in a beautiful garden. But when she hears the birds talking about all the places they've been, she's anxious to see them herself. 

Dandy by Ame Dyckman, illustrated by Charles Santoso. Daddy Lion and his neighborhood pals are SERIOUS about their lawns. But then Sweetie Lion falls in love with a tiny dandelion growing in the yard and Daddy Lion has to decide what's more important – his daughter or his lawn?
Lubna and Pebble by Wendy Meddour, illustrated by Daniel Egneus. Living in the World of Tents, Lubna is a little girl with a best friend. And that best friend is a pebble.
Hibernate With Me by Benjamin Scheuer, illustrated by Jemima Williams. If you love a sweet, sleepy bedtime book, this is the perfect choice.
Goodbye, Friend! Hello, Friend! by Cory Doerrfeld. Goodbyes aren't easy. But every goodbye leads to a new hello and this beautiful book showcases the hard and wonderful of every change.
Skulls by Blair Thornburgh, illustrated by Scott Campbell. This clever book is all about skulls and how important they are. Our whole family was obsessed with this funny, informative book.
Once Upon a Goat by Dan Richards, illustrated by Eric Barclay. A king and queen desperately wish for a child but they get a baby goat (a kid!) instead. But by the time the fairy godmother straightens out the mixup, the royal family isn't certain they want to give back their little goat.
Penny and Penelope by Dan Richards, illustrated by Claire Almon. When two young girls get together for a play date, they discover they have the same doll. But how they play with those dolls is VERY different. Is there any way for them to get along?
Sumokitty by David Bierdrzycki. Sumokitty needs a place to live and when he catches a mouse for a frightened sumo wrestler, he's offered a place to live in exchange for keeping the mice at bay.
Parker Looks Up by Parker Curry and Jessica Curry, illustrated by Brittany Jackson. Parker is thrilled to visit the art museum with her mother and her best friend and they love looking at all the beautiful art. But when she sees the portrait of First Lady Michelle Obama, she's stopped in her tracks.
Please Don't Eat Me by Liz Climo. When a bunny meets a bear in the woods, the first worry is that the bear is looking for a meal. But as time goes on, it looks as if maybe lunch isn't the bear's top priority.
Home in the Woods by Eliza Wheeler. Based on the author's grandmother's childhood, this story is about six-year-old Marvel who, along with her mother and seven siblings, find a tiny shack in the woods of Wisconsin to live in after her father dies.
Field Trip to The Moon by John Hare. This wordless picture book follows a class taking a field trip to the moon. Naturally, one child falls asleep and is left behind.
Fry Bread by Kevin Noble Maillard, illustrated by Juana Martinez-Neal. This gorgeous book about a Native American food staple has been a favorite at our house for the last six months.
Saturday by Oge Mora. Saturday is the best day of the week for a little girl and her mom – it's their day to spend entirely together. But one Saturday, everything goes wrong.
Little Mole's Wish by Sang-Keun Kim. When Little Mole makes a snow friend, he can't wait to take him home on the bus with him. But when he drops off for a cozy nap on the warm bus, he wakes to find his snow friend gone.
The Bold, Brave Bunny by Beth Ferry, illustrated by Chow Hon Lam. There are too many bunnies in the house so Teetu sets out on an adventure. The best part is the trees in the shapes of animals.
A Scarf for Keiko by Ann Malaspina, illustrated by Merrilee Liddiard. Sam's class is knitting socks for soldiers fighting during World War II and Sam is TERRIBLE at it. Keiko, on the other hand, is fantastic at it but the other children at school shun her because she's Japanese.
When Grandma Gives You a Lemon Tree by Jamie L.B. Deenihan, illustrated by Lorraine Rocha. A little girl really wants some electronics for her birthday but pretends to be pleased when her grandmother gifts her a tiny lemon tree instead.
Dough Knights and Dragons by Dee Leone, illustrated by George Ermos. In this kingdom, knights and dragons must battle each other. But a knight and dragon who have become friends wonder if they can trick their way around the decree.
My Pet Wants a Pet by Elise Broach, illustrated by Eric Barclay. When a little boy gets a dog, it's so wonderful that the dog quickly decides that HE wants a pet too. The little boy's mom is much less enthusiastic about this idea.
Anna at the Art Museum by Hazel Hutchins and Gail Herbert, illustrated by Lil Crump. When Anna visits the art museum with her mother, it's hard for her to behave herself. The clever illustrations mirror the famous paintings and we read this one over and over again.
The Trouble with Time Travel by Stephen W. Martin, illustrated by Cornelia Li. If you break a family heirloom vase by accident, the obvious solution is to build a time machine, go back, and change things. Right?
Turtle and Tortoise are Not Friends by Mike Reiss, illustrated by Ashley Spires. When a baby turtle and tortoise both hatch in the zoo, they assume they'll be best friends. But they quickly become enemies instead, until, years later, they finally realize they don't have to dislike each other.
Ten Rules of the Birthday Wish by Beth Ferry, illustrated by Tom Lichtenheld. If you're getting ready to celebrate your birthday, there are ten rules you really MUST adhere to. And this book will make sure you know all of those rules.
Kaia and the Bees by Maribeth Boelts. Kaia's father keeps bees on the roof of their urban apartment building but Kaia is TERRIFIED of bees.
Walrus in the Bathtub by Deborah Underwood, illustrated by Matt Hunt. When a family buys a new house, they're horrified to discover a walrus in the bathtub. It's so LOUD and there is always water everywhere. They'll just have to move, right?
Being Frog by April Pulley Sayre. This gorgeous book is filled with detailed photos of frogs throughout their life cycle.
Bear Came Along by Richard T. Morris. This brightly colored book nabbed a Caldecott Honor this year and my youngest LOVES this book about a group of animals who, one by one, join a wild ride down the river.
The King of Kindergarten by Derrick Barnes, illustrated by Vanessa Brantley-Newton. For every little one getting ready for their first day of kindergarten, this book shows how thrilling it is to finally be the king of kindergarten, ready to head off on new adventures.
Amanda Panda Quits Kindergarten by Candice Ransom, illustrated Christine Grove. Amanda Panda can't wait to go to kindergarten. But it doesn't go exactly how she hoped – maybe she'll just go to second grade with her brother instead.
Strega Nona by Tomie dePaola. How can you not just LOVE Strega Nona and her magic pot? I'm a little bit floored that I've never included this book on previous 100 Picture Book Lists!
Alfie: The Turtle that Disappeared by Thrya Heder. When Alfie disappears, Nia can't figure out where her pet turtle might have gone. It turns out he's gone to find her a birthday present!
Dancing Feet by Lindsay Craig, illustrated by Marc Brown. This jazzy book will just about force you to get up and dance – it's so peppy!
Douglas, You Need Glasses! by Ged Adamson. Poor Douglas. He's a dog that just can't see very well and his bad eyesight gets him into some sticky (and hilarious!) situations.
The Man Who Walked Between the Towers by . This true story about a man who snuck up to the nearly-completed Twin Towers and walked a tight rope between them won the Caldecott Medal and it is delightful and touching.
Finders Keepers by Keiko Kasza. When a red hat is discovered in the forest, each animal has a different, imaginative use for it.
Danbi Leads the School Parade by Ann Kim. Danbi is new to her American school after moving from Korea with her family. It's a bit of a rough start, but she soon finds a way to connect with her new classmates.
Fox Outfoxed by James Marshall. I grew up reading the Fox books and they're so goofy and delightful. My girls LOVE them.
The Bagel King by Andrew Larsen, illustrated by Sandy Nichols. A little boy looks forward to his grandfather and their bagels together every Sunday. Until one morning when his grandfather doesn't come.
Strictly No Elephants by . A little boy can't wait to attend his neighborhood Pet Club. But when he arrives with his pet elephant in tow, a sign on the door says "Strictly No Elephants."
How to Build a Hug by . This picture book story about Temple Grandin is phenomenal about how she hated hugs as a child, but eventually, through an invention of her own, learned to appreciate them.
Fred's Big Feelings by Laura Renauld, illustrated by Brigette Barager. This simple picture book memoir shows how Mr. Roger used his beloved television show to teach millions of children about how important their feelings are.
You Are Home by Evan Turk. This painted peek at 20 of the National Parks is STUNNING and beautifully shows how varied and unique different areas of the United States are.
No Room for a Pup! by Elizabeth Suneby, illustrated Laurel Molk. Mia really, REALLY wants a puppy. But her mother insists that there isn't an inch of extra space in their apartment. So Mia comes up with a clever plan to try to convince her mother.
We Don't Eat Our Classmates by Ryan T. Higgins. Penelope is SO excited to go to school. But. . . those human classmates look so delicious.
When Pencil Met Eraser by Karen Kilpatrick and . Pencil and Eraser are at odds. Every time Pencil draws something beautiful, Eraser wipes it away. Can they figure out how to work together?
Love, Sophia on the Moon by . Written entirely in letters between Sophia who has run away to the moon and her mother who is home missing her, this funny and sweet book shows how sometimes there is friction between parents and children and how it can be lovingly resolved.
Malala's Magic Pencil by . This picture book version of Malala's famous story is so sweet and empowering.
George and Martha: Round and Round by James Marshall. We've spent quarantine reading George and Martha books on repeat, and this is one of our favorites with three funny little stories about two hippo pals.
Thank You, Garden by Liz Garton Scanlon. illustrated Simone Shin. This lyrical walk through a community garden filled with people of all ages working together is the perfect way to welcome in the growing season.
Sulwe by . Sulwe wishes her skin wasn't so dark but when her mother tells her a story about the day and the night and the brightness that comes from both, Sulwe realizes that she's beautiful just the way she is.
Beehive by Jorey Hurley. This beautiful picture book has only one word per page that shows just what bees spend their lives doing.
Grandpa Green by Lane Smith. Grandpa Green has had an extraordinary life. And as his memory starts to slip away, his garden topiaries capture those memories for him.
Just Like Mama by Alice Faye Duncan, illustrated by Charnelle Pinkney Barlow. This sweet book about a foster parent shows how a child can both love their current caretaker and long for the day they'll be reunited with their parents.
There Are No Bears in This Bakery by Julia Sarcone-Roach. Her book, The Bear Ate Your Sandwich, is a family favorite and we've read it dozens and dozens of times. This one is along the same lines.
Not Your Nest by Gideon Sterer, illustrated by Andrea Tsurumi. Bird builds a fantastic nest for herself. But just as she's ready to settle in, she discovers that her nest has been taken over by another animal. So she builds another nest. And another animal takes this one over too.
Have you Seen Elephant? by David Barrow. In this simple seek-and-find book, an elephant hides from a boy on each page.
Truman by Jean Reidy, illustrated by Lucy Ruth Cummins. Truman is a little turtle who loves Sarah. But when Sarah leaves and doesn't come back (she's gone to school, although Truman doesn't know this), he decides to set out in search of her.
Nine Months: Before a Baby Is Born by Miranda Paul, illustrated by Jason Chin. This beautiful book shows side-by-side a baby growing inside the womb and the family on the outside preparing for the baby's arrival.
Ruby Finds a Worry by Tom Percival. Ruby has a happy life. Until a worry appears. And she just can't seem to get rid of it. In fact, it just keeps getting bigger and bigger!
Two Bad Ants by Chris Van Allsburg. Two ants sneak away from their colony and venture into a kitchen to find something to eat.
Tiny T. Rex and the Impossible Hug by Jonathan Stutzman, illustrated by Jay Fleck. T. Rex wants to hug his friend. But it's very difficult when your arms are SO TINY.
The Remember Balloons by Jessie Oliveros, illustrated by Dana Wulfekotte. This gorgeous book shows memories represented as balloons. As a grandfather starts to lose his grip on his balloons, his young grandson steps in to help preserve those memories.
The Three Pigs by David Wiesner. This Caldecott winner takes the classic story of the three little pigs and makes it into something entirely different when the big bad wolf accidentally blows the pigs out of the story completely.
The Shortest Day by Susan Cooper, illustrated by Carson Ellis. This gorgeous book was one of my new favorites last year about the Winter Solstice.
A Computer Called Katherine: How Katherine Johnson Helped Put America on the Moon by Suzanne Slade, illustrated by Veronica Miller Jamison. Katherine knew she was as smart and capable as anyone else, but as both a woman and an African American, landing a job at NASA wasn't an easy feat.
The Hiccupotamus by Aaron Zenz. When the hippo gets the hiccups, every one in the jungle tries to help him out. Doing the loud HIC! HIC! HIC!s is the best part of reading this one aloud.
Boxitects by Kim Smith. My girls are SO into this book about a little girl who makes amazing creations from cardboard boxes. But when another Boxitect joins the Maker School? The competition gets fierce.
One More Hug by Megan Alexander, illustrated by Hiroe . I thought this was a cute little book until I got to the last couple of pages and then I was just quietly weeping into my toddler's hair. So sweet.
Mermaid and Me by Soosh. This book isn't my normal type of book but the more we read it, the more I fell in love with this quiet story of a lonely girl who makes friends with a mermaid.
Balletball by Erin Dionne, illustrated by Gillian Flint. Nini loves ballet. She does NOT love baseball. But slowly, with the help of the most supportive coach, she's able to see the fun in baseball and how it works with her love of ballet.
All Aboard the Moonlight Train by Kristyn Crow, illustrated by Annie Won. This is a perfect quiet bedtime story about a ride through the jungle on a train when you can't fall asleep.
Happy: A Beginner's Book of Mindfulness by Nicola Edwards. If your child has big emotions, this is the perfect (not-too-long) book to sit down with, whether you read a single page or the whole thing. And the cozy illustrations are just right.
Don't Tell by Tom Booth. This is a super secret book. Right? But wait, how do YOU know about this book. Did someone spill the beans?
A Little Bit Brave by Nicola Kinnear. Two little bunnies are the best of friends, despite the fact that one is a complete homebody and one lives for adventure.
Too Many Carrots by Katy Hudson. Rabbit has SO many carrots. So many he can't even fit into his own house anymore. And when a friend invites him to come to HIS house, there is no way he can leave behind all those carrots.
Don't Worry, Little Crab by Chris Haughton. For every parent who has taken a child somewhere that they were CONVINCED they wouldn't like and then had to pry them away at the end.
Crocodiles Need Kisses Too by Rebecca Colby, illustrated by Penelope Dullaghan. We all need hugs and kisses even when we're acting like crocodiles. I love the happy illustrations in this one and the sweet message.
Tomorrow I'll Be Kind by Jessica Hische. The perfect bedtime book with gorgeous illustrations about how you'll act tomorrow.
The Serious Goose by Jimmy Kimmel. You can't make this Serious Goose laugh. No matter what you do. Or can you . . . ?
Welcome to the Party by Gabrielle Union, illustrated by Ashley Evans. The perfect book for a new baby, this book shows the wonder and joy of a new little one joining a family.
Trees Make Perfect Pets by Paul Czajak, illustrated by Kathy Gendron. When she's offered the pet of her choice for her birthday, Abigail's family is shocked when she chooses a tree. A tree can't be a pet. Can it?
Dear Zoo by Rod Campbell. How have I never included this beloved lift-the-flap book? Whether you go for the board book or the picture book edition, it's a sure-fire winner.
The Big Umbrella by Amy June Bates, illustrated by Juniper Bates. On a gray drizzly day, you need to get under an umbrella. But how many people can fit under the umbrella?
The Hundred-Year Barn by Patricia MacLachlan, illustrated by Kenard Pak. This gorgeous picture shows a family building a barn that stands for 100 years, with a little boy who grows up on the farm, gets married in the barn and eventually finds a sweet reminder of his deceased father.
That Bear Can't Babysit by Ruth Quayle, illustrated by Alison Friend. Mr. and Mrs. Burrow need a babysitter and the only option is Bear. How is this going to work out?
Grandpa's Top Three by Wendy Menndour, illustrated by Daniel Egneus. Henry can't understand why his grandpa is so quiet and withdrawn. But then he starts asking for his grandpa's top three things in different categories and miraculously, Grandpa starts to talk again.
Firefly Home by Jane Clarke and Britta Teckentrup. Firefly needs help getting home and you can help. This gorgeous book is filled with yellow lights from different sources plus a few interactive moments.
It Began with a Page by Kyo Maclear, illustrated by Julie Morstad. I've love loved Gyo Fujikawa's books, but I didn't know almost anything about her until I read this beautiful picture book biography.
Spencer's New Pet by Jessica Sima. This book is like watching a silent film in black and white as Spencer enjoys time with his new pet. Who happens to be a balloon.
And if you'd like a printable copy of this list that you can take to your library or screenshot on your phone for easy access, just pop in your email address below and it'll come right to your inbox!
IF YOU LIKED THIS LIST OF 100 BEST Children's PICTURE BOOKS, YOU MIGHT ALSO FIND THESE POSTS HELPFUL:
Reader Interactions