Have you ever used WhisperSync?
If you're like me and sometimes you want to read and sometimes it's more convenient to listen to an audiobook, WhisperSync for Kindle was invented for both of us.

Here's how WhisperSync works.
If you get both a Kindle version of a book and the Audible audiobook version of that book, your Amazon account will snyc the two of them together so that if you read 100 pages of the book on your Kindle, the next time you open up Audible, the audiobook version will be right where you left off.
Listen for a bit and when you go back to the Kindle version, IT will be right where you left off on the audio version.
Pretty slick, right?
If you have a Kindle Unlimited subscription, any of the books that have included narration have WhisperSync, so it'll work seamlessly with those books.

How do you turn on WhisperSync?
This couldn't be easier! Just go to your Amazon account, and choose "Manage Content and Devices." Under Preferences, you'll see "Device Synchronization (Whispersync Settings)" and just make sure it's set to on!
How do I get both Kindle and Audiobook versions of a book?
You can buy the Kindle books and audiobooks separately through Amazon and Audible, but there are a few ways to make it less expensive.
The first is that when you go to buy a Kindle book on Amazon, there will be an option to add the audiobook and it will often be much less expensive than buying them separately (sometimes only a few dollars!).
You can see the price here on Amazon: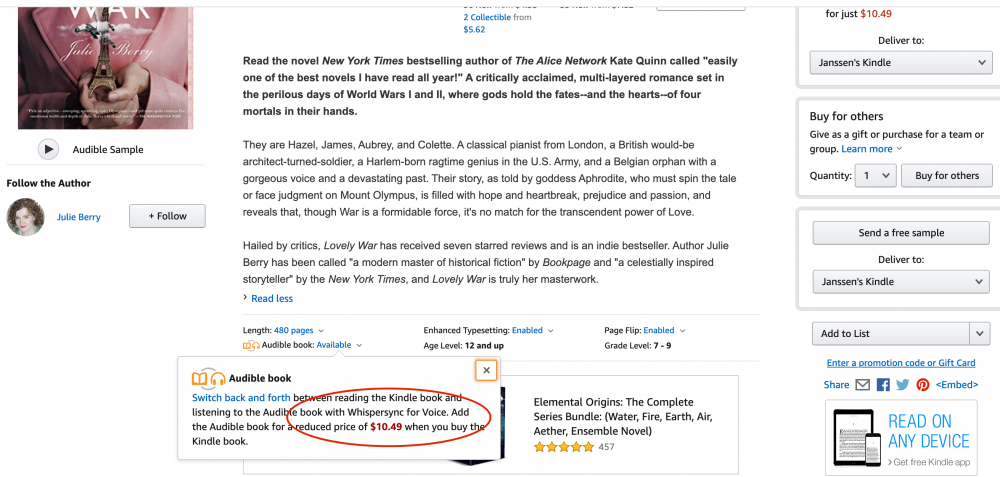 If it's cheaper than using an Audible credit, it's a great way to go.
You can ALSO add WhisperSync to any Kindle book you already have – just use this Matchmaker tool and it'll scan your Kindle library and tell you how much it is to add audio to any of those books.
Does that mean I can add WhisperSync to Kindle books I've borrowed from my library?
YES! This is the best part in my mind. When you have a Kindle book checked out from your library for free, when you do the Matchmaker scan, you will see an audiobook option for every Kindle book in your Kindle library, including free ones you've checked out from the library.
And if you buy the audio version of it, you now OWN that audio version so you'll have it even when your Kindle book goes back to the library.
And of course, in the meantime, you can WhisperSync between the two.
Any other questions about WhisperSync? I'm happy to help you troubleshoot or answer any questions!
If you liked this post about WhisperSync, you might like these posts too:
Photos by Heather Mildenstein