For Christmas, we gave Ella a new Kids Kindle (this post has been updated with the most recent kids kindle that was released at the end of 2022) and after I mentioned it in my annual post about what we were giving the girls for Christmas, I got SO many questions about it.
I won't pretend that some of my motivation for giving her the Kindle for Kids was so that I could be knowledgeable about it, and now that she's been using it (daily) for the last six weeks, I'm excited to share with you what we've thought.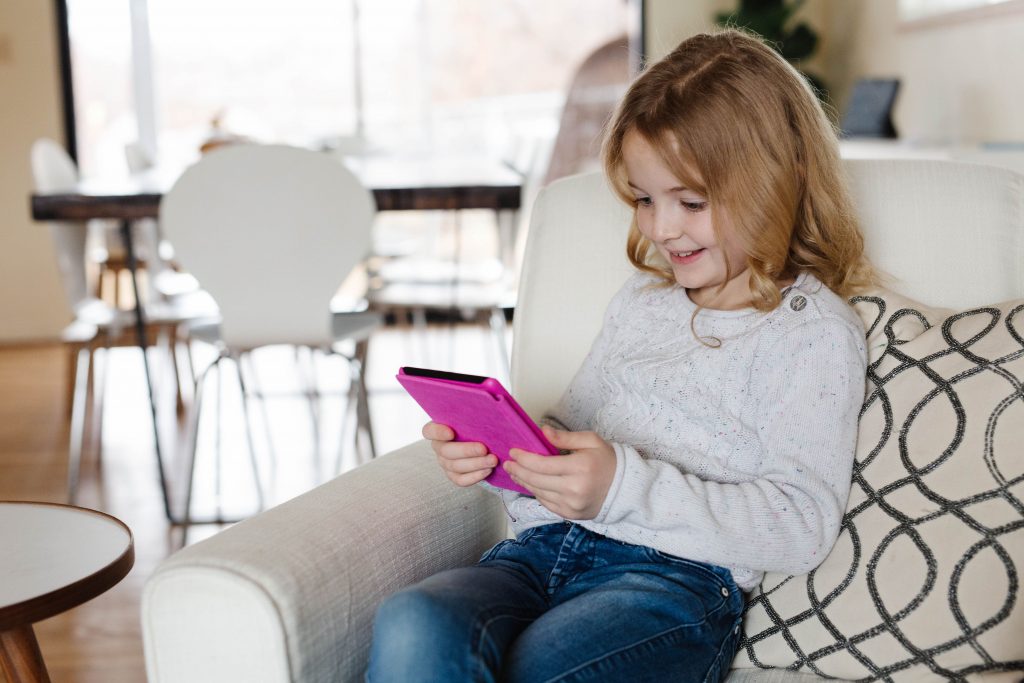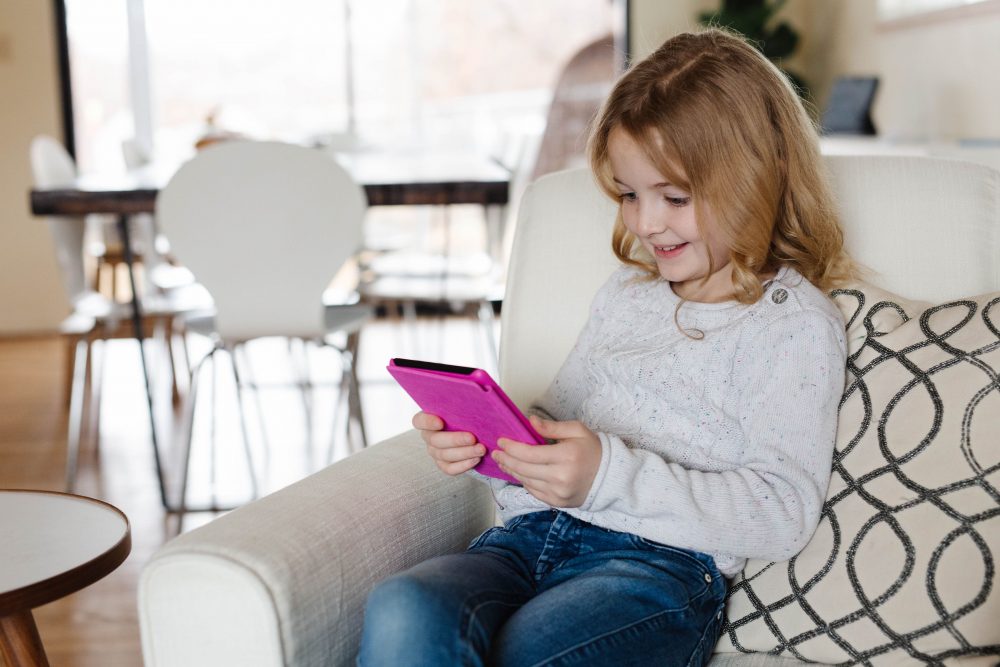 Everything You Need to Know About the Kindle for Kids
The first thing you need to know about the Kindle for kids is that it is NOT the same as the Amazon Fire Kids Edition. The Fire is a tablet – which means you have access to videos, games, and apps on it.
The Kindle for Kids is an e-reader so there are no videos, no apps, no games, no ads, no messaging.
Like the Kindles for grown-ups, they are designed specifically for reading and nobody does an e-reader better than Amazon.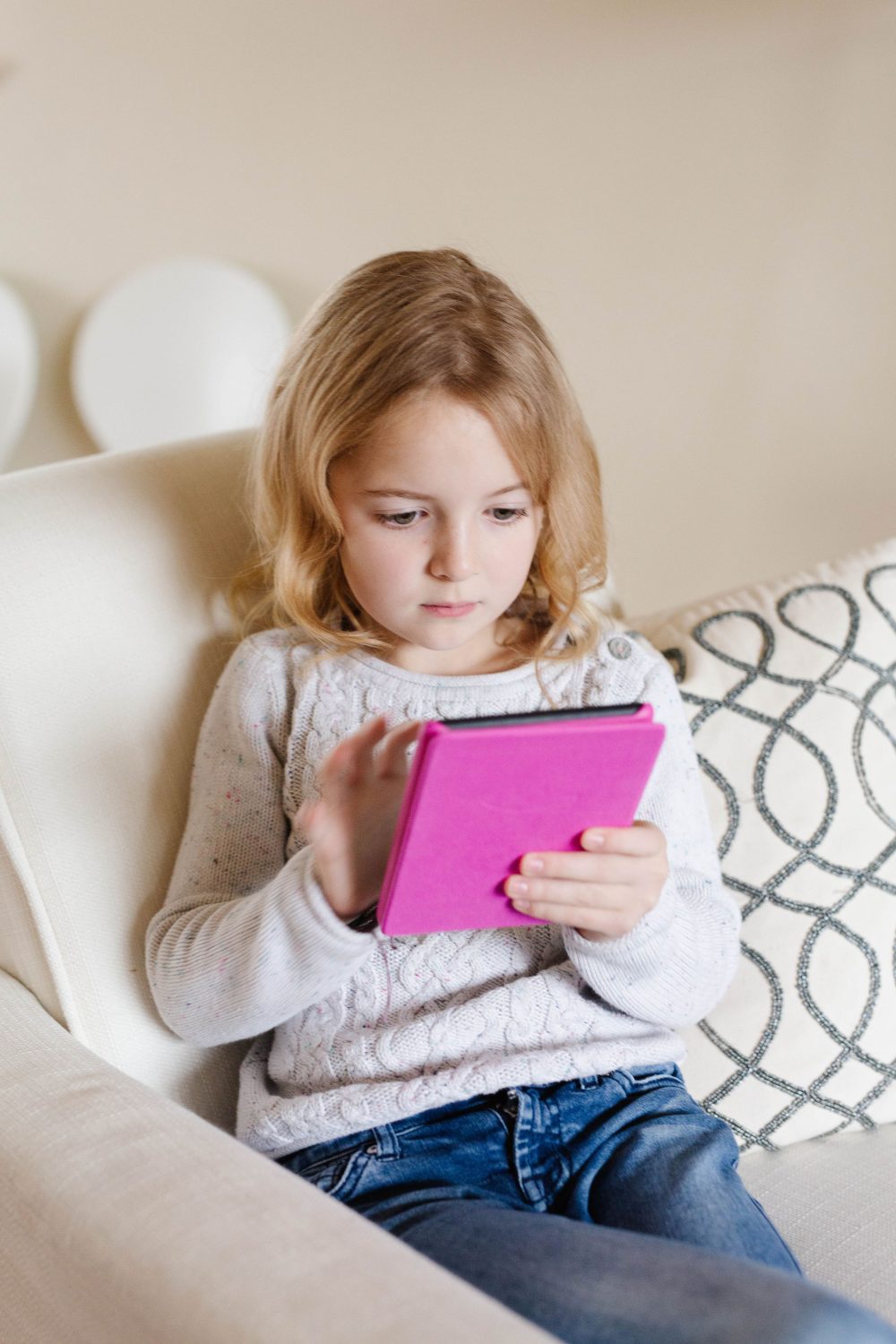 The second question I've been getting non-stop is "What's the difference between a Kindle for Kids and a regular Kindle?" 
The most basic Kindle is $99.99 and includes ads that show up on your home screen. If you want it without ads, it'll cost you $109.99 which is exactly the same as the cost of a Kindle for Kids (which has no ads and no option to HAVE them for a lower cost). This is the Kindle I got for Christmas – without ads – so it's been helpful to be able to compare them.
The Kindle for Kids also comes with an included case, which the regular Kindle doesn't (my case was an additional $30. For the record, this is my third Kindle and the first time I've ever had a case. I don't know that they're REALLY necessary, but for a kid, it feels more important).
The Kindle for Kids ALSO comes with a year of Amazon FreeTime Unlimited, which includes thousands of books your child can read or listen to on their Kindle. You can also use Amazon FreeTime Unlimited to watch videos or use apps on a Fire Tablet or listen to audiobooks through an Echo or Echo dot.
And the Kindle for Kids comes with a 2 year warranty – if anything happens to your Kindle during the first two years, Amazon will replace it for you, no questions asked.
So unless you're willing to get a Kindle WITH ads for your child, I think the Kindle for Kids is a better option because for the price you get a cover, the warranty, and a year of Amazon FreeTime Unlimited.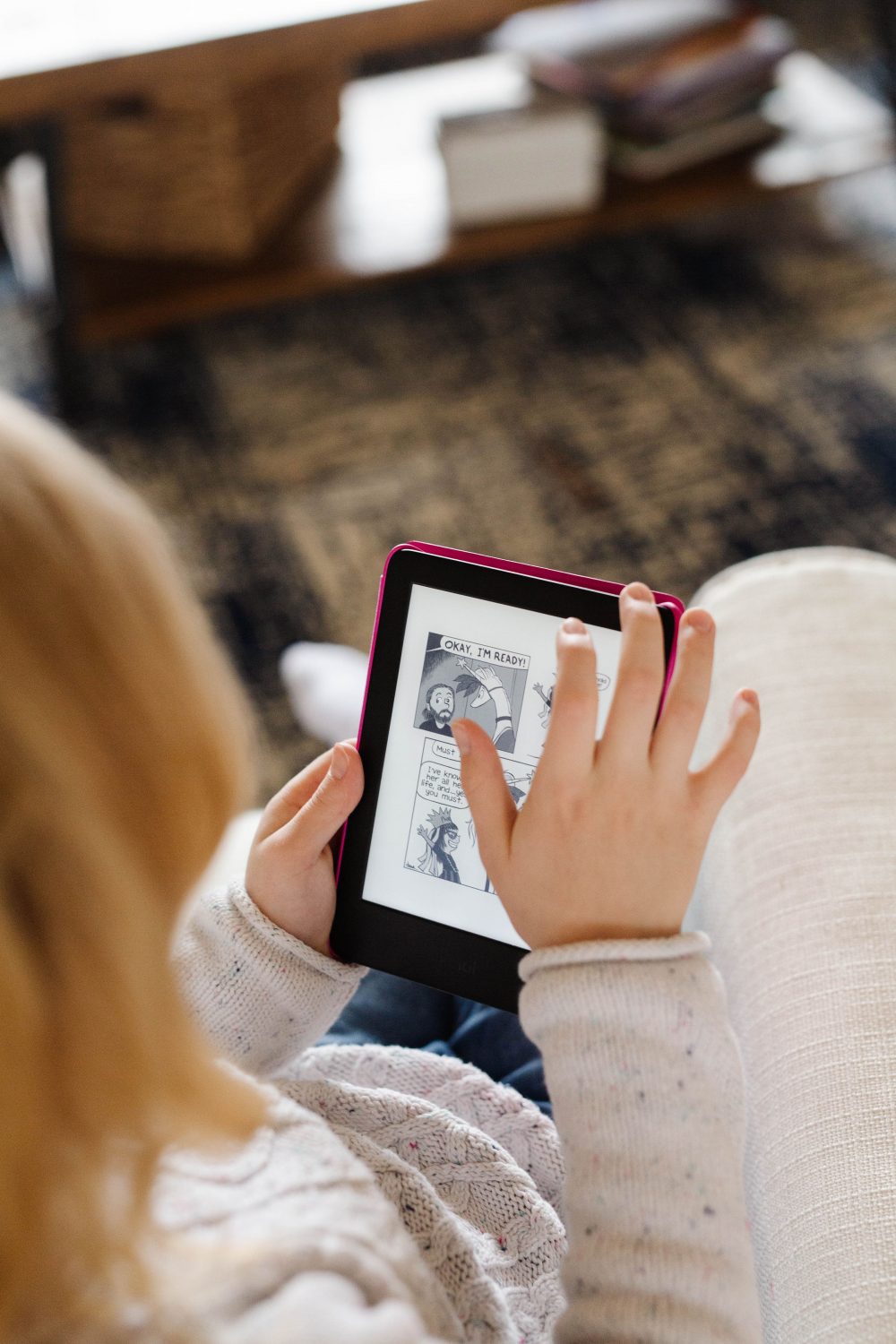 What age would you recommend a Kindle for?
Like all things, it's VERY dependent on your child. For some kids, having an e-reader may encourage them to read more. For others, it may be more hassle than it's worth. I plan to get Ani one for her eighth birthday at the end of the year – I think she'll love it! (And I also think she'd love it now).
What happens after your year of Amazon FreeTime Unlimited expires?
You can choose to renew it or just buy or borrow the books you want.
Can you read picture books on a Kindle for Kids? 
Yes, you can. But it's a black and white only screen, so there won't be any color in the pictures. If your primary reading is going to be picture books, I don't know that you'll really want a Kids Kindle (a tablet like the Amazon Fire HD for Kids is probably a better option).
Will my Kindle books show up on my child's Kid Kindle?
No, you have to approve every book that's added to their library (outside of the FreeTime Unlimited books), so only ones you choose from your content library will appear.
Can you borrow eBooks from the library and have them sent to a Kid Kindle?
Yes! I'd say 85% of Ella's Kindle reading is with library books. You'll have them sent to your Amazon account and then you just add them manually to their library. And obviously, this is only for library eBooks that are in Kindle format.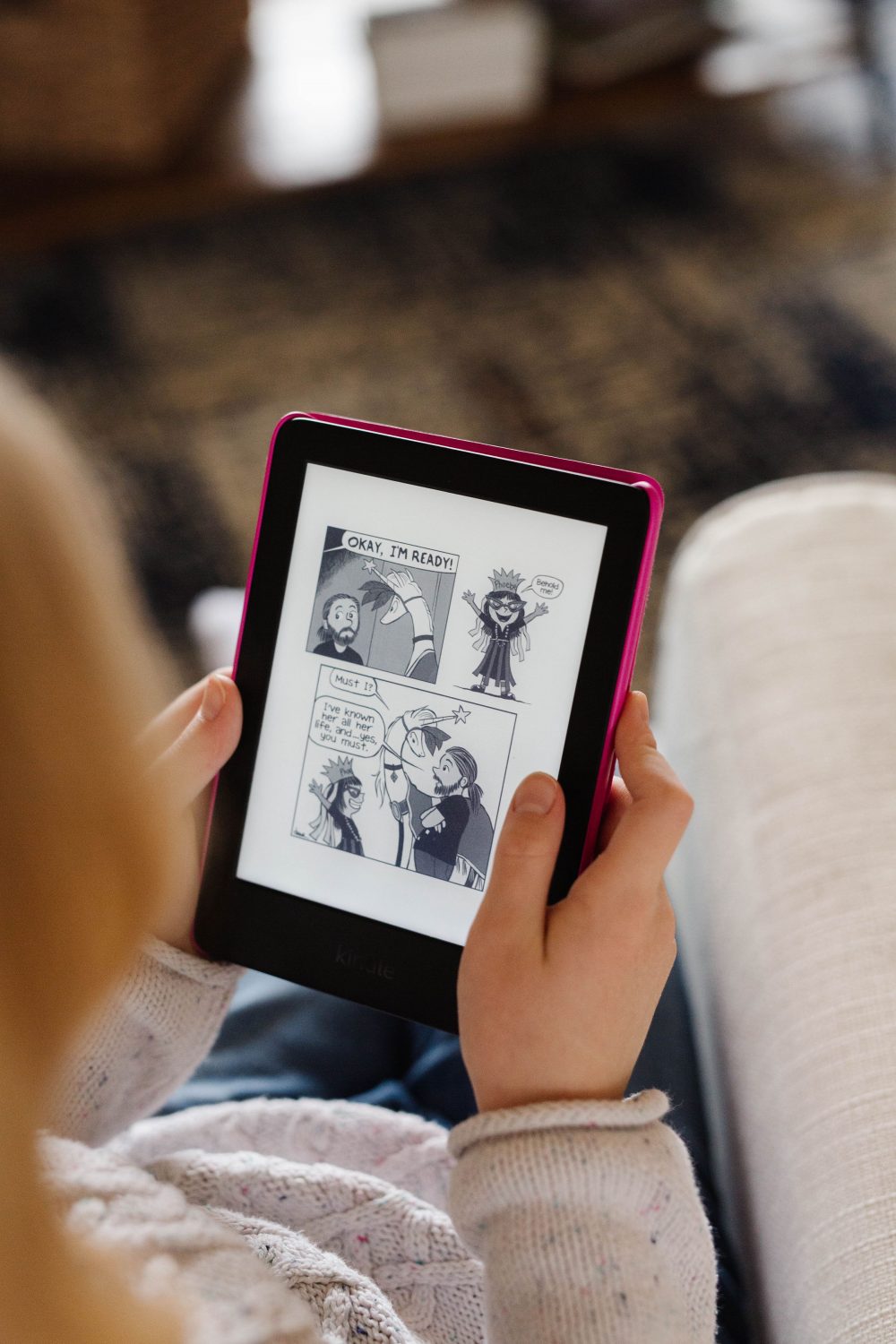 Can you use Kindle Unlimited with a kid Kindle? 
Yes! Just find the books you've checked out from Kindle Unlimited in your content library and then add the ones you want to their account. They won't have access to the books from Kindle Unlimited that you're reading on your own (unless you choose to share them).
Can you listen to audiobooks on a Kindle?
Yes, but you'll need bluetooth enabled headphones to do so!
Does the Kindle give off blue light?
Yes. It's pretty low on the spectrum of devices as far as how much blue light it emits, but basically every device has some blue light. If you've used a Kindle, you'll be familiar with the matte look of the screen when it's lit, rather than the bright light of a tablet or computer or phone.
Can you set time limits on the Kids Kindle so they don't stay up reading all night? 
Unfortunately, I can't find anywhere to do that! If you find it, let me know!
Any other questions I didn't answer? Let me know in the comments and I'll do my best to help you find the answer!
If you liked this post about the Kindle for Kids, you might like these posts too: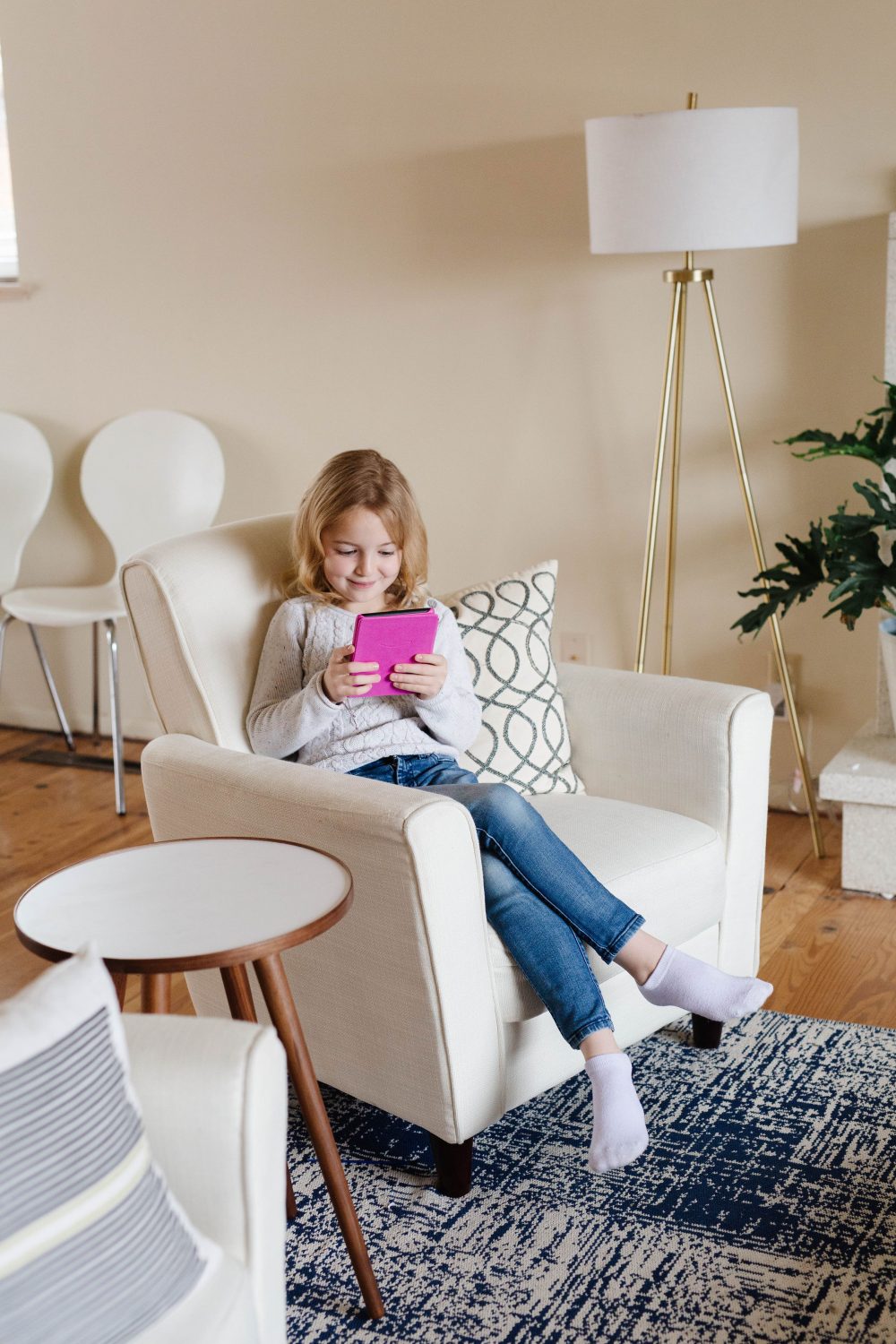 Photos by Heather Mildenstein