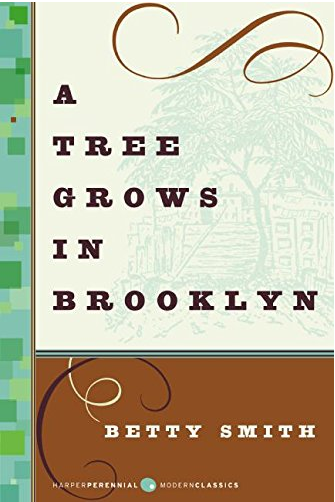 8 of 10: A classic for a reason. A Tree Grows in Brooklyn is the ultimate coming of age story.
The first book I listened to on CD when I moved here was Angela's Ashes. I know it's practically heresy to say so, but, um, I deeply disliked it.
And when I started A Tree Grows in Brooklyn, I suddenly worried it was more of the same. Same horrible poverty, same alcoholic father. I had just sat through four discs of this, could I really do another thirteen CDs?
But whereas I could never find it in my heart to like Frank much at all, I fell in love with Francie.
a tree grows in brooklyn by betty smith
A Tree Grows in Brooklyn really isn't just about Francie, though. It's about her whole family. After a brief introduction to Francie, the story backs up and you get the entire story of Francie's parents and their parents, the histories of their various siblings until you finally arrive back at the point the story began with. By the time the book ends, you'll probably know more about Francie's family and personal life than you do about your own.
Parts of this book reminded me of Louisa May Alcott's books or Laura Ingalls Wilder's series with the descriptions of the food or clothing or living conditions, which I loved as a child and still find a ridiculous amount of pleasure in, but this book has far more mature themes and I'm not surprised (nor do I regret) that I didn't read this book as a child.
Riding the T the other day, on my way to the airport, I glanced over at what the person sitting beside me was reading and could tell from the page that it was A Tree Grows in Brooklyn. Oh, did I feel smart and cultured.
A Tree Grows in Brooklyn is a book I'm glad to have read, simply because it is so famous and so beloved. But it is also a book I'm glad to have read because it is so rich and powerful.
If you liked this review of A Tree Grows in Brooklyn, you might also like these books: