A week after I moved to Utah, a friend reached out and asked if I wanted to join her children's literature book club.
It took me one half second to respond YES.
It's a really great group of women of all ages and they are SERIOUS readers. Truly, I'm probably the least well-read of any of the group.
They know every book that has come out in recent months, they read at a rate I can only begin to dream of, and they go to every literary event in Utah. I come home every month with a huge list of new books to check out from the library.
I LOVE it so much.
I've been sharing a bit over the past year what we've read each month and I've had some requests to share what we've read this year.
Here's what our 2019 lineup of children's literature looked like.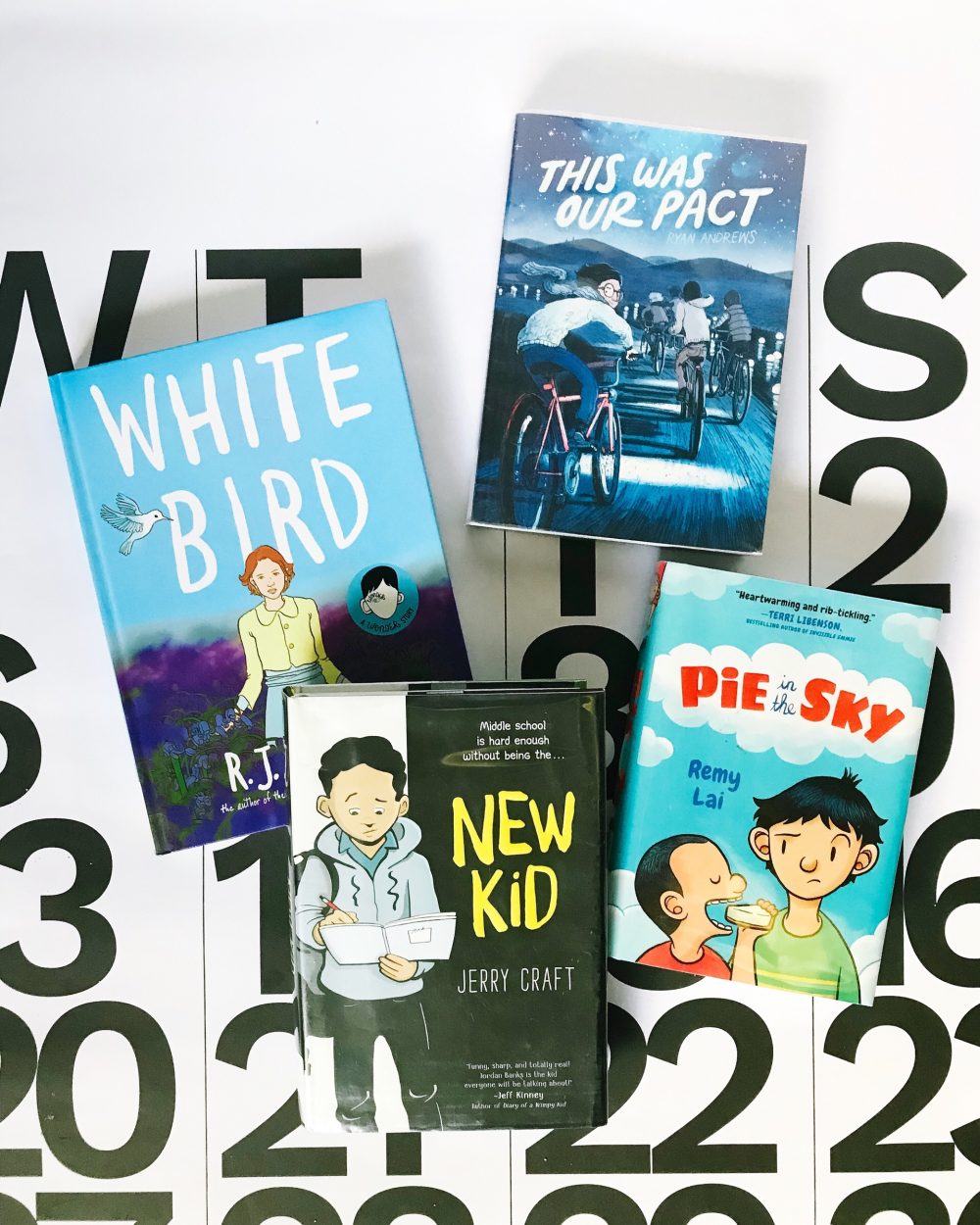 Children's Lit Book Club
JANUARY
Our main book to discuss was
Secondary books to discuss were:
FEBRUARY
MARCH
For March, we read the newest Newbery winner (which hadn't been on our list in January for books getting Newbery buzz), plus one other complementary title.
APRIL
In April, we did an author study for Sharon Draper.
The primary book was:
Blended
Secondary books were:
Out of My Mind
Copper Sun
Battle of Jericho
Forged by Fire
MAY
Erin Entrada Kelly was speaking at the summer's Books for Young Readers Symposium, so we read several of her books.
Our primary book was
Blackbird Fly
Secondary books were:
Hello Universe
You Go First
The Land of Forgotten Girls
SUMMER
We took most of the summer off since many of us have young children or were traveling a lot, but we met one time to discuss Gary D. Schmidt's books.
Our primary book was his newest release:
Pay Attention, Carter Jones by Gary D Schmidt
With these books as secondary reads:
The Wednesday Wars
Okay for Now
Trouble
Lizzie Bright and the Buckminster Boy
Orbiting Jupiter
SEPTEMBER
OCTOBER
Because of a graphic novel author event going on at our local library on the day we were scheduled to meet, we read books by the following authors and then attended the event together (I was in Korea this week so I missed it).
Graphic Novels by
Raina Telegemeier
Shannon Hale
LeUyen Pham
NOVEMBER
In November, we read and discussed several new middle grade graphic novels
DECEMBER
We focused on new Christmas picture books for December – we read as many as we could in advance and then also had copies of nearly all of them there to look through together or catch up on any we'd missed.
Dasher by Matt Tavares
The Crayons' Christmas by Drew Daywalt
Last Stop on Reindeer Express by Maudie Powell-Tuck
The Great Santa Stakeout by Betsy Bird
How Winston Delivered Christmas by Alex T. Smith
A Christmas Sweater for Nina by Cecilia Heikkila
The Tree That's Meant To Be by Yubal Zommer
Santa's Prayer by Tom Roberts
Silent Night by Lara Hawthorne
Nativity by Cynthia Rylant
Long Ago on a Silent Night by Julie Berry
The Night of His Birth by Katherine Patterson
Ho Ho Homework by Mylisa Larsen
The Bear and the Star by Lola M. Schaefer
Santa's Story by Will Hillenbrand
Little Robin's Christmas by Jan Fearnley
How to Hide a Lion at Christmas by Helen Stephens
Mouse's Christmas Gift by Mindy Baker
Santa Bruce by Ryan T. Higgins
The Gifts of the Animals by Carole Gerber
Santa Claus and the Christmas Surprise by Dorothea Lachner
And if you're wondering if I read every book this year, the answer is a definitive no. I did my best, but I wasn't even CLOSE most months.
Have you ever belonged to a children's literature book club? Would you consider joining one? I'd love to know what you think!
If you liked this post about my children's literature book club, you might also like these posts: