There are not many book series for early readers more beloved than the Mercy Watson series.
It's just hard to beat the delightfully off-beat stories, the bright, full color illustrations, and short chapters perfect for emerging readers or when you're making the leap into the world of reading aloud chapter books.
Basically, they're unbeatable!
But there are also a lot of wonderful books like Mercy Watson if you're looking to expand into other books and series around the same level.
Here are some of our favorites: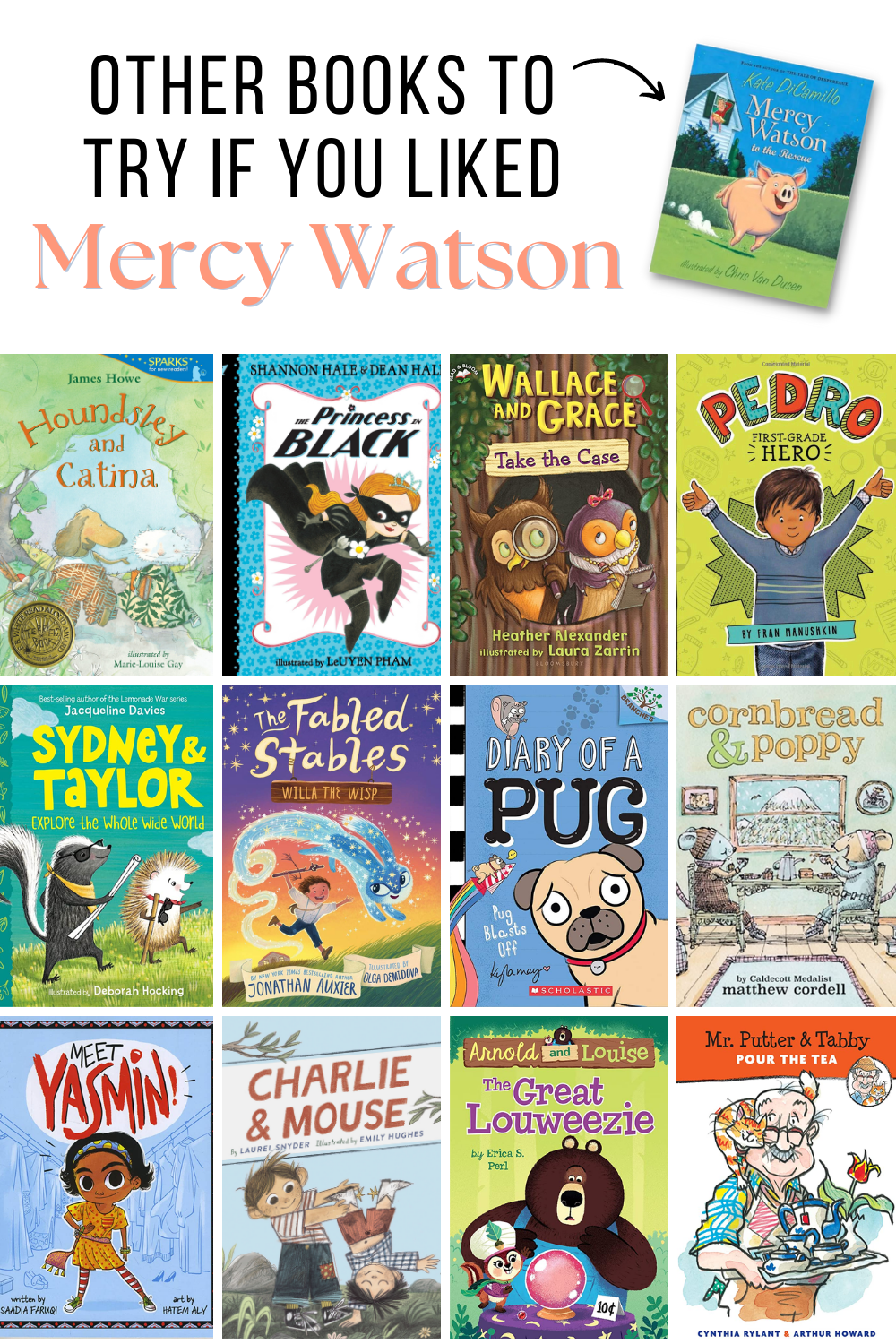 15+ Books to Read If You Liked Mercy Watson
Princess in Black by Shannon and Dean Hale
Most of the time, she's Princess Magnolia, prim and proper. But when her Monster Alarm rings, she transforms into the Princess in Black and no monster will get the better of her!

The Fabled Stables Series by Jonathan Auxier and Olga Demidova
If your beginning reader loves adventure, this book series is perfect. Auggie is the only one in charge of the one-of-a-kind Fabled Stables. In this installment Auggie is trying to help Willa the Wisp escape the torment of the Rook hunters on the island. This is fun and illustrated in full color!

Wallace and Grace by Heather Alexander and Laura Zarrin
For young mystery lovers, this is the perfect introductory series that follows two owlets as they try to crack cases together from a rabbit who thinks he saw a ghost to a lost puppy.

Cornbread and Poppy by Matthew Cordell
Best friends, Cornbread and Poppy, have opposite personalities, and when winter comes they must work together to make sure they both have the food they need to be well stocked for winter.

Yasmin! by Saadia Faruqi
These books each have four delightful stories about Yasmin, a spunky Pakistani American girl who loves spending time with her family and creating and building (after we read the first one, my girls all wanted to make their own maps of the neighborhood). One extra fun thing about this book is that, after the four chapters, there is a little glossary, plus craft and recipe ideas. 

Sydney and Taylor by Jacqueline Davies and Deborah Hocking
Sydney and Taylor are best friends even though they make an odd pair being a skunk and a hedgehog. Beyond their physical differences, they have a lot in common including a dream to see the world.
Barkus by Patricia MacLachlan, illustrated by Marc Boutavant
If your favorite uncle came to visit and brought you a large dog as a surprise, you'd probably be THRILLED! (Your parents? Not so thrilled). Nicky and Barkus have all sorts of adventures together and I'm crossing my fingers for more books in this series.

Charlie and Mouse by Laurel Snyder and Emily Hughes
This is a fairly new easy reader chapter book series and I absolutely LOVE it (there are currently three in the series). It follows two young brothers who have the sweetest relationship and have all sorts of little adventures, from selling rocks to inventing a bedtime banana (as one does).

Pedro First Grade Hero by Fran Manushkin and Tammie Lyon
If you have ever read the Katie Woo book series, you will love this series about her  loveable friend Pedro. Pedro is learning all about how to solve problems, all the while, filling his day with some pretty laughable adventures. This early reader chapter book is organized by four chapters, each chapter being a different story. At the end of the book there are four pages of jokes in the riddle format that are a delight for young readers.
Diary of a Pug by Kyla May
There is something inherently amusing about a pug and these books are no exception. Baron von Bubbles is (he is certain) the cutest pug in the world and this diary-style book is the place for him to share all the adventures he has with his human, Bella.

The Story of Diva and Flea by Mo Willems and Tony DiTerlizzi
You may know Mo Willems from his hugely popular Elephant & Piggie books, but The Story of Diva and Flea deserve a little spotlight. This colorful illustrated chapter book follows two unlikely friends, a small yet brave dog, Diva, and an adventurous cat named Flea, in the bustling city of Paris.
Houndsley and Catina by James Howe and Marie-Louise Gay
These early reader chapter books consist of three "chapters" – which are three separate, sweet and humorous stories about Houndsley and Catina who are unlikely but wonderful friends.
Owl Diaries by Rebecca Elliott
Who wouldn't want to be an owl and live in a treehouse and keep a diary of all the fun you have at school and with your friends? If 12 books in the series is any indication, EVERYONE wants to be an owl! I especially love that it's made to look like it's written on lined-paper.

Mr. Putter and Tabby by Cynthia Rylant and Arthur Howard
This easy reader chapter book series is a hit with so many preschoolers and early elementary schoolers – in this edition, Mr. Putter goes to the library for some new reading material. But the library might be less quiet and calm than they expect.

Mouse & Mole by Joyce Dunbar and James Mayhew
I've been reading these beginner chapter books for a decade and I'm still delighted every time a new one is released. I love these sweet forest friends and I also like that there are some holiday editions.

King & Kayla by Dori Hillestad Butler, illustrated by Nancy Meyers
These beginning mystery books are perfect for a child who loves cracking the case. Told from the perspective of King, the dog, each story has 5 chapters as King and his human, Kayla, try to find clues and solve the mystery together.

Arnold and Louise by Erica S. Perl
Arnold and Louise are a classic odd couple – Arnold is a large bear while Louise is a tiny chipmunk. And their personalities are just as different, with Arnold patient and calm, while Louise is bubbling with harebrained ideas.

Agnes and Clarabelle by Adele Griffin and Courtney Sheinmel, illustrated by Sara Palacios
We discovered this series this year and Ani and I have loved reading it together. While lots of these beginner chapter books feature animals, you don't see a lot of farm animals in them. But this one has a chicken and a pig who enjoy all sorts of shenanigans from holidays to birthday parties.

Princess Cora and the Crocodile by Laura Amy Schlitz, illustrated by Brian Floca
Cora is a princess and she's so tired of being bossed around. Every minute of her day is scheduled with activities she DOESN'T want to do. Until her fairy godmother grants her wish by sending a crocodile. Who is VERY hard to boss around.

And if you'd like a printable copy of this list of books like Mercy Watson that you can take to your library or screenshot on your phone for easy access, just pop in your email address below and it'll come right to your inbox!
if you liked this post about what to try next if you liked mercy watson books, you might also like these other posts: