Some kids are SO ANXIOUS to move from picture books into chapter books.
But for most young readers, it's a big change to go from a fully-illustrated forty page picture book to a chapter book of 100 pages or more with few illustrations.
How can you blame a child for feeling a bit intimidated?
If your child or student is struggling starting chapter books, here are some tips to make the transition from picture book reading to chapter book reading a bit smoother!
(And, of course, there's nothing morally superior about reading chapter books – reading picture books is equally great reading practice and often the vocabulary level in a picture book is higher than in a chapter book because picture books are often written with the intention of an adult reading them aloud, rather than a child reading them solo. If your child wants to stick to picture books, there's no rush to get them into chapter books!)
10+ Tips for Starting Chapter Books
Look for chapter books with pictures. It's hard to move from a fully illustrated picture book to a chapter book with zero illustrations, so an illustrated chapter book can really help make that transition easier. I've put together a list of some of my favorite beginning chapter books that have full-color illustrations on every page – it's a great way to help build stamina while having the fun of colorful illustrations.
Try graphic novels. By FAR the most common suggestion when I asked for recommendations about helping your child transition into chapter books was to use graphic novels. They have the high level of illustrations a child is used to, but helps them begin to learn the skills of keeping a longer story with more characters straight.
Read the left page and let them read the right. I used this technique with my second daughter all the time – it kept the story moving at a faster pace and let her take a little break. Plus, it's such a good feeling to know you're not on your own to read a bigger, more intimidating chapter book!
Read the first chapter or two with them to peak interested. For MANY readers (adults and kids!), that first chapter or two are kind of a slog. You have to learn who all the characters are, adjust to the setting, and figure out what in the world is going on. Reading them the first chapter or two can help get them past that hard part and into the fun part of reading. I did this every week as a school librarian with my 4th and 5th graders and every time, whatever book it was had every single copy checked out immediately. Think of it as a little bit of a trailer for a book – it helps get you excited and willing to dive in and experience the whole thing.
Choose books they can finish quickly. Often we hear other parents bragging about how their first grader read the whole Harry Potter series and it can feel so discouraging if your own child isn't even remotely near that level. The good news is that there are no gold ribbons for reading massive books – short books are just as good and can feel much less overwhelming (even as a big reader myself, I'm still wary of picking up a 500+ page book!). Here's a list of some shorter books for elementary school readers.
Choose a series and read the first one together. Series are an absolute gift for beginning or struggling readers. Once you've read the first one, you know the characters and are used to the setting and it's much easier to get into a new book in the series than it is to pick up an entirely new book. Read the first one together (or listen to it on audio) and then hand them the second book in the series to read themselves.
Let them stay up later reading. It might be in bed or it might be in the family room with the parents, but I've met very few kids who don't LOVE being able to stay up past their bedtime and are much happier to read than they are to go to bed!
Have a dedicated fun reading time. Having a specific fun reading time has made a big difference in our family – we call ours Friday Reading Time and we put down a blanket and get out fun snacks and everyone chooses their own books to read! It's the perfect time for starting chapter books without a lot of pressure, plus helps create positive associations with reading.
Have a family member or friend talk up a book. When a friend or older sibling or cool uncle raves about a book they've read and tells some funny stories from it or reads a page or two aloud, it makes it MUCH more appealing to try that book out!
Try the same book as a chapter book, audiobook and graphic novel. Lots of books come in multiple formats now – if your child listens to The Lightning Thief on audio, it'll be much easier to read a paper copy of it because they're familiar with the story. Same goes for a graphic novel version of a book and then a traditional version!
Don't make it a power struggle. If your child is reading but mostly sticking to picture books, it's probably not worth it to ruin their relationship with reading for the sake of getting them into chapter books. Keep reading a positive experience, even if it's not at the pace you would have personally chosen or the books you'd want to read yourself. If they're reading, they'll get into bigger books eventually unless a parent makes reading so full of guilt and shame and pressure that it feels easier to just avoid reading entirely.
I'd love to hear your best tips for helping a child who is starting chapter books and struggling with the transition from picture books! What has helped in your home or classroom?
If you liked this post about starting chapter books, you might like these posts too: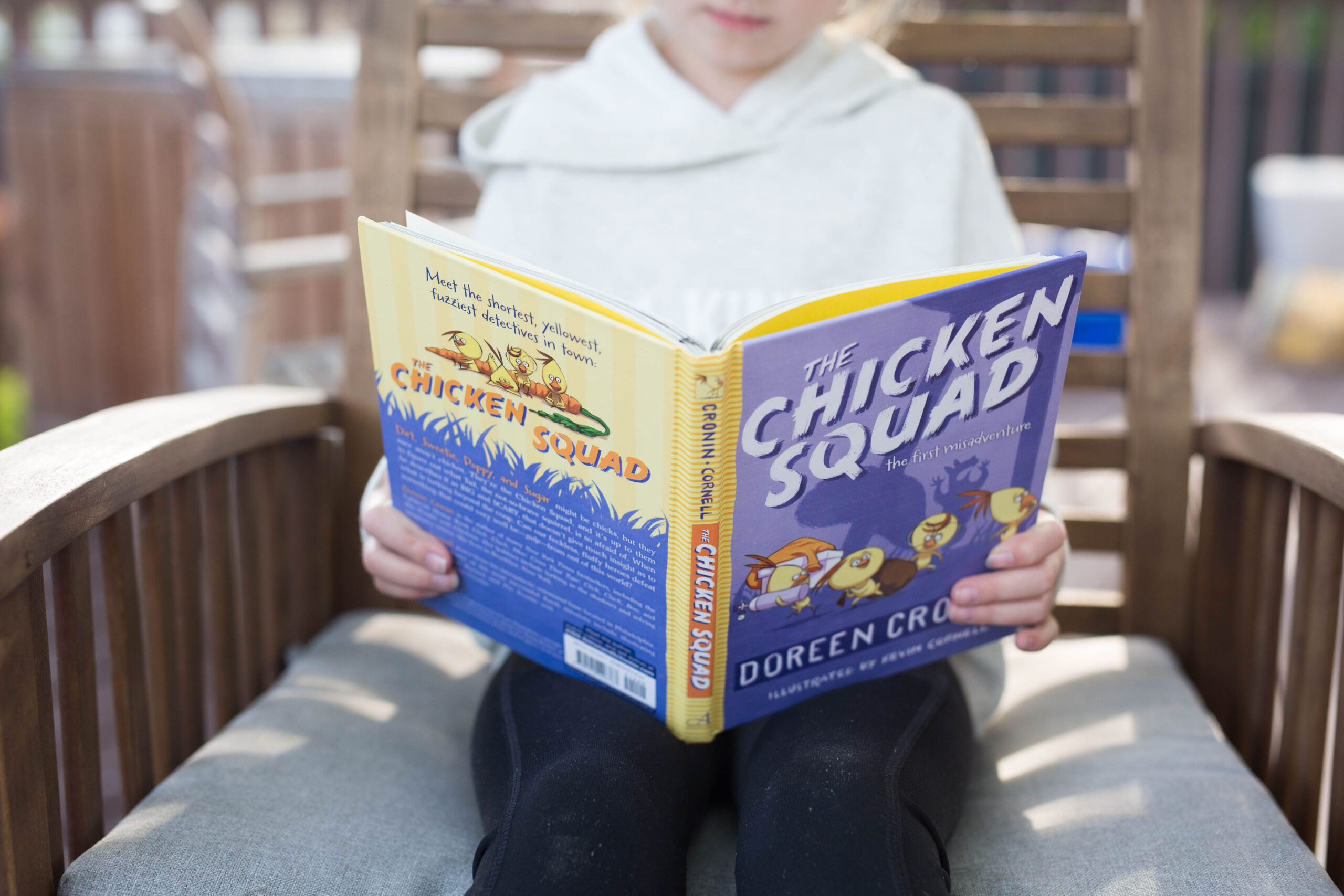 Photos by Heather Mildenstein