This summer is sprinting by and I'm soaking up every second of the long days, warm nights, and the constant smell of sunscreen and chlorine at our house.
I don't want it to end!
Here are some of my favorite things right now: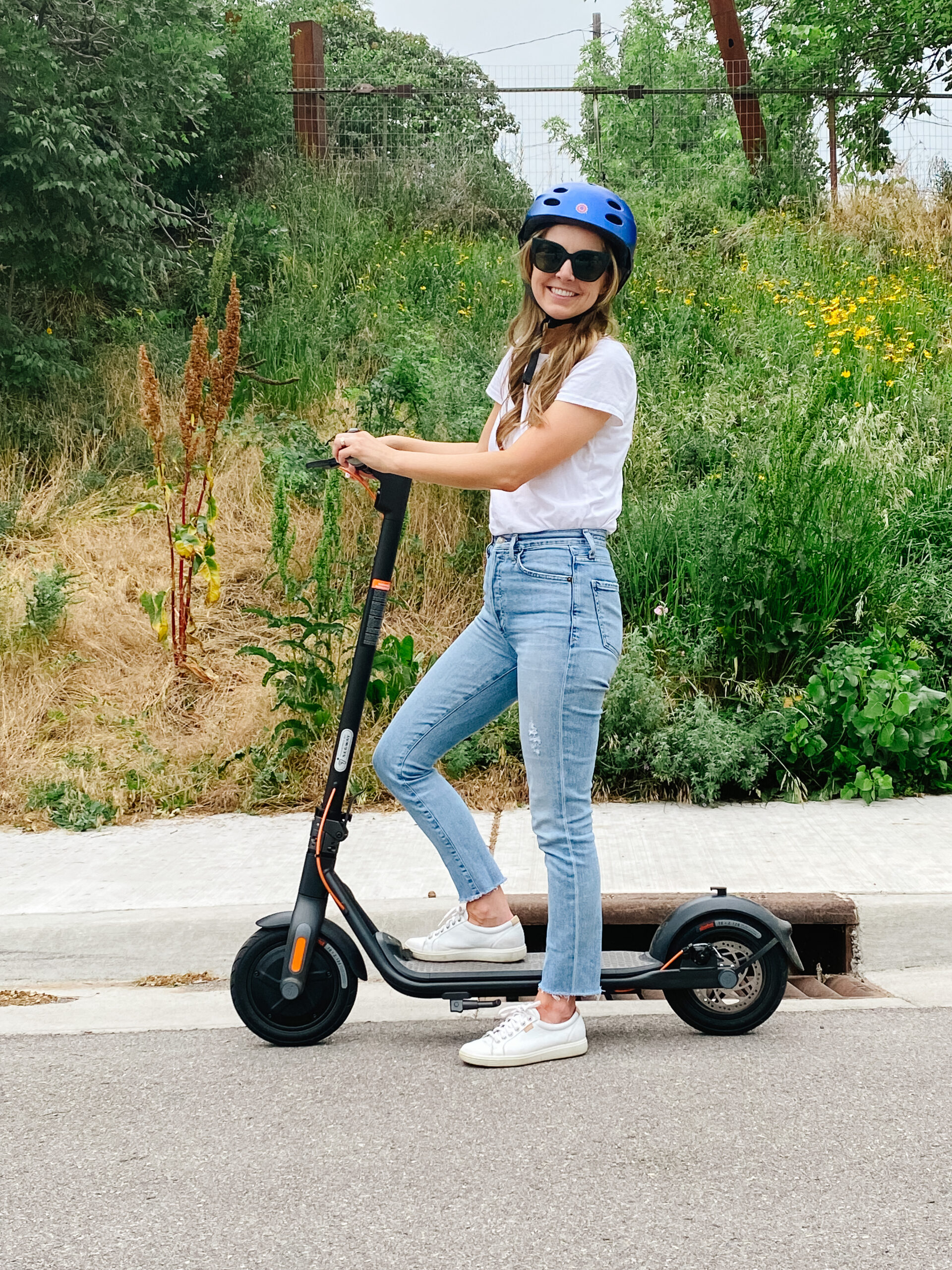 4 Favorites Things for JuLY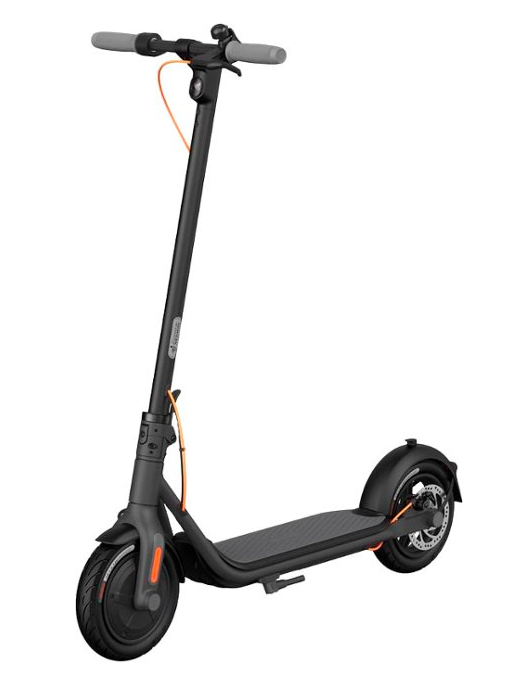 SEGWAY SCOOTER
We got two of these this spring as gas prices were soaring and it's been so great to have them for short trips around the neighborhood and town instead of taking a car. From soccer practice to a quick stop at Bart's parents house or dropping a child off at a playdate, we've used them non-stop since we got them. Plus, they're just SO DANG FUN. This is the kind of thing I never would have purchased but Bart got them and now I'm glad on a daily basis that we did!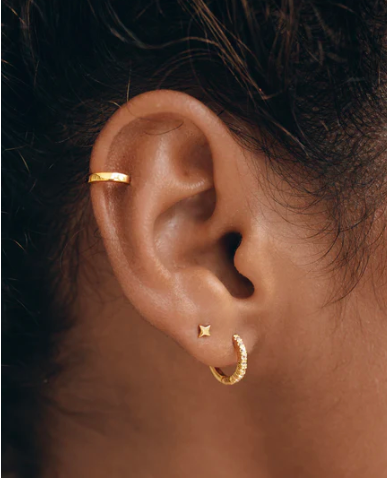 LINJER HUGGIE EARRINGS
I have quite a bit of Linjer jewelry and love it all, but my favorite thing this summer has been the huggie earrings – they fully close around your ear so there is no back to snag and they're small and perfect for summer when you don't want anything too fussy but just a little bit of sparkle. I wear them almost daily!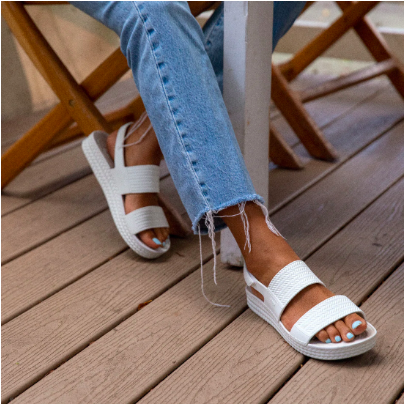 REEF SANDALS
I mentioned these Reef sandals in my "things that are working for me this summer" post a few weeks ago but I LOVE them too much not to mention them again! They're the best waterproof sandals I've ever owned – really comfortable (which is hard for me to find), have a back strap that stays on but doesn't require buckling and they come in a million fun colors. I've worn them for every pool or water park trip this summer and every time I can't get over how much I love them.
DIME EYELASH SERUM
I've been a longtime fan of the Babe Lash eyelash serum but after I had LASIK a few months ago, it started irritating my eyes. I'd gotten a million questions about Dime's eyelash serum over the last year or two but never used it but once Babe Lash wasn't a great option for me anymore, I gave it a try and I'm a big fan. It doesn't bother my eyes at all and within about two weeks, my eyelashes were noticeably thicker and longer. Total win! (My Dime code is BRADSHAW20).
analese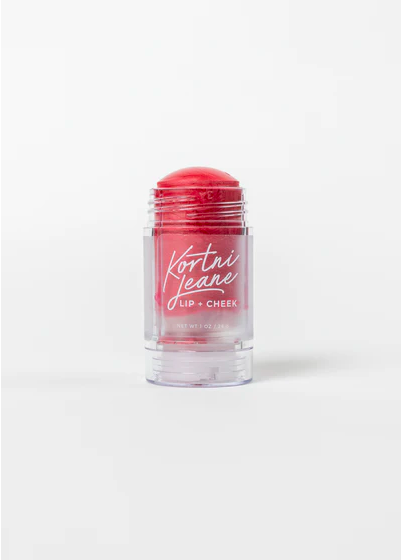 KOURTNI JEANE LIP & CHEEK 
I love minimum makeup especially in the summer months and this Lip & Cheek is my go-to! I've been using it for over a year now and just had to reorder because I use it every single day. I dot a little bit on each cheek, blend it with my fingers and put a swipe on my lips. It gives just the perfect amount of sun kissed look and I feel more put together with barely any effort. I ordered the color Heat Wave the first time, but since that shade is no longer available, I went with Sunkissed this time and love it just as much!
Jennifer
KIDKRAFT BOOKSHELF AND READING NOOK
We are renting our house that we currently live in so I have been reluctant to make a lot of furniture or decor choices, but my four year old daughter's bedroom was in desperate need of some sort of organization. Janssen shared this bookshelf as part of the big Zulily sale last month and I couldn't let it pass! (It's currently sold out on Zulily, but it is available on Amazon!) It fits perfectly under my daughter's bedroom window and she loves to snuggle into the seat and read a book. I like that we can keep library books in a separate cubby than our own books and it really just helps her keep things a little more tidy. I am a big believer in everything has its place!
kELSEY
TRADER JOE'S MINI ICE CREAM CONES
We live 30 minutes away from the nearest Trader Joe's, so we don't go often, but these mini cones have been stocked in our freezer for the summer. They are the perfect cold treat after a long hot summer day. What I love most is that they are the perfect size for my toddler (and of course I indulge too). I love the chocolate chip mini cones, but they have vanilla, chocolate, and a dairy-free/vegan version too.
What have been some of your favorite things this summer?
if you liked this post about a few favorite things from JUly, you might also like these other posts: