I started my blog nearly 17 years ago and back then, the idea of having anyone helping me with it would have blown my mind.
As it started growing over the years, Bart encouraged me to hire a virtual assistant and after about three years of him bringing it up, I finally did!
Now I have three virtual assistants that help with Everyday Reading and it's made all the difference in the world.
Here's what they do!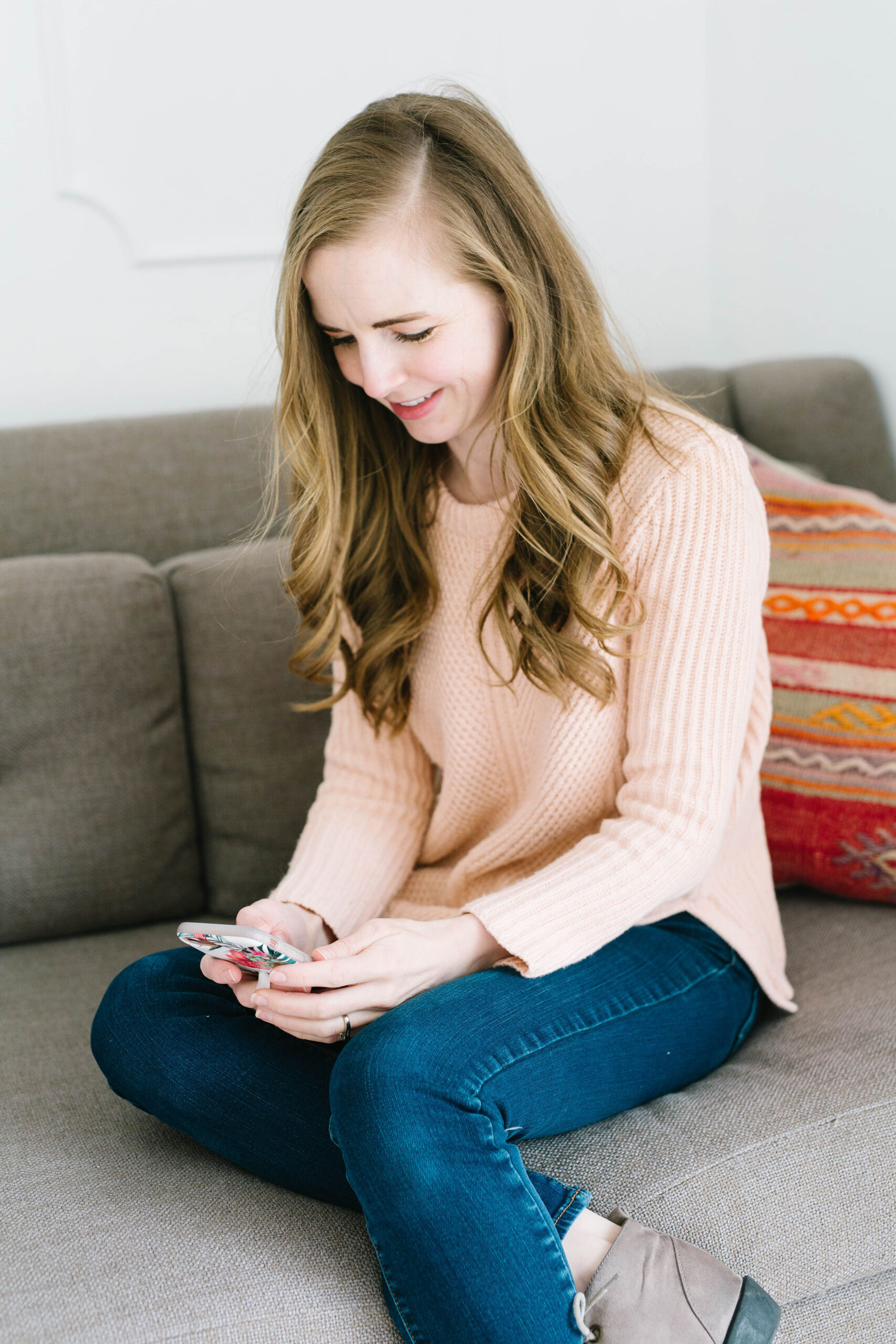 analese
Analese was the first person I ever hired to help with Everyday Reading and she is the GLUE that holds everything together. I was so nervous about bringing someone on and the moment I got on a video call with her for the first time, I knew I'd love working with her. She's wildly organized, always on the lookout for how we can run things better, and acts like I'm doing her a huge favor anytime I ask her to take on a new project. Her role has changed and grown significantly over the years and I text her about a thousand times a day. Currently her role includes:
Managing Pinterest and Facebook. There are only so many social media platforms I can handle, so while I do the vast majority of Instagram (all the DMs, posting, etc), I'm fully hands-off on Pinterest and Facebook. Analese does it all.
Sponsored Instagram Post Management. When I book a sponsored post with a brand, Analese coordinates the due dates and live dates with the brand and puts them on the schedule. She also collects and sends the brand all the analytics about how the sponsored post performed after it's expired in my Instagram stories. She also occasionally posts sponsored stories if they've been filmed beforehand and needed brand approval.
Project Management. This is a fairly new part of her role and it's been saving my life this year. I'm good at plenty of things, but project management is not one of them and I was frequently the hold up for projects that I needed to do parts of before the rest of the team could do their jobs. Analese has taken over the project management piece of Everyday Reading, making assignments and giving due dates for blog posts and other recurring tasks and it's made my life SO MUCH BETTER (if you're curious, we use Asana as our project management tool).
Blog post preparation. I'll put in Asana what blog posts I want to write and then Analese will build the post in WordPress, do the initial keyword research in SEMRush so we know what people are searching for around this topic on Google or other search engines, and then make the assignments to the team so everyone can complete their part to get the post ready.
Updating old posts. Analese keeps old posts in tip-top shape – fixing broken links, updating codes, or changing images out as needed. She's also the SEO expert on our team so she'll suggest to me what posts could use some love to keep them current and useful.
Friday Q&A set-up. I LOVE doing the weekly Q&A on Instagram (I think I've done it pretty much every single week for the last three years), but it's quite time consuming, especially on a Friday when I want to be getting everything cleaned up for the weekend (my inbox cleared out, etc). Several months ago, Analese started helping me with these and it's made my Fridays a thousand times better. I go through on Monday morning and pick the questions I want to answer and then write all my answers in a Google Doc (which is WAY faster than typing those answers on my phone keyboard) and then send them to Analese who builds out the images for each slide and then posts them all, along with the relevant links, on Friday afternoons. She also adds them to a highlight each week and then takes down the previous week's questions.
Book Club Giveaways. Analese reaches out to the publishers each month to see if they're willing to give away several copies of that month's book. She also adds each week's book club discussions to a highlight so you can go back and watch them at your leisure.
Kelsey
I hired Kelsey about a year and a half ago and I had NO idea how talented she was when she joined the team. She's super detail-oriented and has an incredible eye for design. Here's what she does:
Weekly book deals. Each week, I send Kelsey a list of book deals and she formats the whole Saturday blog post so that it has links, book covers, and a graphic, plus finds descriptions of the books from past blog posts when I've mentioned them.
Weekly Menu posts. Kelsey also manages the weekly menu posts getting those all formatted and ready to publish, including the graphic for the week.
Book List graphics. For every book list post that has a collage image, Kelsey is the one who designs those.
Printable book lists. At the end of every book list I do on my blog, there's a place to pop in your email and you'll get sent a printable list of the titles and a graphic with all the covers on them so you can take it with you to the library or bookstore. Kelsey designs all of those and sets up all the backend parts of the email so that it'll come right to your inbox.
Format Summer Reading Guide. Last year, I asked on Instagram for a designer for the Summer Reading Guide (I'd been doing it myself for years) and Kelsey texted me to say "No pressure, but I'm happy to design it!" and then she did a phenomenal job. I cannot wait to see how this year's turns out!
Create graphics for Instagram posts. Once I realized how incredibly talented Kelsey was, I recruited her to start doing some fun new things on Instagram, like these super popular weekly "If you liked this book, you might like this book" posts and these new four book posts.
Update the book index. You may or may not know that we have an index on Everyday Reading of every book referenced on the site and she adds new books to it each week as new posts go up.
Manage Reading Log support. Every time we release a new reading log, there are people who can't get it to arrive in their inbox or have trouble printing it or whatever – Kelsey manages these questions and comments and makes sure everyone who wants a copy can get a copy.
Jen
Jen is the only person on my team who lives locally and it's been so great having someone in person to help with some of the things that can't be done virtually. Plus, it means I can drag her to the occasional influencer event with me so I know I have a friend along. Here's what Jen does: 
Manages weekly book giveaways. I film the book giveaways each week for Instagram and then Jen picks the winners and mails out the books. She also adds each week's giveaway books and the winners to this giveaway page.
Adds authors and illustrators, affiliate links and cover images to book lists. For every book list, one of the most time consuming parts is adding the authors and illustrators, the affiliate links to Amazon and the cover images. Once I've settled on a list of titles to include, she goes through and builds all that out for the blog post. Sometimes it also includes page numbers and amount of books in the series.
Manages Amazon Influencer Storefront. I have a storefront page on Amazon and each week Jen adds a few new posts drawing from blog posts (so you can easily find Picture Books about Spring or Books to Give to Graduates).
Everyday Reading Book Club Updates. Each month, Jen creates the reading schedule and also puts together the list of where to find cheap or free copies of that month's book.
And I'm sure I've left a million other things off this list – they truly keep Everyday Reading running and after so many years of working solo, it feels pretty miraculous to have these three talented women to share the load with!
(And I can't forget Heather Mildenstein who has taken the majority of my blog photos over the last 4.5 years – we get together about once every month or so and it's a delight to see her work her magic).
Any other questions about what virtual assistants do? I'm happy to answer (or they can answer too!).
if you liked this post about what virtual assistants do, you might also like these other posts: