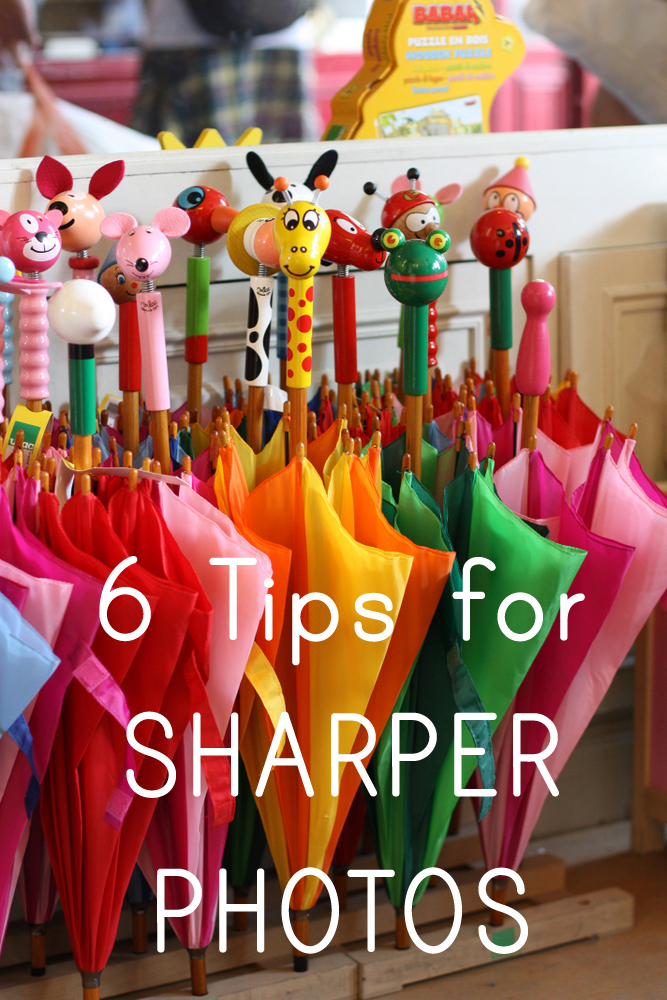 Giant disclaimer here that I am not the best photographer around nor do I think I'm some font of great photography wisdom.
But I do take a lot of photos, and one of my biggest priorities is that my photos are sharp. There is nothing more frustrating than downloading all your awesome photos and seeing that most of them aren't quite in focus (I personally find alllllmost in focus more irritating than completely blurry).
Also, I've never read my camera manual. I love to read but that thing is boring. Basically, I just read a lot of stuff online and then google how to do it with my camera. Way faster and less likely to result in an impromptu nap.
Here are the things that have most helped me get sharp photos!
how to get sharper photos
Get a decent lens. I know. This is frustrating advice. But I used a 50mm 1.8 lens for three and a half years and no matter how much I read and practiced, I just could NOT get the majority of my photos to come out sharp. When I finally caved and bought a 50mm 1.4 lens, my photos improved instantly. 100% the lens – I didn't gain any skills in the 30 seconds it took me to swap out my lens. Believe me, I'm the cheapest person in the world, but the difference of $275 over the course of many years, tons of frustration, and ten million blurry shots on my hard drive is just not that much. I wish we'd just sprung for the better lens at the beginning and not wasted our time. This is the only lens I brought on this trip and I haven't regretted it for a moment.
Set your focal point. This was the single trick that most improved my photo sharpness. dSLR cameras have a setting where you can pick which point on the lens is in focus. It's MUCH more accurate than that "focus in the center than recompose" trick. At first I thought "This is a giant hassle" but I just kept doing it and I'm super fast at it now and then the part of my photo I want in focus is ACTUALLY in focus practically every time. Life-saver. If you're taking photos of yourself with a tripod and remote, this will definitely improve those. Because then it knows your HEAD is what you want in focus, not the tree behind you.
Keep your shutter speed high. I basically try never to shoot below a 1/60 shutterspeed because hand-shake is just too likely at that speed. And I learned from Samantha Kelly that if you're photographing kids who, not to go below about a 1/200 or 1/250. Adjust your other settings as necessary.
Don't sit at the lowest aperture. This is kind of a pet peeve of mine. If you're taking a photo that's not a super close-up, you probably don't want to be down at a 1.4 aperture. I've heard people say "I want all that nice blur and I paid a ton of extra money for that extra 0.4" but 1) you'll get PLENTY of blur on a higher aperture (I shot this photo on my lens that only goes down to a 4.0 – plenty of bokeh there) and 2) who cares about nice blur when your whole photo is a blur with nothing in focus? If you're trying to get a full body shot or a couple of people together without some of them being blurry, you need to go a little higher. (This one that Bart took last week has all of us in focus with some nice blur – it's at a 2.6 aperture. Guaranteed the girls would have been out of focus if he'd tried it at a 1.4).
Set your focus mode to Al Servo. (I think on a Nikon it's called Continuous Focus, but I've taken approximately 10 photos ever with a Nikon and I'm convinced that Canons and Nikons are designed as differently as possible to keep you from ever switching back, so don't quote me on this). This mode means that once you focus on an object, your camera's smart little brain keeps tracking it even if it moves. Very helpful when you're photographing people or kids or moving objects. Less necessary when you're taking a picture of cookies. Hopefully.
Sharpen your photos in an editing program. When my college friend Jess Curren came to visit last year (they sold their house in Utah and are traveling with their 3 kids across the country in an Airstream! Check out their blog because it's awesome and the photographs are stunning), I asked her what the secret to sharp photos were and she said "Photoshop." Since then, I always sharpen my photos up a little before posting them (whether I'm doing big photos for my blog in Photoshop or photos for Instagram in Afterlight).
If you have other tips for getting crisp photos, I'd love to hear them! And if you have questions, I'm happy to try to answer, with my previous disclaimer firmly in place.
if you liked this post on how to get sharper photos, you might also like these other posts: