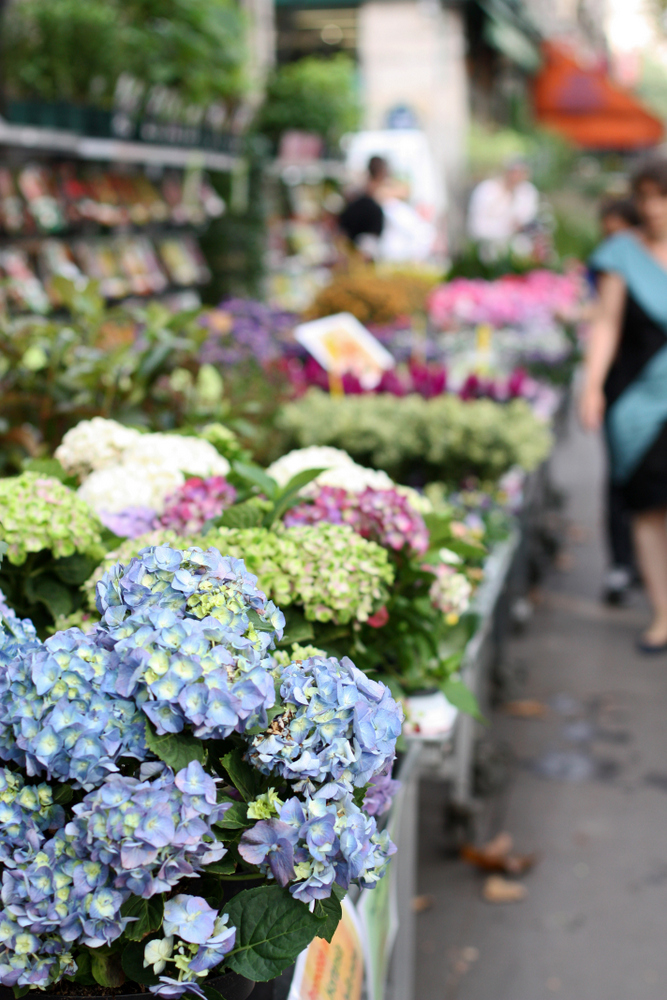 We spent Friday and Saturday in Amsterdam (after finally getting a hotel worked out), but I never pulled out my big camera. Too bad, because Amsterdam is gorgeous.
On Thursday morning, we caught a bus into the city and visited the Rijksmuseum. I'm one of those sad embarrassing people who doesn't really love art museums, but I actually really enjoyed this one. We spent about an hour and a half there, and it was probably the best art museum experience I've ever had. I'd totally go back.
Afterward, we walked down to the water and met Preethi, Dan, and kids for a canal boat tour. The girls were pretty restless (and Ella ended up listening to an audiobook for much of it, so I was glad that they were both free), so it was a little bit of a relief to get off the boat and let them stretch their legs again.
We picked up lunch at Wok to Walk (delish) and then walked over to the Spui where we met up with one of Bart's dad's professor friends who lives in Amsterdam. After an hour or so, we browsed the flower market (we bought a little packet of seeds to plant when we get back to North Carolina), then walked up through Begijnhof and to the Royal Palace square, before heading back for the evening.
We missed our bus by just minutes, so we ended up waiting for about 30 minutes for the next one (as bedtime came and went), and then at one of the stops, a teenager walked in front of the bus and got hit by a car coming around the bus on left side. He wasn't seriously hurt (thank goodness), but we spent quite a while waiting for an ambulance and the police to come, while Ella asked a million questions about what was going on.
The next morning, we caught the same bus in and the bus driver didn't charge us since the day before we'd tried to buy round trip tickets and he hadn't had them, so I was already feeling good about life. And then when we were walking over to Vondelpark and I found a ten euro note on the ground of a deserted street, I felt like things were extra good.
We ended up spending the entire morning at the park, first at the playground and then visiting a cupcake festival going on with a bounce house, face painting, and free cupcakes.
We'd been planning to visit Zaanse Schans with Preethi and Co, but because of our long morning, we didn't have time to make the train (next time! it looks amazing), so we grabbed some lunch and then headed over to the downtown library which was quiet and lovely.
After figuring out the centraal station in preparation for our morning train to Paris the next day, we headed back to our hotel.
In the morning, after our train debacle, we had an uneventful trip down to Paris and successfully got situated in our Paris apartment which was perfect for us (despite being super tiny).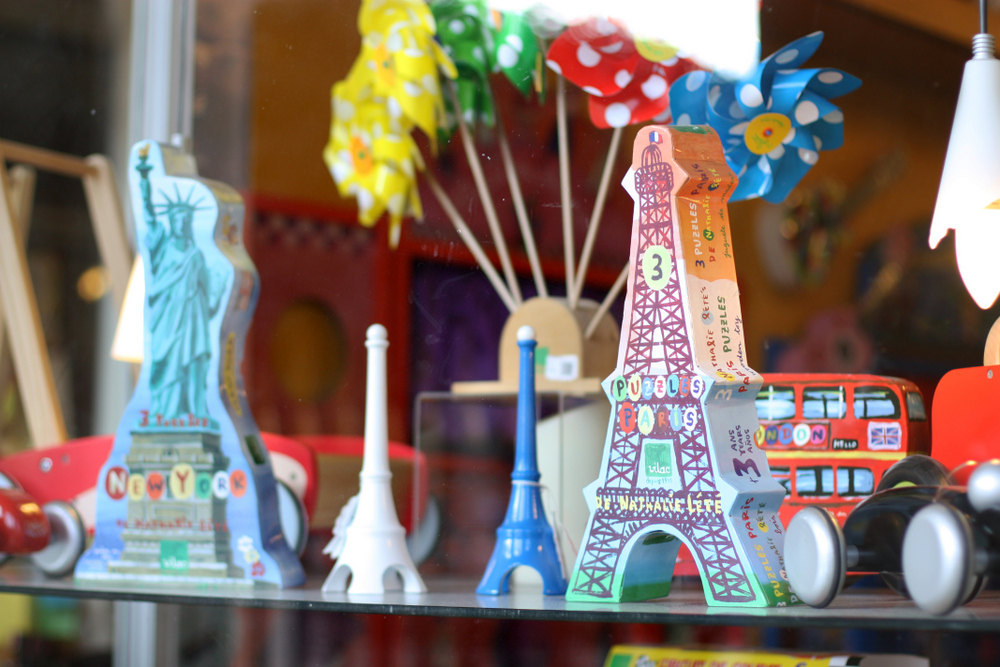 Paris was the point in the trip where Bart and I started saying things to each other like, "What would we do today if we didn't have any kids with us?"
Our girls have been remarkably good on this whole trip, but by the time we got to Paris, they were basically done.
We kept things pretty low-key, stopping at plenty of parks and eating a boatload of pain au chocolat for the next three days.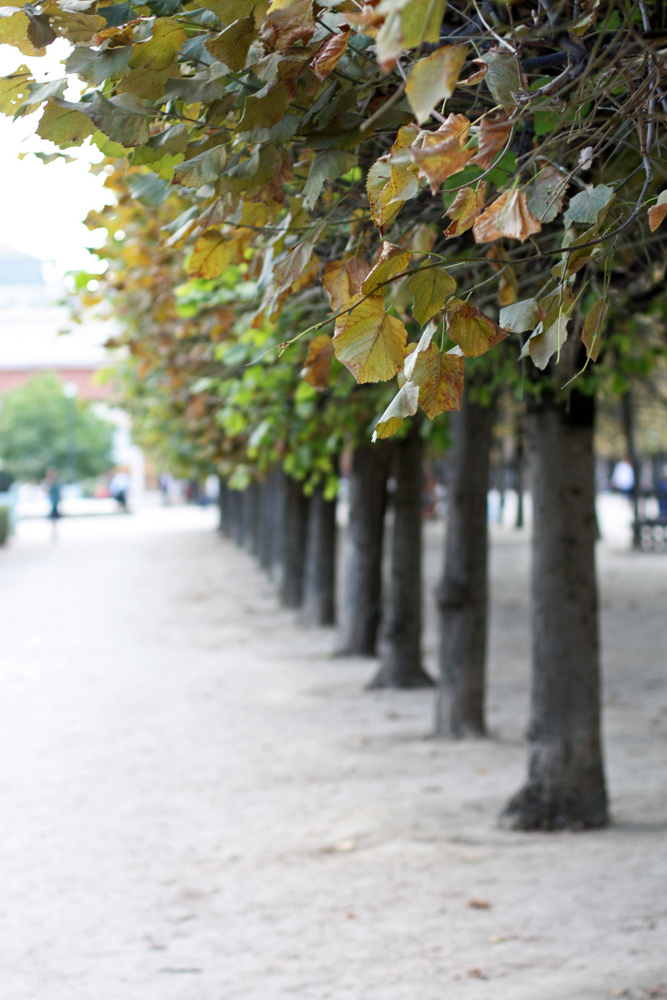 On Monday morning, we went down to the Louvre and wandered around the Tuileries Garden before getting some baguette sandwiches for lunch (followed by one of the best double chocolate cookies any of us had ever had).
We came back from naps and then in the afternoon headed out again, hitting a couple of toy shops down by the Royal Palace.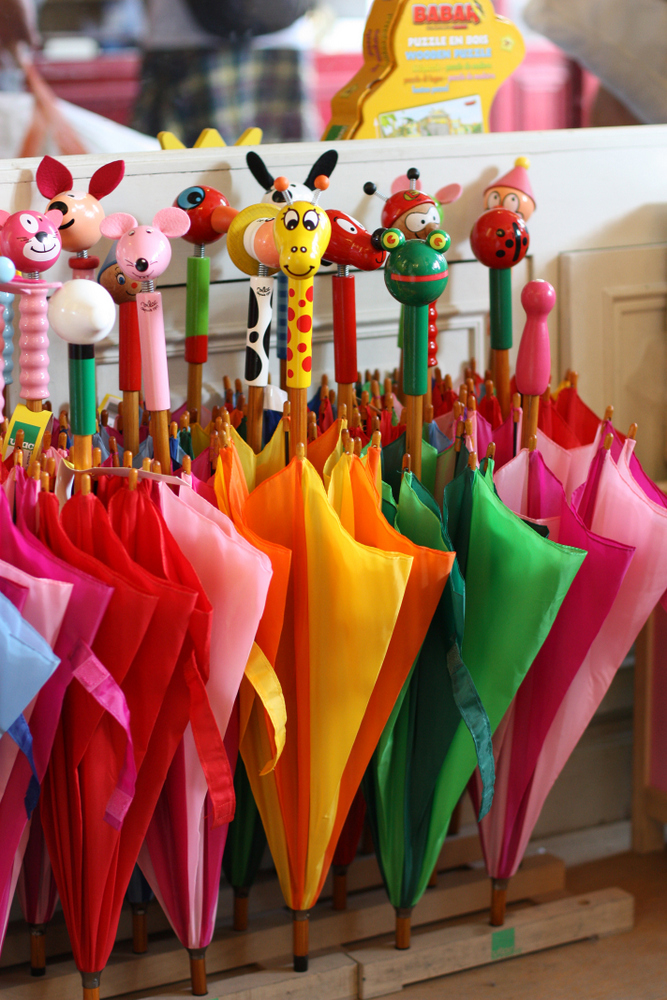 On our way to the Jewish Quarter, we stopped to let the girls play in a big open area before going to the Jewish Quarter for falafel and then ice cream.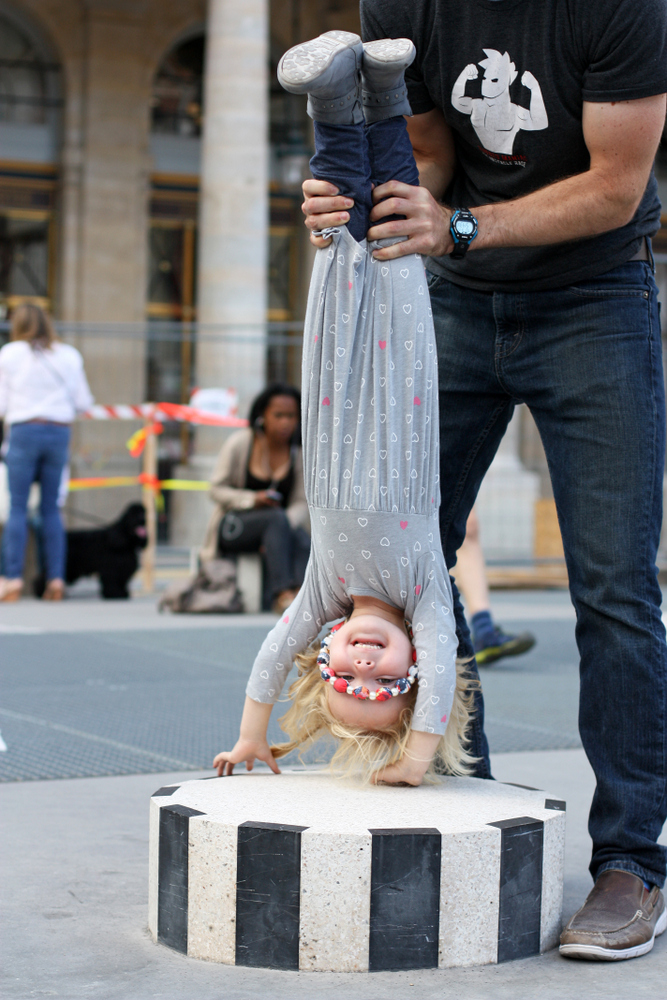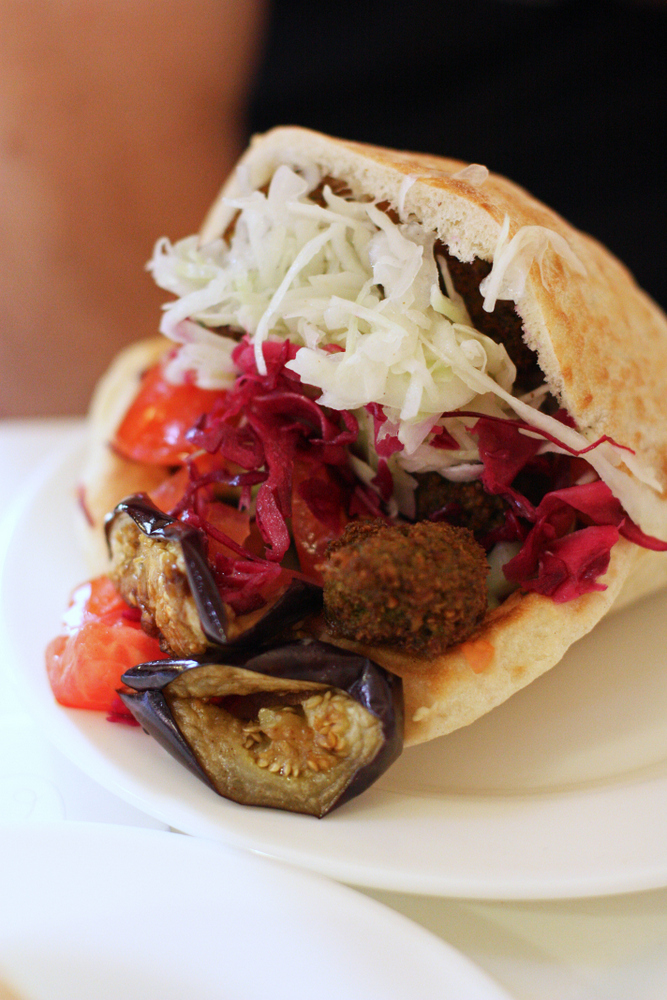 On Tuesday morning, we'd considered going to Versaille (I've never been), but it just seemed too daunting at the moment (can you tell we were getting wimpier every day?) and we ended up picking up some pastries at Le Boulanger des Invalides Jocteur, including a really delicious bichon au citron (like a puff pastry filled with lemon curd and then baked until it's crispy on the outside and flaky on the inside).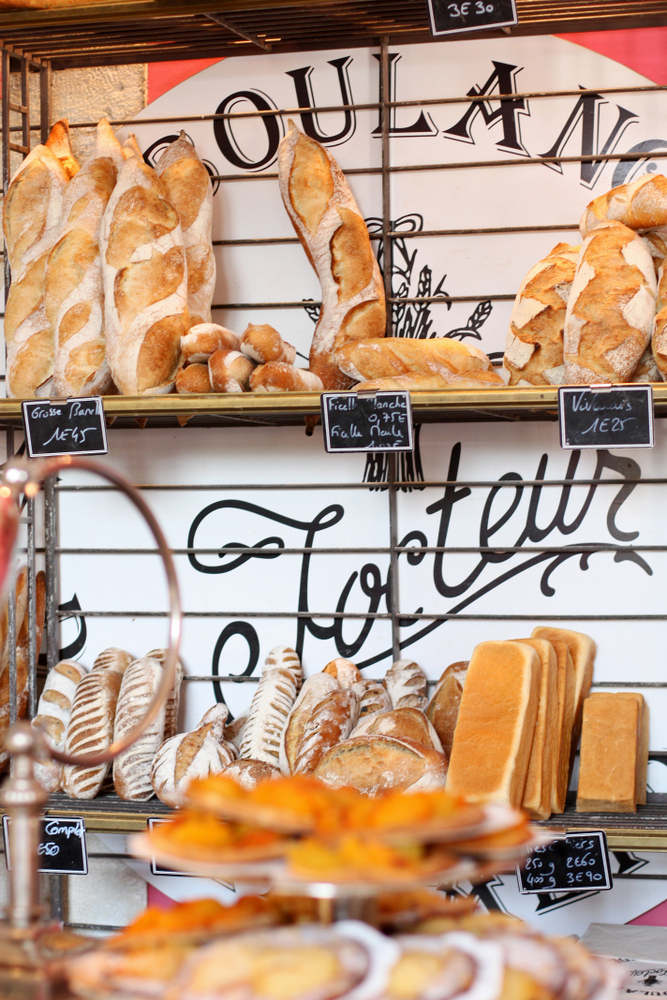 We walked over to the park in front of the Eiffel Tower and let the girls play on the playgrounds until they were blue in the face, while we ate our pastries. At one point, Ella knocked my bichon au citron on the ground and I picked it up, dusted off all the sand I could and ate it anyway. I'm not afraid.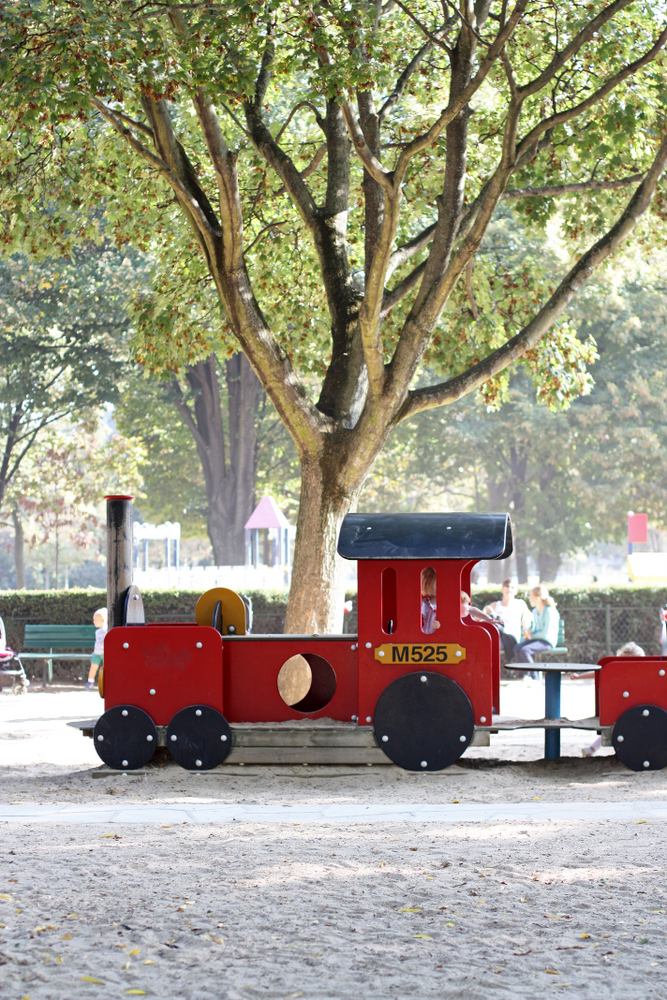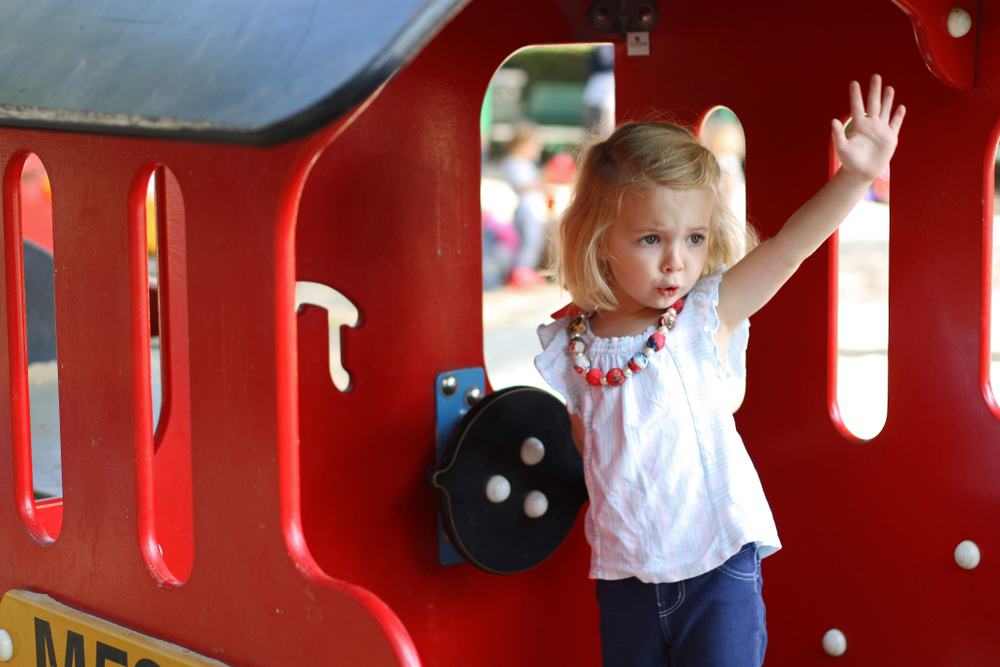 We'd planned to go up the Eiffel Tower but the line was so long and Ani was already yawning her face off, so we gave it a pass, picked up a ride on the merry-go-round and called it good (Ani freaked out about the carousel and wouldn't go near it).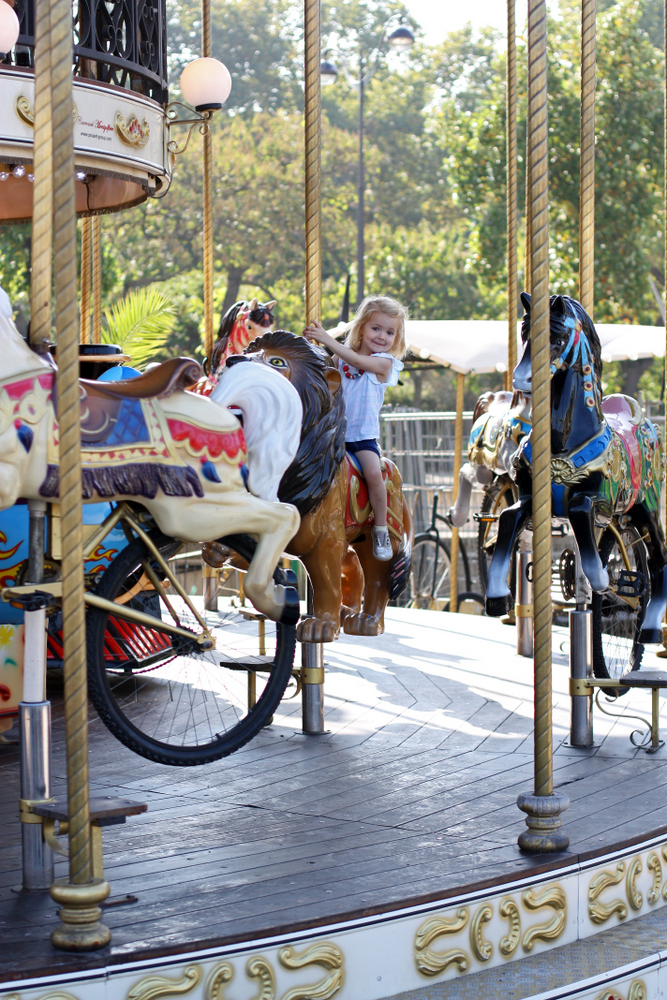 We went to a little Indian restaurant for lunch, then finally made it back for naps. When Ani finally woke up after 5 p.m., we walked down the Champs-Élysées (with a stop in at the Disney Store which was a first for the girls and I think they would have stayed forever), before getting crepes for dinner. We didn't mess around with real crepes – we went straight to the dessert crepes. Mine was pear and salted caramel with vanilla ice cream and it was amazing.
Wednesday was our last full day in Paris, and we started off with a trip to the Motte-Piquet market which was a bit underwhelming, and then headed to Le Jardin d'Acclimatation, an old-fashioned amusement park on the west side of the city.
The girls were in heaven.
For Ella, the highlight was a pony ride. We though Ani would want to go too, but she was deathly afraid of the horses and clung to Bart like crazy.
They both enjoyed a couple of other fair rides (you had to pay individually for each one, so we didn't do many because we are cheapskate parents).
We grabbed some more baguette sandwiches on our way home (these ones were even better than the ones on Monday – mine was feta, tomato and capers, and I accidentally ate the entire thing in one sitting), then Bart and Ani laid down for naps.
Bart and Ella took a little trip to the park while Ani kept snoozing and I had a quick conference call, then when Ani woke up we finished up our last evening in Paris with a stop at Notre Dame and then our long-awaited cones at Berthillon (yes, before dinner).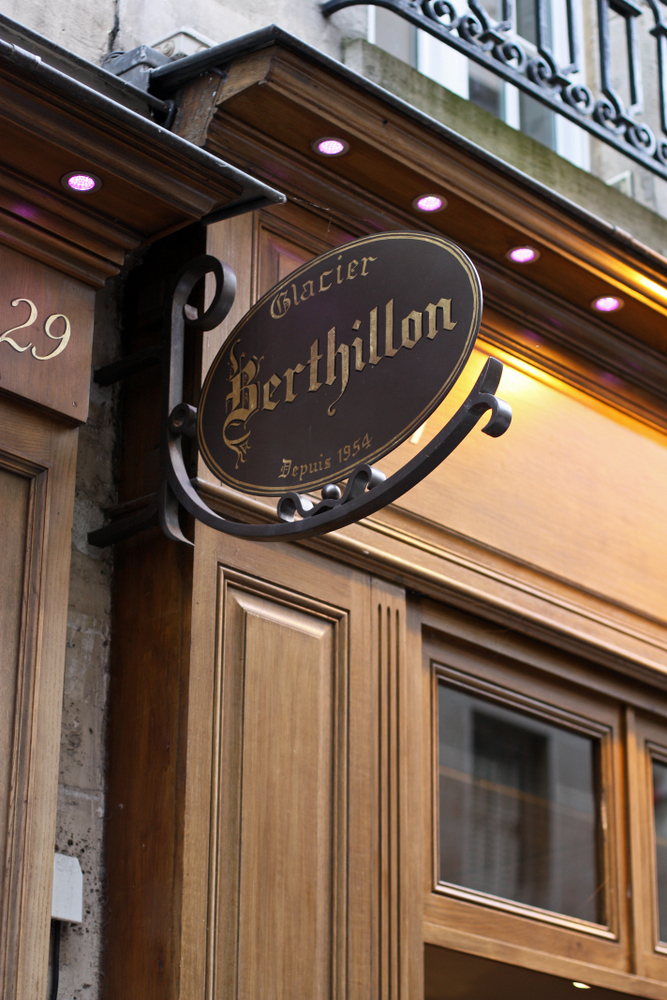 We tried to go to dinner at an Italian restaurant that a friend had recommended but it didn't open until 7:30 and the girls were super tired and we ended up just stopping at the grocery store near our apartment and getting a few necessities (juice, chocolate bars, ramen) and eating dinner at home before throwing the girls in bed.
Yesterday morning, we got up early, packed everything up, loaded into a taxi and headed to the station to catch the train to London. I was so eager to get to London and settled in our apartment (I've never looked forward to doing laundry and grocery shopping so much!), but then we got delayed at customs (this was not like catching the train from Amsterdam to Paris where we arrived at the station 11 minutes before departure and had plenty of time to spare), and ended up missing our train.
Happily, they put us on the next one 30 minutes later, so all was not lost.
Two hours later, we pulled into London and I almost cried with relief at being able to read the signs again. I cannot believe how wearing it is to be in a country where you don't know the language.
And then we showed up at the apartment and it actually existed (always a little scary when you've done everything online), and it was even better than we'd hoped. It's big and spacious and has two floors and a rooftop garden.
We unpacked, started the laundry (hellooooooo tiny washing machine that only does half-size loads), and went to the grocery store where my eyes bugged out of my head at how cheap most things were. 27p for a jar of jam? 55p for a bag of dried apricots?
It felt wonderful to load up the fridge and make dinner and then put the girls in bed in a room that isn't ours for the first time in a month.
Oh London, I'm so so happy to be here.