When we left Arizona for Utah, we knew one of the things we were leaving behind was glorious, sunshine-filled winters.
We'd moved to Arizona in mid-July, when the temperatures were soaring daily to 117 or 118 and everyone commented how how unfortunate it was to arrive smack-dab in the middle of summer.
But come January and February, when much of the US is buried in snow and freezing gray weather, Arizona is basically heaven on earth (since I'm writing about this in January, I can't talk too much about Arizona winters or I'm going to just be too sad).
So we decided that each January or February, our family would visit somewhere warm for at least a few days.
When we told the girls about this, I called it our "Winter Escape Trip."
This year, our "Winter Escape Trip" was to Las Vegas.
It's less than a 6 hour drive, there is endless sunshine, and, since my parents live there, it's about the cheapest trip possible (bonus for free babysitting from my parents so Bart and I can steal away to see a movie after we tuck our girls into bed).
We've visited Las Vegas dozens of times over the years, so this was not a new or novel destination for our family.
And yet, I noticed something fascinating.
By giving this trip a name, it felt so much more exciting and intentional.
For weeks, I heard my girls telling our babysitter or friends or family members all about our "Winter Escape Trip."
That name framed it differently in our all minds.
Instead of it just being three days at the grandparents' house, it was our Winter Escape Trip.
We talked about it as we packed short-sleeve shirts and when we picked up the girls from school, they shouted, "It's time for our Winter Escape trip!"
On our first morning there, we took a long walk to two different neighborhood parks with my parents, with a stop on the big pedestrian bridge that connects them where we jumped over cars as they passed under our feet and counted how many trucks we could get to honk at us. As we basked in the sunshine, we all kept saying, "This is the perfect Winter Escape Trip!"
On Saturday, when we went for a hike at Red Rock, it felt crazy to be wearing just light jackets.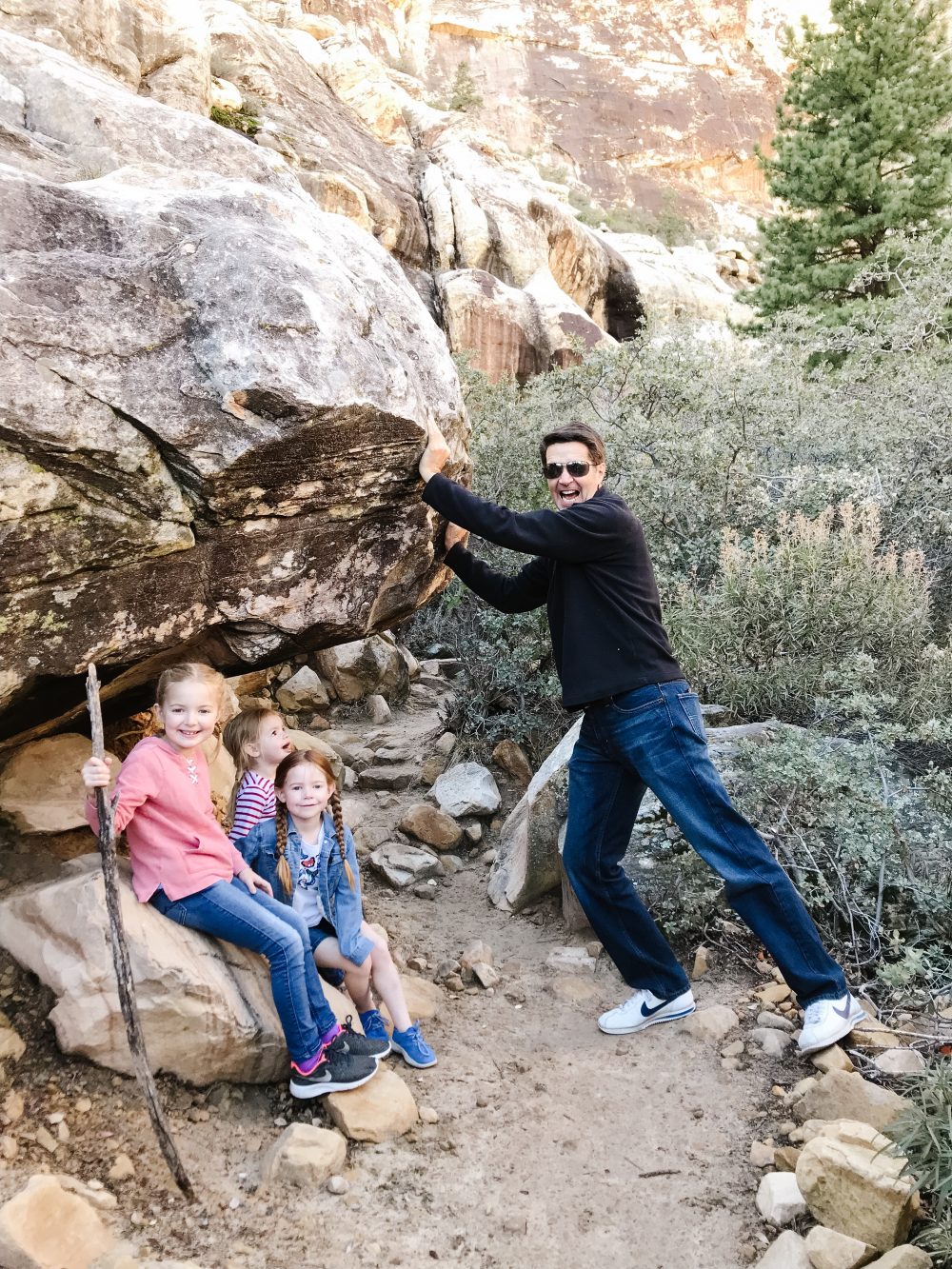 The whole trip just felt a little more special and intentional with a name (and let's be honest, not even a very creative name at that).
I was commenting on this phenomenon to my mom on the phone and we talked about how much a name matters.
She reminded me of Gretchen Rubin's weekly "Power Hour" where she moves as quickly as possible through the unpleasant tasks (bill paying, phone calls, setting up a new device, etc) that can easily pile up in adult life. Naming that "Power Hour" makes it feel more intentional and slighlty less awful with a name.
Similarly, our Christmas Eve meal, I think, would be less delightful if we just called it "Christmas Eve Dinner" instead of our "Shepherd's Meal."
Now that I've noticed this, I'm looking back on my own childhood and thinking of things that had specific names.
"Saturday Jobs" sounded more important, official, and grown-up than just doing chores.
Our family scripture reading was always called "Devotional" and if you asked any of my sibling, that one word would probably conjure up very specific memories, including early mornings and the blankets my dad would wrap us in when we got out of our warm beds to sit on the couches together for 15 or 20 minutes.
"Family Home Evening" sounds better than "a night of the week where we'll all be home together, have a lesson and possibly play charades, badly."
It takes almost zero effort to give something – a weekly routine, a holiday tradition, or a trip – a name, but that name, even if it's a relatively dumb name, can make the whole thing more delightful.  
Have you noticed this phenomenon too?
Some year, I hope our Winter Escape Trip will be to Hawaii or the Bahamas or somewhere else warm and exotic, but in the meantime, while our Winter Escape Trips lean hard to the budget side, I'm glad that giving it a name is a free way to make it feel more purposeful and thrilling.
Do you have routines or traditions with names? I'd love to hear!