I grew up in Las Vegas and have been taking my own children back to visit my parents there for the last decade. These are my favorite things to do in Las Vegas with kids.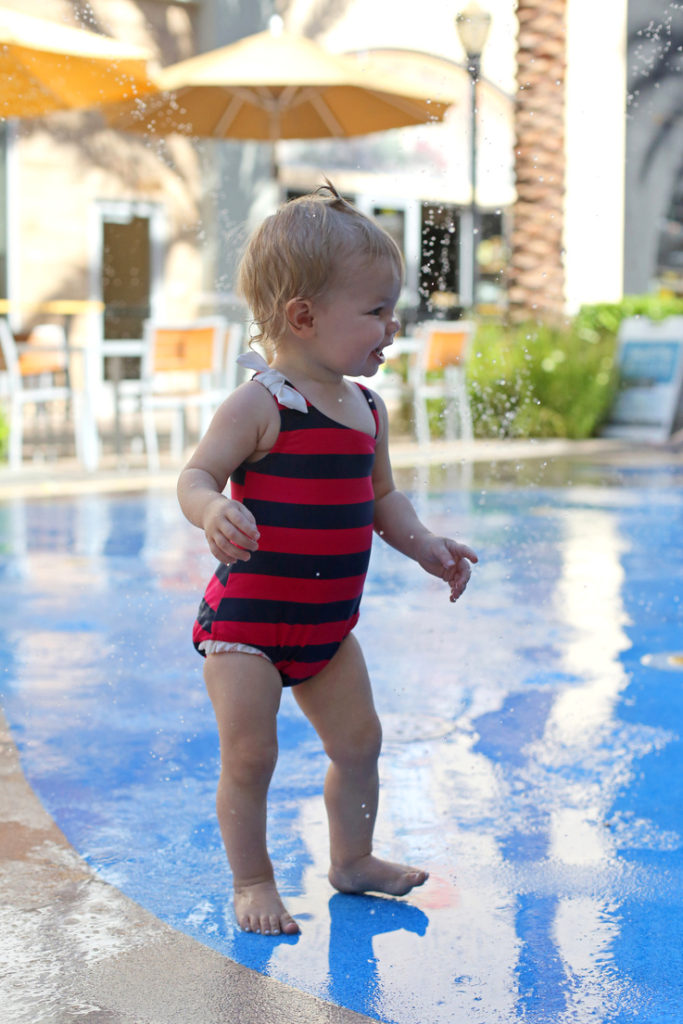 One of the big reasons we decided to move to Arizona is that we'd finally be close enough to drive to Las Vegas.
We moved to Las Vegas when I was 6 and my parents still live there, so we're in Las Vegas several times a year at the very least.
We spend a lot of time reading books on the couch, visiting the park in their neighborhood, swimming in their pool, or working on puzzles at the dining room table, but we also do our best to take advantage of all the things to do in Las Vegas with kids.
Over the years, we've found many favorites and if you're visiting Las Vegas with kids, I highly recommend all of these!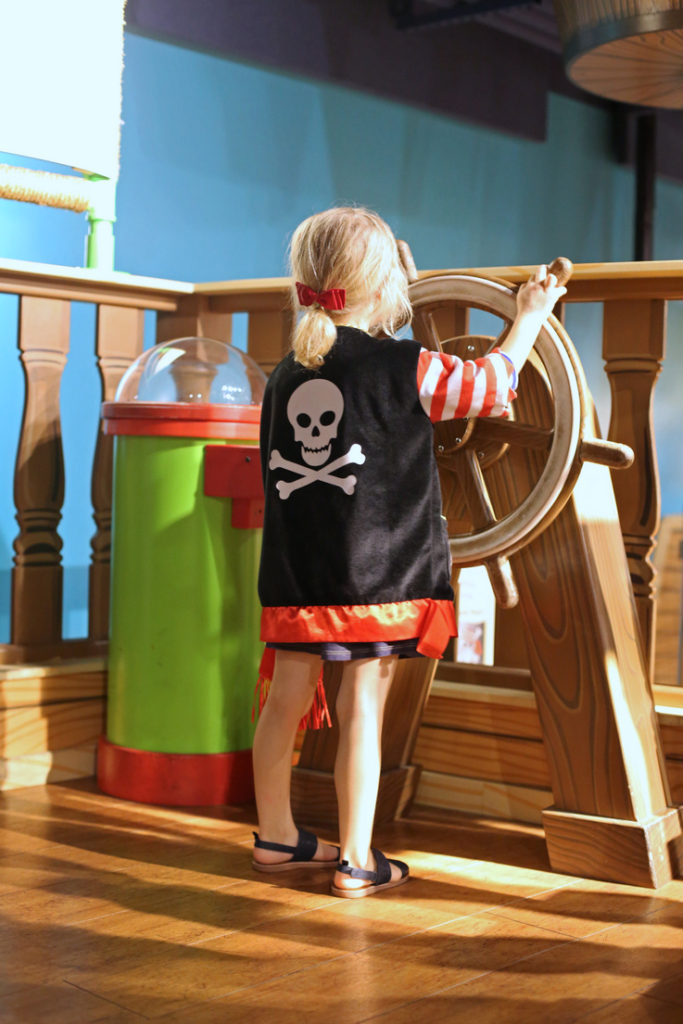 Our favorite things to do in Las Vegas with kids
Discovery Children's Museum
We've been to a lot of children's museums all around the country, and this is one of the best. When I was a kid, we had a membership to the original version of this museum, but in the two decades since then, they've moved locations and really stepped up their game. My girls can stay happily here for HOURS. And at the end, the employees march through the whole place (all three floors) passing out instruments and everyone participates in a parade out the doors. It's definitely top of our list of things to do in Las Vegas with kids in tow.
The Bellagio Conservatory 
They change out the exhibit every few months (this summer, it's an under-the-sea theme and it is spectacular). No matter what they do, though, it's always over the top gorgeous. Obviously, check out the fountain show (bonus points if you think of Ocean's Eleven while you watch) and the world's largest chocolate waterfall. And of course, you'll want to stop and get gelato at Cafe Gelato while you're there. I highly HIGHLY recommend the mango – I'm not usually one for fruit flavors (give me all the chocolate or salted caramel) but this one is ridiculous. The sandwiches are also incredible, plus their cinnamon rolls are hands-down the best cinnamon rolls I've ever had.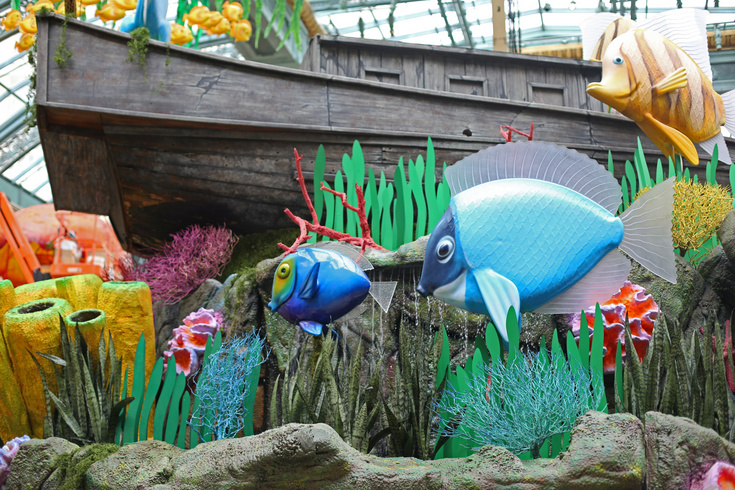 The District Splash Pad and Farmer's Market
This is one of my all-time favorite splash pads. Not only is it pretty much always shaded, because it's between two-story shopping buildings, it has lights strung above it, music playing, and – best of all – couches for parents to sit on. After years of sitting on hard benches in the blazing sun at splash pads, this is the best thing ever. They also have a farmer's market on Thursday afternoons and various concerts and movies throughout the year.  I've also heard that the splash pad and park at Town Square is really nice, so it's on my list to visit when we go back later this summer.
Ethel M Chocolate Factory
We've been going to this since I was a little girl – at this point, I've probably been at least 100 times. You can see various chocolates being made through the giant glass windows (sometimes there isn't much going on and sometimes you're rewarded with the most enormous slab of fudge you've ever seen in your life), plus you get a sample at the end. They also have a big cactus garden outside that's fun to wander through and at Christmas it is all lit up for the holidays.
The Container Park
We went here with all the grandkids a couple of summers ago, and it was just really fun. The whole place is built out of those giant shipping containers (much like the Boxpark in London), with fun little stores, great restaurants, and a lot of outdoor seating and a playground in the center. Some of the slides are really big, so they're fun for adults too. They also do movies and concerts on the stage there.

Las Vegas Natural History Museum
This is another one we went to a lot when I was growing up – it's not huge, but it's inexpensive and has lots of cool animals. I took my girls there last time we visited Las Vegas and they were OBSESSED. Also, it's indoors which is what really counts in July and August in Las Vegas.
The High Roller
I've been on a couple of observation wheels (including the famous London Eye) and this one is by far my favorite. It really feels like a PARTY as you go up and around, and we had the best time dancing and singing in the pod, watching the lights in the city go on as the sun set, and listening to the amusing narrator tell jokes and point things out as we went around.
Dophin Habitat
I haven't taken my own girls here yet but we went multiple times when I was a child and it's just so fun to see the dolphins right up close.
Lion Habitat Ranch
I never knew about this place, even though it's not far from my parents house. Apparently, all the years that the MGM Grand had lions on location, they actually lived here at the ranch and were brought in daily. I finally took my girls along with my mom a few years ago and we all were mesmerized.
Hiking at Red Rock
We went hiking here ALL the time when I was growing up – almost any time someone came to visit, we made the drive out and hiked around to various falls or through narrow passes. Our girls are getting big enough for us to do it now and it's such a great way to get out of the city and enjoy beautiful weather much of the year. With more than 25 trails, there's really something for every level and interest.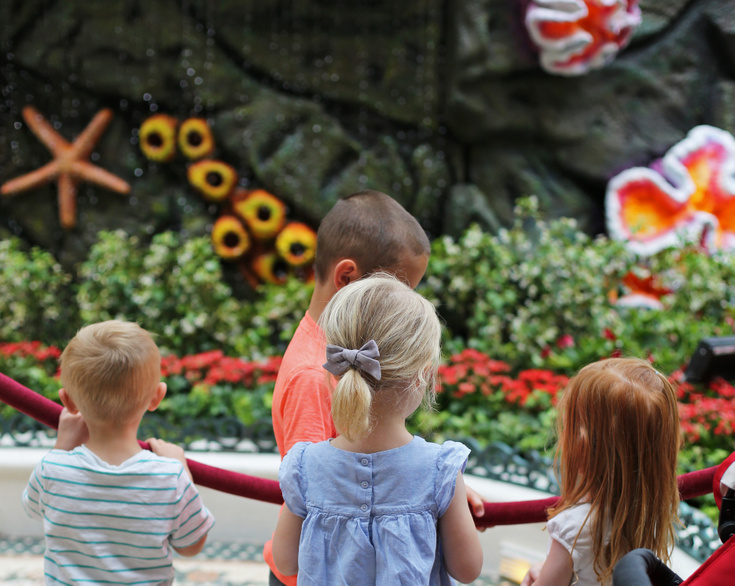 Other things to do in Las Vegas with kids that are on my list:
The Shark Reef Aquarium at Mandalay Bay, the free outdoor animal habitat at the Flamingo, and Cowabunga Bay. I also grew up going to Wet n' Wild, but I haven't been to the newly rebuilt one so once the girls are a little older, I'm excited to explore that too!
If you've visited Las Vegas with children, I'd love to hear about your favorite things to do in Las Vegas with kids!
If you liked this post about things to do in Las Vegas with kids, you might also find these posts helpful: