Yesterday, I shared our itinerary for our Japan trip, but there were so many other questions about the logistics of our trip that these questions needed their own post!
From budget to lodging to transportation to planning our itinerary, here are all the things you asked about our trip to Japan!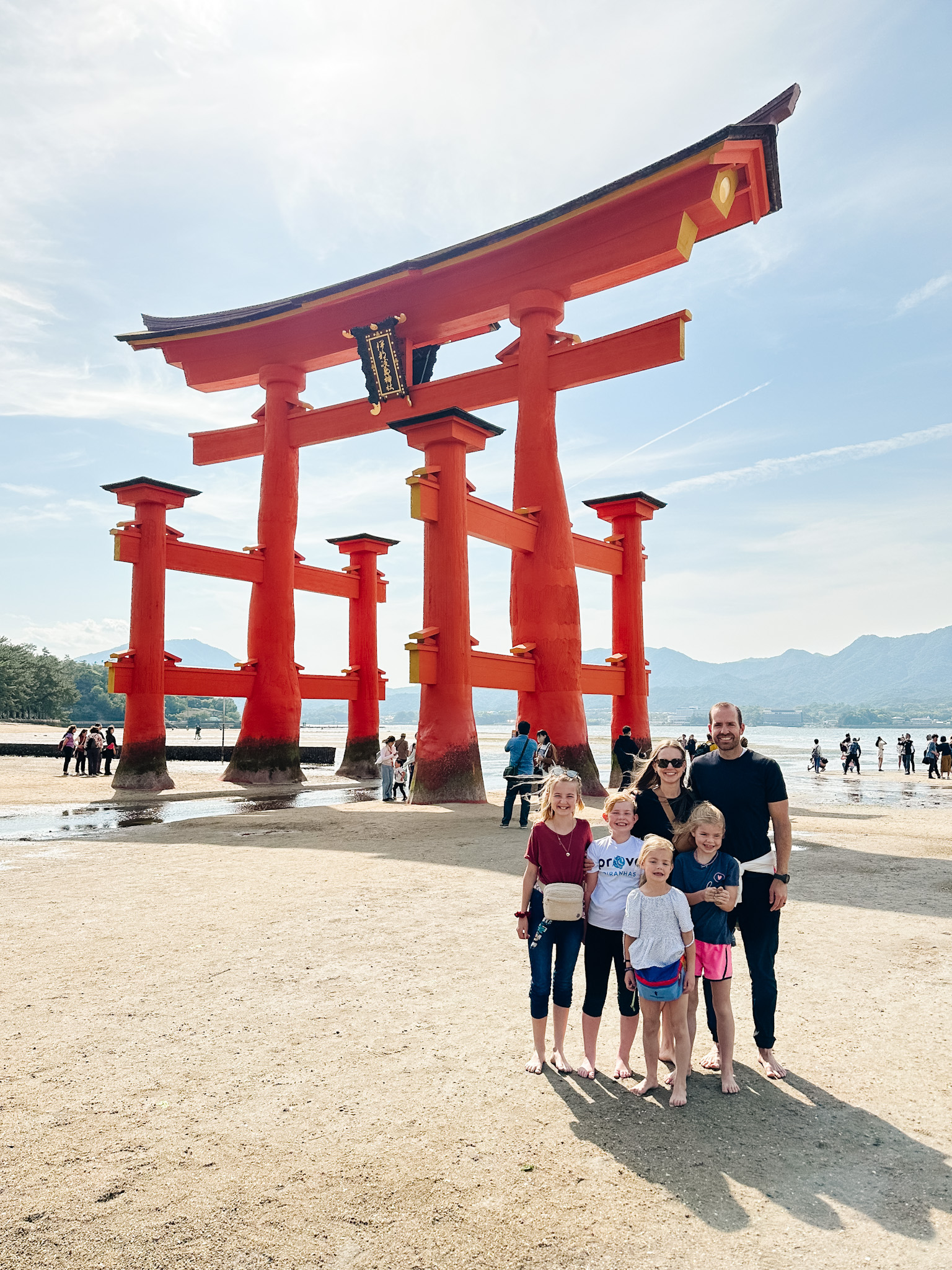 A Q&A about our Trip to Japan
What led you to pick Japan?
This question came up a million times which struck me as so funny – why NOT Japan? It's beautiful, interesting, safe, has terrific food, great public transportation, and is somewhere we haven't been before.
How long was the trip? 
We drove out of Utah on Tuesday evening, flew out of Las Vegas Wednesday morning, landed in Japan on Thursday night, and then flew out of Japan the following Thursday night, arriving back in Las Vegas on Thursday night before driving back to Utah on Friday afternoon. So we were gone about nine days and in Japan for seven days.
How far in advance did you plan?
We bought our plane tickets about 5 months in advance, booked our lodging about 3 months before our trip, and then ordered our rail passes about a month and a half before we left.
Was spring time intentional?
Yes! It's such a nice time to travel weather-wise and flights and lodging are usually less expensive in that pause between spring break and summer travel. We did Hawaii as a family at this same time in 2019, and Bart and I did Nashville in 2022 and Miami in 2021 right around this same week.
If needing a visa how far in advance to apply? 
This trip didn't require visas – just our passports and we already all had them, so this was simple!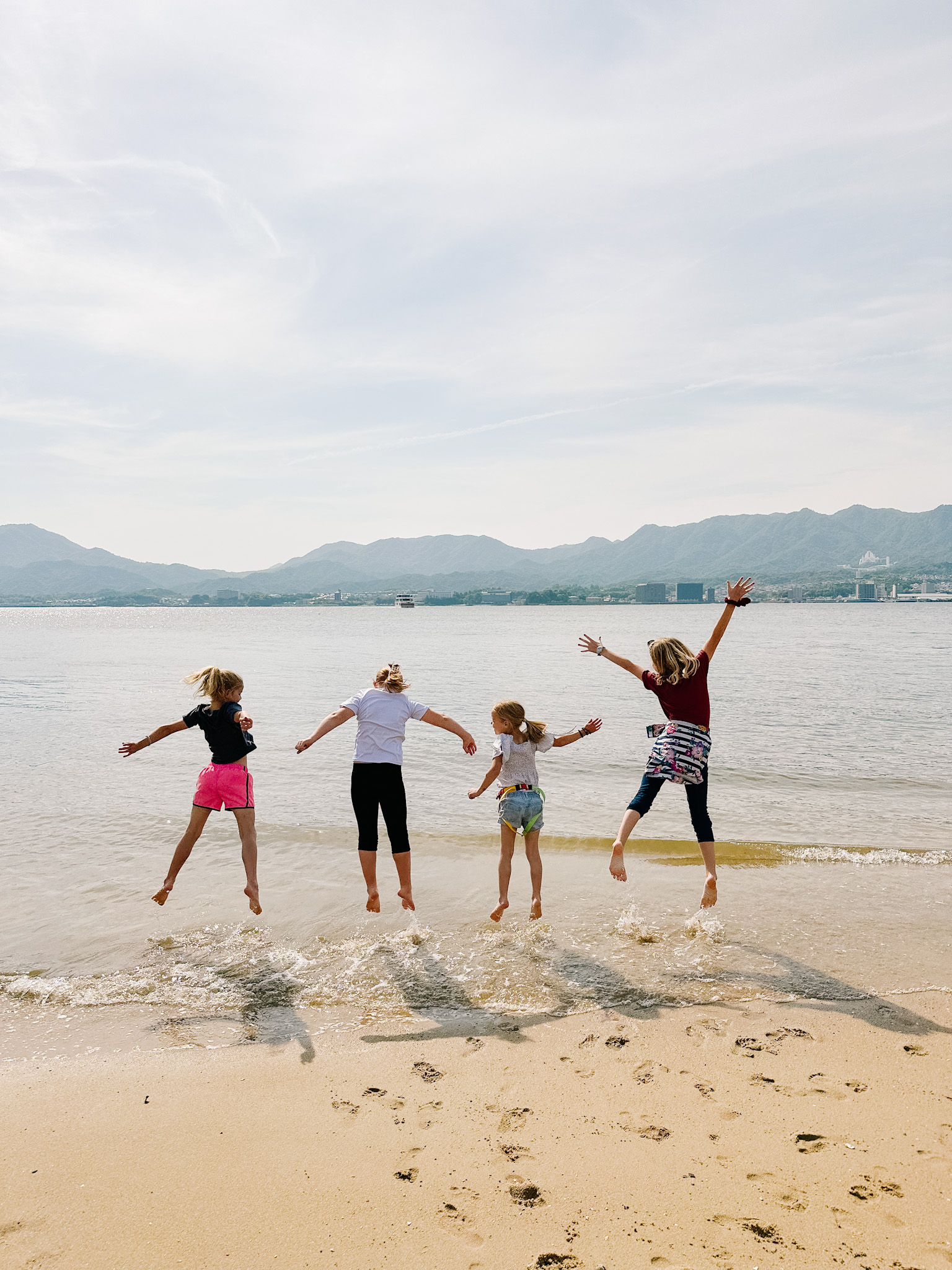 Did you plan all of your own travel?
Yes – we did not use a travel agent or anything like that. We know better than anyone else what's interesting to us and at what pace we want to go, so it feels simpler to do it ourselves.
I'm curious about how you cultivate an itinerary. I want to travel with kids, and without a guided tour, but where/how do you begin?
I usually start by googling things like "Japan trip" or "7 days in Japan" or "Japan with kids" and looking at what other people did or what comes up over and over again. I'll also reach out to friends who have been to the place we're going and ask for recommendations and I usually ask on Instagram as well. I make a Google doc and dump all the recommendations in there and then make a bullet list for each day and start dropping things in. Bart and I will review it together, identify what sounds most interesting and feasible, and build from there.
How do you choose what places to visit? Historical sites, tourist attractions, parks, etc.
We try to create a good balance based on what we are interested in. The good news is that I live with my family day in and day out, so I know a lot about what they're interested in. I know my girls will spend HOURS in a shopping area or street market. I know that none of us are very into art museums. I know that we all love parks. I know that Bart and I generally like to hit at least the biggest attractions (i.e. we're not going to go to Rome and skip the Colosseum). I usually love to visit a local library or independent bookstore. I am a big history lover, so it made sense to make the time to visit Hiroshima for us.
How did you know that your kids would enjoy/could handle your itinerary?
We've traveled with them a lot, so we have a good sense for what sort of pace they could probably handle and what would be fun with them.
Do you feel you had enough time to see the things you wanted to see?
Yes! Of course, you could spend a year in Japan and not even come close to seeing everything and there are certainly things we would have loved to do and see that we missed, but seven days felt like a good amount of time and by the last day, we were all glad to be headed home – you just can't go hard forever! It felt like the perfect length of trip – not too rushed and not too long.
Do you leave down time in planning your trip?
Bart and I say a million times, "This trip is supposed to be fun and enjoyable!" so if everyone is exhausted or needs a break, we want to make sure that happens, not drag exhausted, unhappy people (adults or children!) to see something they'll only remember as a huge annoyance. We've always been more than happy to stop at a playground or go back to the hotel or grab a snack and sit down with it if needed. The itinerary is to serve us, not the other way around, so although we don't plan downtime in to our trips usually, we're always on the alert for when it's needed and we make it happen. That said, we were pretty go-go-go on this trip – everyone had a lot of energy and with no nappers or babies/toddlers, it was wild how much we could do in a day without feeling like we were running ourselves ragged.
How old are your girls? I love everything's about this trip.
They are 6, 8, 10 and 12!
Do you think traveling w/ young kids vs. older means they won't remember it as well later?
Probably so! But I'm not traveling only so that they remember it – even if they don't remember it AT ALL, I'll still remember it and my memories are important too (I have so many sweet memories with Ani all over Europe and the fact that she has zero memory of them because she wasn't even two doesn't mean those memories weren't worth making). Plus, it strengthens our relationships over the long-term, it helps develop our family culture as a traveling family, it helps them learn traveling skills that they can lean on as they get older, and it exposes them to different foods, smells, sights, and cultures that make up the fabric of their life experience even if they don't remember specifics.
How do you feel Japan has been from the eyes of your younger kids?
Oh, they LOVED it. It truly was an incredible trip for all of us – definitely not a "drag along the little ones against their will."
What did your kids love most?
They all LOVED doing karaoke (this was Asian style karaoke where you have a private room – no big stage in a bar with a bunch of strangers). They also loved trying all the street food, the deer in Nara, Red at Tokyo Tower, playing in the water at Miyajima. It really was all SO FUN.
How did you prep your kids for the trip?
We watched a lot of videos together of places we were going to visit – Bart is especially good at finding travel videos on Instagram or YouTube and that helped the girls get excited about the things we were going to visit. I checked out a bunch of books about Japan (fiction and non-fiction) from the library to read before we went. . . and then we never opened any of them. Fail.
Do you have to skip things since you have kids with you or do you just make them do what you'd like?
I didn't feel like there was anything we missed in Japan because we had our kids with us – Bart and I joke all the time that we only like to do fun, interesting stuff too, so having our kids with us just means we don't have to pretend to want to spend hours in an art museum. They also understand that some of the things we'll be doing may not be their top choice and we're working to make it a trip where everyone gets a chance to do the things they want to do most and we all work together to make that happen.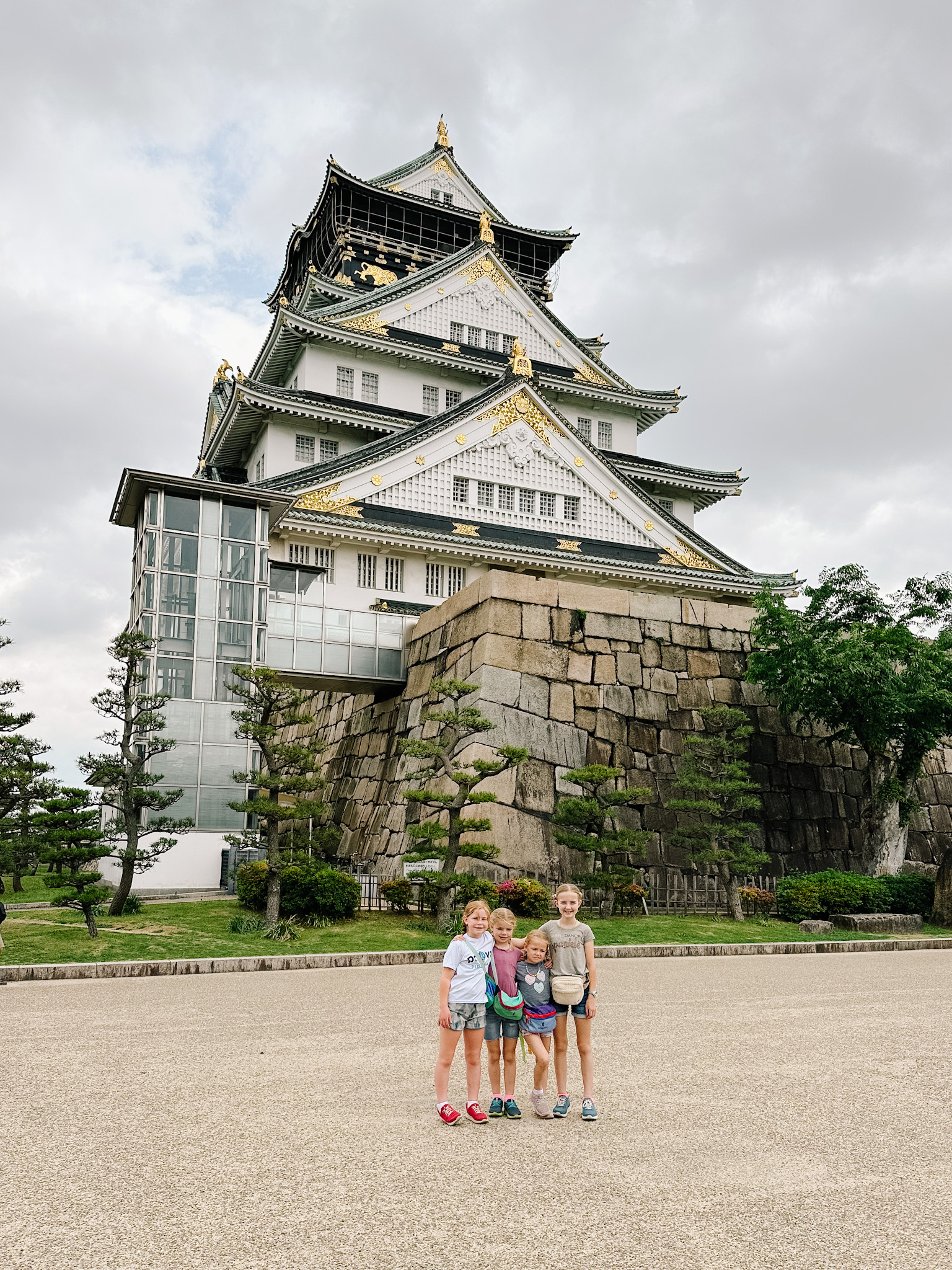 Did you feel comfortable not knowing the language?
Yes! Neither Bart not I speak any Japanese, but there is a LOT of English signage and with Google maps and Google translate, we didn't run into any real issues, even though most people didn't seem to speak much English.
Do you need cell service for Google translate to work? How did you know you would have service?
I don't know! We had cell service the whole time – we contacted our provider before we left and had international coverage turned on (I think it was about $10 a day) so we knew we'd be able to use our phones as normal there.
How does purchasing things work? Do you pay an international fee or get cash?
Lots of places Japan is cash only. We used our cards whenever we could so we could save our cash for places that only accepted cash and both of our cards (Chase Sapphire and Costco) have no international fees.
Is it rude to ask what all of this cost? Your budget would be so helpful!
No! I'm happy to share – gatekeeping this kind of thing doesn't help anyone. I'm still working on categorizing everything in Rocket Money so I don't have a to-the-cent cost on our trip, but this is pretty close.
Our flights cost $3500 total (for six round-trip tickets) – we found them through Going (formerly Scott's Cheap Flights).
Our Airbnb in Kyoto cost $1650 for five nights and then our hotel in Tokyo was $900 for two nights, so our total accommodations cost was $2550.
We spent $1500 on our rail passes, then an additional about $150 on subway tickets that weren't included in our JR passes and for our train trip back to the airport on the last day after our JR passes had expired. Plus another $100 or so on taxis (it was often cheaper for us to take a taxi with six people than to buy six subway passes that weren't covered by our JR passes).
Attractions were around $400 total (most of the things we did were free!) with the bulk of that cost being the Skytree, Red, and the Ninja & Samurai museum (the Monkey Park was about $5 per person, the Golden Temple was about $5 a person, and the Hiroshima museum was about $3 each for the adults and the kids were free).
We exchanged $350 of cash into yen when we got there (avoid doing it at the airport if you can – the exchange rate will usually be much worse) and spent all of that (mostly on food and a few other places like the Monkey Park that didn't accept credit cards).
On our credit card, we spent about $600-700 on food (on top of the $300ish we spent in cash).
That total comes in at $9250, so even if I missed a few things, I think we were definitely below the $10,000 mark for this trip.
Once in Japan is it inexpensive?
No – this isn't like going to, say, Vietnam, where once you get there, things are much less than in the U.S. I didn't feel like Japan was super expensive, but it definitely wasn't cheap – pretty similar to the US, pricing-wise, in my opinion.
How did you decide on lodging? Would you recommend yours?
We were really happy with both of the places we stayed – in Kyoto, it made more sense from a space/cost aspect to do an Airbnb and we wanted something within walking distance to Kyoto station. Also, with Airbnbs, there is usually a cleaning fee and service charge that makes it more expensive the more often you change Airbnbs, so we knew we wanted to pick one place that we could stay for as many days as possible which brought the cost down per night (instead of repaying that service and cleaning fee on a new property every day or two). Plus, not having to move our stuff around that much was wildly appealing. In Tokyo, it quickly became apparent that a hotel was a better option for our family and we picked a hotel with great ratings across the street from Tokyo station where we could do two adjoining rooms.
So many food questions! Do you eat Japanese at home? How do you read menus?!
Japanese food is a VERY broad category, so there were plenty of foods there we eat at home and plenty that were new to us. If you use the Google app to scan text, it'll translate it on the spot for you, which is super handy with a menu (although we found that many many menus have photos).
Did your girls think the food was weird?
No more than they think some food at home is weird and some is delicious. Japan's food is incredible – so much good food of all kinds, from ramen to pastries to ice cream to sushi to street food. I promise, no one was going hungry or feeling like they couldn't easily find something to enjoy.
Did you sit down at restaurants or just stick to quick food?
We did both! We never ate out for breakfast – just picked up things at one of the many little convenience stores and either ate at our Airbnb or on the go. We'd usually do a sit-down for either lunch or dinner and then quick food for the other one.
Best vending machine machine food or drink?
Vending machines (especially drink ones) are EVERYWHERE. Like . . . we'd walk past one at least every 2-3 minutes all day, every day. I was surprised by how much I loved the apple juice (which is not something I'd ever choose at home, but it was SO GOOD there). We tried so many different juices and sodas over our week there – I couldn't choose a favorite!
How often do you eat food you don't like and have to pay for the meal twice?
I don't think this has ever happened to me on any trip – there are certainly meals I like less than others and wouldn't do again, but I've never been somewhere where the food was so inedible to me that I had leave and go get a full second meal.
Would it be terrible to go to Japan if I don't care for sushi?
Not at all! To me, it feels like coming to the US if you don't like burgers. Are there a lot of burgers around? Absolutely, yes. Are there plenty of other options everywhere you go? 100% yes.
Was there food for non adventurous eaters?
One thousand times yes. I truly wouldn't worry about this AT ALL. You can get sandwiches, smoothies, crackers, soup, pastries, etc basically everywhere. There is truly no lack of food for any kind of eater (although I have heard that if you have allergies, Japan can be tricky, so that's a different story from just preferences). I cannot emphasize enough how NOT an issue food will be for even picky eaters.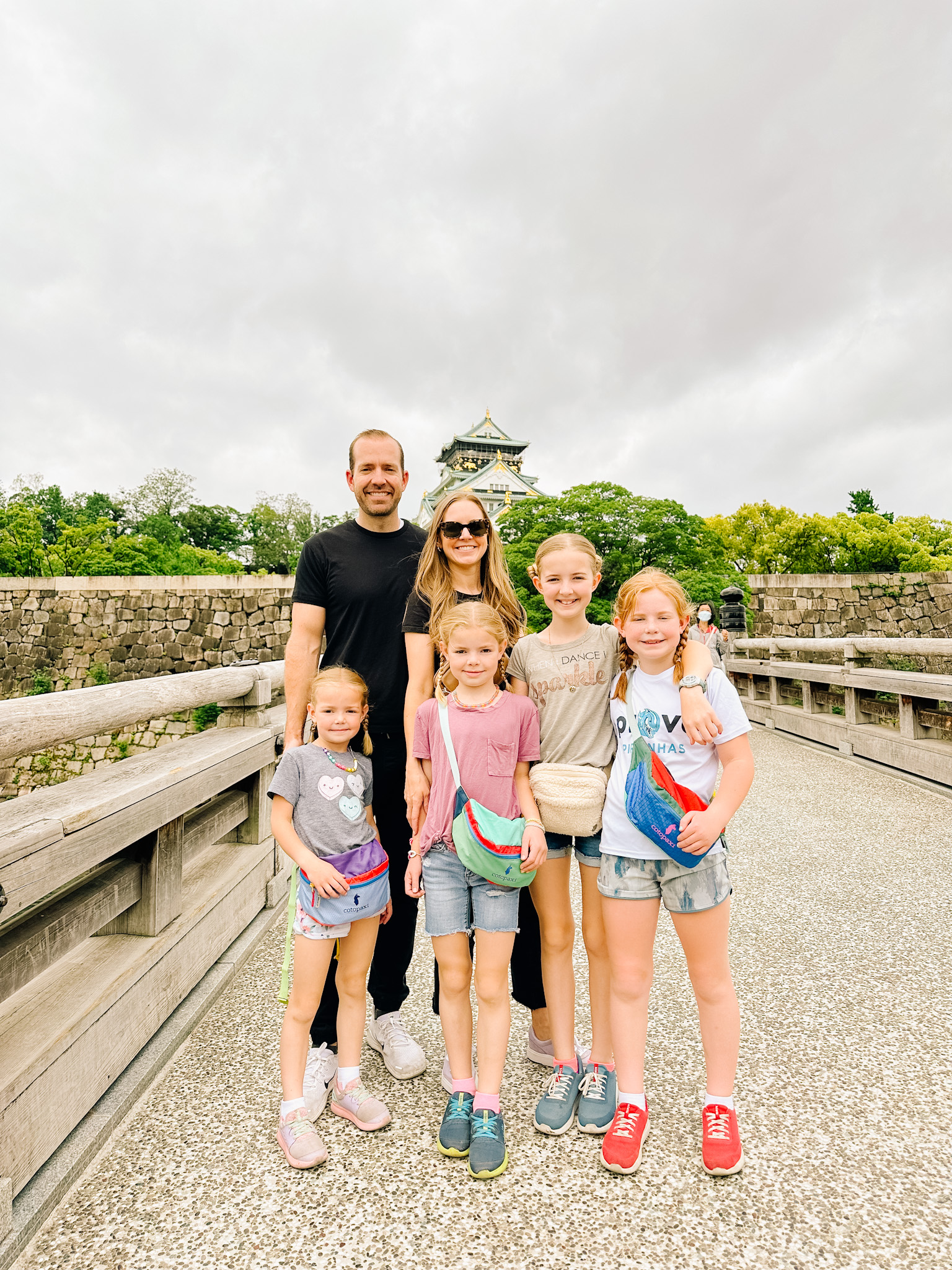 How did the long flight go for your youngest girls?
They were terrific! They love to fly and they watched movies, listened to audiobooks on their Kindles, read and slept.
I would love to hear tips about managing the flight with the littles.
I feel like I don't have a lot of tips because I don't manage it very much! My kids all think flying is so fun – they get their own seat, they have a personal screen to watch as many movies as they like, there are plenty of snacks and foods brought around, and I basically do very little to entertain them because the whole experience is so novel and fun for them.
What was the timing of flights there and back? 
We left Las Vegas early in the morning (our flight was at 8:00 a.m.), flew to Calgary and had a 3ish hour layover and then took a 10 hour flight to Tokyo, landing around 4 or 5 p.m. the following day. On the way back, we flew out at 7:00 p.m., landed in Calgary around noon of the same day, had a six hour layover and then landed back in Las Vegas around 9 p.m.
What amount of luggage did you bring?
Each of us had a backpack, we had two big checked suitcases (one for Bart and one for me) and then two carry on suitcases (one for the two big girls and one for the two younger girls) – we checked all four suitcases on our flights so we didn't have to deal with them.
What is your packing philosophy?
I try to not bring a lot of "just in case" things – if I'm not likely to use it at home, it's not likely that I'll suddenly find myself in need of it on vacation. And I REALLY try to remind myself that I'll probably reach for what I wear at home when I'm on vacation – I don't need a million outfit choices. Just things I love and am comfortable in that are appropriate for the occasion. I hate bringing things home that I never once used on the trip; what a hassle to pack them, drag them halfway around the world, and then have to bring them home and UNpack them!
Packing list for your kiddos? I never know how much to bring for kids!
They each brought five outfits (one of them was a Sunday outfit for church), a pair of sneakers and a pair of sandals, three pairs of pajamas, enough underwear and socks for the whole trip, swimsuits, and toiletries.
Did you have luggage shipped between the different cities?
I actually didn't even know this was a thing until our last day. We just did all our luggage ourselves and because we weren't moving lodgings much, it was no big deal.
How easy was it to travel on trains and other transportation with your luggage?
It was not really a hassle at all. We weren't taking them all over the place – we took them from the airport to Kyoto and then from Kyoto to Tokyo and then Tokyo to the airport, so it wasn't at all like we were constantly dragging around suitcases. Aside from those trips, we just took fanny packs for the girls and my belt bag (I think Bart brought his backpack one of the days) the rest of the time.
Can you tell us more about these bullet trains? Are they for traveling between cities?
Yes – they run between tons of cities and are super fast (like 100-200 miles/hour speeds). We got JR rail passes and those let us ride the bullet trains without any extra costs. This let us stay based in Kyoto for the first part of our trip and visit Osaka and Hiroshima and Kobe without having to drag our luggage around. We opted to upgrade to the Green Pass (which is like first class) which meant we could reserve seats and they were just much nicer – bigger chairs, more leg room, deeper recline, foot rests, etc. Worth the extra cost for us for sure since we used them so much!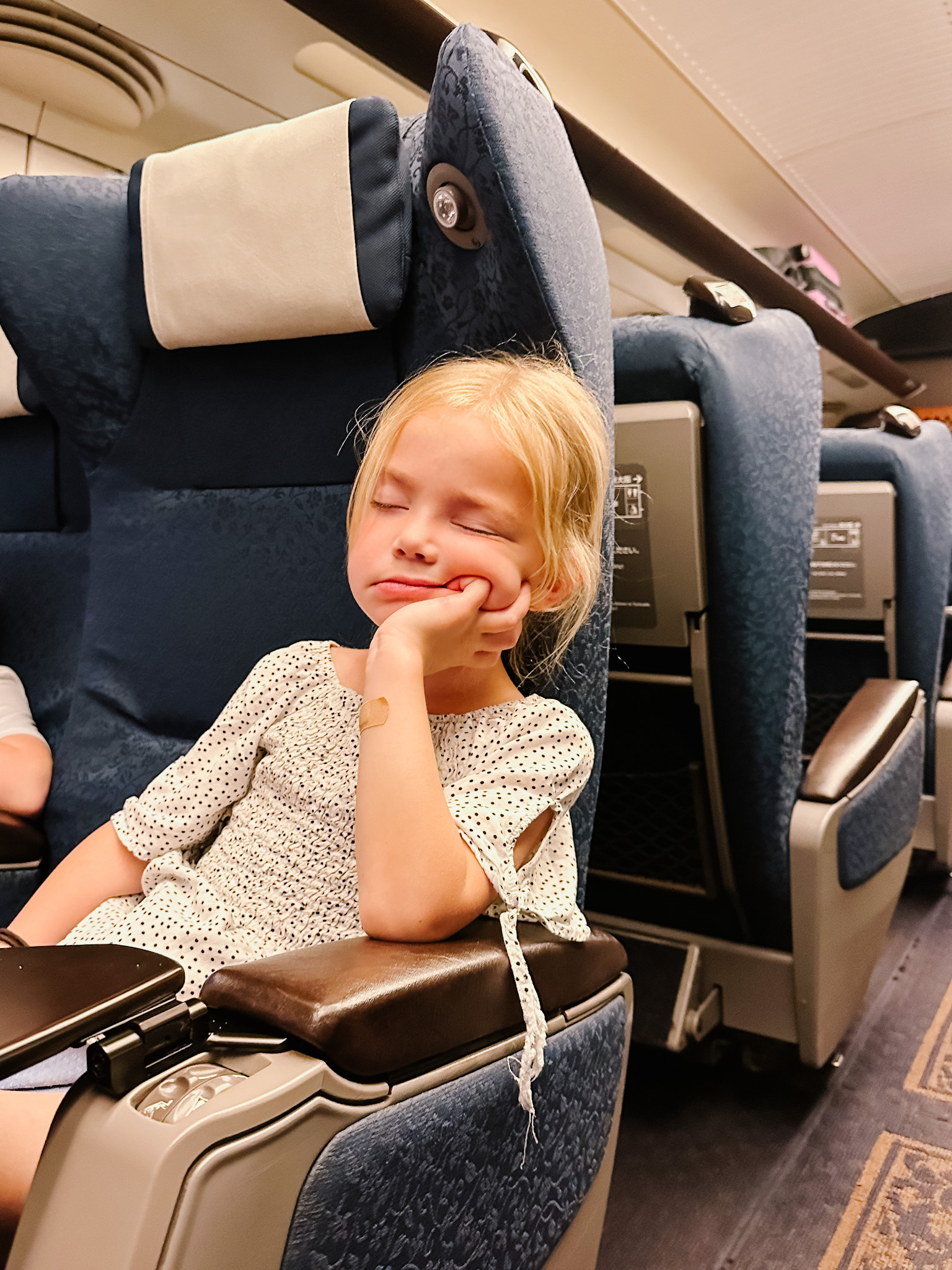 How far did you take the bullet train from where you were staying?
The longest bullet train distances we did were Tokyo to Kyoto (about 2 hours and 15 minutes) and Kyoto to Hiroshima (about 1 hour and 40 minutes).
How were train tickets priced? Seems like they'd definitely need to be factored in a budget.
We paid $1500 for our six rail passes (Ella was considered an adult and we did the more expensive Green passes) and they paid for themselves a million times over. Just the round-trip ticket from Tokyo to Kyoto is about $200 (not first class!), so basically anything beyond that – the many daily subway rides in each city, the bullet trains to and from the airport, Osaka, Nara, Kobe and Hiroshima, plus the ferry to Miyojima – was basically a free bonus.
Do you use booster seats for transport?
At home, we have booster seats and car seats, but we didn't take them on this trip because we weren't renting a car and dragging them around seemed incredibly inconvenient.
How easy was it to find public bathrooms?
Super easy – this never once felt like an issue. All the bullet trains have (very nice) bathrooms on them, every station has incredibly clean bathrooms, and any museum or historical site has them too.
How you got them out of school this long at the end of the school year? Do your school have some type of May break right now?
We just pulled them out for this trip – all of their teachers were very kind about it and there was almost nothing for them to make up before or after our trip, so it didn't feel like an issue at all.
Do the kids have trouble catching up when you take them out of school?
Not at all – they're all pretty ahead in school. Tally had her end-of-year testing so we just scheduled that before we left and Ani did hers when we got home and Ella had a little homework she did when we got home.
Do you think it would be doable with toddlers? I've heard Japan isn't stroller friendly.
Oh, I don't think this is true at all. It actually felt much more stroller friendly to me than Europe (where I can't COUNT the number of stations I went to that had only stairs and no escalators or elevators at all). When I mentioned this question on Instagram, many people recommended this post from The Tokyo Chapter!
Have your kids had any arguments or tantrums?
Of course! They're normal kids and this is a lot of time together, long days, lots of travel, and an unfamiliar environment – I think it'd be impossible for there not to be some bickering, whining, and complaining. They were TREMENDOUSLY good on this trip AND they're children.
Do you use a tripod or ask passerby for help when taking whole family photos?
Just asked passerbys!
What was the weather at this time of year?
It was IDEAL – truly just about perfect. So many people kept telling us it was the best time to come – not yet hot, rainy, and humid like in the summer and not cold. We had one rainy day (Sunday) and then an hour or so of rain just as we left Tokyo to fly home, but other than that, 60s and 70s every day with blue skies. Could not have been more perfect.
How crowded was it? Lots of people everywhere?
It was pretty busy – like any big city, but it rarely felt packed with people. We came on the tail end of Golden Week (kind of like spring break) but even then it never felt like it was a madhouse.
I have three younger girls 1-6yrs – when did you start traveling with your girls?
From the time they were really little! We did a semester abroad when Bart was an MBA student and the two big girls were 1.5 and 4 (and I was pregnant with Star) – we did almost a month of traveling before we settled in London for the semester. Before that, we'd done a cruise, lots of road trips, visited big cities in the US like Washington D.C. and Seattle, plus plenty of little day trips.
I know you told us what the girls carry in their bags –  but would love specifics on small games, etc?
They each have these CotoPaxi bags and they brought their Kindles each day (so they could read on the train or subway), a few small snacks and occasionally a small water bottle. Ella had a little handheld electronic Yahtzee game and Ani had a deck of playing cards.
How do you handle souvenirs? You seem like a no junk/ minimalist family.
I am NOT a souvenir person. This time, I bought two little art postcards of locations we visited from a Japanese stationary store that I'm hoping to get framed this week. My three little girls each bought a fan from a street vendor and Ella bought a pair of earrings. They also each bought some notepads at the stationary store and some bubbles at the dollar store. We gave each of the girls a small budget each day that they earned by being good travelers the day before and they could use that to buy extra snacks or a little souvenir.
Ecco vs. Kizik shoes? If you had to pick just 1 which would you pick?
You really can't go wrong with either. I love them both and wore them both multiple times on the trip – I wore my Eccos more becuase they are white and go with more than my purple Kiziks and I like the Kiziks are less expensive, but truly, pick the ones you like the look of better or fit your budget better and go with that one.
How to ignore the feelings of having to try and make it perfect or close the best possible option or itinerary? Down to the little details like oh but what if that hotel is better oh but what if going to x after y is better.
I think the more you travel the more you know that there is no such thing as "perfect." That's actually one of the things I love about travel – it really helps you learn to be more flexible, deal with hiccups and appreciate the good parts and laugh about the things that go wrong (I love for my kids to learn these lessons too!). There's just no way to know everything before a trip and other people might say a restaurant or food or location is a MUST-DO and you'll think it's actually not that great. I do my best and appreciate the experiences I get to have without ruining them by obsessing over how I could have done it better.
Any other questions about our Japan trip? I'm happy to answer!
if you liked this post about our japan trip, you might also like these other posts: