Back in early December, I got an email from Scott's Cheap Flights (now called Going) that tickets to Japan were under $600 each.
Japan had been on our family travel bucket list for a while and I texted Bart to say, "Should we do this?" and ten minutes later, we had our tickets booked.
We didn't tell the girls and Bart and I went to a local Asian market a few days before Christmas and loaded up on fun Japanese candy to put in the girls' stockings.
When they started pulling it out on Christmas morning, Ella said, "Is this a clue that we're going to Japan?" and when we told them yes, they were all THRILLED!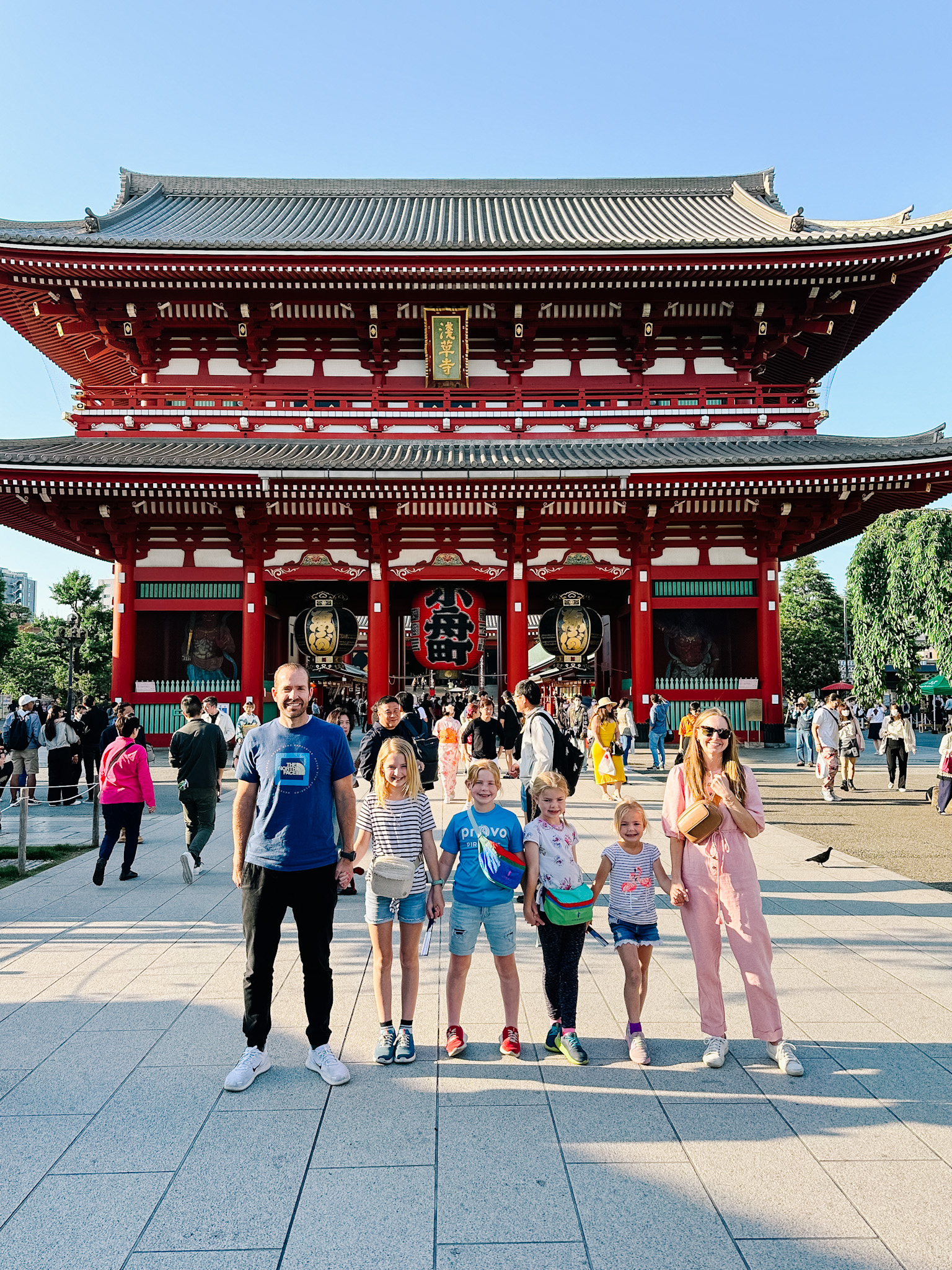 We spent the intervening months watching videos about Japan, researching places we wanted to visit, and planning out an itinerary that worked for us.
One hiccup in the cheap plane tickets to Japan was that they were out of Las Vegas, rather than Salt Lake City, but since my parents live in Las Vegas, it didn't feel too hard to drive down, spend the night with them and then fly out from there. No airport parking fees and a bonus visit with my parents!
We picked the girls up Tuesday right after school and drove straight to Las Vegas, getting in with enough time for an evening swim and some s'mores before we all went to bed.
our full japan itinerary
Wednesday/Thursday
We all got up around 5:30, got ready for the day and headed to the airport (both my parents came along to drop us off and then take our car back home while we were gone) and ate some breakfast in the nearly empty airport.
Our first flight was to Calgary in Canada and it went smoothly (despite my children's deep disappointment that there were no back-of-the-seat screens). We had some lunch at the airport, spent nearly an hour at the stuffed animal store, and I read aloud to the girls for a bit (I was reading Out of My Mind to them).
We boarded our flight to Narita and my children were THRILLED to discover that there were screens on the seat backs. They watched movies, played games, and we had two in-flight meals. The girls mostly all slept toward the end and I started and finished three books on this flight (The Housemaid, Once More with Feeling, and Mary Jane).
Once we arrived in Narita, we went through customs and collected our bags and then went to the Japan Rail ticket counter to exchange our vouchers (which we'd ordered weeks earlier) for our actual tickets. This took a LONG time and I sat on the airport floor with the girls who all fell asleep while Bart stood in line and got everything taken care of.
We boarded the Narita Express to go to Tokyo (it's about an hour long) and we all fell almost instantly asleep. Once we got to Tokyo, we had to switch to a different bullet train that would take us the 2+ hours to Kyoto. We all conked out on this ride too.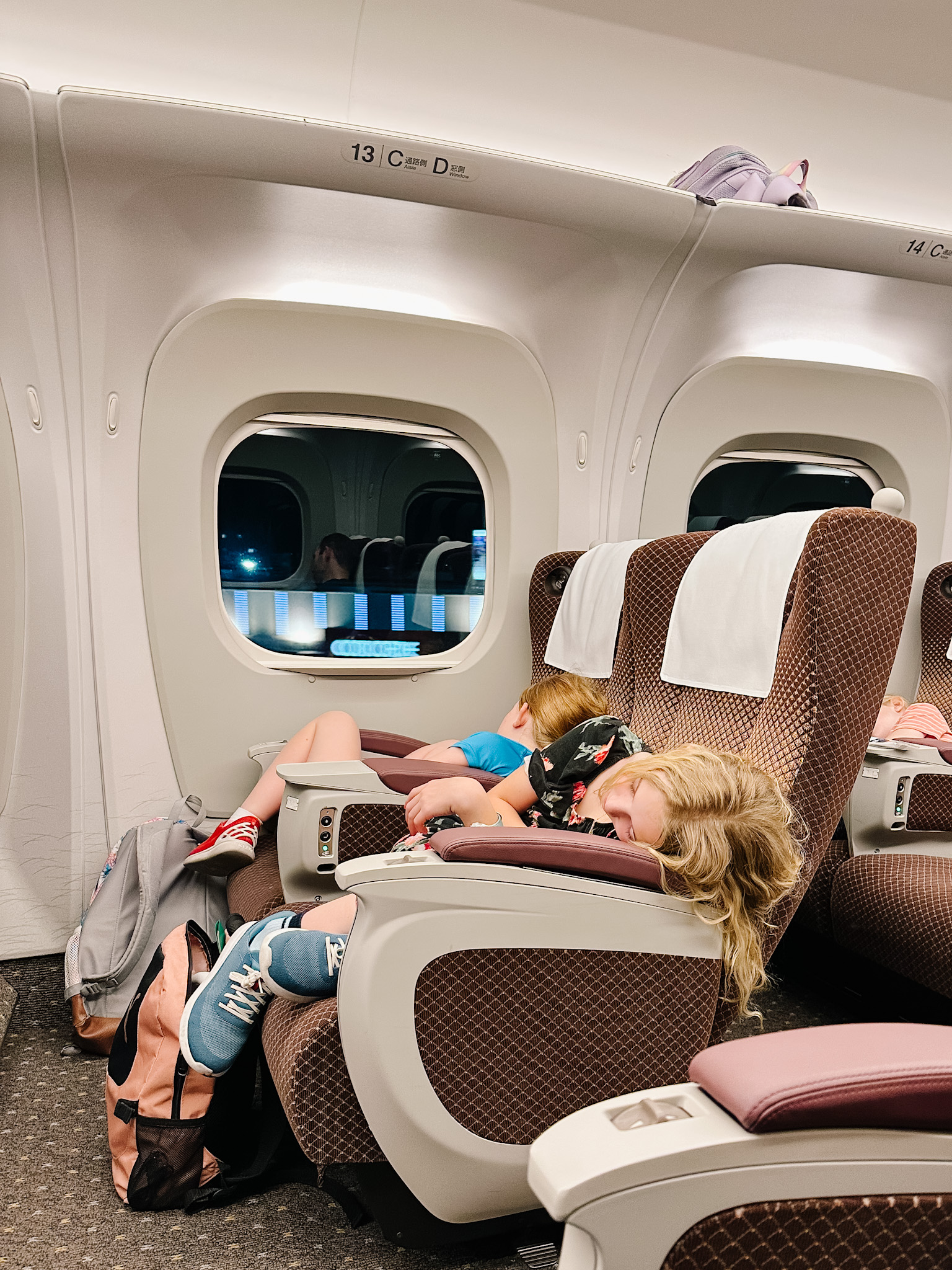 When we arrived in Kyoto, everyone was pleasant and happy after their naps and Bart picked up some snacks at the 7-Eleven in the station. We hailed a taxi and made the quick drive to our Airbnb where we assigned rooms, ate our little snack dinner and then everyone climbed into bed and fell asleep almost instantly.
Friday
Everyone woke up early (between about 4:30 and 5:00) and we got showered and dressed and headed out the door.
We hopped aboard the subway and our first stop was the Bamboo Grove which we'd heard from some people was overrated, but early in the morning, with almost no one there, it was magical and I was so glad we hadn't skipped it.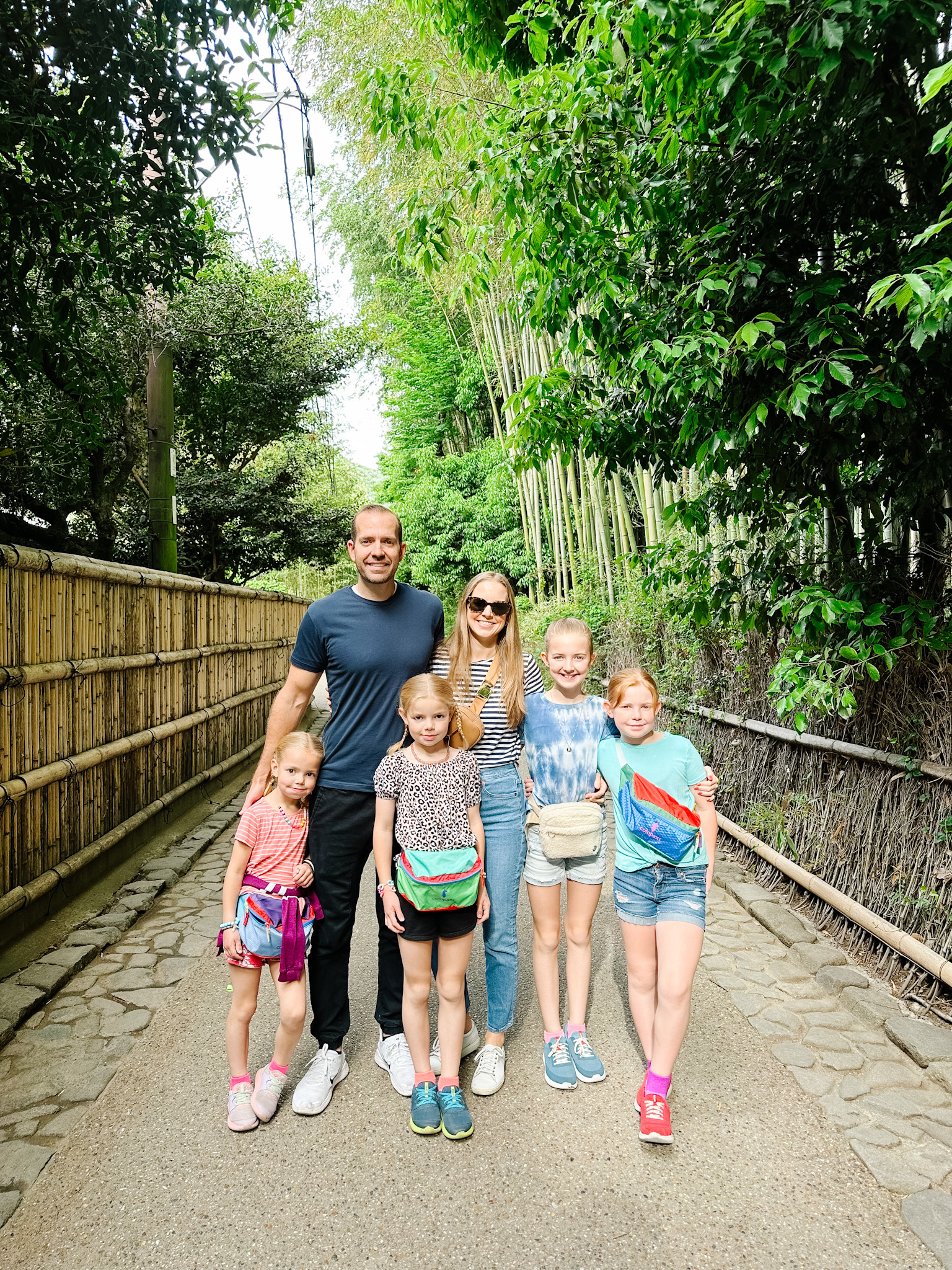 We walked down through the park, skipped rocks along the river and then crossed the bridge to go to the Monkey Park. It's a pretty decent hike up to the top but everyone did it just fine (a stop at the playground near the top helped!) and we had a great time checking out the incredible views from the top plus feeding the monkeys.
We headed down and crossed the bridge back into the commercial area which had tons of food options. We were all RAVENOUS and we got some fried chicken and cheese balls (Tally tasted one of the cheese balls and said, "This is the BEST chicken I've ever had."), followed by some lemon ice pops.
At this point, everyone was feeling a little tired from all the walking and the time change, so we decided to hop back on the train and head to Nara – it'd been on our list of things to do but we hadn't slotted it into our itinerary, so this felt perfect. About half of us took a little nap on our way to Nara and when we arrived, we were ready for some real lunch. We found a terrific Korean restaurant and enjoyed it immensely (I was so happy for some real food that wasn't snacks!) before walking up to the park. Deer were all over the place and you could buy crackers to feed them but there were SO MANY crackers everywhere, including all over the ground, that the deer were not that interested at all in them – I was glad we hadn't bought any!
We walked back down through the city, stopped in a little supermarket in the station and bought some drinks for everyone (the peach soda was far and away the best!) and then hopped back on the train to head back to Kyoto.
On our way back, I was looking at the map and realized we were going right past the Fushimi Inari Shrine (it's the one with the iconic 10,000 Tori gates going up the mountain). We got off at the right stop, crossed the street and we were there! Tally and Ani had both fallen deeply asleep on the train and had a hard time waking up and they didn't love it, but the rest of us were in awe of how beautiful it was. We didn't go all the way to the top, but we did several sections and I loved it! I wish we'd had time and energy to do the whole thing!
We walked back to our Airbnb and Bart and Ella headed out to a little grocery store to pick up some snacks for dinner and breakfast food for the following morning (after a big, late lunch and the time change, none of us were looking for a full meal). It took them longer than they expected and I did my best to keep the girls awake until they got back, then we ate a quick meal and everyone went to bed around 8 p.m.
Saturday
Everyone slept through the night and woke up around 5 a.m. We played some card games, ate breakfast, and got ready for the day. We caught a train to Osaka and came out to a beautiful day!
We wanted to head to Osaka Castle and planned to rent bikes or scooters, but all the stands required an app and we couldn't get the app to download (it kept saying "not available in your region." So we hopped back on the subway and got out across the street from the park. It was STUNNINGLY beautiful and we had the best time walking up to the castle and then through the park, ending at the playground where the girls loved climbing and playing on the equipment.
We took another subway back to Osaka station and walked over to the Umeda Sky Building. We bought tickets and went to the observatory at the top, which was a delight – the views were gorgeous and the girls especially loved the section with all the love locks.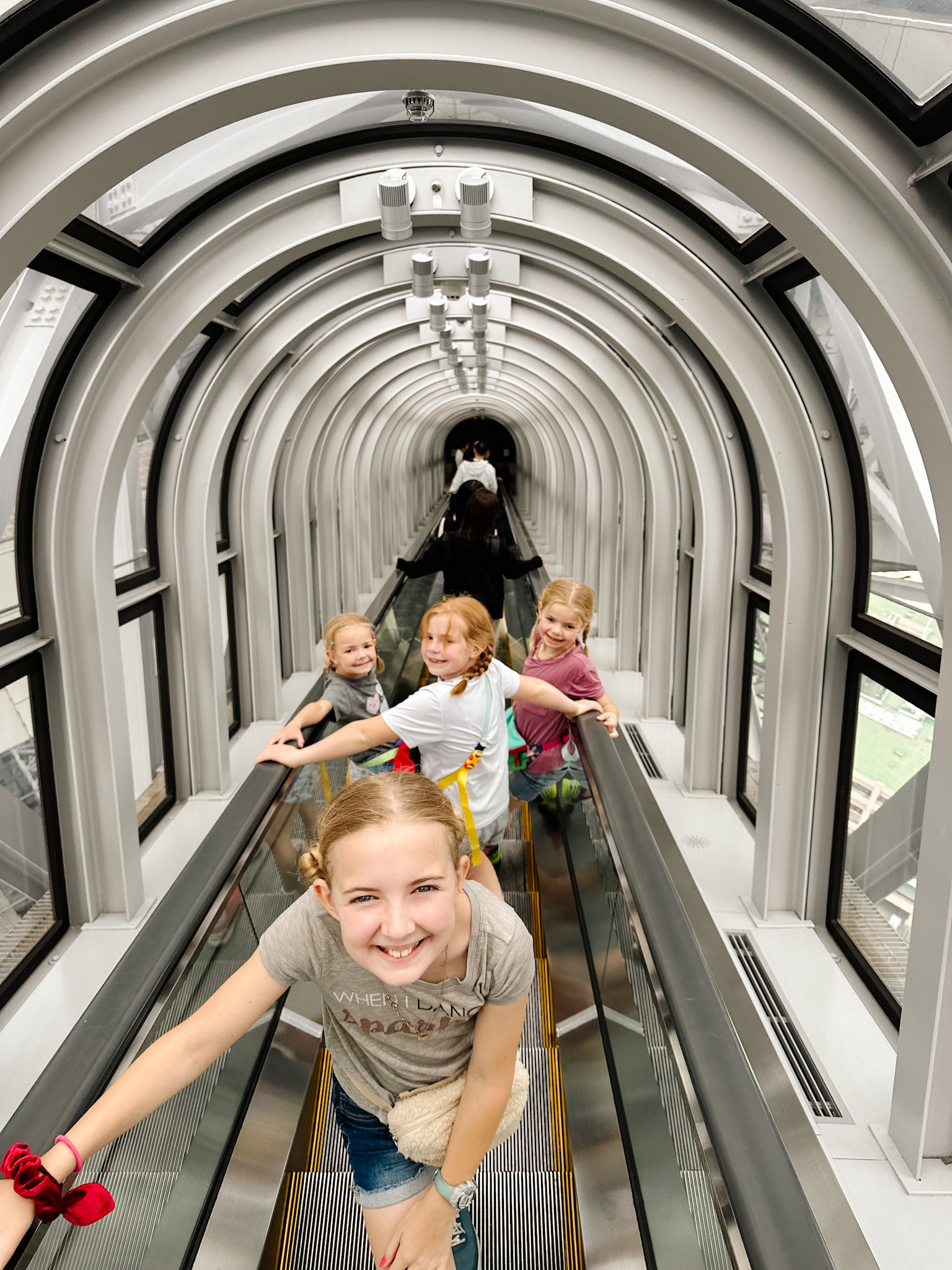 We headed back down and took a taxi to the Dotonbori area where we stopped for lunch at a conveyor belt sushi restaurant. It was really fun but the sushi wasn't great, so we had a few pieces each, paid and headed back into the streets where we had glazed strawberries on a stick, a nutella/kiwi waffle, rice dough dumplings, and some boba to round out our meal.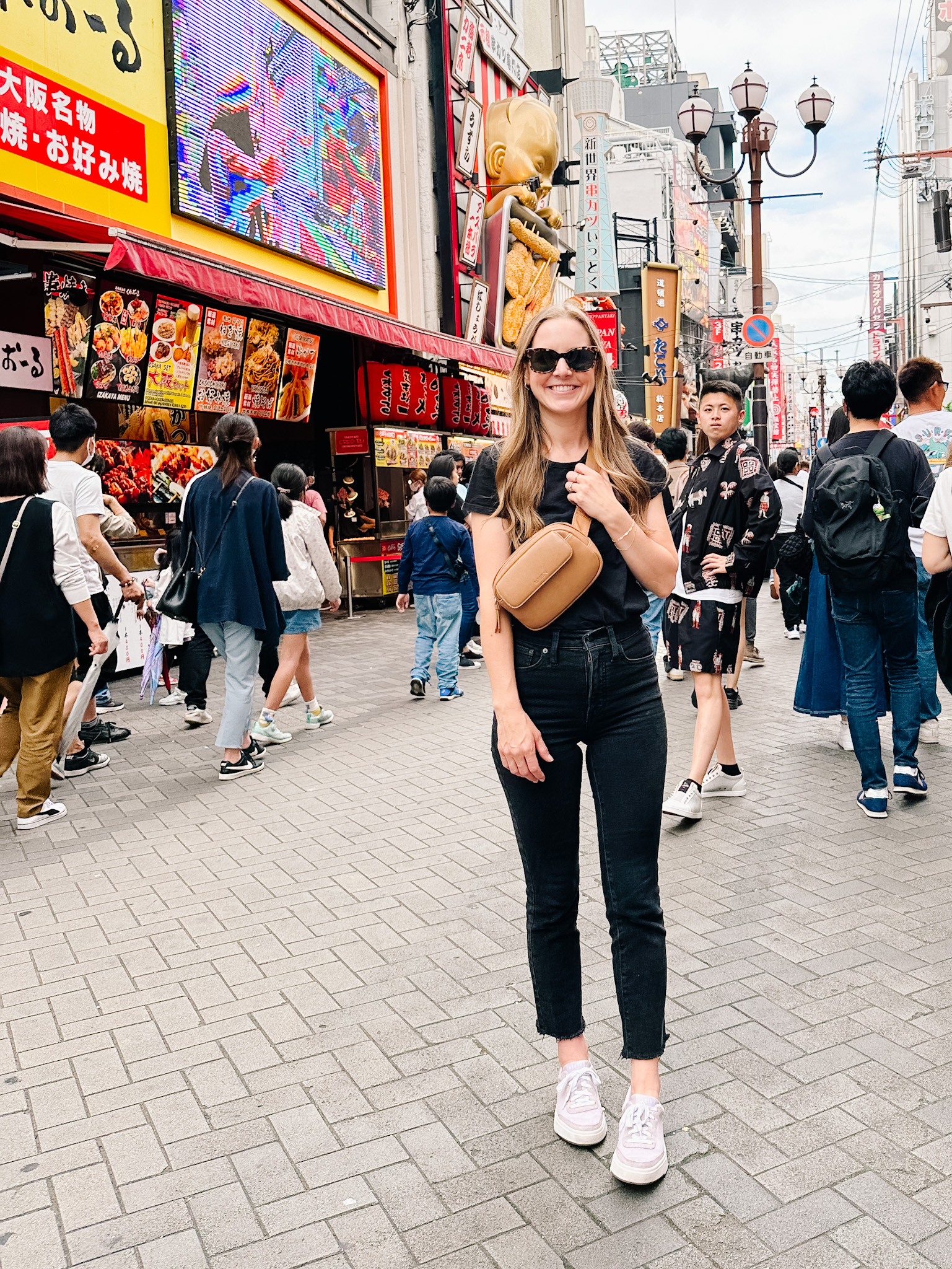 We walked back to the station and headed back to Kyoto.
For several of the girls, their top wishlist place in Japan was the Samuri and Ninja museum, so we bought tickets and then wandered through Nishiki Market until our ticket time came up. The museum was really fun – the girls especially loved throwing the ninja stars and Ani beat out the other 25+ people (mostly adults!) in our group in a contest, which meant she got to take her ninja star home.
For dinner, we went to Kyoto Engine Ramen which had great reviews and had such a fun vibe. We got two big bowls of ramen to share and it was delicious.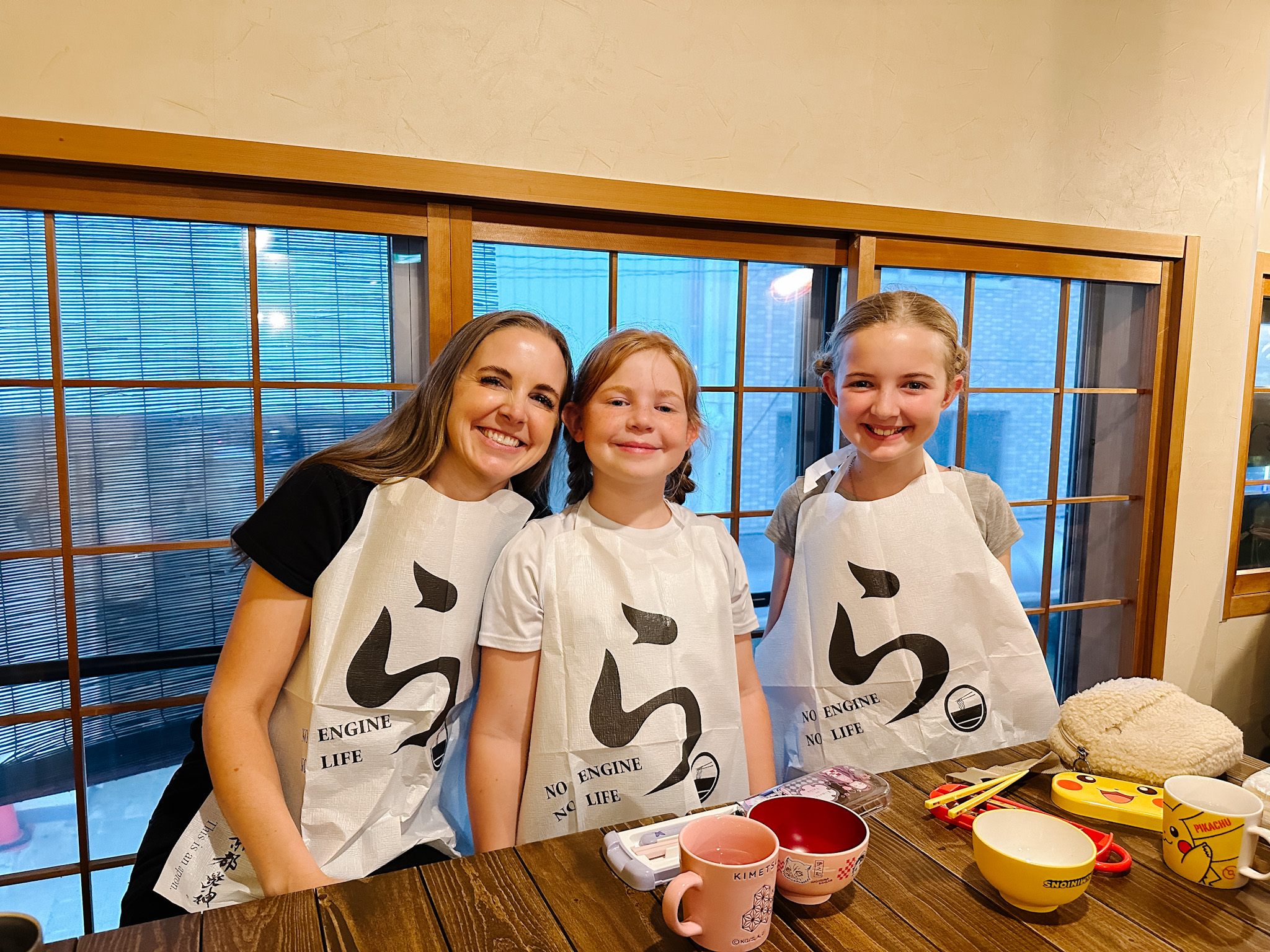 Afterward, we walked down through the cutest neighborhood to a little soft serve place that had sugared croissants for cones. It was DELICIOUS! We had chocolate cardamom and pistachio/strawberry (I liked the pistachio/strawberry more).
We headed home and Bart and the girls watched part of a movie to keep everyone from going to bed too early – by 8:30, everyone was falling asleep, so we shut the movie down and everyone went to bed.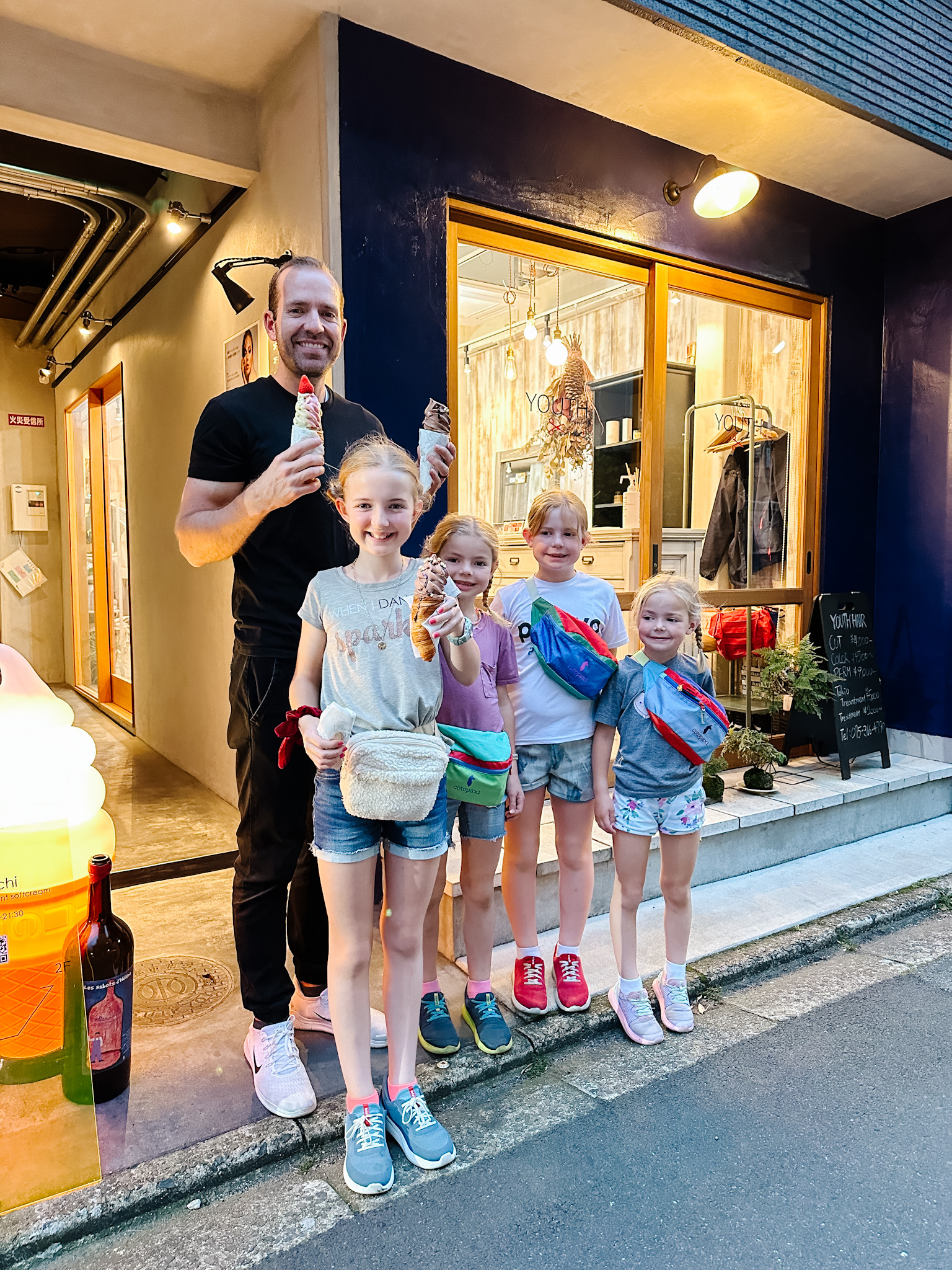 Sunday
This was our most low-key day of our whole Japan trip and it was really nice after two pretty full days.
Some of our dear friends from our days in North Carolina live in Japan (with their five kids that line up very well with our kids) and we arranged to meet up with them for the day.
It was VERY rainy when we woke up, so we took a taxi to the station instead of walking and then hopped on a bullet train to Kobe. When we got there, we bought some cheap umbrellas at the station and then took another taxi to meet our friends at church.
After the church services were over, we headed back to their house for a delicious onigiri lunch and then we spent the rest of the afternoon at their house, chatting, trying some of their favorite treats and playing games. After two days of go, go, go, the girls were thrilled to play with other kids and everyone had a delightful day.
We went back to the station and our plan was to visit the Kobe Nunobiki Herb Gardens & Ropeway, but it was so rainy and foggy, that we ended up just hopping back on a train and going back to Kyoto instead.
We had dinner (including the fried prawns Ella had at the top of her list for things to try) and then went back to our Airbnb and went to bed.
Monday
We got up around 5:30 or 6, got ready for the day and took an 8 a.m. bullet train to Hiroshima. This was our first long bullet train ride since we'd arrived in Kyoto on Thursday night and everyone read or listened to audiobooks or napped on the way. The countryside was gorgeous!
We stopped for some snacks in the Hiroshima station, then caught a streetcar to the Hiroshima Peace Memorial Park. We walked around the Atomic Bomb Dome, read some of the signs, and wandered through the park (including a little stop in the sunshine to eat our snacks). It was very quiet and reverent and on a sunny day with the whole park in bloom, it was stark contrast to the destruction of 80 years ago. We walked around the eternal flame and the Hall of Remembrance and the arch, then paid for entrance to the Hiroshima Peace Memorial Museum.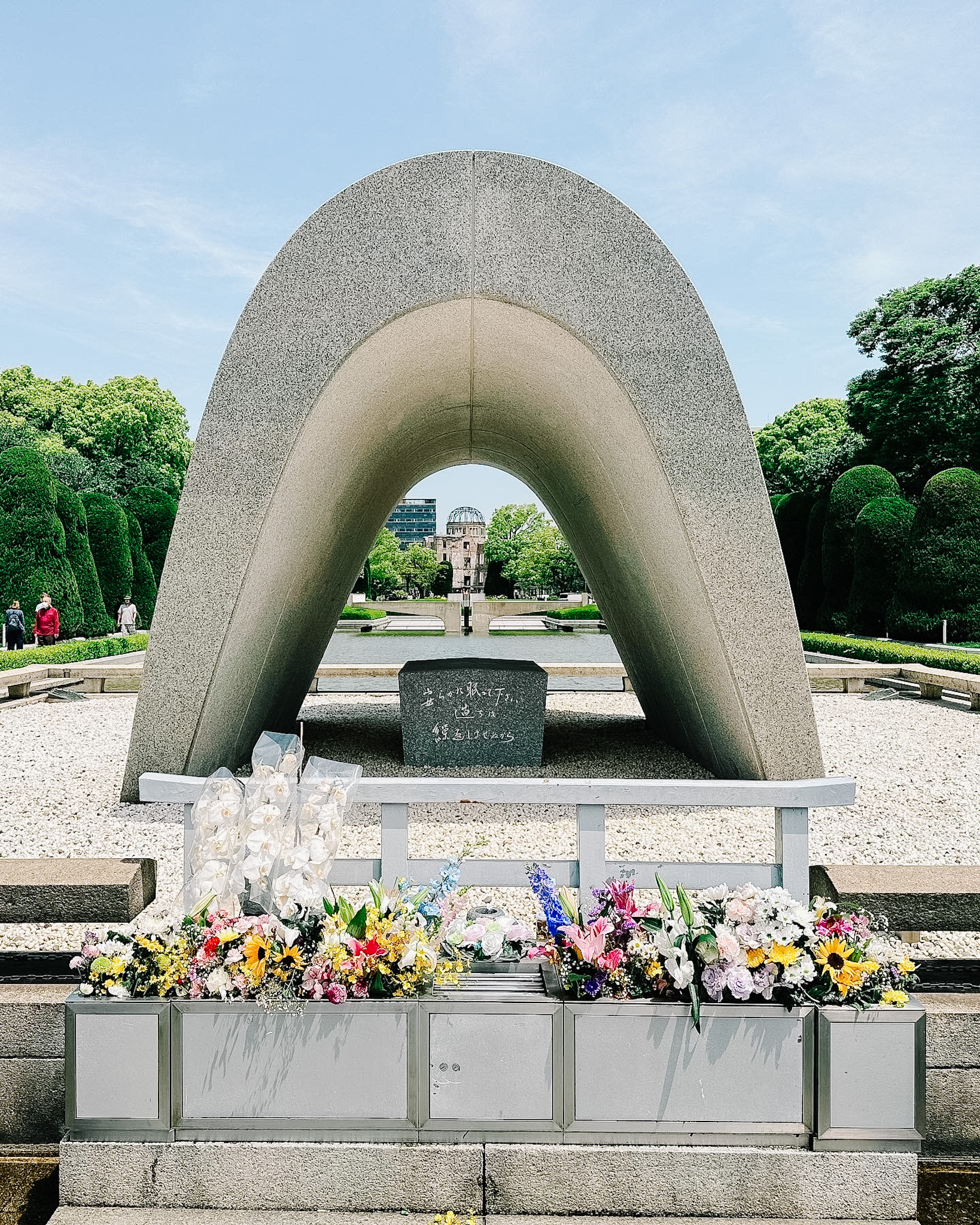 It was a beautifully done museum and it's also very intense – I'm still on the fence about whether we should have taken the two little girls (6 and 8) inside. We went fairly quickly through the second half of the museum because the photos and images were so disturbing and by the time we came out, all six of us were in a very somber mood.
We sat outside the museum for a bit, then walked down to a terrific Indian restaurant for lunch before catching the train down to Miyajima.
Once we arrived at Miyajima station, we crossed the street and caught the ferry to the island. There were tons of very curious deer on the island and the girls stopped about every 20 yards to pet another one. Once we got down to the water, we all took off our shoes and walked across the sand and in the tide. When we reached the Itsukushima Shrine, it was low tide so we could walk right up to it. We spent probably a half hour playing in the sand and water and then we headed back through all the fun little shops and stalls on the way back to the ferry.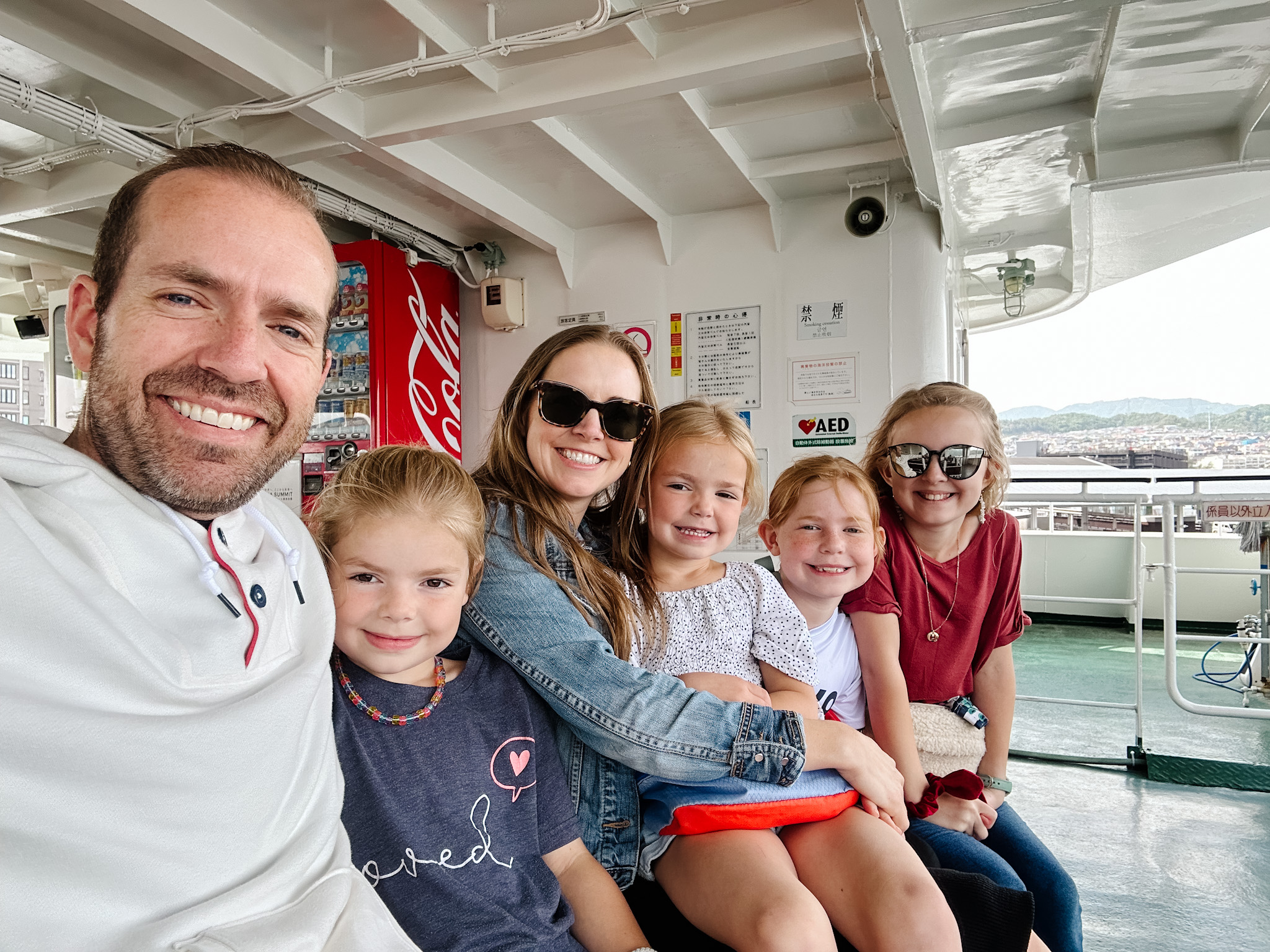 We caught the train back to Hiroshima and ate dinner at the station (there were a LOT of options in the massive two story food hall).
We took a quiet and sleepy bullet train ride back and got back to Kyoto around 8:45. We picked up a few things for breakfast, then walked back to our Airbnb and everyone went almost immediately to bed.
Tuesday
I woke up a little after 5, but most of the girls didn't get up until past 7. We ate breakfast and got ready for the day then packed up completely before calling a taxi to take us out to Kinkakuji (the golden temple on the outskirts of the city). It was a spectacularly gorgeous sunny morning with perfect weather and I was so glad we'd made time to visit – it was just stunning, from the temple itself to the grounds.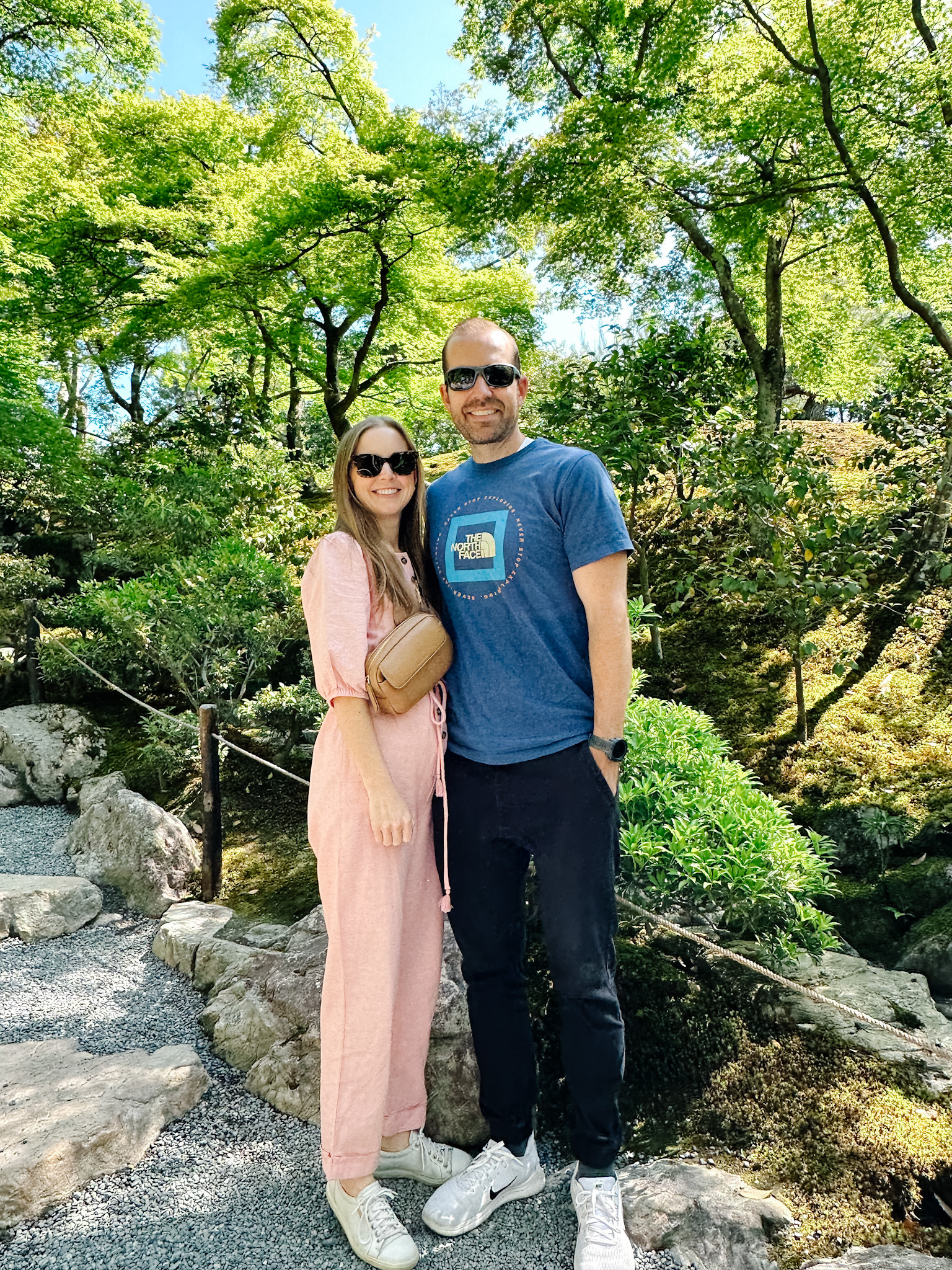 After about 45 minutes, we caught a taxi back to our Airbnb, grabbed our luggage and walked to the Kyoto station to catch the bullet train to Tokyo.
After the two-ish hour bullet train, we checked into our hotel (happily, it was just across the street from the Tokyo Station) and then took the subway to the Asakura District. We stopped to play at a (tiny!) playground and then wandered through the stalls and markets, picking up snacks as we went (some mango soft serve and a croissant waffle on a stick were the biggest hits). We picked up a little gift for Bart's mom and then walked down to the Buddhist temple, Sensoji, which was spectacular. A street photographer stopped us and asked to take our photo and then took some cute individual shots of the girls with their fans they'd each bought with their travel budget.
We stopped in a little ramen shop for dinner then headed to Rainbow Karaoke – Ella specifically had been dying to do this and we'd walked by it as we entered the Asakura District, so we went back and the girls were in HEAVEN. (This was Asian-style karaoke where you have a private room with seating and we had the BEST time – I think it was the highlight of the trip for several of our children).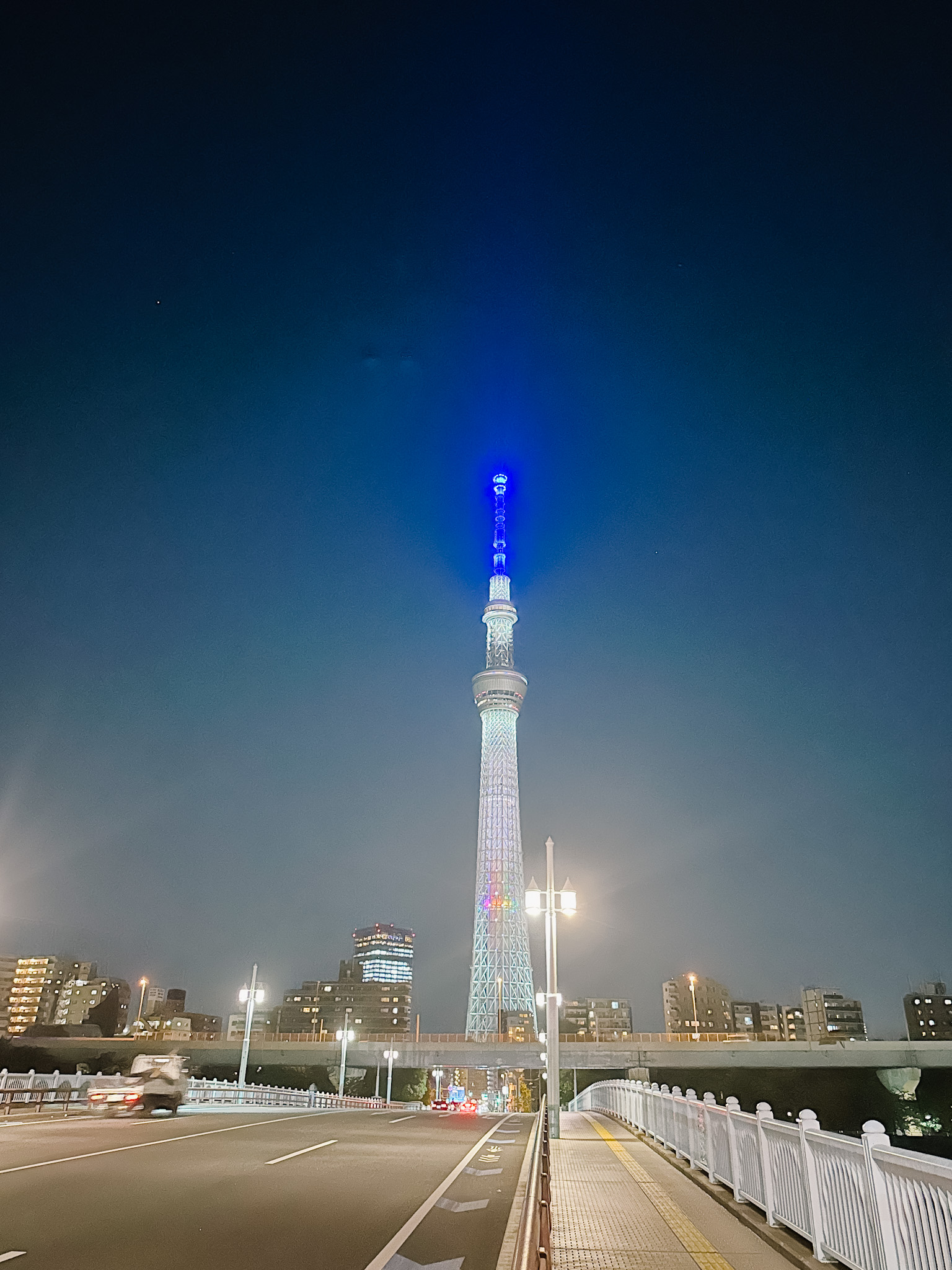 After karaoke, the sun was down so we headed to the Skytree (the second tallest building in the world), bought tickets and took the high speed elevators to the first observation deck. After a stroll around, we took a second elevator to the higher observation deck which was REALLY fun. On our way down, we stopped at the glass floor section where you could look down alllllll 400+ stories to the ground.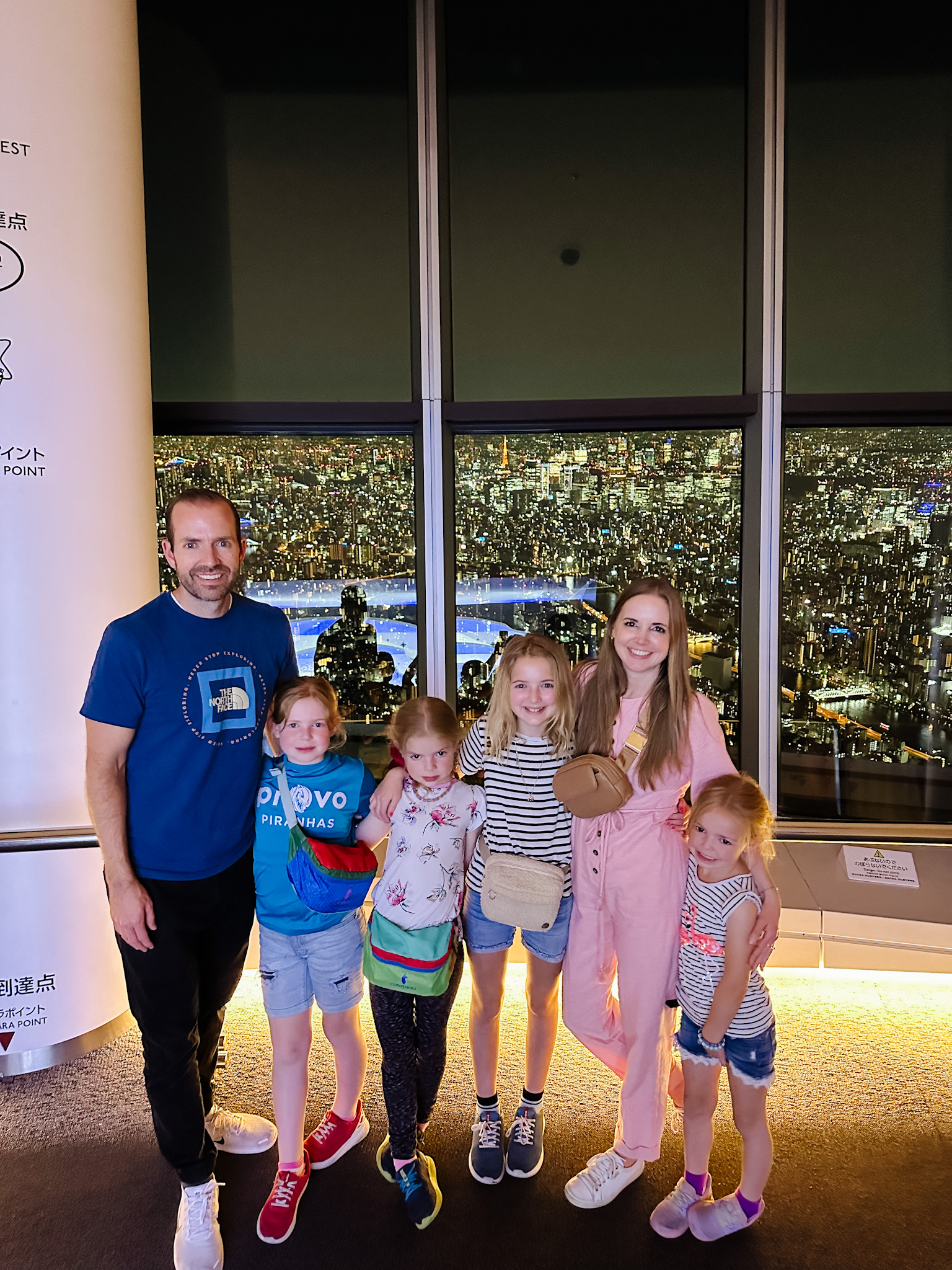 There was a food hall back at the ground level, so we stopped in and Bart and the little girls all got crepes, while Ella (who suddenly realized she hadn't eaten nearly enough dinner and was feeling pretty lousy) and I walked around and found her a bowl of rice and salmon sashimi that sounded good to her. She ate about half of that and then Bart and I finished it up along with the rest of the girls' crepes. We snagged a taxi back to our hotel and went straight to bed!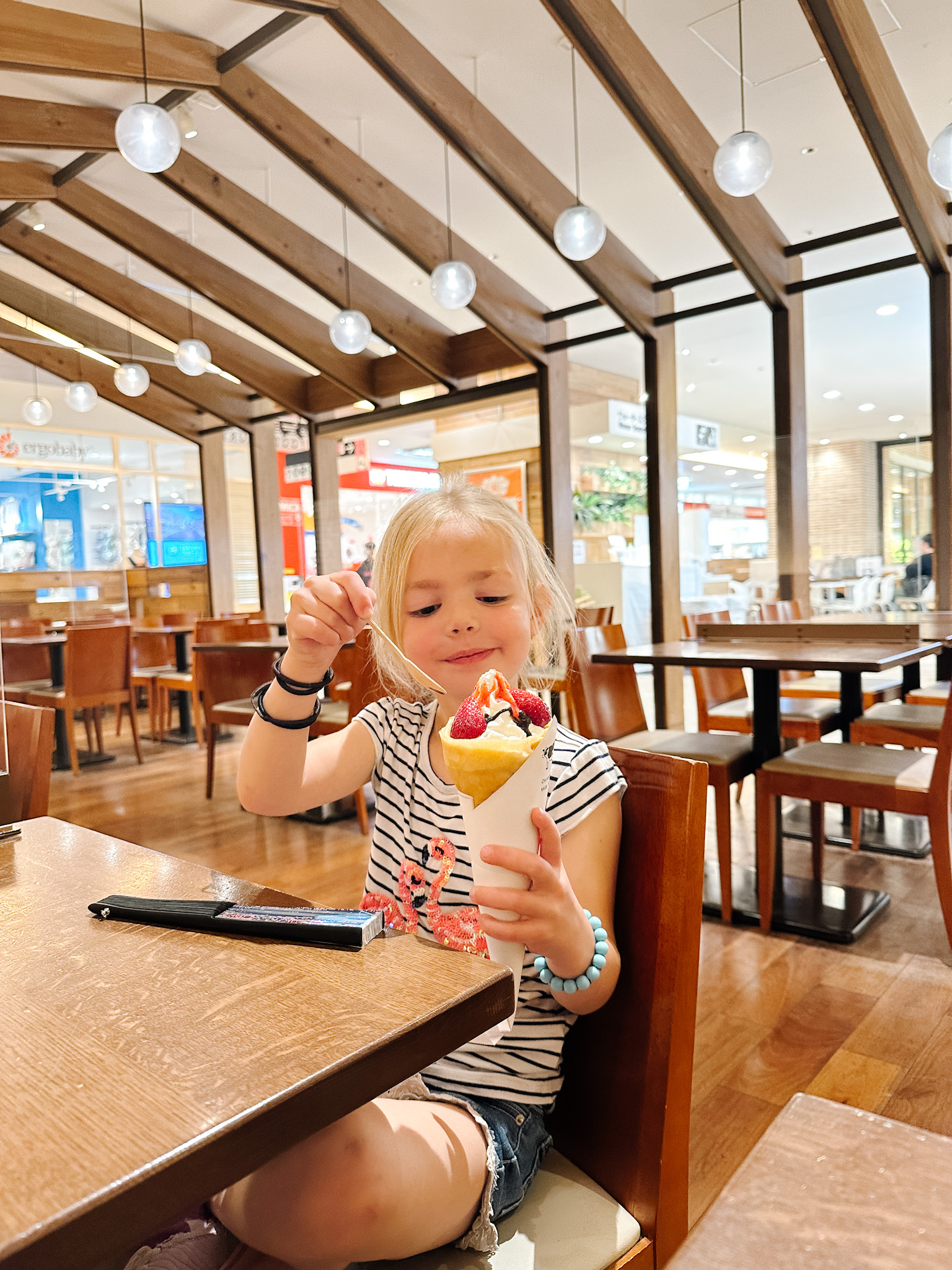 Wednesday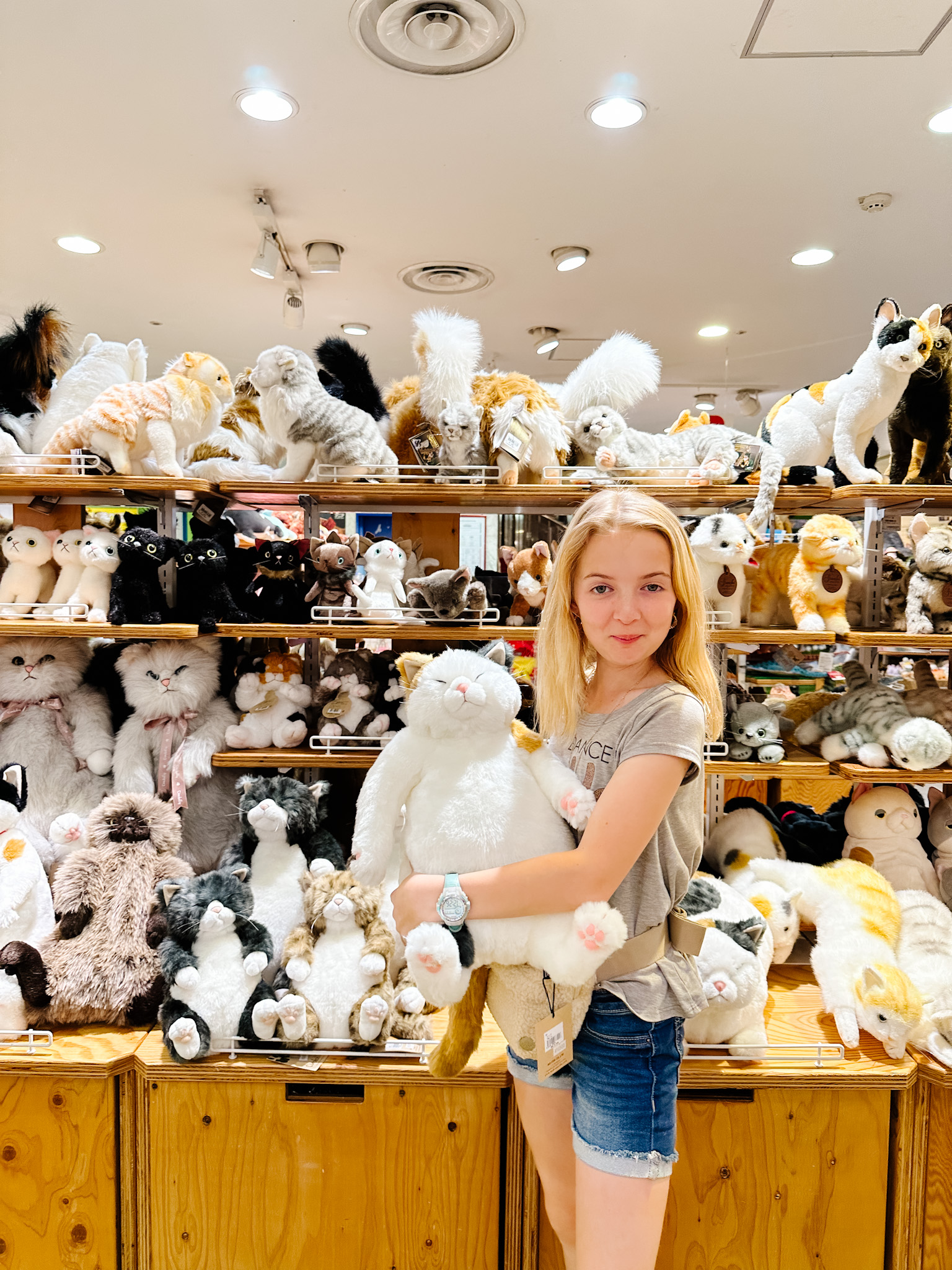 Everyone was getting hungry so we walked back to the flagship Mitsukoshi department store (it's the oldest surviving department store chain in Japan – it was founded in the 1670s!) and browsed the food halls in the basement until everyone had picked out something for lunch. We took it all up to the rooftop terrace and enjoyed some lunch.
Our last Ginza stop as Itoya, a massive many-story stationary store – this was mainly for me, but it turned out the girls loved it just as much and there were so many pens, papers, stamps, stickers, and other things to try out that we were there for nearly an hour.
At this point, we were ready to be outdoors a bit more, so we caught the subway out to a park an Instagram follower had recommended that looked amazing. Sadly, when we got there, we discovered that the main part we'd planned to visit with all sorts of climbing structures and water features closed at 4:30 and they denied entry after about 3:45 (it was 4:15 at this point). We wandered over to the other side of the park that's open 24 hours a day and the day was saved by some shallow pools that the girls enjoyed playing in while Bart and I enjoyed sitting in the shade.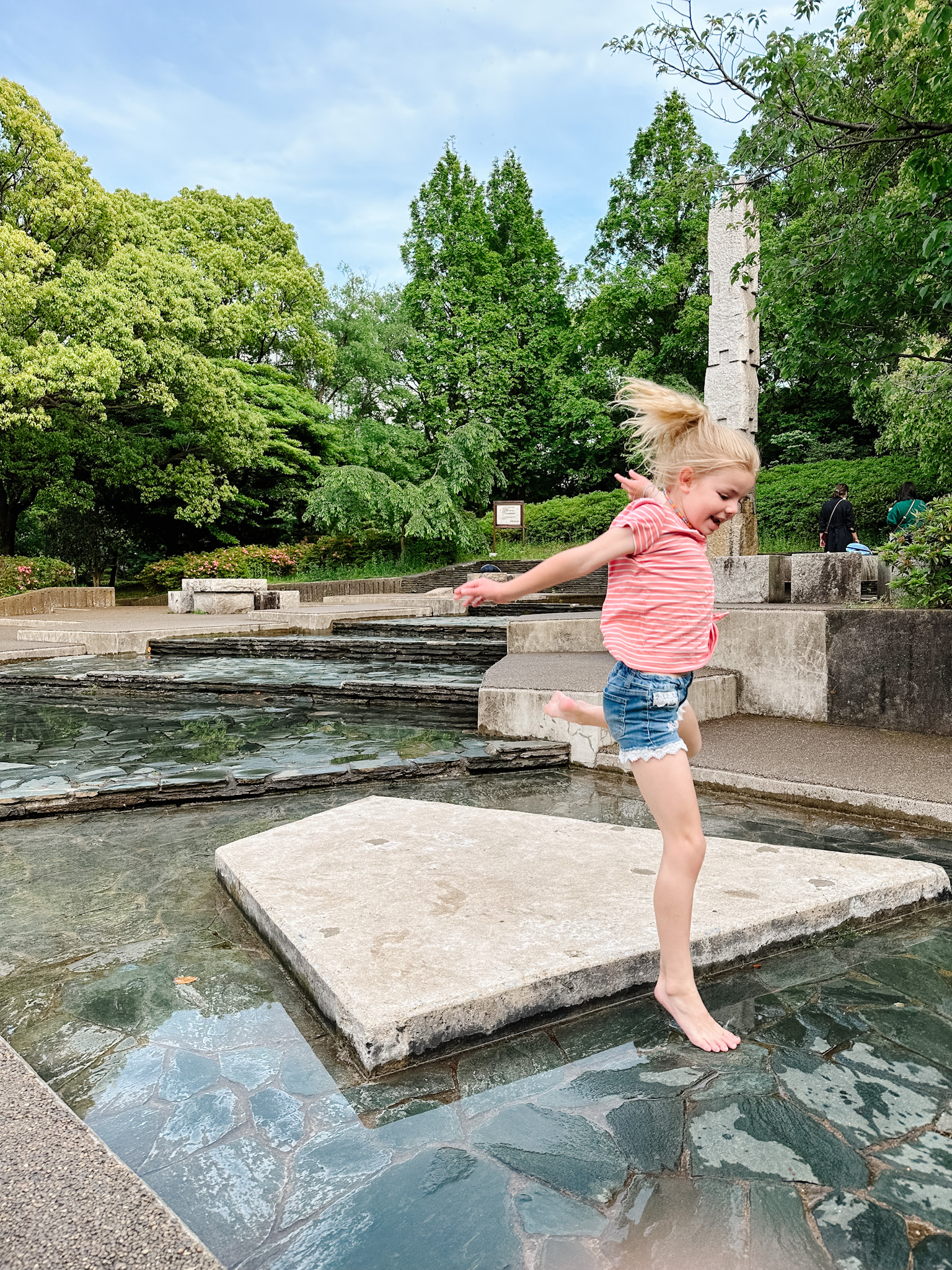 Our last stop for the day was Harajuku which has tons of fun little shops (we stopped in Daiso which is a popular chain of Japanese dollar stores) and then walked down to Yai Yai for dinner because I wanted to try okonomiyaki (a popular savory Japanese pancake) before we left. It was a cozy little restaurant and nice to sit down.
We had seen many shops in this area that sold incredible crepes with whole pieces of cheesecake or cake in the center and our kids were VERY interested in trying these, so we ordered three to share and then caught a taxi back to our hotel and went right to bed.
Thursday
Our hotel had two connected bedrooms with three beds in each – Ella and Bart and I shared one room and the three younger girls were in the other room. At about 4 a.m., Bart and my phones both started blaring a siren and then a voice said "earthquake. earthquake." Seconds later, the room started to gently shake. It lasted only a few seconds, but it was pretty disconcerting and it took me a bit to fall back asleep (the next morning, Ani told us she'd felt the shaking but the two little girls slept straight through it).
We got up around seven, got dressed and packed up all our belongings. We left them in the lobby of the hotel, then went back to Family Mart to use our breakfast vouchers (and pick up our train tickets to the airport for that afternoon) and then took them back to the Imperial Palace grounds to eat breakfast in the same spot.
After breakfast, we walked about 35 minutes to the Tokyo Tower to visit Red, which is an indoor gaming area with lots of VR attractions. The girls had been anxiously looking forward to this and we had the place nearly to ourself on a weekday morning so we did as many attractions as we could before it was time to head out. When we came out, it was raining and it took us forever to flag down a cab and by the time we got back to the hotel, it was VERY tight for our train to the airport. Bart paid the cab driver while the girls and I raced in to grab our bags and then we sprinted in the pouring rain to the station, arriving at the platform literally 90 seconds before the train pulled in.
We were really glad to have made it and spent the hour long ride reading, chatting, and eating snacks. When we arrived at the airport, the line to check in was incredibly slow (the system wouldn't let us check in online the night before) and it took us nearly two hours to get our boarding passes and check our luggage. The desk agent ended up walking us through security and down to the gate so that we wouldn't miss our flight (although when we got there, they were just lining up, so we were fine).
We boarded our flight, settled in with headphones and I watched three movies on the way back to Calgary (I was between the two little girls who both slept for several hours). In Calgary, we went through customs and had some lunch and then hung out for a long layover (about six hours!). There were some nice couches and virtually no one in the airport, so Bart and Ella both took naps and I caught up on some work while the other girls wandered around and played together. We finally caught our flight back to Vegas and arrived back just before 9 p.m. My parents were waiting for us and we went back to their house, had a little dinner, and then all went to bed and slept straight through the night
Friday
Bart and I both woke up around 8:30 and then I had to wake the girls up the next morning at 10:30 so they'd have time to swim with my dad before we drove back to Utah.
A six hour drive later and we were home again!
if you liked this post about our japan itinerary, you might also like these other posts: