When my mom and I visited Portland last fall, I emailed Rhiannon and she gave me a ton of good suggestions for places to go and things to eat. I can vouch for the excellence of her recommendations! 
Also, Whirlwind Weekend posts will now be going up on. . .when else? The weekend.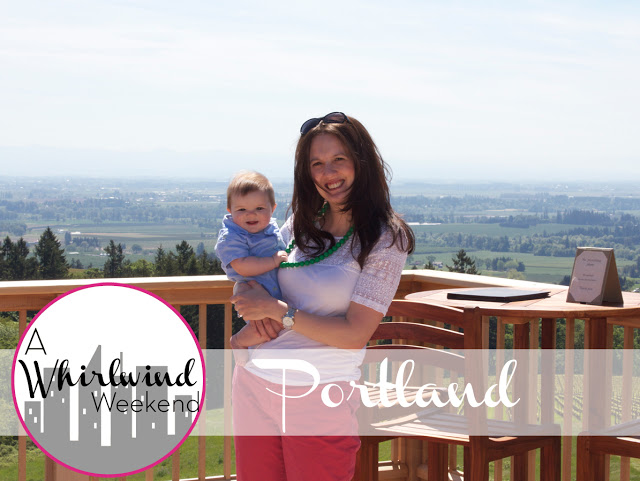 1. I'd take you out for pizza at Ken's Artisan Pizza. You can order whatever you want, but I'd strongly recommend the fennel sausage and onion along with the roasted vegetable plate. It's a rotating selection of vegetables, but it's always delicious. My son is just 14 months old, but he's already a big fan of Ken's Pizza.
2. It's famous for a reason! You shouldn't miss Powell's City of Books. The name does not mislead it's actually a CITY of books. One million of them! If you have a little one, be sure to check out the children's section. It's pretty spectacular. Once you're done browsing, grab a beverage in the café and do some people watching.
3. Calories don't count on vacation, so we'll stop in and grab a treat at Salt and Straw. Do yourself a favor and order the sea salt with caramel ribbon. But, don't feel like you have to limit yourself to just one scoop, you are on vacation after all.
4. The weather is perfect and getting outdoors is a must. We'll take advantage of the gorgeous day at the Portland Japanese Garden. This garden is literally just minutes from downtown Portland, but it is so quiet and serene, it seems like it is worlds away. Bring your camera as you'll want to take some pictures of the beautiful surroundings.
5. You're so fortunate to have a culinary insider showing you around. The locals would stone me if I didn't take you to Pok Pok. The Fish Sauce chicken wings are one of my favorite things to eat in all of Portland. Don't let the name scare you, there's nothing fishy about them. You'll fall in love with the sticky, savory sauce. Wash them down with a famous drinking vinegar. I'm partial to the pineapple.
6. You didn't ask, but I'll tell you anyway that a trip to Oregon wouldn't be complete without visiting Hood River. It's about 45 minutes east of Portland and it's just the cutest town. You'll need to make sure you're hungry when you go. I recommend appetizers at Full Sail Brewery, where you can watch the windsurfers on the Columbia River from your table, followed by delicious thin crust pizza at Double Mountain Brewery (I'm a firm believer that there can never be too much pizza). Work off all those calories on the way home with a hike to Multnomah Falls, which is probably one of Oregon's most iconic stops.
Want to share your city?
Email Me!