Ever since we returned from London in 2014 after a semester living there with our two oldest girls, we've wanted to go back and visit.
This spring, we spotted cheap tickets and snatched them up immediately (and we invited Bart's parents, who have spent several years living in London, to come along with us).
I'll do another post later this week with answers to all your questions about our trip, but this post is dedicated to what we did during our 10 days there.
Obviously, with four young children, this trip was more catered to things that would be fun for them (the good news is that Bart and I happen to love things that are fun for children, so it didn't feel at all like a bummer to us).
You'll also notice that we aren't the kind of travelers to try to pack in every possible thing – a trip where you're run ragged or absolutely exhausted when you come back each night is not really the kind of trip we're interested in. This felt like a pretty perfect pace to us – plenty to do and see without being overwhelming and not a lot of time sitting around twiddling our thumbs.
It was an absolute delight to be back in my favorite city with all four of the girls – I hope we don't wait another seven years to go back!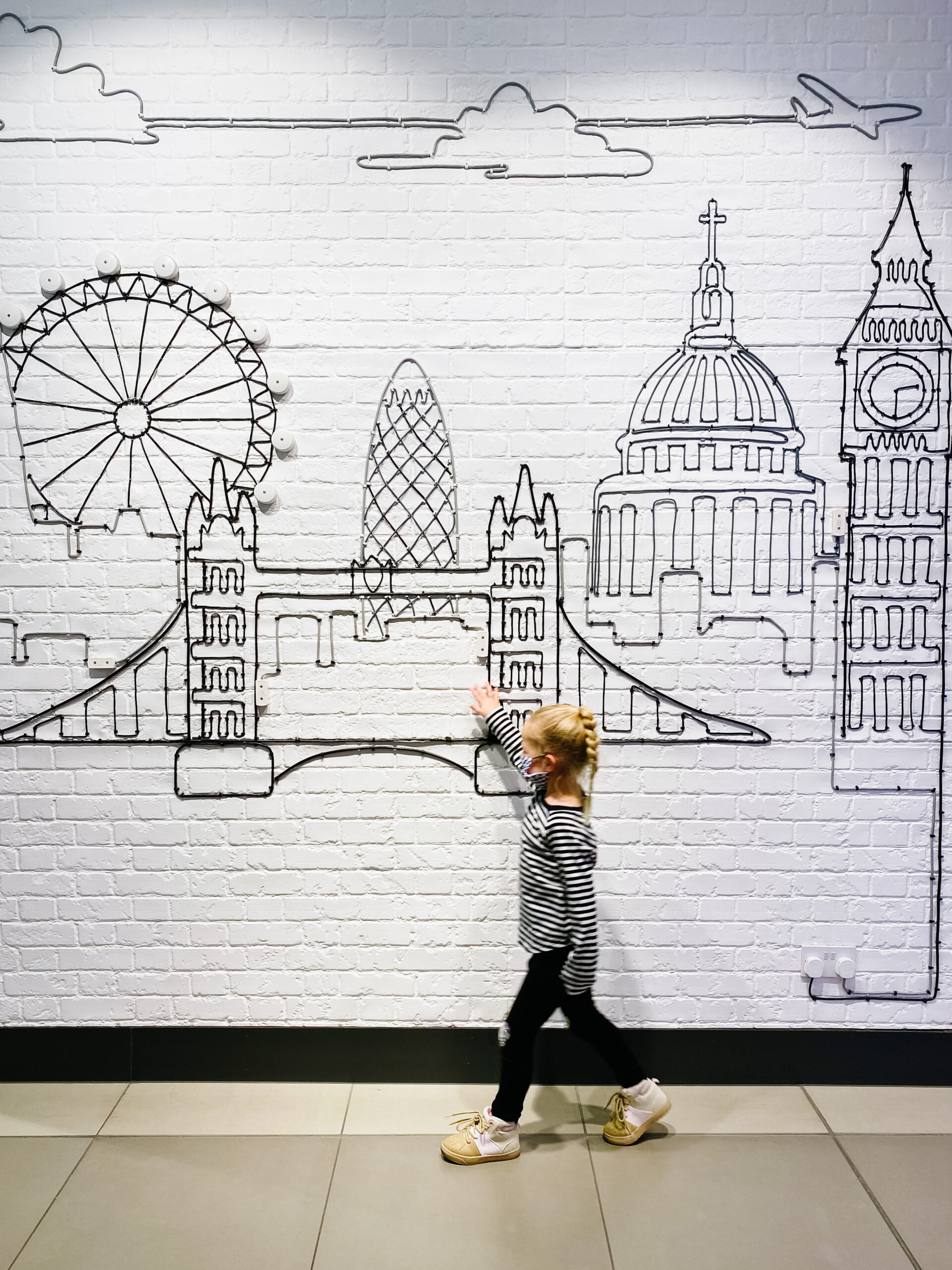 Things to Do in London
SUNDAY
We flew out of Salt Lake City around noon with a connecting flight in Dallas Fort Worth. Our DFW to LHR flight was probably less than a quarter full, so we all had plenty of room to stretch out in our own rows. None of us slept very well, but we probably each got a couple of hours of sleep as we flew over the Atlantic Ocean.
MONDAY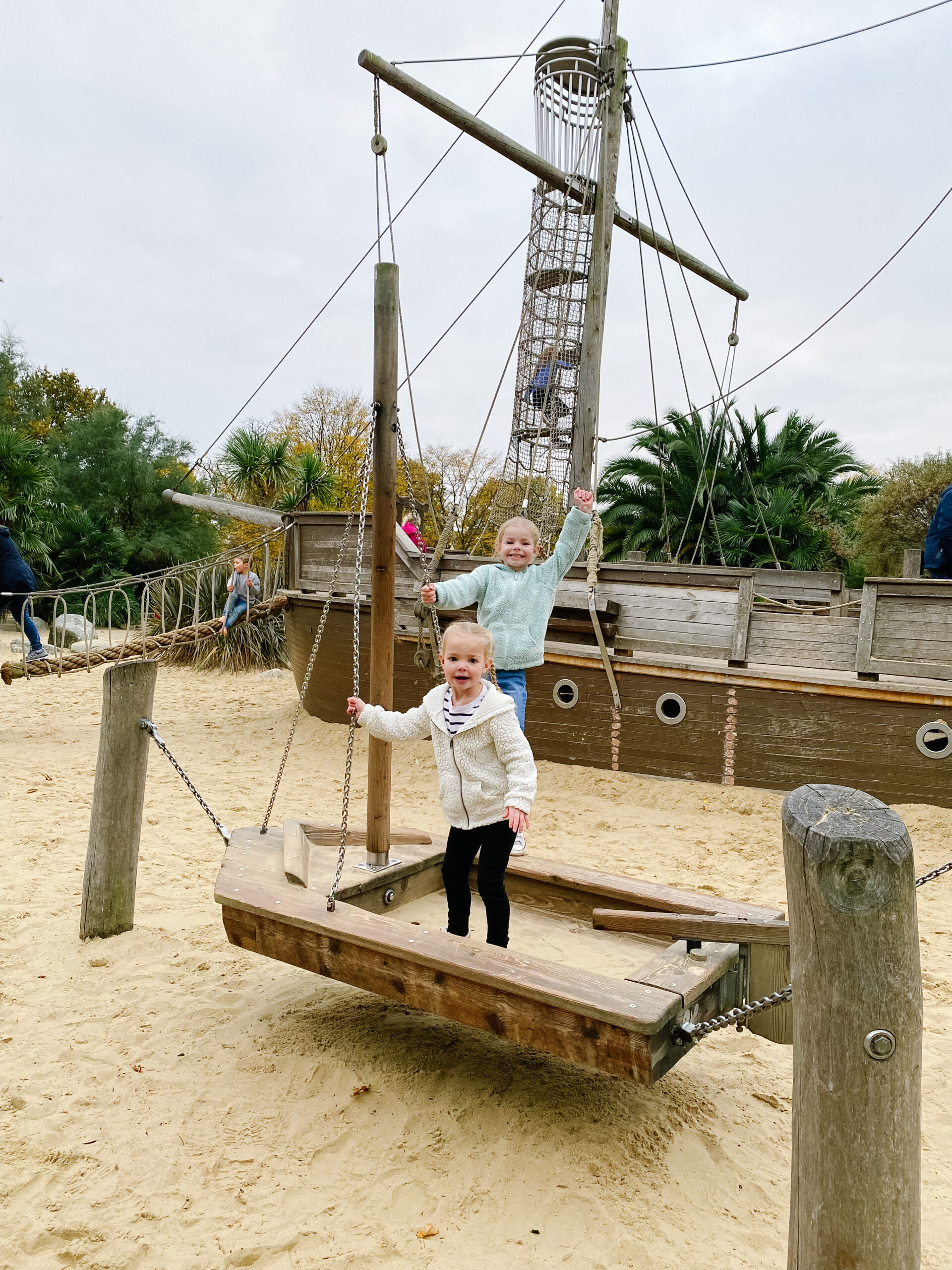 We walked back up Queensway and stopped at Tesco to pick up groceries, including bread, milk, yogurt, eggs, cereal, oatmeal, juice, butter and jam (plus plenty of biscuits). We walked back to our flat and everyone had breakfast for dinner.

 We put the girls to bed and they all fell asleep quickly. It took me a long time to fall asleep and when I finally did, the girls started waking up throughout the night. Finally everyone fell asleep for good around 3 or 4 am and everyone slept in until about ten a.m.
TUESDAY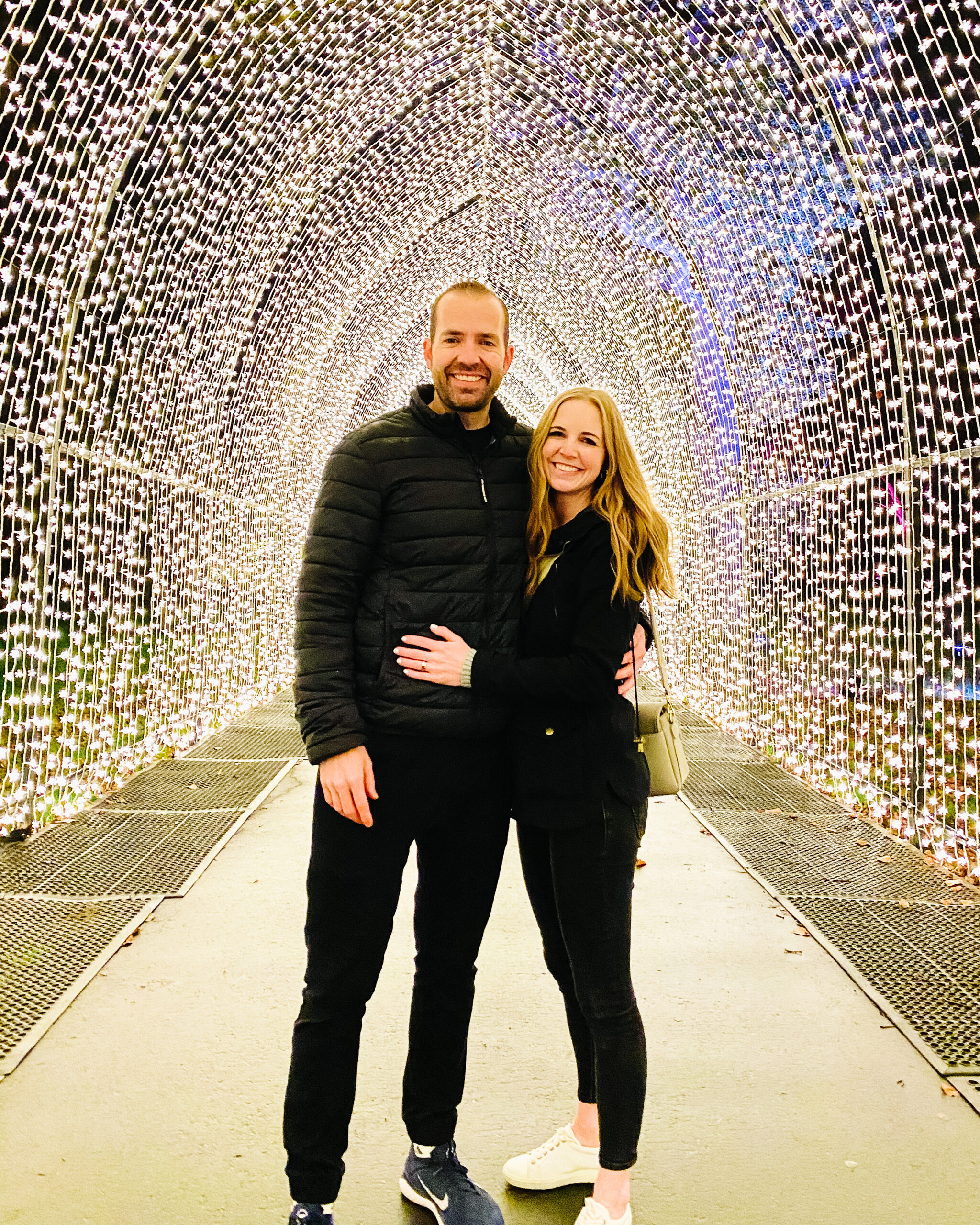 After Kew Gardens, we took the tube back Paddington and I fed the girls a quick dinner of yogurt and granola and fruit and put them to bed while Bart and his parents walked a few blocks to pick up some sandwiches for dinner. They were quite mediocre.

The girls all slept wonderfully that night, but I woke up around midnight and then couldn't go back to sleep until about four a.m.
WEDNESDAY
I slept in while Bart went for a run that included picking up some pastries for the girls, and we headed out around eleven a.m.

One of my favorite places in London is the Borough Market and we took the tube across the river and spent quite a while walking through it, trying samples, and admiring the beautiful and delicious food stalls. Bart and I shared a really good curry from a Thai food cart, and we bought a big beautiful loaf of French bread and some jam for the girls.
After the market, we walked down along the river and then crossed over on the Millennial Bridge toward St. Paul's, then walked to the Cambridge theater where Matilda was showing. We knew that a matinee was going to be by far the cheapest and we decided to risk not buying our tickets ahead and seeing if we could get even better tickets on the day of. When we arrived about thirty minutes before the performance, we were able to snag tickets about ten rows back for nearly half the normal price and only a bit more than the cheapest seats in the house. It was a delightful show and we all thoroughly enjoyed it (even Tally, who the ticket agent warned would probably find it long and scary).
When we came out, the streets were all lit up with Christmas lights and we wandered over to Covent Garden which was absolutely spectacular decked out for Christmas. The enormous Christmas tree was all lit up and scores of people were standing around, clearly waiting for something. We finally asked someone what was about to happen and they said "it's going to snow!" And about 30 seconds later, as the clock struck 5, soap snow started swirling down around us. It was very magical.

We bought some crepes from a little food truck and ate them in the street then found a place to sit and ordered several burgers from Shake Shack.

We headed home, I read aloud to the girls a bit and then we all went to bed.
THURSDAY
I slept a lot better this night (only awake for about 90 minutes in the night! Progress!) but we still all slept in until about 10 a.m.

We took the bus (which Ani had been begging to ride for three days) down to Oxford Street and stopped at John Lewis (a big department store) so that Bart's mom could look at their tablecloth selection. We played in the toy department for a few minutes and then joined them in the fabric section while she made her picks.
Then we walked down around the corner to Hamley's on Regent's Street. Hamley's is an enormous toy store that we visited frequently when we lived in London and it was all top of the girls' list of places to visit. We spent well over an hour there, visiting pretty much every display and trying out tons of fun toys. Even then, we still had to pretty much drag the girls away.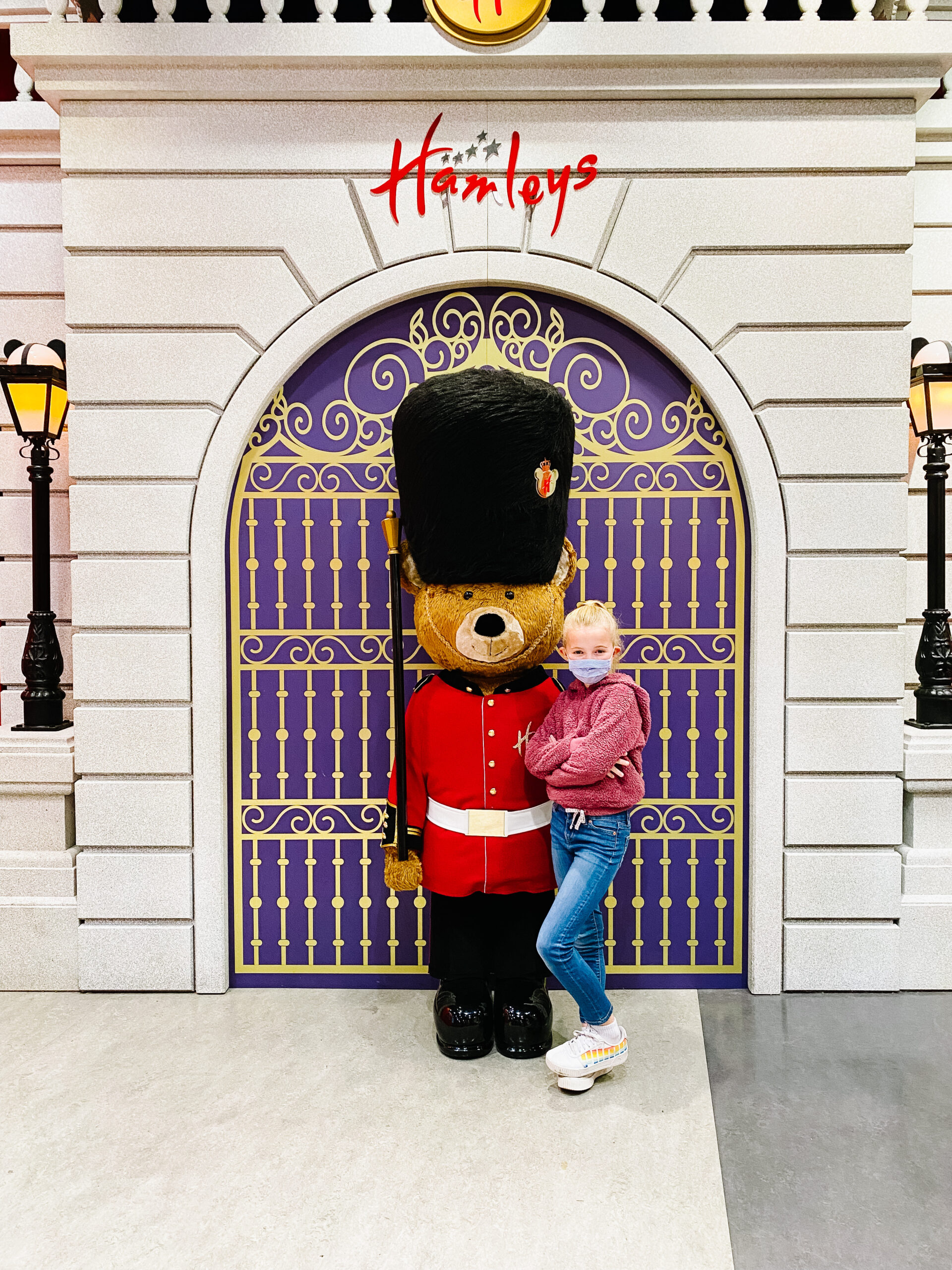 We went to a late lunch at Yori, a Korean restaurant with great reviews. Bart ordered for everyone and we all really enjoyed it.
After lunch, we walked down to Westminster, stopping at The Cenotaph where all the poppy wreaths were still laid out from Remembrance Day a few days earlier and then on to Westminster Abbey. There was an enormous display of crosses and stars and moons on the grounds to commemorate Remembrance Day and we walked through that in the twilight before heading into the church for Evensong (it costs quite a bit to take a tour of Westminster Abbey but Evensong is free every evening, so it's a great way to visit without spending a fortune). It was only about 20 minutes long, but it was still a bit more than Tally could handle and she asked about 20 times if it was almost done.
After Evensong, we walked over to the London Eye (we'd decided not to ride it because it's pretty pricey) and then down to the Jubilee Playground that'd we visited seven yeas earlier. Unfortunately, it closed at dusk, so it was locked up tight.
Instead, we walked down to a nearby bakery and bought several brownies and slices of cake and sat outside and shared them around.
We took the tube back to Paddington Station and stopped in Marks & Spencer to get supplies for a little charcuterie board dinner back at our flat. We sliced up the remainder of our French bread from the Borough Market, added apple slices, two kinds of cheese, some turkey, jam, and nuts, and all went to bed happy.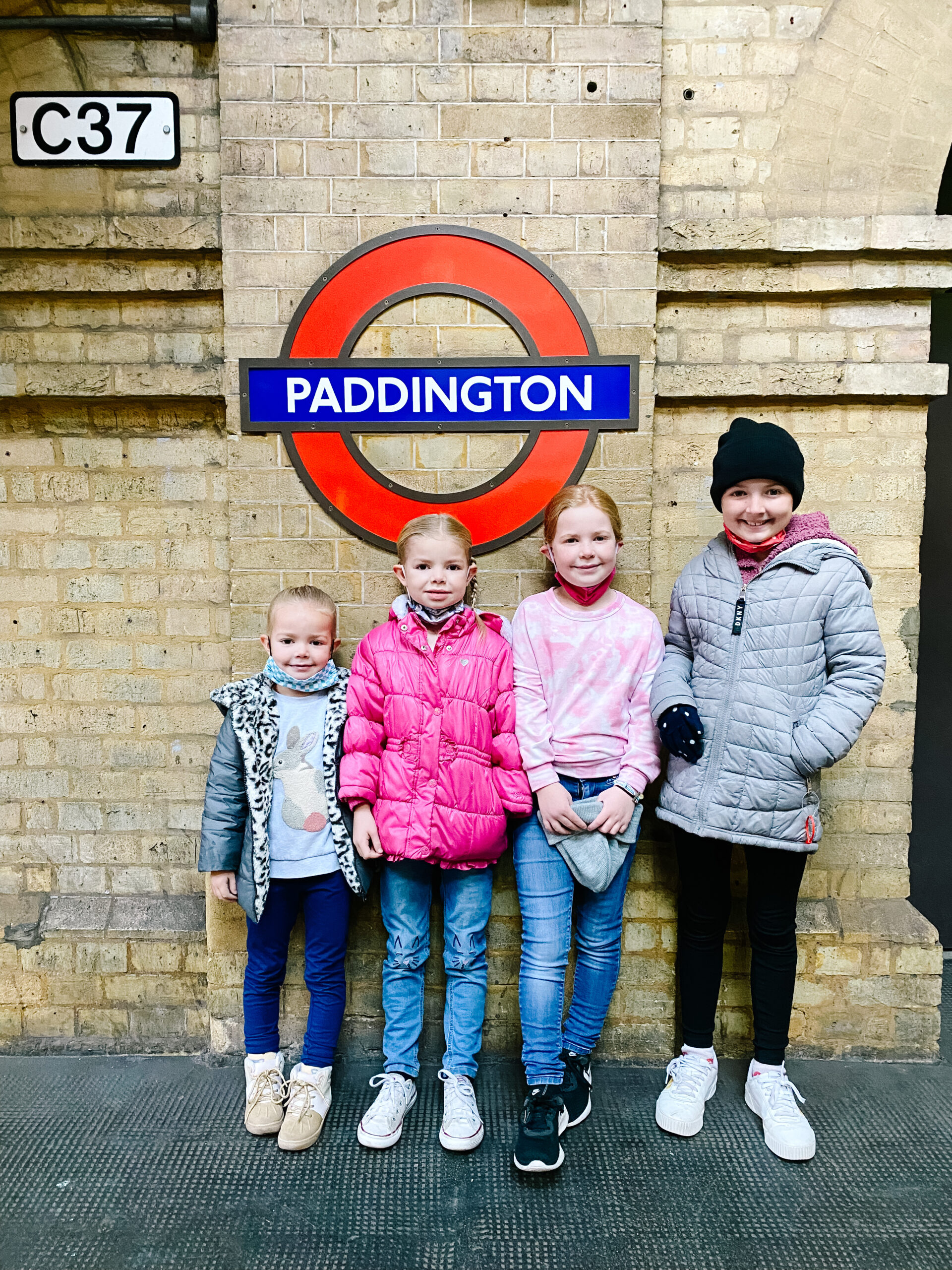 FRIDAY
We started the day by going to the Changing of the Guard at Buckingham Palace (during the winter, it runs four days a week instead of daily). It was pretty crowded and hard to see, but the girls sat on various parents' and grandparents' shoulders and were able to get a pretty good view. Afterward, we walked down to the playground across the mall and the girls enjoyed the seesaw and swings for a bit, plus some Jammie Dodgers.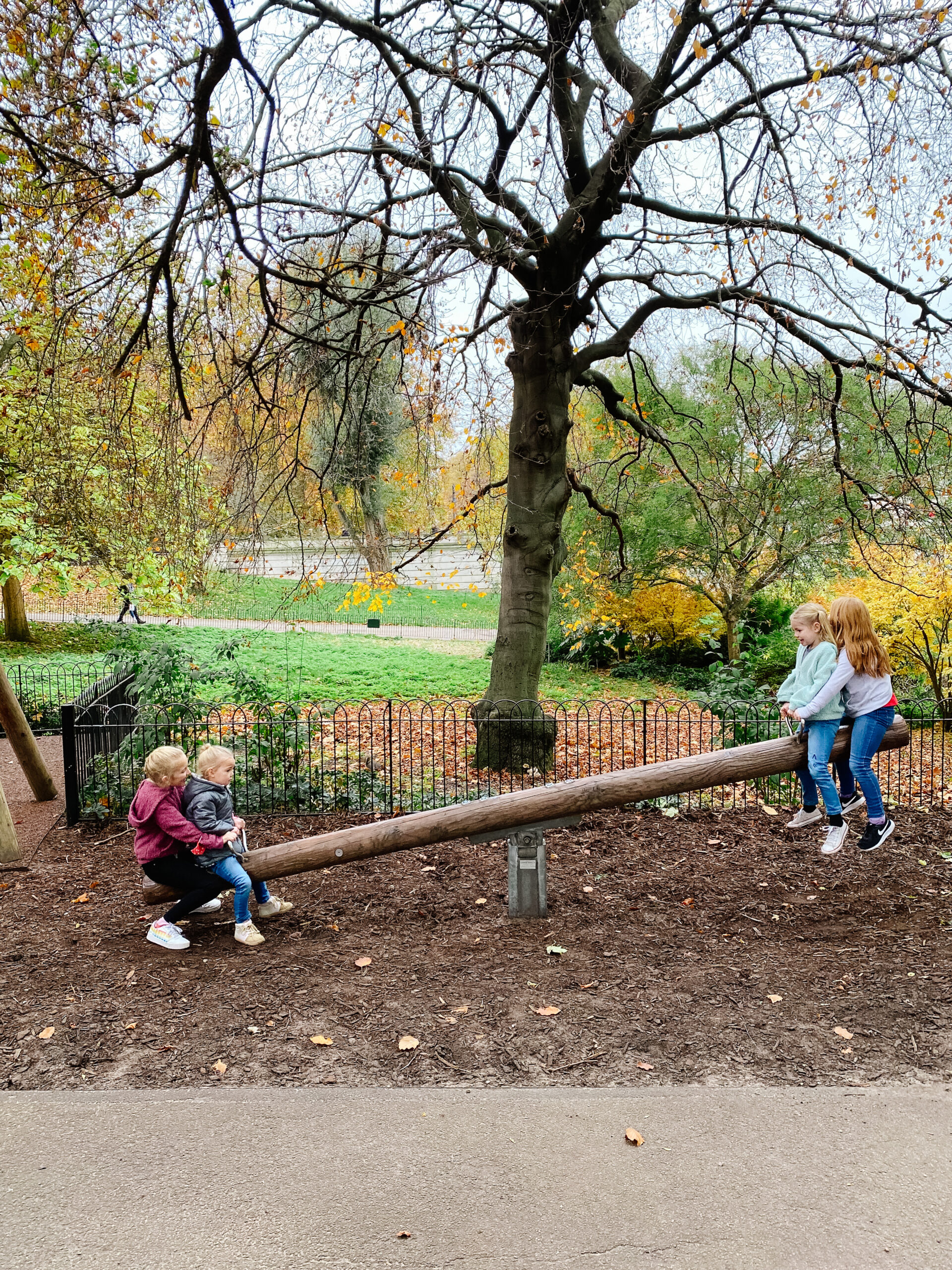 We walked down to the National Gallery and wandered through the Christmas Market on Trafalgar Square and ate some bratwurst and then some little chocolate wafer and cream kisses.
Our next stop was the British Museum but on the way, Ani spotted a Harry Potter store and begged to go in, so we made a little detour there for about 30 minutes.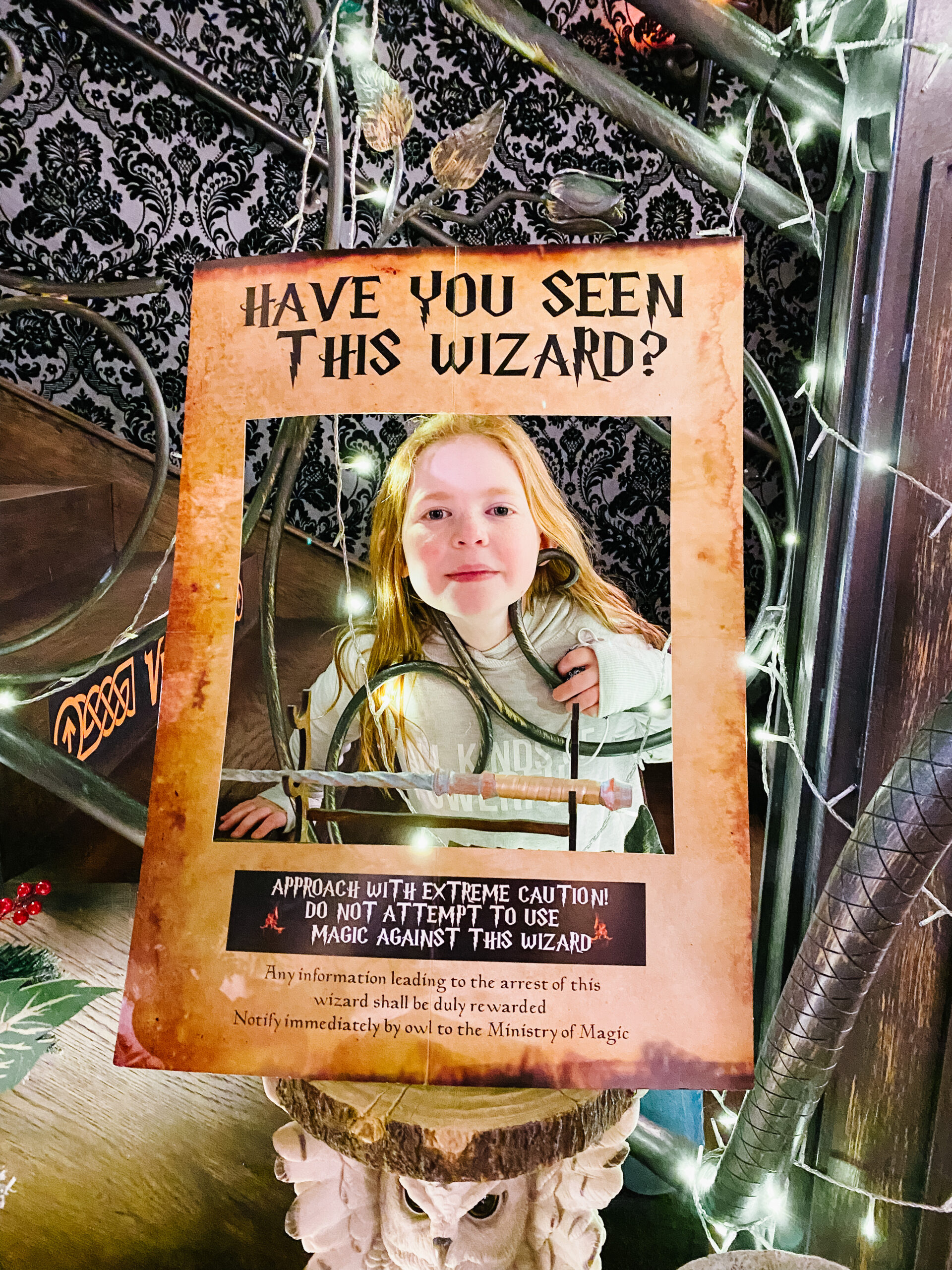 We went to the British Museum which the girls were mostly very into (Star told us the next day that when she brings HER kids back to London someday, she will not make them go to so many museums), especially the Egyptian mummies.
Bart had very fond memories of taking the big girls to Coram's Field and wanted to go back, since we were just a few blocks away, but by the time we arrived, it was just closing (that early sunset was out to get us!), so the girls played for literally 90 seconds and then we caught the tube back to Paddington and walked to Khans for dinner, an Indian restaurant that Bart's family has visited many times over the years.
SATURDAY
Our first Saturday stop was the famous Portobello Road Market. We walked all up and down and gave the girls each a few pounds to spend as they saw fit. We picked up some ebelskivers, some vegan cinnamon rolls and plenty of other samples, and then walked back down to Kensington.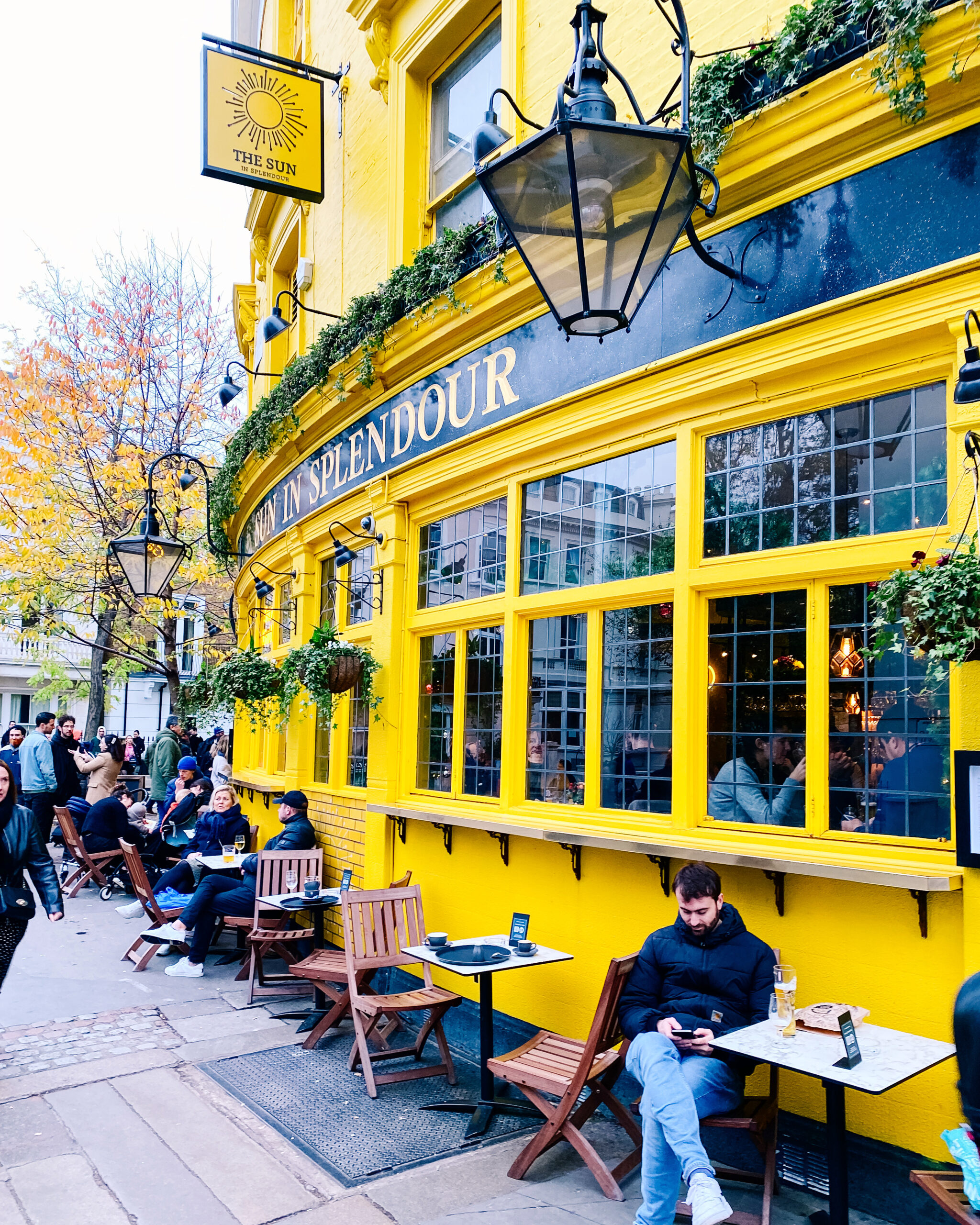 Bart's parents took Ella to Pret A Manger to pick up some sandwiches (and stopped at Paul's for some lemon tarts and chocolate tarts), while Bart picked us up lunch at Cafe Diana and I took the three other girls to the Diana Memorial Park. We all eventually met up and ate lunch on a picnic bench while the girls alternated between eating and playing.
We took the tube down to the Imperial War Museum where we spent about an hour and a half. The adults loved it (it's one of my favorite museums in London), the big girls thought it was reasonably interesting and the two little girls were not fans at all. We stayed about an hour and a half and then headed to Picadilly Circus.
When we came up out of the tube station, there were Christmas lights EVERYWHERE including enormous angels made of light hanging above the street. We walked around the corner to Waterstones (a big UK bookstore chain) and went up to the children's department where I'd brought the girls many times when we lived there. We all enjoyed looking around and Bart ducked out to walk down and get in line for dinner at the Hard Rock Cafe (the place Bart's family always went for birthdays when they were in London).
It was a pretty long wait, so we walked down to the Leister Square Christmas Market which was an absolute MADHOUSE. We walked quickly through and then made our way back to Hard Rock where we waited the last few minutes before we were seated. We all enjoyed our dinner and finished off with some enormous brownie sundaes before walking back up to Oxford Street and catching the bus home.
SUNDAY
We got up and got ready and walked through Hyde Park to attend church at the Hyde Park Chapel on Exhibition Road.
After church, we walked across the street to the Science Museum (you needed free tickets, but we were able to grab those on my phone as we walked in without any issue) and spent about 45 minutes wandering through the exhibits, spending the bulk of our time at the space exhibit.
We walked back to our flat and had a little lunch and then headed over to Paddington Station to take our COVID tests which were required to go back to the US (we could take them up to 3 days before our departure and since Sunday was our slowest day of the trip, this felt like the best time to get them done). Bart's parents appointment was 10 minutes before ours, and they were in and out in a flash, while our appointment for the six of us took about 30 minutes. By the time we got back to our flat 10 minutes later and Bart had pulled out his laptop, our results were already starting to come back and we were relieved to see that all eight of us were negative and could go home in a few days.
We played some games in the living room for a few hours while Bart's dad took a nap and then we walked over to the BYU London Centre where Bart's parents had directed the study abroad program six different times (Bart went along for three of those programs and I'd gone in 2006 with them). We had a delightful dinner with the current program directors and met a few of the students and poked our heads in a few of the rooms, noting what was different and what was exactly the same. The little girls found a friend in the four year old daughter of the resident director and they spent most of the evening playing with PlayDoh and LEGOs in the library.
We walked back home, I read aloud to the girls, and we wall went to bed.
MONDAY
We took the tube out to King's Cross Station, where the girls were thrilled to take some photos at the Platform 9 & 3/4 photo op spot, then Bart's parents headed to Waterstone to pick up a book for one of their granddaughters, while Bart and I took the girls to Coram's Field. They played for a bit and we soaked up the sunshine, then walked to the train station where we met Bart's parents.
We stopped in Pret A Manger and picked up sandwiches and other lunch supplies, then bought our train tickets and boarded for the trip out to Watford Junction (which took about 20 minutes). When we arrived, we bought shuttle tickets (3 pounds each) and took the shuttle to the Harry Potter Studio Tour.
It was AMAZING. We spent a solid 3.5 hours watching film clips, searching for hidden snitches, scoping out the sets and costumes and learning all sorts of amazing behind the scenes things about the eight Harry Potter movies. Bart's dad spoke for all of us, I think, when he said "I expected it to be good, but it was even better than I thought it'd be!" We all LOVED it.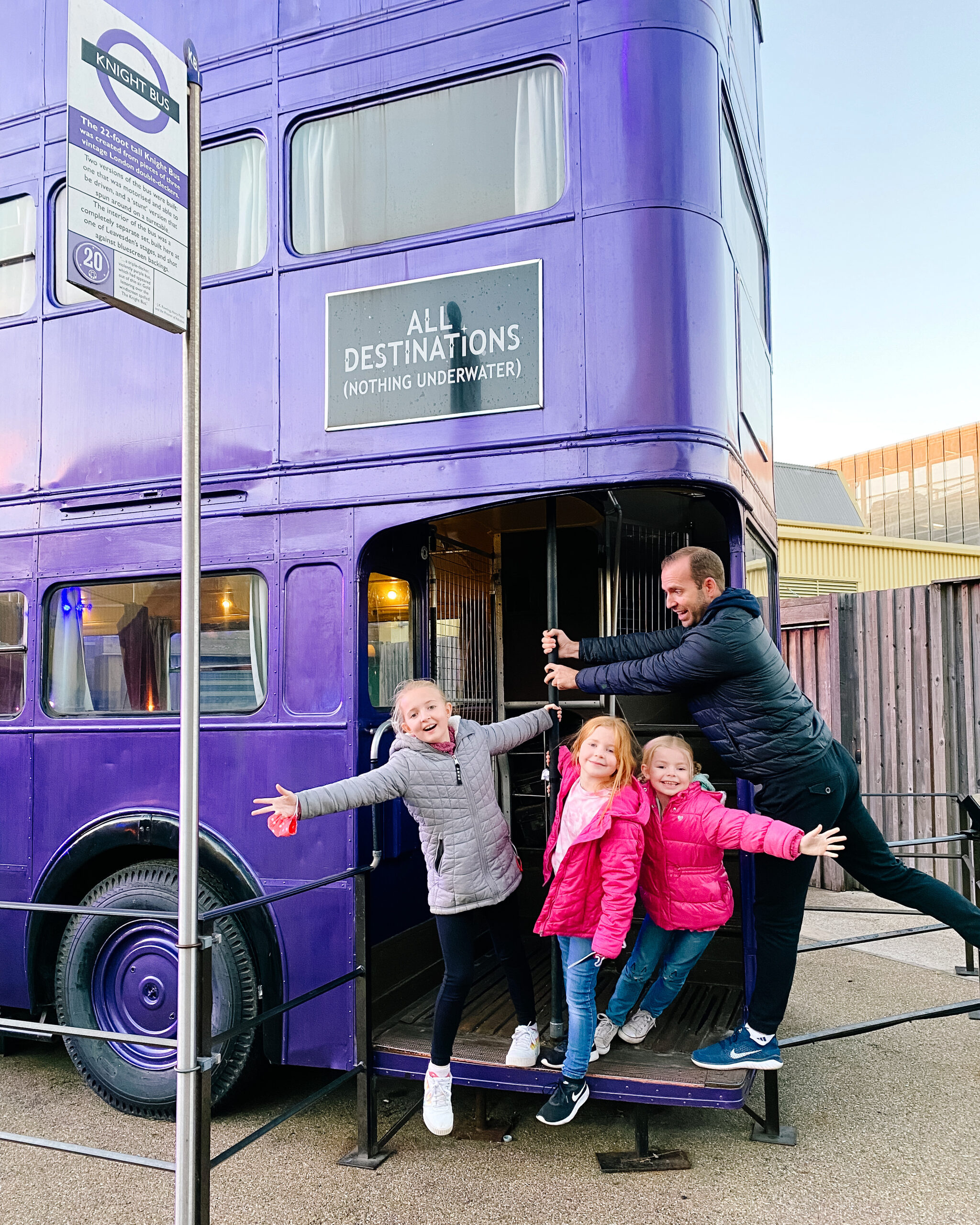 We took the shuttle back to the train station and then the train back to London and then the tube to Baker Street where we popped back up in our old neighborhood where we'd lived in 2014 and stopped at the Tesco Express that bailed us out for dinner many a time (we bought some British candy bars) and then past our old flat and the London Business School.
We ate dinner at a Thai place called Mortar & Pestle that was fantastic (the green curry especially was phenomenal) and then took the bus back to our flat where we split up the candy bars so we could all try some different ones.
TUESDAY
Our last day in London! We headed out to Hyde Park to visit Winter Wonderland. You had to reserve tickets in advance and they were free at off-peak times, so a Tuesday morning was perfect because not only was it free to go in, but it was sunny and pretty warm and there were no lines or crowds at all. We let the girls each choose two rides to go on and bought some lunch, including the best Belgian waffles I'd ever had. We also walked through the Christmas market and discovered a stall for The Cherry Tree which sells jams and chutneys and curds. We'd bought a passionfruit curd from them in 2014 at their Portobello Road stall and loved it a ridiculous amount, so we bought a couple of bottles, plus a bottle of the very delicious cherry curd.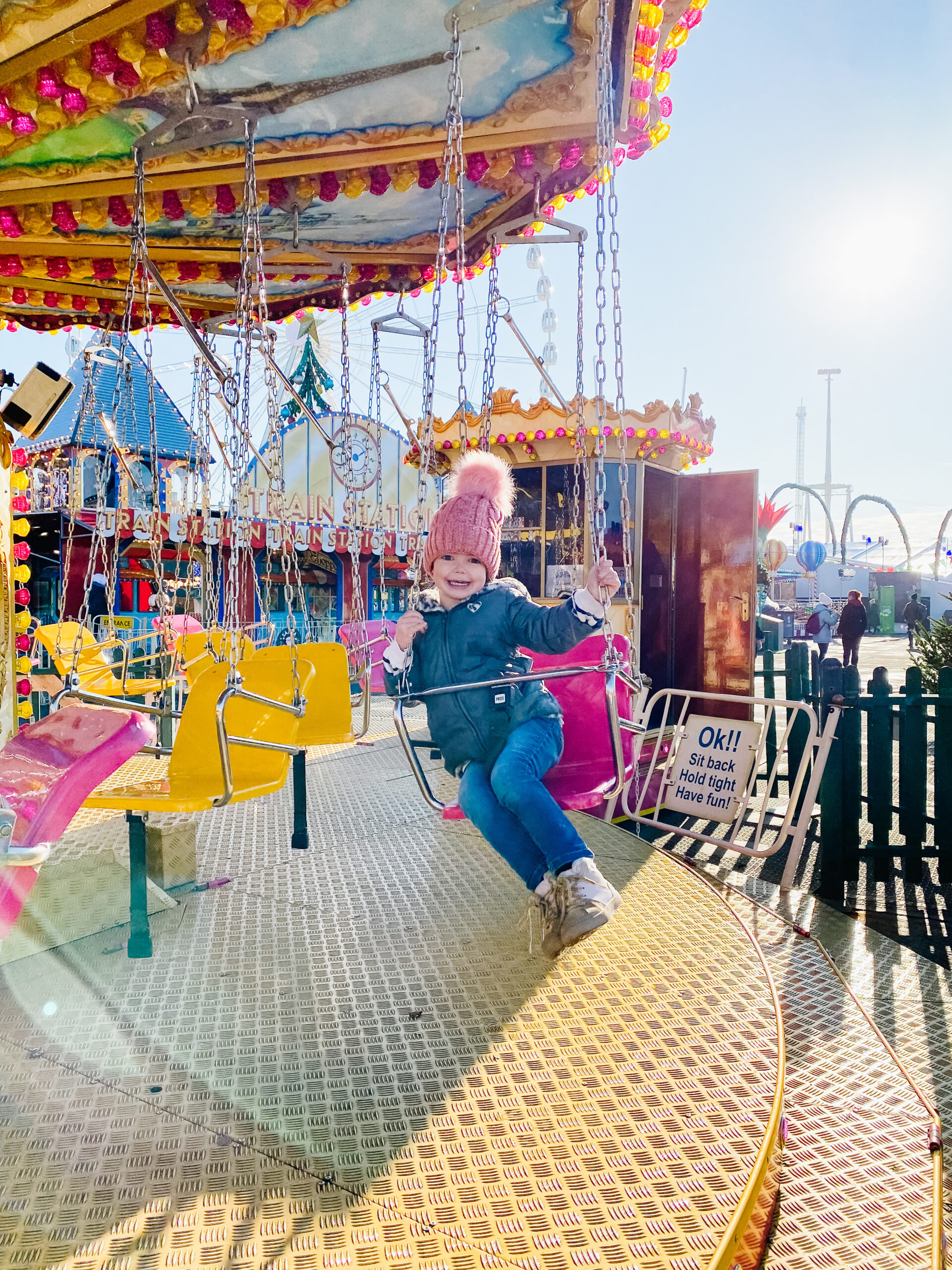 We took the bus over to Regent's Park and walked around to the zoo entrance and spent a few hours there until it closed (again, a Tuesday afternoon was an ideal time because there was almost no one there!).
By the time the zoo closed at four, the sun was mostly down and it was starting to get quite chilly. We took the bus back to Paddington and changed the laundry and did a bit of packing, then headed out to dinner. The girls had been BEGGING to go back to Pizza Express all week, so we walked to a location along the canal which was so pretty! After dinner, we stopped at Marks & Spencer and picked up some treats for the trip home, then came home and finished packing and went to bed.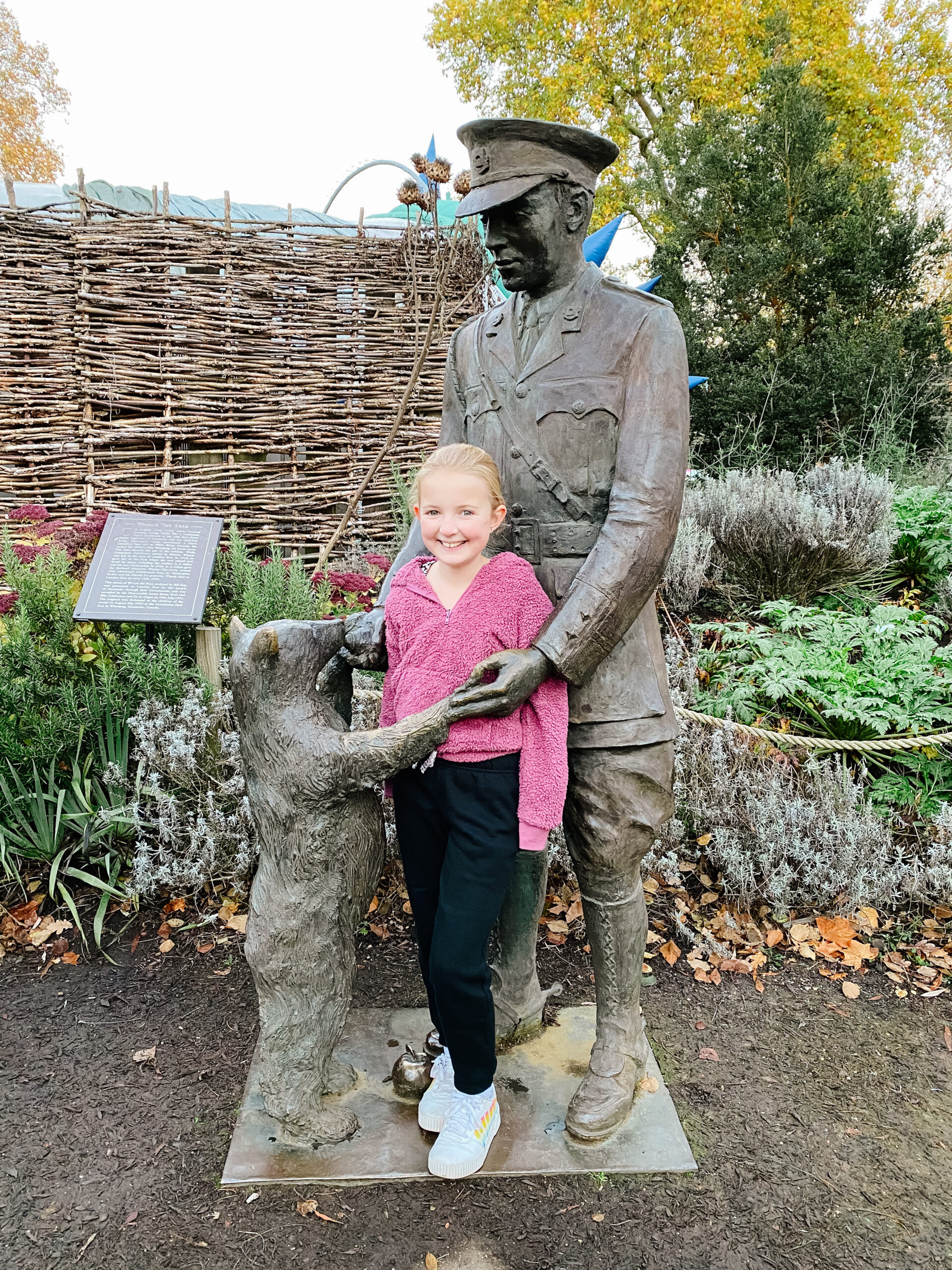 WEDNESDAY
Naturally, I had the worst time falling asleep and then Tally woke us up at 2 a.m., so we were pretty bleary when our alarms went off a bit before six a.m.

We got dressed, finished packing, and ate some breakfast, and then were out the door and on the Heathrow Express by 7:25 and at the airport by 7:45 in time for our 9:55 a.m. flight.
Goodbye London!
Any question about our London itinerary or our favorite things to do in London? Happy to answer – leave them in the comments!
if you liked this post about things to do in london, you might like these other posts: