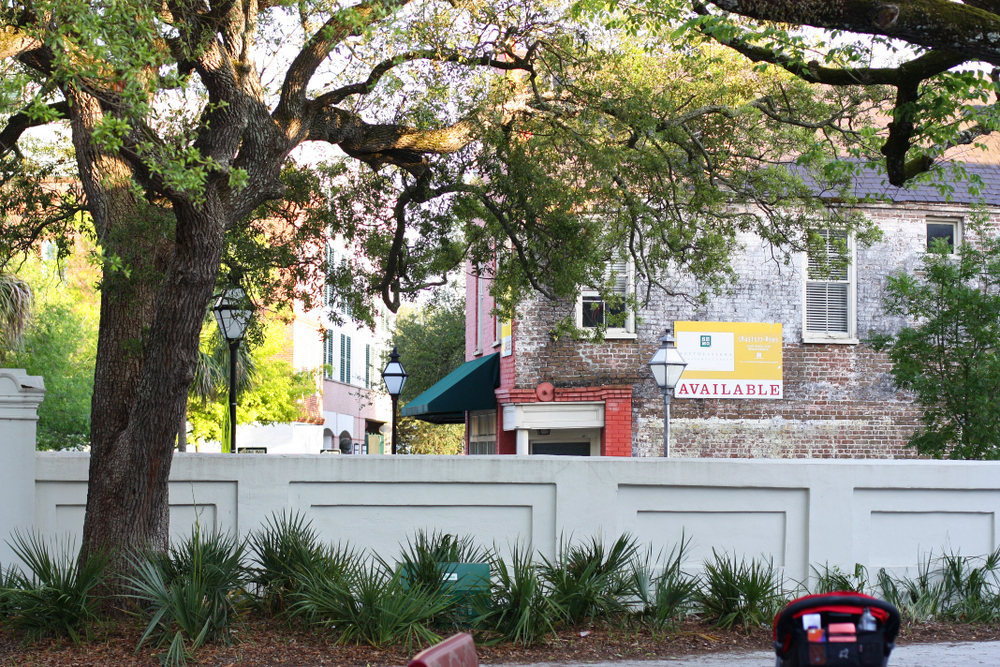 Last week, after the graduation festivities were over (and we'd done some post-Beach-Week laundry), we tossed our children back in their carseats and headed south to meet Merrick and her family in Charleston.
The moment we decided to move to Durham, Charleston was on my list of places we absolutely had to go, so we were happy to tag along on Merrick and Philip's trip. Plus, there was the added bonus that Philip had planned everything, so it was a very low-effort vacation for us.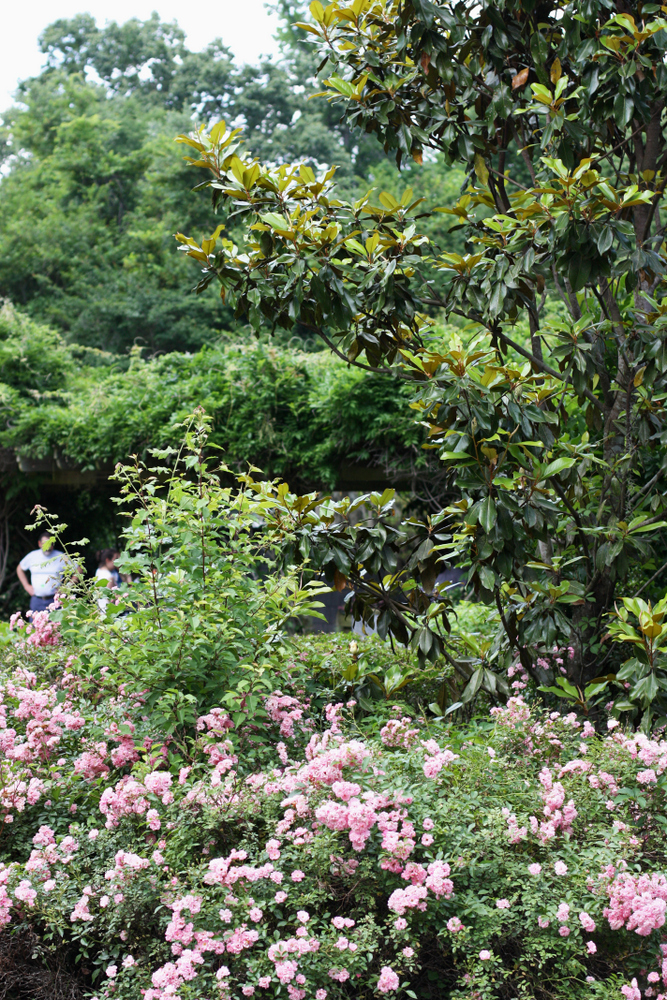 Our first stop was Magnolia Plantation, just outside the city.
It was sweltering hot and humid, so we hopped right on the train for a 45 minute ride around the (huge!) grounds. My girls were over the moon about seeing so many alligators, herons, ducks, and turtles in the swamps and marshes.
When we got off the train by the main house, we did the maze and then headed into the gift shop to enjoy some sweet sweet air conditioning.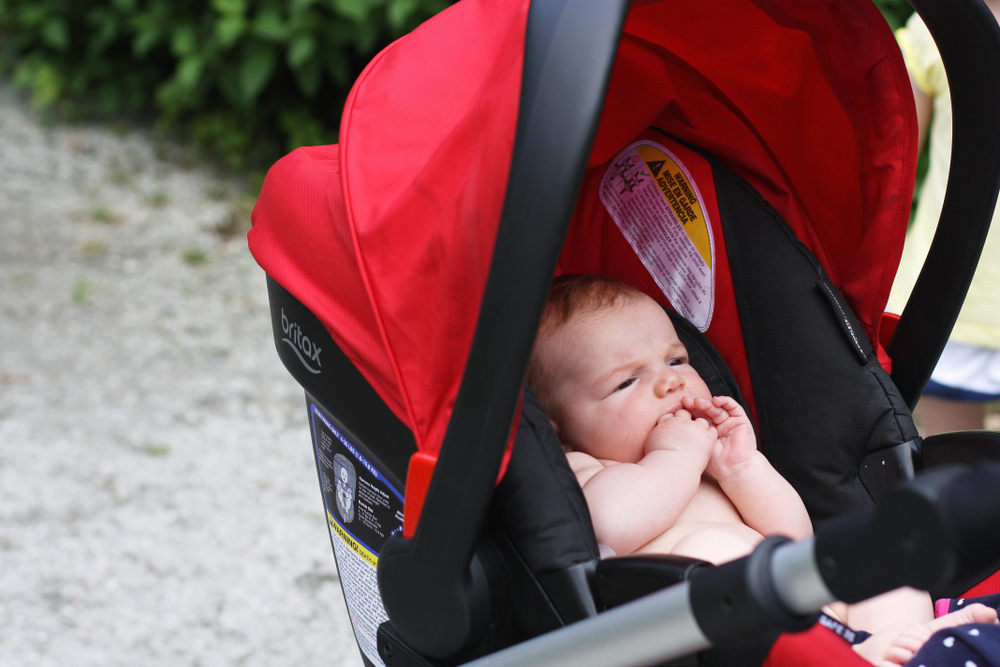 Our last stop was at the petting zoo and not only was it super shady in there, but it was filled with animals just wandering around. My girls were in HEAVEN. They petted deer, goats, pigs, and Ella even fed a dead mouse to a snake with the world's largest pair of tweezers. I actually couldn't watch because that is disgusting.
We finally packed up and drove into downtown Charleston and checked into the Doubletree. My brother-in-law had picked out the hotel and it was perfect. We had a two-level suite which was ideal for putting the girls to bed and being able to still watch a little Once Upon a Time in the evenings. And it was super central, so nothing was too far away.
After we'd unpacked a little, we dropped the two older girls off at Merrick and Philip's room and Bart, Star and I headed off for a little date night. We decided we wanted sushi (hooray for not being pregnant!) and settled on O-Ku. It was a lovely – and warm – walk up to the restaurant and we loved seeing all the charming streets and squares along the way.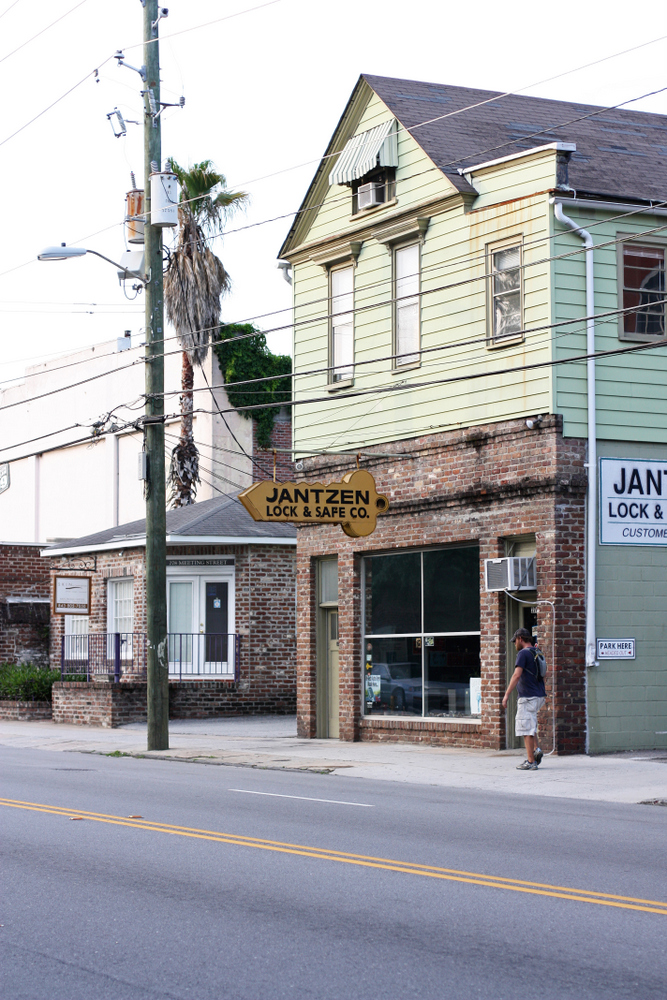 Star fell asleep almost the minute we walked out the door and we enjoyed a fantastic dinner. Our waitress gave us some seriously good suggestions and it was so fun to be out by ourselves (Star doesn't count).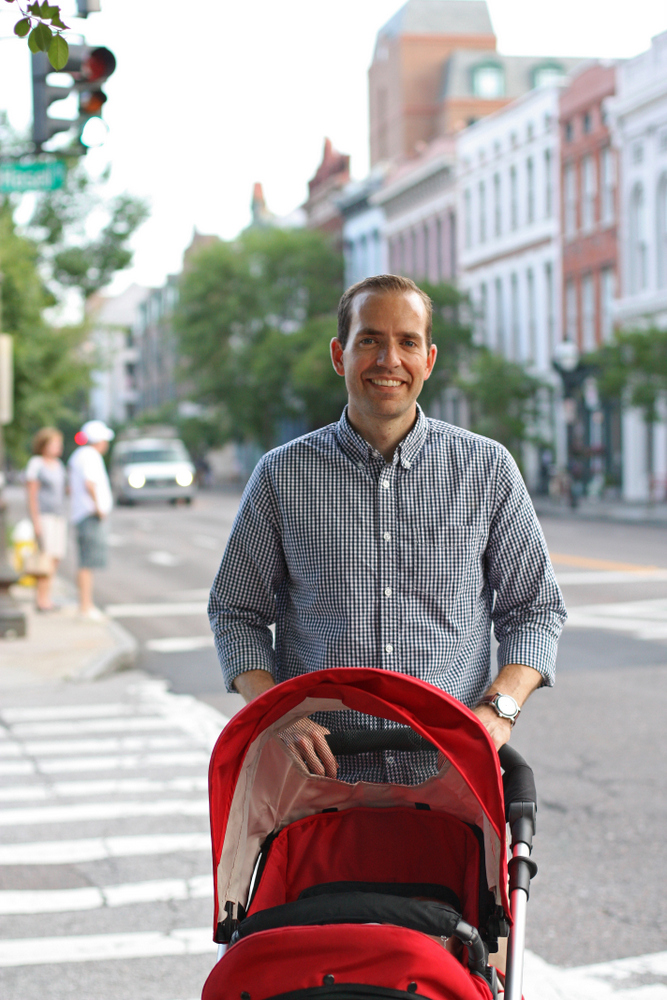 After a beautiful walk home down Broad Street, we picked up the girls and put everyone to bed.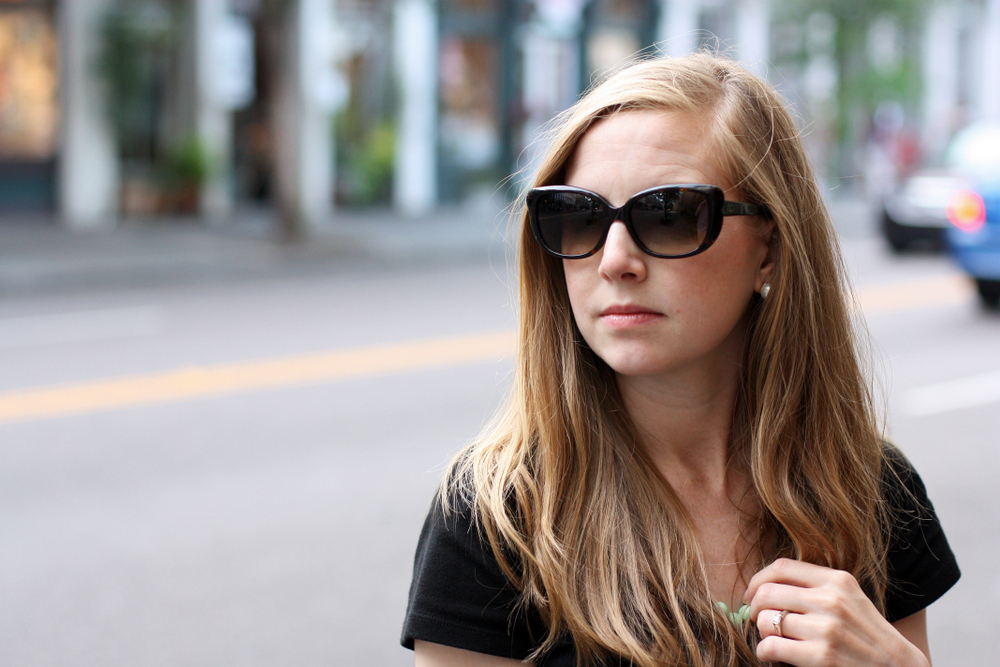 The next morning we got up and headed right out to breakfast at Dixie Supply Bakery Cafe which is basically as fancy as your average 7-Eleven, but had delicious peach and cream cheese stuffed French Toast and also outdoor seating, so no complaints from me. And when I went inside to feed Star, one of the staff brought me over a tiny slice of strawberry cheesecake that was phenomenal.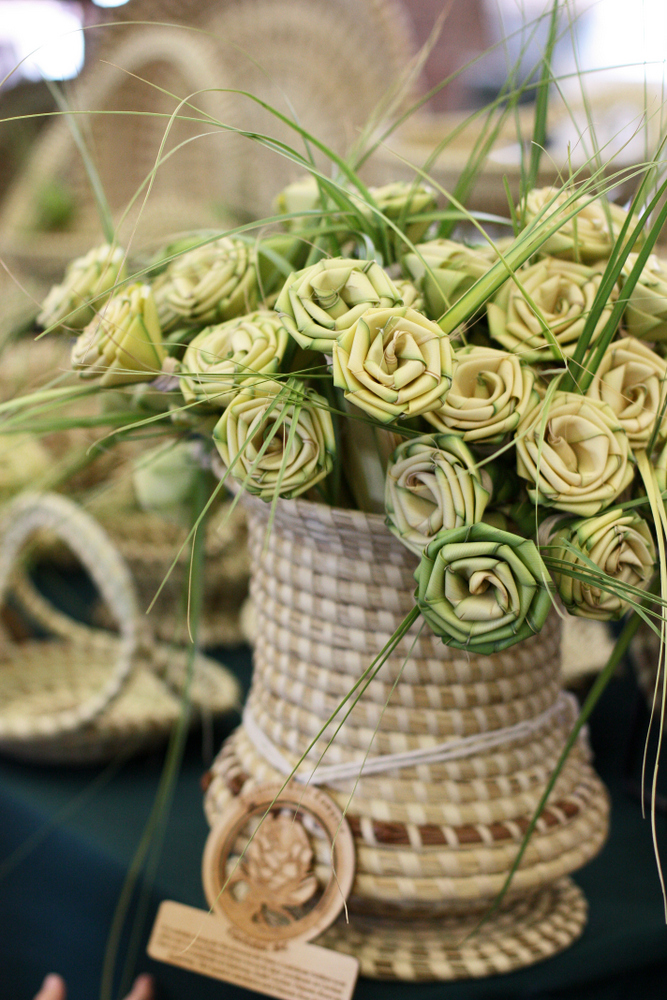 We then walked up through the City Market which was just getting set up (Ella asked, "Is this Goodwill?") and on to Fort Sumter where we met Merrick and Philip and their boys and took the boat over to the fort.
My family was WAY into the Civil War when I was in middle school, so it was really fun to see this place. And the kids loved both the boat ride and being able to climb all over the ruins of the fort.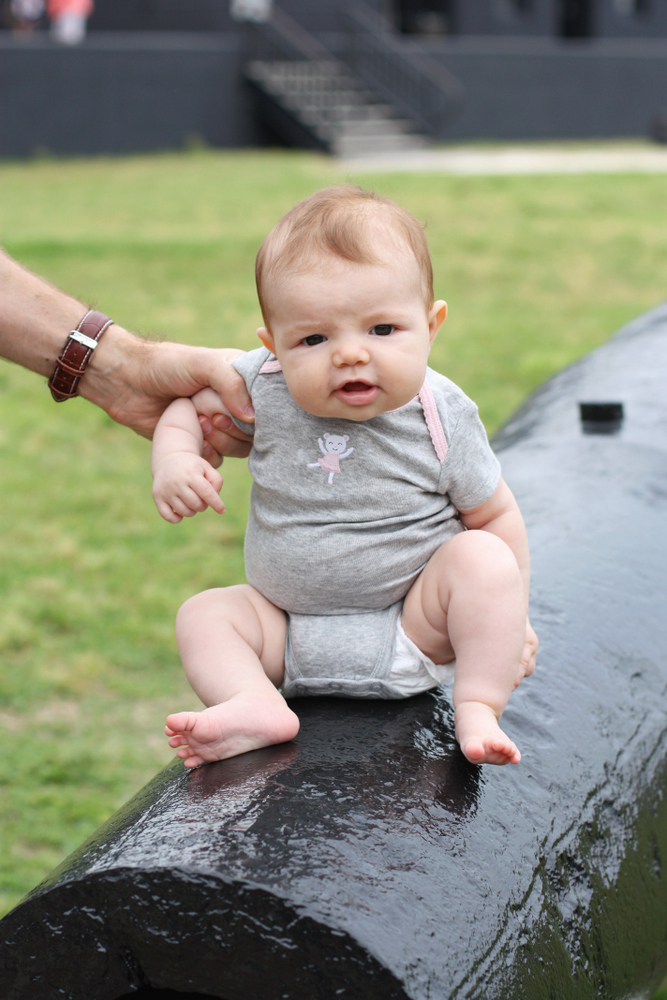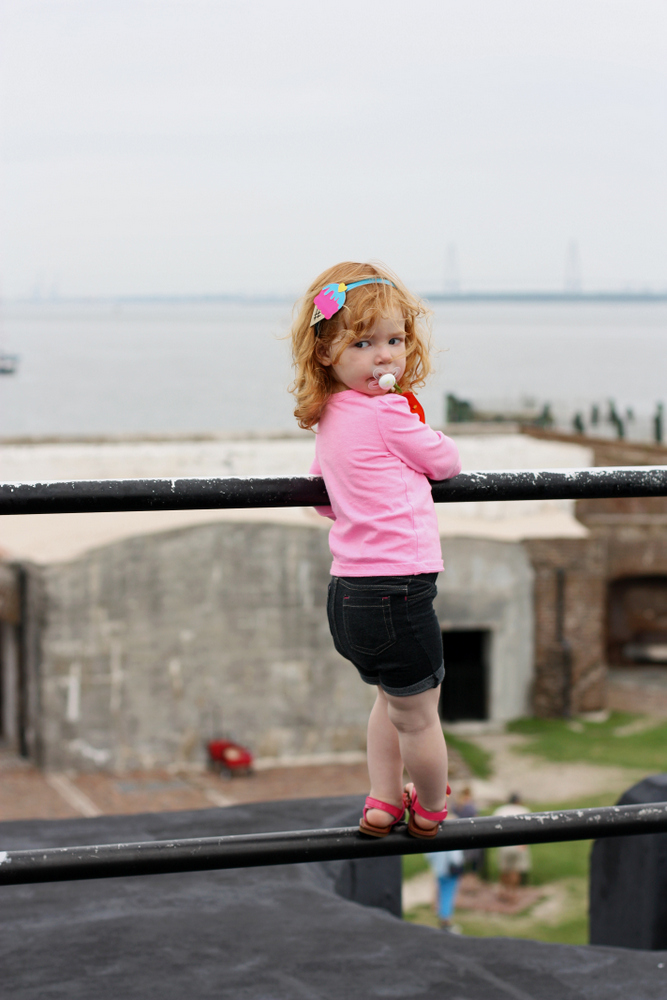 After we returned to Charleston, we walked over to Jestine's Kitchen and waited in line with seven women who had been college roommates in California back in the 60s and now take a vacation (or two!) together every year. We had a great time chatting with them and then enjoyed some seriously good fried chicken. Also, the portions are huge. Bart and I ordered one plate of fried chicken to share and the girls ate the sides of macaroni and cheese. I think with a tip and everything, our entire lunch for four people cost $16. Not bad.
We wandered back to the hotel and the husbands put the two-year-olds down for naps (and each took a nap themselves) while Merrick and I took the four-year-olds and the baby down to Waterfront Park. In Holly's city guide to Charleston, she'd recommended it for kids since they can play in the pineapple fountain and there are big porch swings along the water, and she wasn't wrong. It was delightful.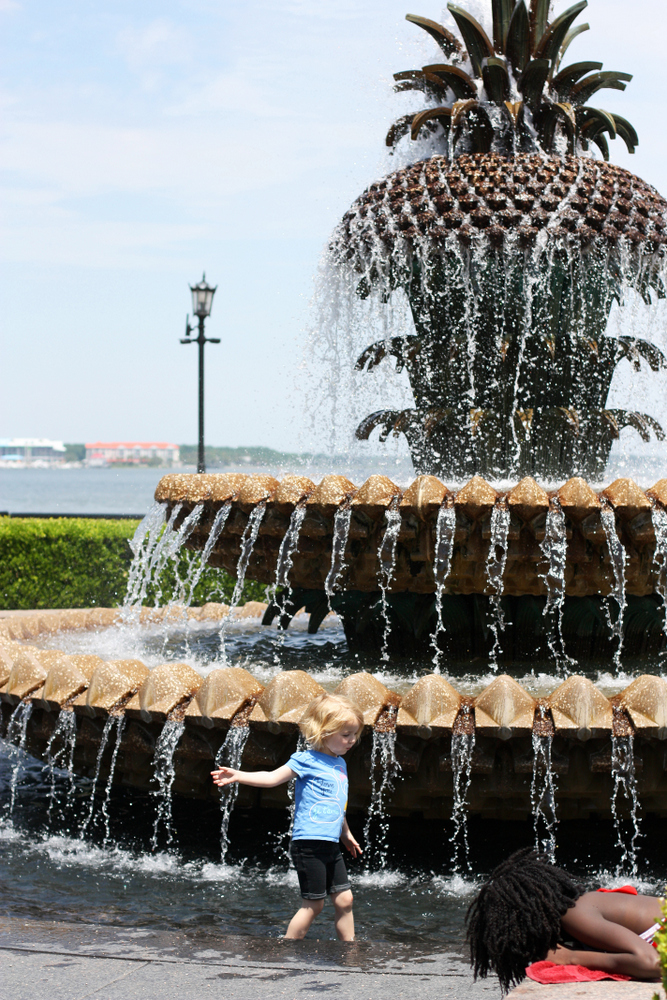 Once the children were thoroughly soaked, we walked up East Bay street to the library, stopping along the way in Charleston Cooks! which is like a hipper version of William-Sonoma. There was a cooking class going on while we were there, and I totally wished I could have joined.
Crabby Ella conked out in the stroller and got a solid 15 minute power nap in before we got to the library. It was really fun (and air conditioned!), with a great bridge entrance to the children's department and plenty of seating, Legos, and toys.
Once we got texts from the husbands saying the two-year-olds were awake, we strolled back through some gorgeous neighborhoods to the hotel.
This was the night for Merrick and Philip to go out to dinner while we kept the five children. Jessica had recommended Cru Cafe in the strongest possible terms, so I called to see if they had tables available.
The guy said, "If you can sit at a bar table and you can be here in ten minutes, we've got a table for you."
So we threw on all the children's shoes and rushed them the two blocks to the restaurant which turned out to be an old converted house and pretty much the cutest place you've ever seen.
You guys. Going to Cru Cafe was the best decision. Even though we were something of a circus with five kids under five, they made us feel so welcome. They recommended a playground for us to check out after dinner, they made special chicken fingers (and dipping sauce!) for the kids, multiple waiters and waitresses stopped by to tell us how well-behaved all these children were, when Star dropped her pacifier on the floor, someone rushed over to take it back to the kitchen to wash it, and when we left, someone helped Bart carry the stroller down the stairs.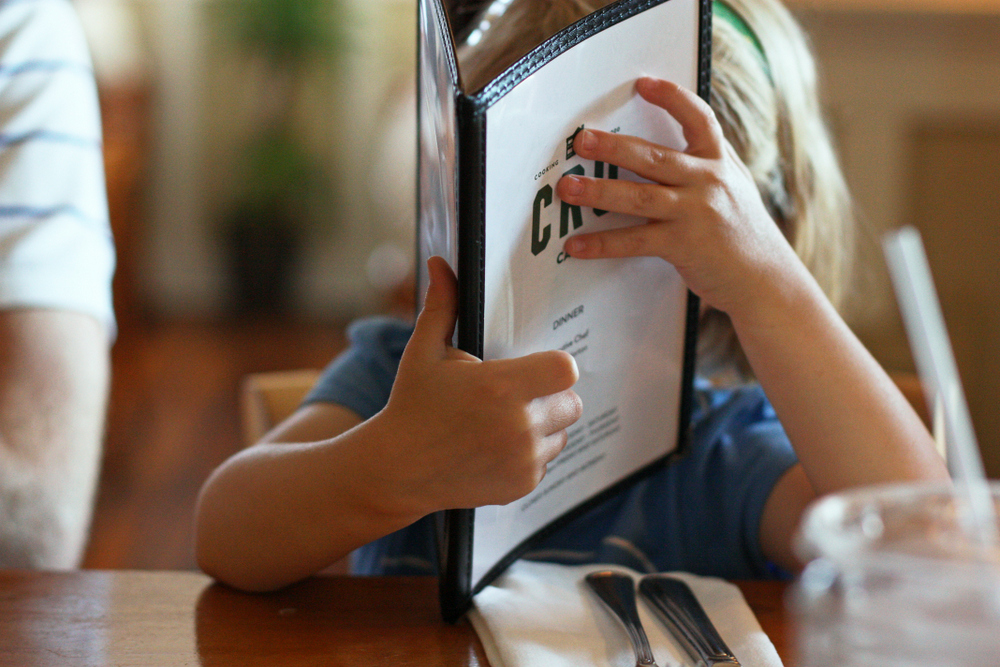 And I haven't even mentioned the food! We got the fried green tomatoes with smoked tomato caramel, sheep feta, and pork belly croutons and then split the swordfish. I would go back there in a heartbeat. If you go to Charleston, you really shouldn't miss it.
Also, as we were finishing up, the seven ladies we'd met at Jestine's came in to eat dinner there. We joked we'd see them at breakfast the next morning too (spoiler: we did not).
We walked over to the playground the staff had recommended, although not before both of the four-year-olds had wiped out and scuffed their knees like crazy. The kids wore themselves out on the play equipment and then we set out to get ice cream.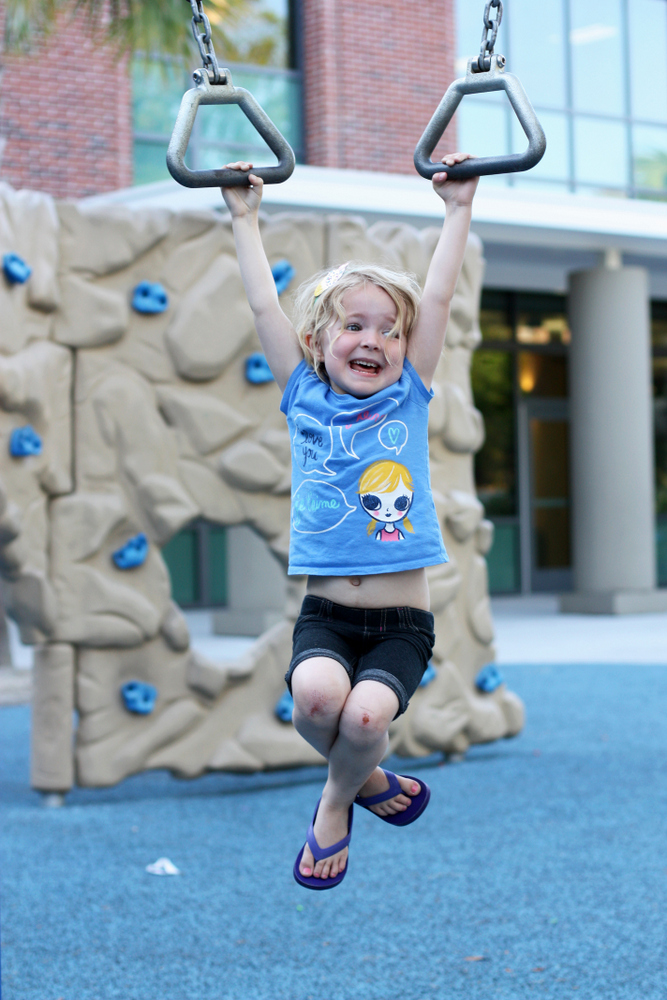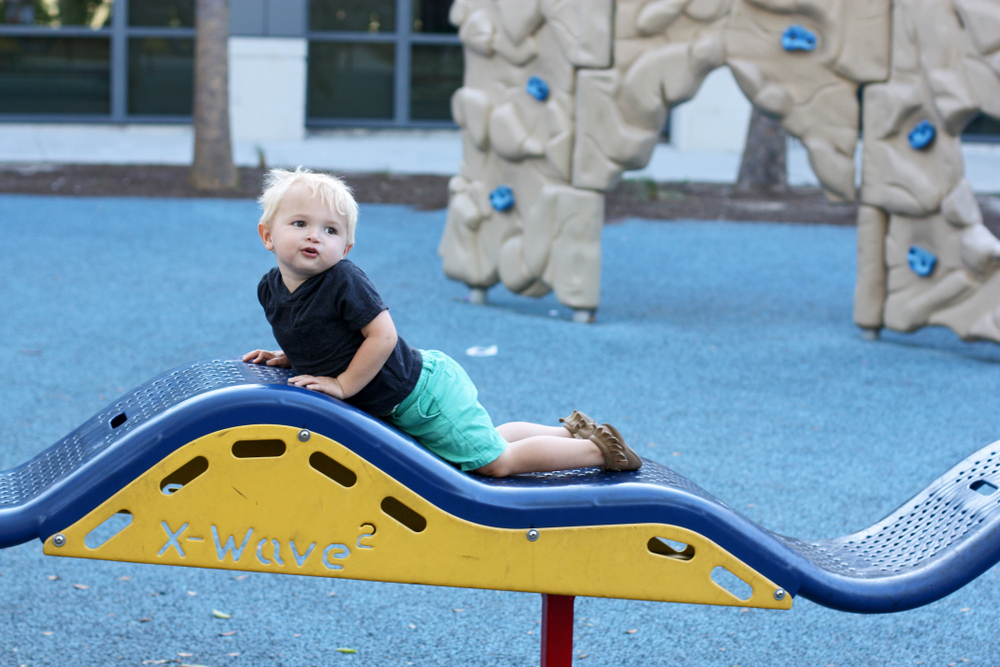 Our first stop was Hyman's General Store, but it had closed just a few minutes before so we ended up going to Harris Teeter instead and letting everyone pick their own tiny ice cream. Let me tell you, getting four small children to select an ice cream flavor and then successfully getting them all to the checkout was a mega-feat. After several mishaps (too many ice creams in the basket, then arriving at the checkout to discover somehow we were on short, plus Ani bursting into tears because it was too cold on her hands), we left the store with the correct number of ice creams. And then Ella fell down AGAIN and skinned her knees for the third time that week.
We made it back to the hotel and sat in the courtyard eating our ice cream until Merrick and Philip returned.
The next morning, we checked out and headed to Hominy Grill for breakfast. Bart got the blueberry pancakes (delicious!) and I had grits with creole beef and a poached egg which was also terrific. Merrick ordered the ginger pumpkin bread which was to-die-for good.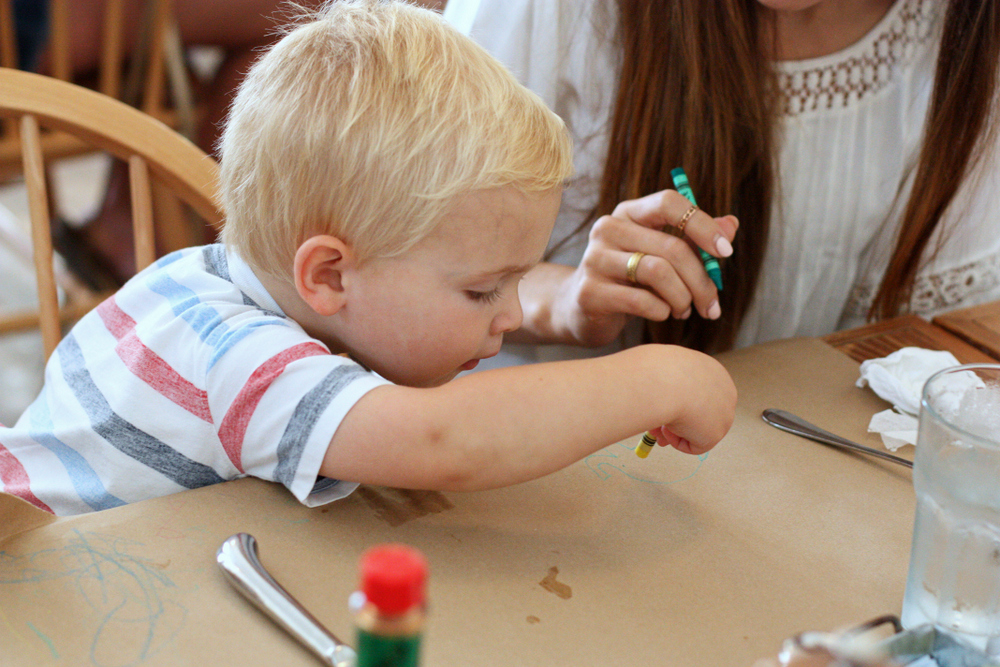 And then, totally stuffed, we waved goodbye to Charleston and headed out.
I completely understand now why people love Charleston so much. It was the MOST gorgeous city, with amazing food, really great shops, and just beautiful streets and houses everywhere you look. I'm wondering if we can squeeze one more trip in before we move.
Except I don't want to drive anywhere for quite some time.
(My only Charleston regret is that Wildflour Pastry only sells their famous sticky buns and cinnamon rolls on Sundays. If you go, eat one for me, please).