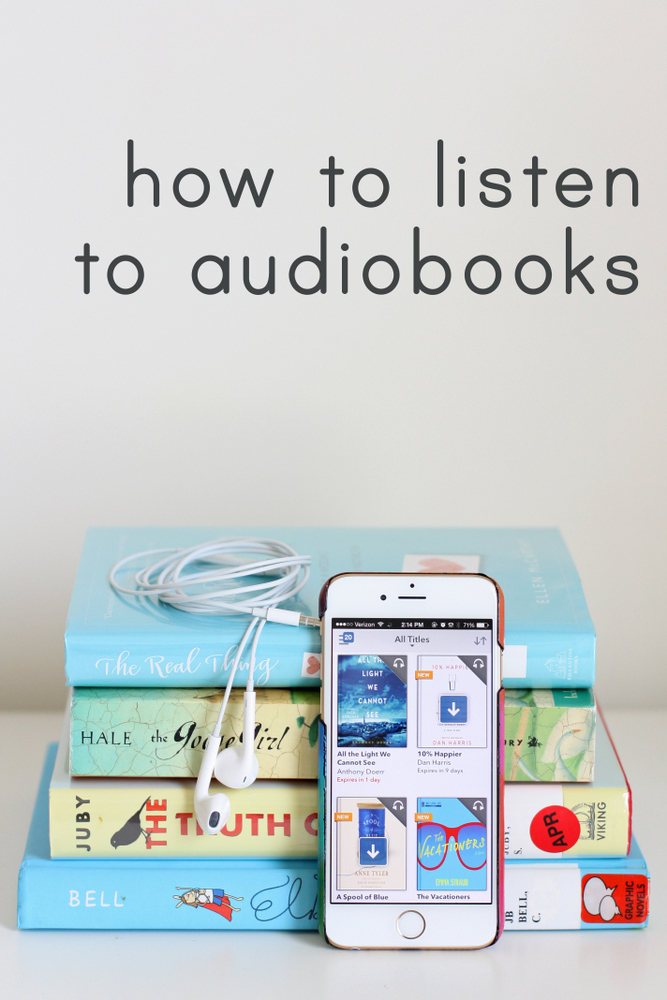 If you've been reading this blog for more than thirty seconds, you know I love audiobooks.
I love that it makes me actually look forward to mindless tasks like dishes or vacuuming or folding laundry and if I ever get to drive anywhere by myself, it's a special treat because I can listen to whatever I'm currently in the middle of.
Also, if you haven't listened to an audiobook in a few decades, you'll be amazed at how good the narration is these days (although, I've definitely been the person sitting at a stoplight with tears running down my face or laughing aloud even though I'm by myself).
Some books are even done with full casts, with each character read by a different actor, sound effects, and an original score. This is not your mother's audiobook.
Because I mention them so frequently, I also get a lot of questions about audiobooks – the mechanics of where to get them, how to find ones, and when to listen.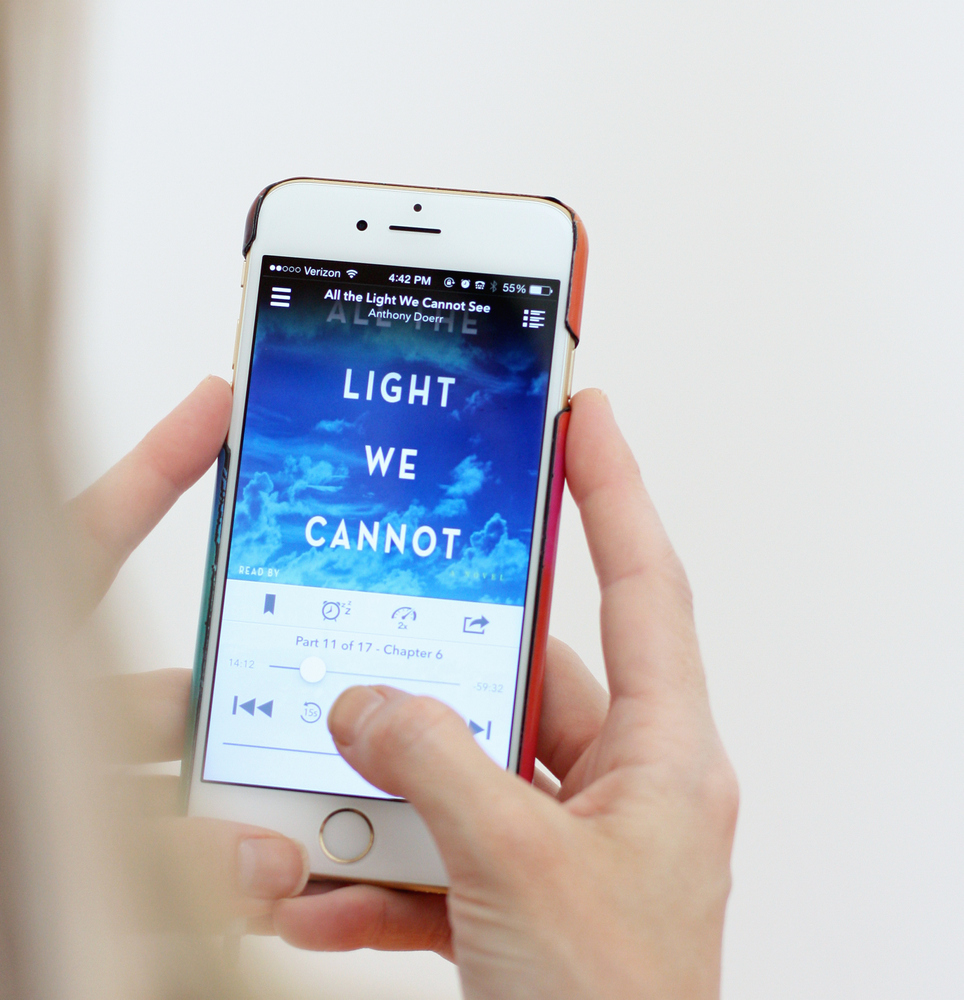 And since I never pass up a chance to talk about them, here's my (very minuscule) wisdom!
how to get started listening to audiobooks
Listening to audiobooks is a skill. When I started listening eight or nine years ago to audiobooks, I could only manage the most gripping and fun books. Non-fiction? No. Anything with more plot than a romantic comedy? Not likely. And that was from someone who spent 17 years being read to on a daily basis by my mom (she kept reading aloud with us all the way until I left home). So if you've tried something before and weren't impressed by audiobooks, give it another shot. Start with something really delightful (or maybe something you've read in print), and work your way up to harder books if you're so inclined, although you'll never get judgement from me about listening to purely fluffy books. Either way, you likely don't want to start with War and Peace. If you need recommendations, here are 25 of my all-time favorite audiobooks.
So where do I find them? Every library system I've belonged to (I currently have ten library cards – one big perk of moving so much) has had a Libby account. How good the collection is varies from library to library, but I've never seen a BAD collection – I've always been able to find things to listen to and if there's something you desperately want, you can ask them to buy it for Libby and they almost always will. Just do a Google search for your library's name and Libby, and it'll probably come right up. You can browse the collection, place holds, make a wishlist, or download them to your computer or device. Plus, all the books are FREE. If you have a smartphone (or an iPod Touch), it's by far the easiest way to listen. You can download them straight to your phone and then listen to them wherever you go. This tutorial for using the Overdrive app will have you up and running in five minutes (I promise – it's so easy). Audible is also a great place to get audiobooks, but they aren't free (although you can get one on a free trial). I also find Audible a great place to browse audiobook options and then go request them on Libby.
When Do I Listen? I listen when I'm doing mindless work (editing photos, doing a DIY project, taking pictures, etc), while I clean (so. . .almost never), if I'm cooking or doing the dishes, or when I'm driving alone.
But I have kids. Right. So that does make it a little harder to squeeze in time when you can stick in your ear buds. I listen during quiet time while I'm working and my girls are safely tucked away in their rooms. I also listen if they're occupied with their own playing while I'm doing dishes or laundry or getting ready in the morning. And I listen a lot in the evenings once they are in bed. I usually listen with earbuds (just the free ones that came with my iPhone) and so I can still hear them if they call for me or if there is a major argument over a puzzle or something equally distressing. When I get ready in the mornings or if they are in bed, I'll just listen without headphones, which I prefer.
I've Heard You Mention Double Speed. Are You Insane? One of the things I didn't like about audiobooks originally was how slow the narrator talked. My mind would wander and I couldn't stay focused. After a couple of years of audiobook listening, I tried double speed and my life was changed forever. For the first couple of minutes, it sounded like Donald Duck reading to me, but your brain is really quick to adjust to the faster speed. Give it five minutes and you'll probably never go back (or start at 1.25 or 1.5 speed).
Any questions? Leave a comment and I'll tell you way more than you want to know, probably – this is one of my very favorite topics.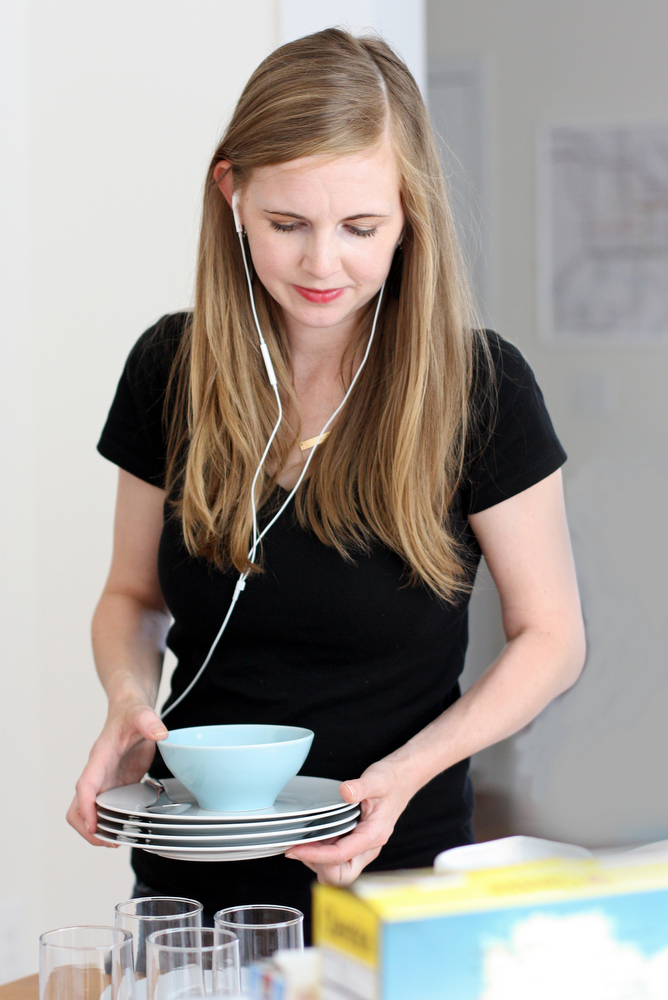 if you liked this post about how to listen to audiobooks, you might also like these other posts: