I love audiobooks with all my heart.
They make folding laundry, going for a run, or making dinner much less tedious.
They keep my children entertained during quiet time or on long drives together.
Basically, this blog is, in large part, a love letter to audiobooks.
I get asked all the time about what audiobooks are particularly good. Whether you're looking for a fiction audiobook with a killer storyline or a non-fiction audiobook that will keep you hooked, these are ten of the very best audiobooks I've listened to over the years (and l've listened to HUNDREDS).
Whether you're new to audiobooks or an old hat, I hope you'll find a new favorite on this list of the best audiobooks I've enjoyed.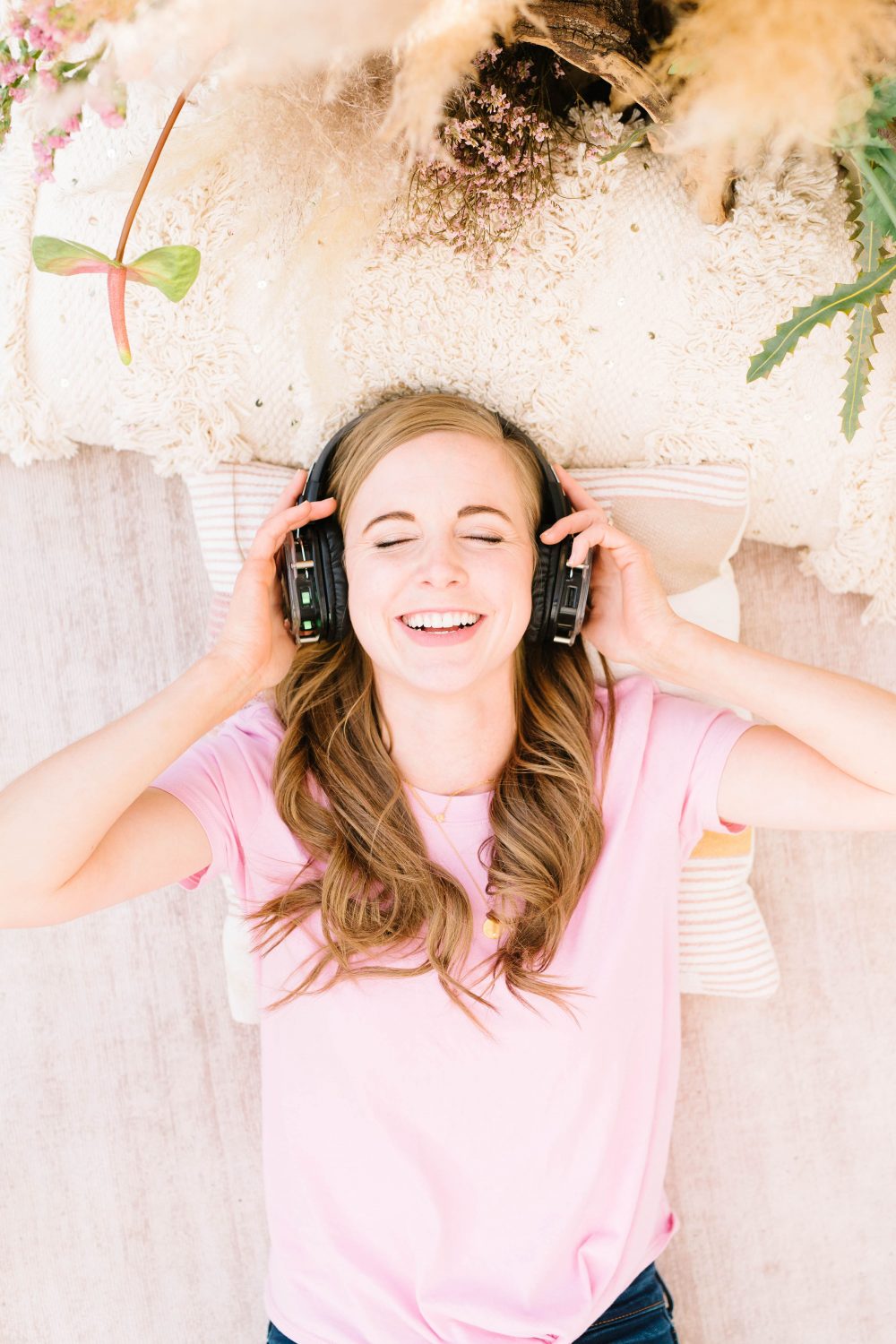 10 of the Best Audiobooks for Grown Ups
My Lady Jane by Cynthia Hand, Brodi Ashton, and Jodi Meadows, narrated by Katherine Kellgren. This is hands down the MOST fun audiobook you can listen to (and the ones I've gotten more positive feedback on than almost any other book I've ever recommended). It's based VERY loosely on the true story of Lady Jane Grey who was Queen of England for a whopping 9 days before she was killed. It's full of laughs and truly ridiculously plot twists and it's probably the most fun I've ever had listening to an audiobook. Also, I am truly obsessed with Katherine Kellgren as a narrator (she also did the whole Bloody Jack series) and I'm devastated by her early death last year from cancer. (Full review here).
Unbroken: A World War II Story of Survival, Resilience, and Redemption by Laura Hillenbrand, narrated by Edward Herrmann. Its been more than six years since I listened to this book and I still remember vividly where I was for certain parts of the book – a grocery store parking lot where I sat for 10 minutes because I couldn't stand to turn it off, folding laundry and thinking it was the best excuse ever to listen to a bit more. This biography of Louis Zamperini, an Olympic runner hopeful whose dreams get put on hold because of WWII and becomes an Air Force pilot, who is shot down during a mission and survives on a life raft for 30 days before becoming a prisoner of war is incredible. Edward Herrmann (the grandfather in Gilmore Girls) is THE perfect narrator – I was absorbed for the entire book. Note that because it's a war and POW account, it has some fairly graphic descriptions of those experiences. (Full review here)
Being Mortal: Medicine and What Matters in the End by Atul Gawande, narrated byRobert Petkoff. You know it's a good audiobook when you listen while driving literally coast-to-coast (North Carolina to California) and you wish for MORE time to listen. This book focuses on the idea that today medicine has huge abilities to fight against disease, but eventually everyone is going to die and how, from a medical and from a personal perspective, the best way to face that reality is. I know that sounds so dull and also depressing, but it's really anything but. I couldn't get enough and I secretly think EVERYONE should read this book. (It has more than 7000 reviews on Amazon with an average of 4.8, so it's not just me who loves this book). (Full review here)
As You Wish: Inconceivable Tales from the Making of The Princess Bride written and narrated by Cary Elwes with Joe Layden. If you grew up with The Princess Bride like I did, there almost can't be a more fun book than this one. I LOVED all the behind-the-scenes about the making of this movie. After I convinced Bart to listen to it too, we watched the movie again and loved it even more, knowing so many funny things about various scenes and actors. Best of all, they managed to get almost the entire original cast to record their stories in the book, so hearing their voices is an extra bonus. (Full review here)
Small Great Things by Jodi Picoult, narrated by Audra McDonald, Cassandra Campbell, and Ari Fliakos. I'll admit that I haven't fully drunk the Jodi Picoult koolaid, but I was completely absorbed by Small Great Things. The story follows Ruth, an African-American labor and delivery nurse, who is the only person present in the hospital nursery when the baby of a White Supremicist couple goes into cardiac arrest and dies. They sue Ruth for the murder of their child and the stage is set for a high-stakes trial. I had NO idea how this was going to play out but I couldn't put it down until I found out. It's also won a bunch of awards for the audio version – it's SO well done. (Full review here)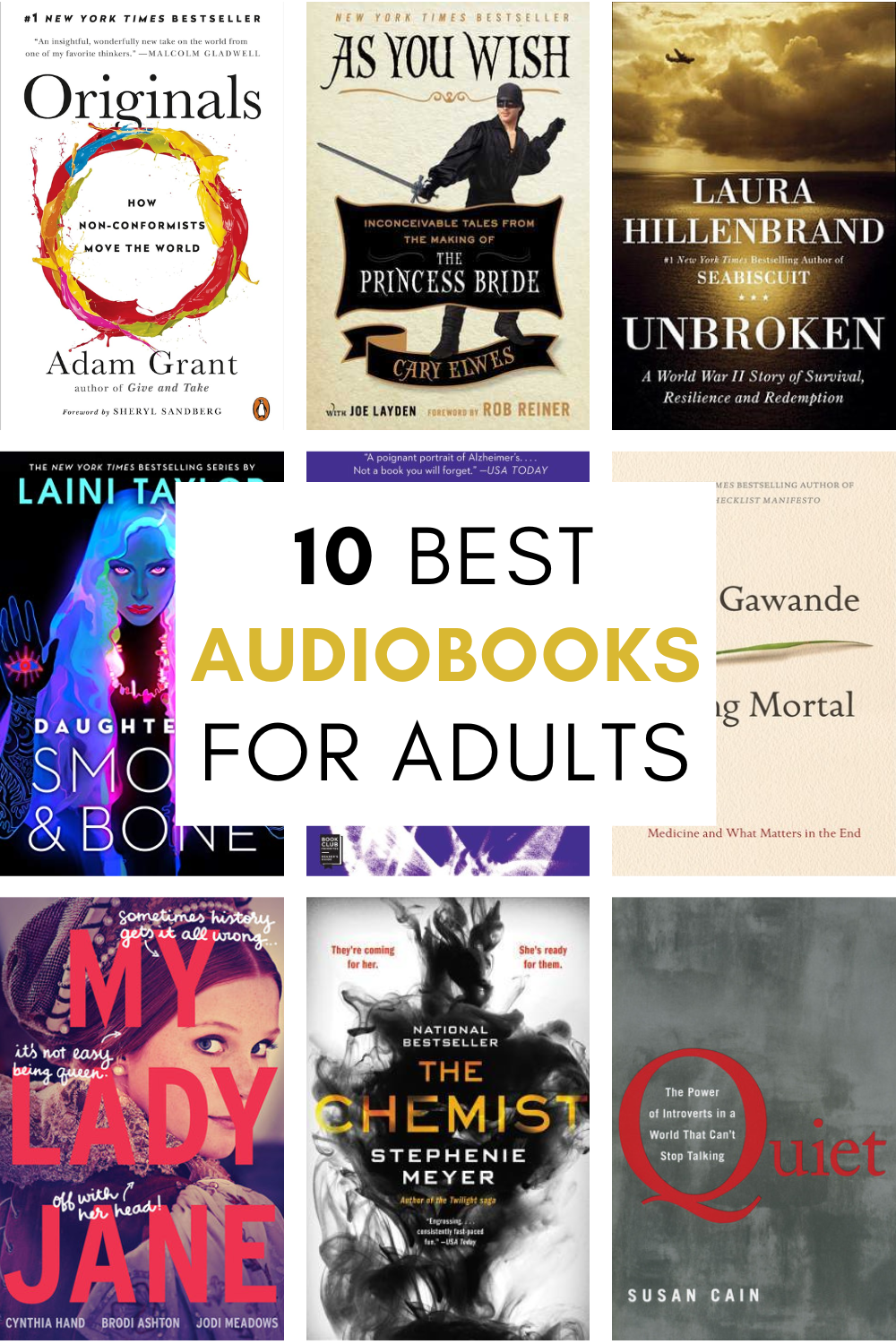 Daughter of Smoke & Bone by Laini Taylor, narrated by Khristine Hvam. Fantasy is generally NOT my go-to genre of choice, but after a million recommendations for this book, I caved and I LOVED IT SO MUCH. It's a totally immersive listening experience and the story, which takes place both in the real world and in a fantasy world, has the BEST world-building. I can't rave enough about this one. (Full review here)
Still Alice written and read by Lisa Genova. If I had to choose ONE audiobook that impacted me most strongly, it might be this one, about a woman with early-onset Alzheimer's. I'm still thinking about it years later and I don't know that there have been many audiobooks where I felt so DEEPLY immersed in the story and the characters. (Full review here)
Originals: How Non-Conformists Move the World by Adam Grant, narrated by Fred Sanders and Susan Denaker. If you're a Malcom Gladwell fan (which I am), this is a book in the same sort of vein and I LOVED it. I especially loved that it ends with practical ideas for implementing these principles into your own life, whether that's as a parent, a business owner, a neighbor, or a student. (Full review here)
Quiet: The Power of Introverts in a World That Can't Stop Talking by Susan Cain, narrated by Kathe Mazur. I am a true introvert and I just soaked up this book about making the most of being an introvert in a world that's in large part run by extroverts. Whether you're an introvert yourself, partnered with one or raising one, this book is so eye-opening and useful. (Full review here)
The Chemist by Stephenie Meyer. This basically feels like a Jason Bourne movie in audiobooks form, with a female interrogation officer for one of the U.S. government agencies. She's known as The Chemist because she uses chemical cocktails to get information out of her subjects, but now she's less worried about her job and more worried about her life because the agency is now trying to kill her. This was just a FUN listen with lots of lauhg-out-loud moments – say what you will about Stephenie Meyer, but she can write some SNAPPY dialogue. (Full review here)
"And if you'd like a printable copy of this list that you can take to your library or screenshot on your phone for easy access, just pop in your email address below and it'll come right to your inbox!
I'd love to hear what YOUR favorite audiobooks are? What's the best audiobook you've ever listened to?
If you liked this post about the best audiobooks for grownups you might like these lists too:
Photo by Heather Mildenstein