5:35 a.m. My alarm goes off and I roll out of bed, grab my workout clothes from the bench at the bottom of the bed and head into the bathroom to get changed. I check my email and look at Instagram while I brush my teeth, then I put in my contacts, pull my hair back into a ponytail and grab my keys and water bottle as I head out the door.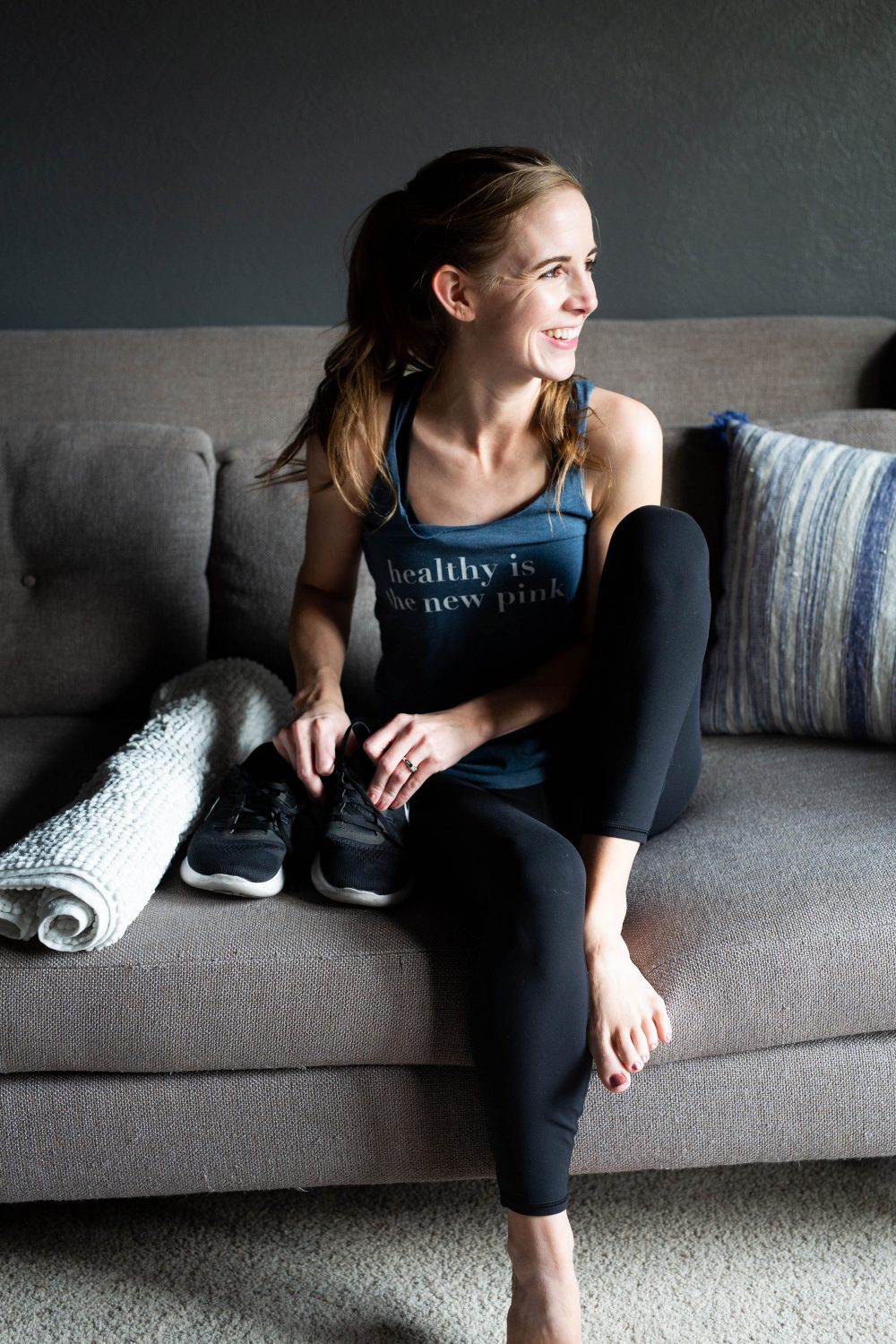 5:51 a.m. I listen to Range on my drive over to the gym and then swipe my card and head upstairs for a RIP class (I have no idea what RIP stands for – something like Range, Intervals and Power, maybe? Basically, it's a weight-lifting and cardio combo class).
7:05 a.m. I put away my equipment and stop by the grocery store to pick up Lemishine, which I forgot in my grocery order yesterday. No way am I dealing with hard-water spots on my dishes for a week. I drive home, squeezing in a few extra minutes of listening to my audiobook.
7:28 a.m. I get home and my key doesn't work in the back door (our front door lock is jammed), so I call Bart and he comes and lets me in. Calling a locksmith was already on my to-do list today but now it's at the TOP of my priority list. I sit down at my desk to write up a few notes for this post so far and the two big girls come up, having just woken up.
7:35 a.m. I take a shower and get dressed. Bart's working on a project on his laptop with the two girls offering him suggestions and I come over and weigh in as well.
8:00 a.m. Bart heads in to shower, while I do my makeup, make the bed, and do my hair. Ella gets herself some breakfast and she and Ani play several giggle-filled rounds of Uno while I finish up.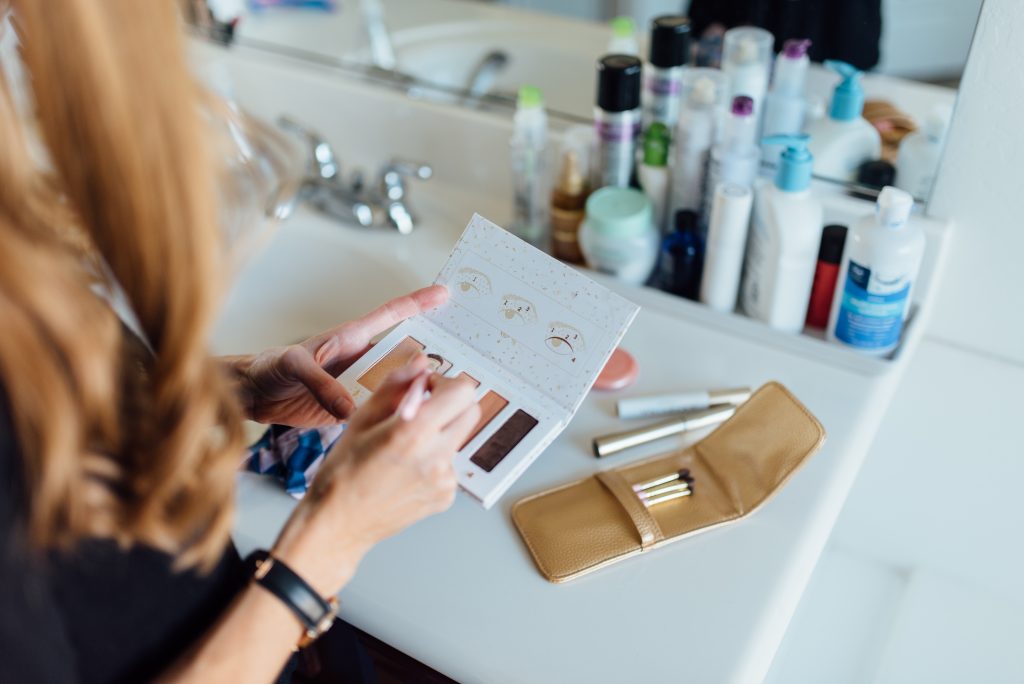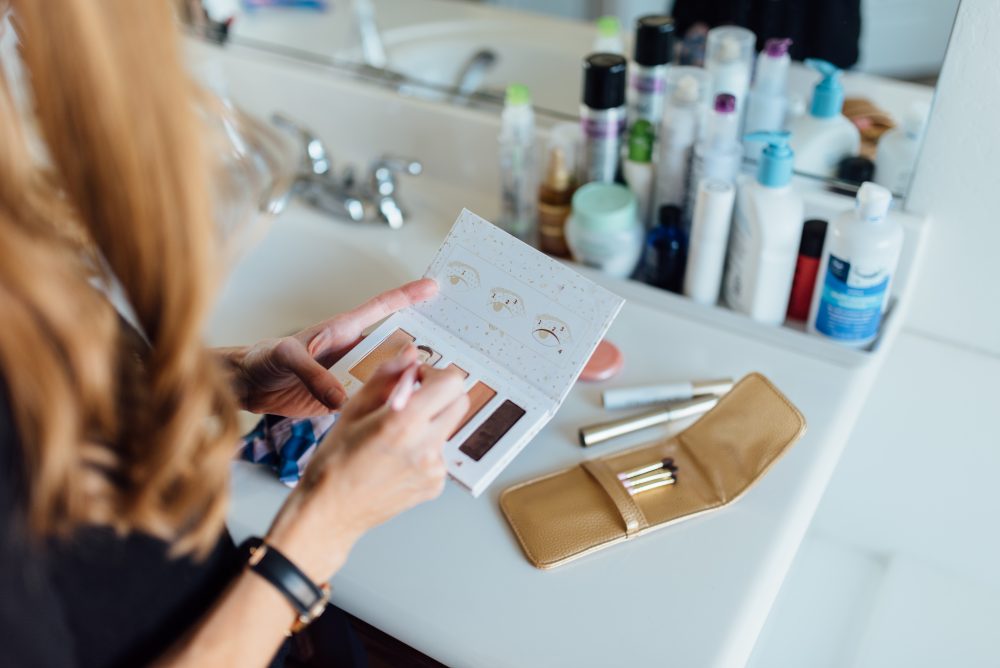 8:20 a.m. Bart comes into the kitchen where I'm starting on my breakfast and we chat for a few minutes about a social media idea while he drinks a protein shake and then heads to work.
8:30 a.m. I start cooking my breakfast and while the vegetables cook, I put dinner in the crockpot and do Ella's hair while they keep playing Uno.
8:55 a.m. Both Star and Tally are still asleep, but happily I look out the window to see that my neighbor is outside so I'm able to run Ella to tennis lessons without having to wake them up.
9:05 a.m. Back home and Star is awake. She gets dressed and eats some breakfast, then she and Ani pull out our photo books from our semester in Europe and flip through those while I finish my breakfast and read my book.
9:30 a.m. I hear Tally talking to herself and go get her out of bed. We snuggle in the rocking chair for a few minutes and then read 4 or 5 books together before I take her out and get her some breakfast.
9:55 a.m. I pack everyone in the car and we pick up Ella at tennis.
10:05 a.m. Back home and everyone heads downstairs to fold the girls' laundry that we didn't get to last night because we went to dinner with some friends. Star is VERY resistant to doing any folding, but I praise the heck out of the other girls for working so quickly and pleasantly and ignore Star's stomping around, and eventually she folds all her laundry and puts it away.
10:40 a.m. We pack lunches for library story time (it's outdoors in the summer) and I get Tally dressed and do the three younger girls' hair. Star freaks out that her jellies are missing and does NOT want wear any other shoes. I finally coax her into the car and bring along a pair of shoes for her.
11:15 a.m. We arrive at the library, set out our blanket under the canopy, then head inside to turn in our books. Star still doesn't want to wear her shoes, but finally acquiesces and we go into the children's department. One of my blog readers is in town and we'd arranged to meet so that I could help her set up Overdrive on her daughter's Kindle Fire Kids Edition so she can listen to audiobooks. Ella helps me get it set up (bless her!) although it still takes some googling because it's been a couple of years since we set ours up.
11:40 a.m. We head upstairs for the weekly craft project and the girls make rocket ships with stickers and paper.
11:55 a.m. Time for story time. We go outside, settle in our blanket and pull out our lunches.
12:45 p.m. We head home, stopping at my sister-in-law's house to pick up the missing shoes, then unpack lunch boxes and put everything in the dishwasher and Ella logs our library activities on the computer.
1:15 p.m. The friends that were supposed to come over are sick and the girls are super bummed. Ella writes a few book reviews for library points in the summer reading app and I read a chapter or two of my book.
1:30 p.m. I change Tally's diaper, read her a book and put her down for a nap.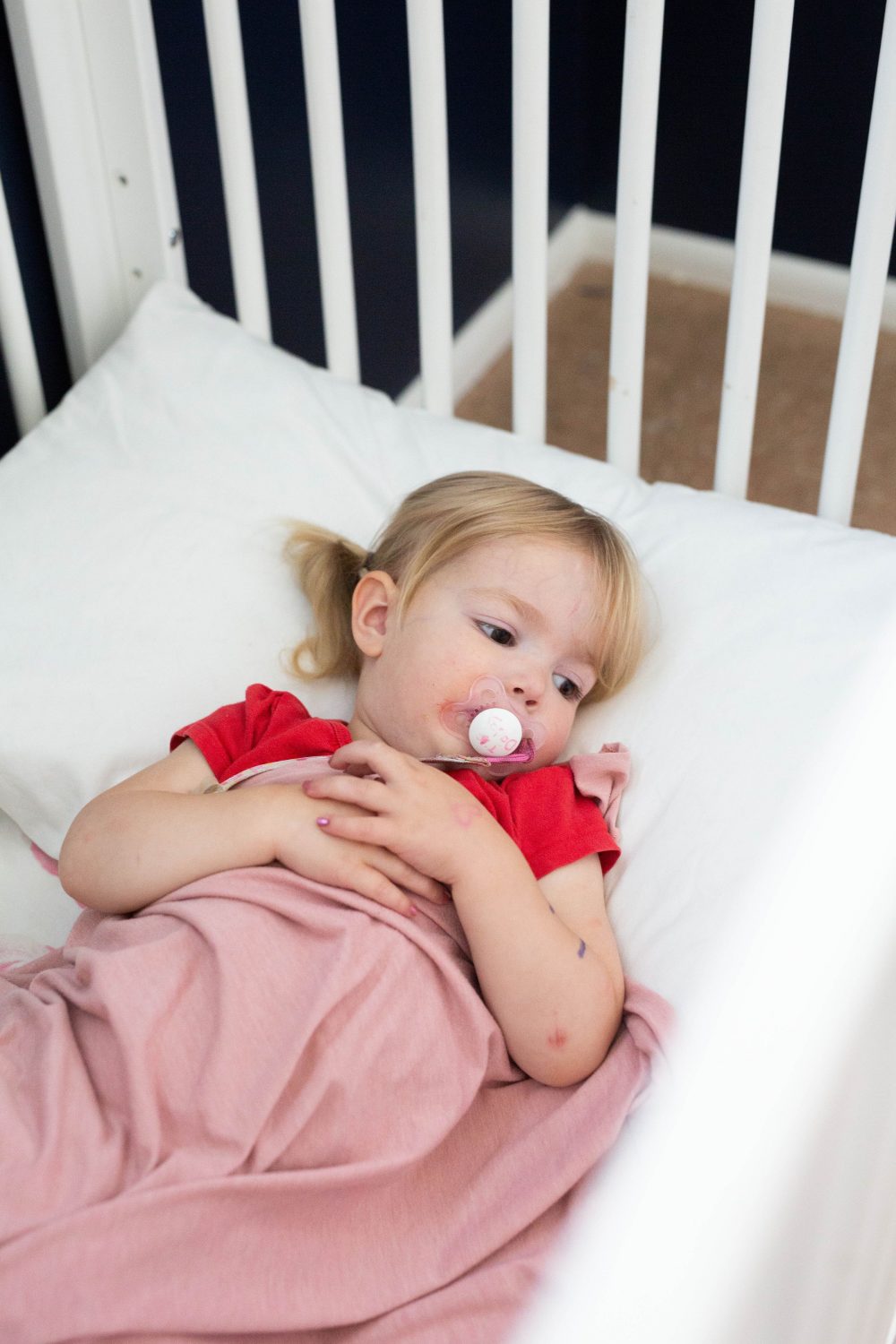 1:45 p.m. I do a couple of Instagram Stories, then call the locksmith to schedule for this afternoon and tie up some water balloons for the girls who have dug them up in the basement and now are filling them in the backyard. I try not to think about the shards of balloons that will be all over my yard.
2:00 p.m. I post on Instagram, respond to comments and DMs, and work on this post for a bit.
2:45 p.m. I finish a book list post for later this week, text my sister for a few minutes, and schedule a time when my photographer can come take some photos for upcoming blog posts.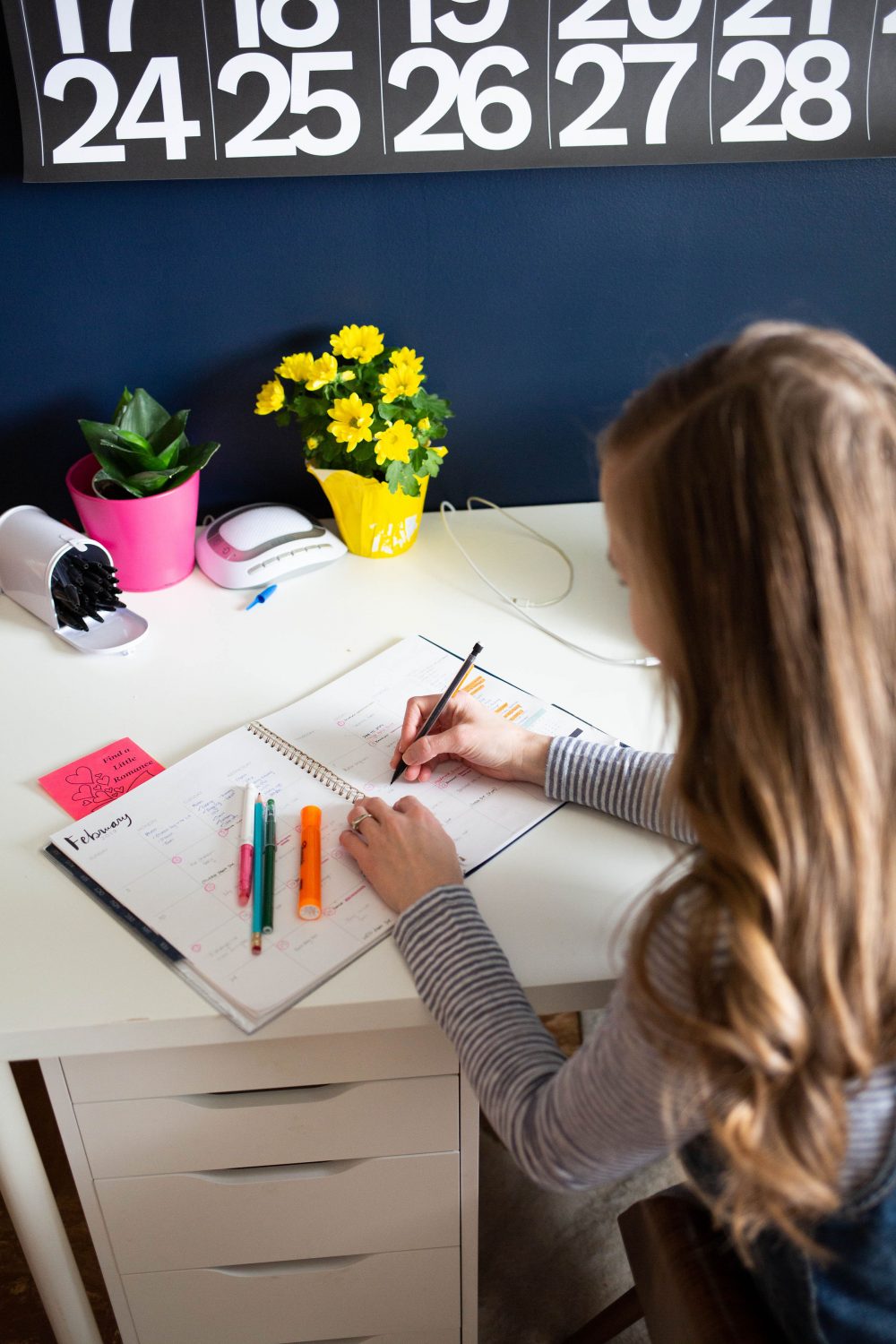 3:15 p.m. The locksmith is here and starts working on the door. A neighbor stops by with some forms for me to sign for a day camp Ella is attending later this week. I look through chair options for Ella and Ani's room. The lock is now working and we're back in business. I pay and the locksmith heads out.
3:40 p.m. I go downstairs to look at a pully system the girls have rigged up at the bottom of their bunk bed so they can pass notes back and forth.
3:45 p.m. Quiet time is done.
4:00 p.m. Tally is awake and I go in to get her and we read a few books in her room before heading out to read some picture books on the living room couch with the rest of the girls.
4:15 p.m. I make a chocolate smoothie for the girls for their snack and they go out to drink them on the back porch while I finish my book in my bedroom.
5:00 p.m. I start making dessert (this cream cheese pound cake) and Tally stands on the stool and helps with the whole thing. Once it's in the oven, the girls unload the dishwasher and we set the table. Ani does NOT want to help and storms down to her bedroom.
5:30 p.m. We open up a new Kiwi Crate and the girls play with it until we need to clean up before Bart's brother and sister-in-law arrive for dinner.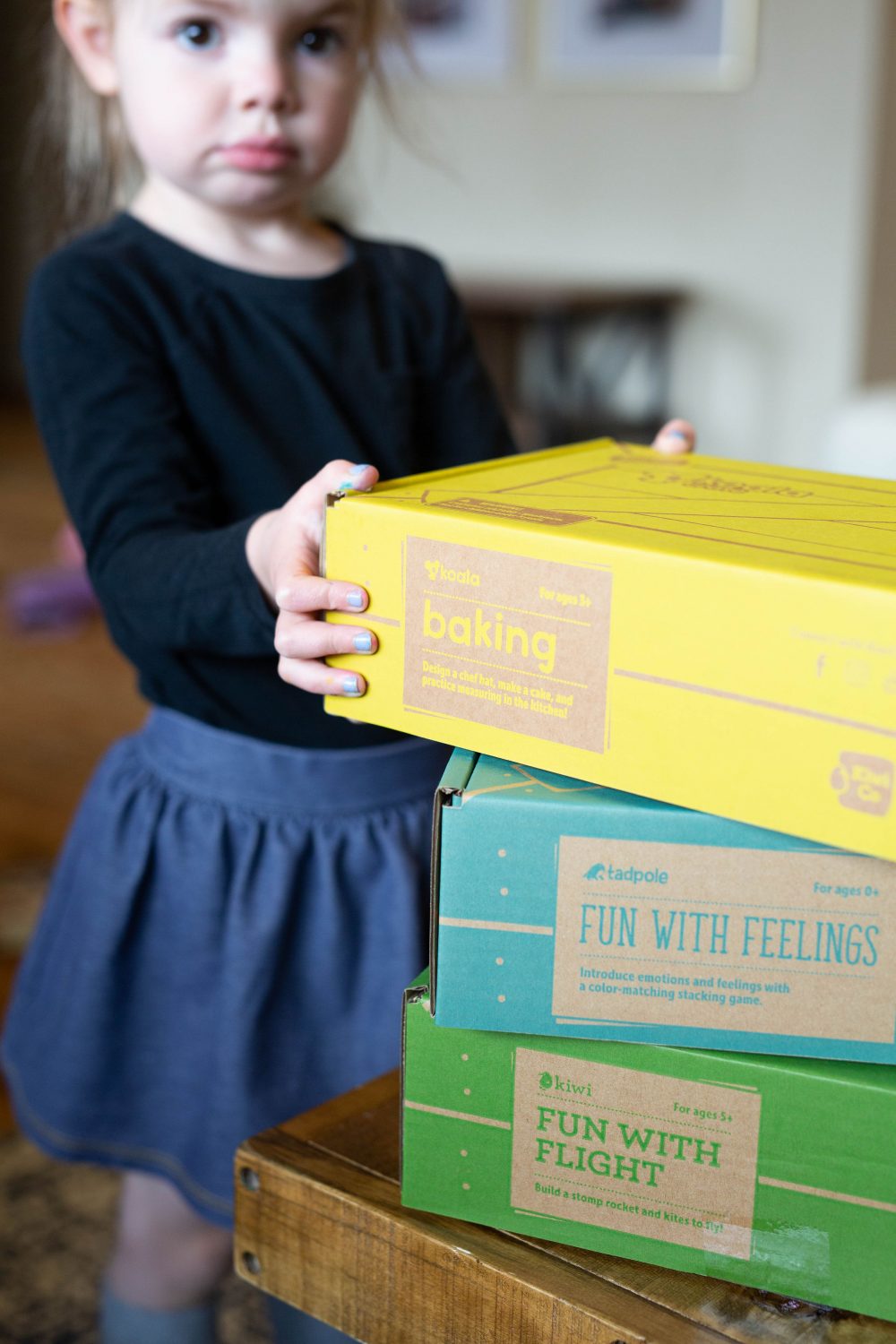 6:10 p.m. Andrew and Natalie arrive for dinner and I grate some cheese for the soup, whip some cream and slice up some strawberries for the pound cake.  Bart's still not home, so I call him and find out he hasn't left the office yet but is now on his way. Andrew and Natalie play Apples to Apples with the girls while I go down and talk to Ani who is pretty much calmed down by now and she comes up and finishes her portion of setting the table.
6:35 p.m. Bart gets home and we sit down for dinner. It's the usual chaos, with the little girls begging to sit on my lap.
7:15 p.m. We clear the table and Bart starts on the dishes while the girls get on their pajamas. Once they're back, we sit back down at the table for dessert.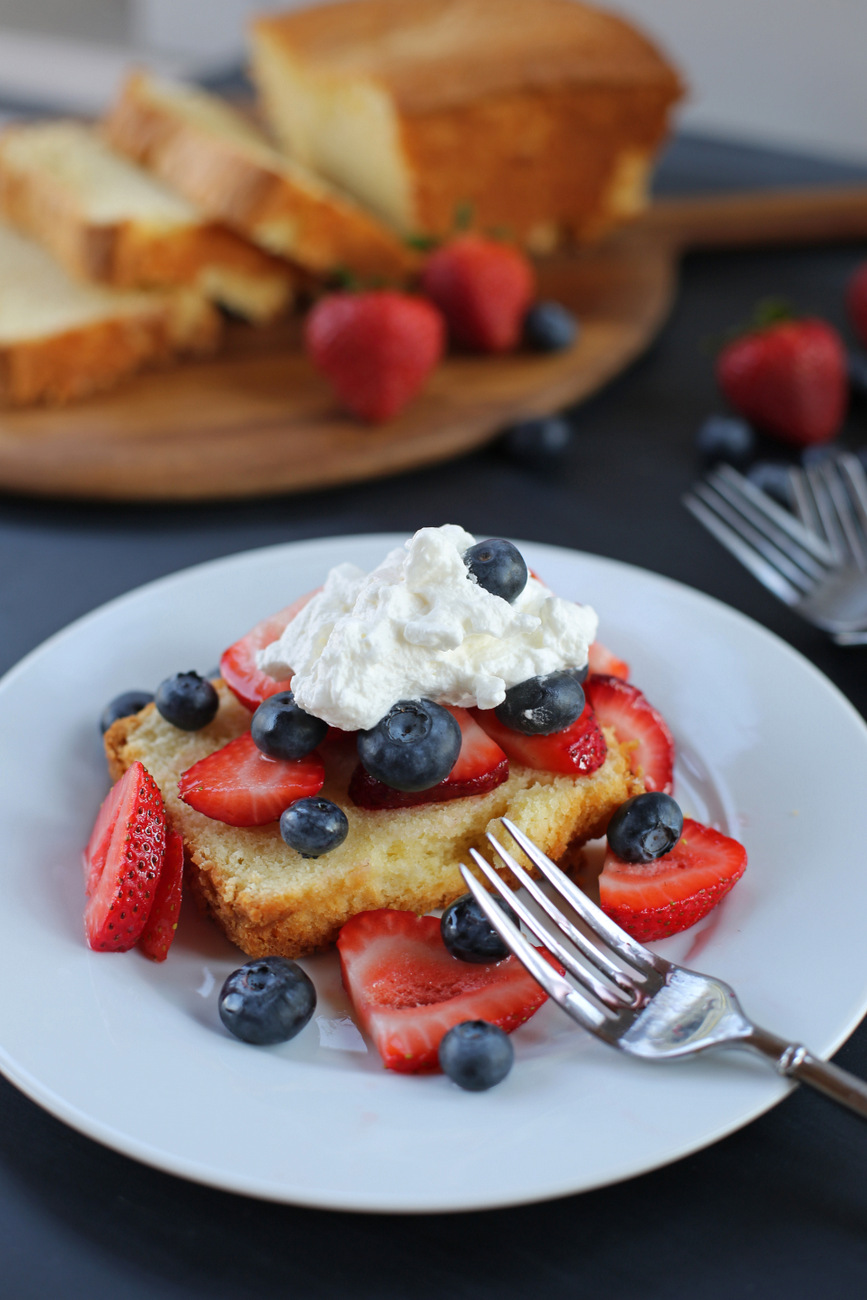 7:45 p.m. After everyone has had enough dessert, Andrew and Natalie head out. We brush the girls' teeth, and I put on my pajamas while Bart changes Tally into jammies. I put Tally to bed and come out to find Bart doing scripture reading with the girls and we finish with family prayer. We clean up the living room and Bart and I finish doing the dishes, then I read with Ani for just a couple of minutes (she's super hyped up and doesn't want to sit still).
8:10 p.m. The girls go to their rooms while Bart takes out the garbage and I get up to date on this post.
8:35 p.m. Bart and I look through about 20 options for chairs for the girls' room and make a decision. He heads into our room to finish a little work and I read some blog posts.
9:25 p.m. Well. . . didn't mean to read blog posts for THAT long. I wash my face and brush my teeth and get into bed and plan for the next day.
9:55 p.m. We should just watch 15 minutes of Covert Affairs.
10:30 p.m. We definitely watched the entire episode.
10:50 p.m. I change my alarm from 6 a.m. to 6:30 a.m., we pray, turn off the lights and turn on the sound machine and go to sleep.
Photos by Heather Mildenstein