This is the ninth Day in the Life post I've done – my first one was back in 2012 when I only had one child and my life looked VERY different.
I love doing these once or twice a year, since it's fun for me to see how different my days are depending on the time of the year (summer is different than a school year day, of course) and as our life changes.
And partnering with Cinnamon Toast Crunch Churros cereal on this edition is basically a dream come true. Cinnamon Toast Crunch has been my favorite cereal for as long as I can remember and we joke that Ella was born 75% Cinnamon Toast Crunch since that's what I ate pretty much my entire pregnancy (with fresh strawberries? Nothing better).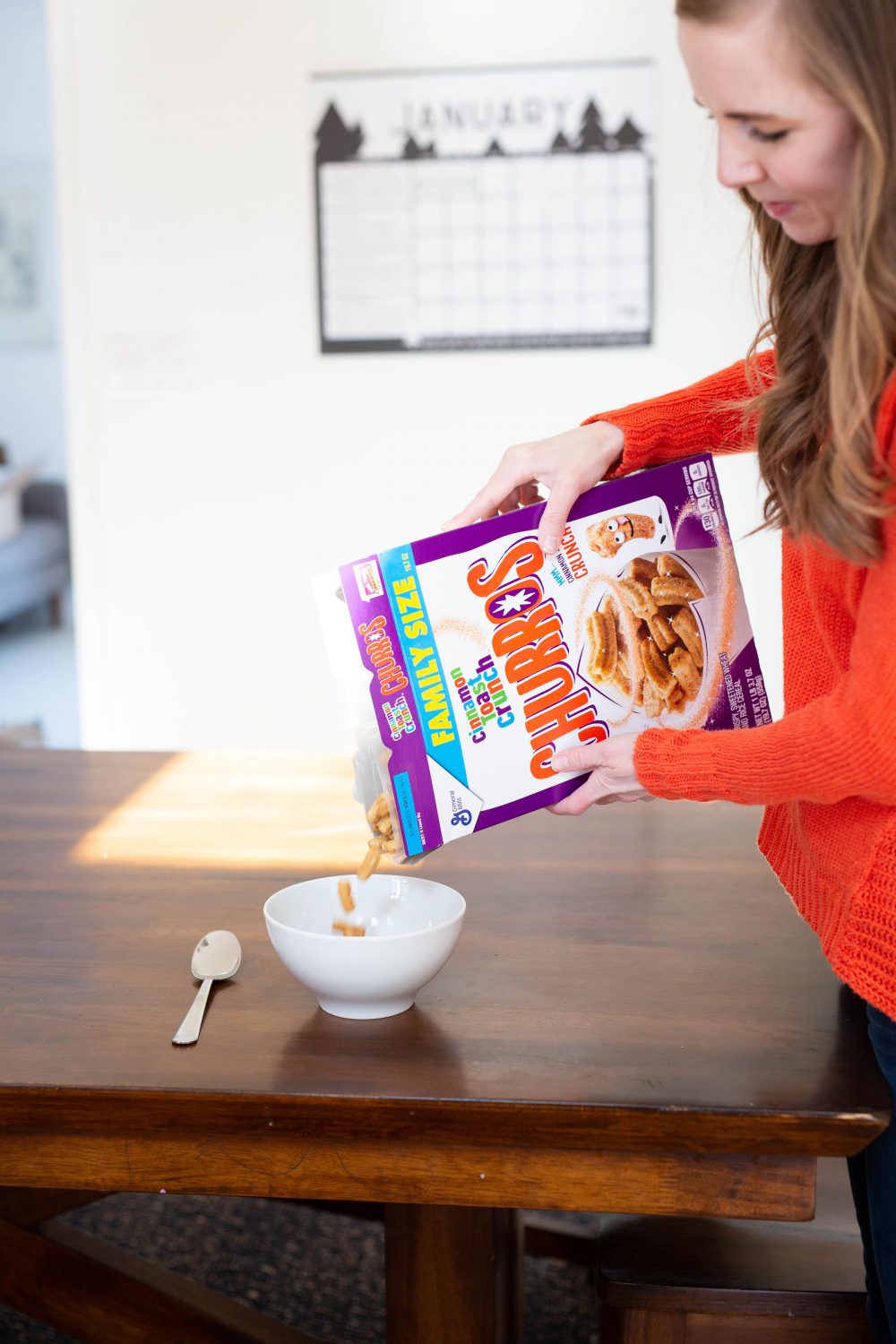 So you know the minute that they announced their NEW Cinnamon Toast Crunch Churros cereal? There was no way I wasn't going to try it. It's available at Walmart, whether you're shopping in the store or using their grocery pickup or grocery delivery service and it is just as good as you'd hope. You can find it at your nearest store here!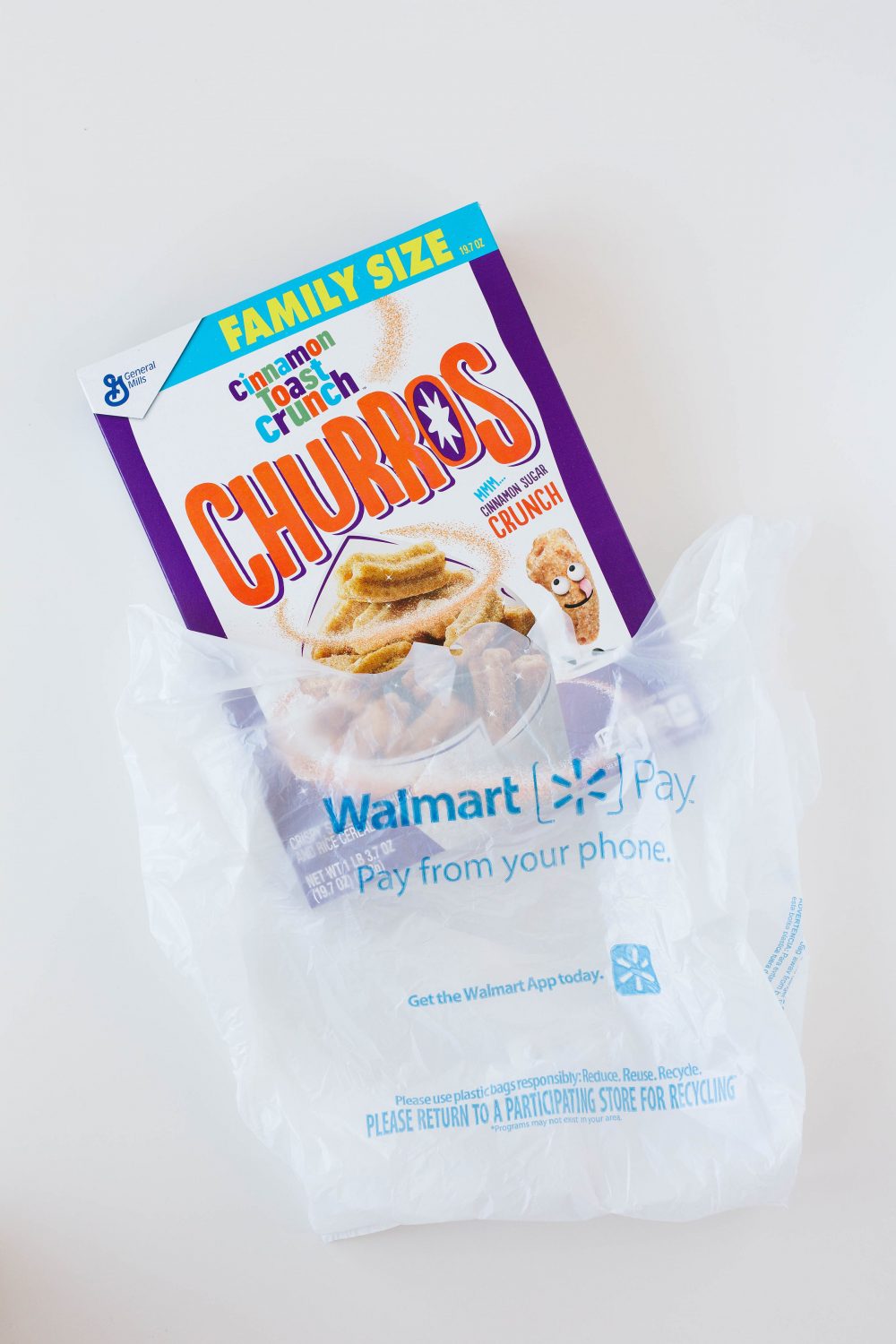 Anyway, here's what a weekday a few weeks ago looked like:
5:35 a.m. My alarm goes off. I'm crazy deeply asleep and it takes me a moment to come out of it. I get dressed in the dark then go into the bathroom to brush my teeth, put my contacts in, put my hair in a ponytail and put my shoes and socks on. And check my email, naturally.
5:46 a.m. I head out the door and drive to the rec center, listening to my audiobook on the way. I swipe my card, and catch one of my friends as we walk upstairs to the studio and wait for the 5:00 a.m. class to finish up.
6:00 a.m. RIP Class (a combination of cardio and strength training) starts. I'm basically dead in 10 seconds.
7:00 a.m. Class is over. I put my mat and weights away, and head home, squeezing in another few minutes of audiobook listening.
7:15 a.m. I come home to find that everyone is still asleep, including Star on the couch. (Apparently when she came in during the night to ask if she could sleep on the couch, Bart couldn't go back to sleep and was up for a couple of hours). I hop in the shower.
7:30 a.m. I do my hair and makeup in my bedroom while Bart and I talk about London Littles.
7:50 a.m. Bart gets in the shower while I start making an egg/sausage/quinoa scramble for breakfast. While those cook, I check to make sure Ella is awake (she is) and then she comes upstairs and packs her lunch while I finish making my eggs.
8:00 a.m. Ella gets her Cinnamon Toast Crunch Churros cereal out of the kitchen drawer while I help Star, who just woke up, get dressed, then do Ella's hair while she eats.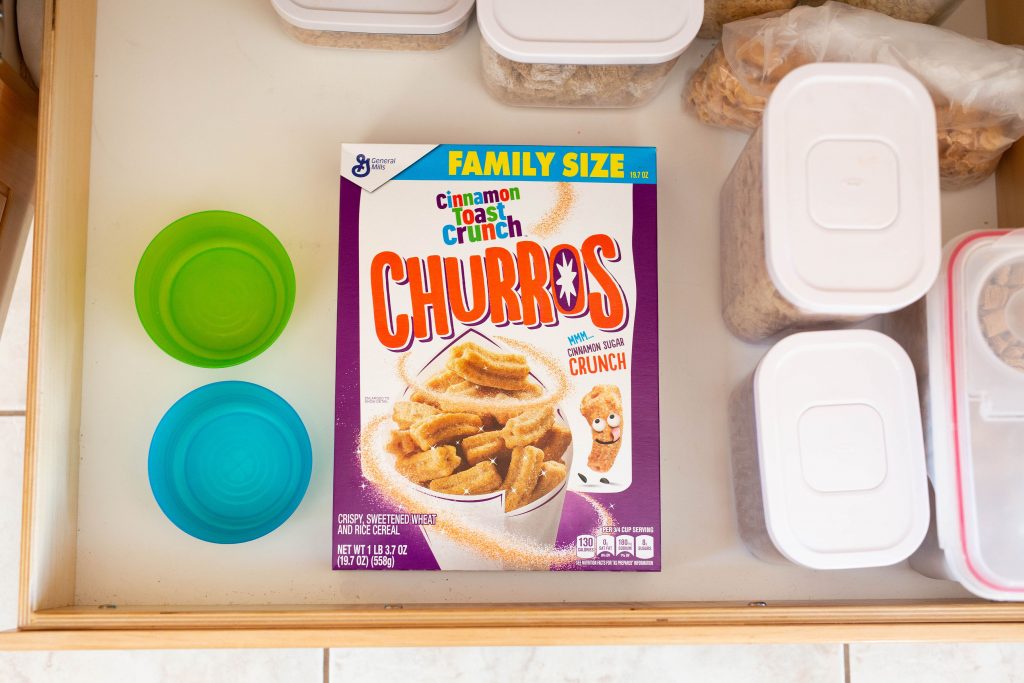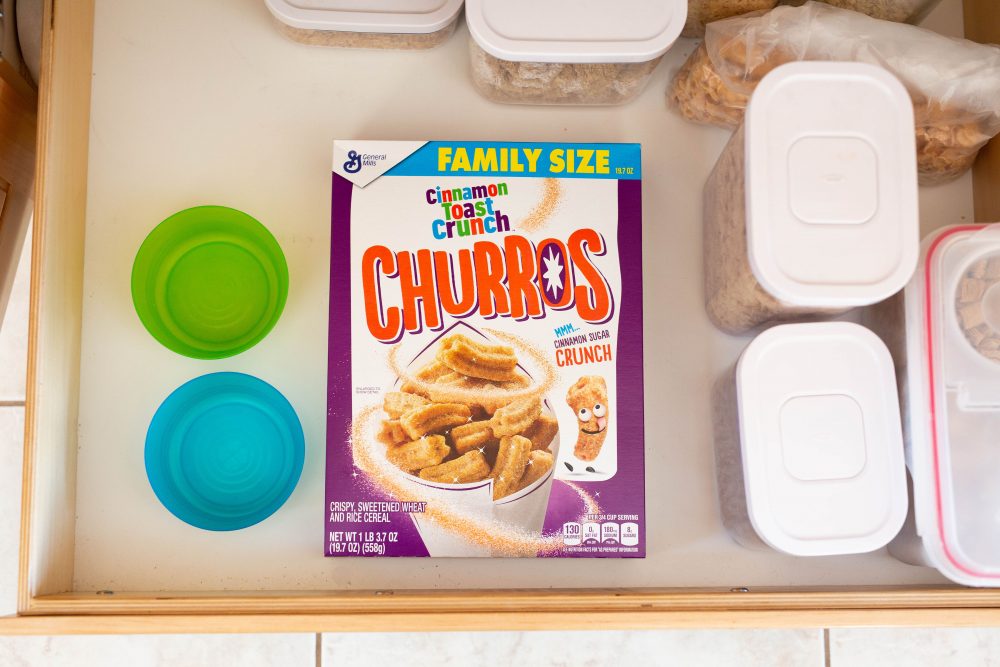 8:10 a.m. I sit down to eat my breakfast and Ella reads aloud to me while I finish. When I'm done, I take over the reading aloud until Bart is ready to take her to school.
8:25 a.m. Bart gets Tally out of bed before he and Ella head out, and I get her dressed.
8:30 a.m. Our babysitter arrives and I quickly do both Star and Tally's hair while they watch about three minutes of a show. I shut off the show, put away the hair stuff and head into my office.
8:35 a.m. I post to Instagram and share the day's post on Instastories, then schedule a time with my photographer for when we can get together.
9:05 a.m. Ani comes into my office. She's just woken up and is quite distraught. We snuggle for a few minutes and then I tuck her in to the big chair in my office. I send a couple of emails and then work on this post for about 15 minutes.
9:30 a.m. Ani asks if she still looks like she's been crying and when I tell her no, she heads out to have some breakfast and play with the babysitter and her sisters. I write a book review and schedule it.
10:05 a.m. Book review done. I send a couple of emails and start working on another post.
10:45 a.m. I work on London Littles, answering emails and responding on Instagram.
11:35 a.m. Star comes in completely beside herself because she and Ani are arguing over a kitchen chair (note that all of our eight chairs are COMPLETELY IDENTICAL). I snuggle her for a few minutes until the babysitter convinces her to come back out and she'll show her how to make bunnies out of apples.
11:40 a.m. Last push before my babysitter leaves – I quickly respond to some emails.
12:00 p.m. My babysitter stays a few extra minutes so I can run down the street and pick up my nephew from preschool for my sister-in-law.
12:05 p.m. The babysitter leaves and the girls get their shoes on. Ani insists she does NOT want to go to school today, so I tell her she still needs to come with us to drop off my nephew and Star who is going over to play with him. In the car, she decides, fine, she'll go to school.
12:20 p.m. I drop off the two preschoolers at my sister-in-law's house, while Tally cries because she doesn't get to go. I try singing to her, but she insists "NO SONGS!"
12:30 p.m. I get home just in time for my Walmart grocery delivery (you guys, their grocery delivery has SAVED my life over the past four months) and Tally enjoys helping me put everything away, carefully pulling groceries out of the Walmart bags and bringing them to me to put in the fridge or pantry.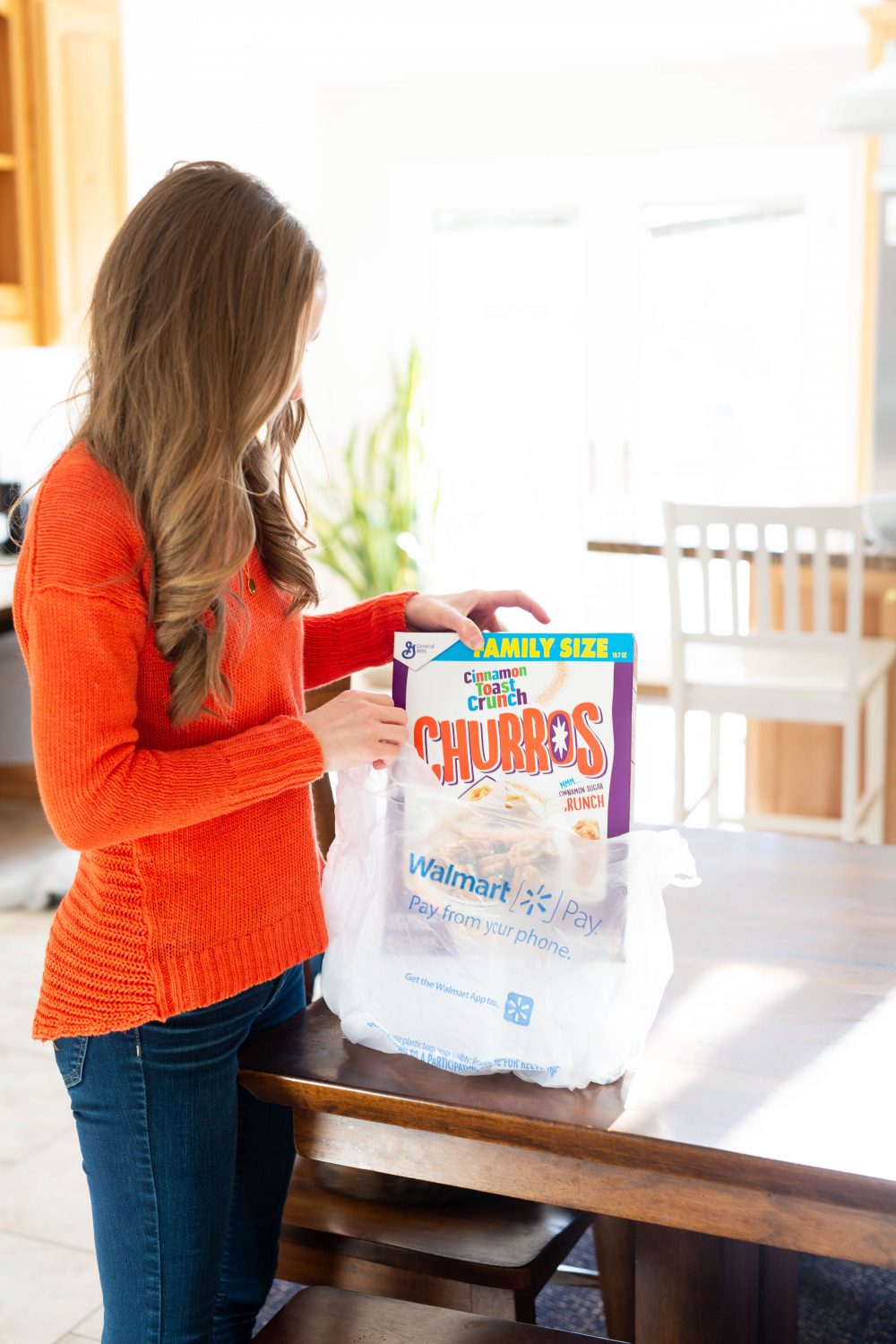 12:50 p.m. We read some books together and then I put her into bed for a nap, then pop some chicken in the oven to cook for a soup I'm making for dinner tonight.
1:00 p.m. I respond to a whole new pile of emails and texts, do some Instagram Stories about audiobooks, and update this post.
1:40 p.m. I should probably eat something. Because I have a big breakfast, I'm usually not in the mood for a full-on lunch and cereal is one of my go-tos. A bowl of Cinnamon Toast Crunch Churros hits the spot.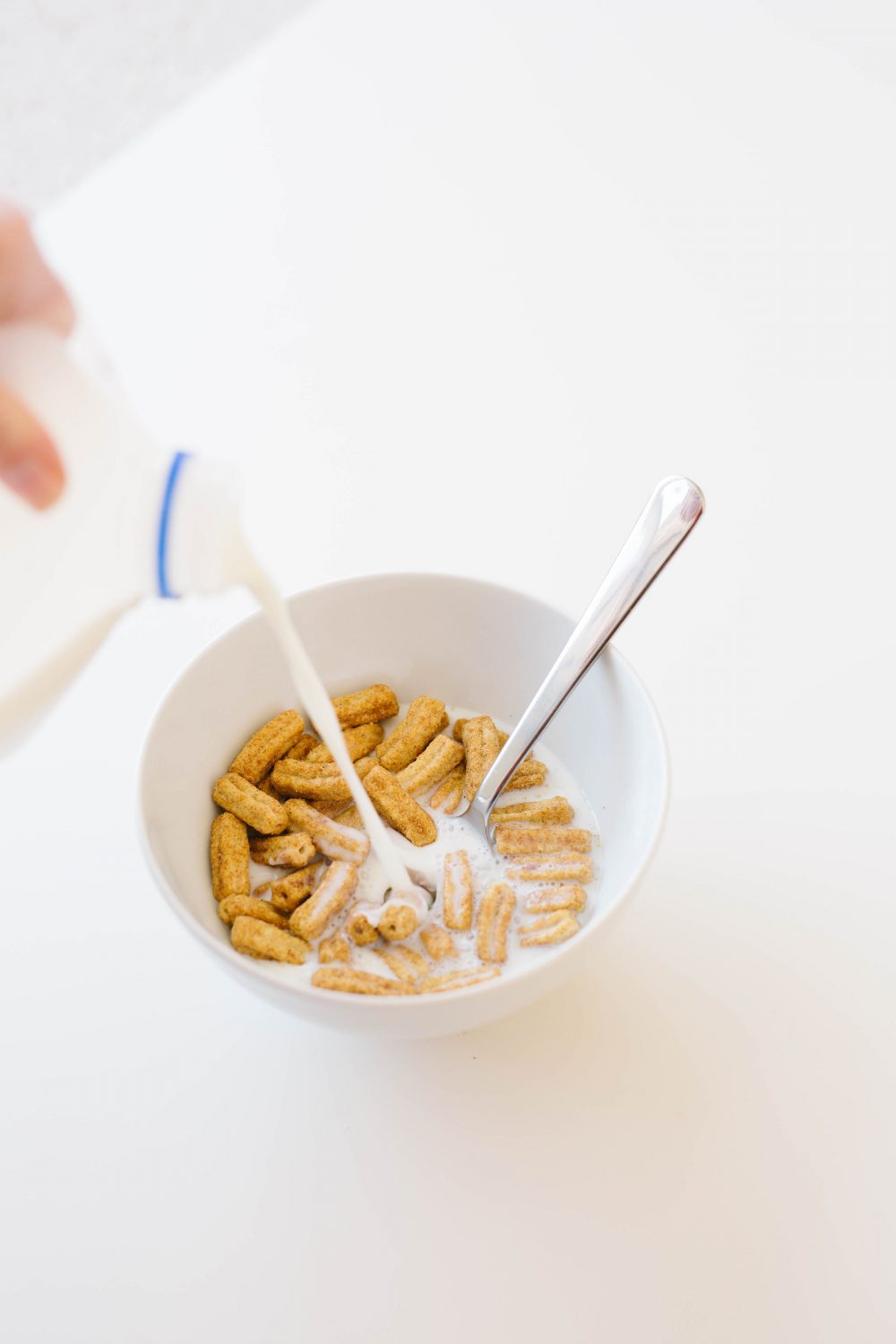 2:00 p.m. I get my post for tomorrow completed and scheduled.
2:20 p.m. I start working on another post and . . . I can tell I just DO NOT WANT TO WORK. I keep finding excuses to do other things, like requesting books from the library and adding things to my calendar.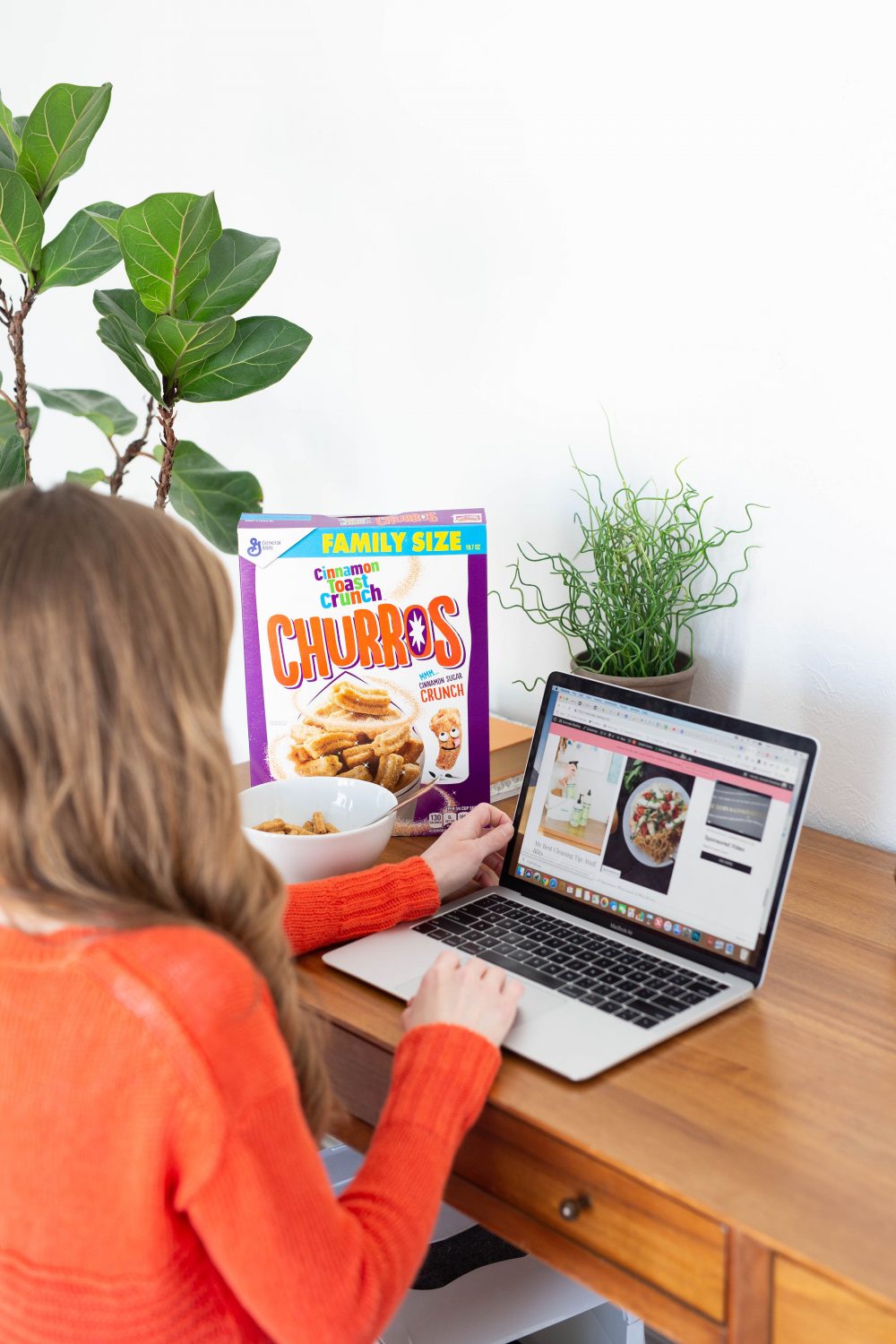 3:05 p.m. FINISHED! I'm irrationally proud of myself. I quickly finish up some emails and post to Instagram.
3:15 p.m. I hear Tally chatting in her room which is perfect timing because we need to go get the girls from school. She needs a diaper change, so I quickly take care of that and pop her into the car. We pick up the two big girls from school and drop Ella off at Chinese tutoring and then go get Star from my sister-in-law's house.
3:45 p.m. The girls have a snack and Ani asked earlier if she could play on the computer after school, so I set them up with a game and then sit down with a book to read until it's time to pick up Ella. My niece stops by to drop off some mail.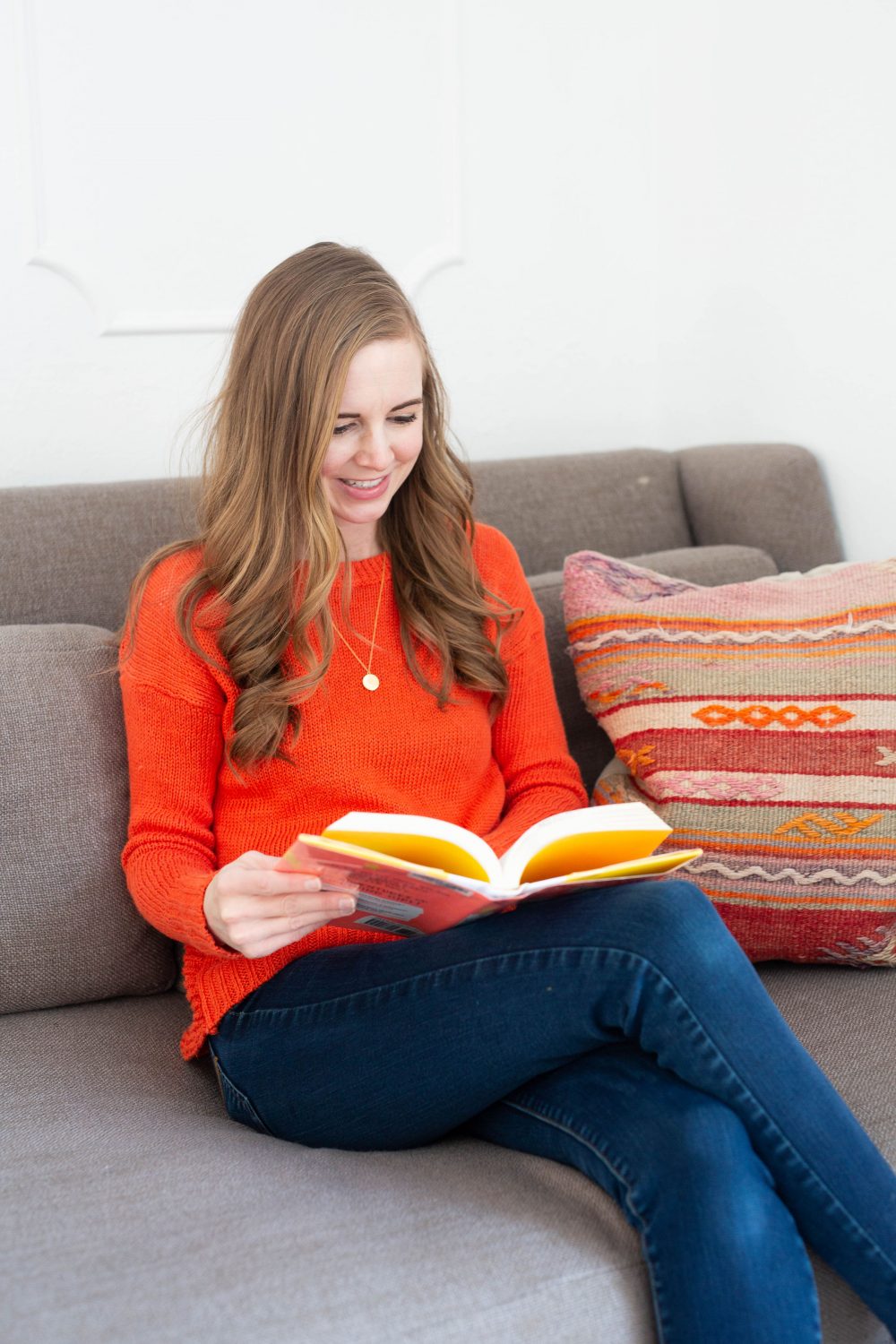 4:25 p.m. The timer to remind me to leave goes off and even though I gave the girls a five minute warning, they lose their minds about having to be done and go out the car sulking and crying. I remind them that this kind of behavior is the reason we don't usually play on the computer and if they want to have another chance anytime soon, they better pull it together.
4:30 p.m. We pick up Ella and on the way home, I remind them that Bart's brother and sister-in-law are coming for dinner and that when we get home, it's the time to do their afternoon chores. I'm surprised by how cheerfully they do it (especially Ani, who is often resistant). I direct and vacuum most of the downstairs, plus put away some things that have been sitting out for WAY too long.
5:20 p.m. The house looks pretty good now and Ella opens the box of nail pens that she earned from her online math class and carefully paints her sisters' nails while I update this post. Time to work on dinner.
5:30 p.m. I chop vegetables and get my soup going and then, while those cook, I start a cake for dessert. The girls clean off the table and wipe down the chairs, getting a little overenthusiastic about spraying.
5:55 p.m. Bart's brother and sister-in-law arrive with Bart just moments behind them. They play with the girls while I finish up the soup and Bart sets the table.
6:10 p.m. We sit down to eat and catch up about everyone's week.
6:40 p.m. The cake is out of the oven and while it cools, I make the praline topping. Bart does the dishes while Andrew and Natalie clear the table.
7:00 p.m. We eat the cake with some vanilla ice cream (delicious!) and then Ella insists on doing some nail art on Natalie before they leave.
7:15 p.m. Bart takes out the trash and recycling while I get the baby ready for bed and the big girls get in their pajamas and brush their teeth.
7:30 p.m. I read a book to Tally and then tuck her into her crib. I put on my pajamas and we have family scripture reading and prayer, and then I do a little reading practice with Ani.
8:00 p.m. The girls go downstairs to listen to their audiobooks in bed and I help get everyone tucked in with the right blankets. Bart heads outside to put our new license plates on and I finish up some work, schedule some time to get together with friends, post to Instagram, and do my personal scripture reading.
8:55 p.m. There are now tears downstairs, so I head down to shut off the lights and shut down any shenanigans.
9:00 p.m. I brush my teeth and take out my contacts and wash my face, then head into my room where Bart is finishing up some work. We finish the episode of Blacklist that we started last night and then, because we're feeling rebellious, we watch a full second episode.
10:21 p.m. I set my alarm for 6 a.m., turn off the lights and good night!
And then it starts all over again tomorrow!