The season of family road trips must be upon us because I'm getting LOTS of emails and messages asking for recommendations for the best audiobooks for family road trips.
Fortunately, I've been preparing for this post for years without even knowing it. If you're headed out on a long trip, want to keep your kids from going nuts while you're running errands around town, or need something to entertain them during quiet time, all of these are books you can't miss with.
I hope you'll love them too!
20+ Best Audiobooks for Family Road Trips
Peter and the Star Catchers by Dave Berry and Ridley Pearson
Whenever someone tells me they just finished listening to Harry Potter, I always recommend this audiobook. The story isn't very similar (it's a Peter Pan story, brilliantly and hilariously reimagined), but it's full of magic AND it's narrated by Jim Dale, who reads the Harry Potter audiobooks. This is a do not miss. Also there are also five books in the series, so you won't be running out of listening material anytime soon. (Full review here)
The Bartimeus Trilogy by Jonathan Stroud
This series was a complete lucky accident – Bart and I were heading on a road trip in our childless days and looking through the adult audiobooks and this one had been mis-shelved. Since it included the word "Bart," my husband naturally picked it up and the trilogy became one of our all-time favorites. The story about a magician's young apprentice who, hoping to get revenge on a magician who humiliated him, summons a djinni he cannot even BEGIN to really control, is gripping, the narration is INSANELY good, and I can't wait to listen to it with our girls in the next year or two. The first book in the series is The Amulet of Samarkand.
Princess Academy by Shannon Hale
I read this book on paper, then Bart and I listened to it when we moved to Boston and had days of driving a U-Haul together, and the girls and I just listened to it in the car this past fall. Don't let the title fool you – this book isn't just for girls. All six of us (well. . . .maybe not the baby) are huge fans, especially because of the full-cast audio with original music. (Full review here)
Savvy by Ingrid Law
I just LOVE this book about a family where everyone gets a magical talent (a savvy) when they turn 13. But just before Mibs' 13th birthday, a tragedy occurs and now Mibs is desperately hoping her savvy will turn out to be something that can save her family. (Full review here)
The Trumpet of the Swan by E.B. White
I'm pretty sure Ella has listened to this audiobook at least a half dozen times and it was one of my favorite books as a child. This one is a great one if your kids are a little younger, but still fun if they're older too.
Whatever After by Sarah Mylnowski
This is one of Ella's FAVORITE series, and although it's not high-brow literature, it's a fun series of fractured fairy tales. She's listened to them ALL multiple times and I listened to the first one at her request.
A Single Shard by Linda Sue Park
When I was working more seriously on reading all the Newbery winners, I picked this one up, knowing exactly nothing about it. A story about potters in 12th century Korea might not sound thrilling but this book is PHENOMENAL. I listened to it again with my girls this past fall and we all were entranced. I may have gotten teary in the driver's seat multiple times.  (Full review here)
From the Mixed-Up Files of Mrs. Basil E. Frankweiler by E.L. Konigsburg
I had read part of this book but never finished it as a child. Listening to it as a family was a DELIGHT and I just loved every bit of this book about two siblings that run away from home and live, undetected, in the Metropolitan Museum of Art in New York City.
Ribsy by Beverly Cleary
I'm fairly sure at this point that Bart and I could recite the entire book from memory since Star listened to this on repeat all last spring. Beverly Clearly is a master and her audiobooks are just a delight.
Walk Two Moons by Sharon Creech
This was another Newbery I knew nothing about, but it delighted me as the mystery of the main character's missing mother plays out. It's beautifully narrated and the three storylines perfectly fit together. And since the book takes place during a road trip, there's no way not to include it in a list of the best audiobooks for family road trips. (Full review here)
Homecoming and Dicey's Song by Cynthia Voigt
I didn't read this series until I was an adult and I loved every second of this story about four children abandoned by their mother who walk hundreds of miles to find a home. They're pretty long, so they're great if you have hours and hours of time on the road. I think my girls are still a LITTLE young, but I can't wait to listen together in another few years.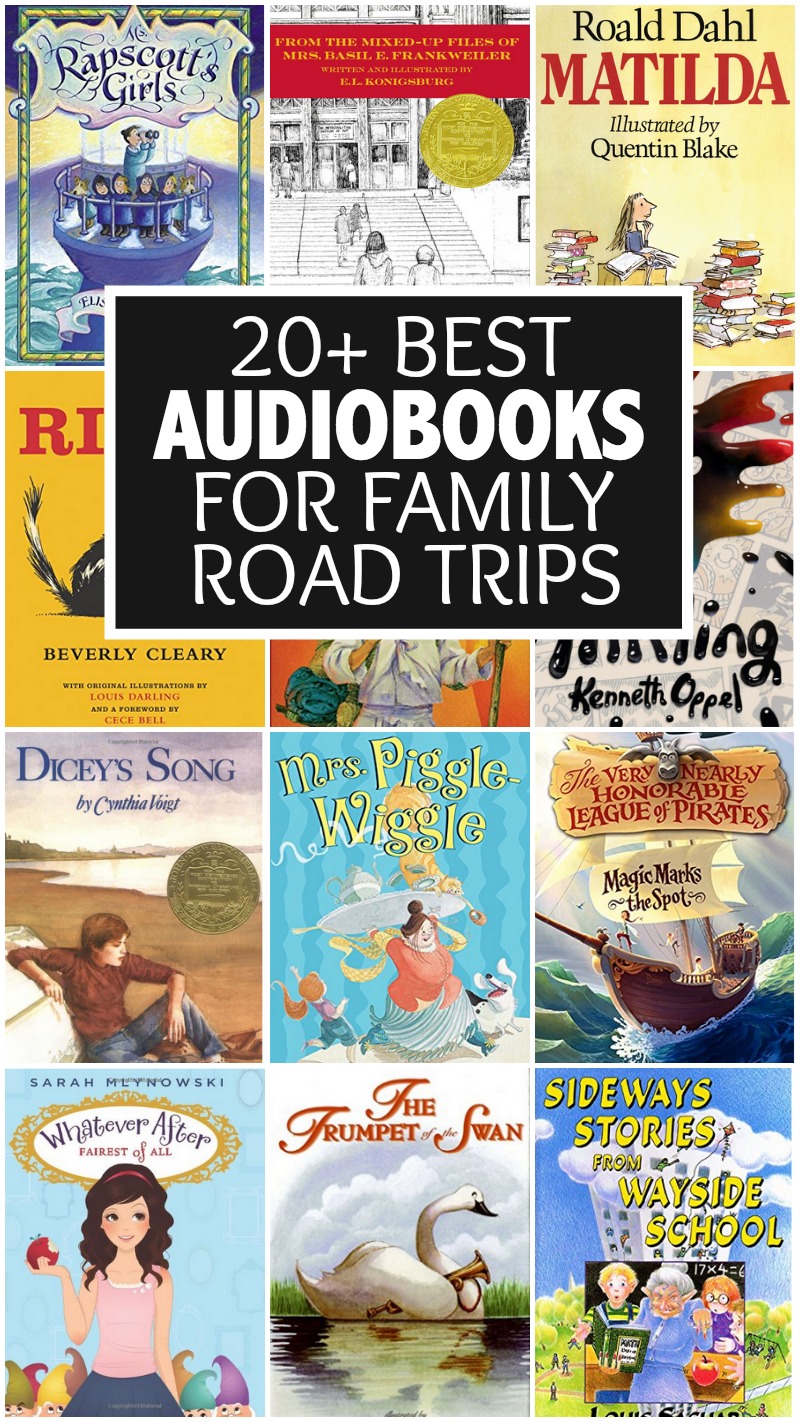 Skulduggery Pleasant by Derek Landy
Five minutes into this audiobook and I had to stop because I knew Bart would hate to miss this one. We laughed our faces off listening to this one together as we drove back and forth to grad school in 2009. It's a mystery with a young girl and a skeleton detective determined to solve it and it's wildly inventive and super funny. Note that I've only listened to the first book in the series and I've heard that subsequent books can get fairly dark. (Full review here)
Inkling by Kenneth Oppel
We just listened to this book recently in the car and we all were super into it – it follows a young boy who lost his mom a few years earlier and he's trying to keep life going somewhat normally despite the fact that his famous graphic-novelist dad has completely fallen apart. When a blob of ink from his dad's sketchbook comes to life, things start to change for them all.
Ms. Rapscott's Girls by Elise Primavera
Ms. Rapscott is a little bit of a Mary Poppins, running a boarding school tucked inside a lighthouse for children who have extremely busy parents. The children aren't thrilled to be there at first (would you, if you arrived in a box?), but they quickly learn that they are in for the adventure of a lifetime.
The Penderwicks by Jeanne Birdsall
This series is pretty recent (in the last ten years), but it has the feel of a classic and we all loved these stories about four sisters and their summer vacation. There's a reason these books are BELOVED.
Mrs. Piggle Wiggle by Betty MacDonald
This might be the most listened to series in our home. Ella has listened to them on CD and on the tablet dozens of times over the years and they just never get old with childhood bad habits (staying up too late, picky eating, etc) getting cured by Mrs. Piggle Wiggle's inventive cures.
The Very Nearly Honorable League of Pirates by Caroline Carlson
I would listen to Katherine Kellgren narrate a phone book (she's the reader on both the Bloody Jack series and one of my all-time favorite audiobooks, My Lady Jane) and she's no disappointment in this delightful series of books about a girl who longs to be a pirate but gets sent to finishing school instead.
Chitty Chitty Bang Bang by Ian Fleming
My girls have all listened to the audiobooks of this series on repeat for years. When we watched the movie, they kept saying, "This is not like the books!" Those are my girls.
Hank the Cowdog by John R. Erickson
We checked one of these audiobooks out from the library when I was a child and we all fell asleep in the car, so my mom popped it in to listen on her own. She ended up laughing so much it woke me up in the backseat and we have all been fans since. There are a BUNCH of books in the series and you don't need to listen to them in order.
Sideways Stories from Wayside School by Louis Sachar
Both of my older girls have listened to these stories many many times on audio about Wayside School where everything is a little (okay, lot) weird. The chapters are more episodic so that's nice if you're starting and stopping a lot. Plus, there is also Wayside School Gets a Little Stranger (which isn't on Audible) and Wayside School is Falling Down (which is).
Matilda by Roald Dahl
I think Roald Dahl's books are just MADE for listening and I could have added many of his titles (right now, Star is obsessed with Fantastic Mr. Fox and has listened at least a dozen times since the beginning of the year). Matilda is one of my favorites, plus it's narrated by Kate Winslet.
I hope your family will love these audiobooks as much as we have – if you have other recommendations or questions about using audiobooks with your children, leave a note in the comments!
If you're new to Audible, you can get two free audiobooks. Prepare for your family road trips to get a LOT more fun.
And if you'd like a printable copy of this list that you can take to your library or screenshot on your phone for easy access, just pop in your email address below and it'll come right to your inbox!
If you liked this post about the best audiobooks for family road trips, you might also like these posts:
Photos by Heather Mildenstein