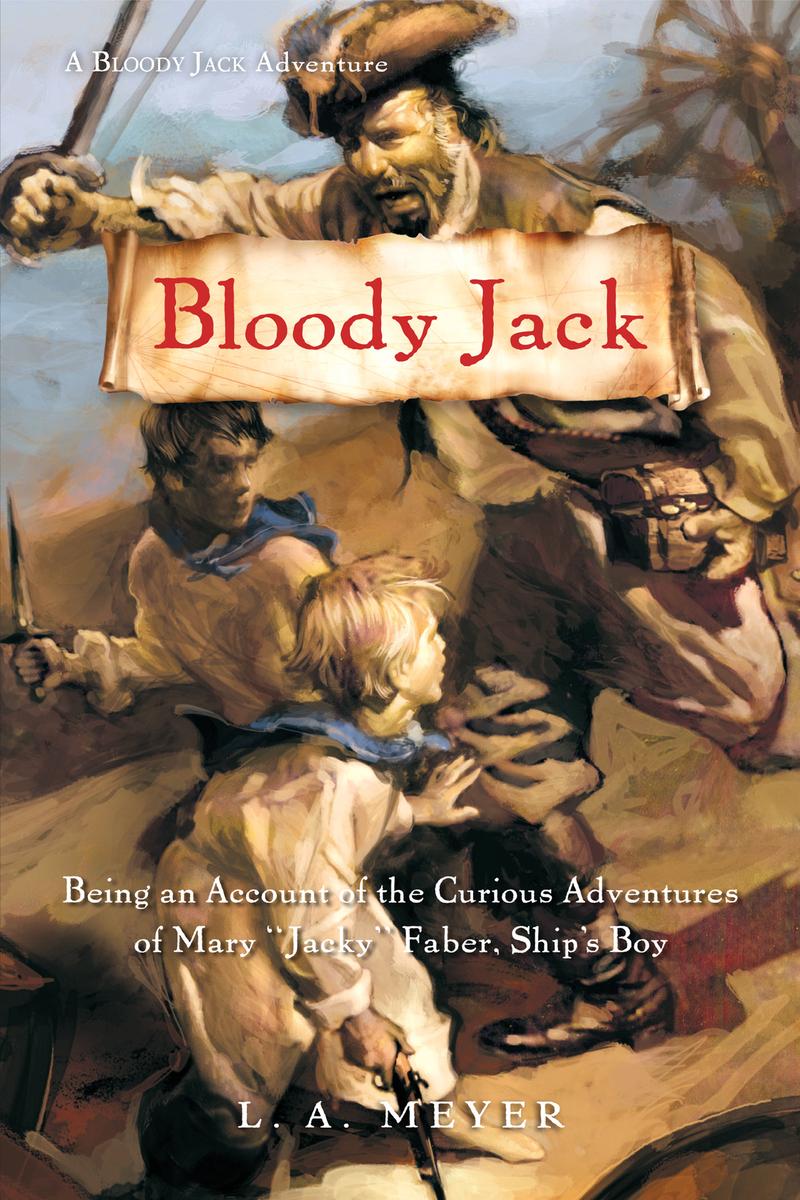 9 of 10: The Bloody Jack series by LA Meyer is good as a series gets. Romance, adventure, drama, and a heroine that makes you alternately cheer and wish to throttle her.
I first heard about these books when I was looking at the Odyssey Awards which are given for the best audio books for children and teens each year and every year one of this series has been honored.
Then one of my readers, Chelsea, recommended them several times for Tell Me What to Read and I finally got around to requesting one.
I'll admit that the first book in the Bloody Jack series wasn't the greatest thing ever. I liked it quite a bit, but I didn't know that I'd go on to the rest of the series. Then, the second one was available to download to my iPod through the library website, and by the time I was done with that one, I couldn't get the third one fast enough. I finished that one last week and am now mourning that the fourth one hasn't arrived on hold for me yet. I'm dyyyyyyying.
Bloody Jack Series
The first one, called Bloody Jack, begins with the death of Mary Faber's parents. She's only about 10 or so, and she joins a little street gang in London to keep herself fed and alive. But when the leader of the group, Rooster Charlie, is killed, she takes his clothes, renames herself "Jacky" and gets herself a position as a ship's boy on the HMS Dolphin, where the food is plentiful and there's somewhere warm-ish to sleep. Life is good.
Of course, life aboard a ship isn't all fun and games, especially when you're trying desperately to disguise the fact that you're not, in fact, a boy.
The story moves right along and in each book there are new plot twists I couldn't have predicted. I love these books. And really, each one is better than the last.
And the Odyssey folks were right – the narration is superb. Katherine Kellgren who does the audio versions is better than I could have imagined, doing a number of terrific accents and pulling me right into the story. She sings, she shouts, she whispers – it's incredible.
Please let book four show up at the library today.
Edited to Add: I've got to say, book four got a little bit racy and book five turned out to be even more so. Proceed with caution . . . 
If you like the Bloody Jack series, you might also enjoy these posts: