Almost every summer, we get an email from Bart's cousin and his wife. It says something along the lines of, "We're off on our annual road trip! What are the best road trip audiobooks?"
And then Bart and I spend way too long reminiscing about all our favorite audiobooks and trying to remember which ones we've suggested in years gone by.
Last week, a different friend asked for recommendations, and I thought, "WHY do I not have a list of some of my favorite ones compiled?"
(I couldn't think of any good answer (okay, I just finished this post and came back to answer this question -because it took a dang long time to put it together)).
I listen to a lot of audiobooks (3-4 a month, usually) and it's hard to find really stellar ones because you need not only a good story and good writing, but ALSO good narration. As if finding a good PAPER book wasn't hard enough.
But when an audiobook is good, well, there is almost nothing better. I'll happily scrub grout (if I ever actually scrubbed grout, which, of course, I do not) if it means an excuse to listen to more.
So, here are some of the best audiobooks of all time (according to us of course), broken up by category (the links go to my full reviews of the books):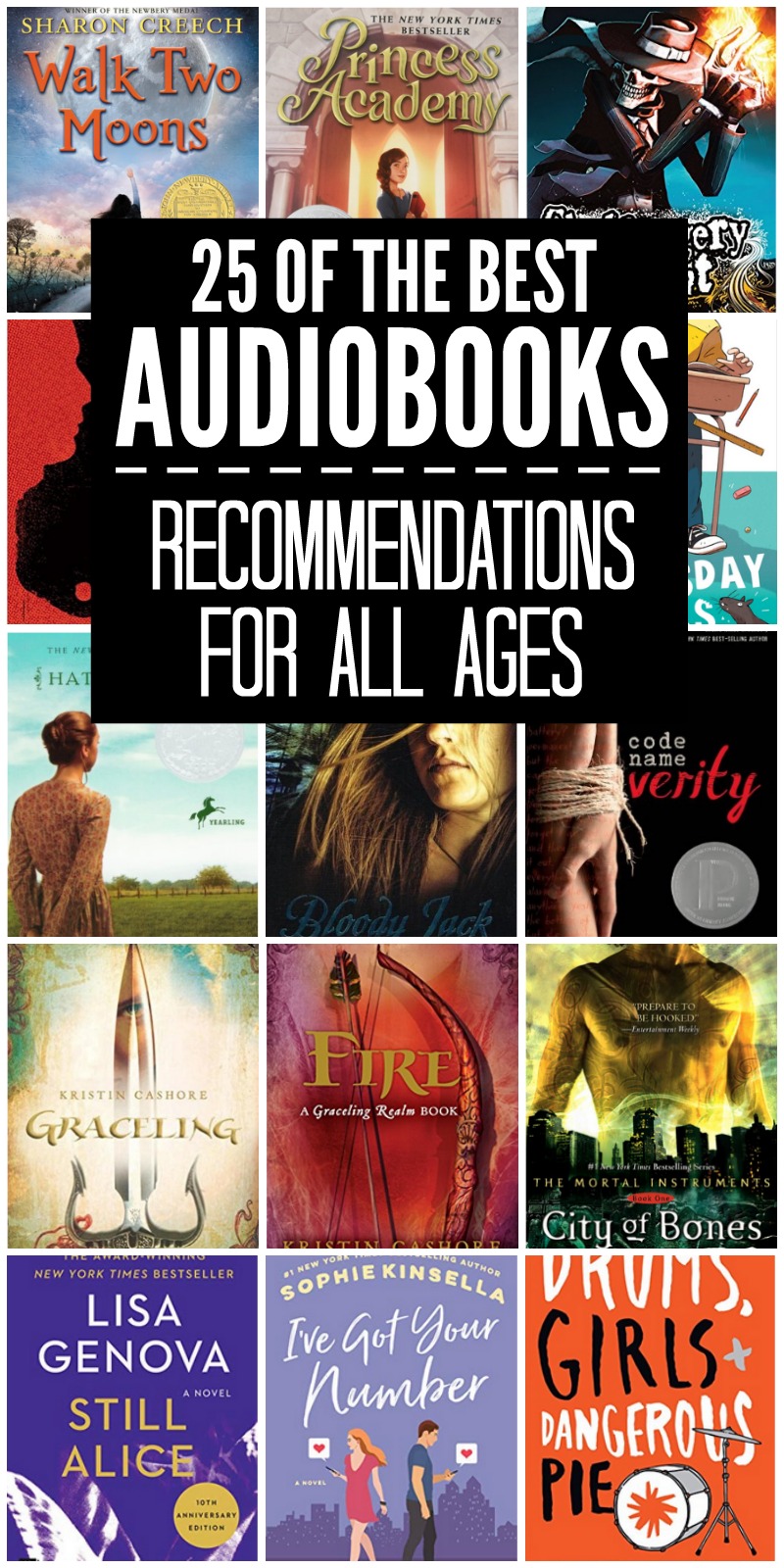 some of the best audiobooks of all time
Great for the Whole Family
Realistic Young Adult Fiction
YA Historical Fiction
YA Fantasy
Adult Fiction
Still Alice by Lisa Genova. This heart-wrenching book about a woman suffering from early-onset Alzheimer's will make you paranoid you're losing your memory too.
I've Got Your Number by Sophie Kinsella. Okay, I haven't actually listened to this one, but I loved the book, and I have several friends who RAVED about how good the narration was. I'm going to trust them on it and give it a thumbs-up. Just funny, fluffy chick-lit.
Adult Non-fiction
And if you'd like a printable copy of this list that you can take to your library or screenshot on your phone for easy access, just pop in your email address below and it'll come right to your inbox!
Any favorite audiobooks of your own? I'm always always looking for more suggestions.
if you liked this post about some of the best road trip audiobooks, you might also like some of these posts: