My mom made a lot of bread when I was growing up, but the one I remember best is Challah bread.
I mean, anytime you BRAID food, it's fairly memorable. Also, when it's a little bit sweet and richer than regular sandwich bread, it's pretty popular.
Somehow, though, I didn't get around to trying it myself until last week. I made a loaf of challah bread and we ate it in 2 days (1/3 went to being eaten plain, another 1/3 went to these paninis, and the last 1/3 was made into the best french toast I've ever had).
Also, I cooked it just a couple of minutes too long, so the outside was really, really dark. It tasted fine, but I couldn't manage to take any pictures of it that didn't make it look like deeply burnt bread. I showed Bart the photos on the viewfinder of the camera (so we're talking a tiny image), and his first comment was, "It looks kind of . . .dark."
Obviously I had no choice but to make another loaf of challah bread. And we've eaten paninis again. And french toast. And slices with jam. No one's complained.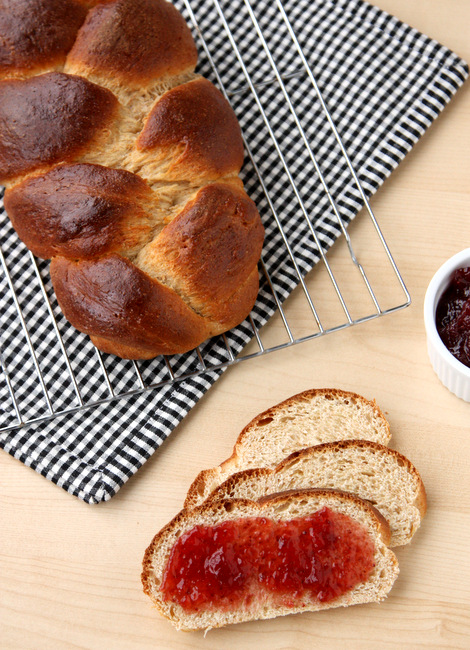 challah bread recipe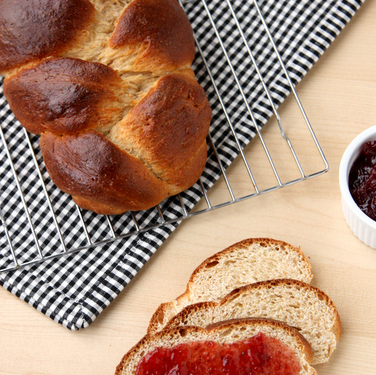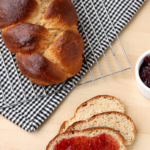 Challah Bread
Easy homemade Challah bread -- perfect for paninis, french toast, or just eating with jam
Prep Time
3
hours
10
minutes
Ingredients
Bread dough:
3

cups

all-purpose flour

the second time I used one cup of wheat flour and it was still fantastic

2¼

tsp

instant yeast

¼

cup

granulated sugar

1

tsp

salt

2

eggs plus 1 egg yolk

save the white for the egg wash

4

T

butter

melted

½

cup

water

room temperature
Egg wash:
1

egg white

saved from the egg yolk used in the dough

1

T

water
Instructions
In the bowl of a stand mixer fitted with the dough hook, mix the eggs, egg yolk, melted butter, and water together. Add the remaining dough ingredients and knead at low speed for about 5 minutes, until the dough is tacky but not sticky (you can add a couple of more tablespoons of flour if you really need to, but don't over-flour it)

While it kneads, whisk together the egg white and water for the egg wash and refrigerate.

Spray a large mixing bowl with cooking spray, then put the dough in it and cover with plastic wrap or a kitchen towel. Let rise in a warm place (I often turn my oven on for about 90 seconds, then turn it back off and let my dough rise in there) until doubled, about 1½-2 hours.

Press the dough down carefully to deflate it, then cover and let it rise again until its doubled in size, another 45-60 minutes.

On a lightly floured surface, divide the dough into three equal strands (like snakes - long and thin), then carefully braid them together (I generally start about 1/3 from the top, braid to the end, then braid the other end). Tuck the ends under.

Transfer to a baking sheet (I use my silicone baking mat to line it, but you could do no lining or use parchment paper instead).

Cover loosely with a towel or plastic wrap and let rise in a warm place for 30-45 minutes, until it has increased in size by about a third.

Preheat the oven to 375˚ F. Brush the loaf with the egg wash (I never use it all, so I just add it to my french toast liquid a day or two later). Bake the loaf for 25-35 minutes, or until it is golden brown. Cool before slicing (but I would never expect you to wait until it was COMPLETELY cool).
Recipe Notes
(adapted very slightly from Annie's Eats)
if you liked this challah bread recipe, you might like these other recipes: