This shop has been compensated by Collective Bias, Inc. and its advertiser. All opinions are mine alone. #MangiaTonight #CollectiveBias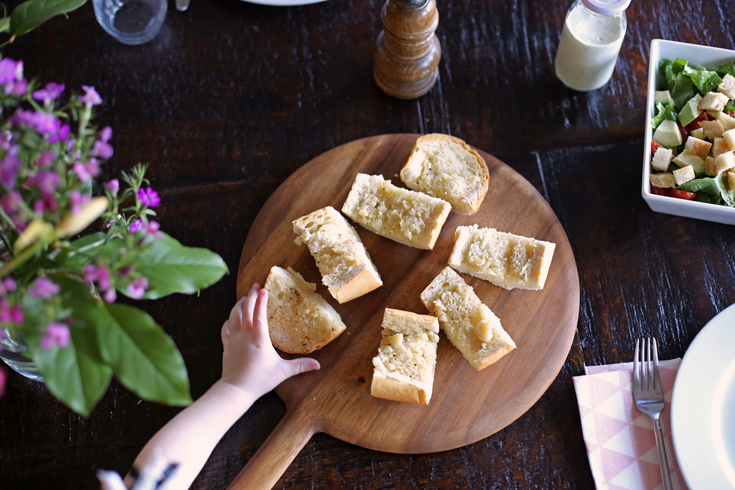 The interesting thing about blogging (or at least my blogging) is that when I write a post about how I do something, then I feel a lot of pressure to keep it up or to not deviate at all from what I described, no matter what.
For instance, I wrote this summer about
how I do laundry
and one of the main points was that I do it all in one day because I don't want to think about laundry more than once a week. Which means that for the last six months, any time it's Tuesday morning and I'm putting away the girls' clothing because they went to bed before that last load came out, I feel like an enormous fraud. Which is ridiculous because. . .what, should I go wake up my children by putting their folded pajamas in a drawer just to prove some point to myself?
Or after
this post
where
I mentioned that our grocery bill is around $75 a week
, I now feel intense anxiety at the cash register that it not go at all above that. As if a week where it's $82 (or occasionally $100) makes me into a gigantic liar. It's not that $7 is going to kill our budget – it's more that I expect some blog reader to suddenly appear in line behind me and shriek, "you said you only spend $75 a week!!!!!!!!!!!!!!"
Sometimes I think about that famous story of Michael Pollen (of
The Omnivore's Dilemma
and
In Defense of Food
fame) getting caught by a fellow shopper buying Fruity Pebbles on a Saturday morning because they were his son's favorite.
We all have these ideals and systems for making our lives works, but it's almost impossible to stick to all of them 100%. We keep screen time extremely low in our family, but when we road trip, I'm happy to let the girls watch shows on the tablet until their brains leak out their ears. I try never to get library fines but then. . . sometimes I do. I used to make
homemade bread
every week but now I've found a variety of bread that I'm happy with and I just buy it instead.
I think for me, the key is to having a back-up plan to deal with those times when my regular system fails me. And recognizing that it's okay to need those back-up plans.
In the last six months, getting dinner on the table every night has become increasingly difficult for me. Juggling school, my work, three kids, church responsibilities, friends, dance and art lessons has meant that many nights, dinner time arrives and I feel a lot of stress about what in the world I'm going to make everyone (happily, everyone in the family likes pancakes).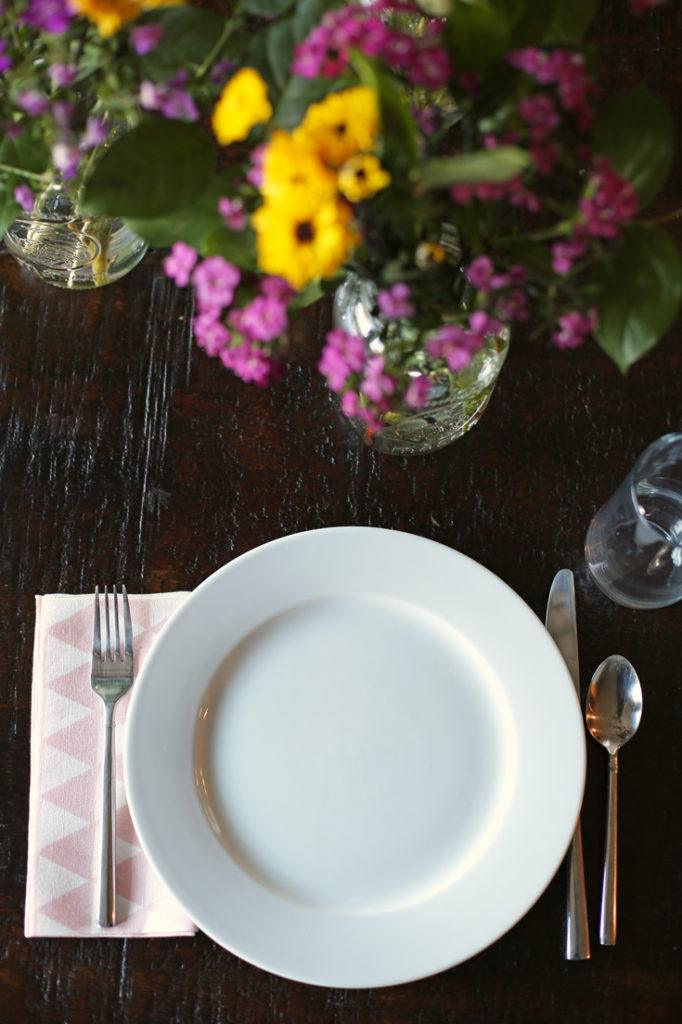 But having family dinner is really important to me. I love that time together as a family for us to play "185" (a random pun game Bart learned in one of his MBA courses), talk about our days, run through the next day's schedule, make sure everyone goes to bed with a full stomach, and finish off with snuggles on the couch while Bart does the dishes.
I want my girls to have good memories of nightly family dinners. I want that time with them and Bart. I don't want it to be something that is causing me daily stress.
Then, a few weeks ago, I got really sick right after we got home from vacation, so we had absolutely no food in the house. Bart took the girls grocery shopping (which he rarely rarely does) and one of the things he came home with was a bag of frozen potstickers. He stuck them in the freezer and I forgot about them until two weeks later when I was feeling that usual dinnertime panic and noticed them in the freezer.
I don't know that I've been so happy to see a piece of food. While they cooked, I chopped up some fruit, and steamed some vegetables and ten minutes later, everyone was sitting down to dinner together. It was delicious, quick, and I wasn't stressed about it.
This was a lightbulb moment for me.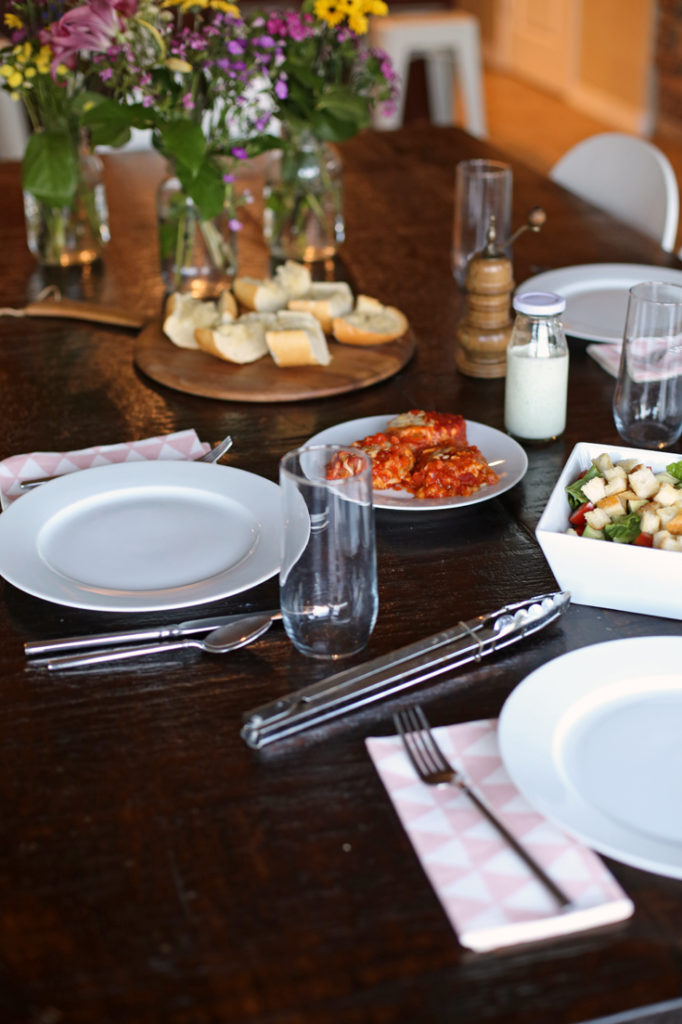 Since eating dinner as a family is important to me and I was also really struggling to make 6-7 meals a week, it suddenly seemed so obvious to me that I could negate some of this stress by keeping a few quick frozen dinners on hand.
Last week, when I was at Frys, I picked up a few of the new Bertolli frozen entrees which are on sale for the lowest price right now and just having them in the freezer gave me so much peace of mind. I knew that if I didn't have time to make dinner from scratch or if I was driving in at 5:45 p.m., we could still enjoy dinner as a family.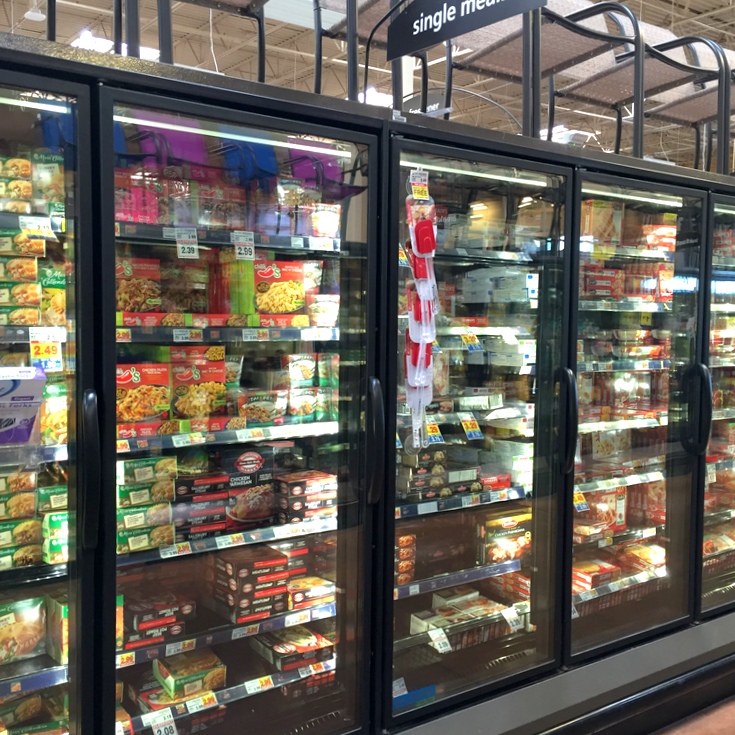 We tried the Chicken Parm Bakes this week, and it was so great that while they cooked, I could toss together a salad and make some garlic bread (my favorite, super simple recipe is below).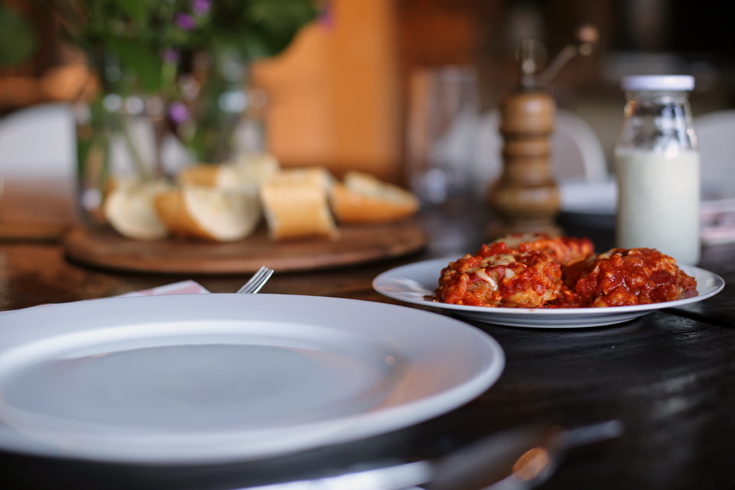 It was a terrific meal, and it was so nice all day to know that I didn't have to stress about what I was going to make and if I'd remembered to defrost something.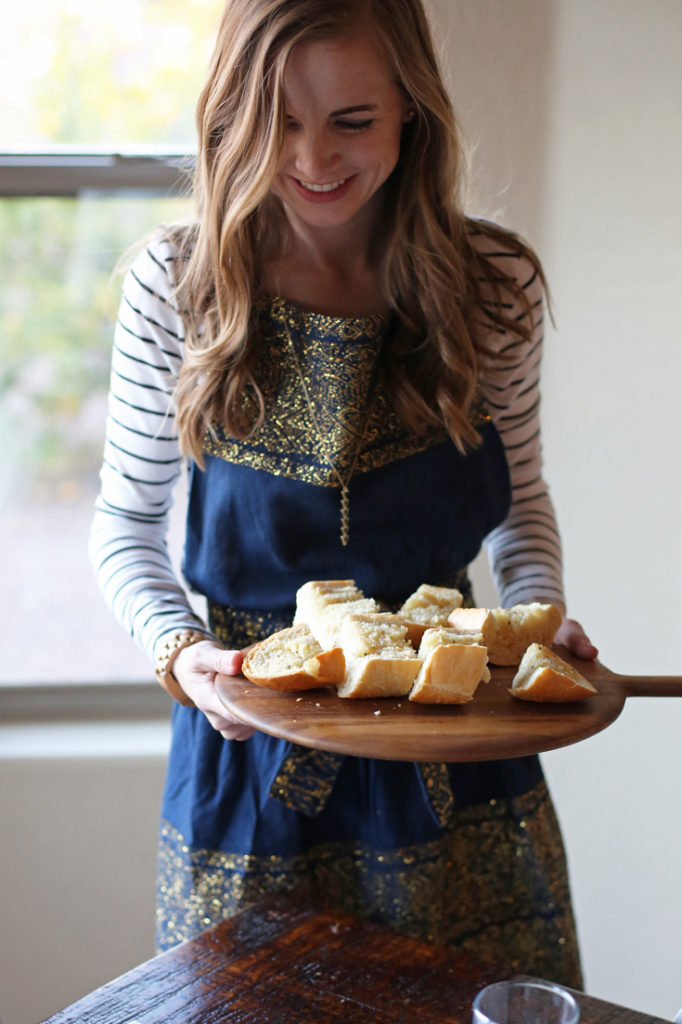 quick and crispy garlic bread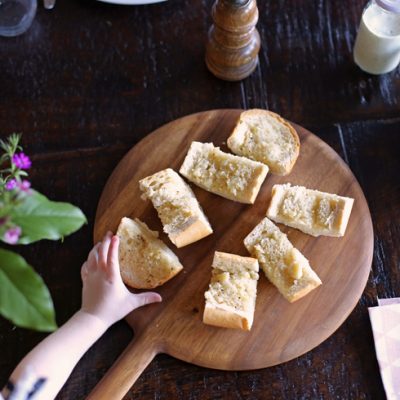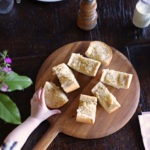 Quick and Crispy Garlic Bread
This garlic bread is full of flavor, but can be made in minutes!
Ingredients
1

loaf of French bread

4

tablespoons

butter

softened

2

garlic cloves

very finely minced

1/8

teaspoon

granulated sugar

1/4

teaspoon

salt

1/4

teaspoon

pepper
Instructions
Preheat the oven to 400 degrees. Slice your loaf of bread in half lengthwise.

In small bowl, mix together the butter, garlic, sugar, salt and pepper. Spread half of it on the cut top of one half of the loaf, then the other half of the butter mixture on the other half of the loaf.

Bake for 8-10 minutes, until the edges are browning and the buttered top is golden brown. Slice and serve warm.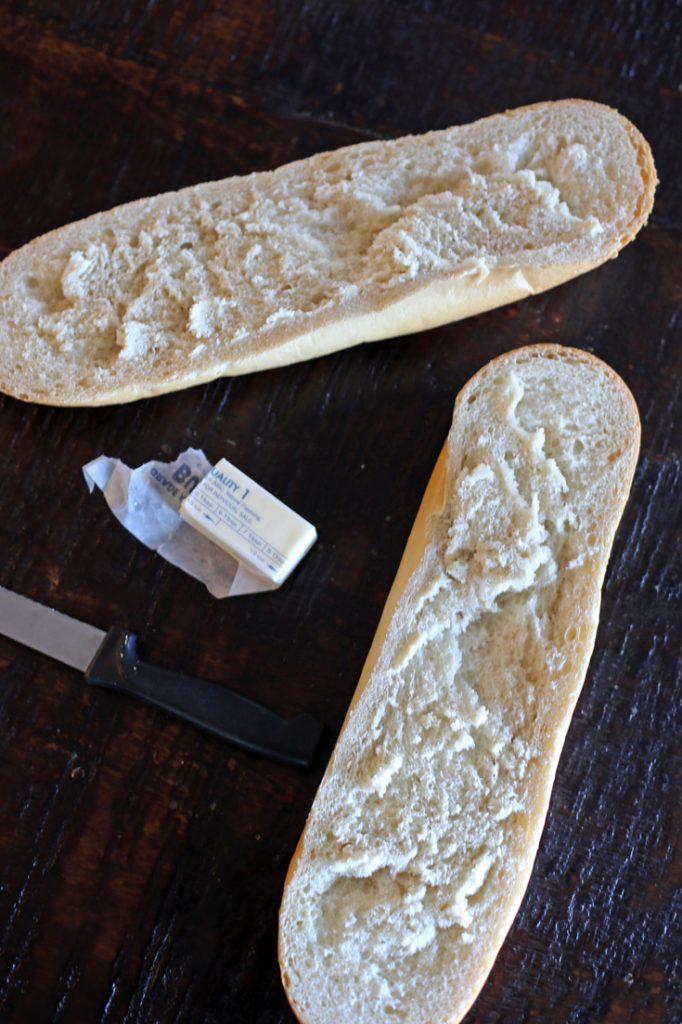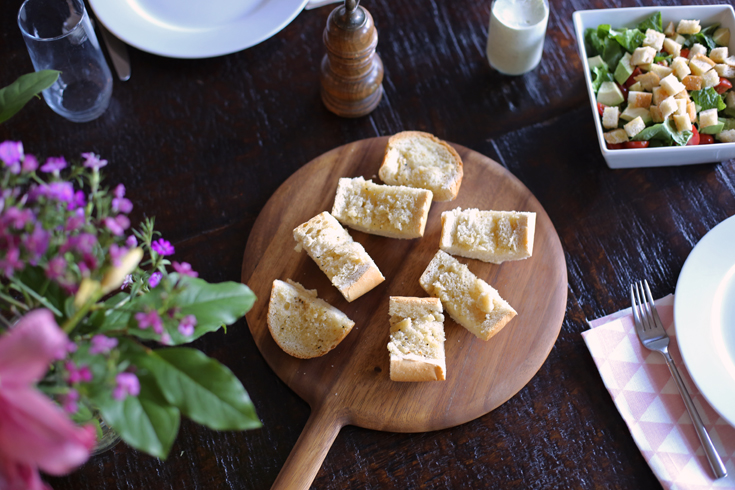 You can find Bertolli items on sale at a Kroger store near you (I want to try the Chicken Carbonara next).And I'd love to hear what your secrets for keeping your life running smoothly are, even when your plans or routine get disrupted?
if you liked this easy garlic bread recipe, you might also like these other posts: