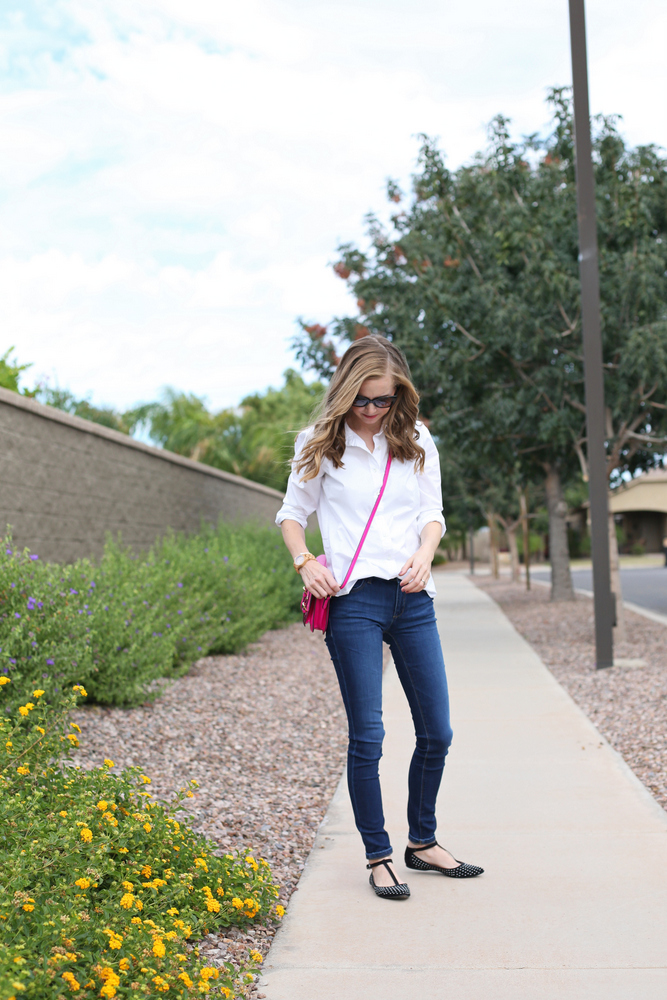 I posted a picture on Instagram of this sweater a few weeks ago and mentioned it was from ThredUp and someone asked how I find cute things on there.
Well, it only takes one question for me to barrage you with an entire post of my (dubious) wisdom, so buckle up.
In the last six months, I've only bought about three clothing items that aren't from ThredUp. I seriously love that site and I'd say about 50-60% of my closet is now from there (this post isn't sponsored; I assume they have no clue who I am except as that person who orders a LOT of things. There are, as usual, some affiliate links, plus if you make your first purchase on ThredUp through my link, you'll get 45% off your first order plus free shipping. Proceed disclosed).
The new thredUP Restocking Fee
One caveat about shopping with thredUP is that they now charge a restocking fee. They started testing it in Summer of 2018 – I didn't see the thredUP restocking fee for a while, but I started getting comments on this post about it, plus some emails.
I sent an email to one of the team members I've worked with and asked about the restocking fee and she told me that it was a test. One third of returns were charged no restocking fee, one third were charged 99 cents per item that they returned and one third were charged $1.99 per item returned if those items were under $50. It was completely random who was given which return charge, so eventually I did see a return show up with those restocking fees. 
Then, as of August 28, 2018, the thredUP restocking fee was made permanent, so now for any item under $50 you return, you'll receive the full amount back in cash or credit, minus $3.99 per item.
I personally think it's not the best business decision, since I think it makes most people less likely to pull the trigger on making a purchase at all or take a chance on something that they might like but aren't sure about. On the other hand, as a business owner myself, I understand that shipping isn't free (even if Amazon wants to make us all think it is) and that restocking things all has a cost.
Even with the restocking fee, I'll still be shopping at thredUP, but I'll definitely be less likely to take a risk on something I'm not sure about and I'll be more conservative about the size of my orders.
Anyway! With all of those disclaimers aside and with more experience with thredUP shopping than I should probably admit to, here are my secrets:
My Best Tricks for Scoring Deals on ThredUp
Look frequently. You know how some people unwind for the day by looking at Facebook for twenty minutes? That's what I do with ThredUp. I don't look every single day, but I probably browse through a couple of times a week. Their inventory turns over all the time and they have so MUCH inventory that you never know what might pop up.
Start with shoes. The thing I look at most often is shoes because I know exactly what size I am, and shoes aren't as tricky to figure out online as other items. I've bought some amazing pairs of shoes on there that look brand-new.
Stick with brands you know. If Banana Republic clothing never fits or flatters you when you buy it new, it's very unlikely to start magically fitting when it's secondhand. On the other hand, if you're a loyal Gap or J.Crew or Anthropologie lover, try those brands on ThredUp – you'll know what their sizing means and you'll have a good feel for their style and fit.
Shop with a goal in mind. It's one thing to go to Old Navy without any particular idea of what you want to buy – they have things organized beautifully and mannequins all over the stores to give you outfit ideas, but when it's just individual items on ThredUp, it can be ridiculously overwhelming. I just went and looked at the women's section and there are currently 107,000 items on there. That's ridiculously overwhelming. I have much better luck on ThredUp when I enter the site thinking, "I need a new pair of black jeans" or "I'd like a striped sweatshirt."
Use the filters. The filters will help you narrow things down really quickly. For instance, if I decide I need a few new t-shirts for the summer months, I filter to tops, then ones with short-sleeves with a scoop or v-neck in my size and suddenly I'm down to 2,000 options. If I specifically want a black one, then I'm down to 145 items. The search tool is pretty excellent too – I found a polka-dot shirt in thirty seconds this summer after I saw someone at church wearing a darling one.
Buy higher-end than you might normally. For me, one of the big draws of ThredUp is that I can buy a $95 J.Crew top for $15. My closet has much nicer items than it has the in the past – now most of my jeans are in the $150 range (if they were new – they're about 75% less on ThredUp) and, surprise! They fit so much better than the $7 ones I bought at Forever 21. I know – I'm astonished too.
Try things on twice (or three times). Usually, when I get a box from ThredUp, I try everything on. I immediately put things back in the box to return that I don't like and then I hang the rest of the items in my closet. Then I try those things on again a day or so later. Which brings me to. . .
Return things that don't fit. I've been so careful with my closet this past year, and it's been amazing how much easier it is to get dressed in the morning. So when something comes from ThredUp that doesn't quite fit or flatter me, I resist the urge to say "well, it was only $5" and I send it back. I always choose to get my refund in store credit so that I can get free shipping and then the next time I make an order, I just use that store credit again and so on and so forth.
Resist the clearance items. I love clearance items but with ThredUp, clearance items aren't returnable and so I just avoid them all together.
Don't forget the extras. You can also buy scarves, hats, and handbags on ThredUp (although the handbags aren't returnable, so keep that in mind when you're ordering).
Kids too! They don't have men's clothing on ThredUp but they do have tons of kids clothing and I've basically restocked all three of my girls' wardrobes this fall and winter. I bought Ella the gorgeous red wool coat she's wearing in our Christmas photos here, plus tons of shoes, jeans, tops, skirts, and dresses for them. The prices are killer and it's nice for them to have clothing that is a little higher-end and actually holds up for more than one washing.
I'm happy to answer any questions about
ThredUp
! Just be warned that if you get me started, you might not get me ever to stop.
if you liked this post about how thredup works and how to score thredup deals, you might also like these other posts: