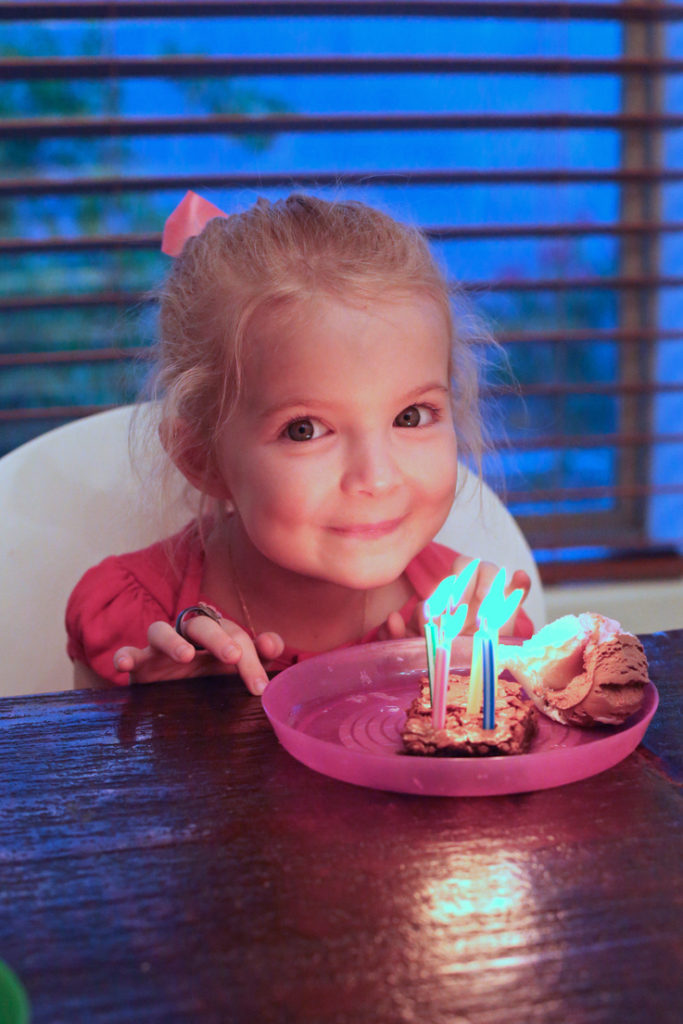 This post is sponsored by Google Express, but my over-the-top enthusiasm for this service is all my own
On Saturday, Ella turned six.
I grew up in a family where birthdays are a big deal – we didn't necessarily get a ton of presents, but it was definitely a really special day with lots of fun little traditions, and we've tried to carry on the same birthday excitement in our home.
But this birthday kind of snuck up on me, because I was in New York City for an event on Wednesday and Thursday and didn't get home until the wee hours of Friday morning, which left me little time to go run a bunch of errands like picking up presents at multiple stores and grabbing a special sugary cereal for breakfast in bed.
Not to mention, what I most wanted to do after a couple of days away was stay home and snuggle my girls and read picture books, not run ten thousand errands.
Fortunately, Google Express to the rescue.

Have you heard of this? It's basically my new favorite thing since ThredUp (and that's saying something, since there's almost NOTHING I love as much as ThredUp).
I first heard about it from my friend Jessica, who used Google Express extensively while she was living in San Francisco during the summer of 2014 while her husband did an internship there. Their older daughter broke her leg a few weeks into their summer, which meant that any errands were a huge hassle (since they didn't have a car). She raved about how convenient it was for someone to go pick up all the things she needed from various stores and then deliver them right to her front door.
With multiple children, I basically try to avoid any errands I possibly can, because it's just a big to-do to buckle my children in and out of their seats, and no errand is fast (plus, I live in fear of dragging everyone to a store and then discovering that the store doesn't HAVE what I need and I did it all for nothing).
Anyway, since Jessica told me about Google Express two years ago, I've thought of it almost every single time I ran an errand.
And then, in April, it finally launched in Phoenix. (Cue angels singing, etc).
Basically, you log in, buy a membership – it's $95 a year, but you can get a free six-month membership here (use the code FREETIME, or you can skip the membership entirely and just pay for delivery every time you make an order, and then you can choose any of the stores that are included in the service, pick an item from that store and it's delivered to your house the next day.
The stores that are included vary by location, but mine includes Costco, Barnes and Noble, Kohl's and a bunch more (some cities already include Target and I'm waiting eagerly for it to be added to mine).
Also, you get $15 of credit (use the code NJ2VUK5Q5) when you sign up for an account (free money!), and so on Thursday afternoon in a jam-packed Starbucks in Midtown, I ordered Ella's birthday gifts, including a book and a puzzle from Barnes and Noble, a new pair of sandals from Payless Shoes, and a Lego kit from Toys R' Us.
It took me less than ten minutes, and I didn't have to unbuckle a single car seat. Basically it was this suburban mom's idea of heaven.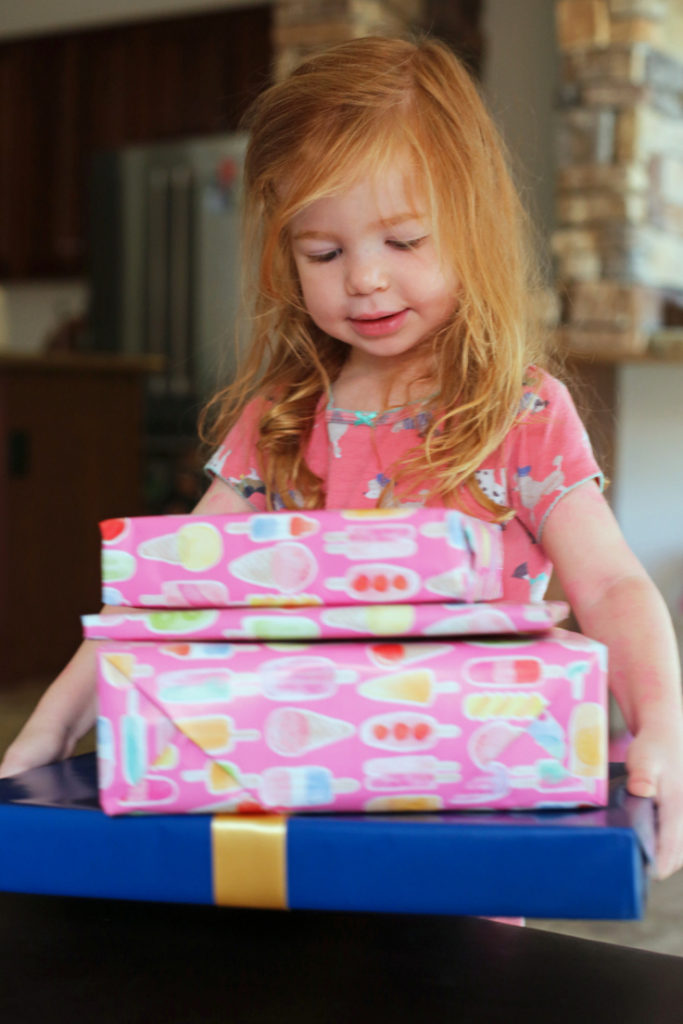 Even better, I could place an order for a box of Reese's Puffs to show up on my front doorstep too.
Everything showed up on Friday afternoon, and instead of running to five stores in the evening, we went out to dinner as a family instead, and once the girls were tucked into bed, I happily wrapped everything up (should have ordered some Scotch tape too, since I ended up having to use packing tape . . . ) while Bart and I watched an episode of Person of Interest.
And then on Saturday morning, we had all the fun of celebrating Ella's birthday without all the errands a birthday usually requires.
We started with breakfast in bed and some presents, followed by the highlight of the day for them which was a game Bart made up called something very clever like "the girls run around the basement and he tries to hit them with wadded-balls of wrapping paper."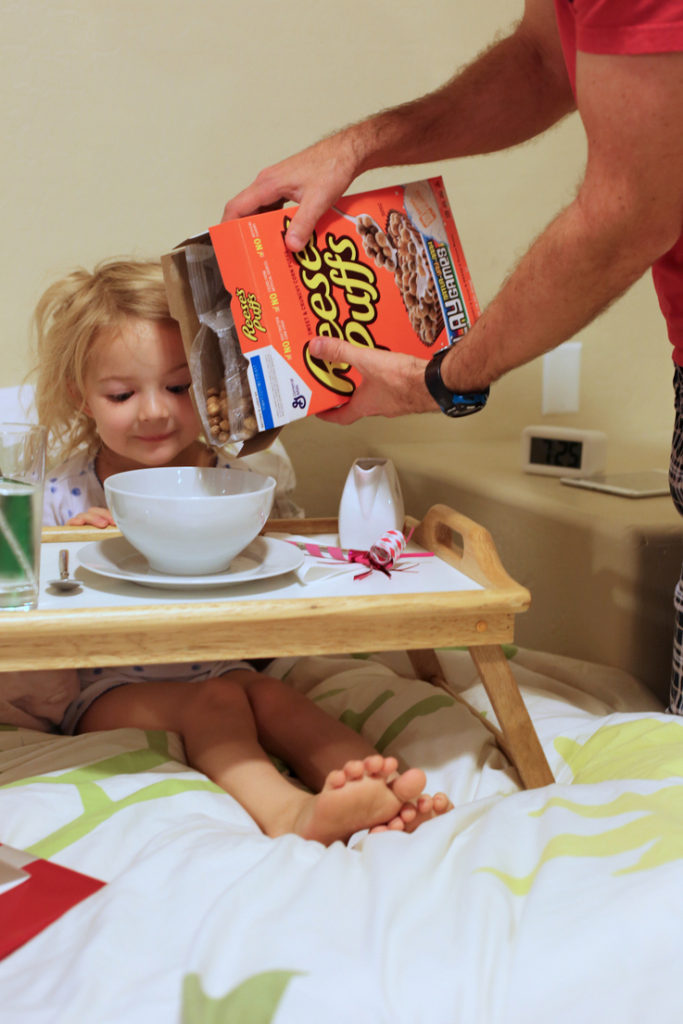 There was a movie, and then we finished off the day with a special birthday dinner of butter chicken and naan, and then some brownies and ice cream, and a few more presents.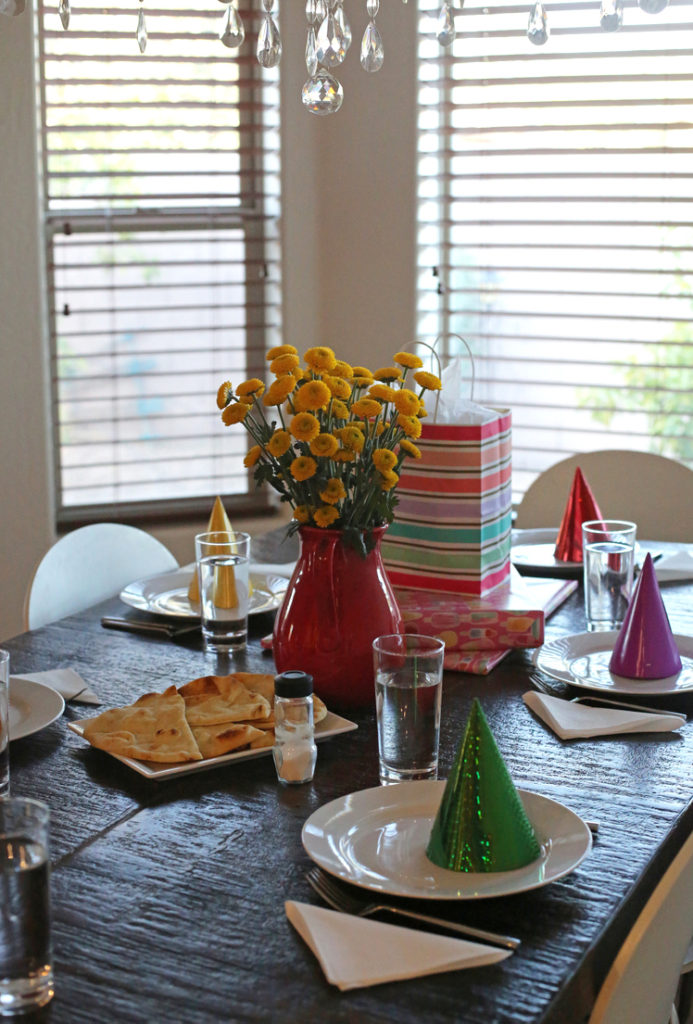 It was a delightful day of celebrating our delightful girl.
Google Express Promo Code
And, even though it probably wasn't your birthday this weekend, you can get a free six-month membership with the code NJ2VUK5Q5 to Google Express, plus $15 of credit to use on your first order (and there's no minimum order, so there's really no catch. Just free money to try out the best service ever).
Grab yourself a couple of bottles of nail polish (Ulta is one of the stores in my area that uses Google Express) or a new book from Barnes and Noble.
Or, hey, even a box of macaroni and cheese to save yourself a trip to the grocery store before dinner time. All from the comfort of your couch, in less time than it'd take you to walk to your mailbox.
And if it was your birthday this weekend, happy birthday to you!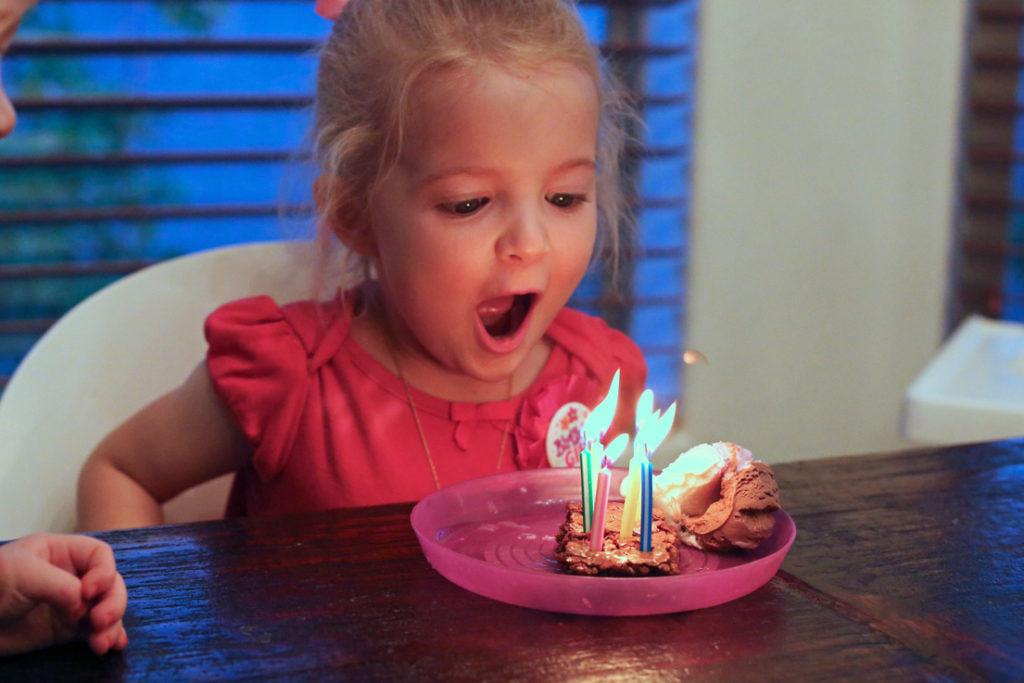 Give $15, Get $15: Offer may end at any time/valid until 08/31/2016 while your account is active. Limited to Google Express accounts that received the offer from Google. Each valid referral gets you a $15 courtesy credit when the new users you referred place their first order using your referral code. Alcohol, gift cards, membership costs, and shipping & service fees excluded. Credits you give are subject to these terms. Credits you get are subject to these terms.