With so many rooms in our house needing attention, the girls' bedrooms have been shoved to the bottom of the list.
While we're currently really focusing on the master bedroom (our new king mattress is still stuffed in the box, waiting for our bedframe to arrive!), the family room, and my office, I've started to think at least a little bit about the changes I want to make to their bedrooms.
For the most part, we don't need much new furniture for their bedrooms – just some rearranging of the items we already have, plus some new paint, carpet, and curtains, and a little styling.
But one item that I knew needed a little refresh was this big dresser we bought at a garage sale, back when I was pregnant with Ani.
It was too big to fit into our car, so not only did this nice family sell it to us for $15, but then they brought it over to our apartment and helped Bart carry it up to our second-floor home.
It's been a very useful piece of furniture, but I always thought it looked a little old-lady for my taste, and I've meant to repaint it since . . . before Ani was born.
Then I discovered KRYLON® DUAL® SUPERBOND® PAINT + PRIMER. Basically, it's a lazy DIY's best friend. No sanding required, and it's paint and primer in one.
Okay, I could do this.
I picked up a couple of cans of white at Ace Hardware last week, where my girls were insanely thrilled to discover a bunch of tiny chicks, bunnies, and turkeys for sale. I think it was the best errand of their lives.
I was sorely tempted by lots of the gorgeous colors, but decided on white because I want the flexibility to move this dresser into any room down the road, depending on how we switch up sleeping arrangements over the years. (Considering Ella's bedroom will have the chair from my office, the table from the playroom, and the dresser from Star's nursery, I know the possibility of this dresser always staying in Ani's room is low.)
I did buy some pink KRYLON® Fusion, which is high gloss and goes onto plastic, metal, and wood, to use on the metal drawer pulls. They were the worst part of the whole dresser, I thought.
Every time I spray paint, I think, "This is just the most enjoyable project." There's something so fun about it – way better than using a roller (a process I'm all too familiar with lately as we de-beige our house).
I took the handles off the drawers, wiped everything down with mineral spirits (I had to Google what that even was) and then everything was ready to go!
All the coats dried quickly, and I did about 5 coats on the handles because they were so dark originally and then 3 coats on the dresser.
Less than two days later, and the dresser was back in Ani's room, ready for action.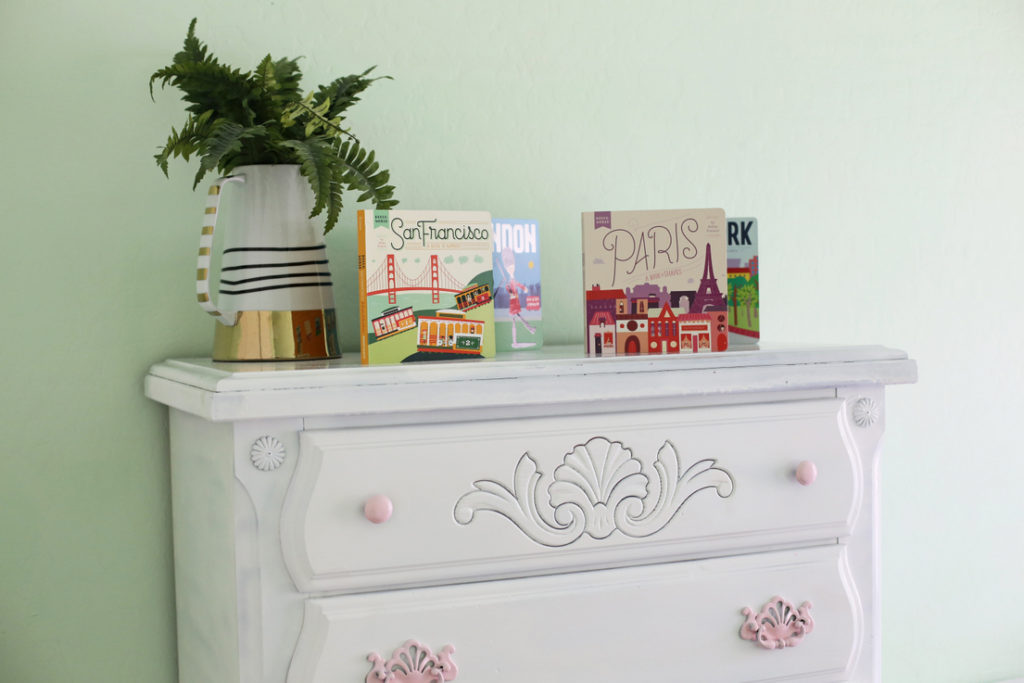 Later this summer, I'm hoping to get rid of these neon mint walls, but in the meantime, having this dresser white and crisp-looking is making a huge difference.
Now, if only I could spray paint the green carpet….