You know why I love you guys? Because I think most of you are budget-conscious too.
As I've told Bart on more than one occasion, money-saving is my love language.
When he tells me, "I used Ebates to make a purchase today," it's basically the most romantic thing I've ever heard.
I'm thinking about money all the time right now, as we start paying off our student loans, begin being homeowners again, and Bart actually gets a paycheck (how novel!).
About fifty times before graduation, Bart and I said, "When we're making money again, let's stick to our student living budget. Let's not start spending money like crazy and not make any progress on our financial goals."
It's certainly nice that when I ran over a nail a few weeks ago and had to get my tire replaced, that it didn't destroy our whole budget for the month or send me into a panic over a new $89 tire (although, I certainly would have RATHER spent that $89 on something more exciting than a tire), but I am definitely still in budget mode.
Pretty much, it should come as no surprise that I was totally cashing in my free birthday meals yesterday.
Here are ten ways I try to keep our spending under tight control: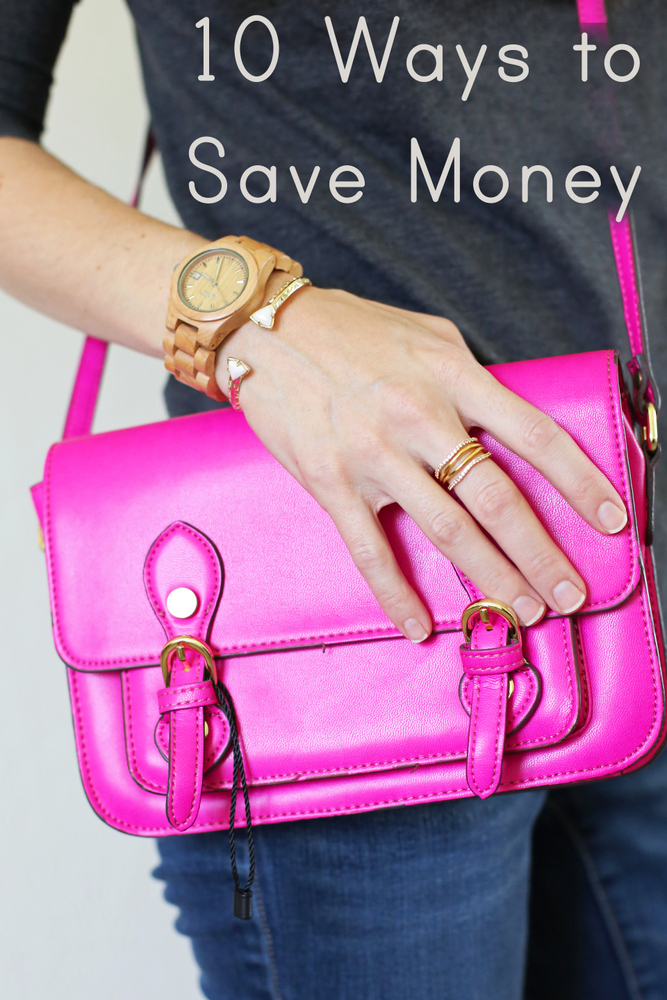 10 simple ways to save money
Unsubscribe to all the store emails. You know how you have no plans to buy anything and then suddenly you get an email with a 50% off sale and suddenly you've spent $75 when you didn't actually need anything? Yeah, me neither. I have all my store emails filtered by Gmail so they never come through my inbox, but if I am buying something, I can do a quick search and see if there are any trashed emails with coupons or other discounts. But I don't want 15 daily nudges to buy something.
Buy used or refurbished. The first time I remember buying something refurbished was my original Apple laptop. Bart bought it for me for Valentine's Day after we got married and I think it was about 40% off the original price. That baby lasted me FOREVER. We've bought two very excellent sets of washers and dryers off of Craigslist (and then sold them for the same price we bought them at several years later). I like buying nicer clothing from reputable second-hand stores like ThredUp, especially because you can usually get a good sign-up incentive, like $20 off your first order. Not buying new is such a simple way to save money.
Buy things with a decent return policy. I basically don't buy anything that I can't return. How many times have you loved something in the dressing room and then put it on the next morning in your home and wondered if it got mysteriously switched in the night because it is now totally unflattering? I'd rather pay a little more and know that if I'm unhappy, I can easily take it back and get a refund. Even though I love a good deal, my personal rule is to never buy anything on final clearance that can't be returned or exchanged. Too easy to have a bunch of ill-fitting cheap things filling your house and closet.
Don't buy things you can borrow. People ask me all the time if I buy tons of books. Of course not – that's what the library was invented for. We also never buy movies. I dream of living in a town with a tool lending library or a cake pan lending library (not that I ever make cakes but . . . wouldn't it be awesome?). If you need something for one time use, use Facebook the way it was intended and ask if someone has it.
Keep your big ticket spending in check. After I read All the Money in the World, it made me really look differently at spending. I have definitely always leaned hard to the "don't spend money on little things" side but she was pretty convincing that by buying a smaller house, you could have a lot of $5 coffees that make you happy on a daily basis (or whatever your small indulgences are). I still try to not spend much on little extras, but I also am focused more on being frugal about the big purchases too since it's one of the biggest ways to save money. We bought a big house, but we picked an older one that was the best deal we could possibly find. We have very average cars that don't cost a lot to insure and that, if they get a nick in a parking lot from a rogue door, we don't shed any tears.
Buy the minimum amount for a new project or hobby. I pretty much don't like to spend any money on new things. When we decided to get a dSLR, we bought the entry-level one and then we used that thing for five years before I finally made the jump to a nicer one. By that time, I really knew what I wanted, I had absolutely gotten my money's worth out of my cheaper camera, and I knew that I would use an expensive one enough to justify the (insane) cost. If you're thinking of getting into tennis, maybe just buy a can or two of balls and a used racquet. Wait until you've actually decided how much you like playing and if you're going to be serious about it before you start getting a ton of gear. (Bart is less sold on this method – he's more inclined to think if he's using a cheap racquet or doesn't have all the right equipment that he won't KNOW if he really likes it because it might just be the lack of all the right stuff that's making him not want to go play tennis twice a week).
Don't make all your social events revolve around spending money. A few months ago, Bart and I went out to dinner and a movie. And even though we don't drink, split a single dessert and both picked pretty reasonable entree with no appetizers, our total cost at the end of the evening was over $100 after we paid the babysitter. Yikes. We try to find cheap or free things to do on our dates instead, which often tend to be more fun and memorable anyway. Last weekend, we went to a live recording of the season finale of Marriage is Funny and it was so fun, plus there were snacks. Free, free, free (except for the babysitter). When I hang out with friends, I lean toward going to the park, visiting someone's house, or attending library story-time.
Evaluate your reoccurring costs. As Bart likes to remind me, subscription models are awesome for companies because they keep getting your money month after month whether you use the service enough to justify it or not. If we're watching a show (that we can't get DVDs of at the library), we'll sign up for a month of Netflix and watch our way through it and then cancel it when we're done. How many things do you really need showing up on your doorstep month after month? Would it be cheaper to just pay for something when you need it rather than paying to have it available all the time?
Make a note in your calendar to cancel free trials. How many times have you signed up for a free trial and then forgotten to cancel it? I've started making a note in my Google Calendar so it reminds me a few days ahead of time to make the call. In lots of cases, like Amazon Prime or Netflix, you can set your free trial to not convert to a paid account immediately after you set it up, but if it's something like Rocksbox or Blue Apron that doesn't allow that, you'll definitely want a reminder because 30 days will come and go faster than you expect.
Call and ask for a discount or refund. I hate talking on the phone to pretty much anyone that isn't my mom, but I have no qualms about calling up the credit card company and asking them to waive an annual fee or requesting that my cable internet charge continue at the introductory rate for another six months or year. You can usually get a late fee refunded too – the only place I've never tried this is the library only because it never occurred to me.
Tell me all your secrets for saving money. And I will steal them immediately.
If you liked this post about how to save money, you might like these posts too: