The navy blue paint used in this nursery is Naval and the white paint is Alabaster, both by Sherwin-Williams. They provided the paint for this project. I always use the Emerald paint line and choose the Satin sheen since it's not too glossy or too flat and is super easy to wipe down.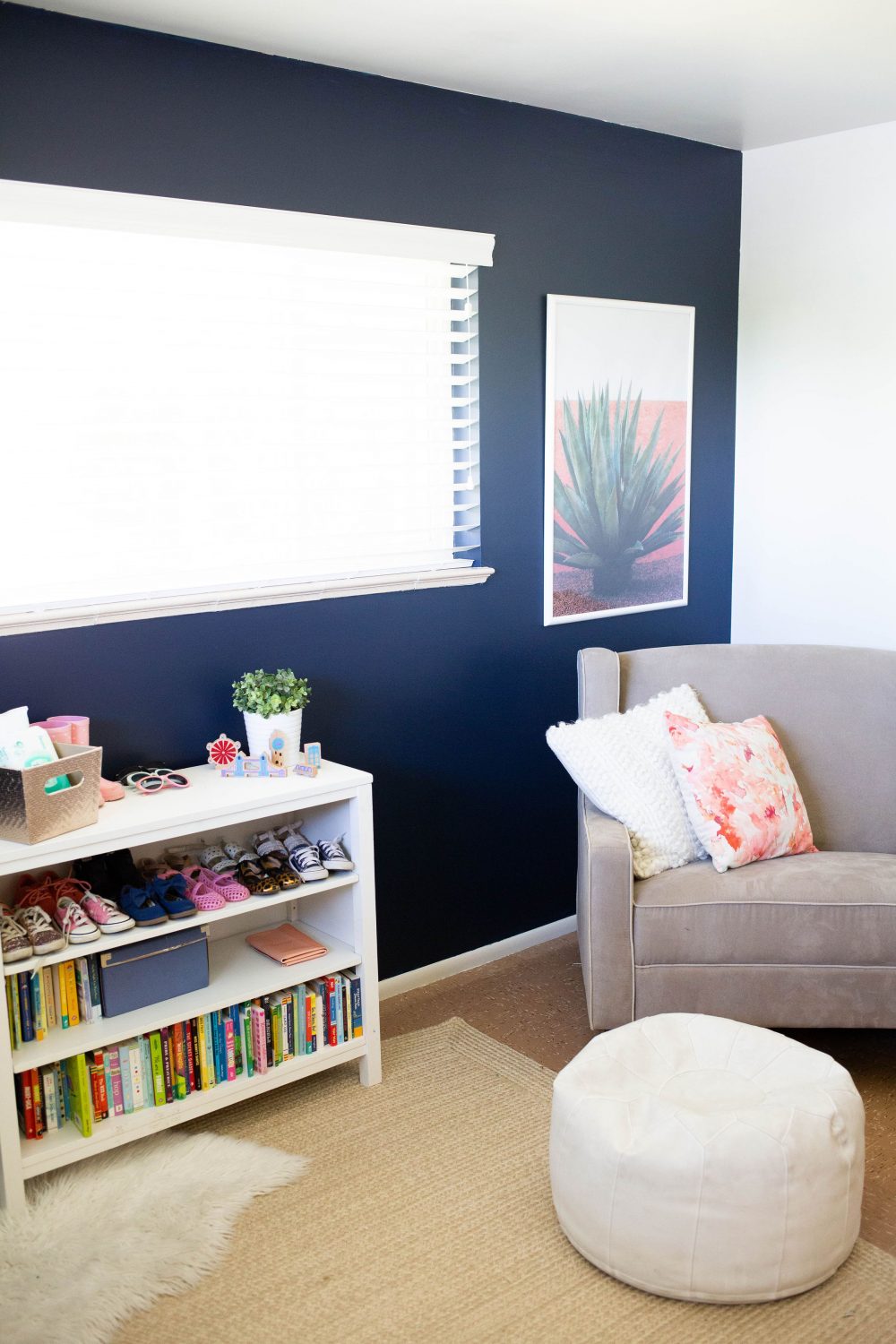 When we bought our house in Arizona in 2015, we immediately started making a long list of all the things we wanted to change about it. After a month or so, we stepped back and decided that instead of spending all our money on house projects, we'd focus instead on paying off student loans instead. I wrote a post here about how I decided to look at our stained green carpet as the color of the money we were saving.
For the next year, we worked on our student loans and as far as the house went, we spent our energy on high-impact but low-cost projects like painting nearly every square foot of that house and ripping out the massive (ugly and off-center) stone entertainment and putting in DIY shelving.
We waited on bigger things like carpet (the entire house needed to be re-carpeted and it was a BIG house) until we felt more financially stable and I've never regretted that decision. (My only regret is that we replaced the kitchen granite less than 2 weeks before we moved).
It felt really great to do things in the right order and on a financial timeline we felt comfortable with. I also LOVED painting the house and not having to worry about getting paint on the carpet.
And when the carpet DID eventually go in, it felt amazing for the room to be finished since everything else was in place before the carpet was installed.
All of this was on my mind a few weeks ago when we started looking at carpet for this house.
We had already painted the girls' bedroom downstairs and were waiting on the bunk bed to arrive. It felt smart to put the carpet in BEFORE the bunk bed arrived so we wouldn't have to move it for carpet installation, but then, as those things do, it kind of started to spiral.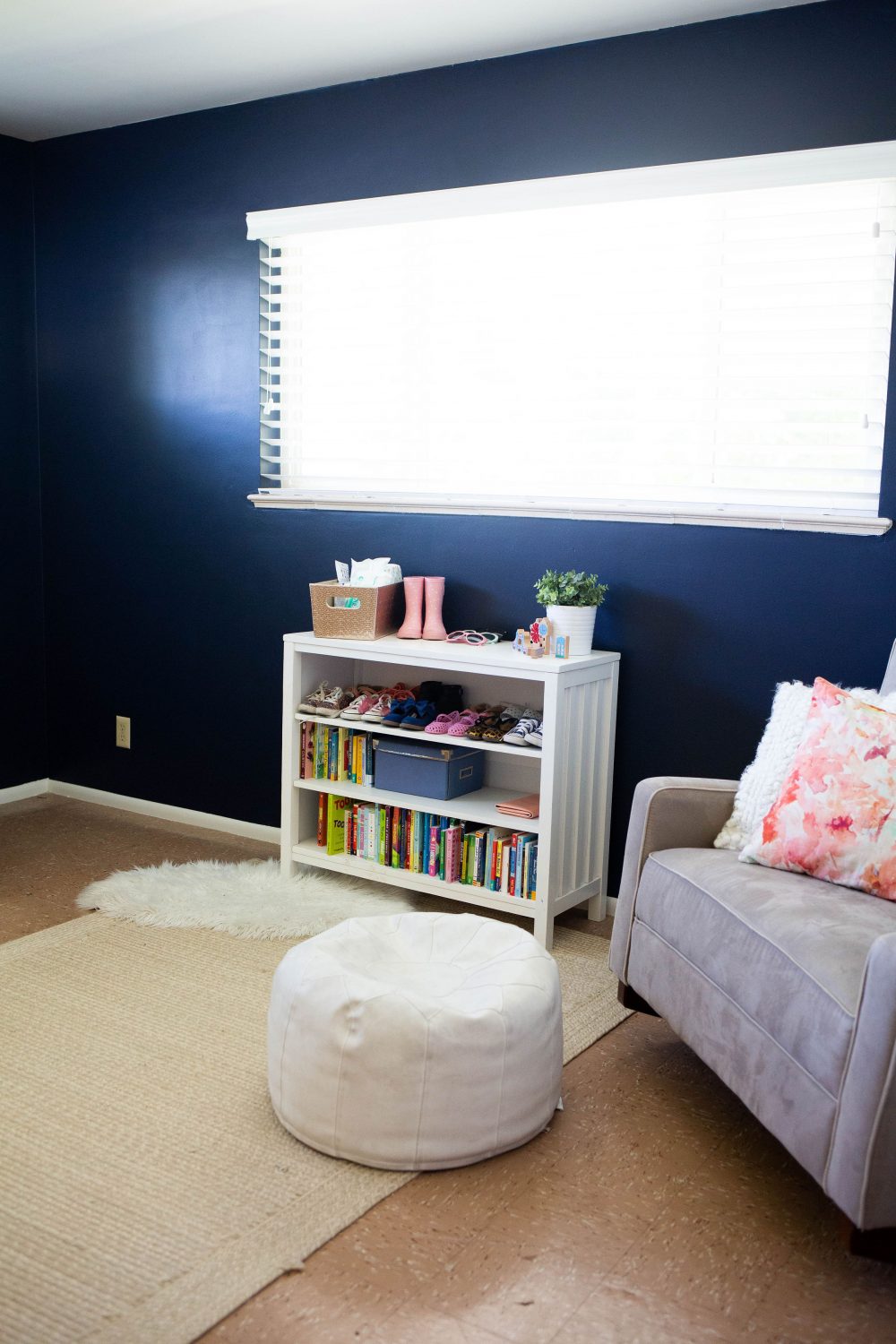 If we were putting carpet in their room, we might as well do the whole basement at once so all the carpet was off the same dye lot.
Of course, we weren't finished with all the painting downstairs, but suddenly it all felt like it needed to be done RIGHT NOW.
When we got our carpet quote back, the number shook us back to our senses and we decided that moving a bunk bed was probably not worth making an expensive carpeting decision over or force us into feeling like we didn't have time to do more research on carpet so we could get a better price or find a carpet we absolutely LOVED.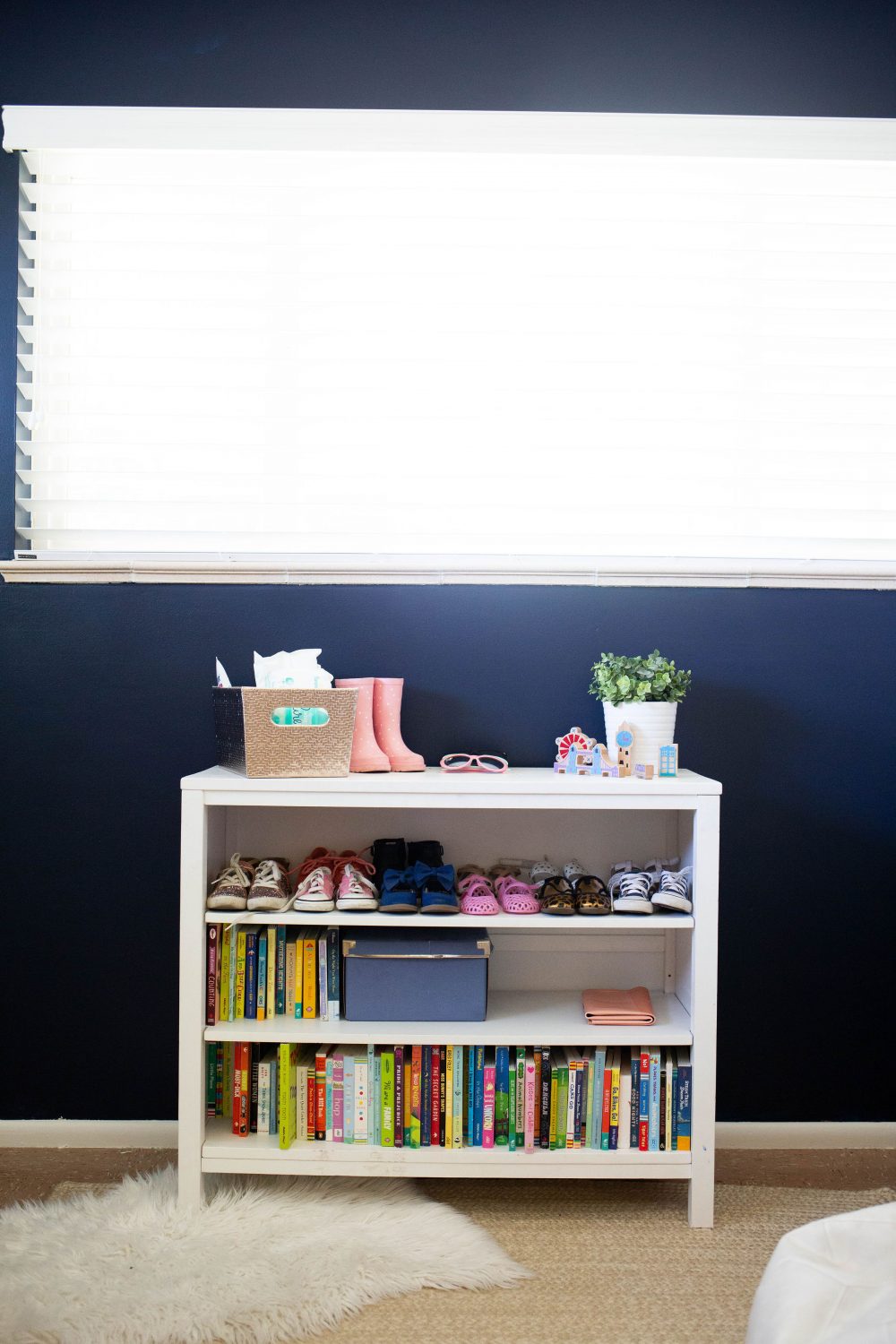 Instead, we decided that we'll spend the next 6-12 months doing all the possible projects WE can do on a more reasonable budget and THEN move forward on the more expensive non-DIY projects like re-carpeting the bedrooms and refinishing our wood floors and updating our kitchen.
If you remember, when we bought this house, we originally planned to remodel the kitchen and add a master bathroom and possibly move the staircase before we even moved in. By the time we closed, we'd decided to move in immediately and then do those big projects at the beginning of 2019.
Now, it's beginning to look more like mid-2020 before we say goodbye to our stained kitchen linoleum (it's had a good 60 year run – it can manage another year) or before our wood floors lose the faint teal color and pattern left behind from 60 years of carpet covering them.
And I feel GREAT about it.
We made a master list, room by room, of all the projects we can do on our own. Lots of painting, replacing some rubber baseboards (I don't even know . . . ), refinishing built-ins, and even a little drywalling and tiling.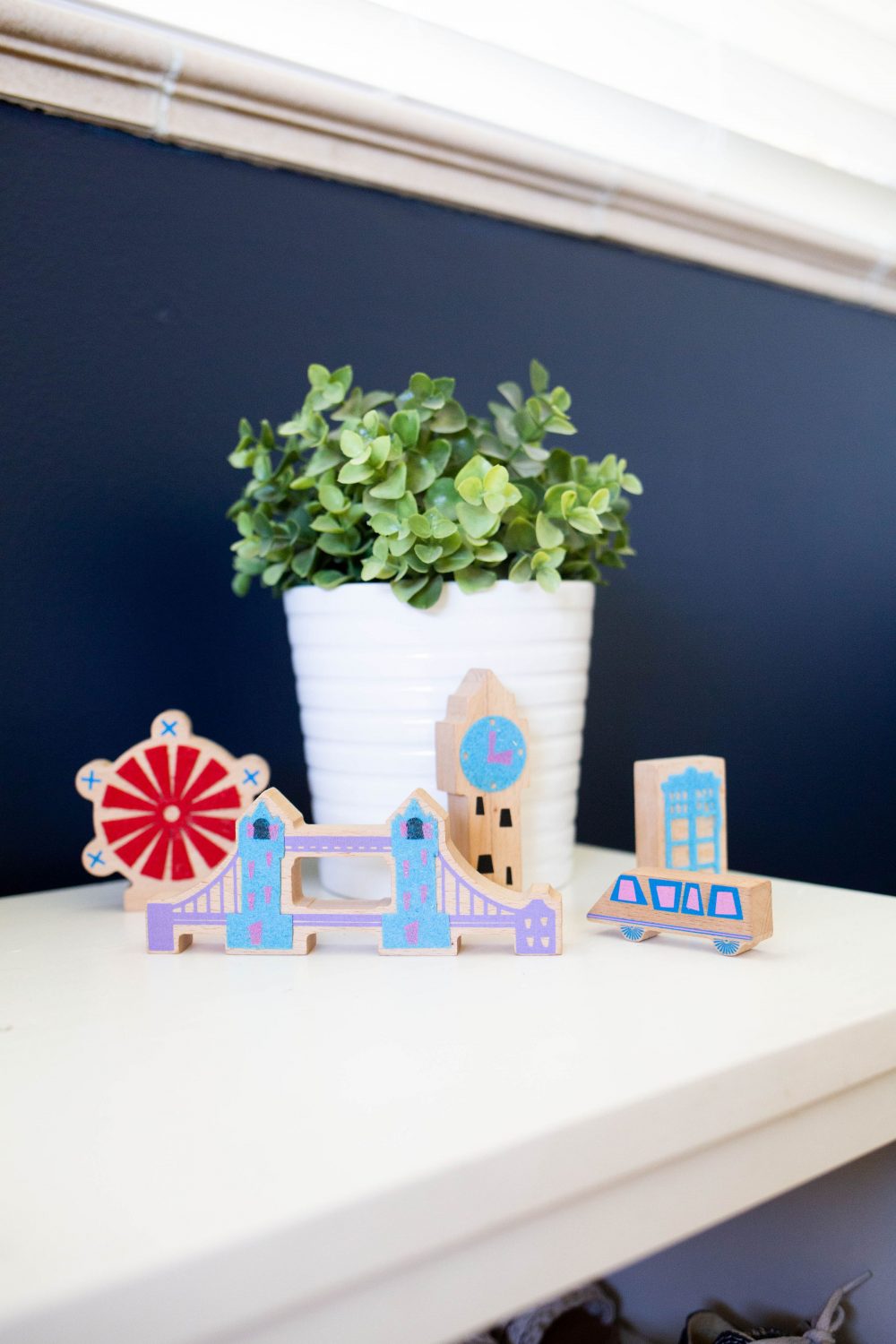 All of that is to say, the floors in Tally's navy blue nursery still are flesh-colored linoleum and they probably will be for a while yet.
But with new paint and new blinds (which we had installed within a few weeks of moving in because there were NO blinds in the entire house and we were using leftover cardboard boxes to block out street lamps at night. Not my idea of a long-term solution), plus the furniture and art from her navy nursery in Arizona, I can handle the floors for a bit longer.
And when a soft new carpet eventually is installed in this room? I'm going to appreciate the heck out of it.
NAVY BLUE NURSERY SOURCES:
Navy Blue Paint
White Paint
Crib
Floral Crib Sheet
Double rocking chair (shortly after this, we replaced the rockers with these chair legs so it would stop banging against the wall)
Pouf
Side Table
Lamp
Bookshelf
Rug
Sheepskin
White Pillow
Floral Pillow
Toy Basket
Cactus Print
White frame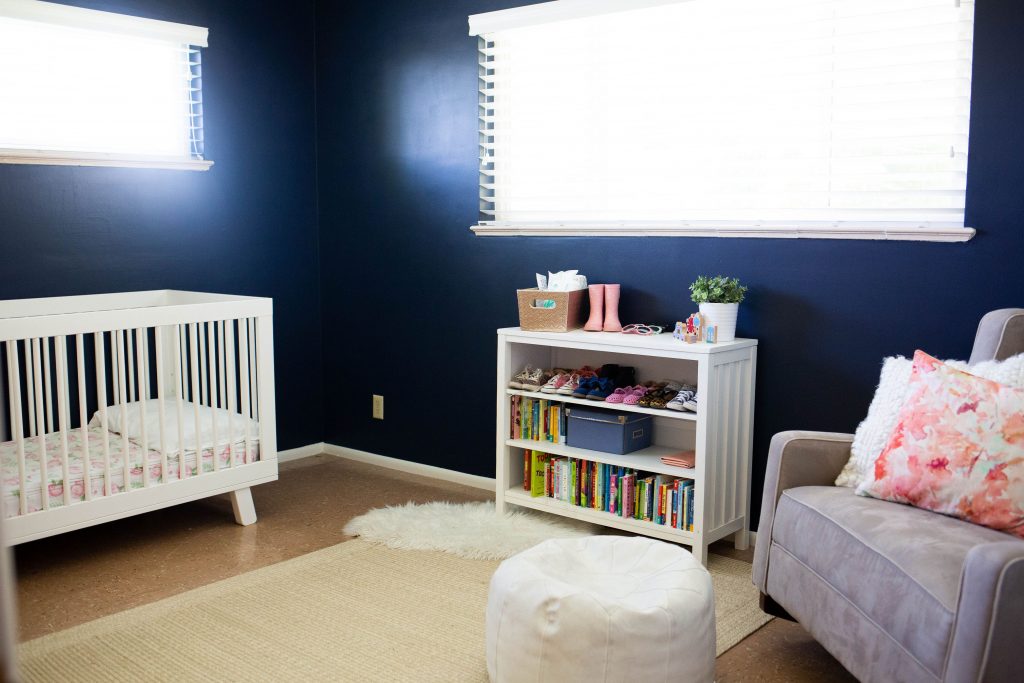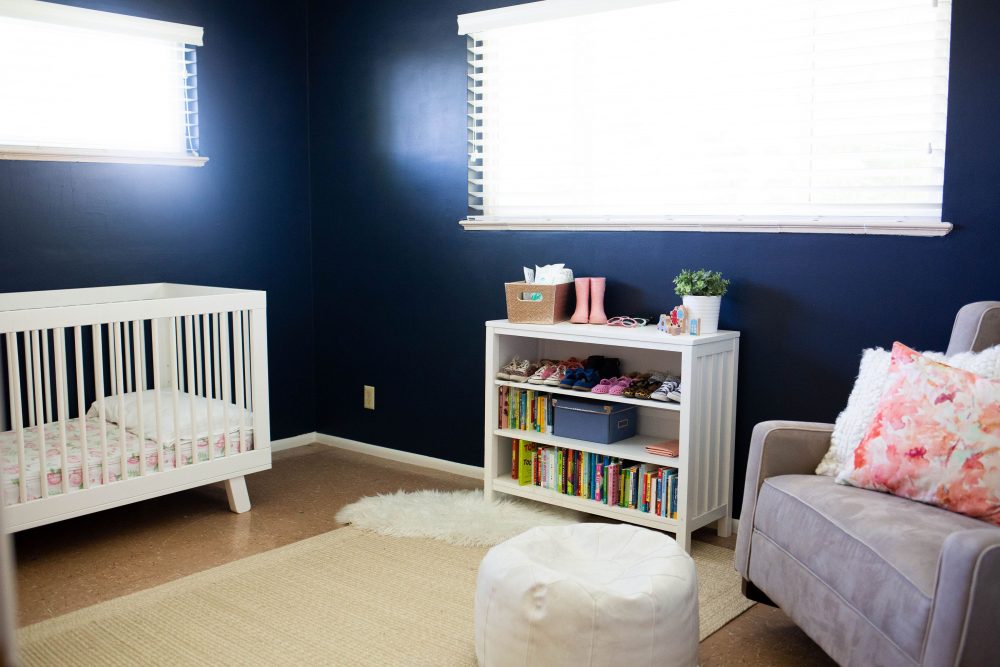 Photos by Heather Mildenstein