We've lived in this house for two months now and we love it more every day.
It just feels like the perfect house for our family.
I'm really excited to get to work on some house projects this year, but right now, we haven't done much except hang a few things on the wall.
It's been nice to feel like we have a little time to get to know this house before we start changing things up.
Here are five things about this house: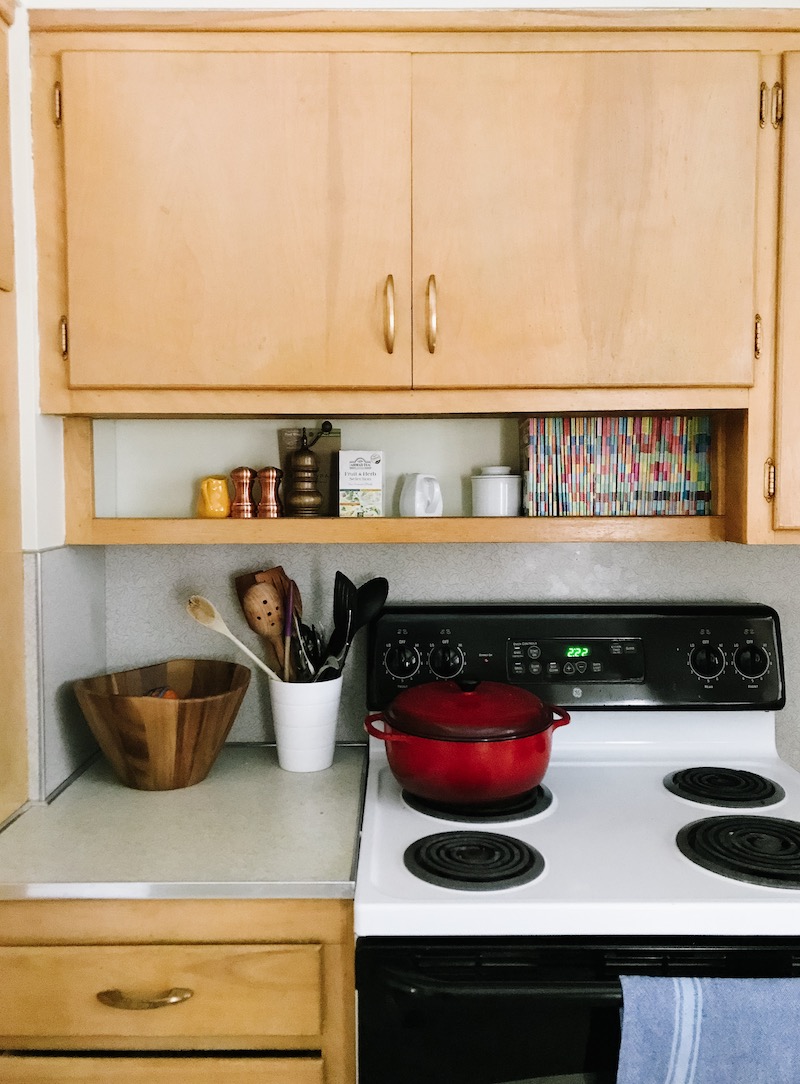 There were no blinds when we moved in
I was really surprised that a family would live in this house for more than fifty years without any blinds until a friend suggested that likely there WERE blinds but they would have been fifty-year-old blinds and in terrible condition and probably their relator suggested they just take them down when they listed the house.
The house gets a LOT of light, so without blinds it is basically like staring into the sun for several hours of the day. We'd been putting a couple of cardboard boxes in our bedroom window every night so that the streetlight doesn't shine right on our bed all night long, and I put a bulletin board in my office window so that I'm not blinded when I try to work.
We ordered blinds in early December and they just went in and it's SO nice. Especially to be able to get dressed in our room again.
The 70s carpet is brand-new
When we moved into the house, I was totally perplexed by the carpet. It was straight out of the 70s (kind of a rose-brown with a pattern) but it was PRISTINE. I didn't know how a family with seven children could keep carpet that clean for 40 years, until a neighbor told me that 3 years ago, the owners managed to find a perfect match for the carpet they'd installed in the 70s and had it replaced. So we have VERY clean carpet that looks a good decade older than me.
This house doesn't really feel smaller than our old house
This house is about 1200 square feet smaller than our previous house, but I don't notice it very much because some of that square footage was in our formal living and dining room which we basically NEVER used. We also have one less bedroom and one less bathroom. Overall, it makes me think our last house was just too big for our family.
I miss having a garage
The thing about our old house I miss the most is having a garage. Especially in the winter, it would be so nice to be able to go in and out of the car without having to go outside.
I felt really good about a life where I never scraped off my car windows.
It needs less fixing up than I expected
When we bought this house, we anticipated pretty much gutting the house. But now that we've lived here a few months, we've REALLY scaled back our plans for renovations. We still plan to replace all the flooring (there are ELEVEN different floorings in this house at the moment, including five different styles of linoleum) and I'm sure there is a good amount of painting in our future, but we likely won't rip out the whole kitchen and just make some improvements and update parts of it. Whether or not we'll add a master bathroom is still up for debate.
Overall, I couldn't be happier about this house and it feels so amazing to have our own space again. Wood paneled basement and all (and spoiler: I actually kind of like the wood paneling).