For the first 13 years of our marriage, we didn't have a TV in our bedroom.
It was always in the living room or family room.
And then we moved into our last house in 2017, and there was no good place to put a TV in the living room. The living room was open on two sides, had a massive window on one side and a fireplace on the fourth side.
I'm sure some people would have mounted the TV above the fireplace, but I didn't want it to be the focal point of the living room, plus the furniture didn't fit in a way that made it work to have the TV the focal point.
We put one TV in the basement playroom and the other went in our bedroom.
And to my surprise, I LOVE having a TV in our bedroom. In our new house, we did the same – put one TV in the basement playroom for family movie nights and put the other one in our bedroom, with no television in our main living room.
Here's why I've loved it so much: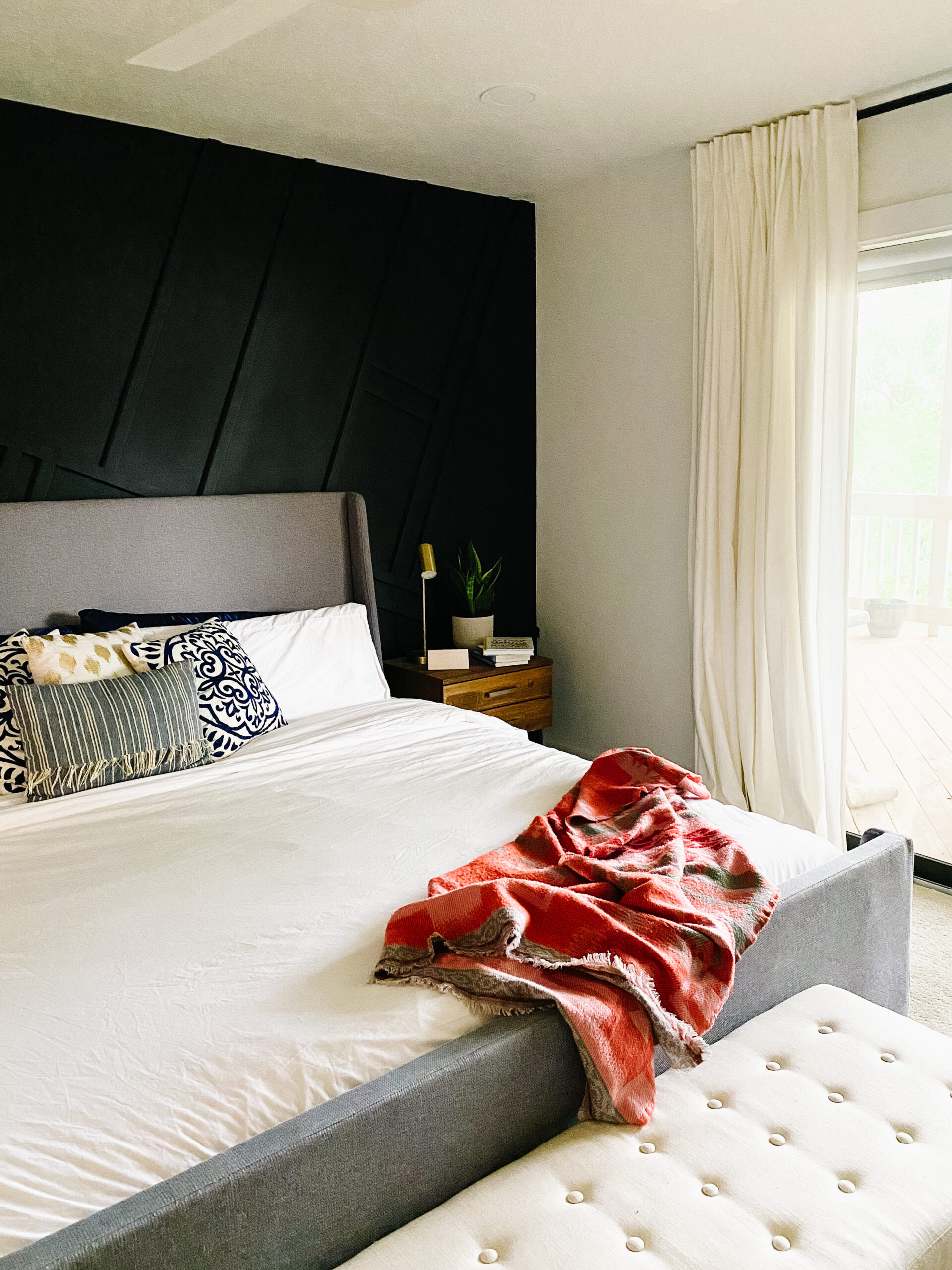 In our previous homes, if we wanted to watch a show in the evenings after the girls went to bed, we would plop down on the couch and watch together.
And then, by the time it was over, we were exhausted and the idea of getting up off the couch, brushing teeth, putting on pajamas, and taking out contacts all sounded like SO MUCH EFFORT.
And so instead we'd be much more likely to watch another episode or just sit on the couch scrolling on our phones to put off the hassle of getting ready for bed.
Once our TV was in our bedroom, if we want to watch a show at night, we both get fully ready for bed – teeth brushed, face washed, house shut down for the night, etc.
Then once we're done watching, it's literally as easy as turning off the TV, switching on the sound machine and switching off the lights. Ready for bed!
It kind of feels like magic and it's a great wind-down to the day instead of pushing our bedtime later than we want. It's much much easier to turn off a movie or show part way through when there isn't a hurdle between you and going to sleep (it's very rare that we watch even a full episode of something in a single evening – we usually watch maybe 15-20 minutes).
I know that lots of people feel STRONGLY that their quality of life is decreased by having a TV in their bedroom or that it disrupts their sleep or has other negative consequences and if that's the case for you, by all means keep the TV out of your bedroom!
But for us, a TV in the bedroom has meant fewer late nights and more sleep, so I'm calling it a huge win.
And not having a big black square on the wall of our living room is definitely an extra bonus.
If you liked this post about having a tv in the bedroom, you might like these posts too: