I hadn't realized how much I was in survival mode this month until Tally started kindergarten this week and I suddenly realized how behind I'd gotten on virtually everything in my life.
It's been a delight to have more of a routine (I'm a Type-A person FOR SURE) and that includes more time to read and listen to audiobooks.
Here are four books I'm currently reading!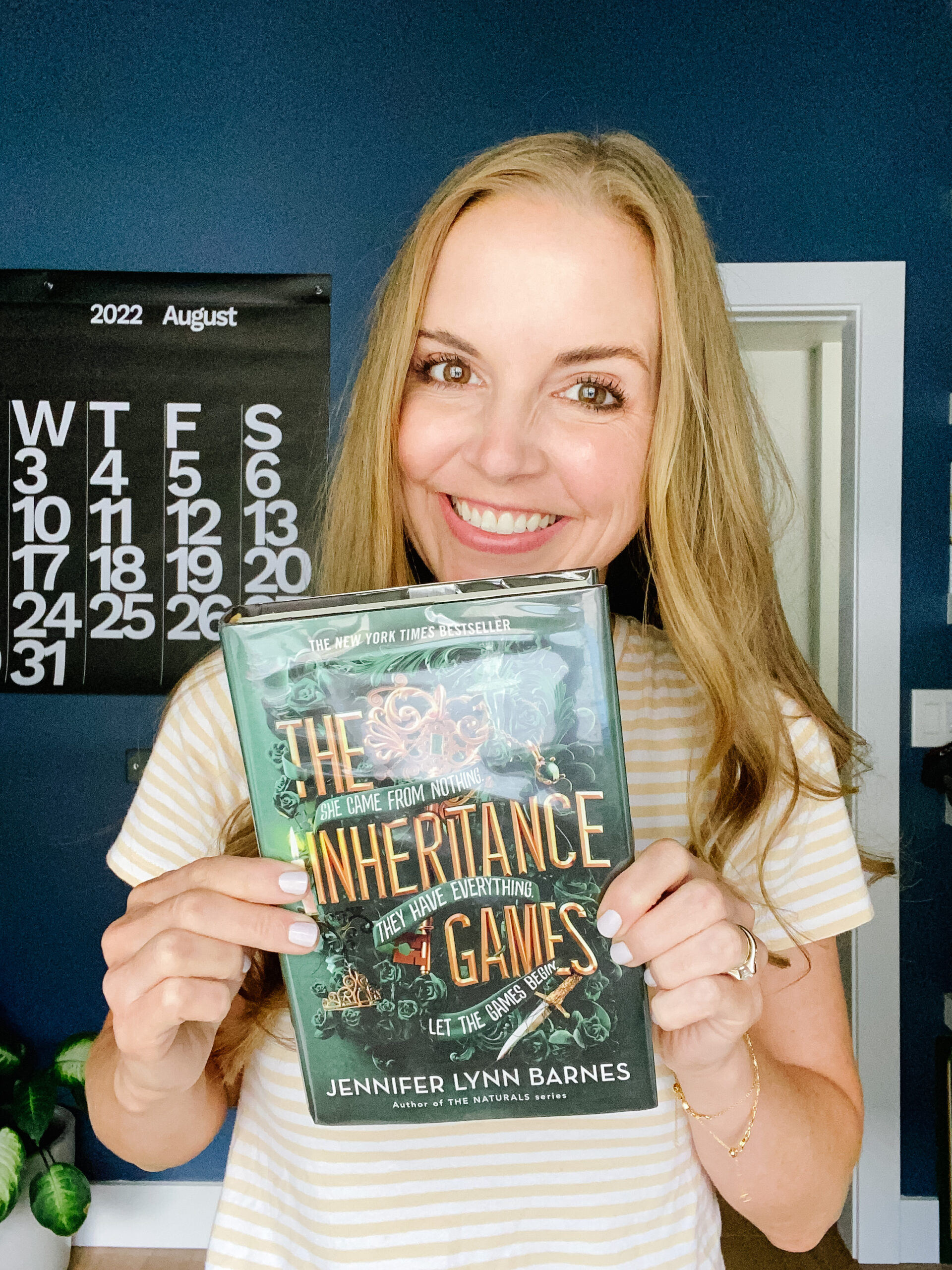 4 Books I'm Currently Reading
The Inheritance Games by Jennifer Lynn Barnes
This was one of the books on my summer reading list and I was thrilled when it finally came in from the library – I read the first five chapters AT the library while my girls picked out their books and did puzzles. I need to immediately put the second one on hold because everyone has told me that I won't want to wait a minute between finishing the first one and diving into the second one.
Defend the Dawn by Brigid Kemmerer
The first book in the series, Defy the Night, was an Everyday Reading Book Club title this summer and I LOVED re-reading it. Then the publisher sent me an advanced copy of the second book in the series and I blew through the first half over the weekend and now have been scrambling to find any spare moment to keep reading. So far, I'm VERY into it.
Where the Red Fern Grows by Wilson Rawls
This is what I'm reading aloud to the girls right now – I'd read it to them back in 2019 and then Ani requested a re-read of it a few weeks ago and we're more than halfway through it again. It's been a delight to revisit it, although I'm already dreading reading the end aloud again. Doesn't matter how many time I read it – it gets me every time.
A Good Girl's Guide to Murder by Holly Jackson
This is the October book for Everyday Reading Book Club (it's one of the ones on the list I haven't read yet!) and I just downloaded the audiobook yesterday to get a head start. It's a full cast audio which is especially fun and I can't wait to finally get to this book that's been on my TBR for years.
And here's what my team is reading right now!
ANALESE
Will by Will Smith
I know this is probably controversial after the slap heard across the nation, but I've been in the hold line for this one (audio version) for forever and I was even more intrigued, so I went with it. And I honestly have found it incredibly fascinating!! I basically knew nothing about his life outside of him being the star of Fresh Prince of Bel Air, Gettin' Jiggy Wit It and all of his huge movies. This memoir gives a good look into his entire life – the good, the bad and the ugly. I have thoroughly enjoyed it and his narration is fabulous. (This book does have some language).
JENNIFER
The Bodyguard by Katherine Center
This is Katherine Center's newest novel that came out last month. It was a really fun, fast read and took a fun spin on a classic trope. In this book, Jack Stapleton, is a famous actor, in need of a bodyguard. The agent that fills the position isn't who you would think- enter Hannah Brooks. She is all about her job, but when she has to pretend to be Jack's girlfriend the lines between work and personal get very blurred.
KELSEY
The Paris Apartment by Lucy Foley
Rock, Paper, Scissors was one of my favorite books this summer and I wanted something similar – mystery and suspense. The Paris Apartment follows Jess. She visits her brother's apartment in Paris hoping to move in to escape her life in England, but he is not there. As days pass, he stays missing and Jess begins to dig into her brother's situation and talks to his neighbors. His neighbors are not very friendly with her and they all seem to have reasons for not wanting him around. Where is her brother? Did something bad happen to him? If so, who did it? (This book does have some language).
if you liked this post about what I'm currently reading, you might also like these other posts: