With all the big girls at school this year, Tally and I have spent a LOT of time playing through our collection of games for preschoolers in the morning until she goes to kindergarten in the afternoon.
These are great games for little players around three to five years of age, none of which require reading skills.
Bonus for being ones that I actually enjoy playing too, instead of ones that make me wish to gouge my eyes out. Our older girls are happy to play most of them too, so they can be fun for kids to do alone or for adults to join in on.
I hope you find some new favorites on this list!

10 Favorite Games for Preschoolers
Spot It. This is one of those games I'll happily play even without a preschooler around! I love that you can play a full game in just a couple of minutes and you can divide up the cards to make it harder for the adult and easier for the child.
Hoot Owl Hoot. This is the first collaborative board game we ever owned and for whatever reason, I just LOVE this one. It's simple but enough strategy to make it fun, and last fall, Tally and I were consistently playing 3-5 games of it every single day.
Gnomin' A Round. This fun card game is a riff on the card game Golf, but with much prettier cards and some fun extras that make it a little more special. This is another one where you can blow through a game in 10 minutes or less. (This one might take a few rounds for a toddler or preschooler to catch on to, but by the time she was four, Tally was playing this one very competently without any help).
Sequence for Kids. This is a classic that Bart's sister gave us and it's a fun one for all ages, with very little skill involved.
Busy Town. This is board game meets I Spy and it gets bonus point for being a cooperative game where you all work together to win. Plus, the board is about six feet long, so it feels extra fun!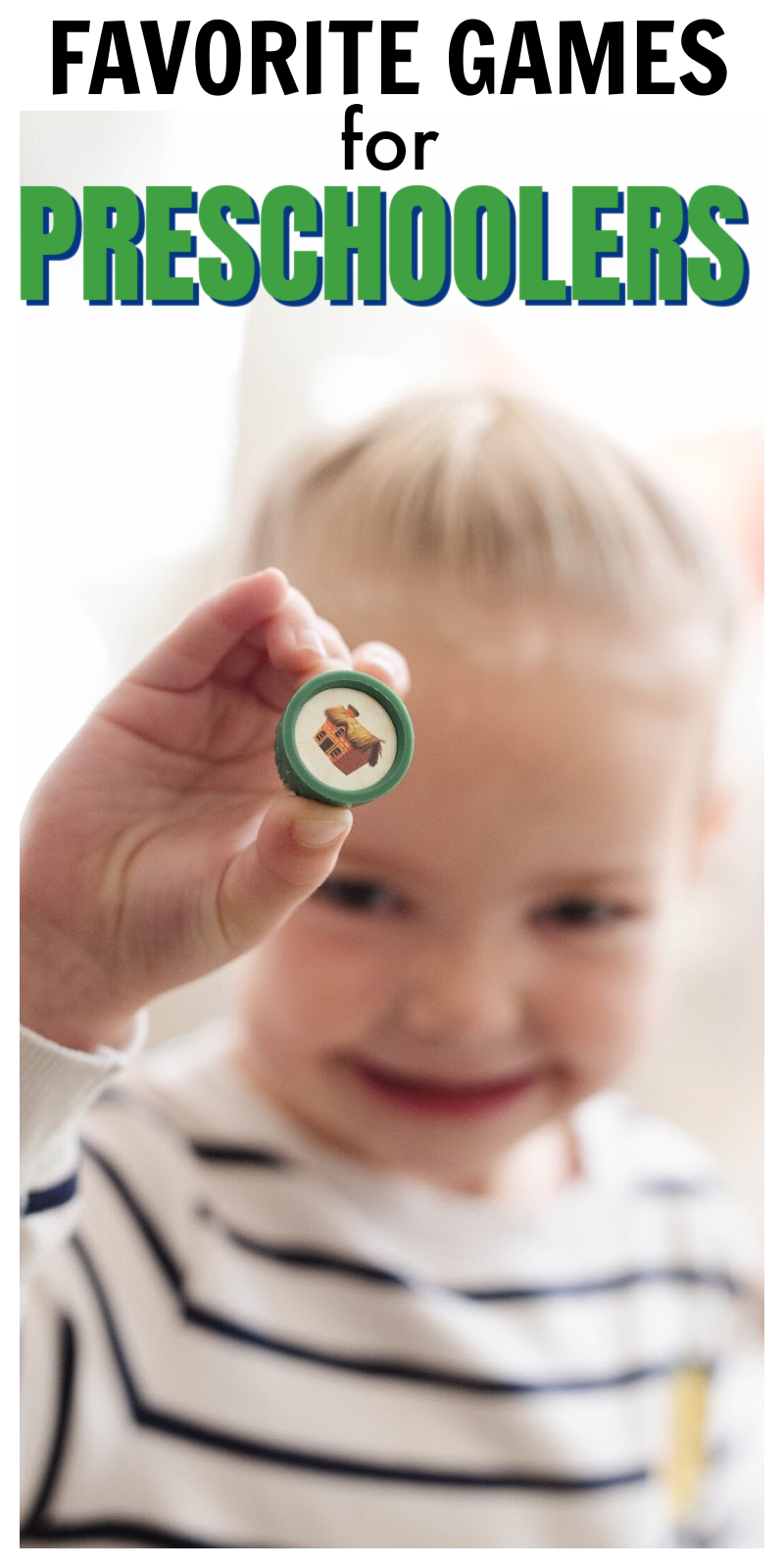 Memory. This was the first game that Ella really got into as a two year old and I have played literally HUNDREDS of rounds of this over the years.
Enchanted Forest. I grew up playing this game and it's one I still really enjoy playing with my girls. You zip around the enchanted forest peeking under trees and trying to find (and remember!) where the fairy tale story accessories are hidden.
Uno. You can't go wrong with this classic card game, plus it's a great way for preschoolers to practice numbers and colors. Plus, it's an easy one to slip in your bag and take with you while you're out and about.
Bingo. This is another one that I played a million games of with Ella. I'm pretty sure my finest accomplishment is the fact that we still have EVERY PIECE even after a decade.
Sleeping Queens. This might be the single most popular game I've ever recommended. It's fun for all ages, simple to learn, and includes a little number and simple math practice too. I'm pretty sure I've played one thousand rounds of this over the years.
Peek A Doodle Doo. This game was a gift from grandparents some 7 years ago and it's still frequently taken out and played. The primary goal is to remember which chickens are sitting on eggs and which ones have an empty nest, and it's more tricky to remember than you'd guess!

What are your favorite games for preschoolers? I'd love to hear – leave your recommendations in the comments and it'll make this post more useful for everyone!
If you liked this post about games for preschoolers, you might like these posts too:

Photos by Heather Mildenstein