I can hardly believe it, but as of today, this house is no longer ours!
After the first owners having it for 60+ years, I won't pretend I don't feel a little bit like a quitter that we were only here for 2.5 years, but oh, we've loved this house so much.
Here's a little tour of it with some of the updates we made along the way!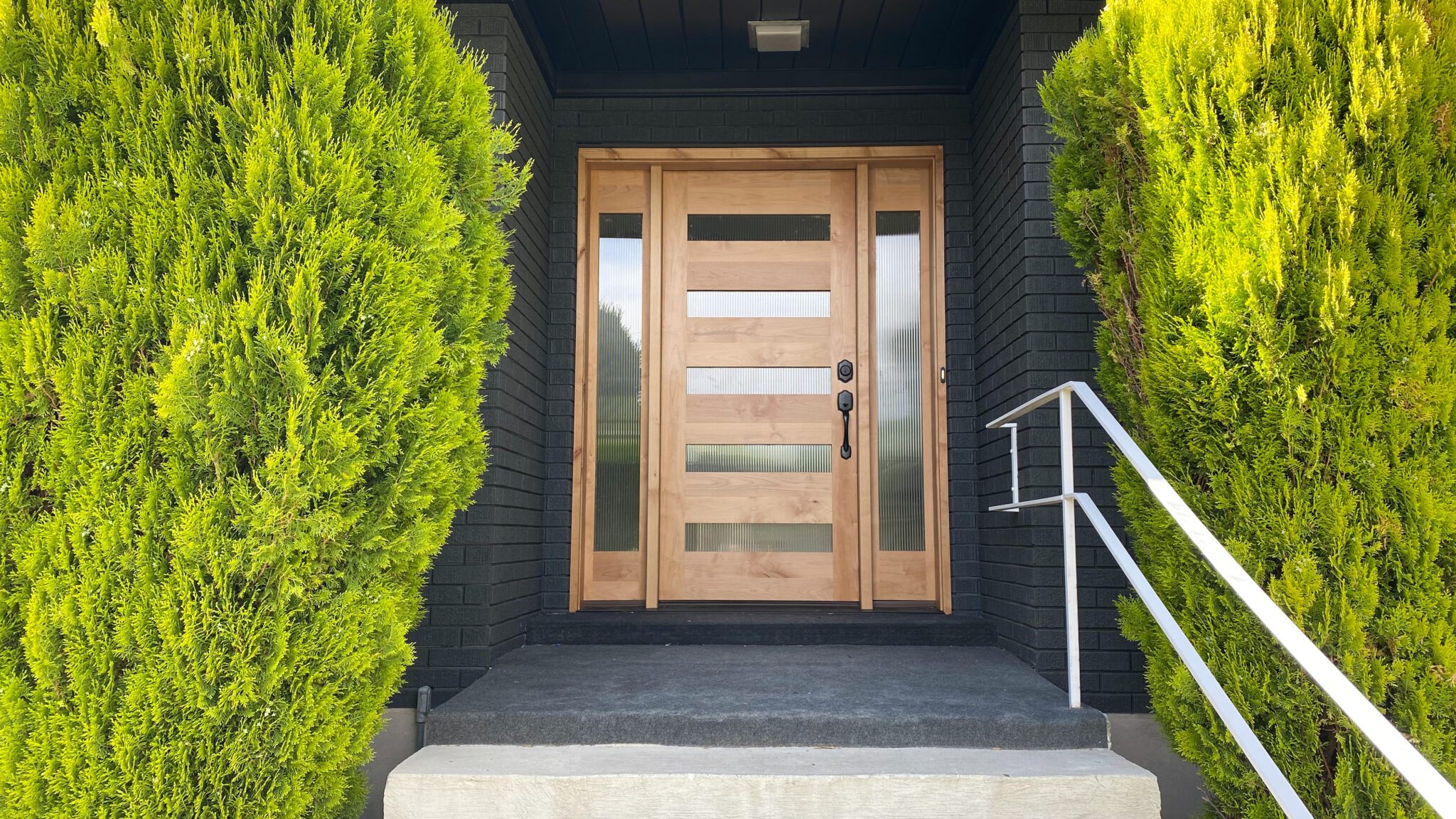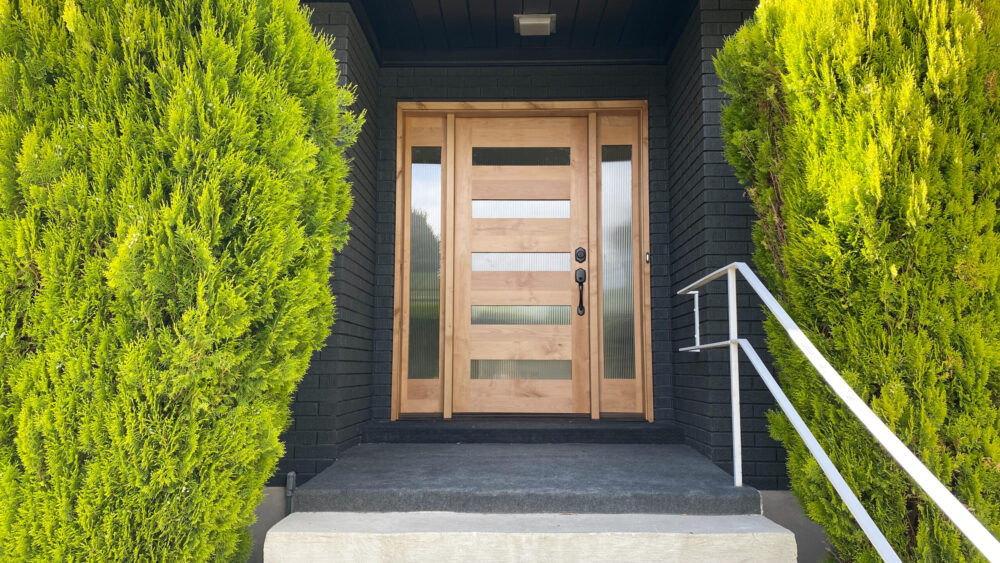 EXTERIOR:
We painted the exterior of the house last year (it was a pretty unfortunate orange-y brick) and I LOVE how much better it looks now. The brick is Iron Ore from Sherwin Williams and the trim is Tricorn Black (also Sherwin Williams). Definitely in my top 5 things we did to this house.
These are our new doors that we ordered approximately five seconds before we decided to move and were none refundable since they were custom. And even though they were expensive, I'm still SO happy we did them because they look so dang good. When you drive up to the house at night and see all the light glowing through the glass, it's just magical. Also, the previous doors were hollow core and didn't actually touch the floor, so they were super drafty and wildly insecure (literally, you probably could have just punched through them).
I bought some cool modern house numbers to mount above the door but haven't done it yet, so I'm just leaving them for the new owners to put up where and when they want.
By the way, these bushes aren't color edited – they truly are THIS bright and they're a fun pop against the dark brick.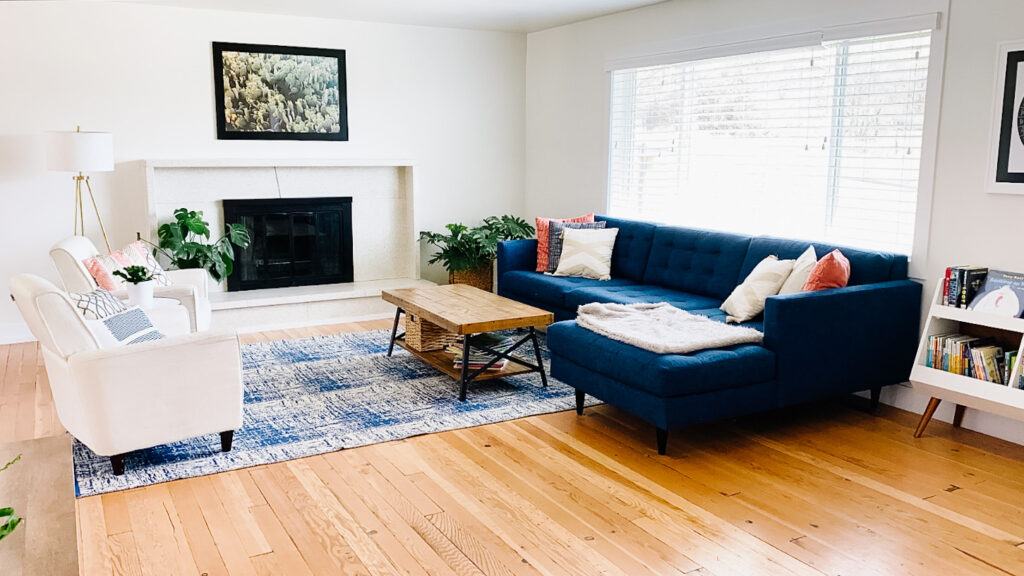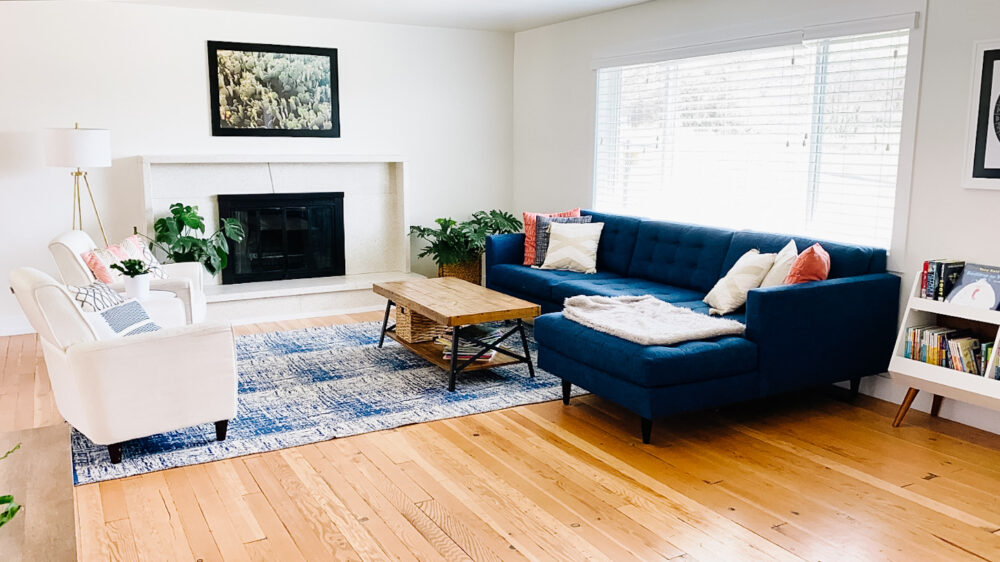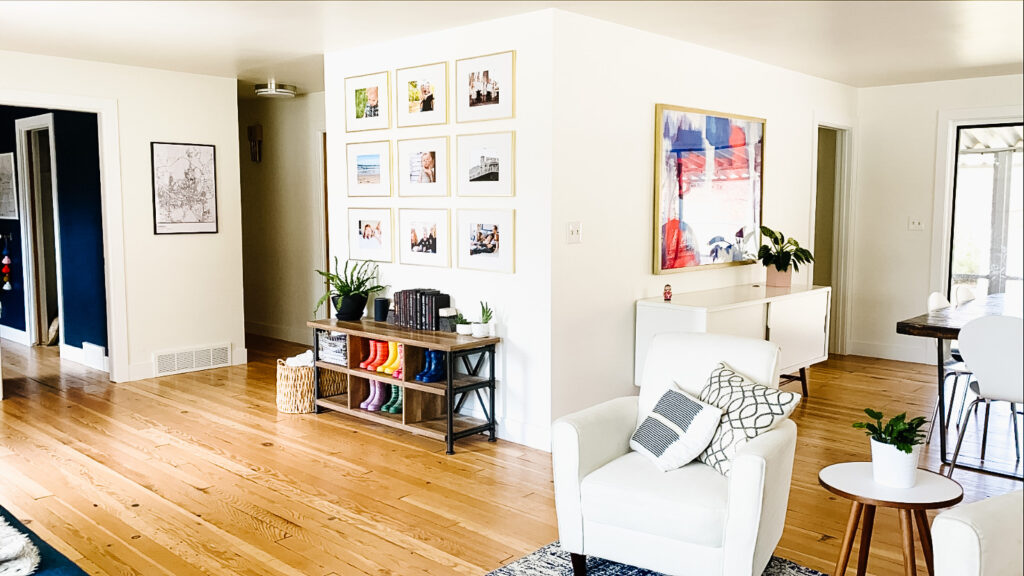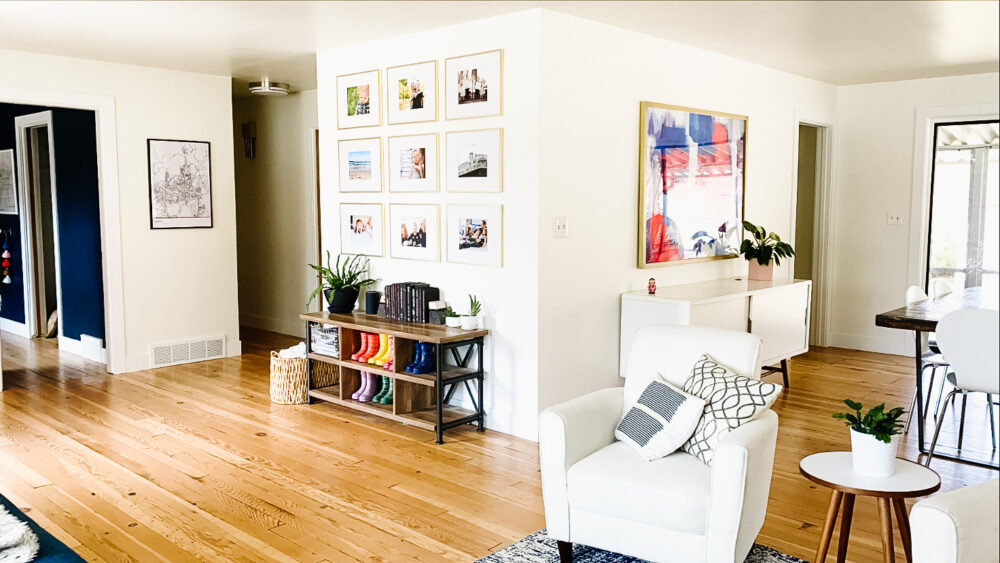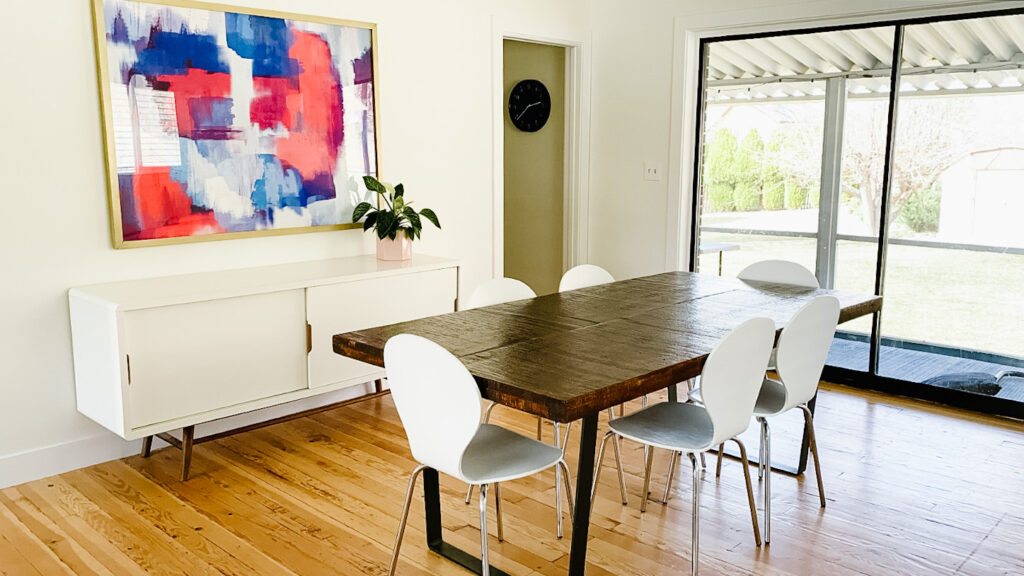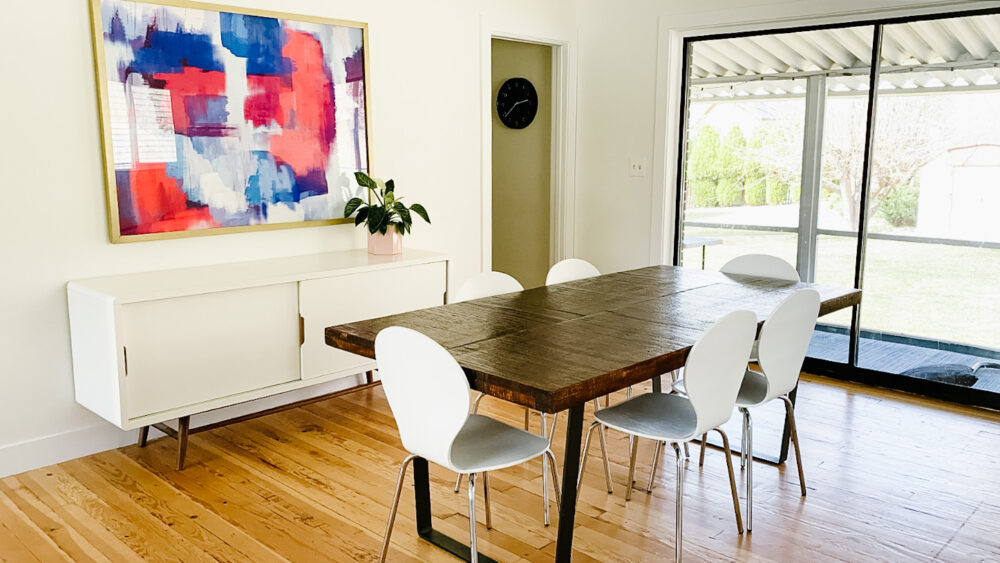 LIVING ROOM:
When we moved in, there was sculpted shag carpet all through the entryway, living room, dining room, and hallway. About four months after we moved in, we ripped it up and discovered that the subflooring was actually really decent and we had it sanded and sealed (it's just three clear coats – no stain). There were a few boards that needed to be replaced and our floor guy hand painted a bunch of the spots that had gray cement filler.
We painted the whole main floor white (the paint color is Alabaster by Sherwin Williams) and our neighbor did all the trim for us, which is painted Extra White (also by Sherwin Williams).
I hand-painted the sliding glass door metal black which was an enormous pain, but I loved it so much more than the blah gray metal it was before.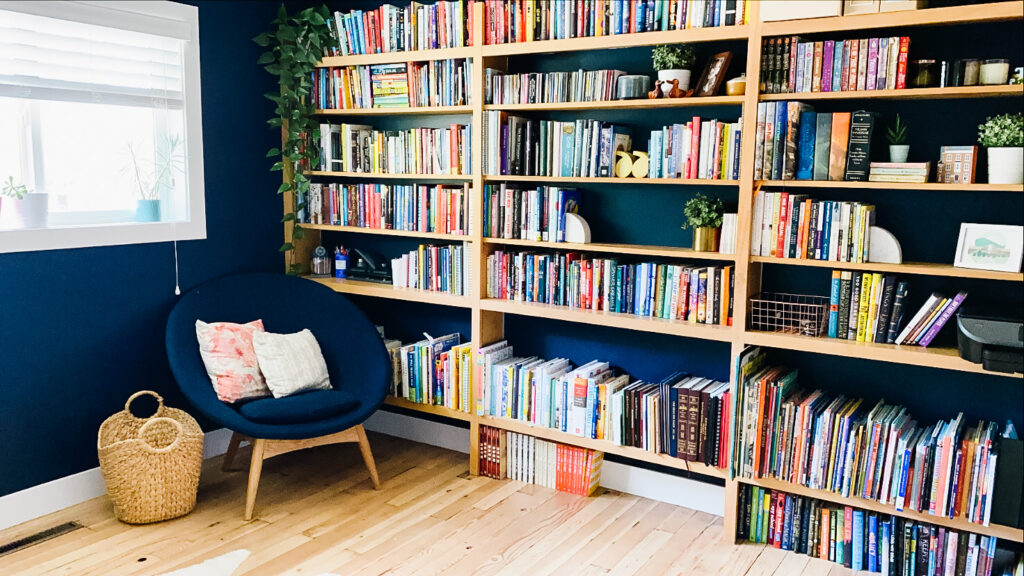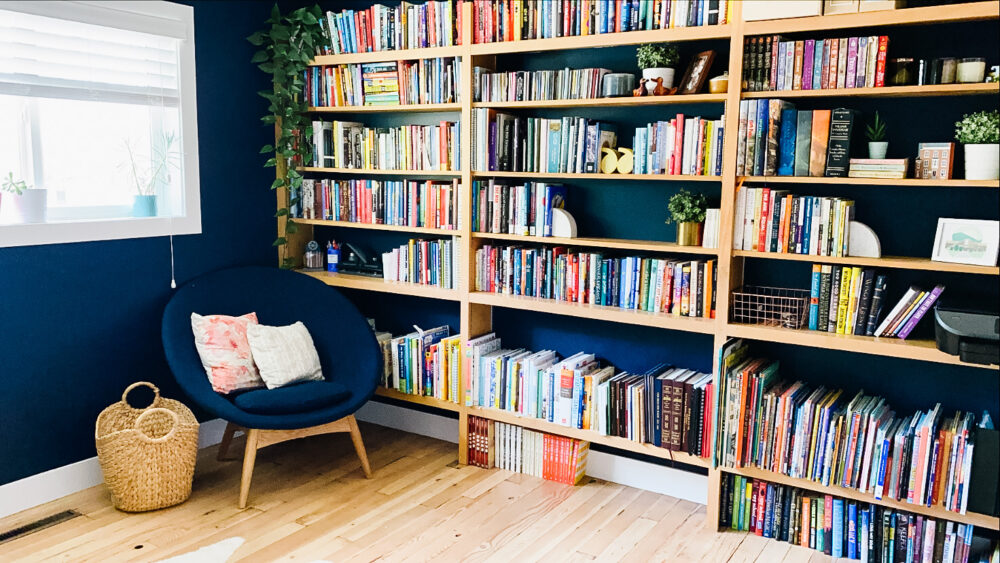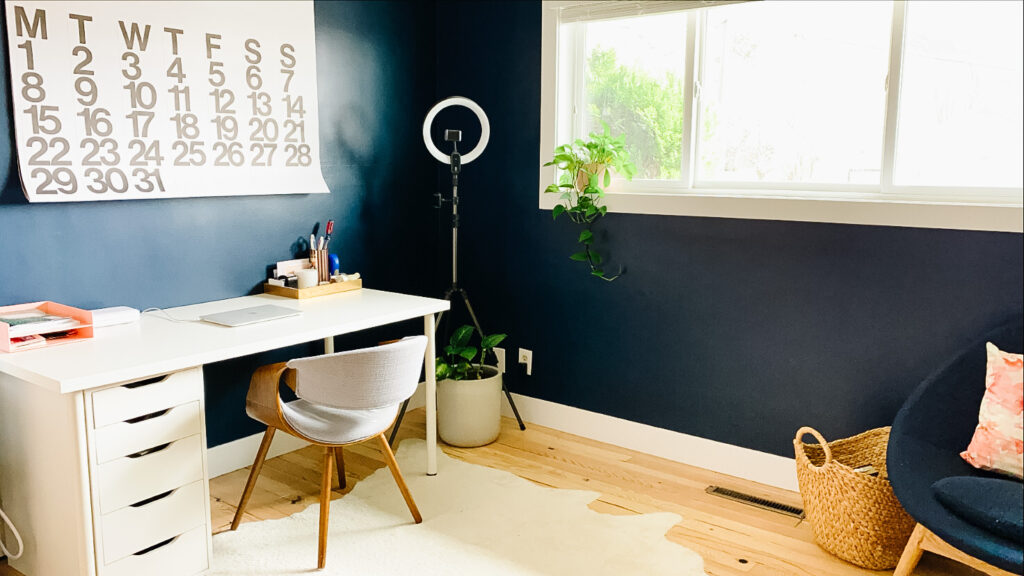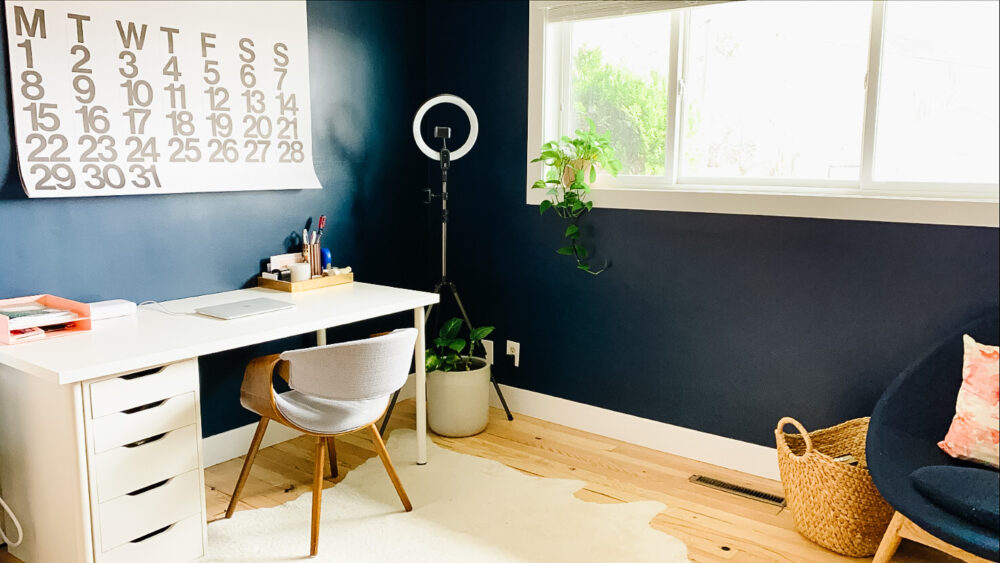 OFFICE:
My office was the first space we tackled in this house and we painted it Naval (another Sherwin Williams paint).
There was initially linoleum in this room, but Bart ripped it out last year and we had these floors refinished too. The bookshelves were original to the house (they went under the linoleum!) and it has a closet too, so it could technically act as a bedroom.
We also replaced the light fixture with something fun – the original florescent light box was not my favorite.
I LOVED this room and you can see the before and afters here.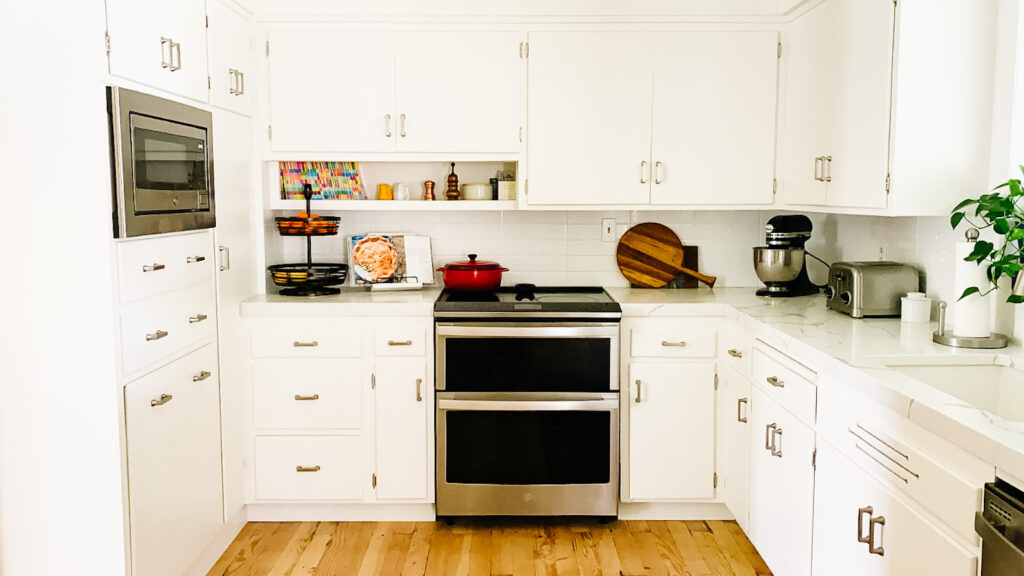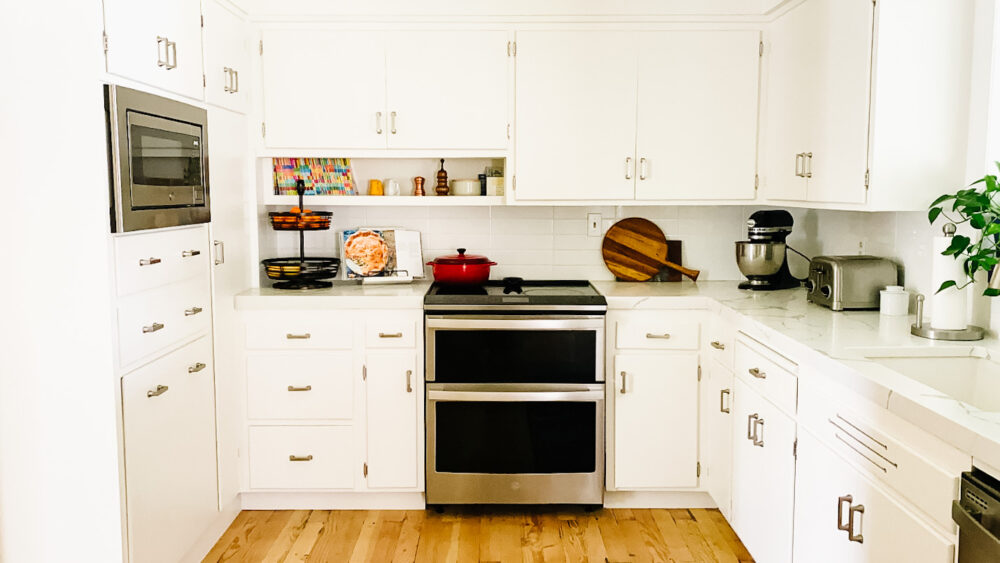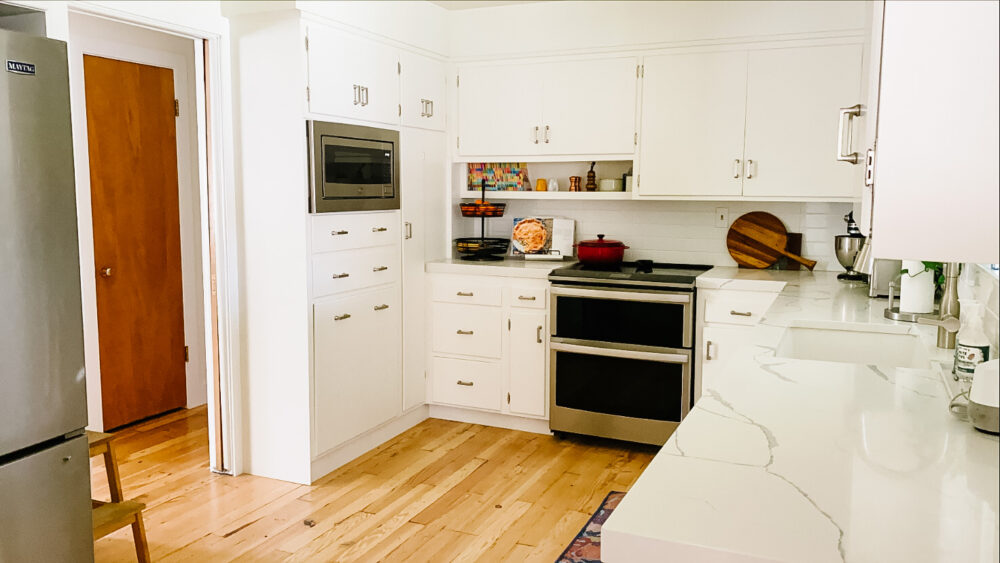 KITCHEN:
The kitchen was where we spent the most time and money renovating. There was linoleum in here, which we tore up and had refinished – it looked SO much better to have consistent flooring throughout the main living areas instead of changing from carpet to linoleum at every doorway.
We left the original cabinetry which was super solid wood (thank you, 1950s builders) but had them repainted and also added some missing cabinetry including the narrow cabinet and drawer next to the stove and everything from the microwave on down which had originally been the space for a fridge, but was now way too small for any regular sized fridge. So we added the microwave and drawers and pull-out garbage/recycle drawers.We also ripped out one cabinet set that's not pictured here and put in a floor to ceiling pantry, plus built in the fridge (and closed the strange pony wall that opened into the stairwell).
We also replaced the hinges and hardware, put in new quartz countertops (the old counters were aluminum-trimmed laminate countertops), added a backsplash, and replaced the brown rubber trim.
You can see all the before and afters, plus the links for everything we used here.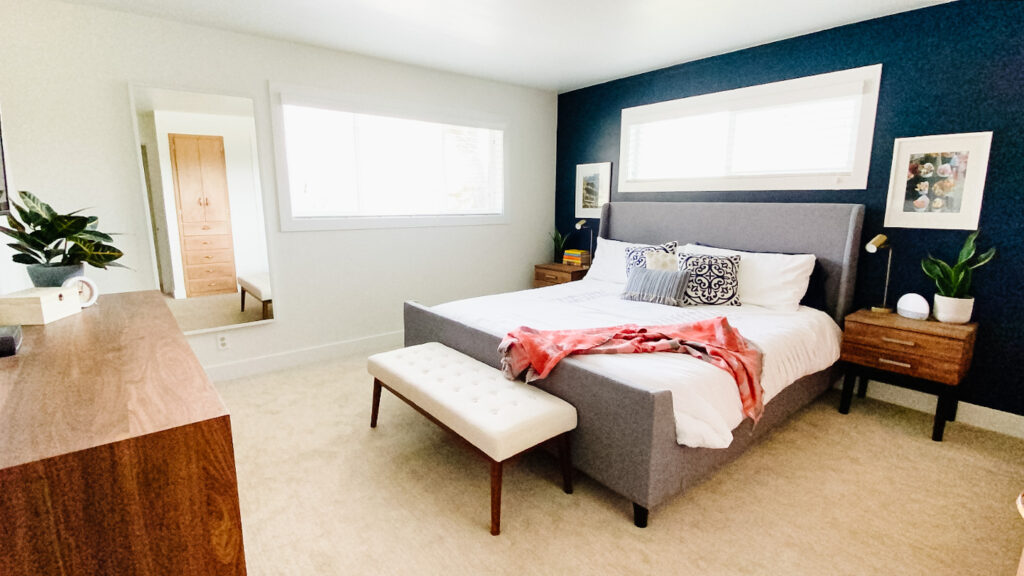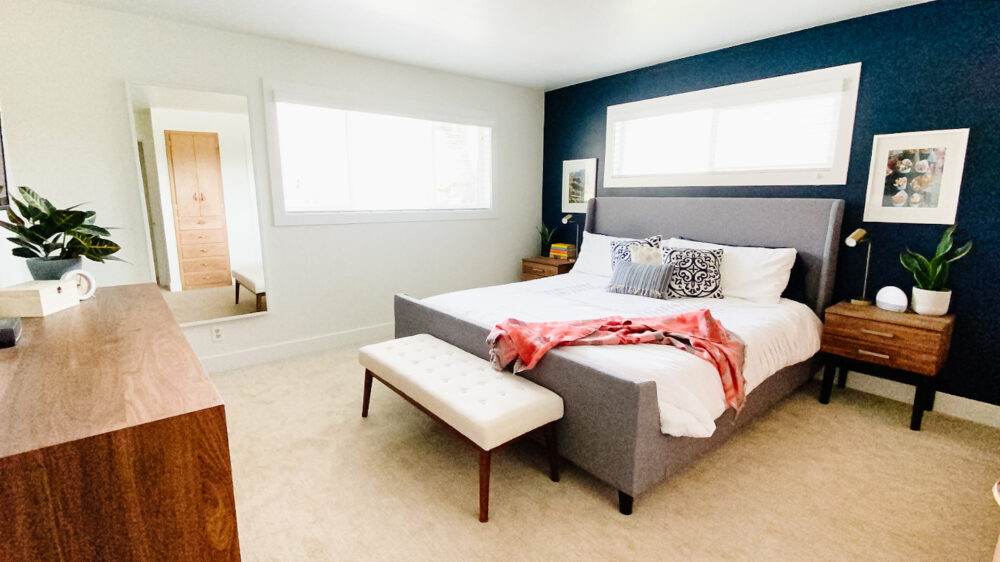 OUR BEDROOM:
We repainted this room (Naval and Alabaster), had all the trim re-done, and replaced the carpet. Full details on this post.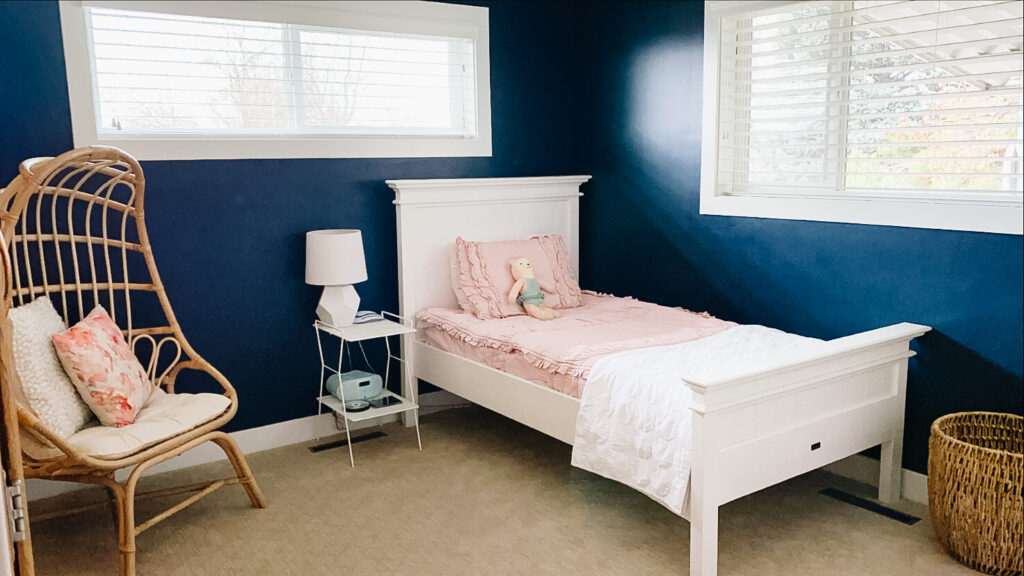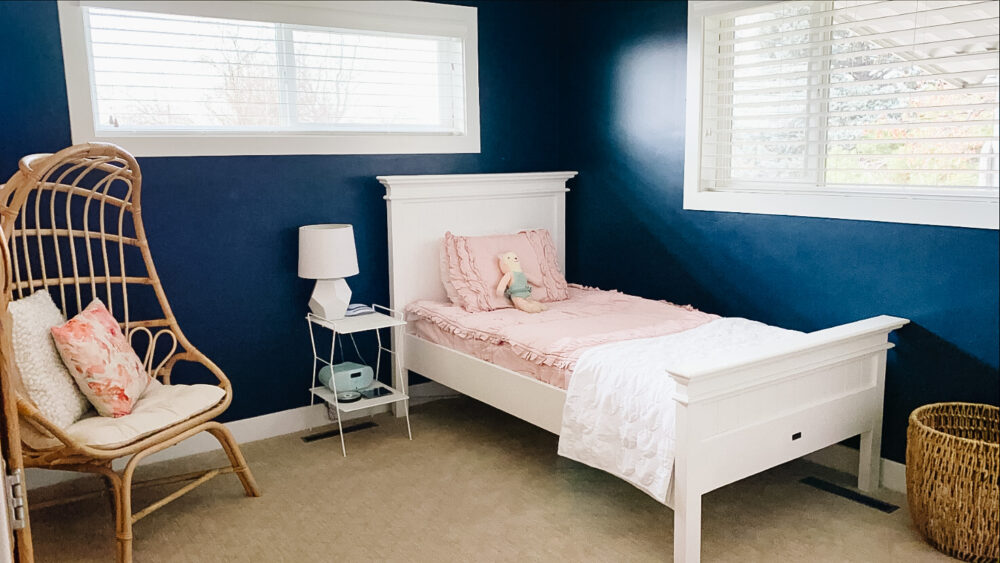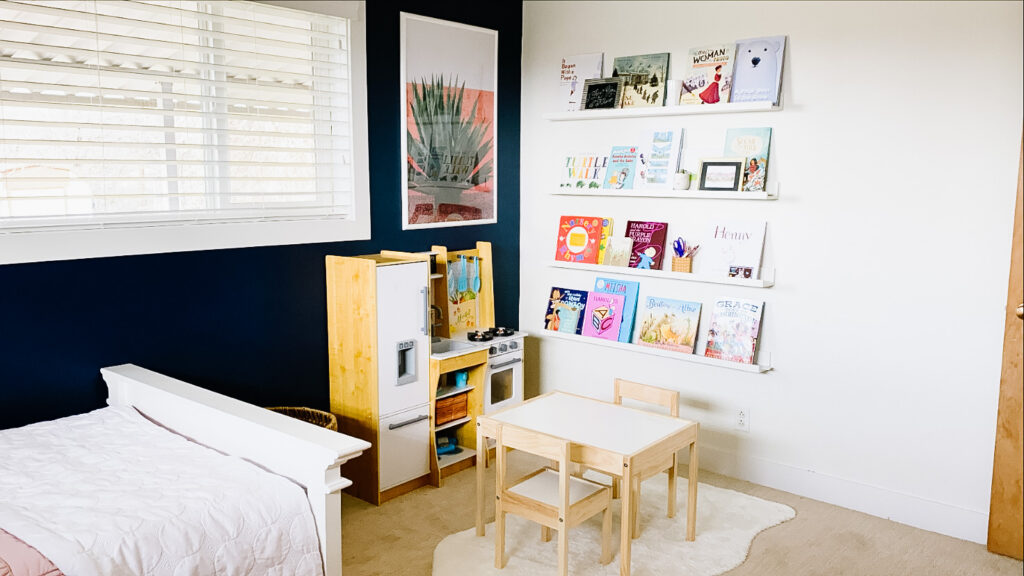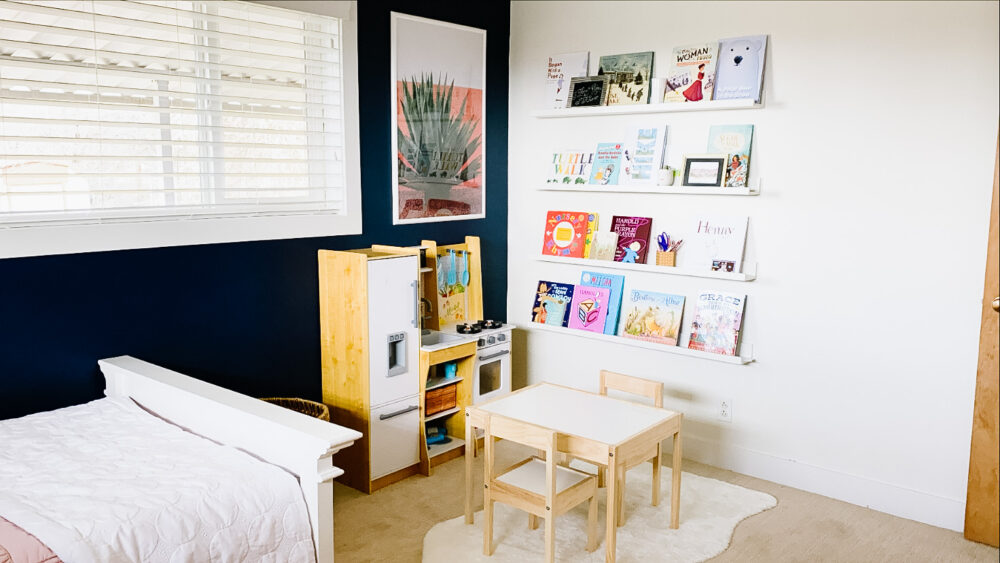 TALLY'S BEDROOM:
Her bedroom is just across the hall from ours, so it was meant to mirror that room with the same paint colors and carpet. You can see all the sources for her furniture, etc here.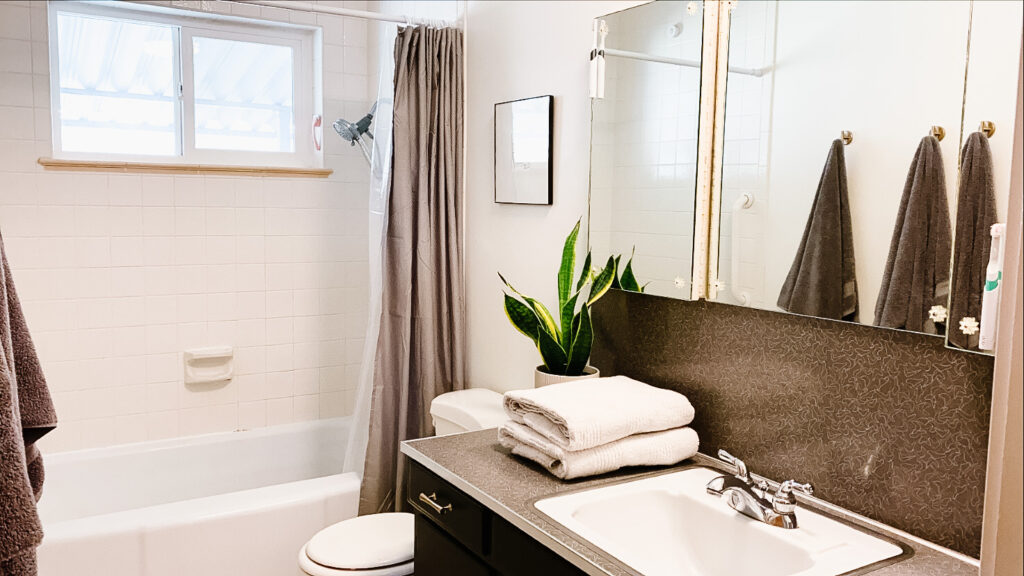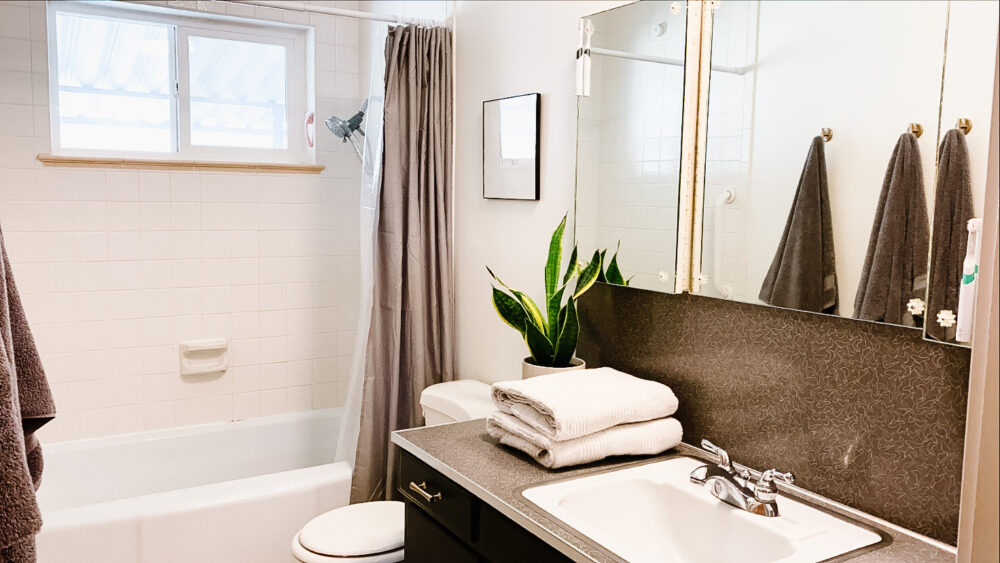 UPSTAIRS BATHROOM:
There is only one bathroom on the main floor, so it not only acts as our primary bathroom, but also the bathroom that's used 90% of the time. You'll notice right away that we did veryyyyyy little to this room.
I painted the cabinets black (they were probably stained at some point, but after 60 years, there was virtually nothing left of the stain), replaced the hardware and we took down the double rows of towel rods and put in three more modern towel hooks (which you can see in the mirror).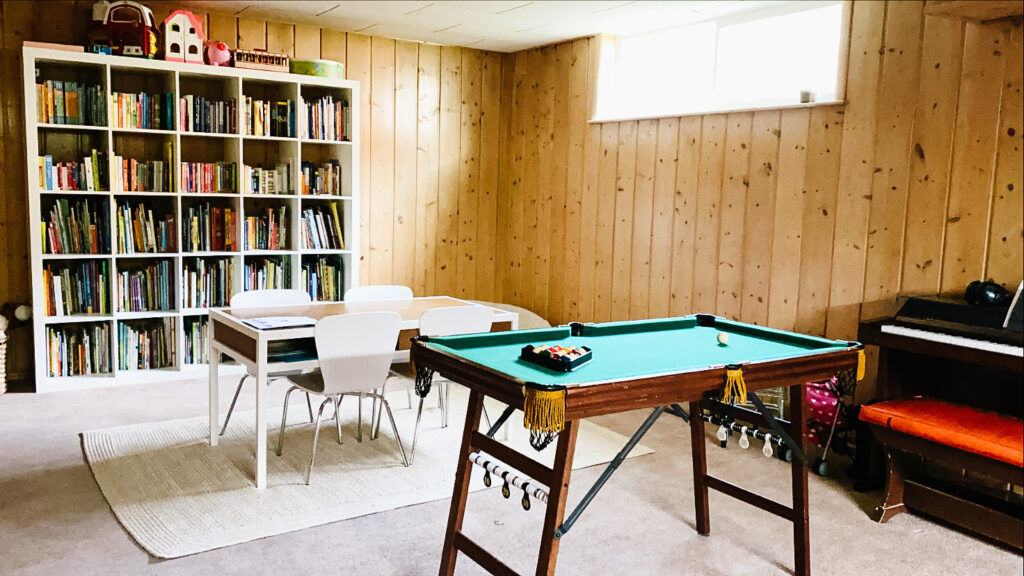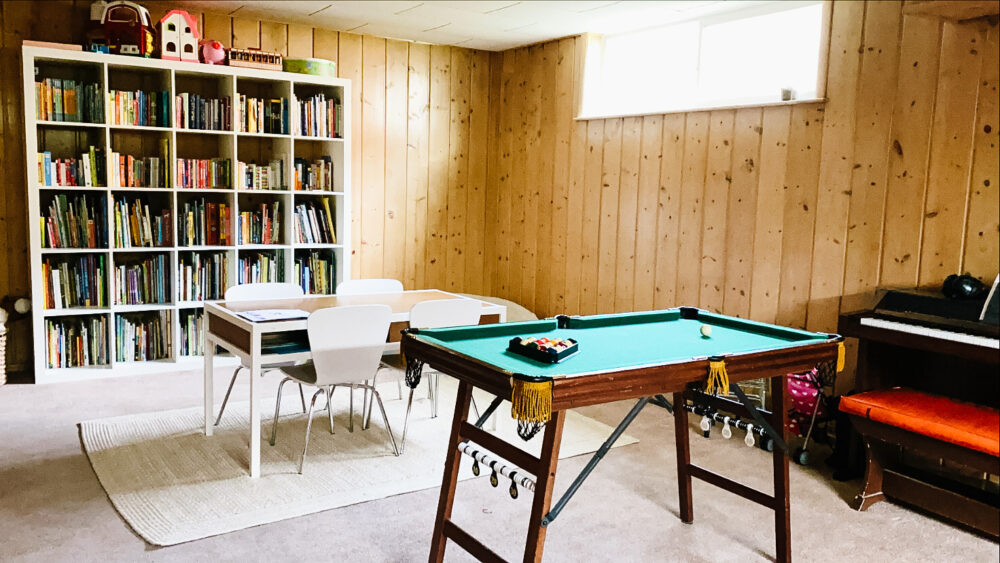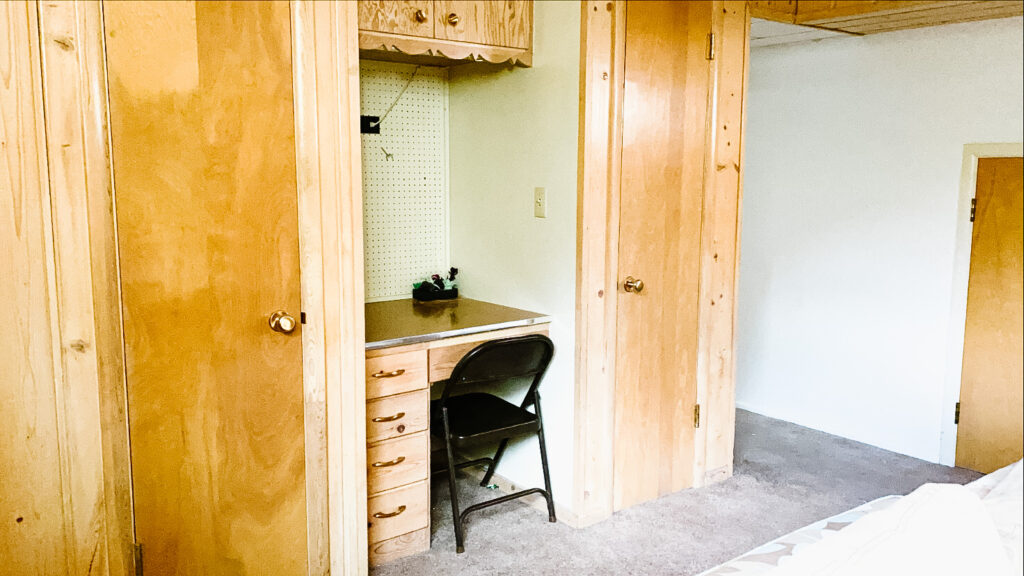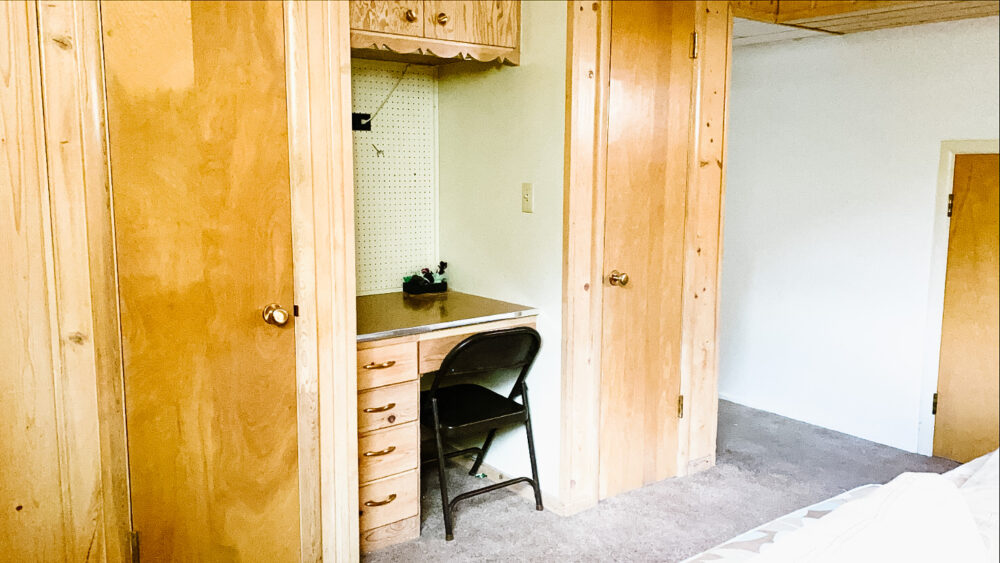 BASEMENT PLAYROOM:
This room runs directly under the entryway/living room/dining room and is the same dimensions, so it's a good size. The wood paneling is all real wood (not a plastic imitation) and although probably every single person on Instagram suggested that we paint it white like shiplap, we never felt inclined to do so – we kind of loved the retro Utah basement vibe.
It also has a floor to ceiling brick fireplace (it's here that Tally fell off the hearth on Valentine's Day and sliced her eyebrow so badly that she had to get 22 stitches from a plastic surgeon).
This is where we watch virtually all movies or TV shows as a family (the only other TV in the house is in our bedroom) and where the girls do a ton of their playing.
We did NOTHING in this space.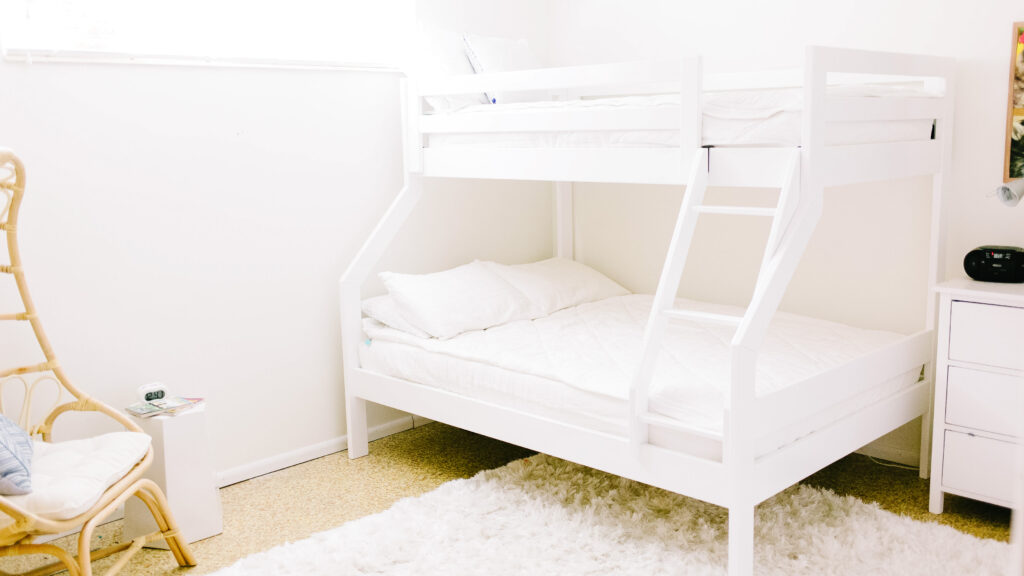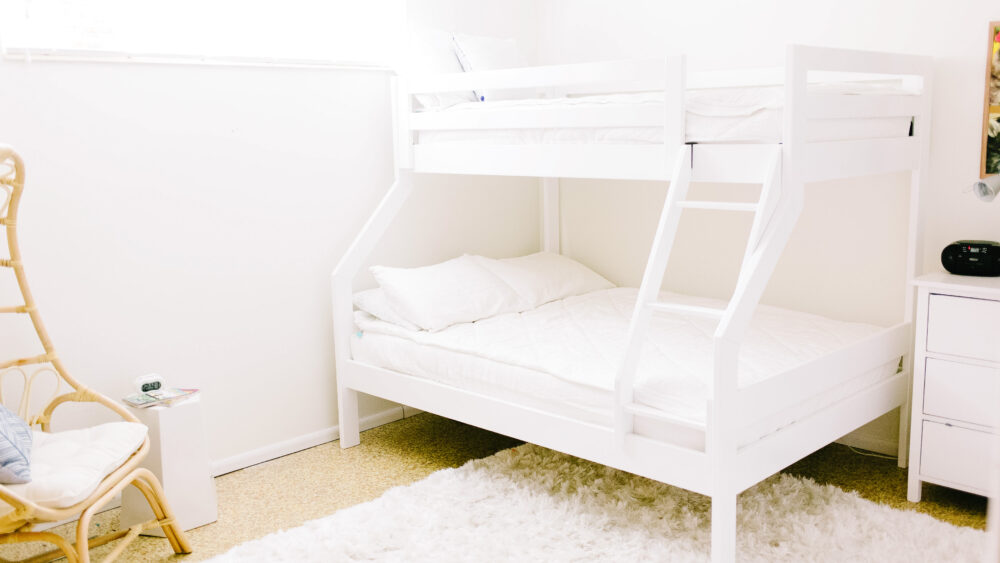 STAR AND ANI'S BEDROOM:
I repainted this bedroom (Alabaster again) and Bart tore out and replaced the brown rubber trim with actual baseboards. The flooring in here is linoleum and we never got around to replacing it. All the details of their room here.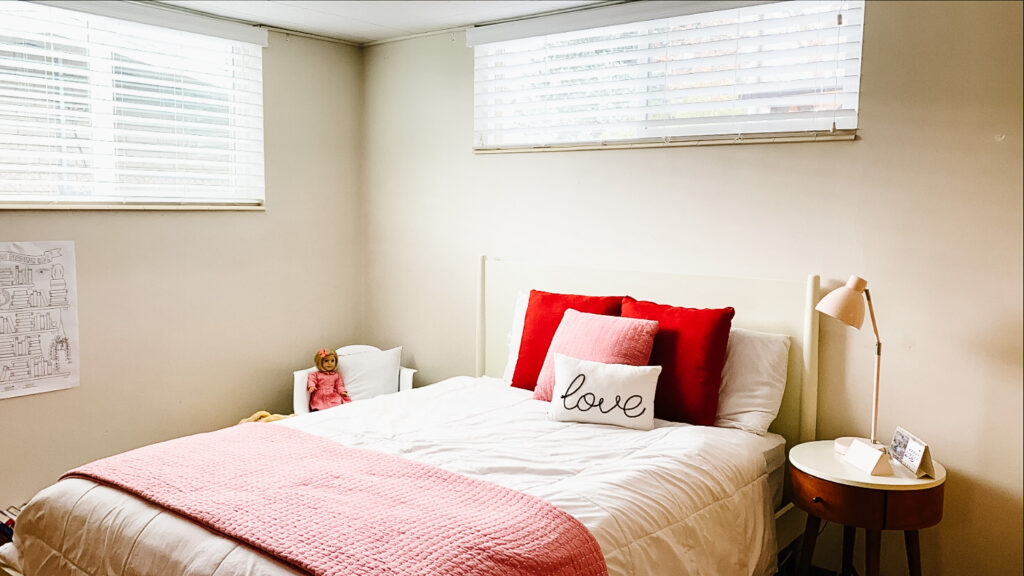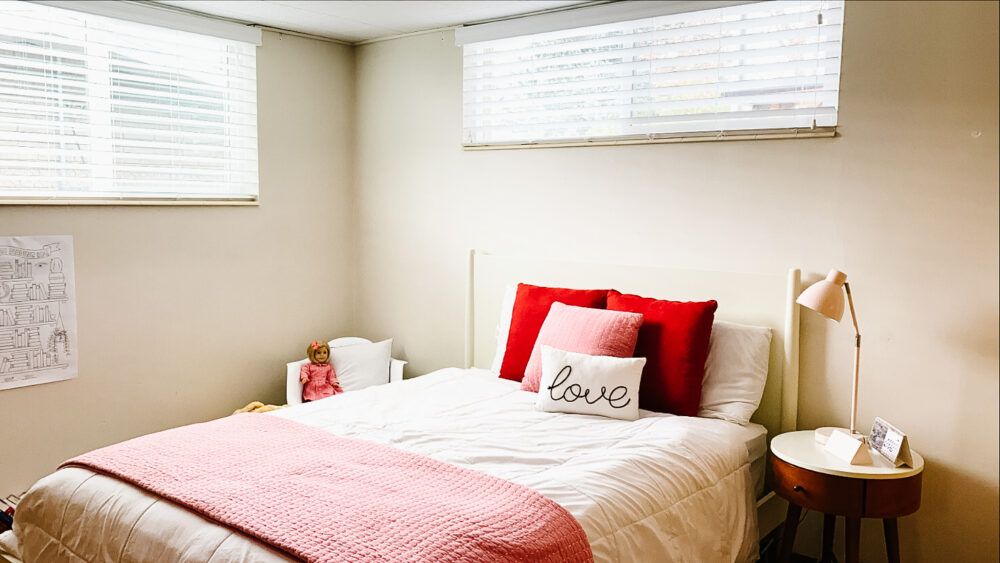 ELLA'S ROOM: 
You've probably never once seen this room because we did nothing to it and it was WEIRD.
For one, there are two doors into it – one through the downstairs bathroom and one through Bart's office which is a converted garage (this seems very strange to me), and the carpet is lime green with no pad at all. There's also a wall of faux wood paneling with pop-in cubby/shelves that stick into Bart's office. And a built-in mini safe in the wall (like about six inches tall and wide).
Like I said, so weird.
It's a basement room, but because the hill slopes away from the house on this side, you would never guess. It has two full windows and gets a ton of light.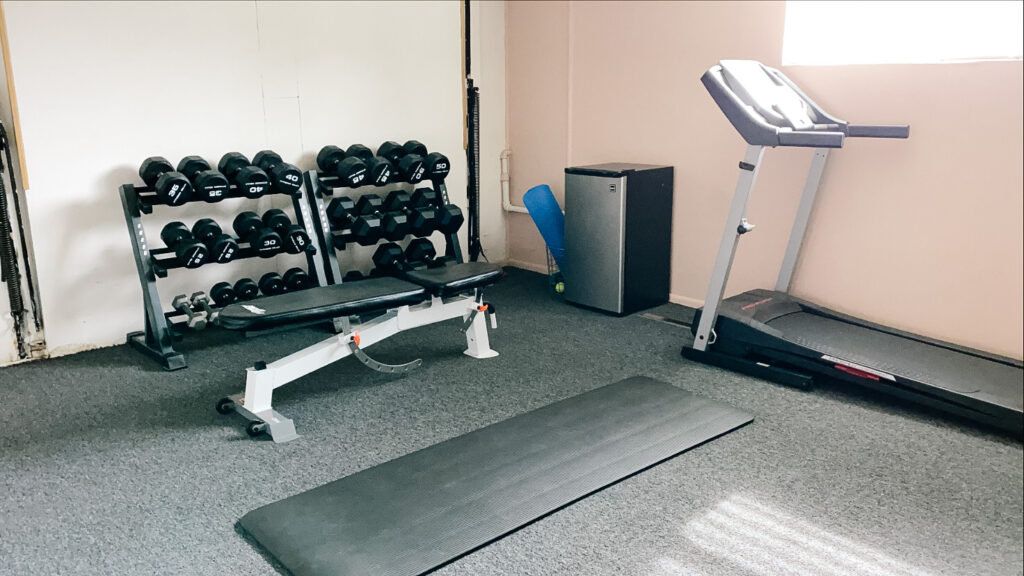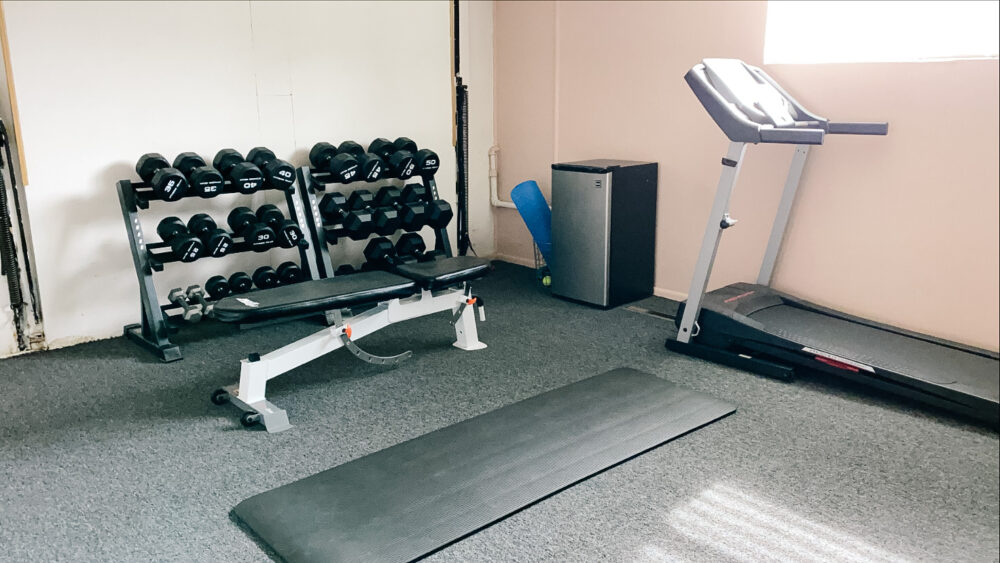 BART'S OFFICE/GYM:
This is the converted garage. From the outside, it looks like a garage, but they boarded up the garage door on the inside at some point. Half the room has no trim and the carpet has no pad and isn't attached at any of the doorways.
We had big plans for this room but ran out of time to ever do anything about it.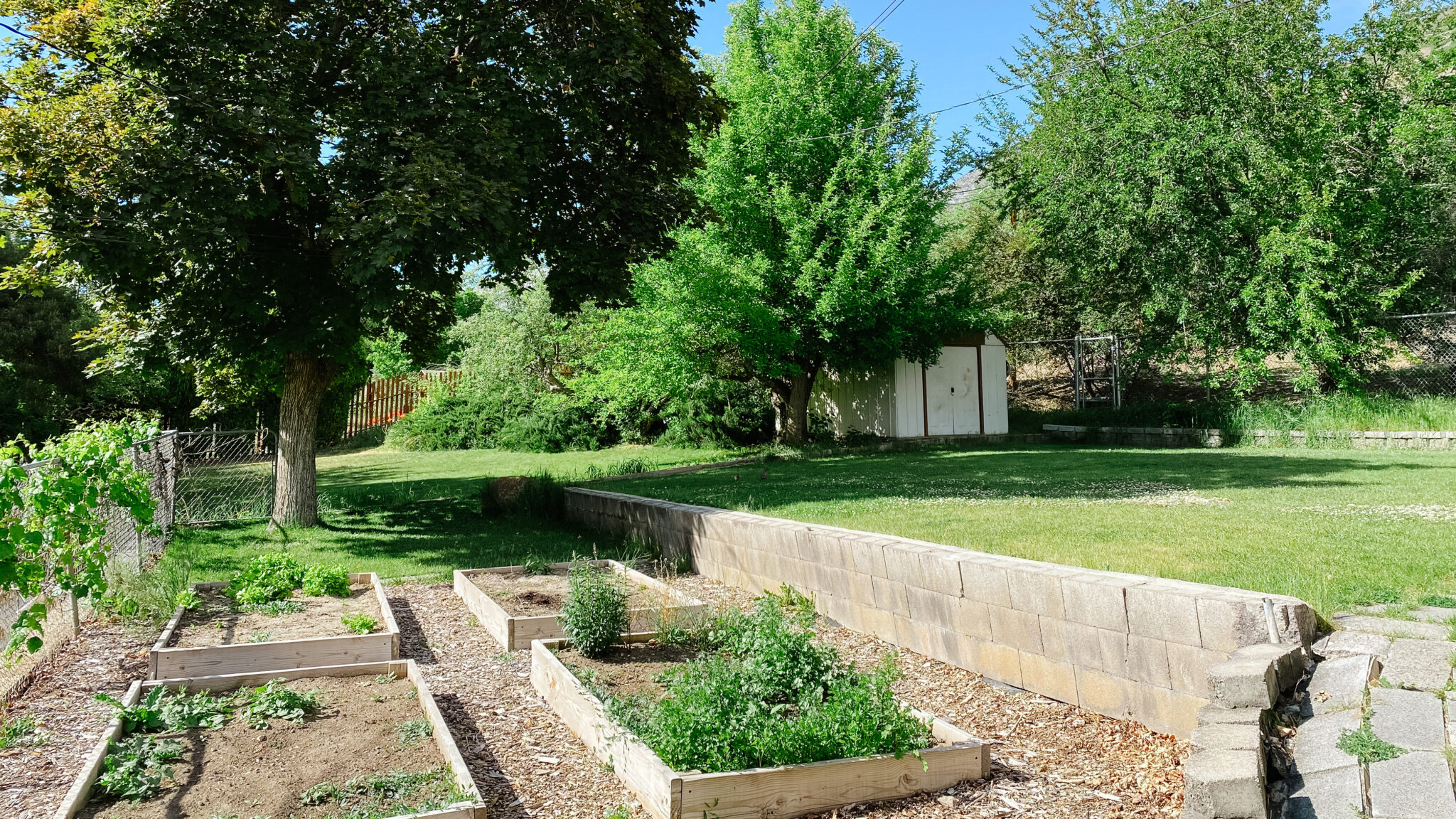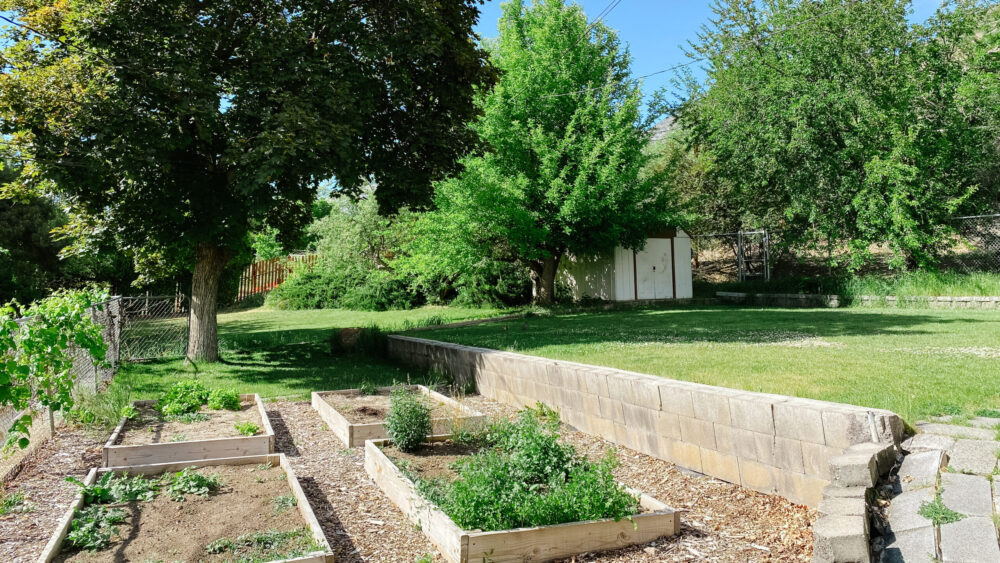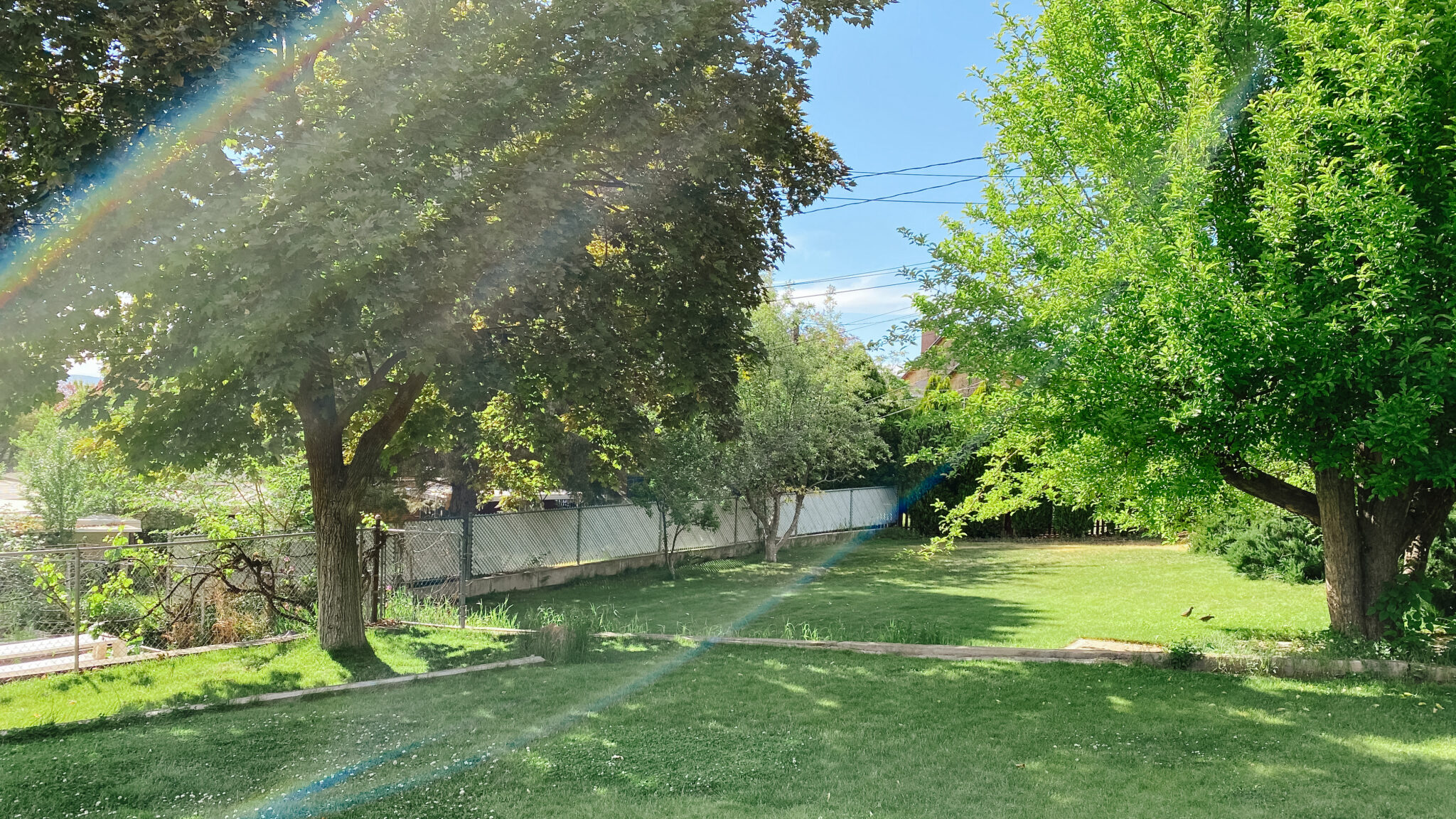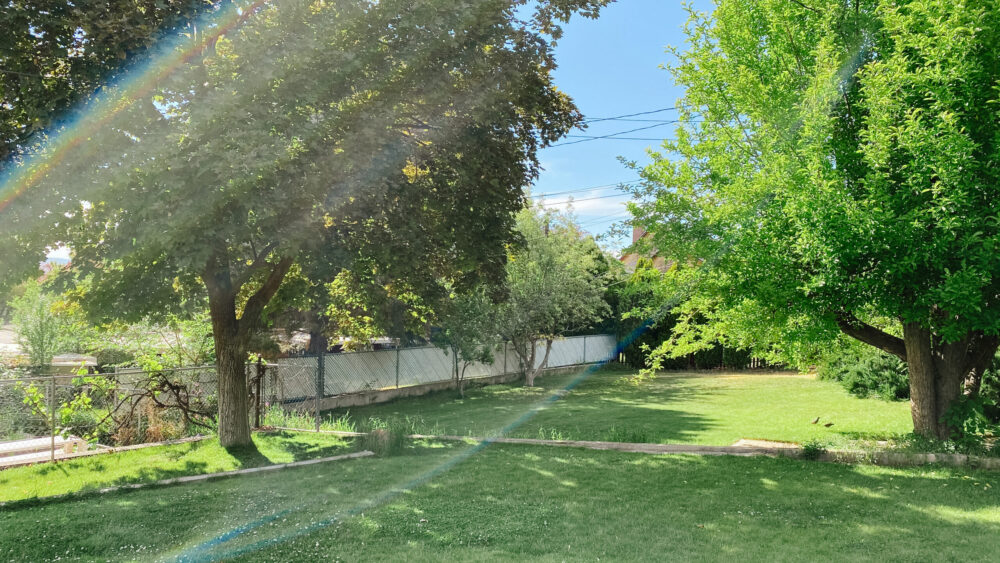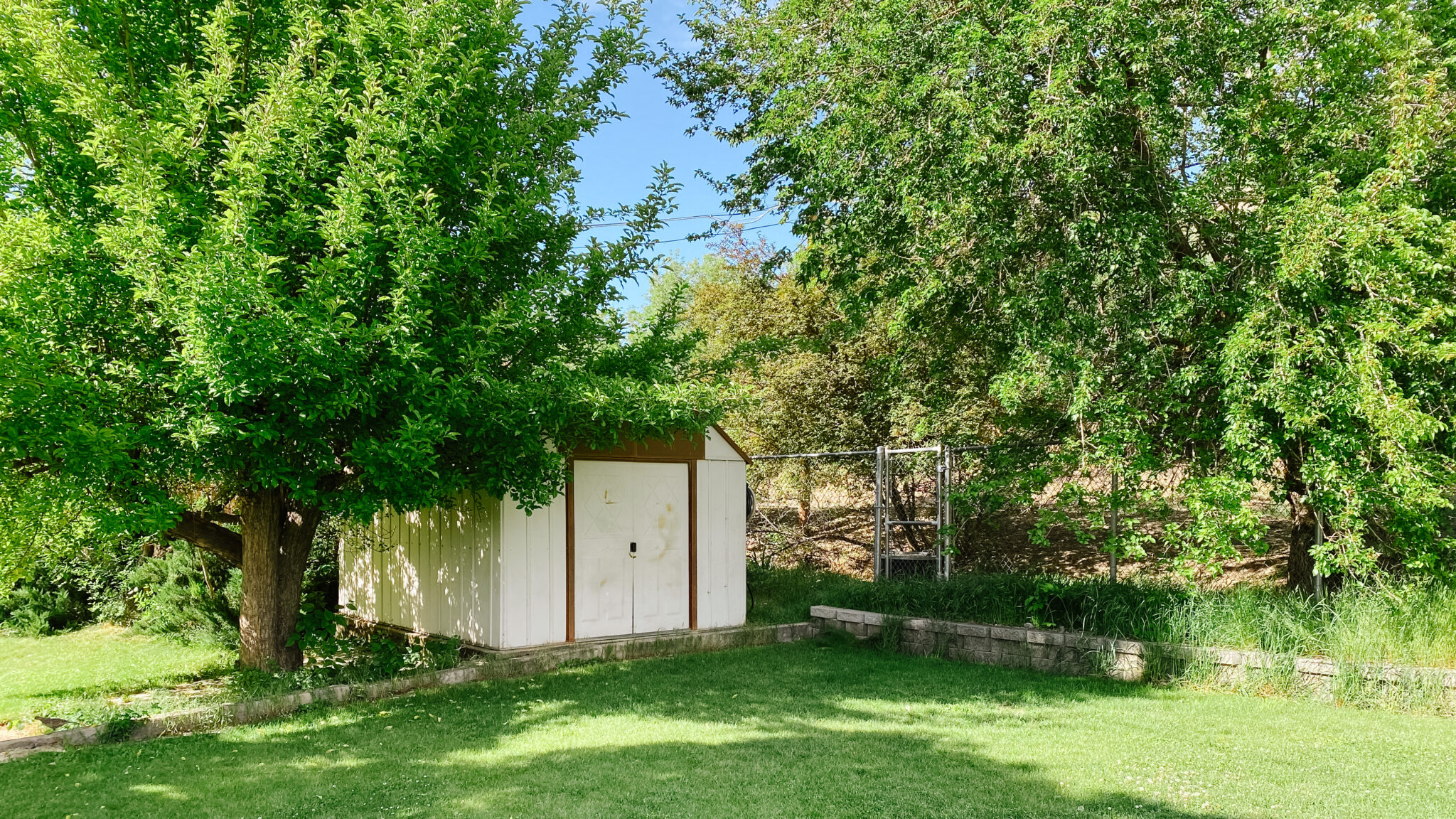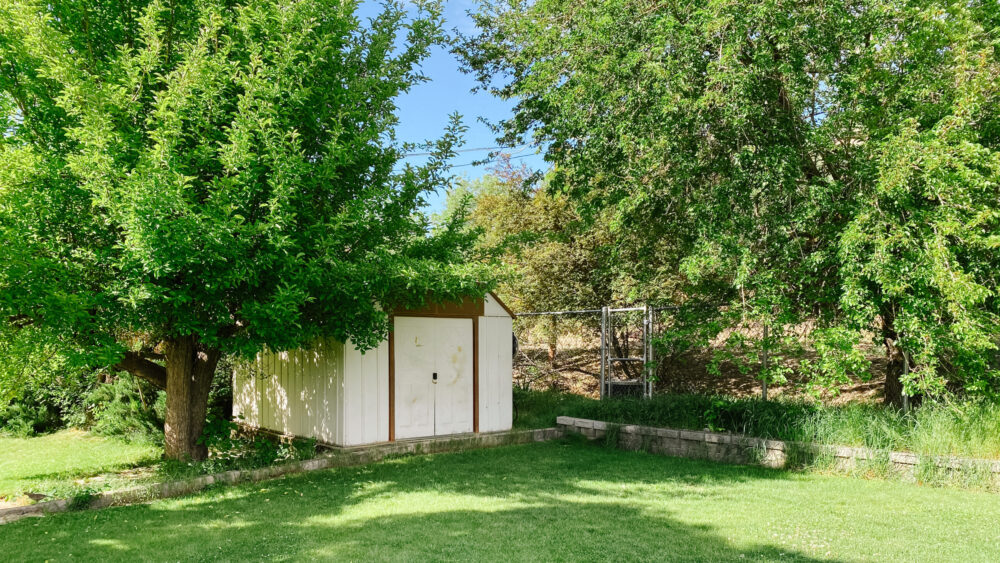 BACKYARD:
This backyard was one of the main reasons we bought this house – it's nearly a 1/3 of an acre and the backyard is a double yard, thanks to the neighbors selling most of their property to the original owners some 40 years ago.
We took down the fence and gate that separated the two last spring, and also added four garden boxes.
It has a screened-in porch off the kitchen and dining room, plus a patio along the rest of the house.
In the warm months, my girls LIVE out here.
There are three apple trees, a pear tree, a massive Japanese maple tree, raspberry bushes, and lots of flowers.
I hope the new owners love this home as much as we have and I'm excited about the memories and adventures ahead in our new home!
If you liked this post, you might like these posts too: