When we left our home in Arizona, one of the things I was saddest to leave behind was our bedroom.
Bart and I had never had a particularly great room until then, but we both LOVED how our room in Arizona turned out.
When we moved to this house, we no longer had an ensuite bathroom or a giant walk-in closet, but we were determined to still make the room feel as nice and usable as possible.
With mostly the same furniture, we decided to go with the same navy blue color scheme we'd done in our previous house and within a few months of moving in, I painted one blue wall.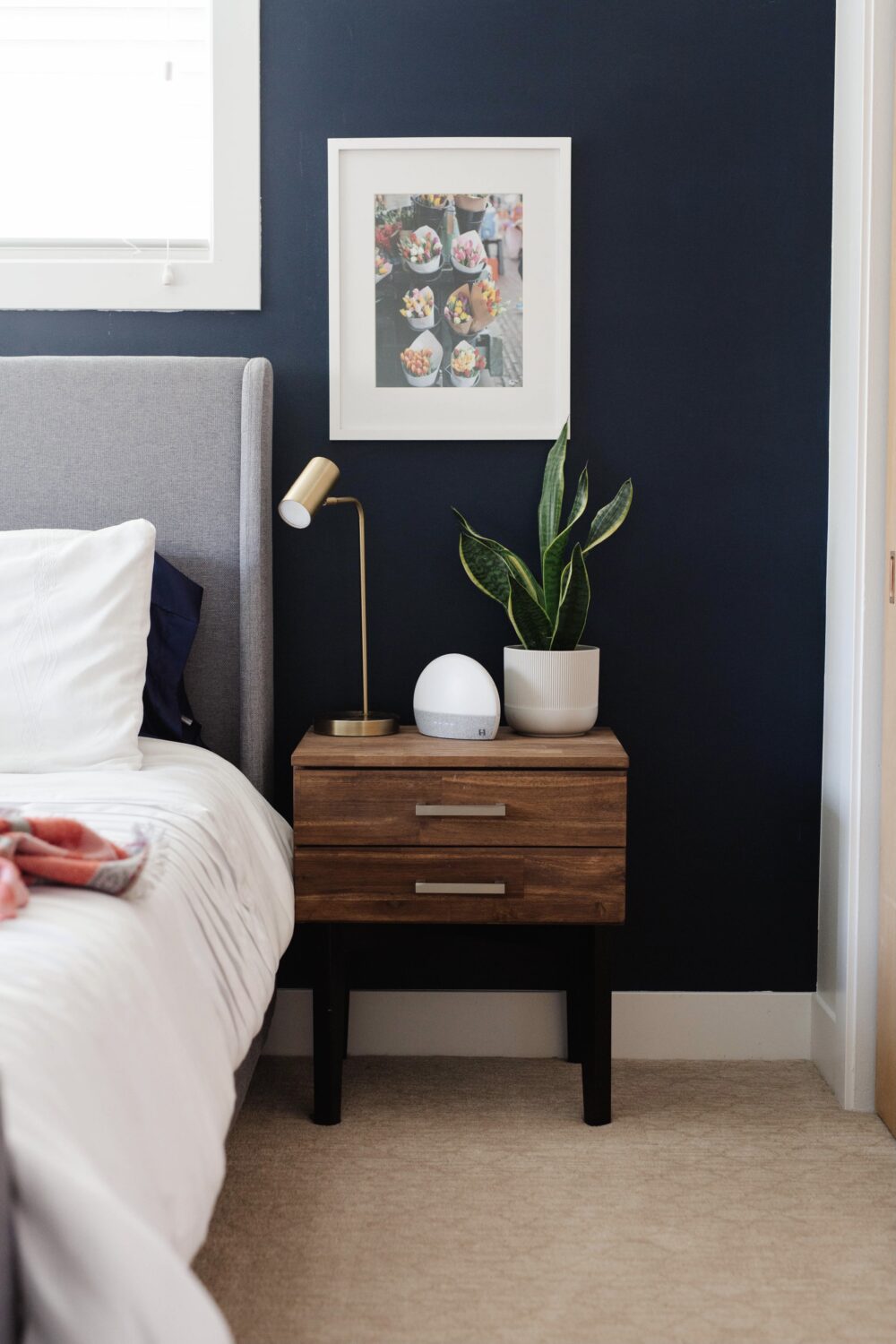 But it wasn't until this past summer when we had our entire main floor painted that the other three walls, plus the ceiling were painted white.
I was VERY glad to say goodbye to the yellowish paint that had been there previously, and we also hired our incredible neighbor to do all the trim in the room (the windows had had peach textured tiles for the windowsill and we couldn't get rid of those fast enough).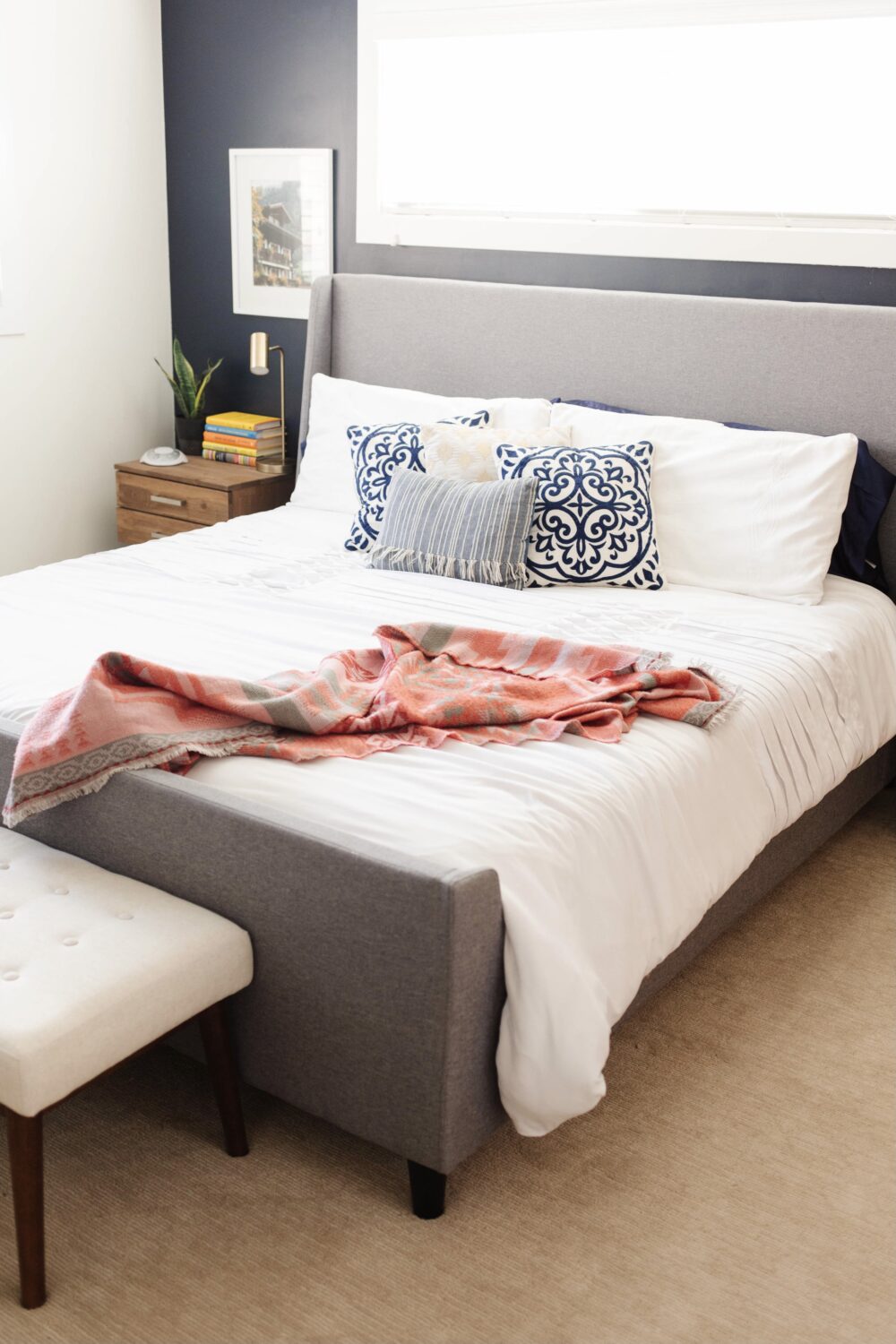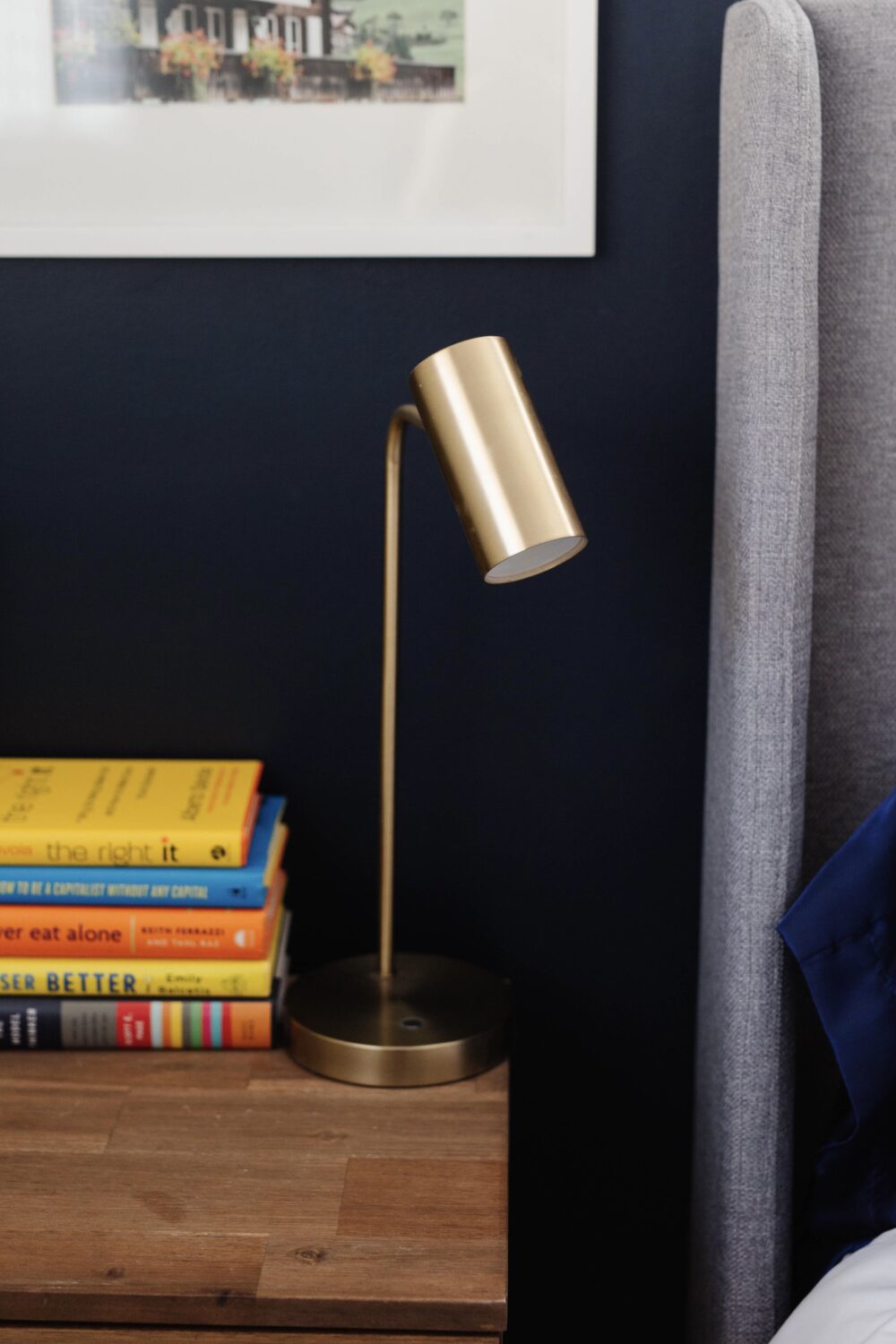 Neither Bart nor I have enormous wardrobes, so moving to a single closet wasn't a huge deal, especially with the built-in drawers and cabinets in the room.
The white dresser that it's in the girls' bunk room was in our room to start with and it looked TRULY terrible. It was too small for the space and looked super rickety and sad.
We replaced it with this absolutely gorgeous dresser from Room & Board and it instantly improved the entire room. Plus, it was so much bigger that there was a lot more storage space for my makeup, hair things, and pajamas, workout clothes, and other miscellaneous wardrobe items that didn't fit easily into our closet. It's definitely in my top 5 items of furniture we own.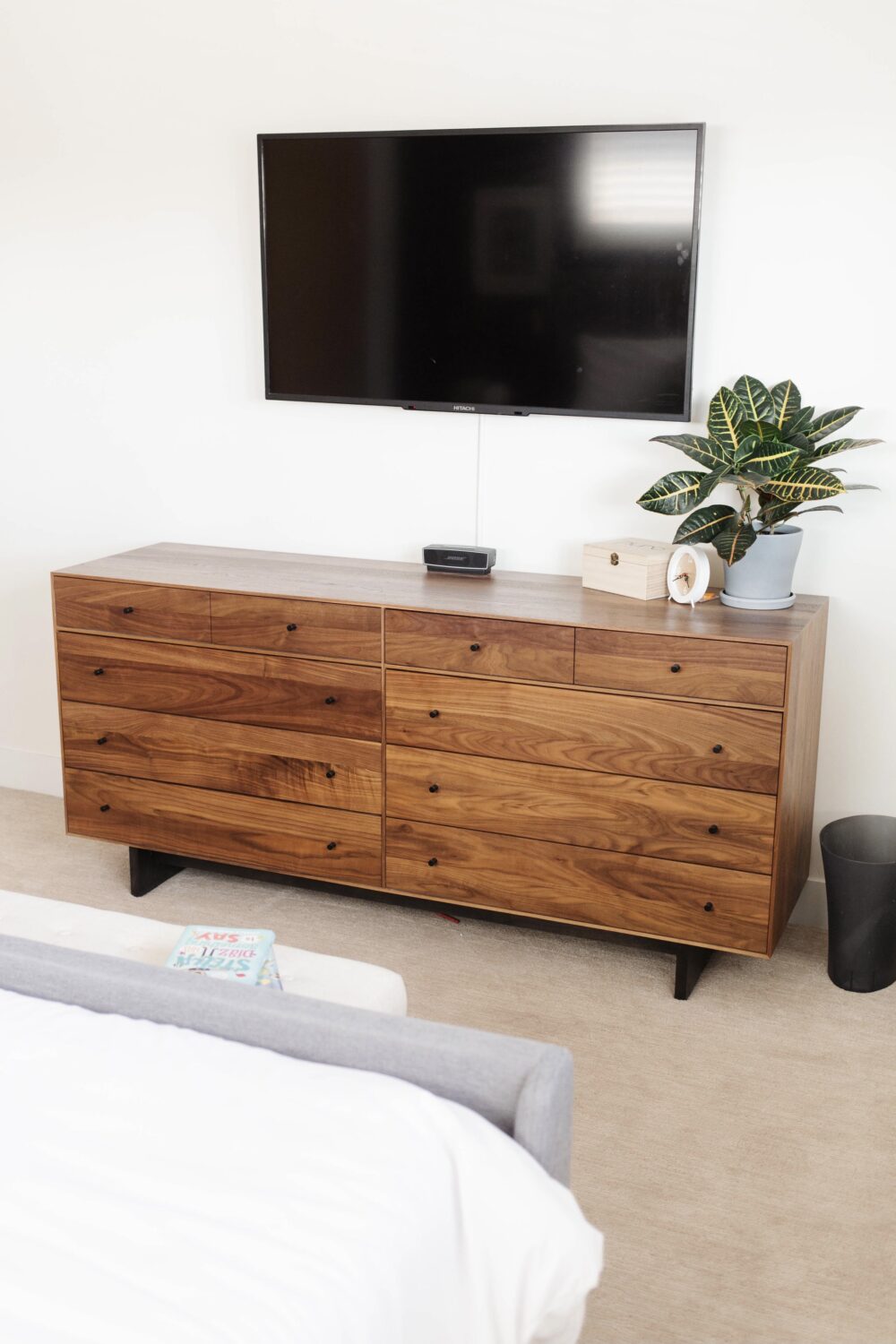 We also swapped out the carpet in the fall and I absolutely love it. It really brightened up the room and gives it a much higher-end feel than the previous brown mini-shag carpet.
For Christmas, Bart replaced the bench at the bottom of the bed for me. I LOVED the rattan one we'd had for the last five years, but it was so beat-up and sad looking at this point, so it was time for something new.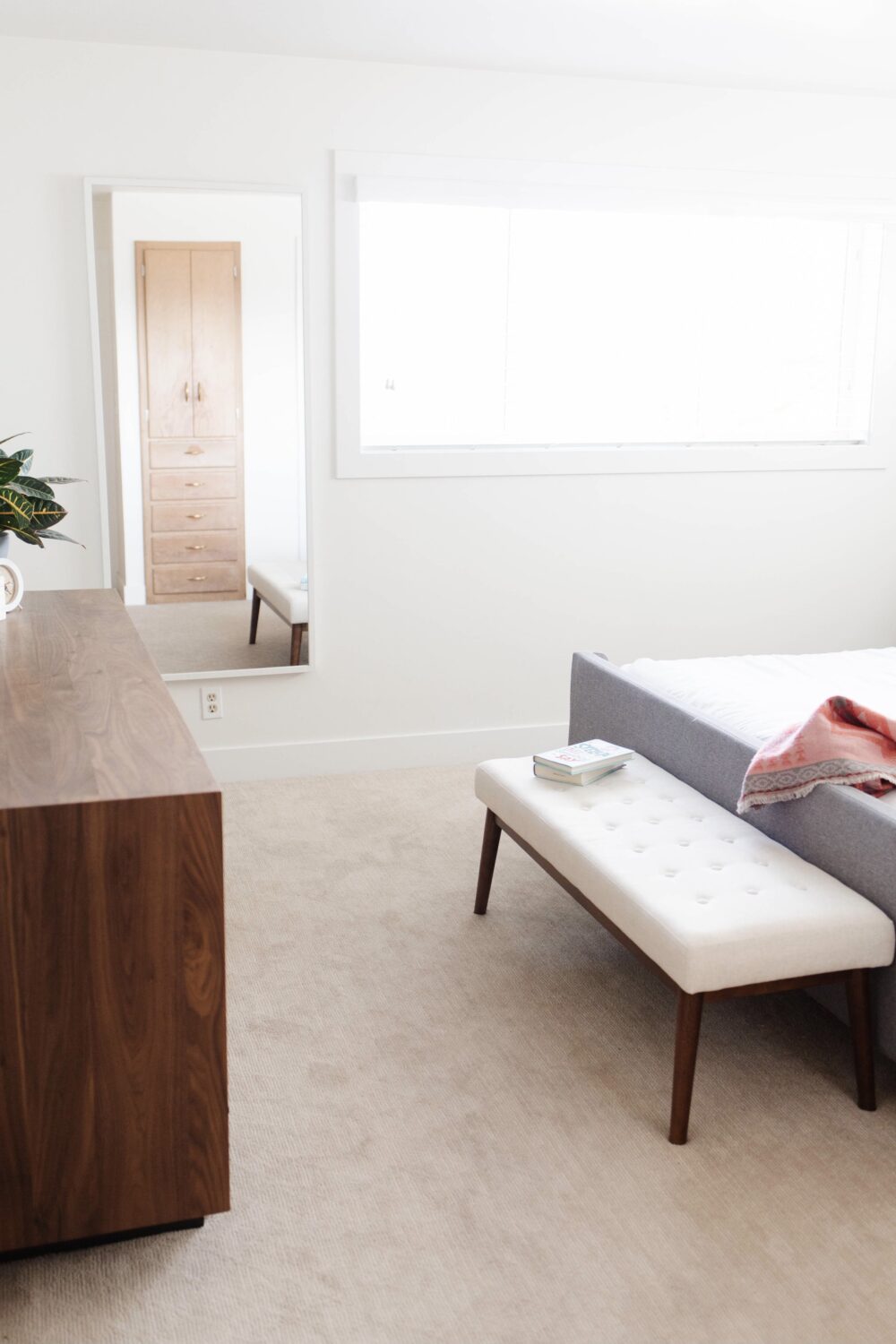 It's such a cozy room with beautiful light during the day – thanks to the two big windows –  and I just love being in here.
It might be half the size of our Arizona bedroom and not have a giant bathroom and closet attached, but I have to say. . . I think I like it just as much.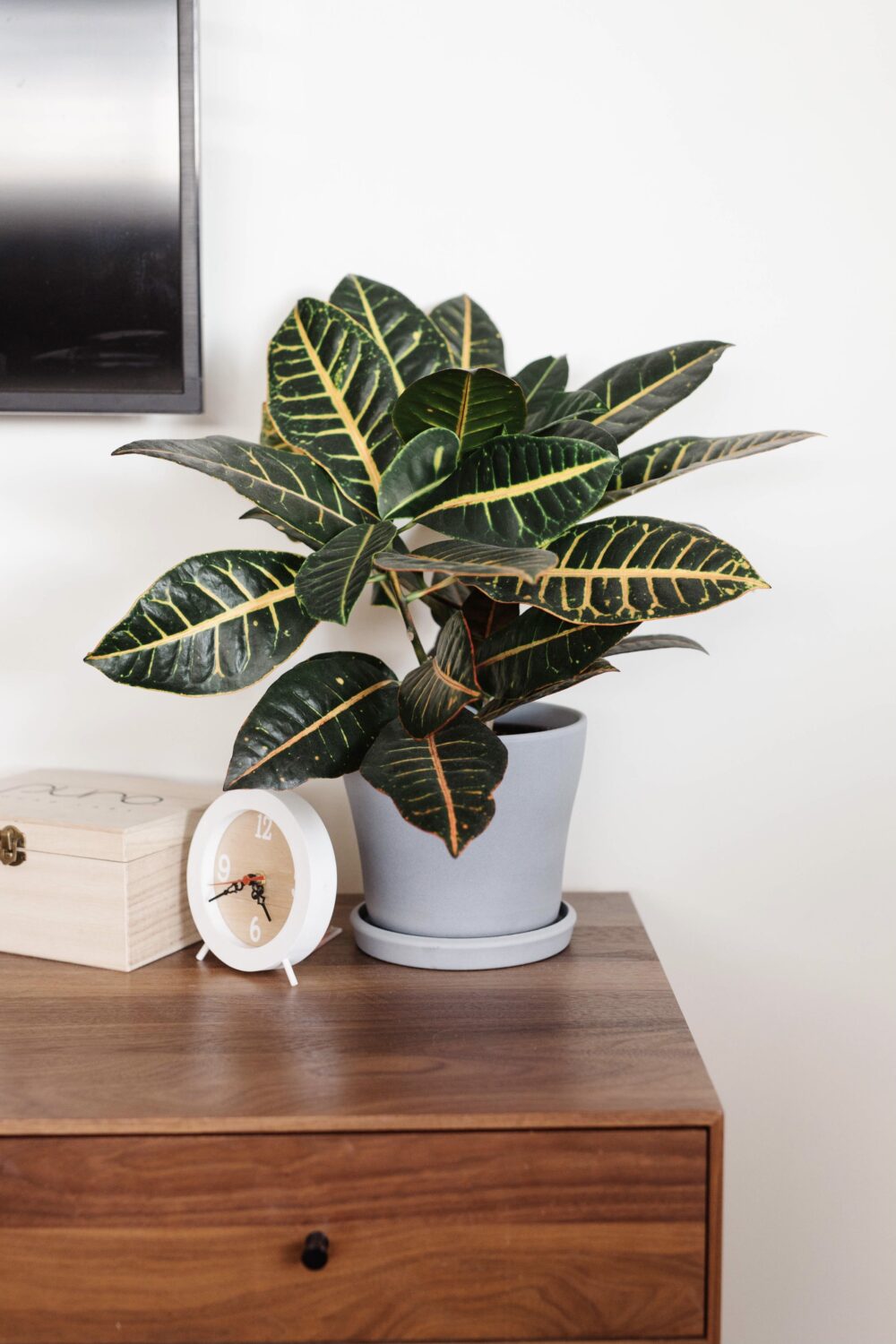 SOURCES:
Bed frame: Wayfair
Bedding: Boll and Branch
Throw Pillows: Walmart (Navy, Gold, and Gray-Blue)
Blanket: World Market
Side Tables: Target
Bedside Lamps: Target
Hatch Restore: Amazon
Snake Plants: Home Depot
Pots: IKEA
White Frames: Target
Photos: Taken by me
Bench: Overstock
Dresser: Room & Board
White Clock: At Home
Blanket Basket: Crate & Barrel
Blue Paint: Naval by Sherwin-Williams
White Paint: Alabaster by Sherwin-Williams
Carpet: Monteverde in Diverse