The paint used here is Naval by Sherwin-Williams and they provided the paint for this project. I always use the Emerald paint line and choose the Satin sheen since it's not too glossy or too flat and is super easy to wipe down.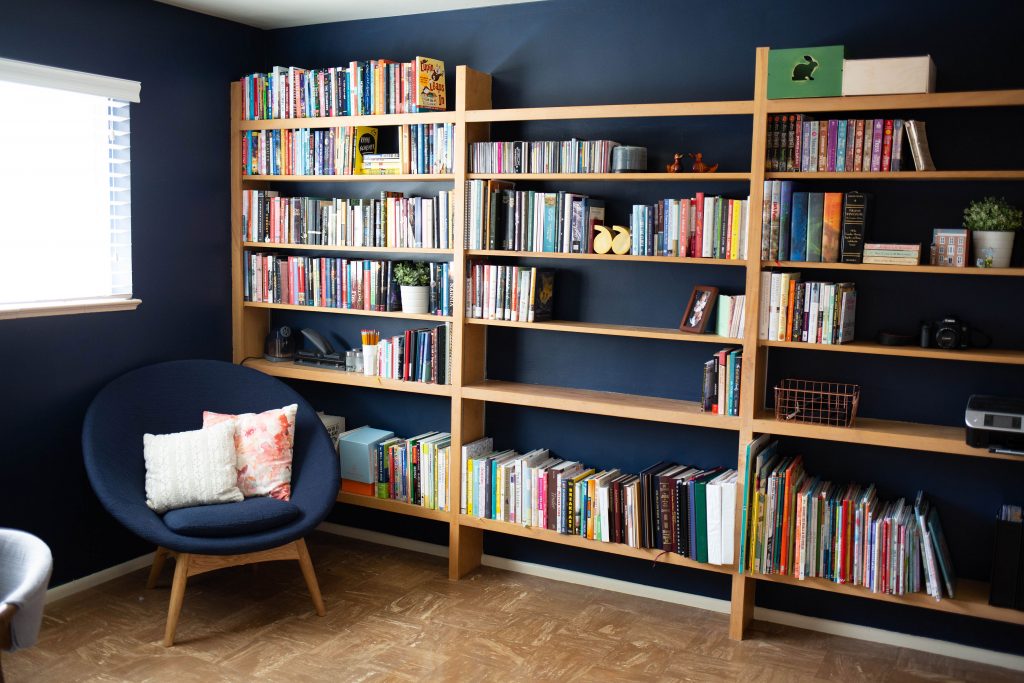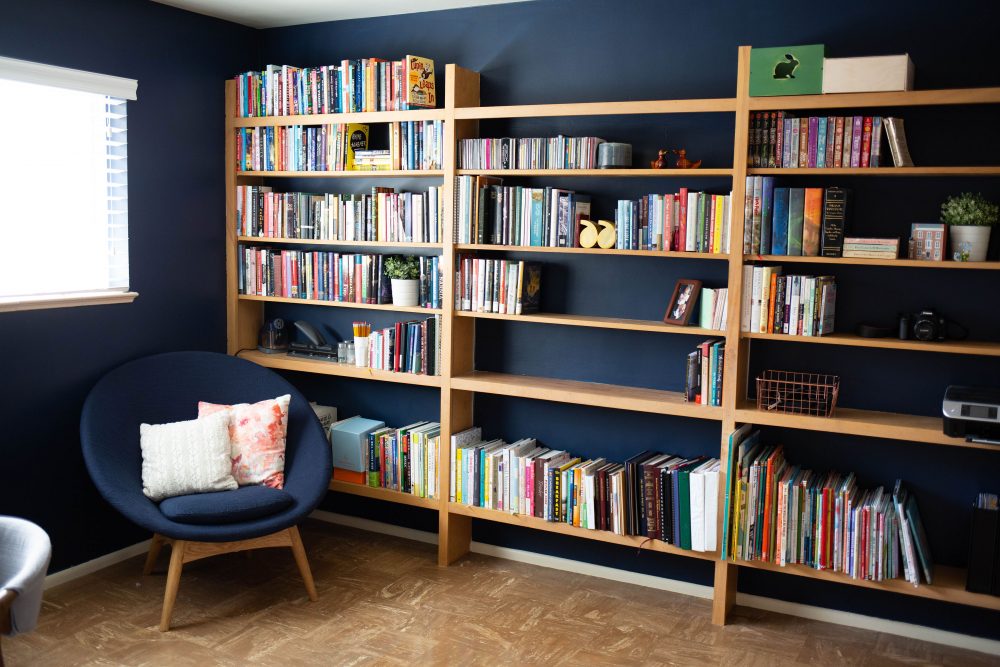 My office felt like the first major dive into home projects since we bought this house in November.
I feel like I always need a couple of months at least to get a feel for a new house and where to start on projects.
This is my fourth home office (you can see my first North Carolina one here, my second North Carolina one here and my Arizona home office here) and this is hands-down my favorite one.
This room is technically a bedroom (since it has a closet), but it's right by the front door and off the main family room so it's not ideal for a child's bedroom. The moment we walked through this house for the first time, we both knew it would be my office.
Plus, the previous owners had put in the built-in shelving and I was just dying to make use of those since book storage is one of my biggest issues.
It was a pretty good little office, even if it looked fairly blah. Here are some before photos which is how it's looked since the week we moved in: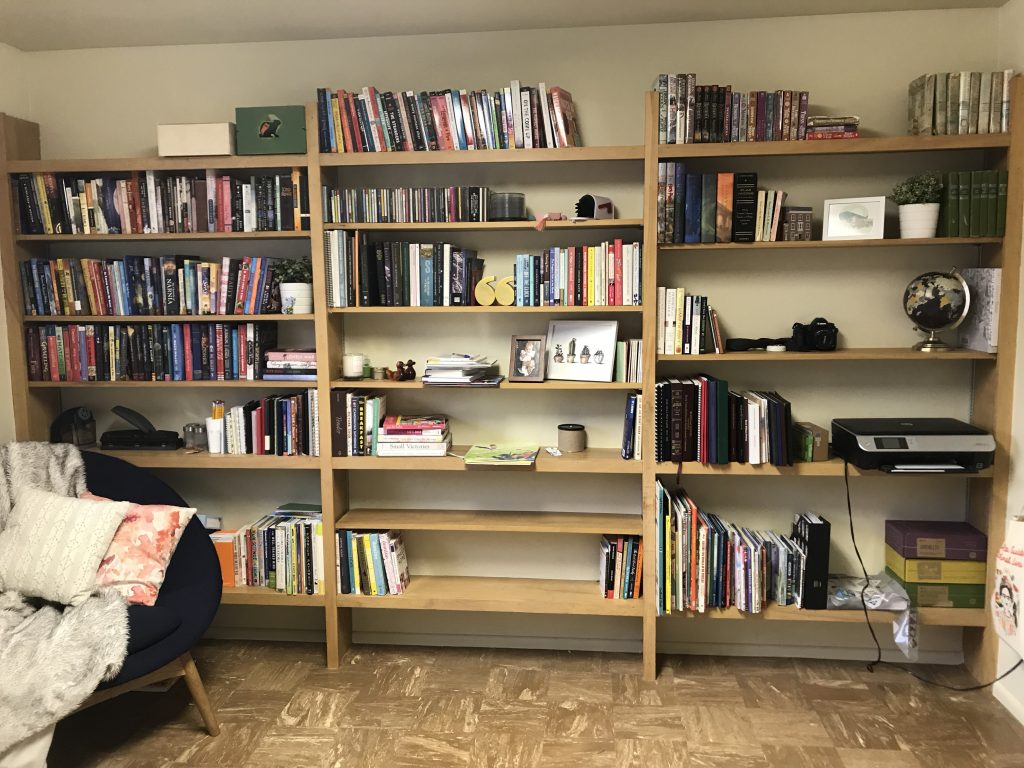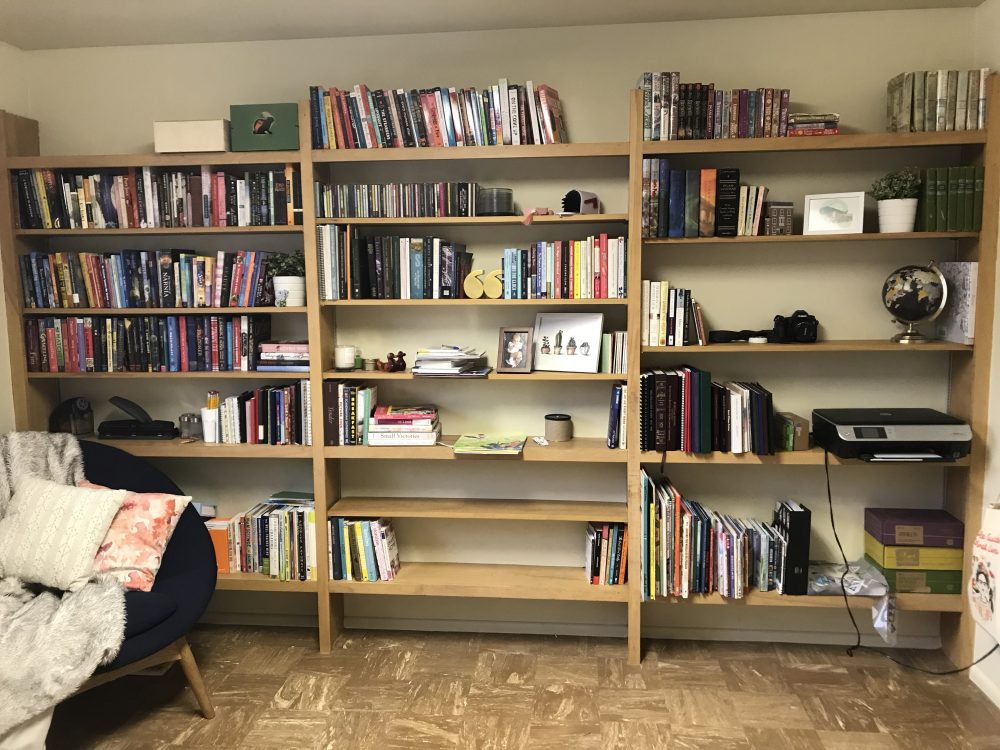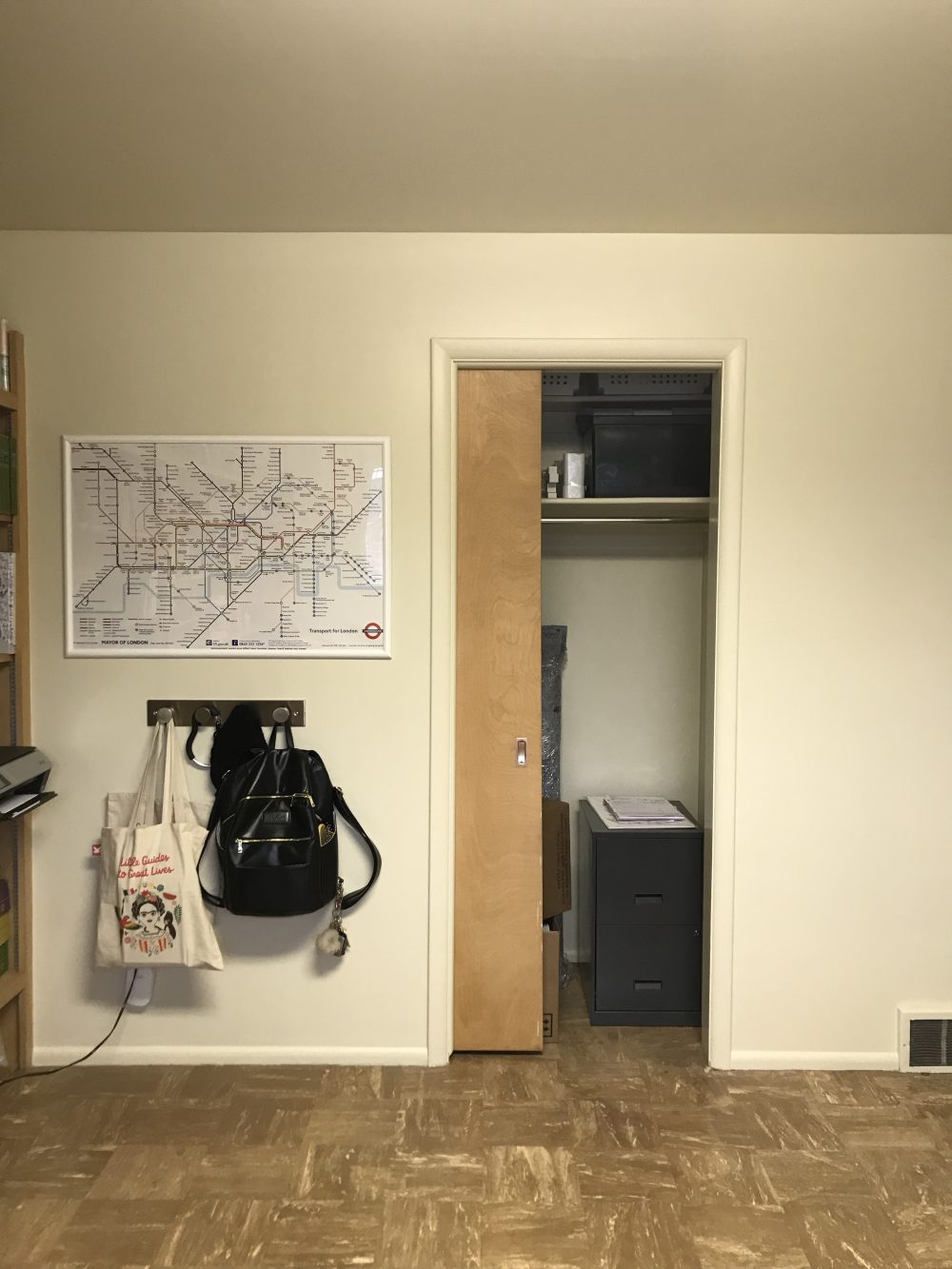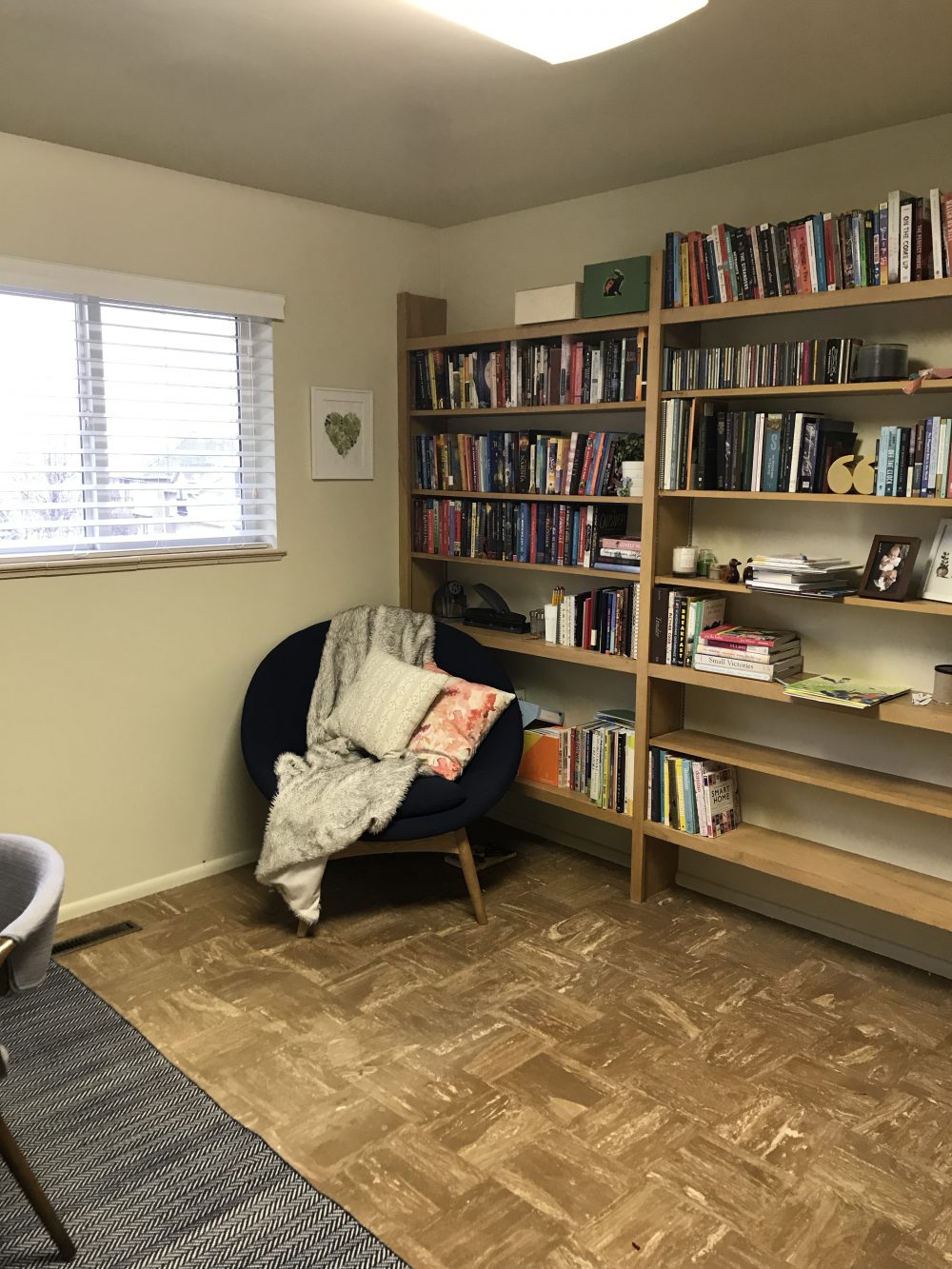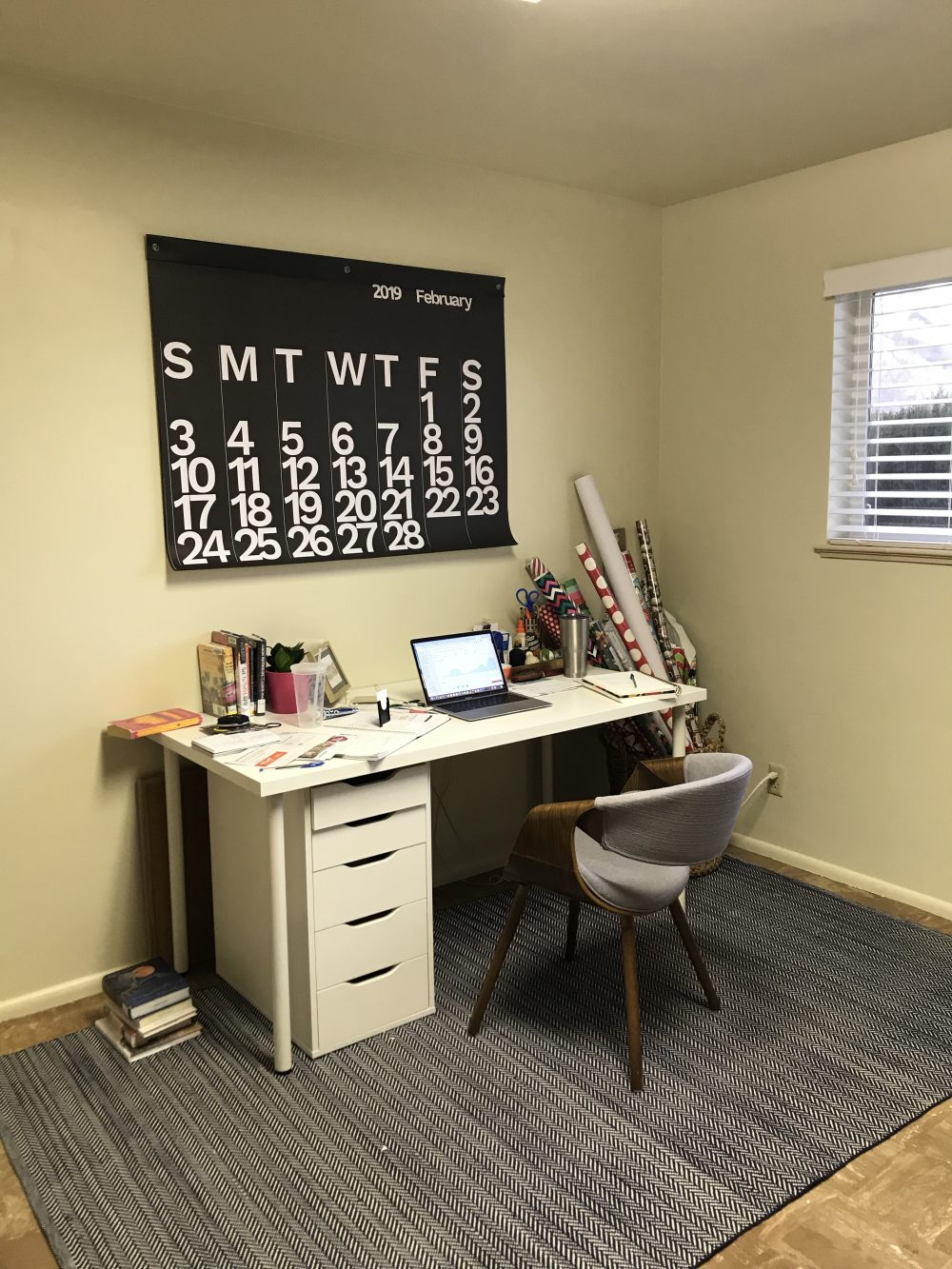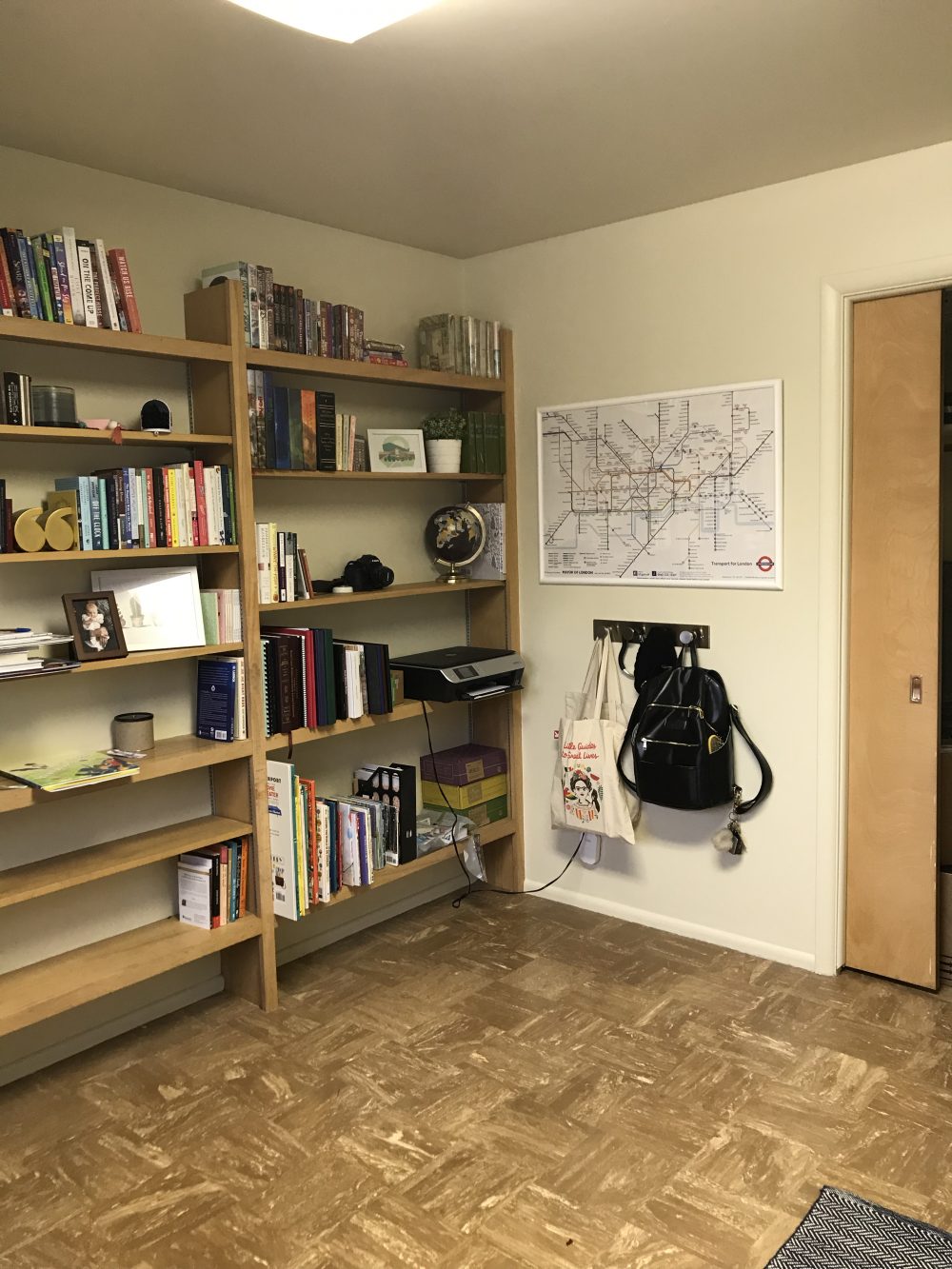 It wasn't AWFUL, but it sure wasn't good.
As the weeks went by I knew this was probably the room I'd want to start with for house projects, but I wasn't sure exactly what I wanted to do.
Until I saw this photo from Chris Loves Julia: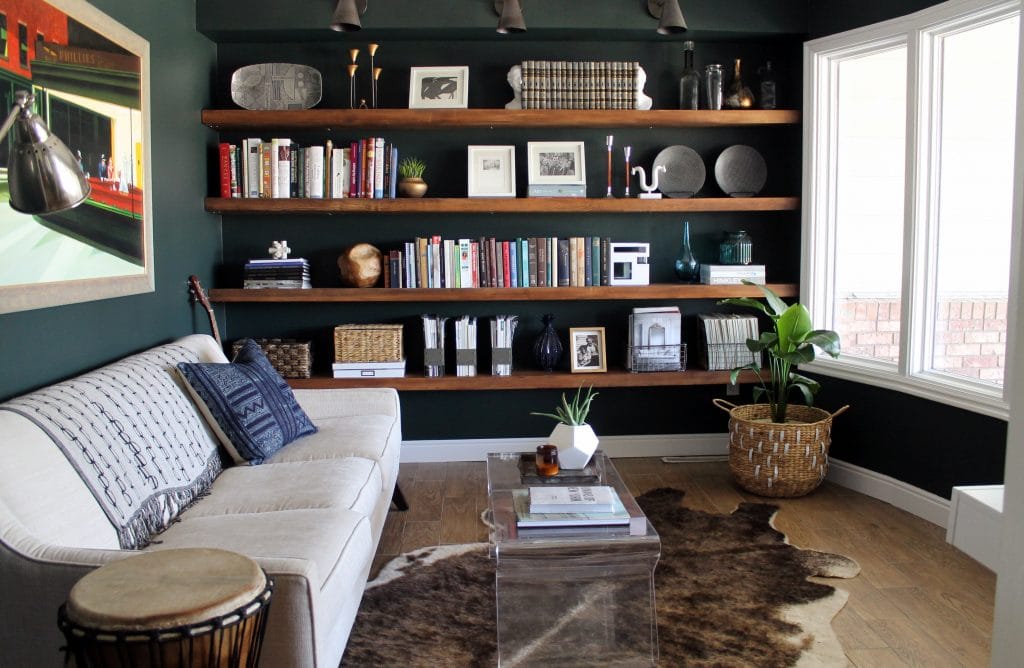 Those shelves reminded me of the shelves in my office, and I LOVE a dark paint color. Plus, my office gets enough light to handle a darker color.
Then I had to decide if I was going to stick with my tried-and-true favorite navy blue (Naval from Sherwin-Williams) or go with a green color like they had done or do a charcoal or black paint like I've always secretly wanted to do.
Bart convinced me that the Naval paint was the way to go since I already knew I liked it (I used it in our master bedroom in Arizona and the nursery, plus two bathrooms) plus it would go with our other furniture both in this room and elsewhere and help keep things flowing nicely from room to room, especially because you can see into my office from the family room.
On a Friday evening, we took everything out of the room, taped around the shelves, ceiling, window, and trim, and then got to work.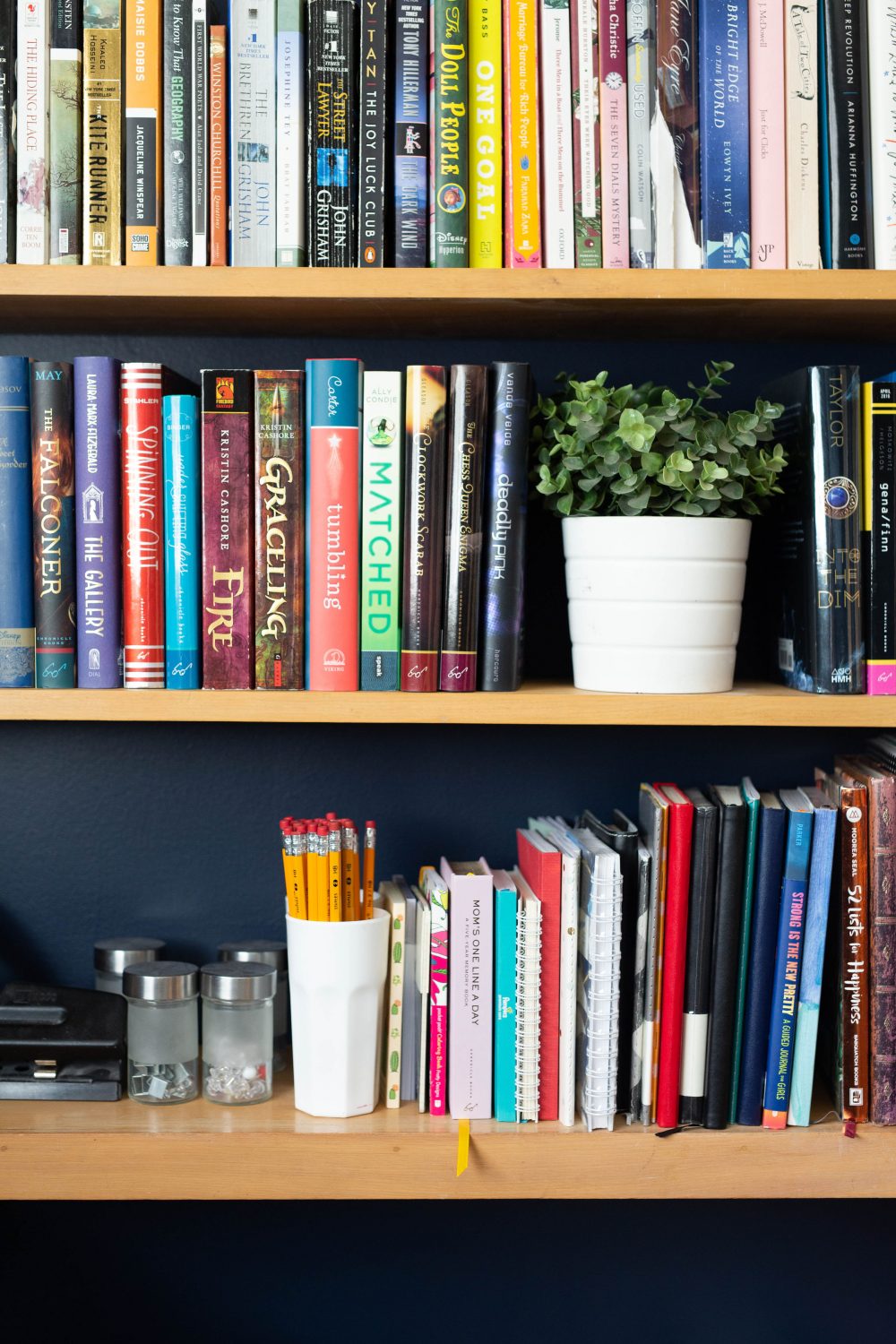 We did the first coat (which looks truly terrible – it's such a deep rich color that you couldn't possibly get away with one coat when you're painting over a light color) and then let it dry over night.
The next morning, while Bart was at the gym, I did the full second coat both around the edges with a paint brush and all the big areas with a roller.
That second coat is like magic. Suddenly instead of looking patchy and shoddy, it looks fabulous – smooth, rich, and perfect.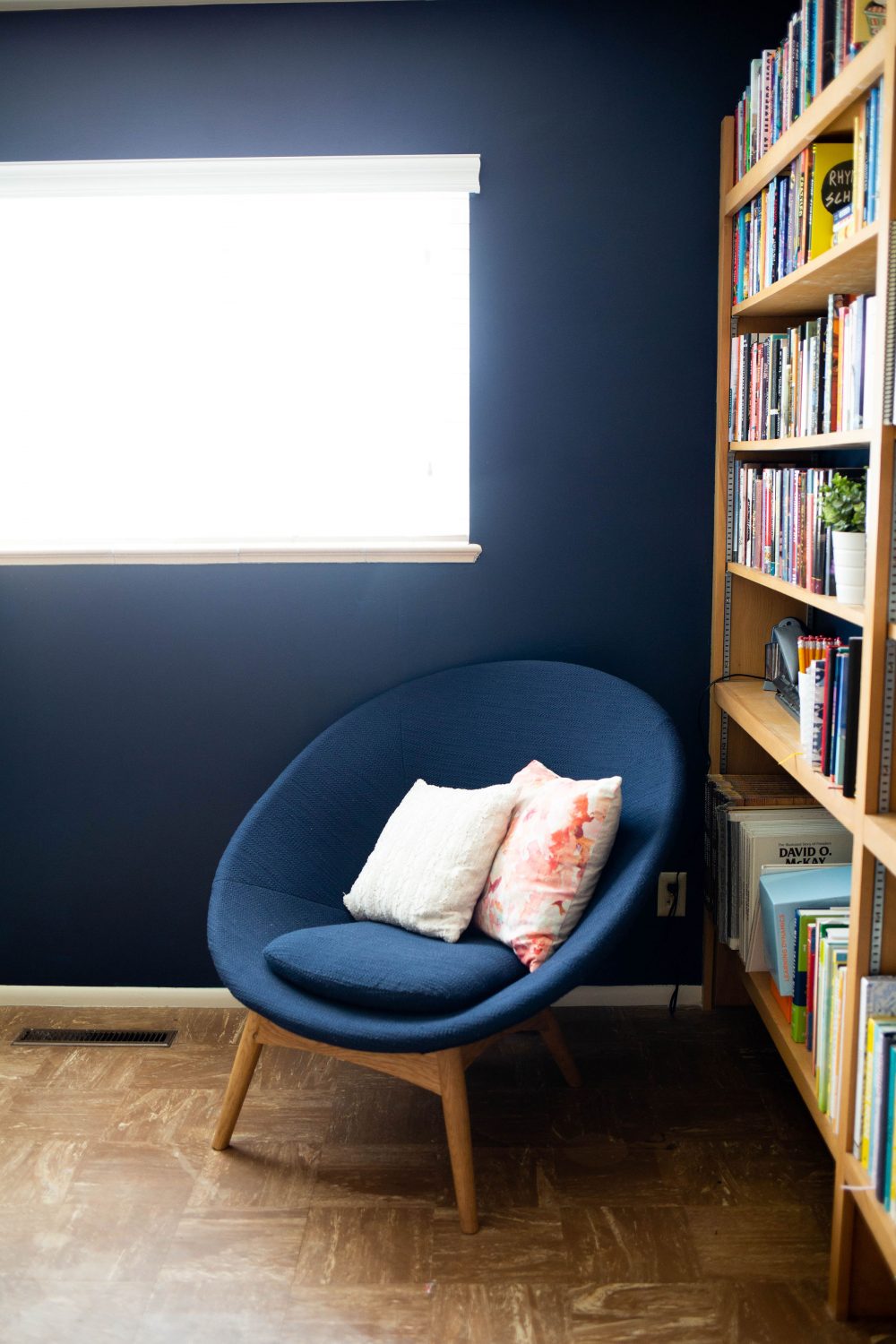 When Bart got home, he helped me check for any areas that needed touching up and then we let it dry while we got ready for the day.
Once the paint was dry, we pulled down all the tape, touched up a few places on the trim where we'd gotten blue paint on it and put the room back together.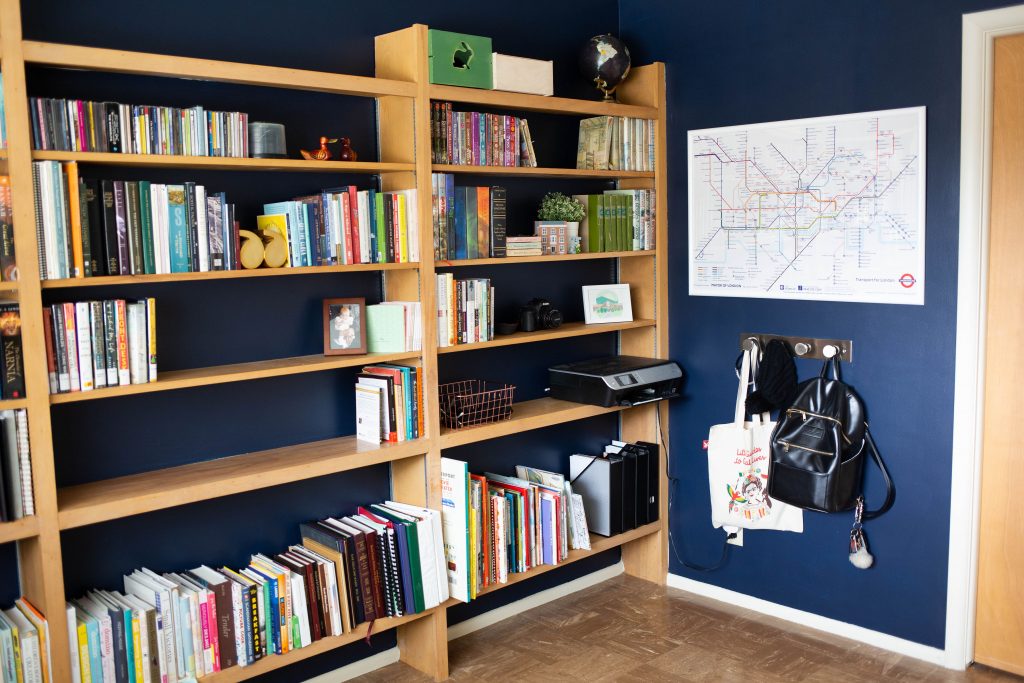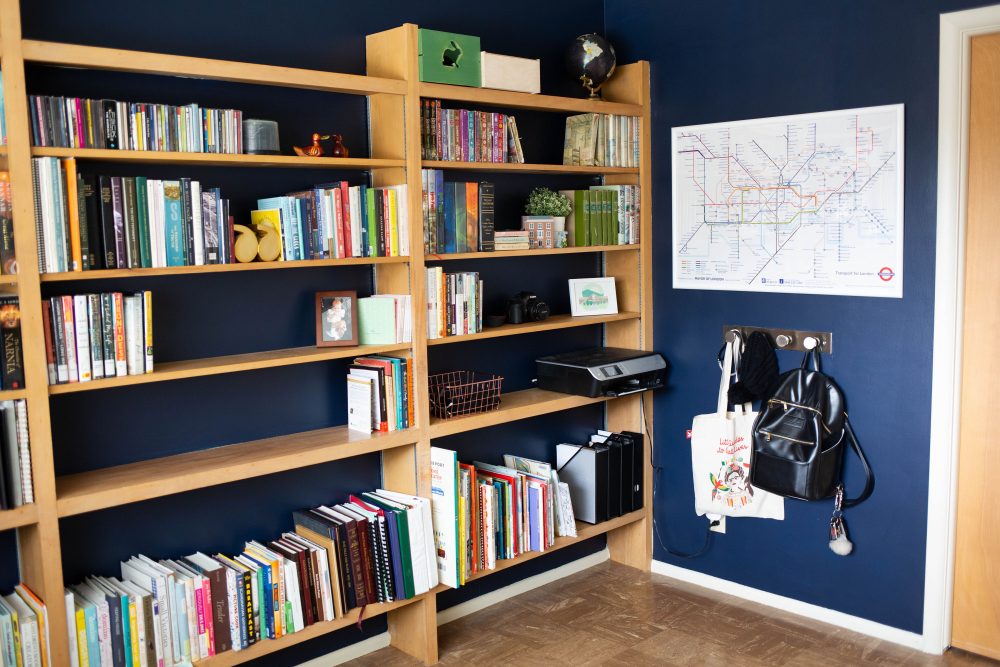 I am in LOVE. I love how it makes the shelves really pop, and how purposeful the room looks now instead of just a room that nobody has ever thought about for more than five seconds.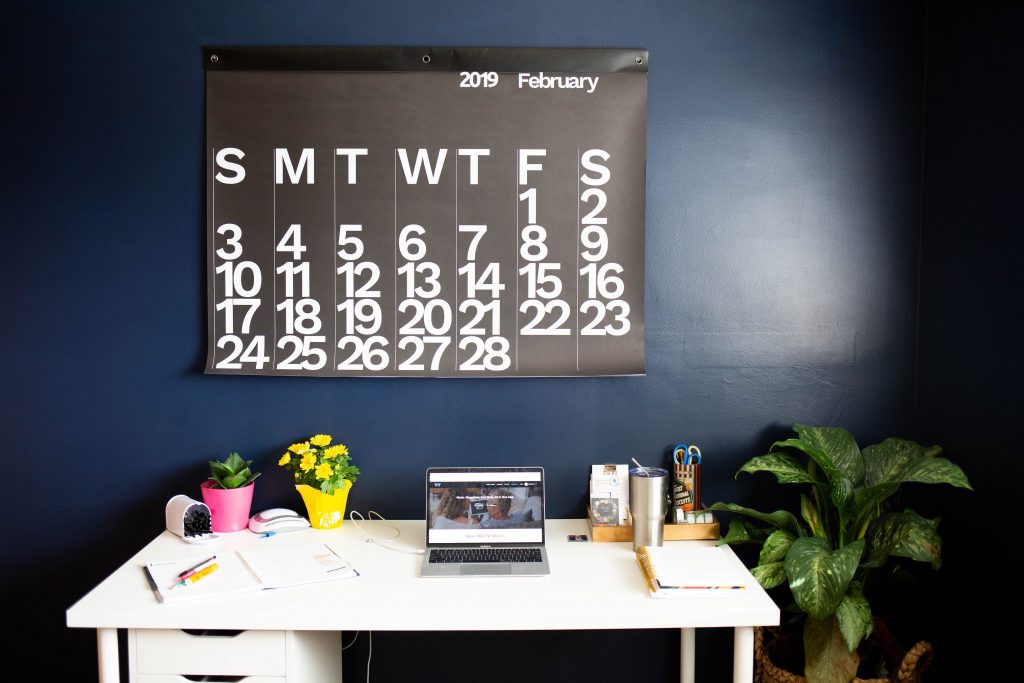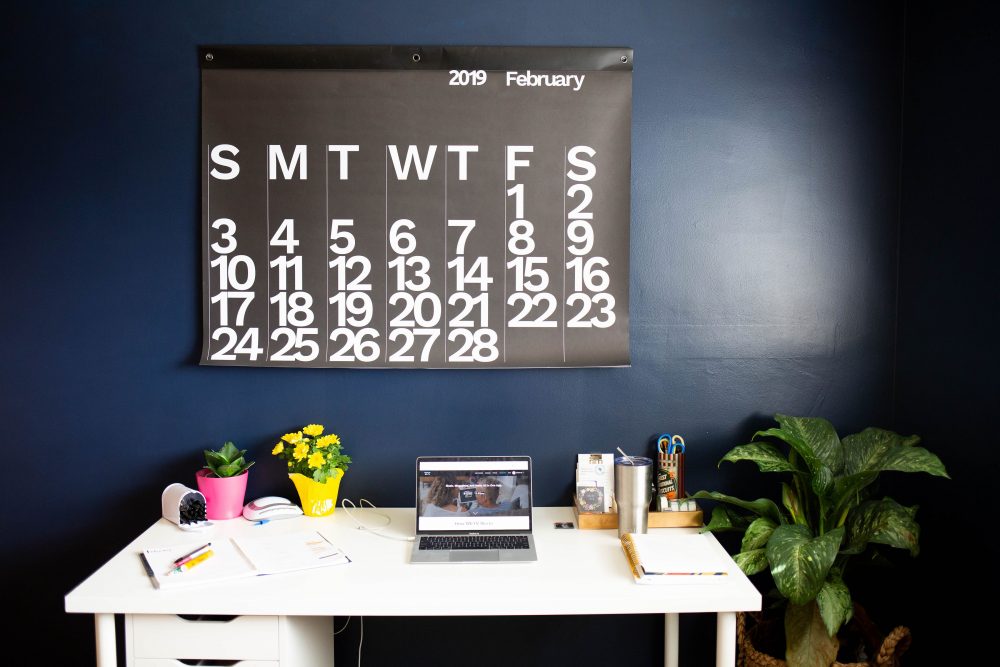 Even the 60 year old linoleum (that I'm hopeful will be gone before the end of the year), doesn't look half bad anymore.
I brought in this rug from Tally's room and it looks much better!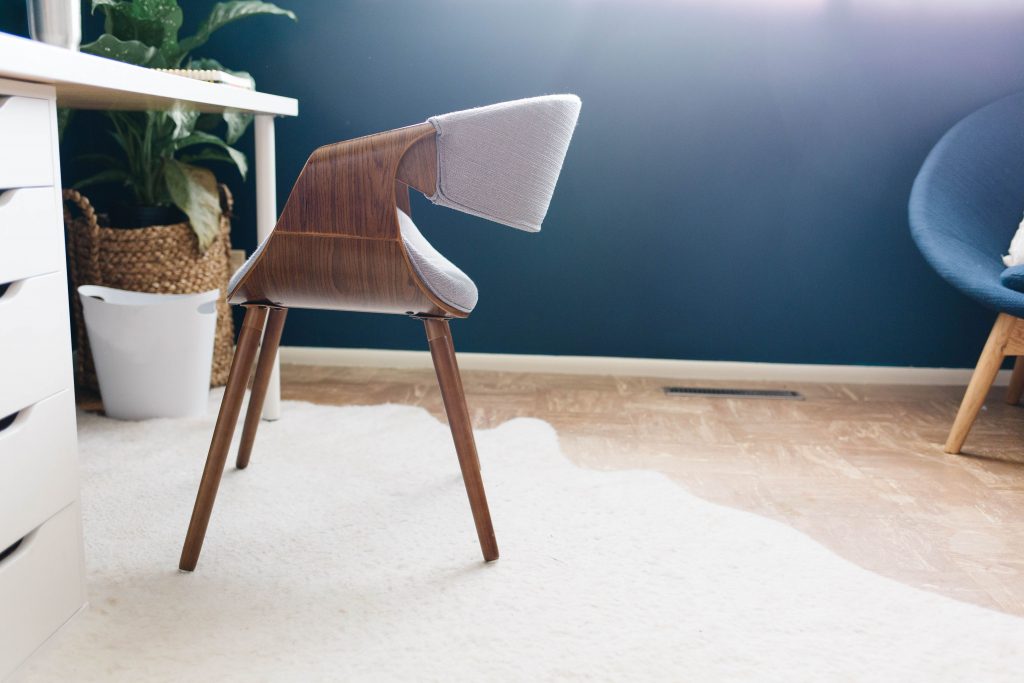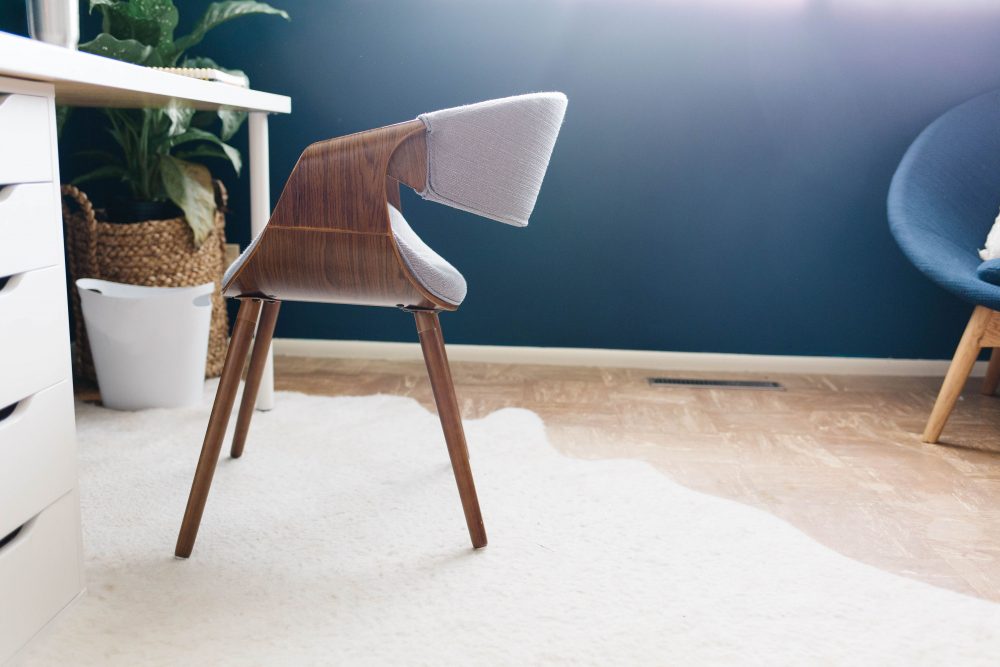 I'll never get over what a difference one can of paint and about 3-4 hours of work can make. You know I'm champing at the bit now to get painting in every other room in our house.
And I can't promise I won't paint them all Naval.
Room Details:
Paint
Tube Map
Hooks
Rug
Desk
Desk Drawers
Desk Chair
Wall Calendar
Blue Chair
Plant Basket