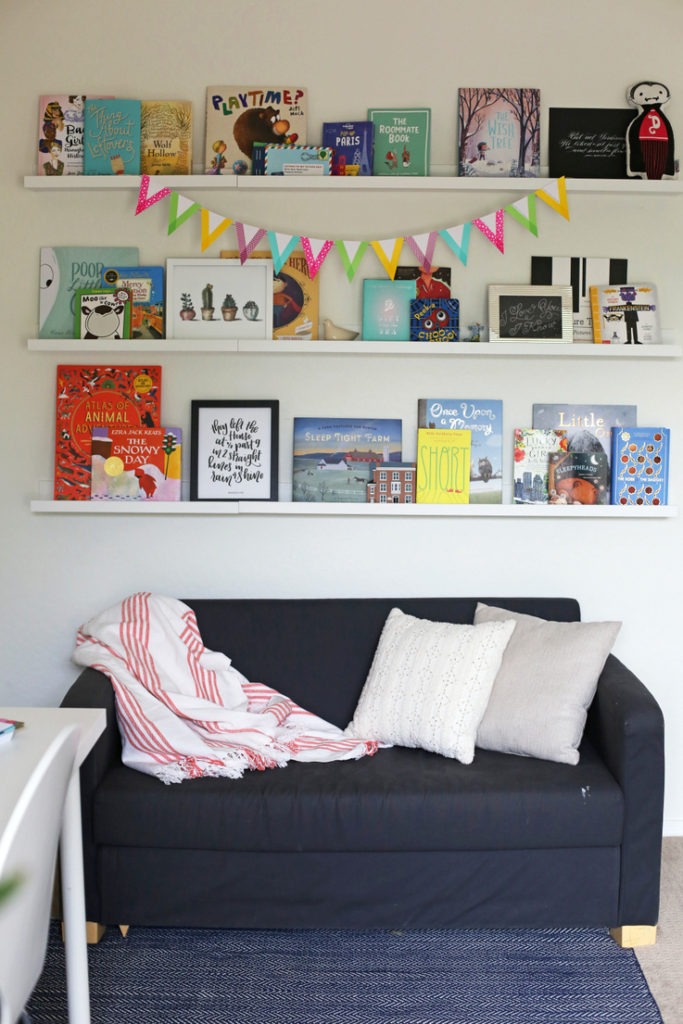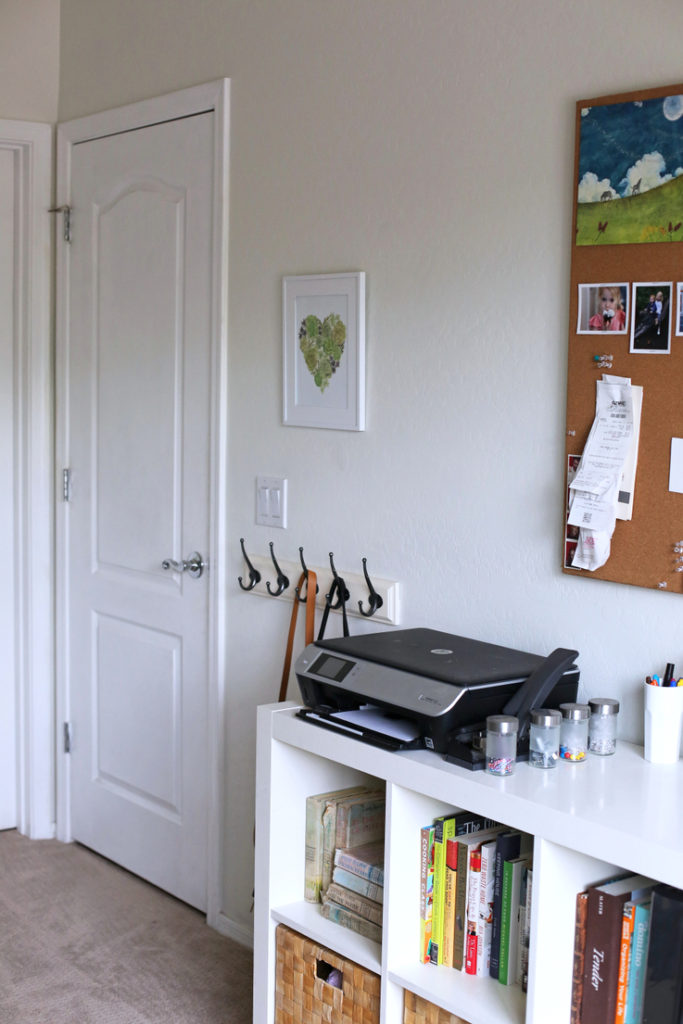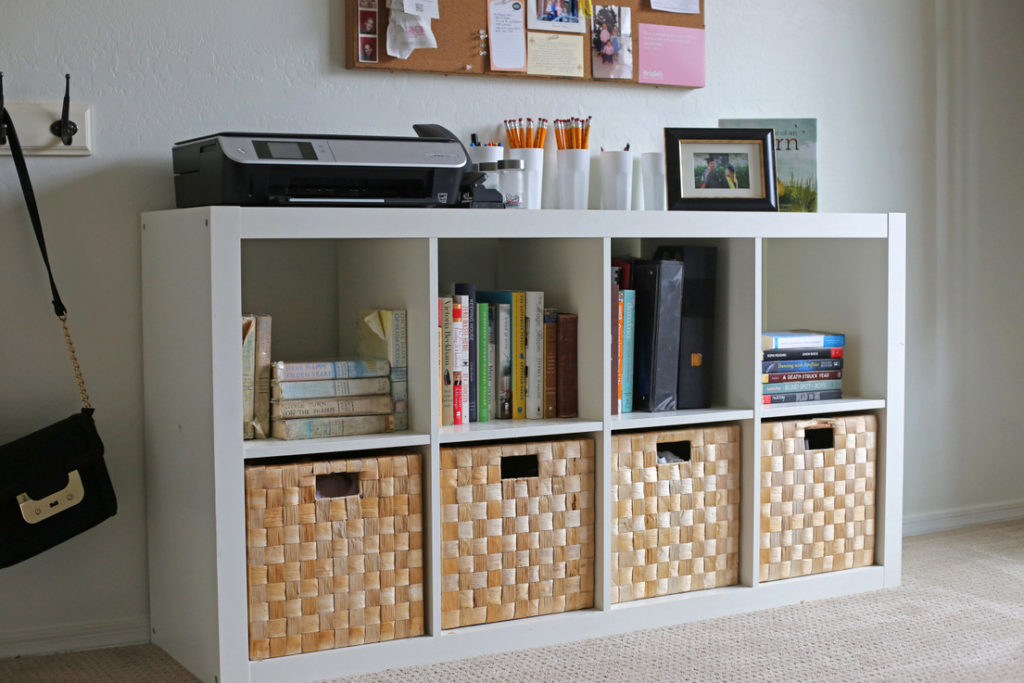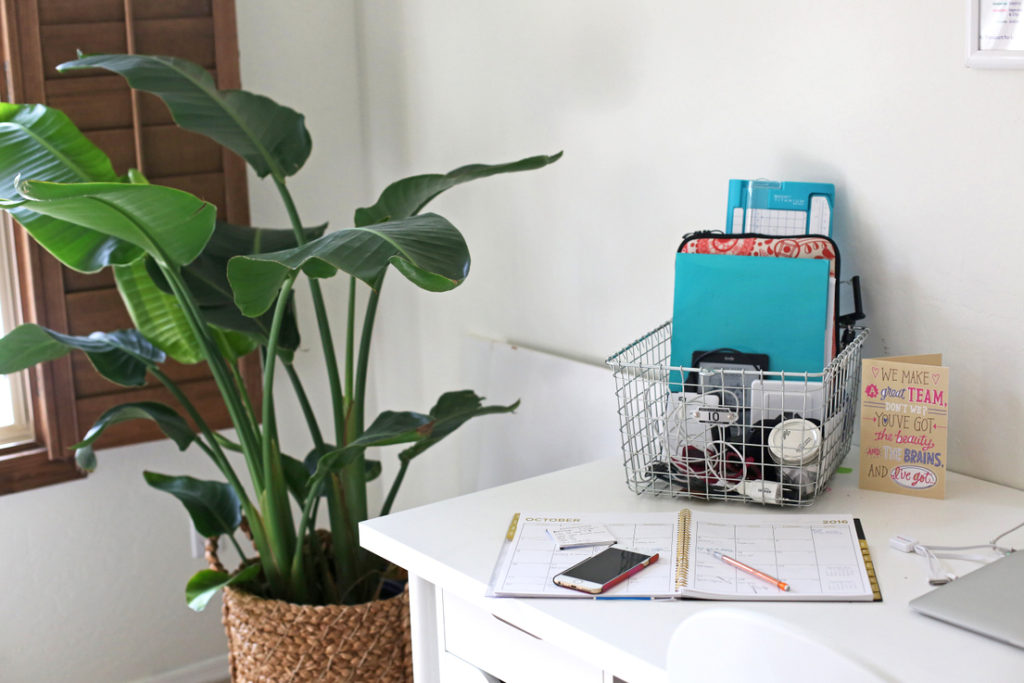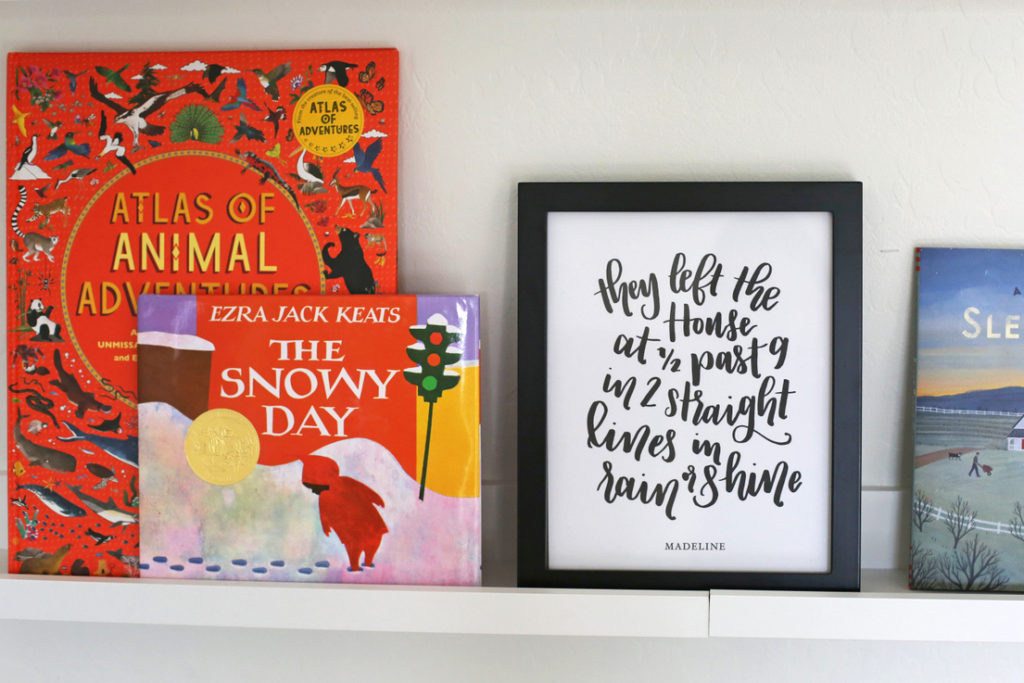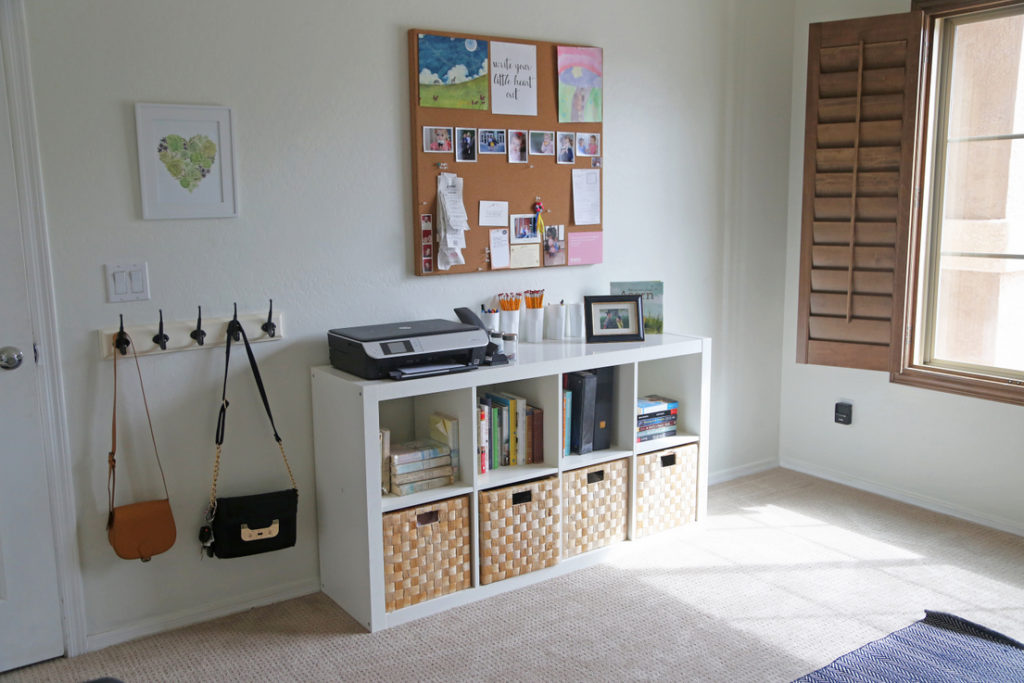 My office was functional from the first week or so we moved into the house, but I didn't particularly enjoy spending time in there because, like most of the house, it had tan walls and that delightful green carpet.
Finally, in the early spring, we repainted the walls white, which made a huge difference, and then this summer we re-carpeted.
Suddenly, the whole room felt brighter and fresher, and the plantation shutters the previous owners installed popped against the new paint and it looked a thousand times better.
Bart installed these book ledges for me, which made the walls seem less bare and also let me indulge my love of constantly rearranging book collections and creating new pairings (plus meant I no longer had giant stacks of books sitting in the corner of the room).
Then when my mom was here in the summer to paint the bedrooms, we moved this little couch out of Ella's room where it no longer fit (to be honest, it had NEVER really fit will in her room). It was just in the way in the family room so after a few hours, I listed it on Craigslist and then my mom and I moved it into my office so we wouldn't all be tripping on it in the living room.
And it was PERFECT.
It fit snugly under the book ledges and for the first time there was room for me to read with the girls or for Ani to quietly look at books while I worked (quiet time is still a struggle for her on many days) and I could lie down and rest for a few minutes or post something on Instagram while I was working. It also folds out into bed too, which is handy since, when we have a lot of house guests, my office sometimes gets used as an overflow guest room.
I deleted the Craigslist posting and this couch found a new permanent home in my office.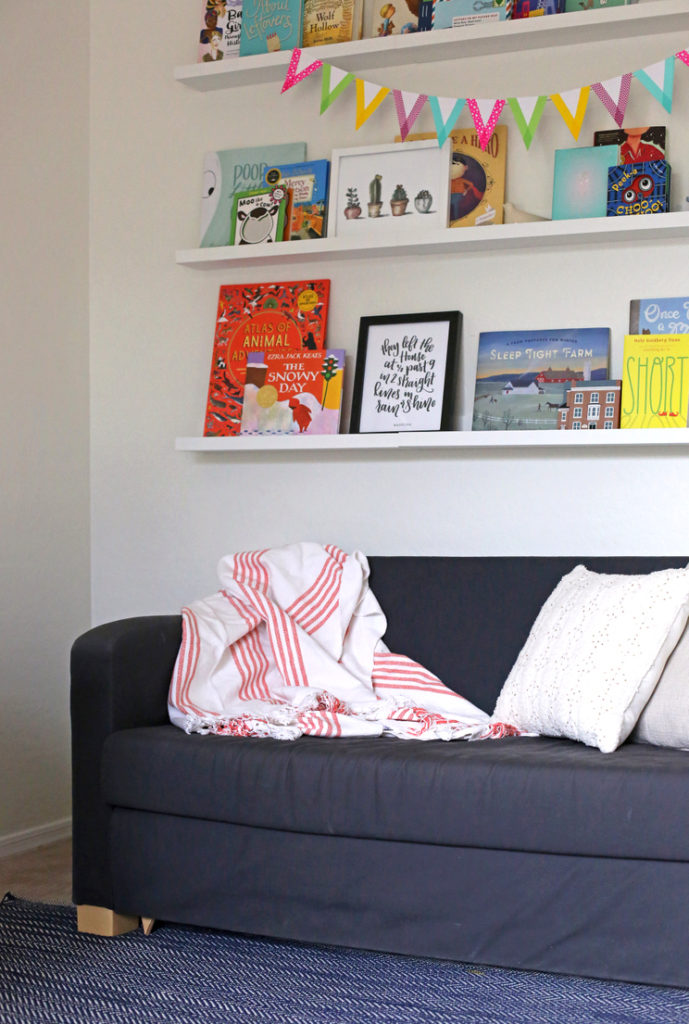 Suddenly, my office was somewhere I actually enjoyed being.
But it was still lacking a few finishing touches – I'd put an old rug under my desk to keep my chair from ruining the brand-new carpet and it didn't match at all. Plus, the wall above my desk was glaringly blank and the couch needed a little love as well to make it a cozier place to snuggle up.
I already knew I loved Anne Selke rugs and how gorgeous and high-quality they are. The big striped one on our front porch under our porch swing is from them, and it's worn beautifully over the last year, despite the scorching heat, dust, and monsoon season, plus scores of afternoon snacks, with no fading or damage (we did finally have to buy rug tape and tape it down like crazy because our front porch layout makes a great wind tunnel and despite being a pretty heavy rug, the wind was constantly tossing the whole thing completely off the porch and into the rocks).
When I got a copy of their fall catalog, I loved poring over the beautiful homes in it, and I especially had my eye out for a rug that would pull my office together, be able to handle the wear of a chair, and tie in with other rooms in our house.
We'd already started to establish blue – especially navy blue – as a major color in our decorating, and when I spotted the herringbone rug used as a stair runner in the catalog, I knew it was the perfect shade and pattern for my office. It wasn't too loud that it'd call undue attention to itself, but it was also interesting enough to give my office a little extra something.
Plus, since it's an indoor/outdoor rug, I knew it could hold up to the daily use (in fact, I love their rugs so much, I also snagged this striped one for our laundry room, which, once I get around to making Bart paint, I'll share here, and it makes me happy every time I walk through there, which is about 50 times a day since both the garage and my office open into it).
And when we put the rug down in my office, it looked even better than I'd anticipated – the color was so perfect and I felt like it really tied the room together.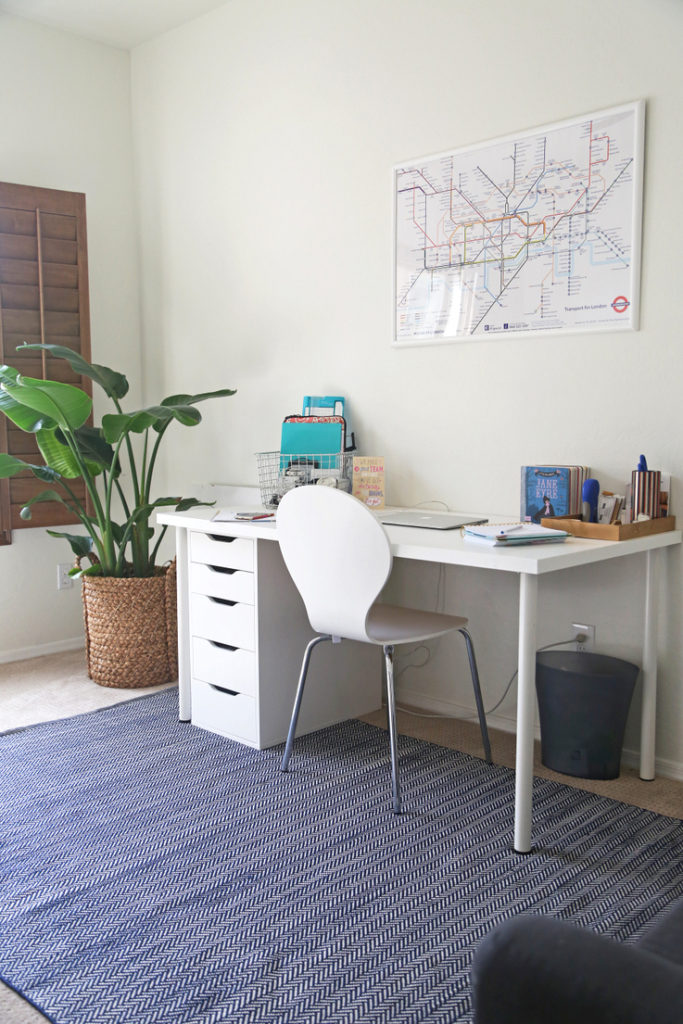 I added some pillows to the couch, plus this cozy striped blanket.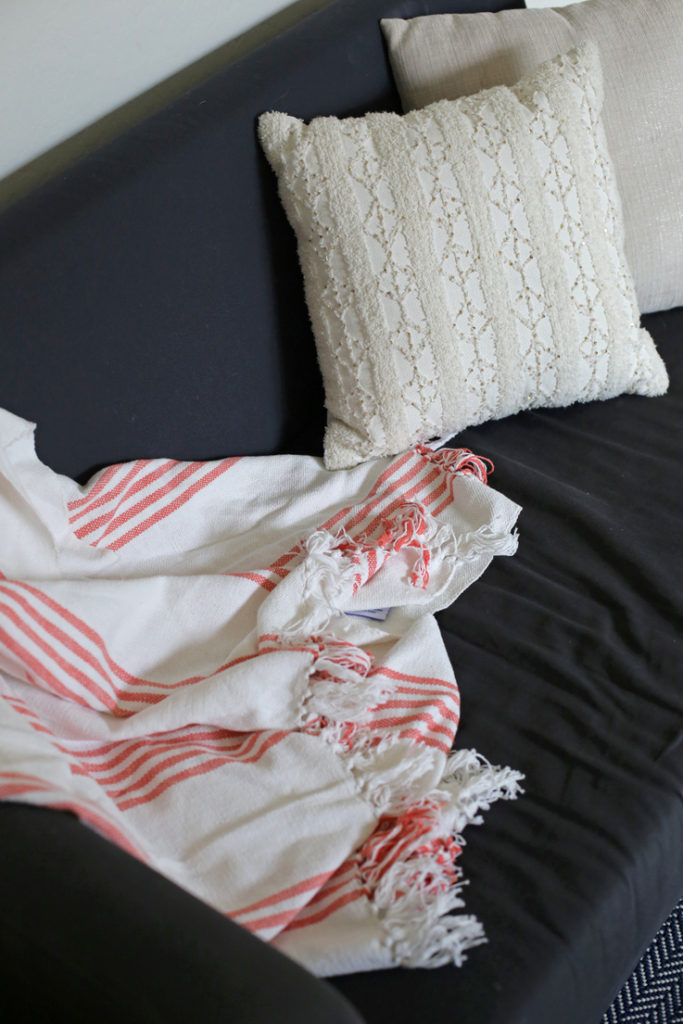 I'd gone around and around about what to hang above my desk. I knew I didn't want a collection of things because I felt like a gallery wall would be too cluttery with the book ledges just on the next wall, but I couldn't figure out what to hang instead.
Then, when Bart took the old rug down to the storage room, I remembered that I had an already framed map of the London Underground sitting down there, which had hung in our last couple of houses.
It was perfect!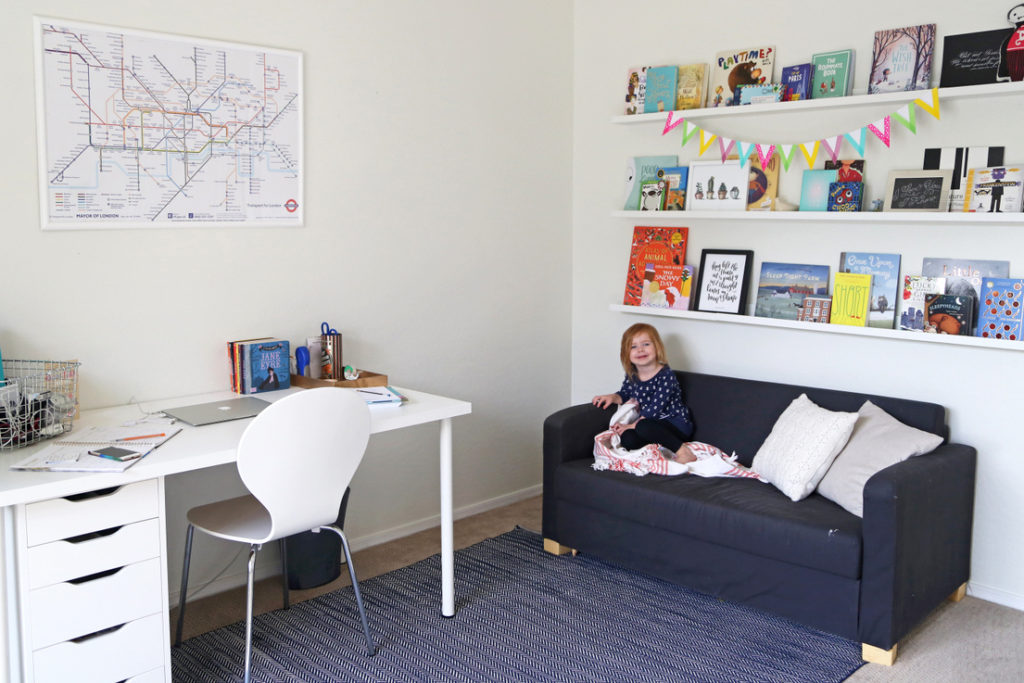 The finishing touch was this plant in the corner. We just hung a barn door in our master bedroom (pictures coming soon!) and so the plant that we'd put in our room no longer really fit there, plus I could tell it wasn't getting enough light in our room, so my sunny office corner was just the place for this bird of paradise.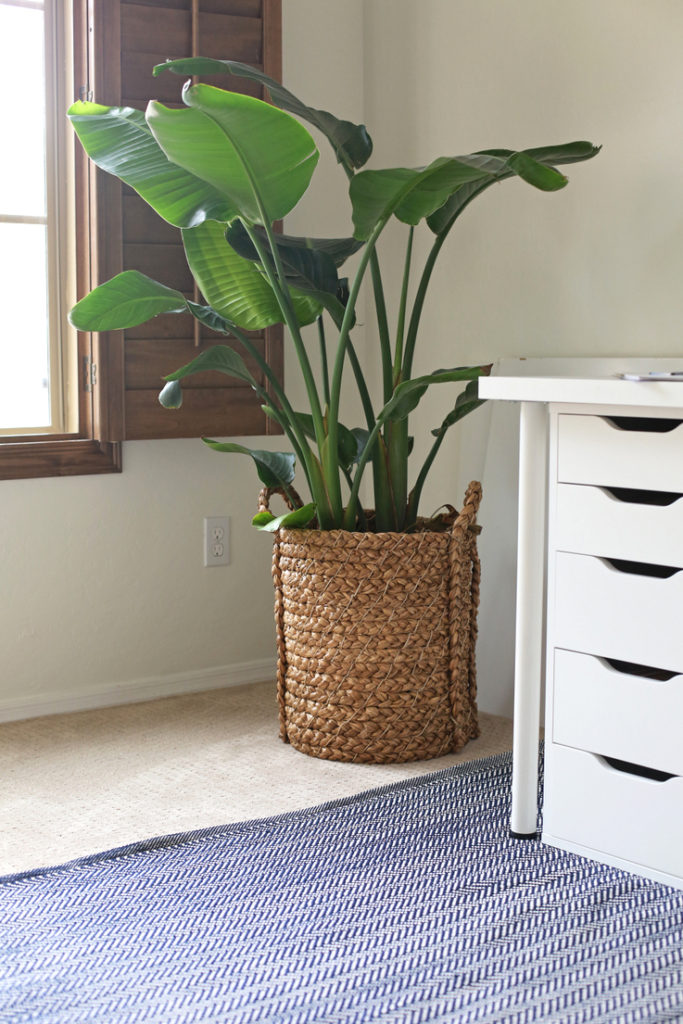 The previous owners had left the hooks on the wall, which I use daily to keep my purse, keys, and camera readily accessible, and I hung this fun little succulent heart print above it and, voila! The room finally felt finished.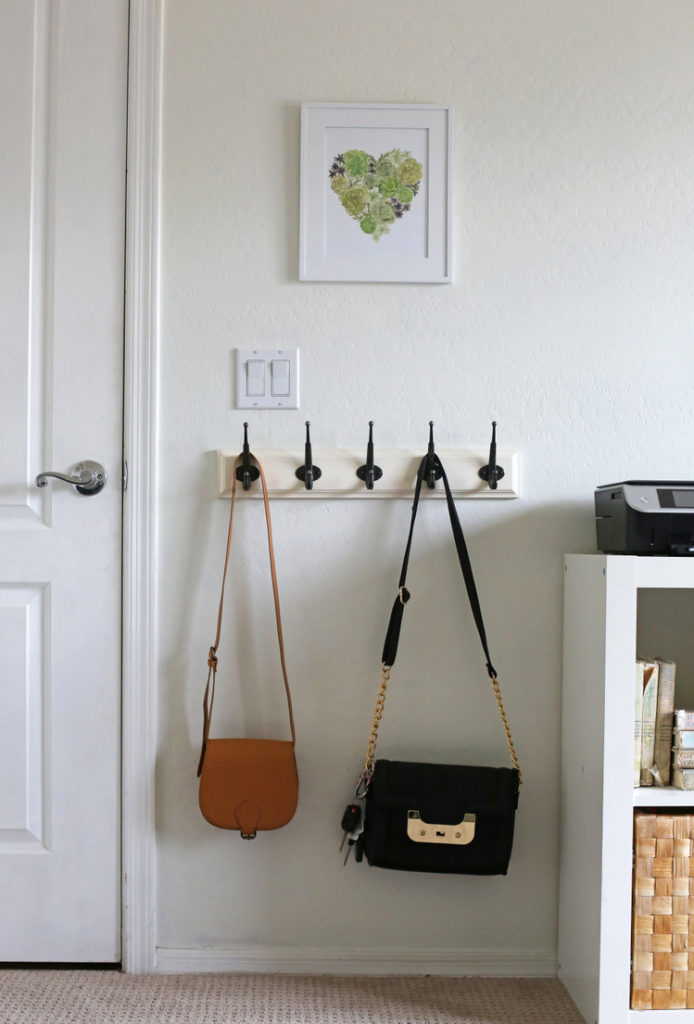 A few nights ago, as I was going around turning off the lights and closing the windows, I snuggled up on my little couch under the blanket and just looked around the room. This is the third house where I've had my own office, but this is by far the best one I've ever had.
The room is just the right size (the last two have really been way too big and felt cavernous and empty instead of cozy), and I have furniture and decorations that make the room feel finished and functional. The whole thing just makes me so happy.
This house has a lot of potential under the ugly paint and terrible worn carpet, and it's been such a fun process for me to slowly start to have spaces that I really enjoy and that feel like me.
Sometimes, Bart and I dream about buying a new house where we can pick everything we like from the beginning, but it's also been thrilling to take a house that very much wasn't our dream home and make it into a place that we all love to be.