You know what I really love seeing as the weather description first thing in the morning?
"Freezing Drizzle."
Yes, THAT makes me want to leap out of bed with a smile on my face and a spring in my step (as if I ever get out of bed with a smile and a spring. . . ).
If this happens again, North Carolina will be getting a strongly worded letter from me.
I'm also kind of tired of soups. I want summer food, even if the weather outside is doing its best to convince me that summer will never ever ever arrive.
So, we ate this salad for dinner last night. Bonus points because it is so quick and easy to throw together.
We ate it a bunch last year, but it'd been a while since we had it, and it was just as good as I remembered.
Both my girls ate it (Ani, especially, had multiple servings of it), so maybe they are getting antsy for summer too.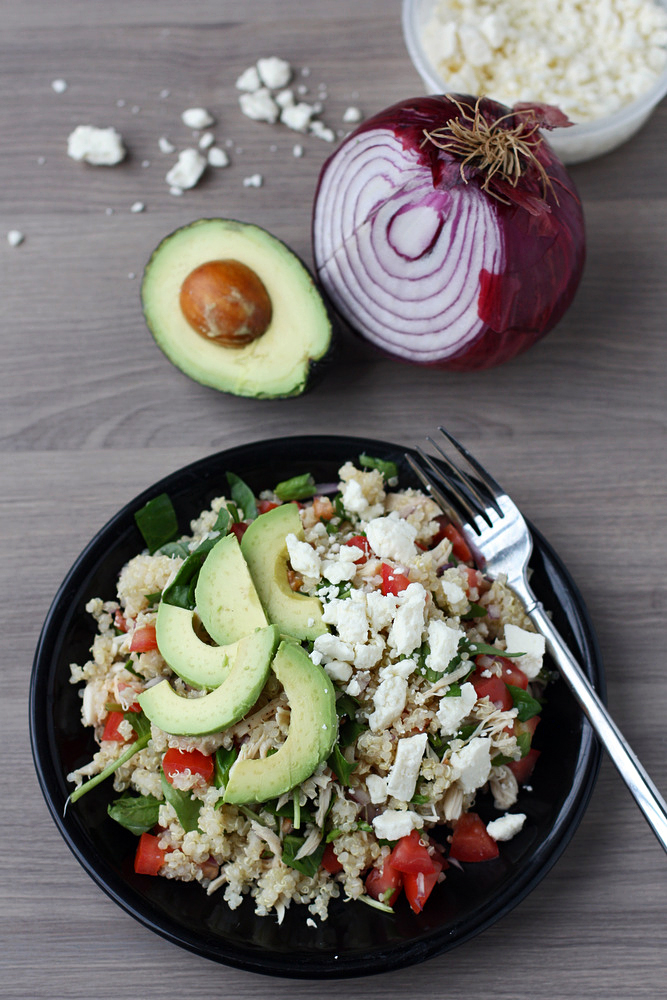 Greek Quinoa Salad with Chicken
(adapted from Better Homes and Gardens via Sisters Cafe)


Serves 5-6 as a main dish
1 cup uncooked quinoa
2 cups water
1-2 chicken breasts, cooked and shredded
4 roma tomatoes, chopped
2 cups baby spinach, chopped
1/3 cup red onion, finely (extra finely, if you're Bart) diced
1/4 cup lemon juice
1/4 cup olive oil
2 Tablespoons red wine vinegar
1 teaspoon salt
1 avocado, diced
1/2 cup crumbled feta cheese
Pepper
Rinse and drain your quinoa well then put it and the water in pot over high heat and bring to a boil. Stir once, cover and reduce heat to low, cooking for about 15 minutes, until the water is absorbed and the quinoa is fluffy. Remove from heat and set aside.
Toss the chicken, tomatoes, spinach and onion together in a large mixing bowl. Add the quinoa and stir well.
Whisk the lemon juice, olive oil, vinegar, and salt together in a small bowl or cup, then drizzle over the quinoa and mix well to coat.
Gently toss in the avocado and feta, salt and pepper to taste and serve.