This post is sponsored by A'vant Vanity Surfaces. The good kind of vanity.
Last year, we did a whole lot of house projects. Then the holidays came, quickly followed by a new baby, and our progress came to a nearly complete stop.
But in the last month or two, I've been getting way back into house projects and we're working on a lot of them at the moment.
There are a few last things to do upstairs, like get some dining room furniture and replace the countertops in our kitchen and add a backsplash), but the only untouched room upstairs still needing attention is the bathroom.
I always joke that I know when Bart has been watching Fixer Upper without me, because he stands in the middle of the kitchen and starts saying things like "if we raised all the ceilings 2 feet and then knocked out this wall and then reoriented the kitchen . . . "
He has lots of things he'd change about this house if we had unlimited funds, but I'm pretty happy with most aspects of this house.
The one thing that I don't care for much is the main bathroom. We have a master bathroom and then there is one bathroom that serves both of the other bedrooms on the main floor.
In both of our houses in North Carolina, there was a little powder bathroom, and I loved that because it stayed really clean and people didn't have to go very far into our home to use it.
In this house, though, it's a consistently used bathroom because of the two bedrooms right next to, and it's a constant struggle to keep dried toothpaste out of the sink and the mirror and counter free of little hand and footprints.
Fortunately, now that the big girls have moved downstairs, it stays cleaner since they don't brush their teeth or bathe in there, but it's still a pretty dismal bathroom.
Since we're getting ready to start tackling the completely untouched downstairs pretty soon, I've been thinking a lot about this bathroom because I'd love to have the whole upstairs mostly done.
Here's what it currently looks like (definitely not the stuff of Pinterest bathroom inspiration dreams):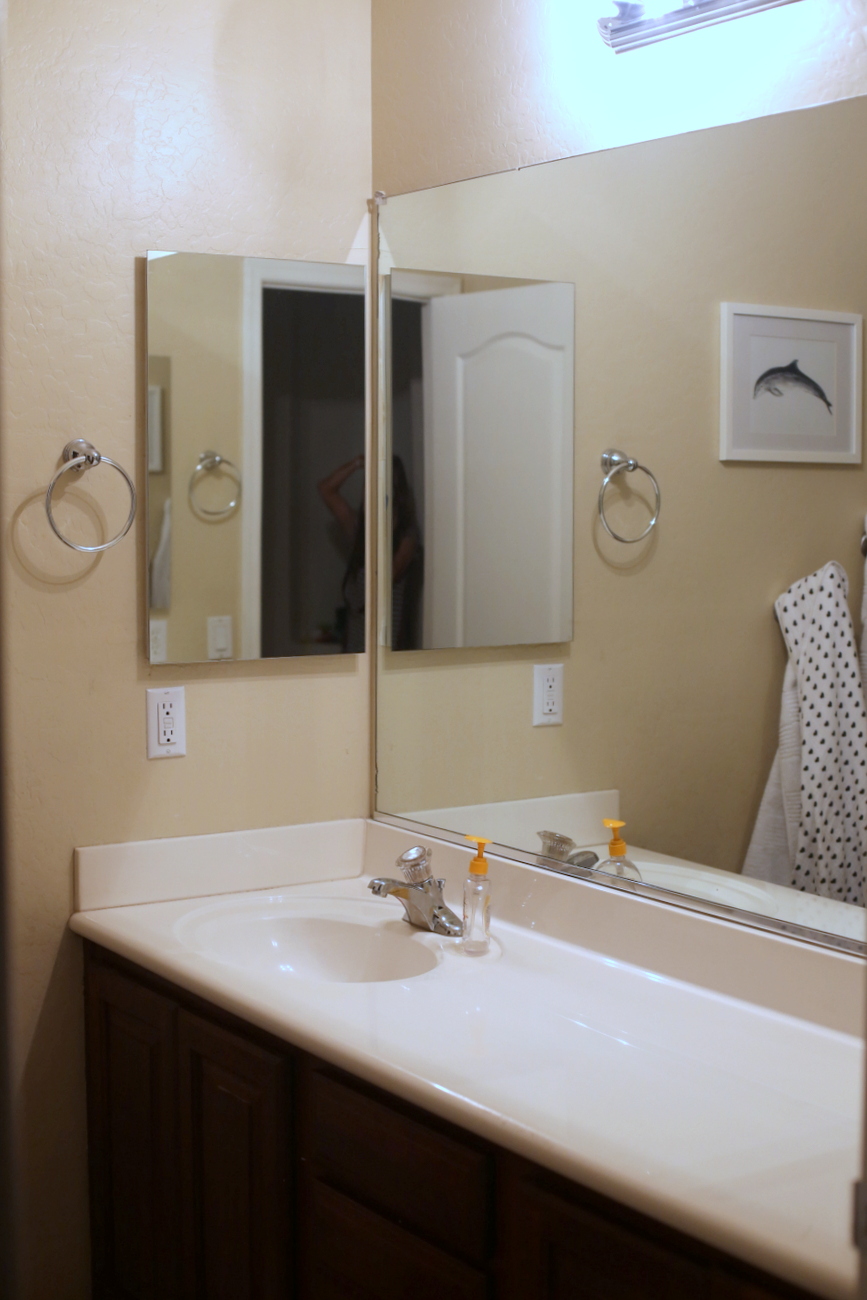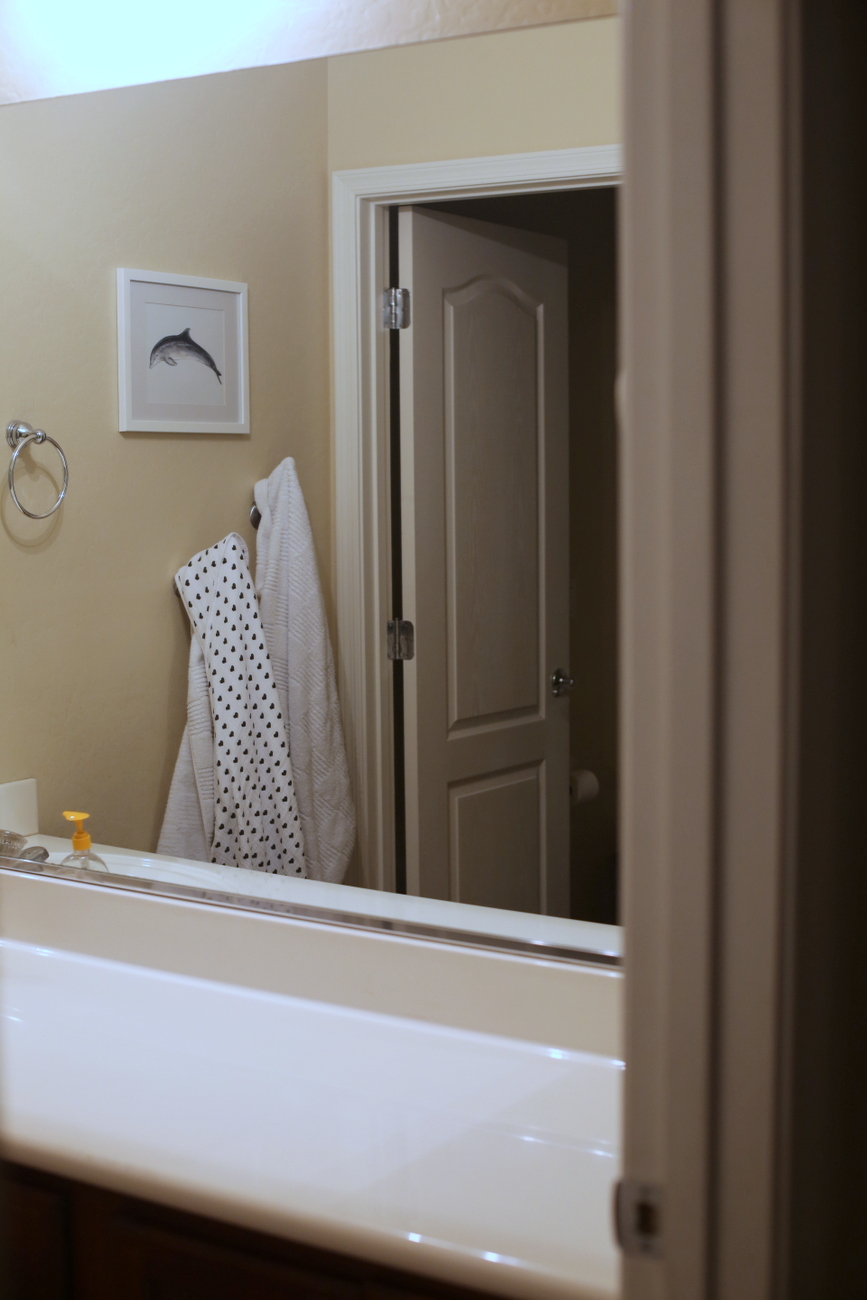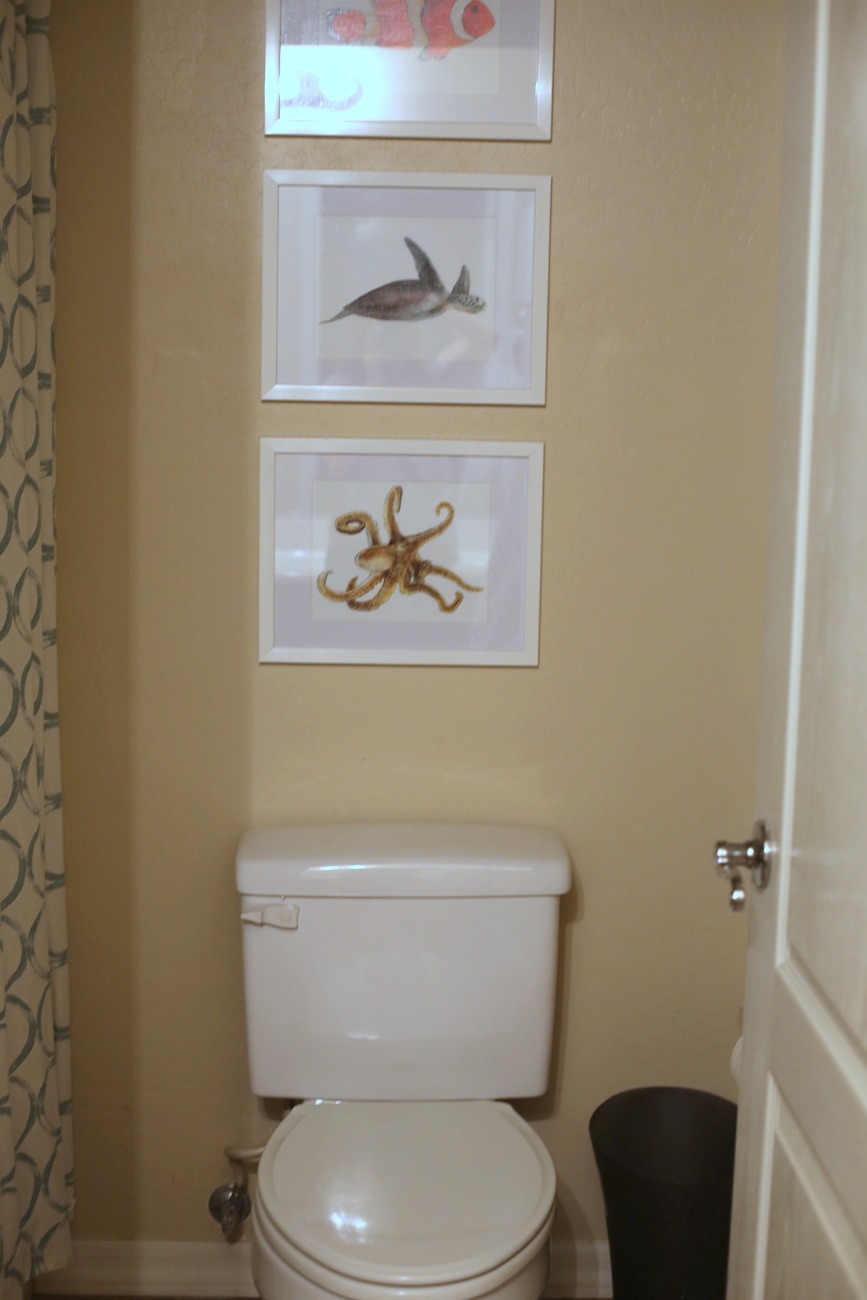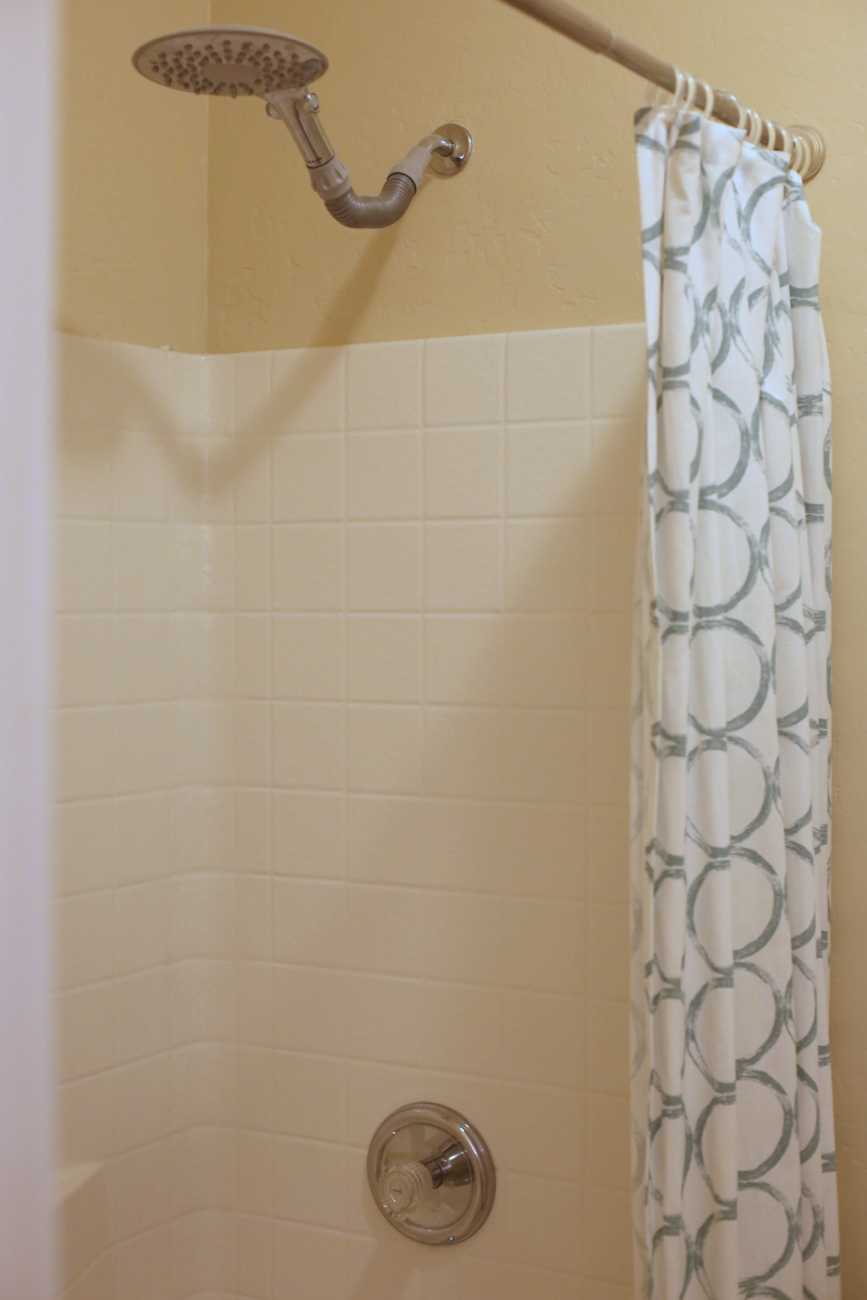 And here's what I'm planning (if you guessed this bathroom is going to be blue? You know me too well):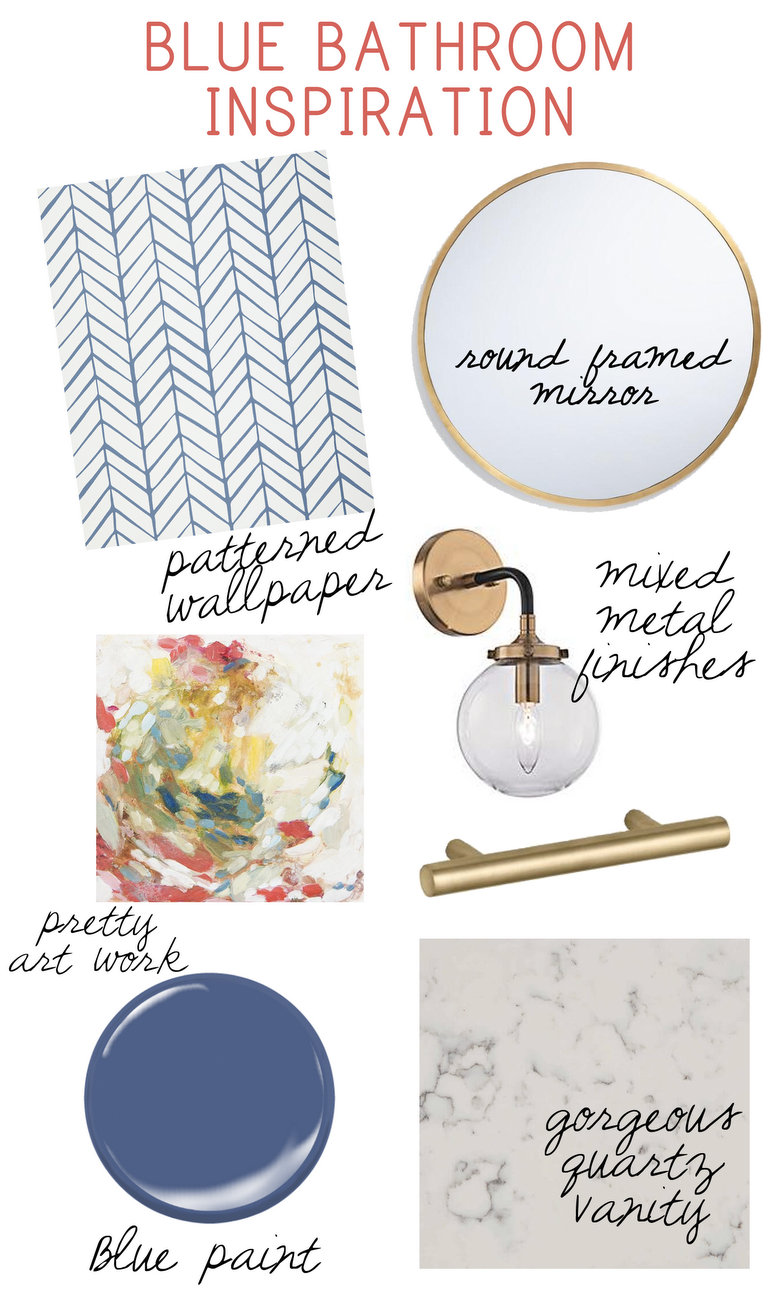 First up will be repainting, obviously. My plan is to repaint the toilet/bathtub area in navy blue (the same blue I used in the master bedroom and Tally's nursery and our back door. I'm obsessed with that color).
In the sink area, I'm still debating whether to go with white and blue walls (opinions?) and then above the sink, I want to wallpaper with this feather herringbone print paper, which I've been giving heart eyes to for about a year.
I want to take out this massive nothing mirror and replace it with a round mirror that just goes over the sink. Because, one, I think it'll look much better and two, WAY less space to get handprints on.
I'd like to replace the light fixture with something a little more fun and modern, and add some metal pulls to the cabinets and drawers.
And, of course, what I REALLY want to do is replace this countertop.
It looks uber-cheap (because it is), and it's also quite scraped up (by the previous owners), so replacing it would make a massive difference in this little space.
Also, one of my unnamed children took a blue pen to the edge and drew along the seam between the flat counter and the part that goes up on the wall. Delightful. It's finally faded after much scrubbing, but it's definitely still there.
A'vant, which makes all sorts of gorgeous countertops, recently introduced their vanity countertops for bathrooms and they are gorgeous.
They make it super simple with nationwide delivery (I basically love anything that doesn't require me to leave the house) and they have 15 different colors, plus both custom and standard sizing. They also have multiple sink options so you can get exactly the look you want. I really like the rectangular sink look right now, and I think it'd make it look a lot more modern and fun in there.
I like many of the 15 choices, but I'm particularly in love with the Palazzo quartz. The light color makes for a nice contrast against the navy and the vein means it doesn't show as much as a solid color, which is a must for a high-traffic bathroom like this one.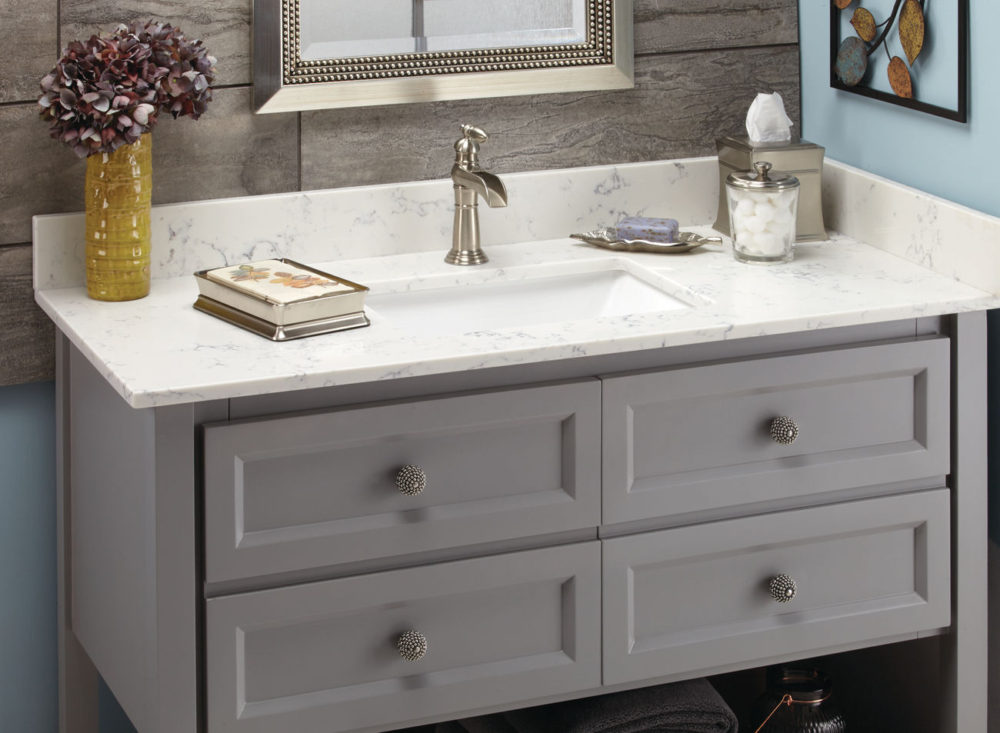 I'll finish it off with a little artwork and voila! Bathroom complete. (It's much easier to do this in a post than in real life).
Of course, with A'vant, they do all the heavy-lifting of bringing the new countertop right to your house, so all I have to do is the other stuff.
I wonder if they'd like to paint the walls for me too.
You can find a local dealer here or see the product color samples. Plus, you can check out lots of gorgeous home and bathroom inspiration from them on Pinterest (I'm dying over everything on their Contemporary board).