Do you have a child or student who deals with worry or anxiety?
It can be so challenging to manage those fears on a daily basis!
These books (both fiction and non-fiction) can help start a conversation about worry and fears and how to deal with them.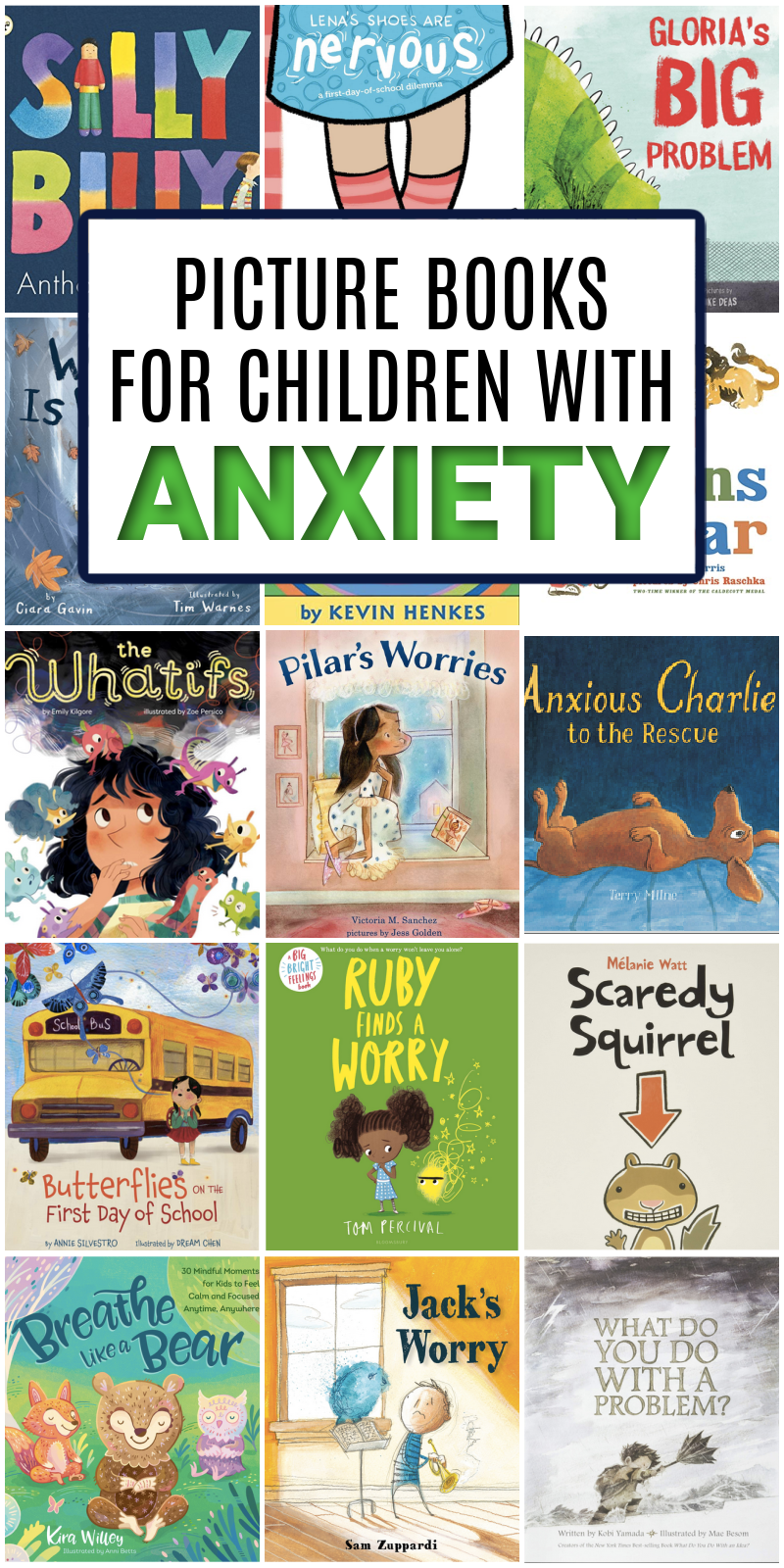 22 Books for Children with Anxiety
Silly Billy by Browne Anthony
Billy worries a lot. His parents try to tell him there's nothing to worry about, but, of course, that doesn't help. Then he goes to spend the night with his grandmother and she assures him that his fears aren't silly at all and shows him a sweet solution for dealing with those worries.
The Anxiety Workbook for Kids: Take Charge of Fears and Worries Using the Gift of Imagination by Robin Atler PhD, Crystal Clarke MSW RSW, illustrated by Oliver Burns
This is an excellent resource for helping children deal with anxiety and scary thoughts and give them them the tools to find calm when they're getting nervous. It's perfect for working through together with your child.
Gloria's Big Problem by Sarah Stiles Bright, illustrated by Mike Deas
This book is definitely on the wordy side, but I love the message about how worry can get bigger and bigger and tell you things that aren't true and keep you from doing the things you want to do.
Lena's Shoes are Nervous by Keith Calabrese, illustrated by Juana Medina
Lena isn't worried about the first day of school, of course. But her SHOES – her favorite shoes that she absolutely cannot go to school without – are QUITE nervous. Can she help her shoes feel brave about this new adventure?
Jabari Jumps by Gaia Cornwall
Jabari isn't a bit worried about jumping off the high dive. Well, mabybe a little worried. I love not only Jabari's determination, but also his patient dad who helps him work through his nerves and conquer his fear when he's ready.
Weasel is worried by Clara Gavin, illustrated by Tim Warnes
When Weasel gets caught in a storm, he's terrified and barricades himself inside. Until he meets a new friend who helps him see the storm not as terrifying, but fun. It's such great practice in looking at the positive side of things that can be scary and unknown.
Ten Beautiful Things by Molly Griffin, illustrated by Maribel Lechuga
For Lily, a big move is the last thing she wants. But as they drive toward their home, her Gram helps her look for ten beautiful things along the way and see the good in the changes that are coming, even if they aren't changes Lily wanted.
When Lions Roar by Robie H. Harris, illustrated by Chris Raschka
This book is perfect for the youngest readers – the child in the book interacts with some scary things, like lions roaring or sirens blaring or a mom yelling, and he figures out how to bring back the quiet and peace he needs.
Wemberly Worried by Kevin Henkes
This was probably the most recommended book when I asked for suggestions of books for children with anxiety. Wemberly is a little mouse who worries about everything, all day long. But her biggest fear of all is just around the corner: her first day of school.
What to do when you worry too much : a kid's guide to overcoming anxiety by Dawn Huebner, illustrated by Bonnie Matthews
This workbook is really well done to help children identify what anxiety and worry are all about and then gives strategies for dealing with those worries so they don't get in the way of a happy, fun life.
The Whatifs by Emily Kilgore, illustrated by Zoe Persico
Cora is a major worrier – little colorful creatures she calls "Whatifs" are constantly following her around and clinging to her, whispering all the things that could go wrong. But then, just before a piano concert, a friend suggests a new way to look at the "Whatifs."
Breathe by Scott Magoon
This sweet, simple and gorgeously illustrated book is a great way to introduce the idea of breathing as a way to cope with worry, new experiences, and everyday life to the very youngest little worriers.
Anxious Charlie to the Rescue by Terry Milne
Charlie is a little dog who wants to do things exactly the same way every day so that nothing will go wrong. But when an emergency comes up and his friend needs him, he discovers that, even if he doesn't do exactly the same things, things can still be alright.
Ruby Finds A Worry by Tom Percival
My children REALLY took a shine to this book about Ruby, a cheerful girl with a big imagination who loves life. Until she finds a Worry. And that Worry keeps growing bigger and bigger until it blocks out nearly everything else.
Pilar's Worries by Victoria Sanchez, illustrated by Jess Golden
Pilar loves to dance but she's very nervous about auditions for an upcoming ballet performance. Fortunately, she's learned some coping techniques and she's able to use those to focus on her love of dancing, rather than the fear her body is feeling.
Butterflies on the first day of school by Annie Silvestro, illustrated by Dream Chen
Rosie is so excited about kindergarten. But then the night before, her stomach is full of butterflies. As she presses through her first day, those butterflies come tumbling out and she realizes it's not as scary as she thought!
A Kids Book About Anxiety by Ross Szabo
I love the "A Kids Book About" series because they explain big topics (like racism or suicide or adoption or bullying) and this one does a great job explaining exactly what anxiety is and how to manage it as a child.
Scaredy Squirrel by Melanie Watt
My girls love these books about how things turn out not to be as scary as Scaredy Squirrel imagined and many parents have said the same, but other parents have said that they made their children MORE anxious as they saw new possibilities for things to worry about. You might want to read one of these on your own first to see if it'll be helpful or harmful for your own child's worries.
Breathe Like a Bear: 30 Mindful Moments for Kids to Feel Calm and Focused Anytime, Anywhere by Kira Willey, illustrated by Anni Betts
We've used this book in our home and it's been so great for my girls to learn the tools to bring calm back into their bodies and minds in a fun, engaging way. I highly recommend this one!
What do you do with a problem? by Kobi Yamada, illustrated by Mae Besom
When a little child has a problem, the first instinct can be to ignore it or hide from it. But usually that just makes the problem get bigger and scarier. This book shows what happens when you get up the courage to face that problem.
Saturday Is Swimming Day by Hyewon Yum
For one little girl, Saturday swimming lessons are awful. The whole idea of swimming lessons gives her a stomachache. But little by little, she gains confidence and beats back her fear until she learns to enjoy her lessons!
Jack's Worry by Sam Zuppardi
Jack cannot WAIT to perform at school the next day. But when he wakes up, a worry is sitting on his bed. And it just keeps getting bigger and bigger. I love that this book focuses on talking about what you're scared about so that it's not so scary.
And if you'd like a printable copy of this list that you can take to your library or screenshot on your phone for easy access, just pop in your email address below and it'll come right to your inbox!
Any other favorite books for children with anxiety? I'd appreciate your suggestions in the comments – it helps make this list more useful to the parents and families who need it!
If you liked this list of books for children with anxiety, you might like these lists too:
Reader Interactions