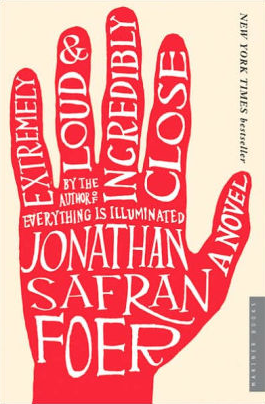 I listened to the Extremely Loud and Incredibly Close audiobook after reading very positive reviews of it by Kristy and Bethany. And, because of their reviews, it's harder for me to say that I didn't really care for this book.
But there it is. It just didn't do it for me.
It was fine. I didn't hate it. But I did count down every CD I put in (only three more CDs to go! only one more! Only two more tracks! Done!) and that's not exactly a good sign. Whenever I listen to a book on CD I wonder if I would have liked it more or less if I'd read a print version.
extremely loud and incredibly close
The book is about Oskar Schell, a nine-year-old kid with too many brain cells for his own good. His dad, whom he adores, died in the World Trade Center in 9/11. A while after his death, Oskar accidentally breaks a vase in his dad's closet and finds, in the vase, an envelope with a key. The envelope has the word "Black" on it and, through a series of investigations, Oskar decides that "Black" must be a last name and so he embarks on a journey to visit every Black in New York City to see if they know about the key.
At the same time, we hear narration from Oskar's grandfather who is mute (and also abandoned his wife and unborn son (Oskar's dad) decades earlier) and Oskar's grandmother. Their stories were far less interesting to me and, even though I often found Oskar annoying, I was always relieved when the story returned to him.
One thing that made listening to the Extremely Loud and Incredibly Close audiobook difficult for me was how uneven it was – parts of it really were hysterically funny or unbelievably moving. But then there would be pages and pages that just felt so pointless, that dragged on, that had no redeeming qualities. A lot of reviewers on amazon mentioned they found the book confusing, but I didn't find it that way. Even on CD, it was a pretty straight-forward plot (even if you didn't know exactly what was going to happen, it wasn't tricky).
Extremely Loud and Incredibly Close is a book I wanted to like. But I just couldn't.
 If you liked this review of Extremely Loud and Incredibly Close audiobook version, you might also like these books: