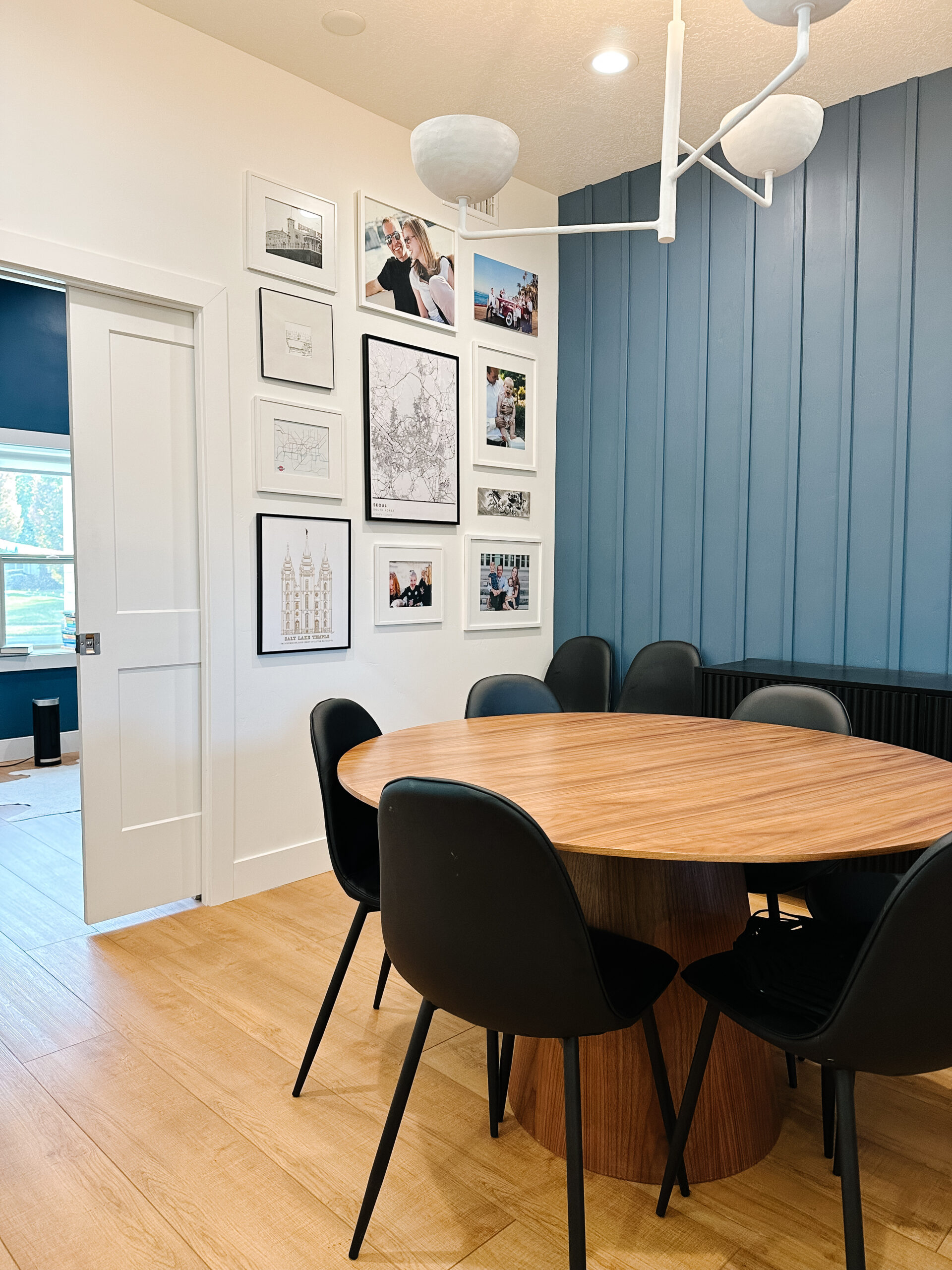 When we bought this house, this space that's now the dining room was one long, dark room.
Decades ago, it'd been a garage but it'd been absorbed into the house long ago. The only way into it was to go into the kitchen from the family room and then through the kitchen into this room (when we bought the house it was being used as a piano room and before that, it'd been a sewing room).
We knocked down the wall that connected it to the living room which opened up both spaces and then divided the space in half with my office in the front half and the remaining half as a small dining room.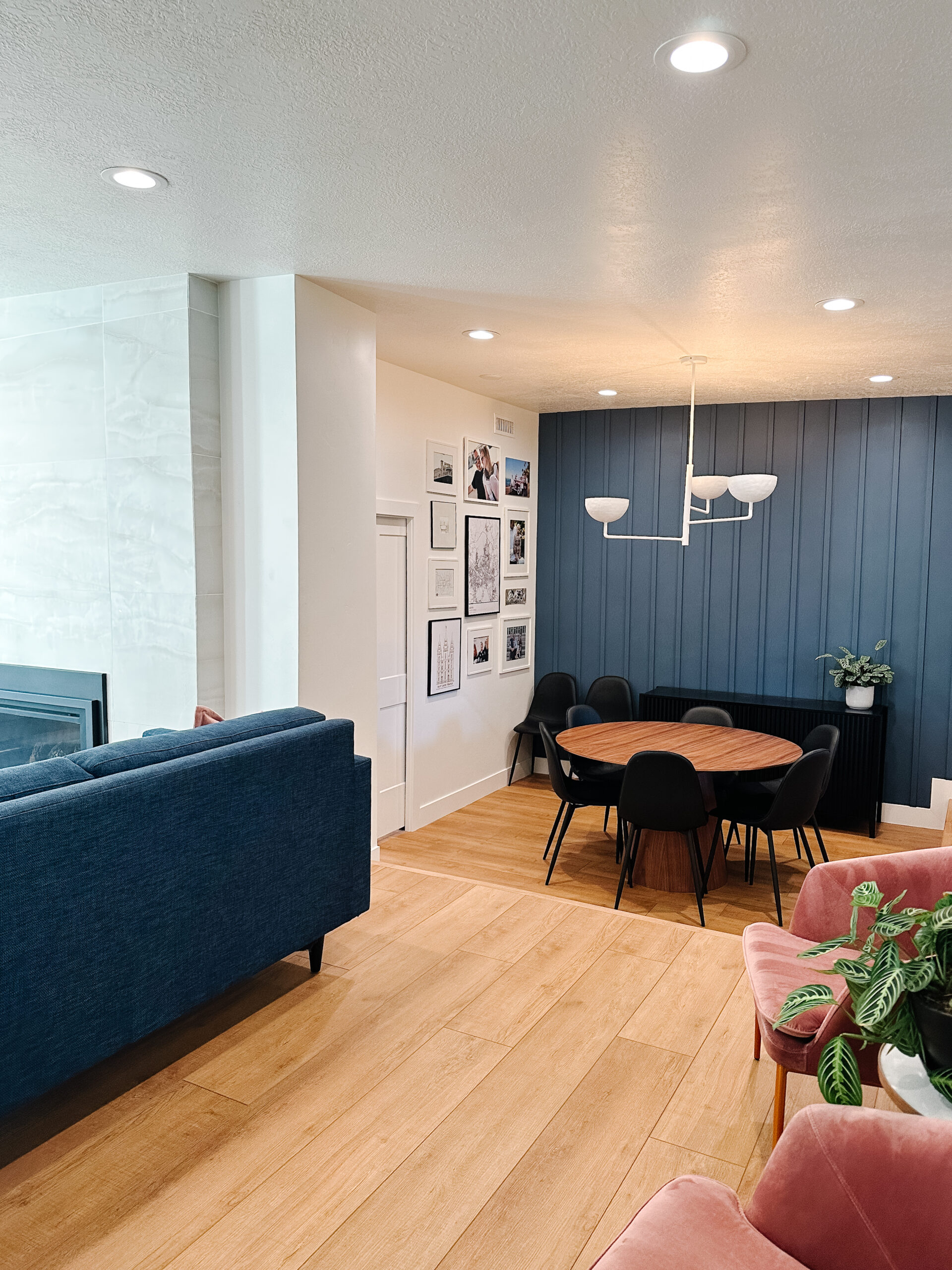 We also added a step all the way around the two open sides instead of the single small step that used to be coming out of the kitchen and added both can lighting and a light fixture since this room has no windows and isn't particularly bright.
We NEVER eat in here ourselves – the only time we have meals in here is when we have a large group over and need overflow dining space.
But the dining room gets used constantly for puzzles (this is where I do all my puzzling), Ella's hybrid homeschooling, and family games.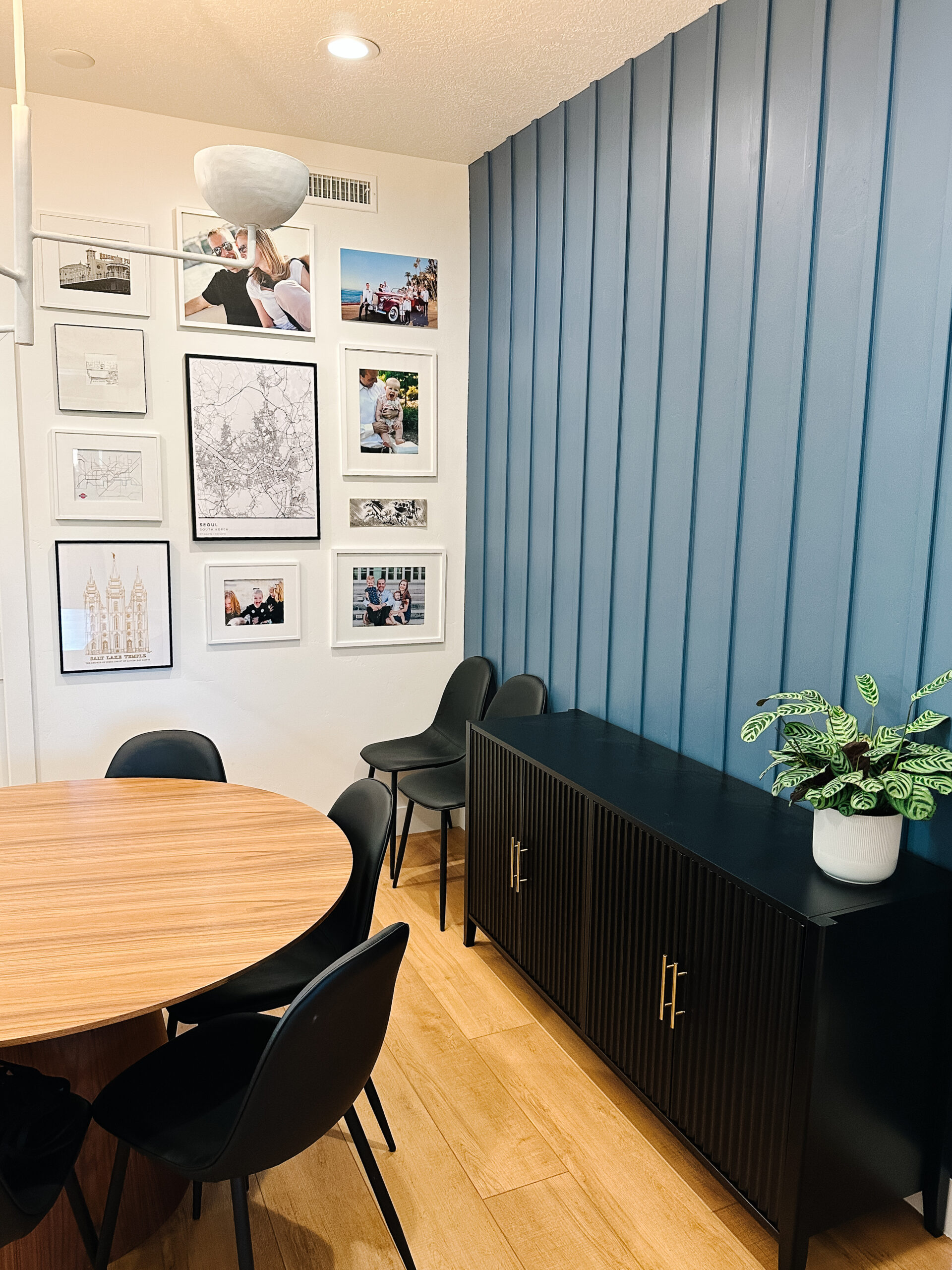 When we moved in, the back wall was painted blue but it felt just too bare to me. We had our neighbor from our old house do the trim on the wall and then I caulked and painted it last Christmas and that made ALL the difference for it feeling more finished and purposeful.
In January, Melissa from Rye Interiors came over and helped me lay out all the art and photos for the gallery wall and then, like the wonderful friend she is, she hung them all up while I took one of my girls to the pediatrician. Almost a year later and it still delights me every time I see that gallery wall from the kitchen.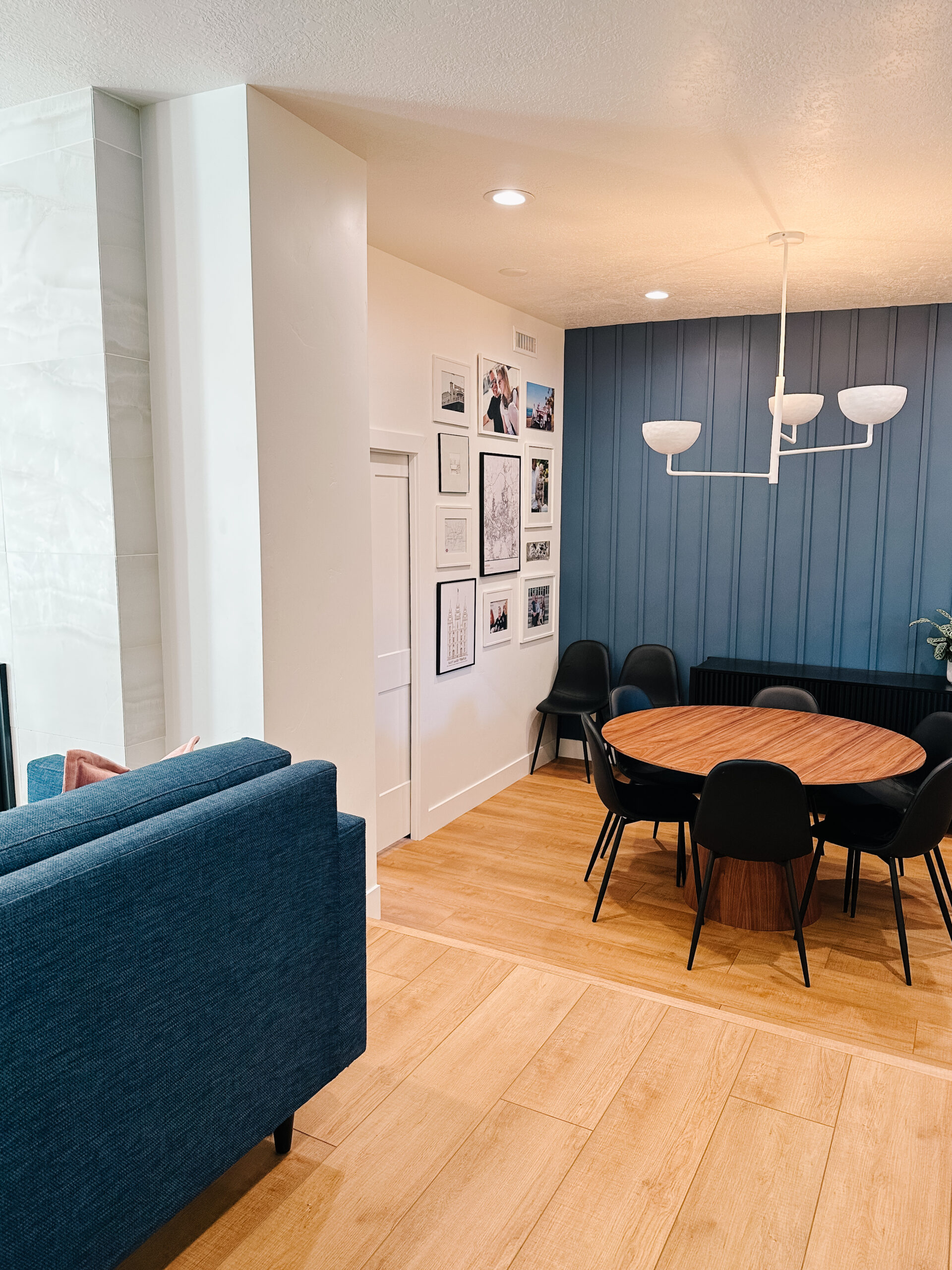 The question I get most often is about our round dining table – the product listing says it fits four, but we can comfortably fit six and whenever we have a lot of people over, we can fit eight chairs around the table all seating adults.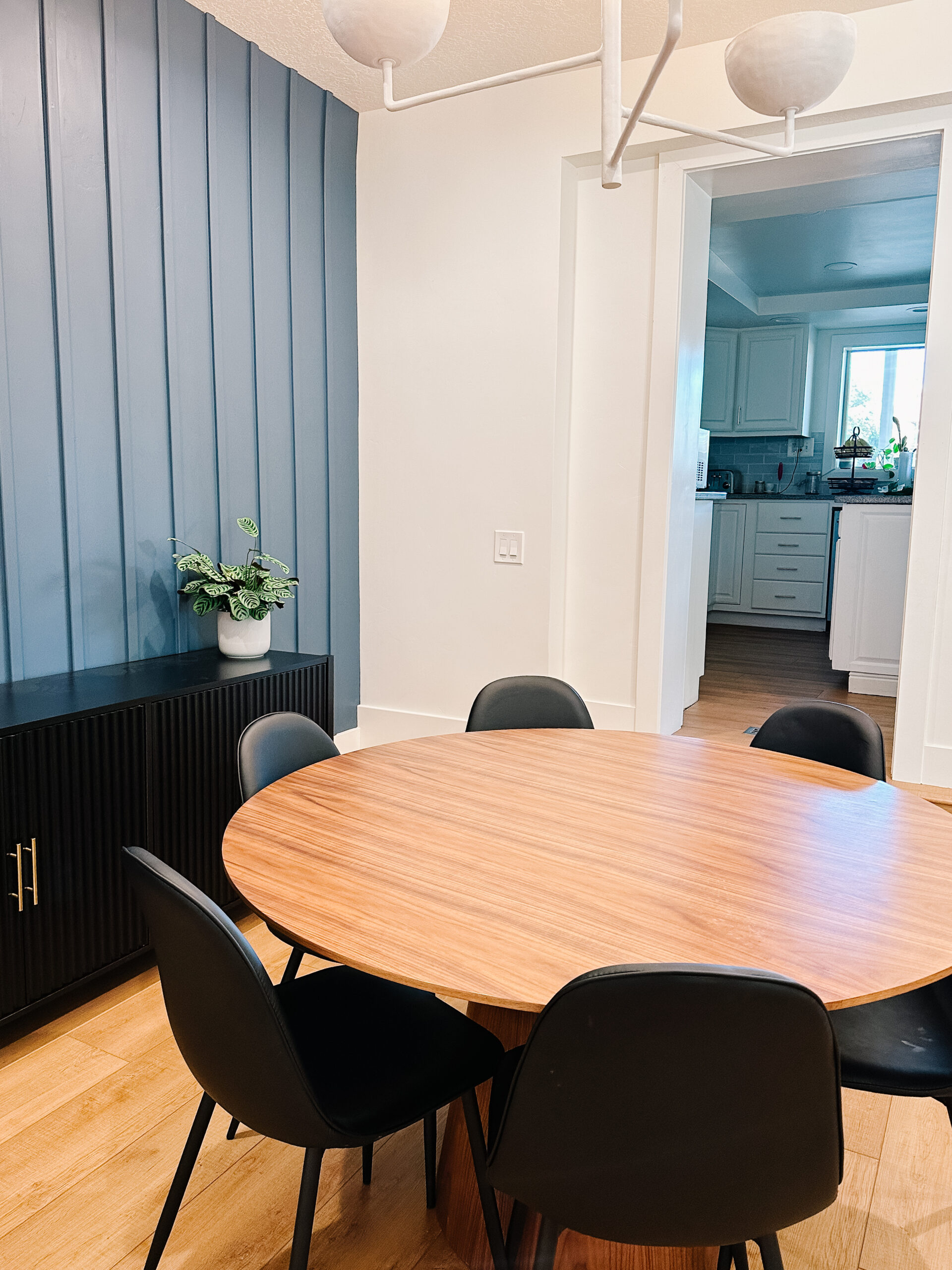 After our last house, which didn't have a dining room, it feels so luxurious to have extra space for guests, for puzzles and for a good game of Chronology on a Sunday evening.
I also love having another place for a sideboard – the left side holds Ella's homeschooling materials and houses the family laptops and the right side holds my extra sets of dishes.
Any questions about this dining room space? Leave them in the comments and I'm happy to answer! (And you can see all the house tour posts I've done here, if you're curious!)
SOURCES: 
Flooring: Coretec (Waddington Oak)
Walls: Clark & Kensington (Silent White)
Blue Wall: Farrow & Ball (Stiffkey Blue)
Light Fixture: CB2
Round Table: Pottery Barn
Chairs: Wayfair
Sideboard: Amazon
if you liked this post about our dining room, you might also might find these other posts helpful: