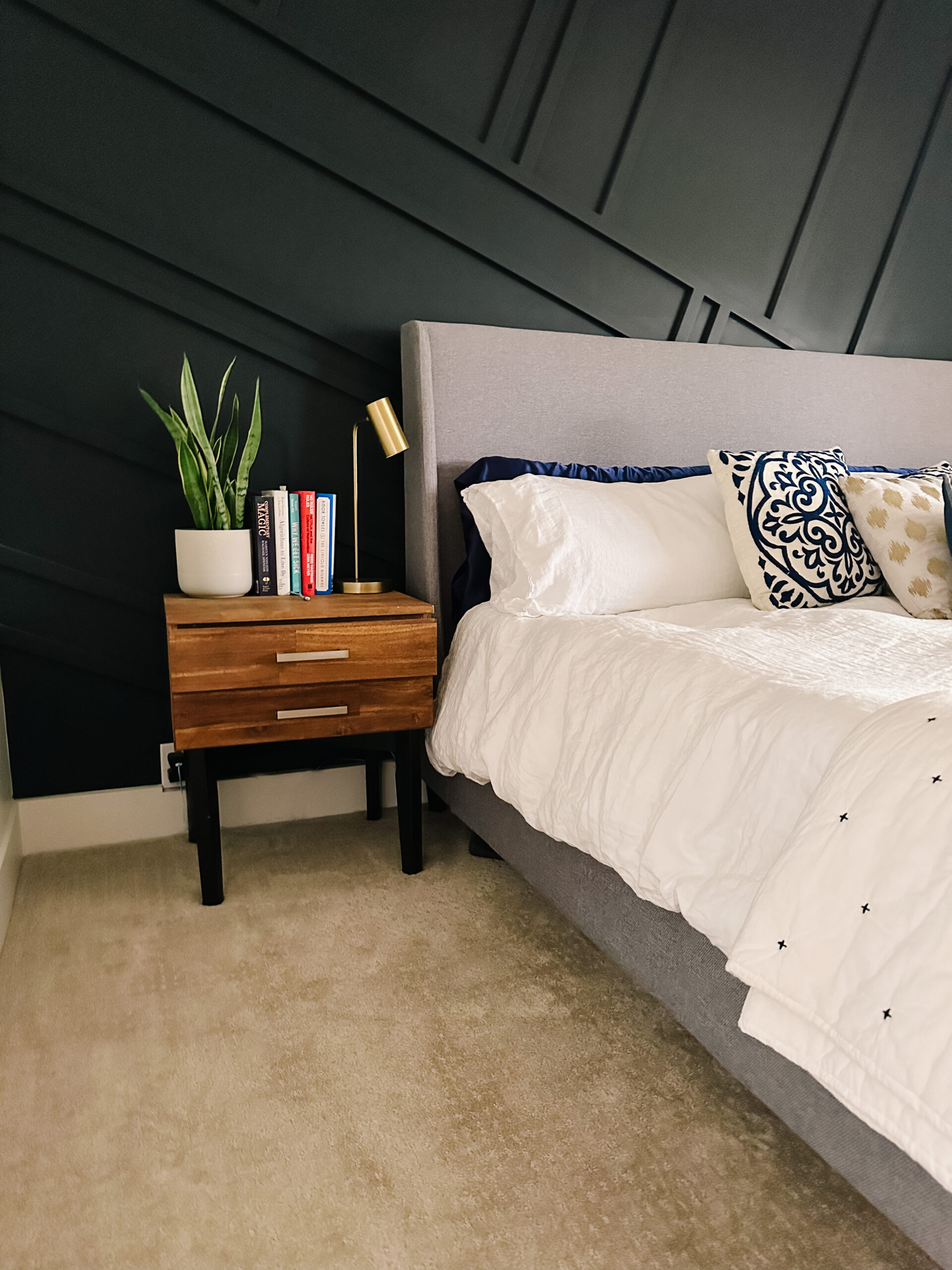 When we bought this house, our bedroom was ENORMOUS.
We ended up cutting the room in half and opening up the front half to the living room (it's this piano nook that you can see here). We definitely valued a bigger living area over an enormous bedroom.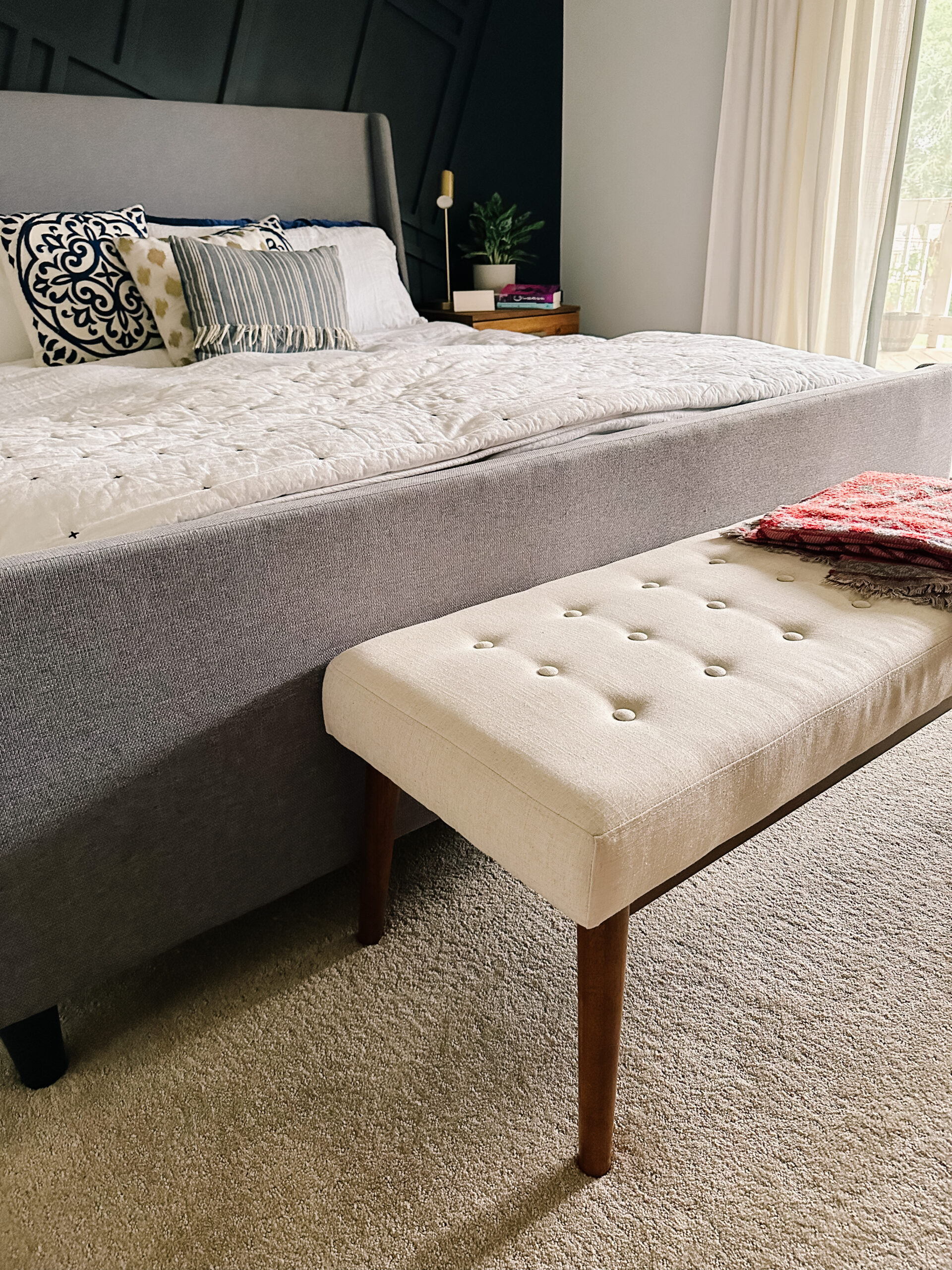 There were also floor to ceiling closets on one whole wall. Because we were planning to turn the weird little room off our bathroom into a walk-in closet, we pulled those out to make the room bigger (and saved the mirrored doors to use as the mirrors in our home gym).
That left us a nice clear wall to put our dresser against and hang our TV (I know some people aren't a fan of a TV in the bedroom, but it's pretty much my favorite thing).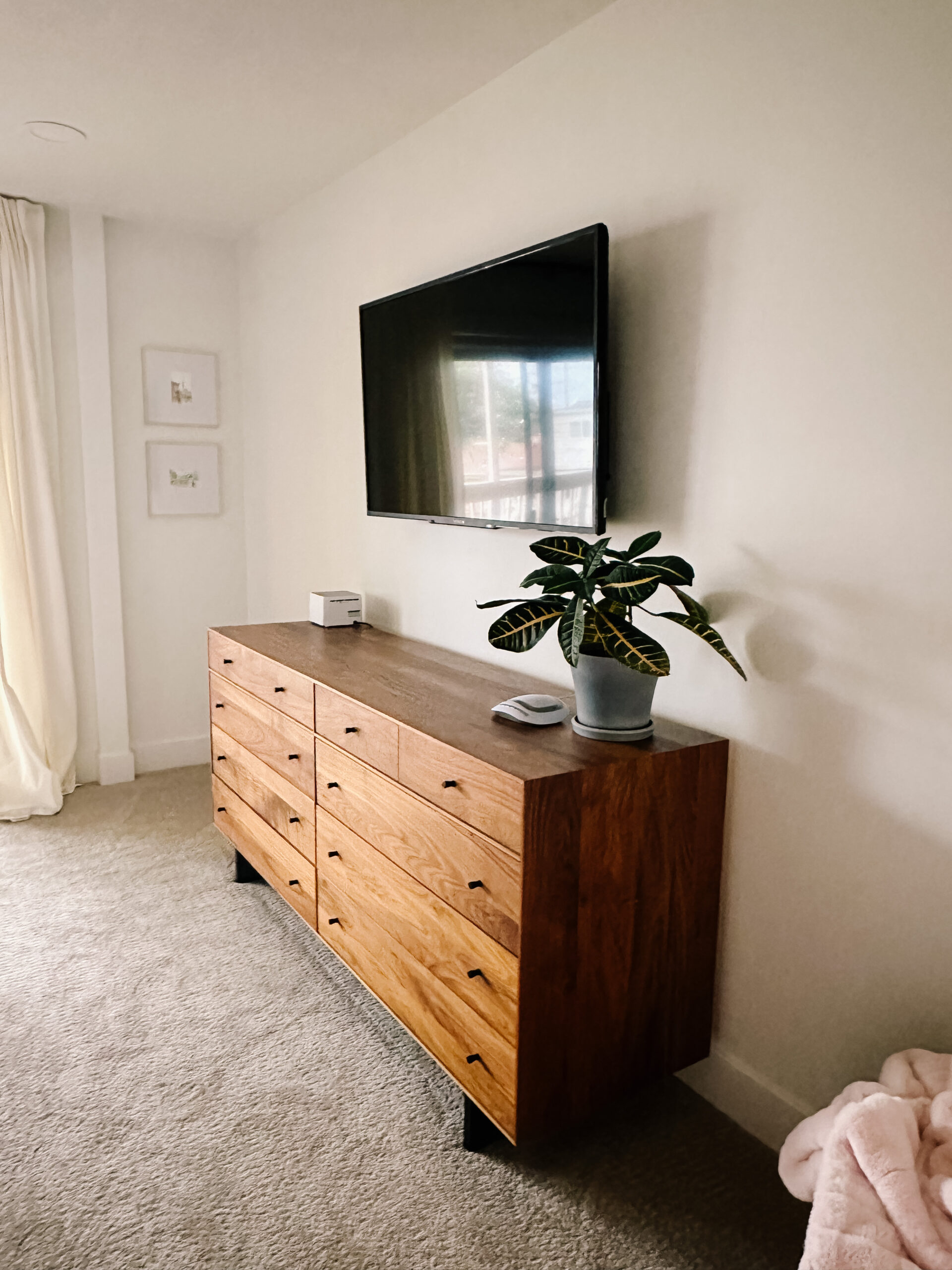 For me, I love a cozy, clean bedroom and it was one of the first spaces we got fully unpacked and set up in our house. While I was working on other spaces that were a disaster, it was nice to wake up in restful, organized spot and go to bed in one too.
We didn't buy any new furniture for this room – it was all things we'd had in our old house (you can see that room here!) and it was nice to be able to have it all work in this space.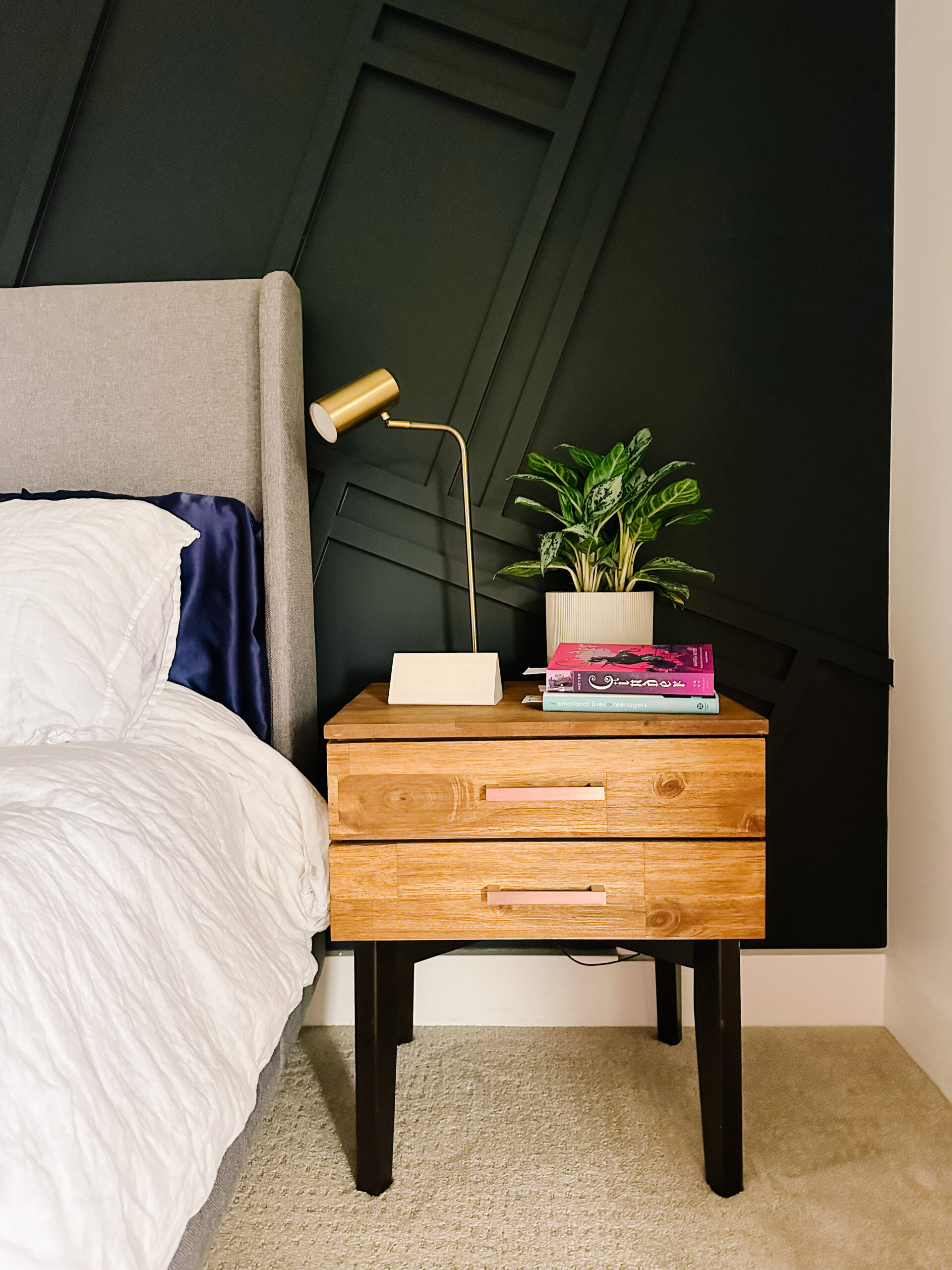 The most fun part of this room was the accent wall. Our neighbor from our previous house did all the trim and woodwork in our previous house and in this house and he did such a great job on this wall – it makes me happy every time I see it! It's painted Soot by Benjamin Moore and I'm so happy to have a dark color in here. Those moody shades really do it for me!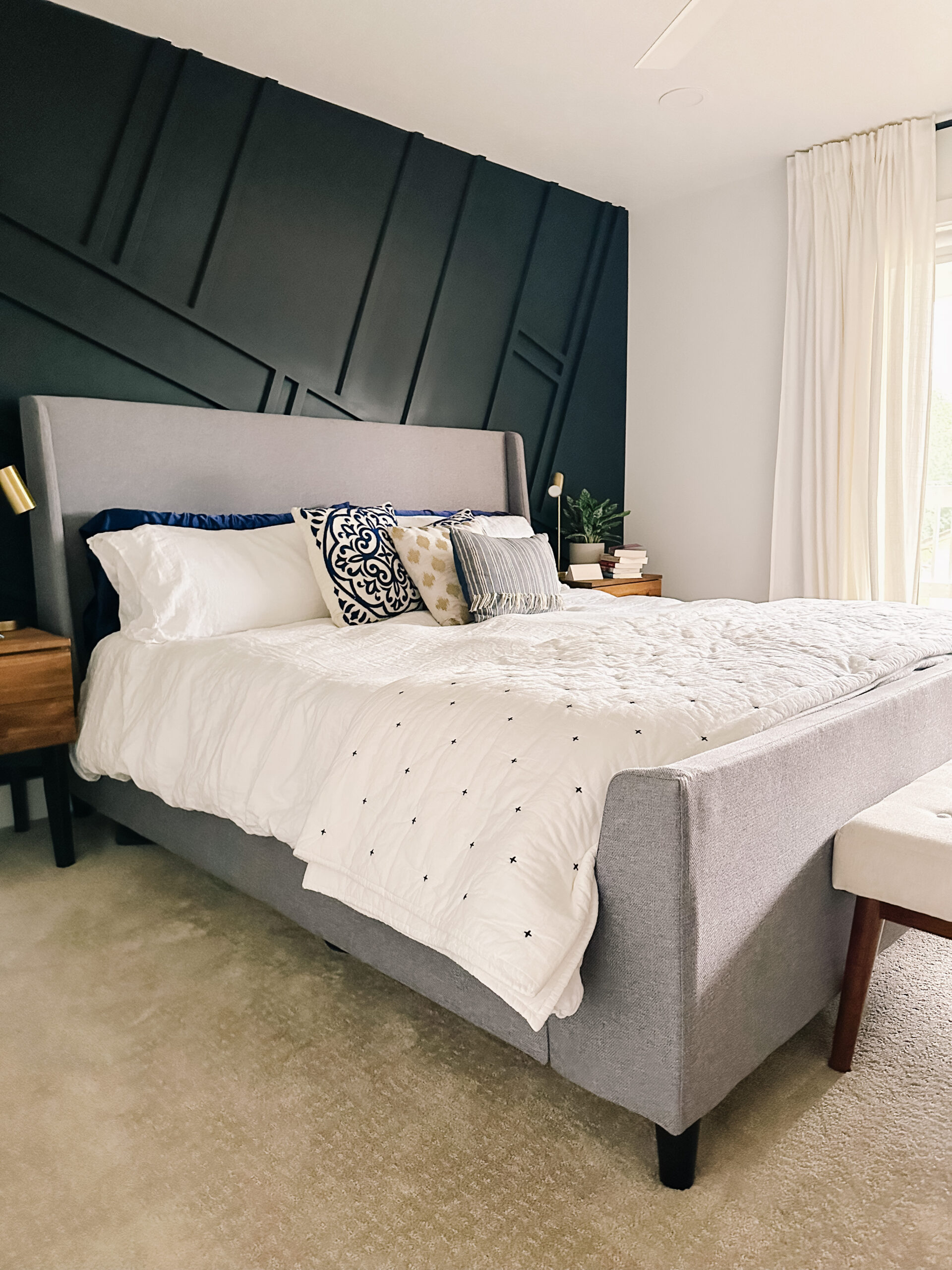 We haven't hung curtains in many other spaces in our house because we did roller shades but it took a few weeks for them to be delivered and having a streetlight shine right on my face while I was trying to sleep meant that I only lasted a few days before I bought these curtains and had Bart hang them up. I love the extra texture and coziness they add too.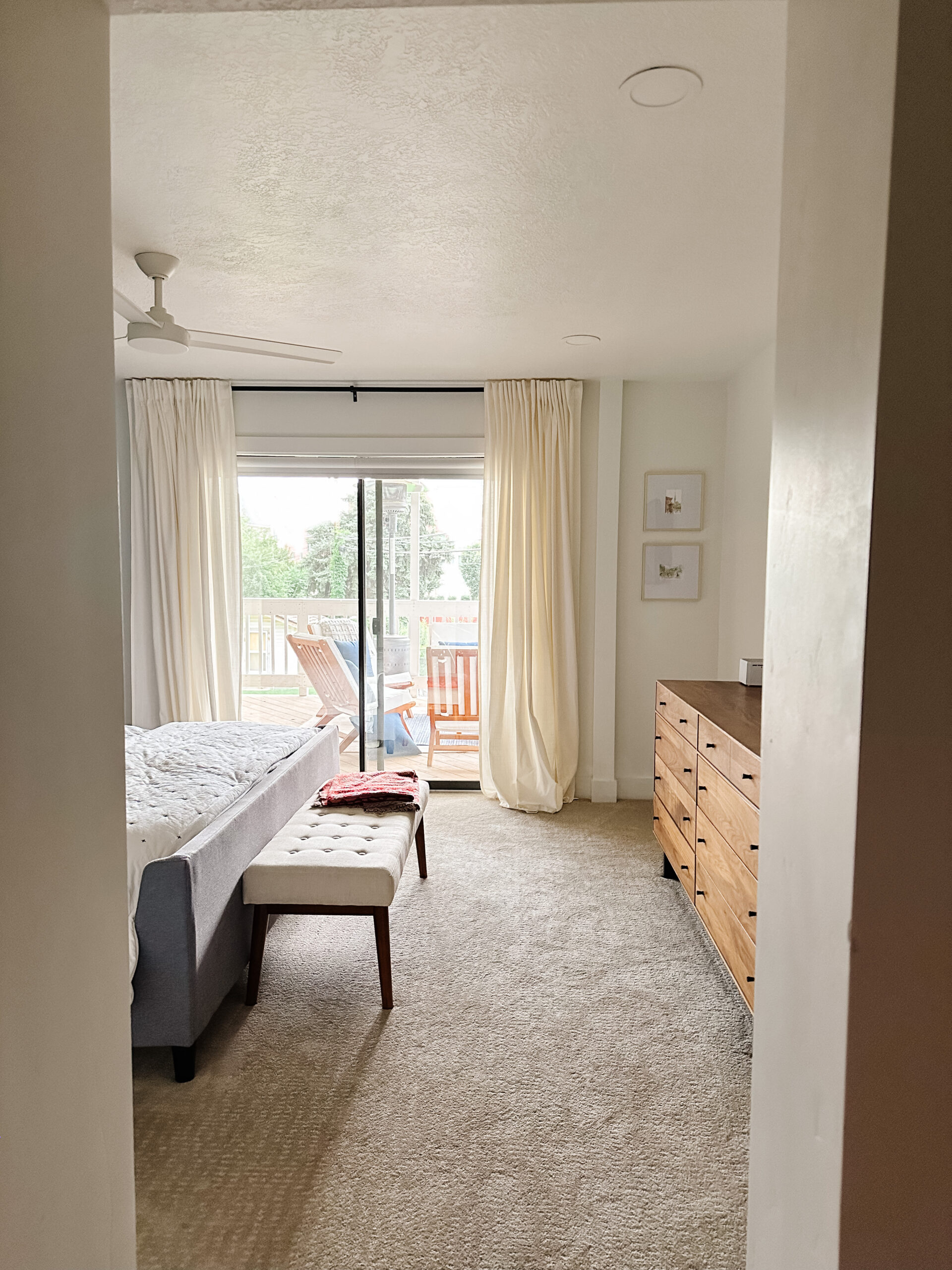 We've added a few personal touches, like hanging up Bart's guitar and the prints we bought in Japan earlier this spring, but overall we've tried to keep the room simple and peaceful and every time I walk in, I just feel so delighted about it.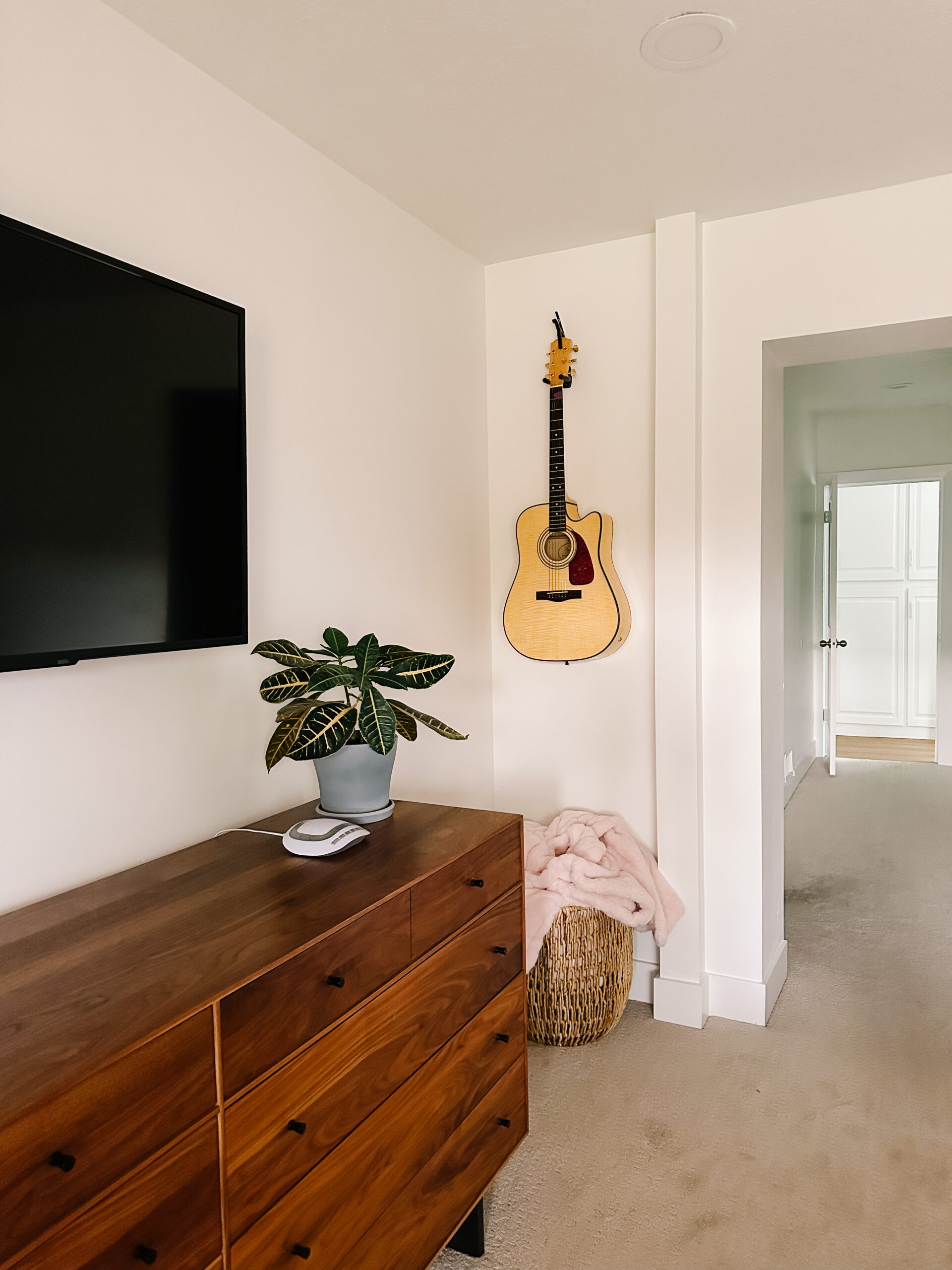 SOURCES:
Bed frame: Wayfair
Bedding: Brooklinen
Quilt: Brooklinen
Throw Pillows: Walmart (Navy, Gold, and Gray-Blue)
Blanket: World Market
Side Tables: Walmart
Bedside Lamps: Target
Snake Plants: Lowe's
Pots: IKEA
Bench: Overstock
Dresser: Room & Board
Tokyo Prints: Ityoa
Gold Frames: Target
Blanket Basket: Crate & Barrel
Blankets: Minky Couture
Guitar Hook: Amazon
Black Paint: Soot by Benjamin Moore
White Paint: Silent White by Clark & Kensington
if you liked this post about our master bedroom tour, you might also like these other posts: