Looking for a copy of this list of romance books for tweens? Pop in your email address below and it'll come right to your inbox!
Almost every week, I get messages from parents who have young readers (usually around 10-12) who want to read romance books.
Any time this topic comes up, I get messages saying things like "11 feels a little young to me to be seeking out a romance-ish book . . . ." or "I recommend not reading romance at 11 years old."  And if you don't want your child reading any romance books, that's absolutely your decision to make.
But keep in mind that we're not talking about Fifty Shades of Grey here – how many of us loved the romance in Ella Enchanted or swooned a little over Gilbert Blythe as ten or eleven year olds?
If you're looking for some sweet romance books for tweens or middle schoolers, I hope you'll find this list helpful!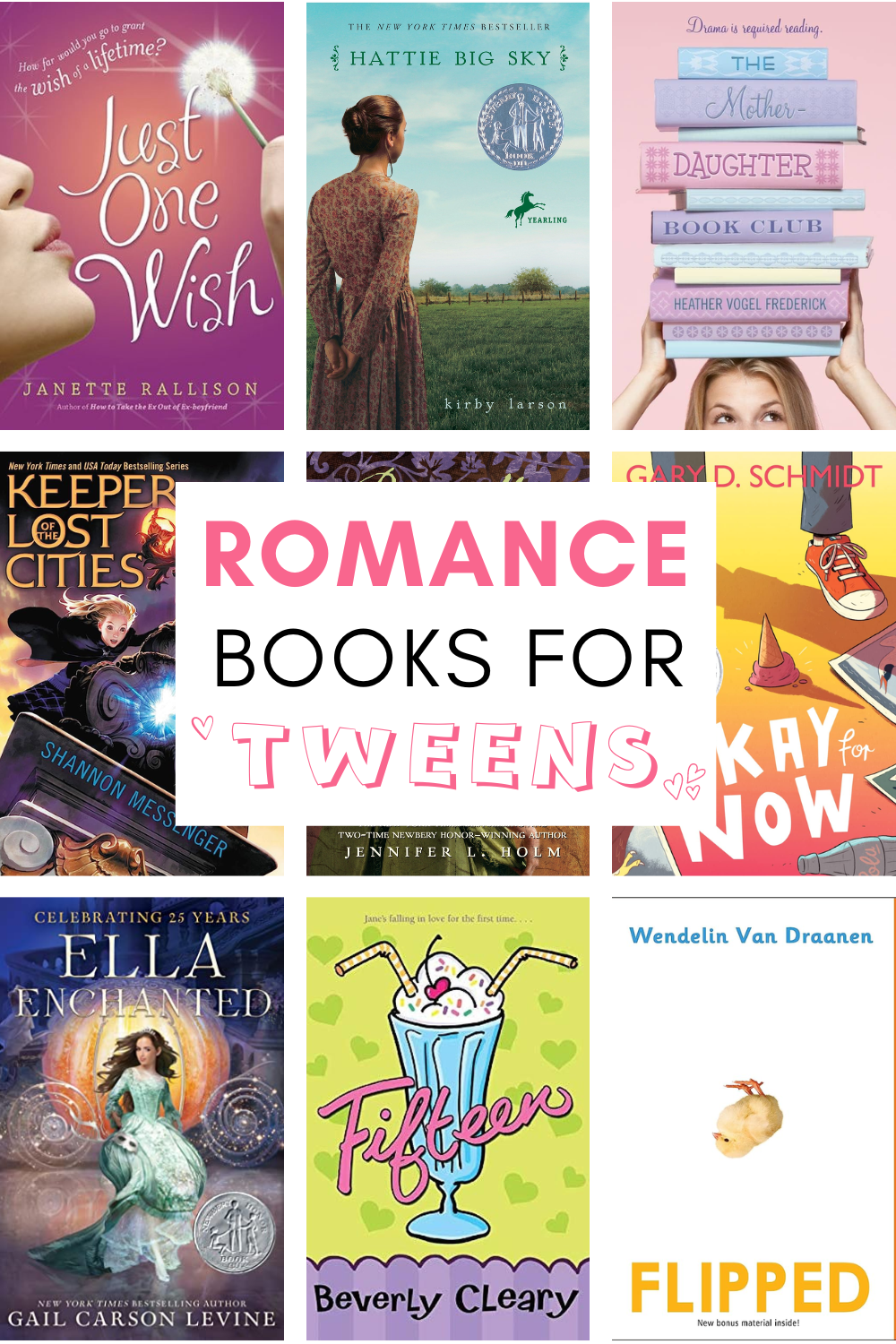 the best romance books for tweens
Ella Enchanted by Gail Levine
This clever, funny, and sweet retelling of Cinderella might be one of my top five all-time favorite books! Ella was cursed shortly after birth to obey any order given to her and there doesn't seem to be any way for her to break the curse on her own. Which means she'll need to track down the elusive fairy that cursed her in the first place and convince her to remove the curse. And don't forget about dreamy Prince Char, who absolutely adores Ella. Their chemistry is adorable and their banter the sweetest!

Princess of the Midnight Ball by Jessica Day George
This is a retelling of the tale of twelve princesses who are forced to dance every night, and Galen, a former soldier now working in the king's gardens, who hopes to break the curse. Plus, you can't have a fairytale retelling without a "happily ever after", especially when there is a sweet little romance.
The Goose Girl by Shannon Hale
This was one of the very first books I ever wrote about on Everyday Reading and it's still one of my all-time favorites. The plot is certainly basic enough fairy-tale material, but Hale makes it something really wonderful. Perhaps the thing I appreciated most was a heroine I really liked and could admire (so much so that I used her name for second daughter's blog name!). Ani is a very real character, well-developed, with actions and emotions that feel natural and uncontrived. (Full review here) 

Stargirl by Jerry Spinelli
Stargirl arrives at Micah High and enchants everyone with her strange and wonderful personality, particularly the narrator, Leo. But when she begins cheering for both the home team and the opposing team, the school turns on her. And Leo, desperately in love with her, pressures her to conform. I read this one during my masters in library science and absolutely loved it. (Full review here)
Anne of Green Gables by L.M. Montgomery
I read this classic so many times as a child! I hadn't read it in decades, but was so excited to dive into it with my girls a few years ago. Luckily they loved it as much as I did! We've now watched the movies and finished the series together! A pure delight! And Gilbert Blythe… he will always have my heart! (Especially when we're talking about Jonathan Crombie as Gilbert Blythe). 

Beauty by Robin McKinley
I've always loved a good fairy tale retelling and this is one of the ones I remember best from my childhood. My mom read this Beauty and the Beast retelling aloud to us and I woke up in the middle of the night to see her reading it in the hallways because she couldn't wait to see how it would turn out! I love that this one gives you way more backstory for Beauty's family and I really love her sisters and their sweet relationship. It has such great character development and it's just a delight all around.
Hattie Big Sky by Kirbie Larsen
For a girl like me, raised on Little House on the Prairie and Caddie Woodlawn, Hattie Big Sky was like finding a long lost friend. This is a slightly more grown-up version of those books, but still retains the same feel. I loved Hattie Big Sky from the first moment to the last. Also, the audio by Kirsten Potter is fantastic! (Full review here)
Boston Jane by Jennifer L. Holm
I just LOVED this young adult historical fiction trilogy, and it was such a fun, delightful read with a little sprinkle of romance and a lot of adventure. If I remember right, there was only one kiss in the entire book and it's just wonderful. (Full review here)

Keeper of the Lost Cities by Shannon Messenger
Sophie doesn't fit in at school or in her family, in part because she can read minds. Then she meets a boy who has the same powers she does and it turns out there are a lot of secrets about herself and the world around her that she doesn't know. But she's going to find out pretty quickly! There is some mentions of hugging and hand holding, and Sophie is constantly blushing in the presence of a certain boy crush.
Flipped by Wendelin van Draanen
In alternating chapters, two teenagers (Juli and Bryce) describe how their feelings about themselves, each other, have changed over the years. Let's just say their feelings have "flipped" over time.
Tuck Everlasting by Natalie Babbitt
Winnie Foster is shocked to discover that the spring on her family's property is magical and grants immortality to the drinker, and even more shocked to meet a family that's drunk from the spring and now will keep living forever. This one includes a small romantic element including a mild childhood crush with some hugging and hand-holding.
Fifteen by Beverly Cleary
What will fifteen-year-old Jane do when the school's most popular boy asks her out? This sweet and charming love story is filled with all the thoughts and feelings surrounding a girl's first crush. Plus, being written in the 1950s, it has all the innocence that can be hard to find in some of today's teen romances.
The Mother-Daughter Book Club by Heather Vogel Frederick
When the mothers of four sixth-grade girls with very different personalities pressure them into forming a book club, they find they have much more in common than they could have imagined, as they read and discuss "Little Women". Most of the romance stays in the background, but if you keep up with the series there is talk of boyfriends and a few kisses each book, but only when the girls are in high school. 

Just One Wish by Janette Rallison
When I get asked for recommendations for clean YA books, I always suggest Janette Rallison. I've read nearly every one of her books, and they're just laugh out loud funny. This one, about a teenage girl determined to make her young brother's wish come true before he goes in for surgery, is sweet and hilarious and romantic.(Full review here)

Savvy by Ingrid Law
In the Beaumont family, everyone gets a magical talent (a savvy) when they turn 13. But just before Mibs' 13th birthday, a tragedy occurs and now Mibs is desperately hoping her savvy will turn out to be something that can save her family. It has just the right hint of first-love romance, but keep in mind that adventure is a much more prevalent theme than romance ever is. (Full review here)

Okay for Now by Gary D. Schmidt
If I was forced to choose a single favorite book, it would be The Wednesday Wars, and this companion book is JUST as good (dare I say . . . even better?). You don't need to read The Wednesday Wars to read this one – it absolutely stands on it its own. Doug just moved to a new town, with no friends, and a problem family. He has all the stats stacked against him until he meets a cute little spitfire of girl named Lil Spicer. Together, they find a safe haven in the local library. The romance in the book is limited to a few innocent kisses. (Full review here)
And if you'd like a printable copy of this tween romance book list that you can take to your library or screenshot on your phone for easy access, just pop in your email address below and it'll come right to your inbox!
if you liked this post about romance books for tweens, you might also like these other posts: