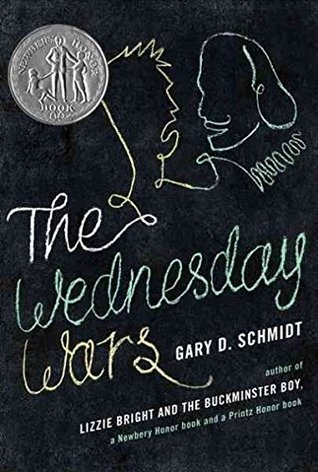 10 of 10: As good a book as you could find anywhere, The Wednesday Wars is the book I would give to every person I know.
A few weeks, while we were in Utah, Bart's dad asked me to give him a list of five really great YA/children books. This book was on that list. That's how much I love it.
I read Wednesday Wars last year and meant to write about it for weeks, but I could never quite get my mind around what to say about it and eventually it had been six months and then a year since I'd read it and some of the details were starting to escape me. So I reread it (this time listening to it on CD), wondering if it would still be any good and discovered that if anything, I loved it more this time around.
The Wednesday Wars is a book I want to shout about, a book that moves me to tears with its sweetness and then makes me laugh seconds later. The Wednesday Wars has everything – humor, tragedy, friendship, sports, school, family, and even a tiny bit of romance.
the wednesday wars by gary D. Schmidt
The hero of the story is Holling Hoodhood. He is convinced his seventh grade teacher, Mrs. Baker, hates him. See, every Wednesday afternoon the Jewish and Catholic kids in his class go off to their respective religious classes; Holling is the lone Presbyterian and so he's left behind at the school. Mrs. Baker decides they will spend their afternoons together studying Shakespeare; obviously she hates his guts. His father is insistent that he not anger Mrs. Baker because her family owns the Baker Sports Emporium which is currently looking for an architecture firm to design a new building. And Mr. Hoodhood just so happens to be an architect.
Even now having read it twice and laboring over this review for days, I can't find any good way to sum up this book. It's not just about Shakespeare. It's not just about Holling realizing that his dad is deeply flawed and maybe it's because, like Shylock, it's just what is expected of him. It's not just about his quiet town and the contrast with the distant (and sometimes not so distant) turbulance of the Vietnam War. It's not just about the slow recognition that Mrs. Baker is more than a Shakespeare-loving, red-pen wielding teacher. It's not just about giant escaped rats living in the school ceiling or cream puffs or a Micky Mantle-autographed baseball.
It's about all of this and so much more. I don't think of this book as having a narrative arc; rather it's bits of Holling's life added together to make a rich and complex picture of a seventh-grade boy dealing with a life that is, by turns, idyllic and complicated and difficult. Just like real life.
If I could write any book, this is one I would want to have written. The story of The Wednesday Wars is perfect and the writing is better than that.
You should read this book.
If you liked this review of the wednesday wars, you might also like these books: