If you asked me about historical romance novels, my first thought would probably be, "that's not really my genre of choice."
But then as I started thinking about this list, I realized that while I might not have 100 historical romance suggestions, I do have some beloved books that exactly fit that bill.
Some of these have been favorite for the past decade, while others are ones I've read as recently as a few weeks ago – it's been so fun to dig more into a genre I've historically not spent a lot of reading.
Even better, I asked on Instagram for recommendations and WHOA, did the recommendations come flying in!
Here are my seven favorites and then below that, you'll see all the recommendations I got – you better believe my library holds are maxed out!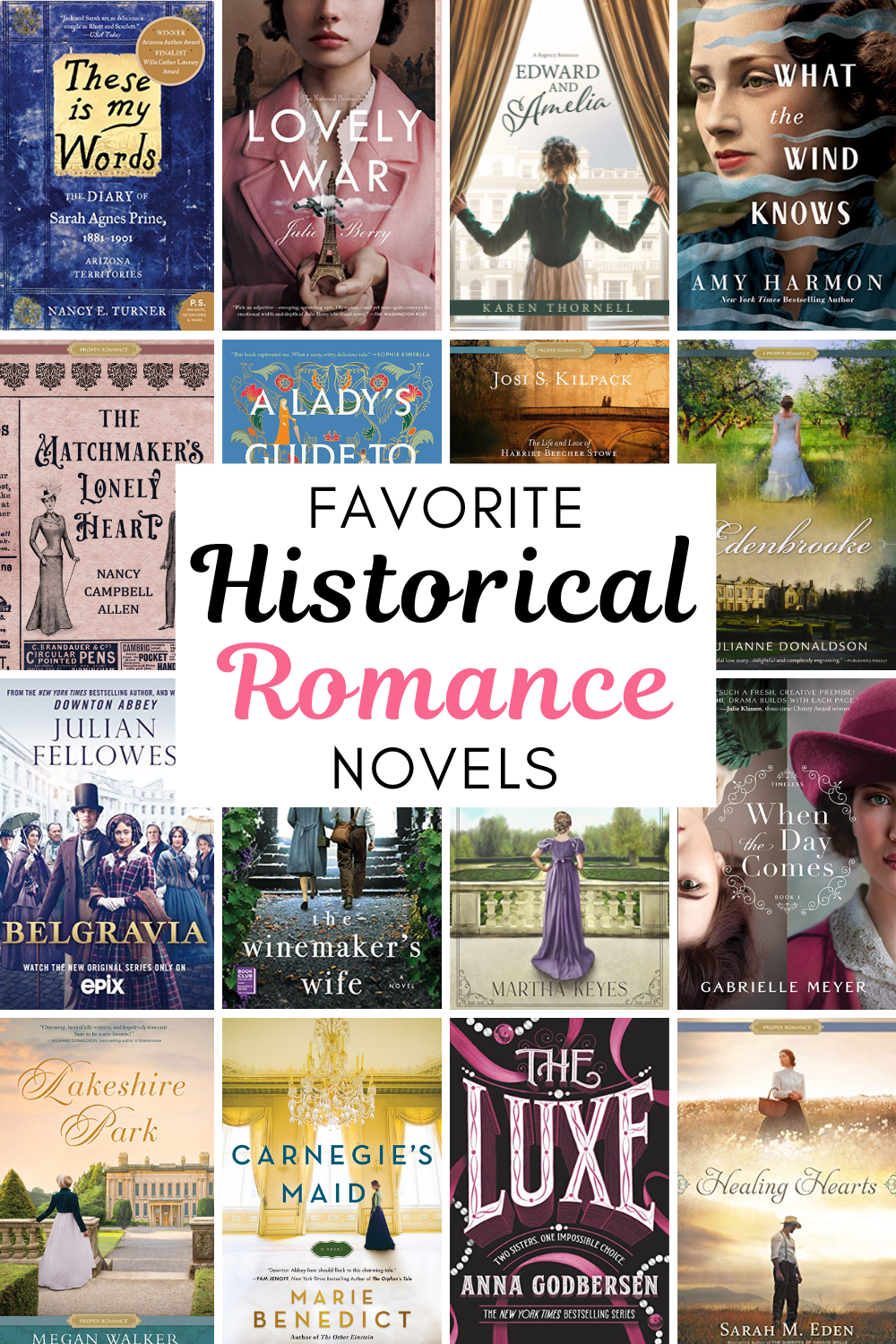 7 Favorite Historical Romance Novels (+ 50 more suggestions)
Edenbrooke by Julianne Donaldson
This was one of the first historical romances I read, years and years ago, and when I asked for recommendations for historical romance novels, it was absolutely the most shared title. Marianne is invited to visit Edenbrooke by her twin sister who intends to marry into the family that owns the country estate and Marianne, mourning the loss of her mother and lonely in Bath with her grandmother, quickly agrees. She has no interest in romance herself, but is very anxious for a change of scenery. Lucky for her, she's going to get both. I especially loved the snappy dialogue in this one. (Blackmore is another historical romance by the same author and it's good but not AS good as Edenbrooke).  (Full review here).
Lakeshire Park by Megan Walker
I just listened to this one a few weeks ago and it was an absolute delight. Amelia and her sister face abject poverty as soon as their stepfather dies and Amelia is hopeful that before that happens, she can secure a marriage between her sister and a wealthy gentleman – Sir Ronald – her sister has shown some interest in. Fortunately, they're invited to a house party at Sir Ronald's house and it looks like things for the sisters. Until Amelia discovers that one of the other guests, Peter Wood, is hoping to help HIS sister make a match with Sir Ronald. And when Amelia finds attraction blooming for Peter, things are going to get even more tricky.
These Is My Words by Nancy E. Turner
I read this book YEARS ago after my mom raved about it and sent me a copy. She wasn't wrong – this historical romance is written in diary form (a format I generally don't care for but works wonderfully here) and follows Sarah Prine and her family in the Arizona Territories where pretty much every bad thing you can imagine happens until they join up with a wagon train. The leader of the wagon train is Captain Elliot and Sarah by turns admires him and despises him. Of course she does. I LOVED this book. (Full review here)
Healing Hearts by Sarah M. Eden
This was my most recent historical romance title and I loved it (the audiobook as read by Kristen Potter, whom I have long loved – she is the reader for Hattie Big Sky which is also a terrific book). In this one Miriam arrives in the tiny town of Savage Wells for a nursing job, only to discover that the doctor in question had actually sent in for a mail-order bride who could act as both wife and nurse. After the wedding does NOT take place, she accepts the nursing job anyway because she can't go back to where she's come from. As the mystery of her past starts to unravel, a romance between the two starts to slowly develop (surprise!). This is the second book in the Savage Wells series but can be read alone (although I plan to go back and read the first one – it's included in Audible Plus!).
What the Wind Knows by Amy Harmon
This was an Everyday Reading Book Club book back in February 2022 and it's definitely one of the most popular books I've ever done in book club – I got a FLOOD of messages from people who were absolutely obsessed with this time travel book about a woman from America raised by her Irish grandfather who, after his death, returns to Ireland to spread his ashes and finds herself back nearly a hundred years earlier, meeting her grandfather who is a little boy. This one is full of history and romance and read by two terrific narrators, who really bring it to life. The first couple of chapters are a bit slow, so be willing to be a little patient – it's worth it! (Full Review Here)
The Luxe by Anna Godbersen
Romance, intrigue, and class warfare – what's there not to like? Set at the turn of the twentieth century in New York City, The Luxe begins with Elizabeth Holland's funeral. She's the daughter of a high society family and this is supposed to be her wedding day to one New York's most eligible bachelors. The book introduces the main characters present at the funeral and then rewinds two weeks to show the events leading up to the funeral. It's full of twists and turns, both big and small, and I loved every second of this story told from the point of view of five characters. The Luxe is the first in the series of four and I devoured all of them. They're basically the perfect historical romance series.
Lovely War by Julie Berry
The story takes place during World War I and follows four main characters, so you get two love stories for the price of one. Even more interesting? The story is framed by several Greek gods who are in a tiff of their own during World War II (I lied – THREE love stories!). I know it sounds weird, but trust me, it works. It's in the top 10 books I've ever read. And while I read a paper copy, I've heard the audio version is STUNNING.
Historical Romance Suggestions from Instagram
Full of romance and charm during Georgian England, the Duke of Rockcliffe seems to always meddle his way into the lives of others in this 7 book series. The audiobook came highly recommended on this one.
Jonathan and Mary Gray live on a farm in Minnesota in the early 1900s. Aaron, Jonathan's brother, lives with them and works the farm. Both brothers are tied to the land they work. Jonathan and Mary have been unable to conceive a child for seven years and Jonathan suspects he is sterile. When he asks Aaron to sire the child he cannot, this sets in motion a chain of event which change all of the characters' lives forever.
Rebecca Jennings has long awaited her London season, but while taking a shortcut through the neighboring estate, she's startled by the new owner and falls and breaks her ankle. Ben feels awful about his role in preventing Rebecca from attending her first season. To make it up to her, he visits her regularly and soon becomes enchanted with her. But Ben has secrets that are keeping him from letting love blossom.
There are rumors about Charity Oakley, a single lady is staying in her family's country home all alone, who seems to be rather ill lately, and who might approach a handsome complete stranger. What is even more surprising is that there are rumors about this handsome gentleman too…slightly terrifying rumors. When a bargain brings them together, a daring adventure and love story begins.
Lucie always had a dream of being a top ballerina at the Paris Ballet. But when WWII begins to close in, she finds herself taking over a bookshop for her Jewish friends, all the while meeting a young widower, Paul. Sparks fly instantly, but real issues begin to force them apart as they each hold dangerous secrets. Just when they begin to truly grow closer, America and Germany declare war and Paris erupts into a pit of danger.
And if you'd like a printable copy of this historical romance book list that you can take to your library or screenshot on your phone for easy access, just pop in your email address below and it'll come right to your inbox!


if you liked this post about historical romance novels, you might also like these other posts: