One of my favorite things in the world is hearing from people that have rediscovered a love of reading after years without picking up a book or who NEVER enjoyed reading growing up and for the first time are experiencing the absolute delight of getting sucked into a book!
But in either scenario, the trick is a really good book that makes you want to shirk all your responsibilities and just live inside the world of that book for a little bit longer!
If you're looking for a great book to kickstart your reading life, I've picked a few favorites in a whole bunch of categories, from romances to non-fiction to historical fiction to graphic novels.
No matter which category speaks to you, I hope you'll find just the right book to help you get lost in the world of reading!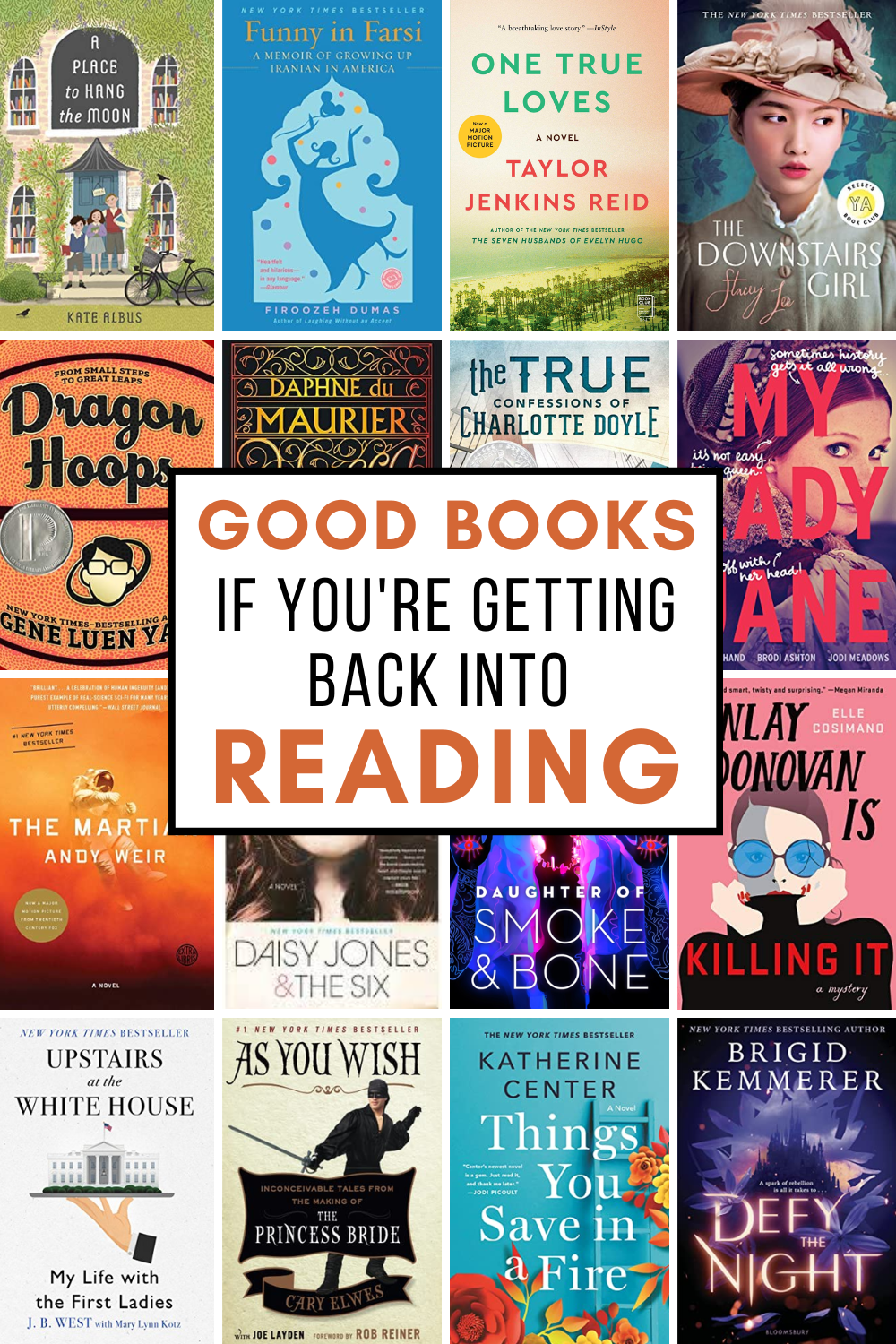 39 books to get back into reading
IF YOU'RE LOOKING FOR A FUN ROMANCE:
The Accidental Beauty Queen by Terri Wilson
Charlotte is a school librarian and happy to spend her life buried in a book. Her twin sister, though, has spent her life chasing beauty pageant crowns and now is competing for Miss American Treasure. Except, the night before the pageant begins, Ginny has a horrible allergic reaction and begs Charlotte to take her place until Ginny is well enough to step back in. But even though they look alike, Charlotte and Ginny are wildly different – is there any way they can pull off a con at this level? I read this last summer and blew through it in a day – it was just so so delightful. It's also squeaky clean! (Full review here)
Edenbrooke by Julianne Donaldson
I'll be the first to admit that regency romances aren't my usual genre (like . . . at all), but when Ralphie from Simply On Purpose tells you to read a book, you do what she says. And then you send her texts saying, "You were so right. I owe you my first born child for this recommendation." (Full review here)
One True Loves by Taylor Jenkins Reid
Imagine if the love of your life died in a plane crash and then, when you'd finally moved on, it turned out he wasn't dead at all. I stayed up WAYYYYY too late reading this one. (Full review here).
IF YOU'RE LOOKING FOR A MYSTERY OR THRILLER:
The Chemist by Stephenie Meyer
This basically feels like a Jason Bourne movie in audiobooks form, with a female interrogation officer for one of the U.S. government agencies. She's known as The Chemist because she uses chemical cocktails to get information out of her subjects, but now she's less worried about her job and more worried about her life because the agency is now trying to kill her. This was just a FUN listen with lots of laugh-out-loud moments – say what you will about Stephenie Meyer, but she can write some SNAPPY dialogue. (Full review here)
Finlay Donovan is Killing it by Elle Cosimano
I received tons of recommendations for this book before I read it! It's about a suburban mom who, while going through a messy divorce, is mistaken for a contract assassin. She's not going to kill someone . . . . but the money would really help get her manipulative ex-husband off her back. Laugh-out-loud funny and a little zany! And I blew through the sequel, which was just as delightful!
The Good Sister by Sally Hepworth
This book was one of my favorites from the 2021 Summer Reading Guide! I read this on a spring break trip and blew through it in less than two days. It's the story of two sisters who grew up with a very difficult mother and got each other through it. Now they're both adults and still lean on each other, although Fern relies much more heavily on Rose, who is the more stable of the two. But when Fern discovers that her sister can't have the thing she most wants – a baby – Fern decides this might be the moment she can pay Rose back for a lifetime of taking care of her. What could possibly go wrong? I really enjoyed The Mother-in-Law by the same author, but this one blew that one out of the water in my opinion.
IF YOU WANT TO VISIT A CLASSIC YOU MISSED:
Anne of Green Gables by L.M. Montgomery
I read this so many times as a child! I hadn't read it in decades, but was so excited to dive into it with my girls a few years ago. Luckily they loved it as much as I did! We've now watched the movies and finished the series together! A pure delight!
A Tree Grows in Brooklyn by Betty Smith
A Tree Grows in Brooklyn starts with a girl named Francie, however it really isn't just about Francie. It's about her whole family. After a brief introduction to Francie, the story backs up and you get the entire story of Francie's parents and their parents, the histories of their various siblings until you finally arrive back at the point the story began with. By the time the book ends, you'll probably know more about Francie's family and personal life than you do about your own. This is the ultimate coming of age story!
(Full review here)
Rebecca by Daphne Du Maurier
I LOVE this book. The first 50 pages or so are a little slow (not boring, just not lickity-split reading). And then, it really gets fabulous. I remember finishing this book in the car on a Disneyland trip with my family and just being more and more excited as the plot unraveled. It's a good book, folks.
IF YOU WANT NON-FICTION THAT SUCKS YOU IN: 
All Thirteen by Christina Soontornvat 
All about the Thai soccer team that was rescued from a flooded cave in 2018 and it is SO GOOD. (The fact that there is hardly room on the cover for any more awards should tell you something too!). It scooped up a Newbery Honor and a Sibert Honor (which is for the best informational books for children) plus was a YALSA Award for Excellence in Nonfiction for Young Adults finalist. Basically, this is the real deal! (Full review here)
Bomb by Steve Sheinkin
This book about the development of the atomic bomb during WWII was so good that I read it by flashlight when the power went out. I read it again when we did it for Everyday Reading Book Club and it was just as good the second time. When I asked for nonfiction books for kids suggestions, this was the MOST recommended title but it's equally amazing for adults.  (Full review here)
Upstairs at the White House by J.B. West
Like most people, I'm totally interested in the U.S. Presidents and their lives, times, and families. I read this in just a few days, and it reminded me how much I love American history and how I definitely want to read more. If you're at all interested in U.S. History, this is almost certainly a book you'll enjoy. (Full review here)
If You're Looking for a Love Story with some depth:
Attachments by Rainbow Rowell
I am SUCH a fan of this book about a computer security guy who starts reading the emails between two women who work at the newspaper after their emails get flagged by the filtering software and then falls in love with one of them despite the fact that she has no idea he even exists. (Full Review here)
What Alice Forgot by Liane Moriarty
Alice comes to on the floor of the gym, with a bunch of worried friends around her. They aren't the only ones that are worried – Alice is expecting her first baby and she's concerned that the fall might have hurt the baby (she also can't figure out why she's at the gym; she hates the gym). The surprise of being at the gym, though, takes a quick backseat to the shock Alice receives when she realizes that it's not 1998 like she thought, but instead it's 2008. She's not pregnant – she has three children. And the happy, new-ish marriage to Nick that she remembers is now on the verge of divorce. It's a lot to take in. (Full review here)
Things You Save in a Fire by Katherine Center
This is the March book for the The 2023 Everyday Reading Book Club! I was completely absorbed by this story about Cassie, a female firefighter, who leaves her comfortable Texas firehouse for Boston so she can help her aging mother. The Boston firehouse is old-school in the extreme and their excitement about having a female firefighter? Zero percent. And they don't hide it at all. The only person at the firehouse who doesn't seem to hate her is the one person with less prestige than she has: the rookie.
IF YOU LOVED HISTORICAL FICTION: 
The Downstairs Girl by Stacey Lee
And this one is the April pick for The 2023 Everyday Reading Book Club! Jo is fired from her job as a hat maker at the very beginning of the book and she knows that finding another job in 1890s Atlanta, especially because she is Chinese, is going to be extraordinarily difficult. And it's not just herself she needs to care for. She also feels responsible for Old Gin, the elderly man who has raised her and is now getting more and more ill. The two of them live secreted in a former Underground Railroad hiding spot under the house of one of the newspaper publishers. So Jo decides she'll start writing an anonymous advice column. What could possibly go wrong? I LOVE this book.
Last Christmas in Paris by Hazel Gaynor
This historical fiction Christmas book is set in WWI and is written entirely in letters (a format I don't normally go for). Evie's brother and his best friend are headed off to the front, but like most people, they assume the war will be over by Christmas and they have grand plans to spend it together in Paris. Of course, it doesn't go that way. If you can, I HIGHLY recommend listening to this one – the narration is so good! (Full review here)
Orphan Train by Christina Baker Kline
I love it when I get completely sucked into a book and just want to spend all my time reading it. I was a wary of this one at the beginning with dual story lines, but I quickly was immersed in the book and read it in just a couple of days. It's reminding me that I need to go find some other orphan train books (full review here).
IF YOU WANT TO TRY A GRAPHIC NOVEL:
Dancing at the Pity Party by Tyler Federal
You don't expect to laugh this much in a graphic memoir about losing your mother to cancer. And yet, this book manages to be both utterly delightful and absolutely heartbreaking. This was one of the first books I read in 2021 and it set the bar high for books for the rest of the year. Whether you've lost a loved one and need to feel less alone in your grief or just want a book that will draw you in, this one is an absolute winner. I wouldn't be surprised if this one ends up on a future Everyday Reading Book Club list.
When Stars are Scattered by Victoria Jamieson and Omar Mohamed
This one is true story of a young boy living in a refugee camp in Kenya, caring for his non-verbal younger brother and trying to attend school to life in the most stunning way. This is a terrific one for both children (probably about 8+) and adults! I've also heard the audio for this one is amazing!!
Dragon Hoops by Gene Luen Yang
This book changed my mind about graphic novels (I'd always been a fan for my kids, but never thought of myself as a graphic novel reader). I don't even care about basketball and I was incredibly invested in this true story of a high school team that's trying to win the state championship title that has eluded them for decades. Packed with history, incredible stories, and a season-long chase for glory, I couldn't put this down or stop talking about it. Even if you've been dubious about graphic novels, I strongly urge you to give it a try. It was part of the 2022 Everyday Reading Book Club. (Full review here) and on my list of The 10 Best Books I Read in 2021!
IF A FAST PACED fantasy SOUNDS JUST RIGHT FOR YOU: 
Defy the Night by Brigid Kemmerer
Fantasy isn't my normal genre, so for a fantasy book to snag a spot on my favorite books of 2021? You know it's good. This one isn't full-on fantasy – there's no magic or powers – but it's set in a fictional world where the kingdom is splintering under the pressure of a mysterious sickness that's spreading through the kingdom and the only cure is in short supply. The king and his brother took over running the kingdom after their parents were assassinated and they're holding the kingdom together basically by brute force. Naturally, there are those in the Wilds who are determined to undermine the king's iron grip on the kingdom. (Full review here)
A Curse So Dark and Lonely by Brigid Kemmerer
Fantasy isn't really my happy place when it comes to reading, but I can't resist a fairy tale retelling – especially a Beauty and the Beast one –  and this one had such amazing reviews so I had to try it out. And let me tell you – it lives up to the hype! (Full review here)
Daughter of Smoke and Bone by Laini Taylor
This one is just so good about a young woman who lives in Prague as an art student by day, while by night she goes around the world collecting human teeth for the non-human monster who raised her. Just prepare to be completely sucked in by this magical story (and then read the rest of the trilogy). (Full review here)
IF A MEMOIR IS RIGHT UP YOUR ALLEY: 
Funny in Farsi by Firoozeh Dumas
This is one of those books that was recommended to me about one million times before I finally picked it up and then I couldn't stop wondering what the heck took me so long.  I downloaded it to my Kindle on a whim and then read the whole thing in two days, laughing my face off all the way. Her experiences and stories are the perfect mix of the universal experiences of childhood and growing up and those that are more specific to an immigrant family. I feel like there's no way to do this book justice except to say, "go read it and love every page." And then read the sequel immediately afterward. (Full review here)
I Will Always Write Back: How One Letter Changed Two Lives by Martin Ganda
This is a fantastic non-fiction story of two international pen pals that start as a school project and become lifelong friends. I included this one on the 2018 Summer Reading Guide. (Full review here)
Garlic and Sapphires by Ruth Reichl
If I had to pick a single favorite food book, it would probably be this one. All about her time as the lead restaurant critic for The New York Times, this book by Ruth Reichl is laugh out loud funny and packed with great recipes. I read this a decade ago and my parents read and loved it too, so I am so excited to re-read this one in November for the Everyday Reading Book Club!
IF YOU WANT AN AUDIOBOOK TO BLOW YOU AWAY: 
As You Wish by Cary Elwes and Joe Layden
If you grew up in the 80s or early 90s, it's pretty likely you've seen (and loved) The Princess Bride. It's about the making of this iconic movie, written by Cary Elwes (Wesley) himself. The audio version is extra stellar because it's read by a bunch of the cast members! (Full review here)
Daisy Jones and the Six by Taylor Jenkins Reid
Within 10 minutes of turning on the audiobook, I was ALL IN and basically started running at night just so I could listen to another 30 minutes. It's the story of a rock music in the seventies, and it's hard to remember that it's a novel, not non-fiction. It feels THAT real. It's told through interviews with Daisy and Billy and other members of the band, family members and friends. It could be wildly confusing, but somehow it just WORKS. And the audio version is incredible.
Echo by Pam Muñoz Ryan
This is one of the books where I feel deeply sorry for anyone who read this book on paper instead of listening. It's just SO tremendously well done with the musical accompaniment really bringing the magic of this book to life. (Full review here)
IF YOU WANT TO READ ALOUD SOMETHING GREAT TO YOUR KIDS:
A Place to Hang the Moon by Kate Albus
This was probably my favorite read-aloud of 2022. It was just so charming and sweet about three orphaned siblings who go to the English countryside during the WWII German Blitz in hopes of finding a forever family.
The False Prince by Jennifer A. Nielsen
Ella blew through the whole series and then insisted Bart listen to them too. Like a good dad he did, he started them and then loved them just as much as she did. Highly recommend!
The True Confessions of Charlotte Doyle by Avi
This was a favorite of mine growing up about a young girl who sets out alone on as ship to rejoin her family in America and finds herself in the middle of a mutiny and then tried for murder. I had read this one aloud to my older girls – I hadn't read it since the 90s! It's so fun to revisit these beloved books from my childhood and I'm glad I forced myself to not re-read them in the last decade so that they'd be new and fresh to me when I read them aloud! We were all SUPER into this book. 
IF YOU WANT SOMETHING THAT WILL MAKE YOU LAUGH OUT LOUD: 
I've Got Your Number by Sophie Kinsella
I love Sophie Kinsella books. I've read every one of her books and almost without fail, her books delight me in a way that almost nothing else does. I know I'll laugh and there will be a nice romance and I'll basically just completely enjoy a day of absolute pleasure reading (I've never been able to make her books last longer than a day for me because they're such quick reads and I can't put them down and this one was no exception!) (full review here)
My Lady Jane by Cynthia Hand, Brodi Ashton, and Jodi Meadows
This is one of my most recommended reads. After I listened to the audio and couldn't stop laughing while I was trying to run in my neighborhood. Don't even bother with the book – just get the audio version and you can thank me later. It's a re-telling of the story of Lady Jane Gray (who was queen of England for less than two weeks) and they take every sort of liberty you can imagine with this story, history be darned. I promise you will laugh your face off. (Full review here)
My Double Life by Janette Rallison
I recommend Janette Rallison all the time when people ask for clean book recommendations. She's so funny and her books are just 100% delightful! For me, her books are laugh-out loud funny and this one about a teen girl who takes a job doubling for a rock star, is a delight.
IF YOU WANT A PAGE TURNING NOVEL
The Martian by Andy Weir
I just want to talk about this book non-stop, even years after I read it, and I loved the movie too (enough to see it twice!). It's just SO fun and funny and interesting (and packed with swearing). It was a bestseller for a reason and a perfect book to read if you're getting back into reading –  I included it on my list of books for couples to read/listen to together! (Full review here).
Jackpot by Nic Stone
I loved this funny, tender and real book about a winning lottery ticket and two teens' search for the woman who bought it and hasn't redeemed it. I loved it so much, it landed a spot on the 2020 Summer Reading Guide.
Dark Matter by Blake Crouch
I read very little science fiction, but this one had such rave reviews that I couldn't help myself and I loved it so much I included it on the 2017 Summer Reading Guide and on my list of books for couples to read/listen to together! Then I gave it to Bart and he stayed up until 2 a.m. reading it (which I don't remember ever happening in our nearly 15 years of marriage). There is a fair amount of swearing in it, so skip it if that bothers you.
And if you'd like a printable copy of this list of books to get back into reading that you can take to your library or screenshot on your phone for easy access, just pop in your email address below and it'll come right to your inbox!
if you liked this post about books to get back into reading, you might also like these other posts: